Advisory: Be careful of what you read on social media. The algorithms used by these platforms have no regard for Biblical truth. They target your emotions to keep you engaged on their site so their advertisers can drop more ads. These platforms exist to enrich their stockholders. Consider God's promise to Believers in James 1:5, "If any of you lacks wisdom, you should ask God, who gives generously to all without finding fault, and it will be given to you."
Update 9/28/2020 Sanctuary Los Angeles Frees Illegal Aliens Charged With Murder, Sex Crimes…
The sanctuary jurisdiction of Los Angeles County, California, continues to release illegal alien career criminals back into communities, including those charged with murder and child sex crimes.
The Immigration and Customs Enforcement (ICE) agency detailed in a report the extent to which Los Angeles County officials are taking measures to shield criminal illegal aliens from arrest and deportation.
In one case, for instance, a 40-year-old illegal alien from El Salvador was released back into the community on August 26 after having been convicted of homicide, robbery, and terrorist threats.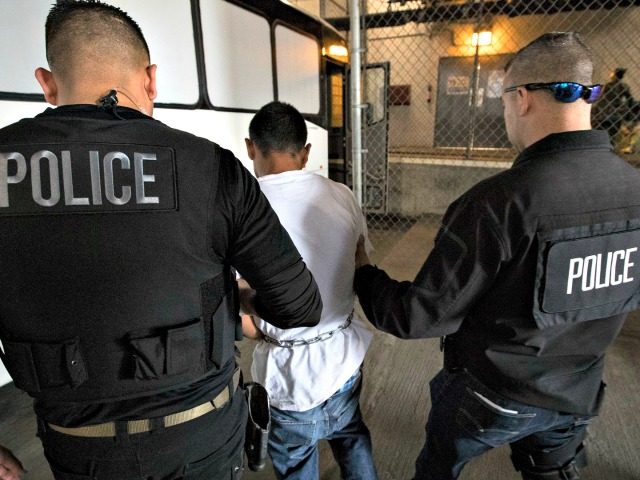 Another example involves a 34-year-old illegal alien from Mexico who was released on August 23 by the Los Angeles County Sheriff's Office after having been charged for allegedly molesting a child, as well as for lewd and lascivious acts.
Likewise, a 55-year-old illegal alien from Honduras was released last month after having been previously deported following charges that he had sex with a minor. Other illegal aliens recently released by the Sheriff's Office include:
A 36-year-old illegal alien from Pakistan convicted of grand theft, possession of a controlled substance, evading a peace officer, and dangerous weapons who was released on September 9.

A 21-year-old illegal alien from Honduras with multiple convictions and charges for battery and terrorist threats, and who has a removal order, who was released on September 1.

A 36-year-old illegal alien from El Salvador convicted of assault with a deadly weapon, and who has a removal order, who was released on September 1.

A 34-year-old illegal alien from Mexico with more than a dozen convictions and charges for grand theft, fraud, and drug possession, who was released on August 31.

A 31-year-old illegal alien from El Salvador with more than a dozen convictions and charges for drugs, fraud, theft, and weapons, who was released on August 24.
"The sad truth is that these individuals are often released and returned into immigrant communities to potentially victimize other immigrants, and the crimes we are talking about span things like homicide, kidnapping, rape, robbery, battery, fraud, theft, drug offenses, crimes against children, weapons charges — these are not law-abiding people who anyone should want in their community," ICE official Dave Marin said in a statement.
In August, Los Angeles Sheriff Alex Villanueva vowed that the county would only honor ICE detainers — that is, requests for a transfer of custody — on illegal aliens after agents have gotten a judicial warrant signed by a judge.
The maneuver allows Los Angeles County officials to absolve responsibility, even though ICE agents are not required to obtain judicial warrants for illegal aliens and judges are not permitted to issue warrants for civil immigration violations.
ICE officials have previously said that Los Angeles releases up to 100 criminal illegal aliens every day. Likewise, federal immigration officials have said that 8-in-10 illegal aliens released by sanctuary jurisdictions like Los Angeles go on to commit additional crimes.
Update 8/12/2020 Escape From New York: Wealthy Residents Flee In Droves As The City Degenerates Into A Hellhole…
Hundreds of thousands of wealthy residents have already left New York City, and more are leaving every day as America's biggest city rapidly degenerates into a hellhole. This is incredibly sad to watch, because in many ways New York had been an incredible success story over the past several decades.
The 1970s and 1980s were nightmarish times for the city, but over the past several decades it was transformed into a virtual paradise for the wealthy and famous. Crime rates absolutely plummeted, the city was given a dramatic facelift and a booming financial community brought an unprecedented amount of wealth into New York.
But now many of the old problems are starting to come back again, and a lot of wealthy New Yorkers have decided that it is time to look for greener pastures.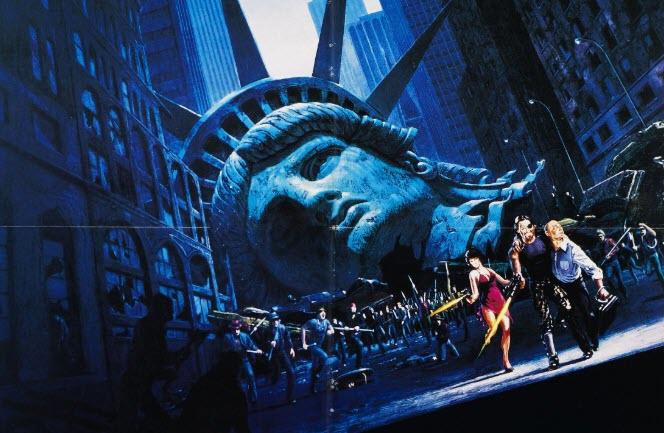 Of course the COVID-19 pandemic has been the primary motivation for a lot of the wealthy individuals that have been fleeing the city. According to the New York Times, there was a mass exodus of 420,000 New Yorkers between March 1st and May 1st…
Roughly 5 percent of residents — or about 420,000 people — left the city between March 1 and May 1. In the city's very wealthiest blocks, in neighborhoods like the Upper East Side, the West Village, SoHo and Brooklyn Heights, residential population decreased by 40 percent or more, while the rest of the city saw comparably modest changes.
Can you imagine 40 percent of your neighborhood leaving in just two months?
Wealthy people can often pick up and move a lot more easily than the rest of us, because many of them are not tied to traditional jobs and a lot of them already own second homes. And it is definitely understandable that a lot of them would have wanted to leave during the peak of the pandemic in the New York area, but now that infection rates are a lot lower they still aren't coming back and this has become a hot political issue for New York politicians.
Just a few days ago, New York Governor Andrew Cuomo lamented the fact that this mass exodus is hitting tax revenues really hard…
A single percent of New York's population pays half of the state's taxes, he said, "and they're the most mobile people on the globe."

"I literally talk to people all day long, who are now in their Hamptons house, who also lived here, or in their Hudson Valley house or in their Connecticut weekend house," Cuomo continued. "They're not coming back right now. And you know what else they're thinking, if I stay there, they pay a lower income tax because they don't pay the New York City surcharge. So, that would be a bad place if we had to go there."
But New York City Mayor Bill de Blasio is taking a completely different tone. At this point, he doesn't seem to care whether the wealthy come back or not…
Mayor de Blasio couldn't care less if wealthy people leave the city for good because of the coronavirus pandemic, telling reporters on Friday that he won't bend over backward for the one percent to return to NYC.

In a briefing from City Hall, de Blasio for a second day in a row sneered at Gov. Cuomo's suggestion that the Big Apple's ballooning deficit can only be bridged if rich people who fled at the outset of the pandemic come back and start paying taxes again.
Mayor de Blasio can continue to deny reality if he wishes, but without a doubt the lack of revenue is starting to have a major impact.
The sanitation budget was cut by more than 100 million dollars, and at this point giant mountains of trash are starting to pile up around the city…
Photos show bags filled with leftover food scraps, cans and bottles piled high on sidewalks or overflowing out of corner litter baskets.

Dead rats have been found among the waste and raccoons have been spotted climbing out of garbage cans.
At one time such scenes would have been unthinkable in New York City, but now they have become a daily reality.
Meanwhile, crime rates are absolutely skyrocketing. In fact, the number of shootings in the city during the month of July was up 177 percent compared to the same month a year ago…
The NYPD recorded 244 shootings in July 2020 versus 88 in July 2019, which is a 177% increase. Shootings rose in July in every borough, police said. Through July 31, the city has experienced a 72% spike in shootings compared to the same time last year—772 versus 450 in 2019.

Murders in July rose 59% compared to last year with 54 in 2020 versus 34 a year ago. Burglaries were up 31% percent year-over-year. Police said 309 more auto thefts were reported for the month compared to a year earlier.
This explosion of criminal activity is being called a "crime wave", and even the wealthiest neighborhoods are being hit hard…
New York City's wealthiest neighborhood is grappling with a spike in armed robberies, new data reveals.

Manhattan's Upper East Side has seen 27 robberies over the past four weeks – a 286 percent increase when compared to the same period last year, according to the NYPD.
Some of the wealthiest people on the entire planet call the Upper East Side home, and they paid a lot of money for their homes so that they would be insulated from this sort of thing.
But now even their neighborhoods aren't safe.
Over on the Upper West Side, a different sort of problem is making headlines…
Hundreds of homeless people who have been put up in luxury hotels on Manhattan's Upper West Side by the city as part of its efforts to prevent COVID-19 outbreaks in shelters are terrifying residents by urinating, sleeping and taking drugs in the streets.

In July, it emerged that 139 of the city's iconic hotels – which had been forced closed for months – had agreed to take in homeless people for $175 per person, per night as part of a scheme by the city to try to avoid a breakout of COVID-19 in homeless shelters.
Can you imagine paying millions of dollars for your home and seeing homeless people urinate and take drugs right on the sidewalk in front of your building on a regular basis?
Even worse, it has been revealed that quite a few of the individuals that are being housed in these luxury hotels are registered sex offenders…
Of greatest concern for parents are the sex offenders — 10 are living at the Belleclaire as of Thursday, the state sex offender registry said. That's just one block from PS 87's playground.
And of those ten, there are four that actually victimized children…
There are also four offenders whose victims were children: Ronald Butler, 62, convicted in June 2013 of raping a 16-year-old girl; Eddie Daniel, 59, convicted of abusing a 10-year-old in 2011; Jonathan Evans, 29, convicted of abusing a 6-year-old; and Michael Hughes, 55, convicted of possessing child pornography in 2007.
This is what life is like for the wealthy in New York City in 2020.
No wonder so many of them have left and have no plans to come back.
Sadly, similar things are happening in major cities all over the nation, and what we have witnessed so far is just the beginning.
I certainly don't blame anyone for wanting to leave New York. If I was living there, I would want to leave too.
All over America, major cities that are being run by Democrats are being transformed into hellholes, but most of those Democrats just keep winning elections over and over again.
When will we ever learn?
Update 8/5/2020…The Death Angel Has Her Sights on the Ultra Ungodly Elitist, and to Think the New York Mayor Help Direct the Death Angel to Their Doorstep, God Has Placed a Strong Delusion on the Progressives, They Are Under Such a Strong Delusion They Willing Help Destroy Their Own…
As gun violence and murders spiral out of control in New York City amid BLM riots and the decision to disband the NYPD's plainclothes anti-crime units, the city's crime spree has reached the Upper East Side – home to billionaires and mere multi-millionaires alike.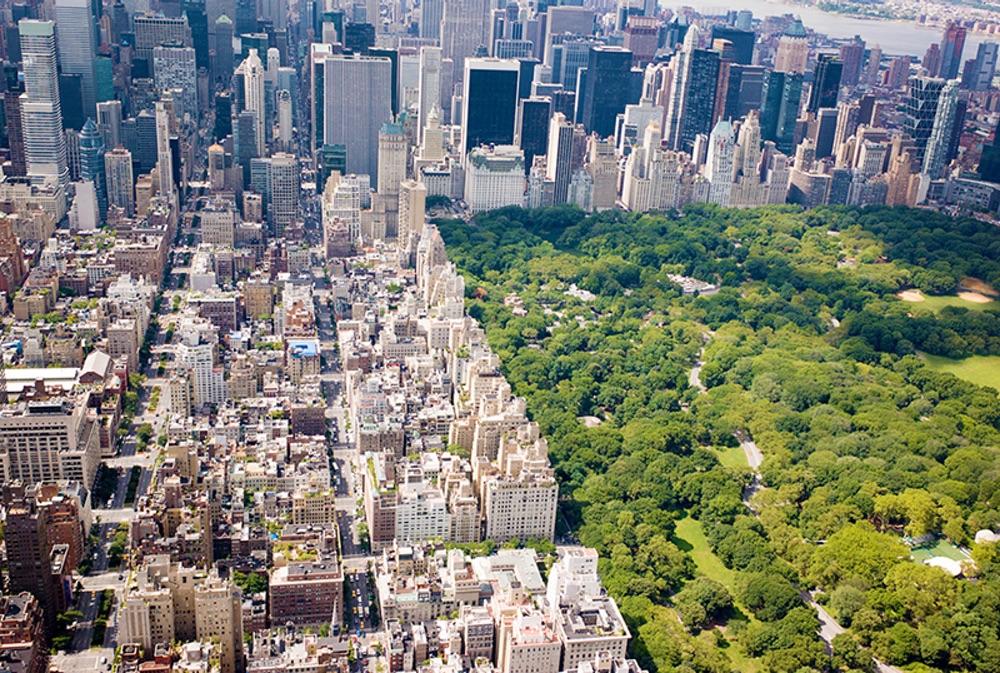 According to Fox News, the 19th Precinct – which oversees the Upper East Side between East 59th Street and East 96th Street – is "one of the most densely populated residential areas in Manhattan."
And now, it appears The Purge has encroached on the upscale neighborhood – with robberies soaring 286% vs. the same period last year with 27 robberies – 20% of which were at gunpoint.
Three gunpoint robberies were reported over a one-hour period just last weekend – a group of four people struck on East 73rd Street, then downtown at East 65th Street before moving uptown to East 86th Street, police said. –Fox News
YTD the 19th Precinct had seen 14 robberies at gunpoint vs. just four in 2019.
Gunpoint robbery spree on the Upper East Side ends with arrests. Stellar work by our officers this weekend—responding to THREE separate robberies on the UES over a 1-hour period, tracking down/arresting THREE criminals responsible, & recovering this illegal loaded firearm.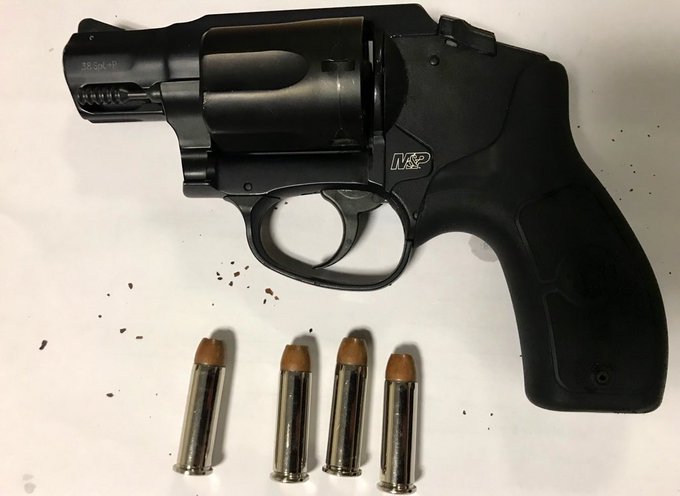 We're experiencing a significant uptick in robberies (27) in last 28-days (286% increase compared to 2019) (5) of those robberies were at gunpoint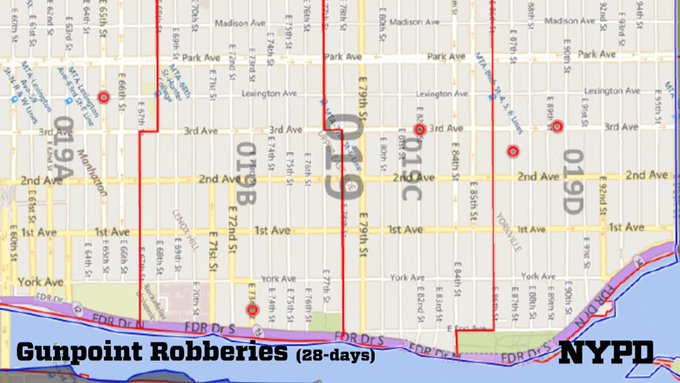 [mapped below ⇊]NYPD 19th [email protected]Some more statistics: 2020 (to date) gunpoint robberies total: 14 2019 (entire year) gunpoint robberies total: 4 Thats a 250% increase. The public is urged to call 1-800-577-TIPS or DM @NYPDTips with any info regarding these crimes or illegal firearms.12:40 PM · Aug 3, 2020 from Upper East Side, Manhattan
According to Fox, a group of four teenagers hit several victims in the span of an hour on Saturday evening – with the first incident occurring at approximately 9:30 p.m. when the four approached a 45-year-old man near East 73rd Street and York Avenue, flashed a gun and robbed him of his cell phone before running away.
Approximately 40 minutes later the four robbed an 18-year-old man of his wallet approximately one mile, or 11 blocks, from the first victim in the area of East 65th Street and Lexington Avenue.
Minutes later, at 10:20 p.m., they struck again – this time accosting a man and a woman, both 22-years-old, who said they were robbed at gunpoint in the Central Park footpath near East 84th Street and Fifth Avenue. The woman's cellphone was taken.
Three of the teenagers – two 16 and one 17-years-old, were arrested in connection with the spree and charged with first-degree robbery. A loaded gun was recovered from one of the suspects.
According to Fox News, billionaires John Paulson and Glenn Dubin "live just blocks, if not a block, from the East 84th Street robbery."Glenn Dubin, co-founder of Highbridge Capital Management LLC, in New York, U.S., on Sept. 24, 2013. (Michael Nagle/Bloomberg via Getty Images)
Paulson, worth an estimated $4.2 billion, according to Forbes, founded hedge fund company Paulson & Co in the mid-90s. He is known for making his fortune betting against subprime mortgages as the American economy headed toward collapse in 2007.

Dubin, 63, co-founded Highbridge Capital Management in 1992 before selling to JP Morgan Chase 12 years later, according to Forbes, which reported that the hedge funder boasts an estimated net worth of $2 billion.

According to The Real Deal, Dubin coughed up $32 million in 2006 to buy a Fifth Avenue apartment previously owned by fellow billionaire David Koch. –Fox News
The 10pm Saturday robbery near East 65th Street and Lexington happened just one block from the home of Henry Kravis, a financier which Forbes estimates to be worth $6.5 billion.Businessman Henry R. Kravis arrives for meeting with then-President-elect Donald Trump at Trump Tower in New York, on January 12, 2017. (REUTERS/Mike Segar)
And as Fox further points out , the spate of robberies happened fewer than 10 blocks from 740 Park Ave, known as the "world's richest apartment building," according to a 2006 book by Michael Gross.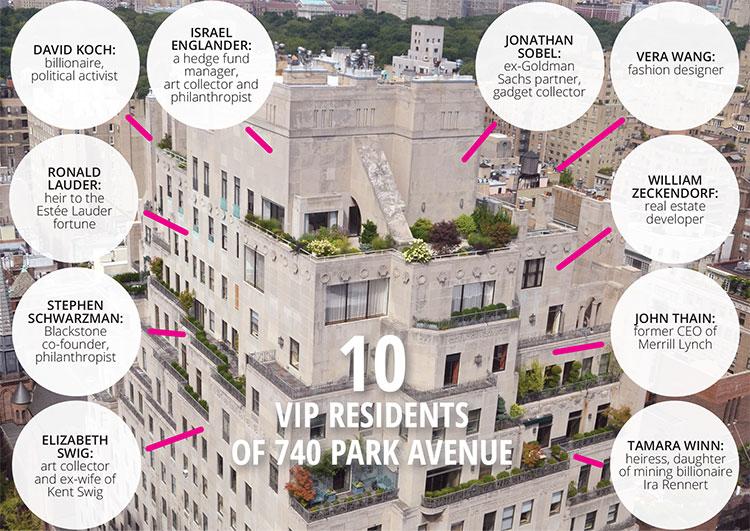 Maybe the de Blasio administration will reconsider its actions to weaken law enforcement now that spiking violence is in the backyards of their very best friends. Source: ZeroHedge
Her Rounds… UP-Date 7/23/2020 Our Nation Has a Progression of Ungodly Leaders and Now The Death Angel will Visit Them–It's Just The Beginning …
US Passes 4 Million Coronavirus Cases As Florida Suffers Another Record Jump In Deaths
Summary:
US cases pass 4 million
Greater Houston ICUs at 108% capacity
California reports jump in new cases, deaths
Alabama reports COVID-19 record
CDC says US could see 175k deaths by Aug. 15
All AMC theaters will stay closed until August
Cuomo holds press briefing at 1130ET
Florida reports more than 10k cases, record 173 deaths
9-year-old dies in Florida
DeSantis says teachers eager to get back to classroom
Dr. Fauci says reopening schools should be a "goal"
Iran suffers record daily deaths
Australia suffers 2nd highest daily total in Victoria
Barcelona hear of latest Spanish outbreak
India reports record jump in new cases
South Africa now has fifth biggest outbreak
* * *
Update (1540ET): As we await today's Texas numbers, it appears the total number of coronavirus cases reported in the US has finally passed its latest milestone: The US surpassed 4 million confirmed cases on Thursday, according to Johns Hopkins, as well as other tallies maintained by Reuters, Worldometer and the AP.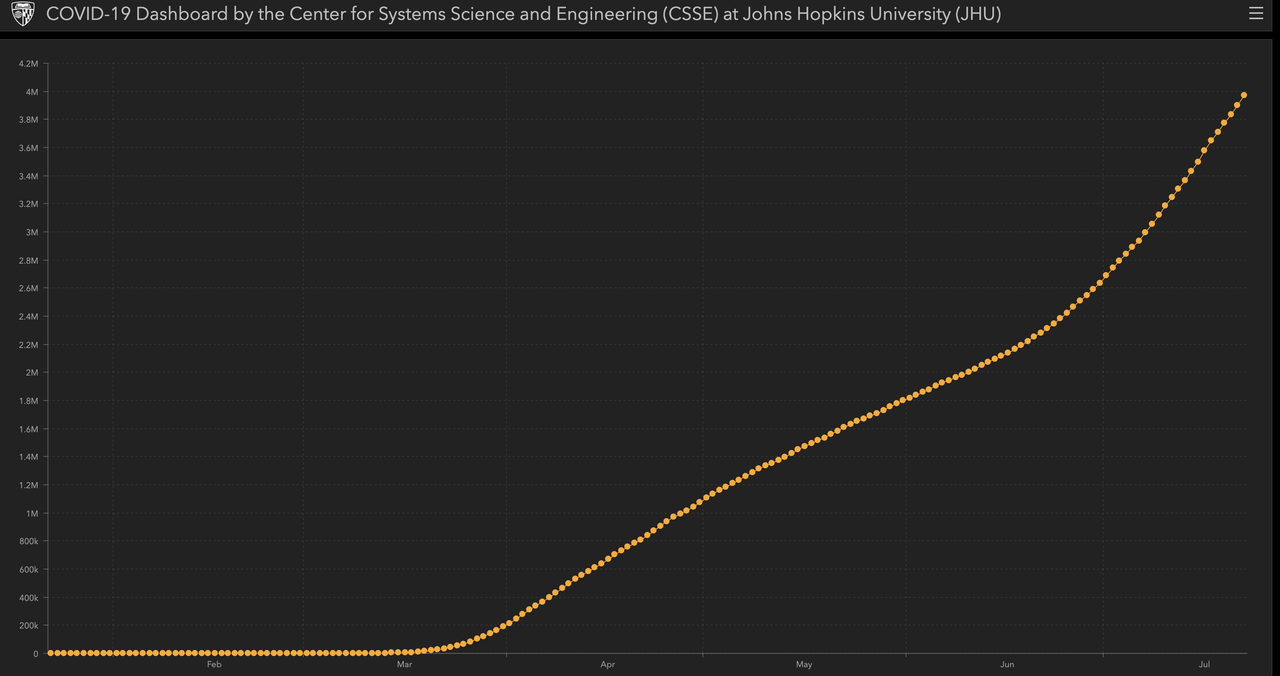 It took the US 98 days to reach 1 million cases, but just 16 days to go from 3 million to 4 million. The average number of new US cases is now rising by more than 2,600 every hour, the highest rate in the world.
On Thursday, Florida reported a record jump in COVID-19 deaths, with 173 lives lost. Alabama reported a record increase in cases for the fourth time this month.
* * *
Update (1450ET): According to figures released Thursday afternoon, ICUs in the Greater Houston Area have hit 108% capacity. Here are a few of the latest slides from Texas Medical Center.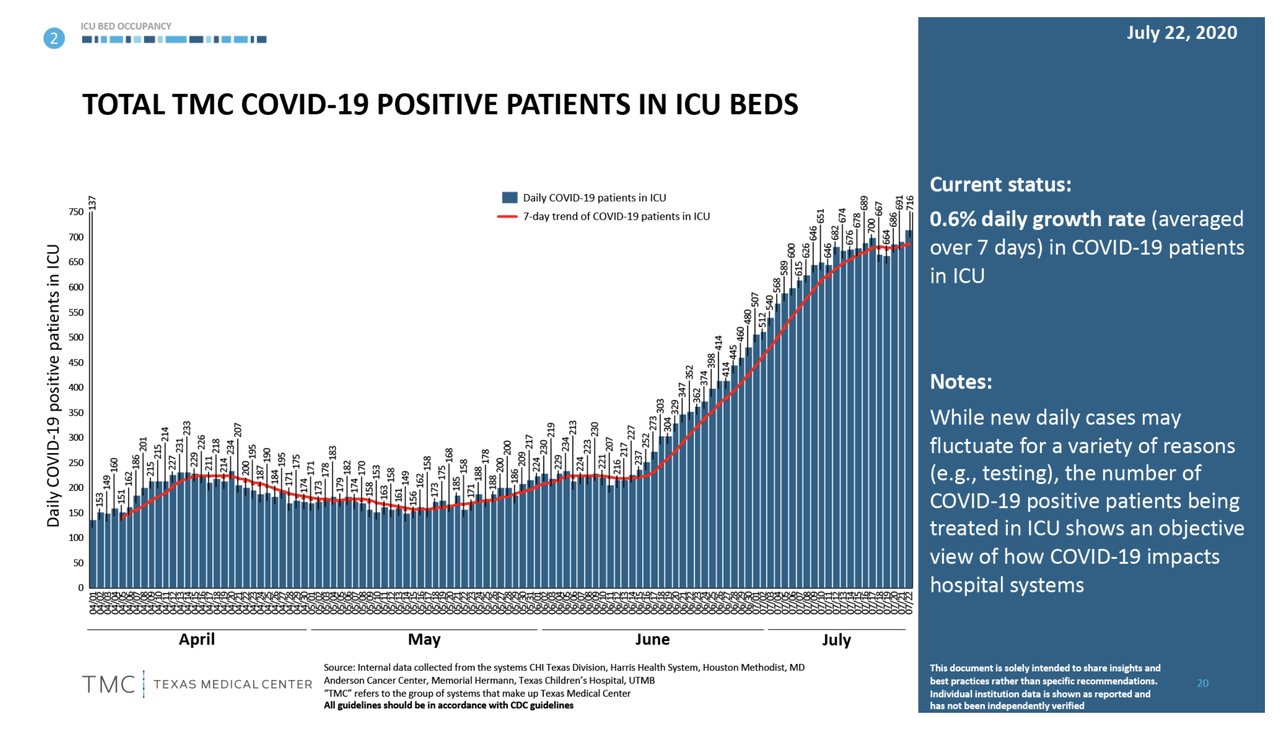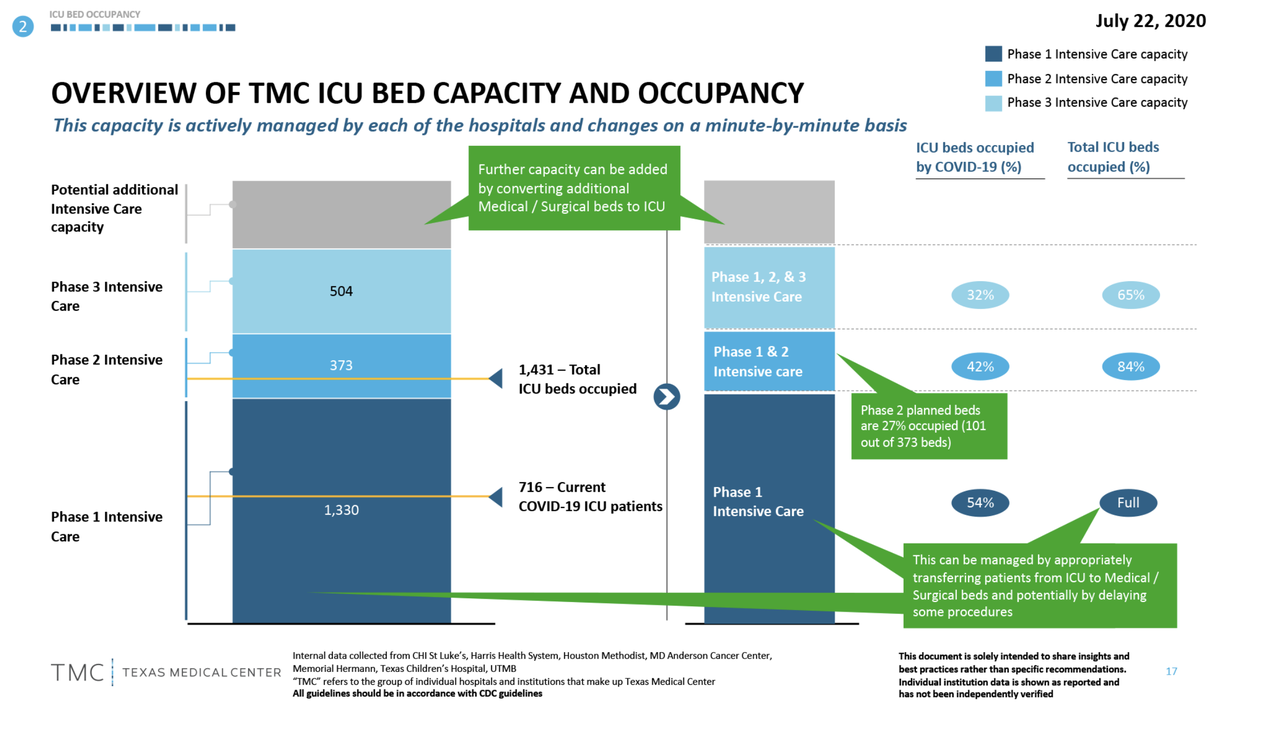 * * *
Update (1408ET): Following the latest record daily death tally in Florida, California reported its latest figures, with another daily jump in new cases and deaths. The state reported 12,040 cases and 157 additional deaths.
California's positivity rate climbed to 7.6% from 7.4%.
The CDC, meanwhile, reported 1,078 new deaths for Thursday across the US, with the total climbing to 142,755 deaths vs. 141,677. COVID-19 cases came in at 70,106 new cases across the US, bringing the official total to 3,952,273 cases. The agency added that it's currently penciling in 160k to 175k COVID-19 deaths by August.
* * *
Update (1120ET): Arizona has reported 2,335 new COVD-19 cases, 89 new deaths.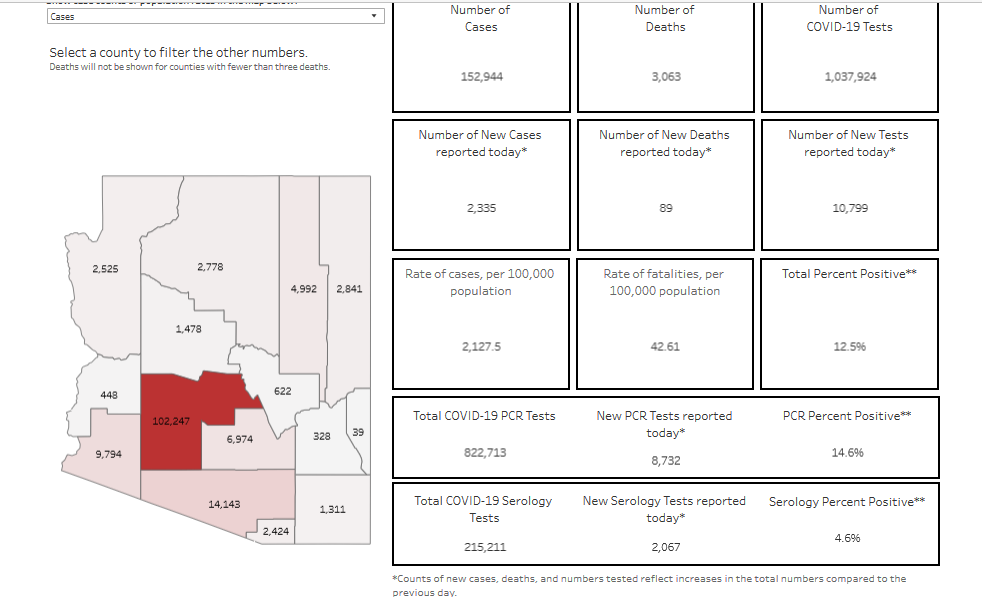 The state's ICU capacity has receded back to 87%. It's total positivity rate, as the chart above shows, was 12.5%, roughly even with yesterday.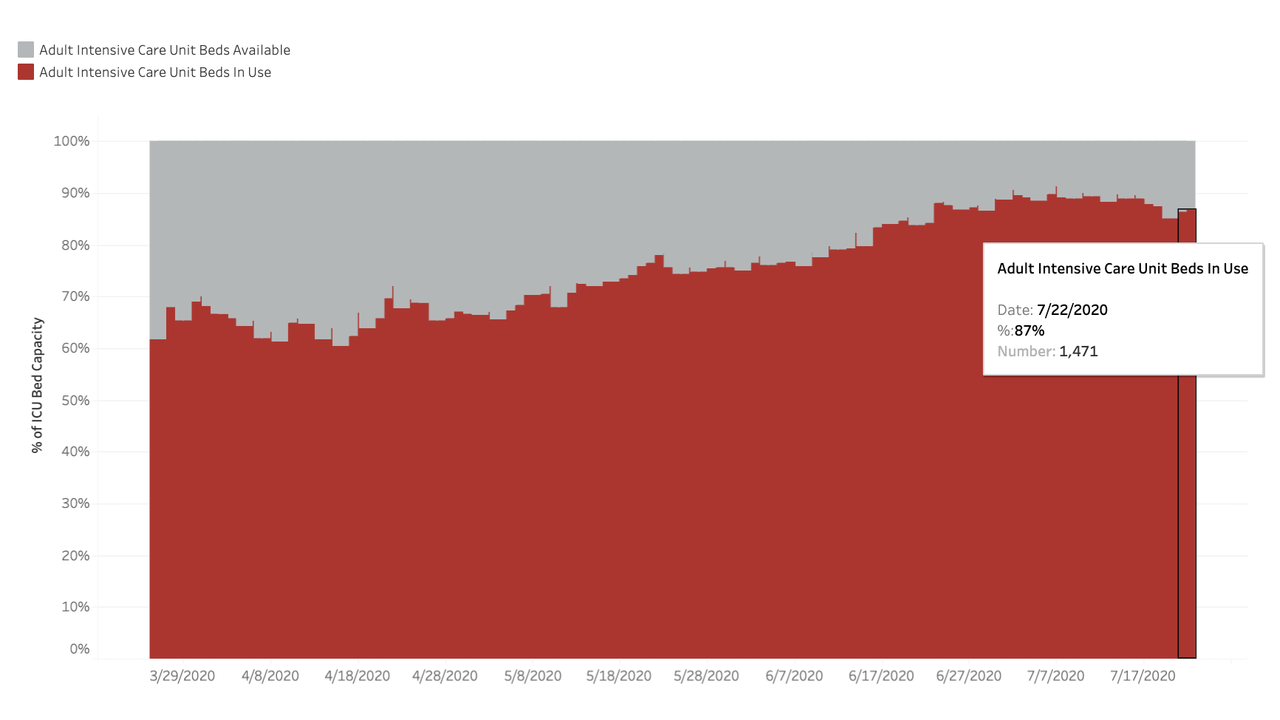 * * *
Update (1107ET): AMC will wait until August to reopen its movie theaters in the US., the company said Thursday.
The largest theater chain in the US had planned to reopen in July, a few weeks before the release of Warner Bros. "Tenet" and Disney's "Mulan."
However, after Tenet was delayed for a third time, the chain decided to change its strategy.
Other big movie theater chains could also delay their July openings.
AMC struck a deal earlier this month to help the company – American's largest theater chain – remain solvent until 2021. All of its locations in the US have been shuttered since mid-March. I
* * *
Update (1100ET): New York hasn't released today's COVID-119 data yet. That's likely because Gov Andrew Cuomo is planning to hold another press briefing at 11300 on Thursday.
* * *
Update (1020ET): Even more so than the record 7-day death tolls Florida has recently seen, the state reported on Thursday a startling headline: A 9-year-old girl from Fla's Putnam County is now the youngest person in the state to have succumbed to the virus.
She's not the first child to died from SARS-CoV-2: Florida has also seen an 11-year-old boy in Miami-Dade County, an 11-year-old girl in Broward County, a 16-year-old girl in Lee County and a 17-year-old boy in Pasco County, among the minors who have passed due to the virus.
Meanwhile, Fla. Gov Ron DeSantis has insisted that teachers in his state are eager to get back in the classroom, while Dr. Fauci insisted that reopening schools next months should be a goal, but that local leaders shouldn't hesitate to keep kids home if returning to school would be too great a risk.
The City of Miami has issued 115 tickets for face mask violations this week, Miami Mayor Francis Suarez said during his Thursday briefing.
"We have written 115 tickets," Suarez said. The breakdown for tickets issues includes, "59 warnings, 41 $50 tickets, 15 $100 tickets and we have closed 15 businesses, 10 for 24 hours and five for 10 hours," Suarez added.
Health authorities in the state released the latest numbers at around 1030ET Thursday, with the virus total in the state climbing to 389,868 COVID-19 cases, an increase of 10,249 from the day before. Additionally, the state reported 173 deaths, a record single-day total, bringing the statewide tally to 5,632.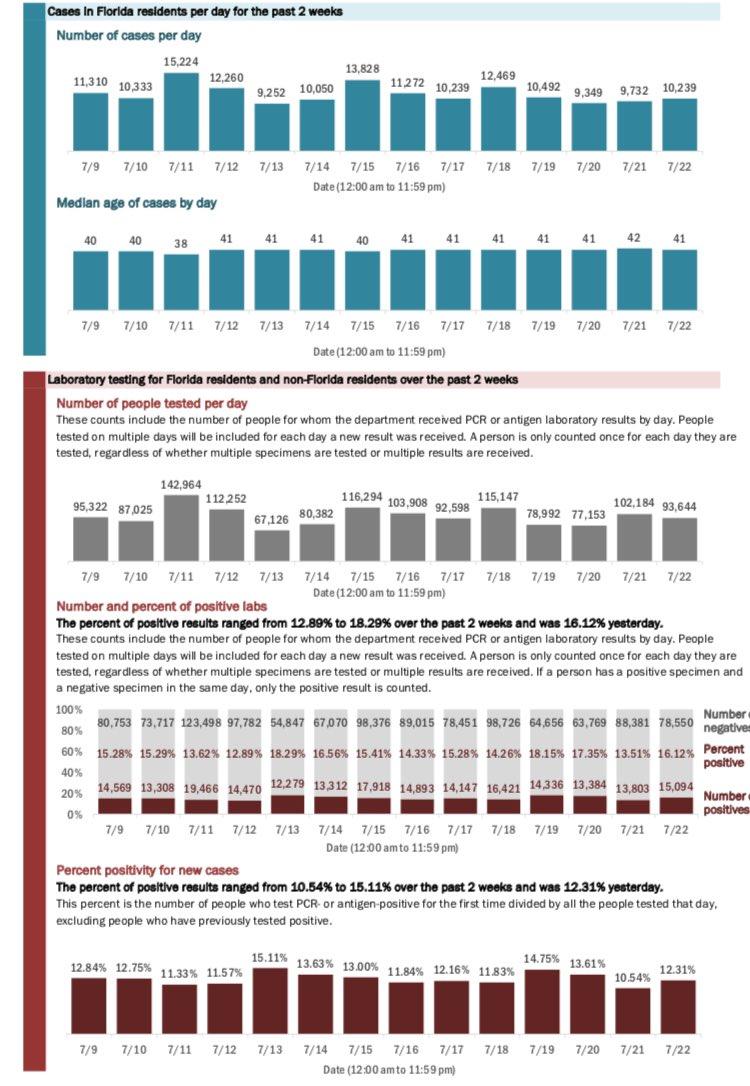 Testing was down about 9k from the previous days' report, so unsurprisingly the percentage of positive of new cases went up: 12.31%.
* * *
Yesterday, as California and Texas set new records for daily COVID-19 cases and deaths, Brazil reported more than 60k cases in a day. There hasn't been much in the way of major COVID-19 headlines this morning, but there have been a few notable reports from around the world, particularly in Asia.
Australia, for example, reported its highest daily number of coronavirus-related deaths in three months as new infections continued to climb in Australia's second-most-populous state. Victoria state said it had confirmed another 403 infections, while five people had died from the virus in the last 24 hours. The daily death toll was Australia's biggest since April. Tokyo also reported 366 new cases on Thursday, its latest record-breaking number.
In Iran, officials confirmed 221 new deaths from the virus, bringing the nationwide death toll to 15,074, according to the Health Ministry. Another 2,621 people tested positive for COVID-19 in the last 24 hours, raising the overall count to 284,034, according to a spokesperson for Iran's health ministry.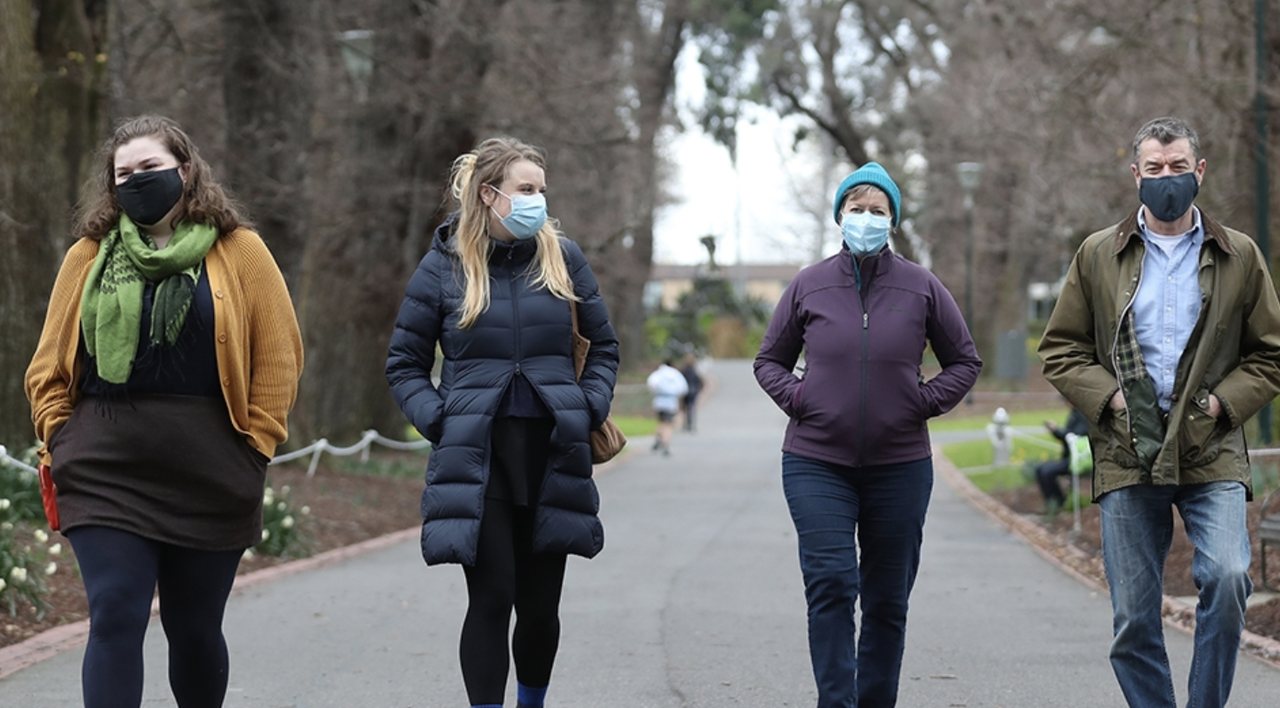 As its outbreak continues to worsen, India just reported an all-time high of nearly 45,600 new infections over the last day, as the spread of the virus accelerates in the world's second most populous country. India's confirmed coronavirus caseload has now risen to 1.2 million, 28,890 of whom have died. The country also reported a record high of 1,120 deaths in the same period. However, the tally also included the addition of more than 444 earlier coronavirus deaths in the southern State of Tamil Nadu that were not previously attributed to the virus.
Northeastern Spain's Catalonia region reported 721 new cases on Wednesday, with 3/4ths of these found in the Greater Barcelona Area.
Russia reported 5,848 new cases, pushing its national tally to 795,038, still the fourth-largest in the world. More than 12,700 deaths have been recorded to date and more than 570,000 have recovered. SA has roughly half of total cases in South Africa.
South Africa's confirmed coronavirus cases are rapidly closing in on 400,000 as the country suffers a new daily high of 572 deaths. In terms of reported cases, SA is now the world's fifth worst-hit county.
South Africa is now one of the world's top five countries in terms of reported virus cases, and it makes up more than half of the cases on the African continent with 394,948. Deaths are at 5,940.
Public hospitals are struggling as patient numbers climb, and more than 5,000 health workers have been infected.
Finally, China's National Health Commission has reported 22 new cases of the virus on the mainland on Thursday, with most of them discovered in the far western region of Xinjiang where mass testing, and a strict lockdown, is under way. Source: ZeroHedge
California Sees COVID-19 Deaths, Cases Climb As CDC Warns 175k Dead By Aug
Summary:
California reports jump in new cases, deaths
CDC says US could see 175k deaths by Aug. 15
All AMC theaters will stay closed until August
Cuomo holds press briefing at 1130ET
Florida reports more than 10k cases, record 173 deaths
9-year-old dies in Florida
DeSantis says teachers eager to get back to classroom
Dr. Fauci says reopening schools should be a "goal"
Iran suffers record daily deaths
Australia suffers 2nd highest daily total in Victoria
Barcelona hear of latest Spanish outbreak
India reports record jump in new cases
South Africa now has fifth biggest outbreak
* * *
Millions of Americans have just lost their jobs in the last several weeks due to the COVID-19 outbreak shutting down large swaths of the US economy. Households are coming under severe financial stress, with no savings, insurmountable debts, and job loss. Many are waiting for President Trump's stimulus check to arrive in the mail, some have skipped out on their rent or mortgage payments on April 1, and others have called their credit card companies to defer debt servicing payments as incomes for tens of millions of people have gone to zero.
The panic buying of food and supplies over the last month shows just how many people were unprepared for a national health crisis, nevertheless, now developing into an economic crash, and soon could be followed by a period of social unrest.
But before the social fabric of America becomes unstitched – households are to crack first. Their finances are piss-poor, with no savings and insurmountable debts, which include auto, credit cards, and student loans.
At the beginning of March, we noted how the gig-economy was about to crash, and by looking at the employment data that has come out since, along with future estimates, it's pointing to an economic depression that could be arriving as soon as the second quarter.
Households are in rough shape. Many people are heavily medicated, own weapons, and have some sort of substance use disorder, suggesting that in periods of extreme financial stress – suicides could increase.
What's concerning is that a suicide wave among low-income folks, who are already feeling the side effects of job loss, could be imminent.
President Trump warned in the last week of March that nationwide lockdowns must be reversed to prevent "tremendous death" from the economic depression, referring to the likely increase of suicides.
The 2008 Great Recession resulted in more than 10,000 suicides. The Great Depression resulted in tens of thousands of people taking their own lives. If the economy continues to be shuttered through April and or even May, then the depression will deepen, and suicides will increase. That is just the nature of the beast.
"People get tremendous anxiety and depression and you have suicide over things like this, when you have a terrible economy, you have death," President Trump said this week.
Pedophile Rapist Released From Massachusetts Prison to Protect Him From Coronavirus
Are they making room for law-abiding citizens not staying quarantined.??
@realDonaldTrumpPedophile Rapist Released From Massachusetts Prison To Protect Him From CoronavirusPresident Trump got criticized for saying "we cannot let the cure be worse than the problem itself," with regard to the coronavirus. Sadly, he was right in more ways than one. The Massachusetts…pjmedia.com
And with that being said, on Monday, a Pennsylvania man upset over losing his job due to the virus shutdown shot his girlfriend and then killed himself in an attempted murder-suicide. While this is only one incident, all the evidence above suggests suicides across the country will increase in the weeks or months ahead.
What could come next is social unrest – households are crushed, have no money and or job, and that is likely why President Trump signed an executive order last Friday to call up as many as one million National Guard and reservists – not just to fight the virus outbreak – but to maintain social order.
Watchmen, of today, are called to speak the word of the Lord from within the court, mounting an internal critique. The pressures on Nathan to keep silent after David seized Bathsheba and sent her husband to his death must have been enormous. He could have vented himself in a scathing editorial and then kept his head down. From all appearances, though, Nathan had free access to the court, was a friend of David, and a close adviser. It is said that prophets spoke truth to power, but that goes beyond cliché when we realize that prophets spoke the truth face to face with power, to powerful men and women whom the prophets knew intimately, frequently from their own position of power.SRH…
Everything is right on schedule and, now, the time is come to remove one of the final obstacles standing in the way of a New World Order: The United States Constitution – even if, over the course of many decades, it has already been greatly diminished by the B.E.A.S.T. system; or, more specifically, Bullshit Emerging As Strategic Totalitarianism (B.E.A.S.T.).
This Is Where We're All Headed, Get Ready…
National Guard Deploys In Baltimore As City Enforces Restrictive Curfew
Summary:
NYC Mayor de Blasio says "we are now the epicenter of the crisis."
A staffer for VP Pence test positive; White House says "no close contact"
China reports no local infections for 2nd day in a row
Global case total passes 250k
Hong Kong reports largest daily jump in cases on record as travelers revive outbreak
NY rolls out restrictive new measures
NY case total tops 7k
Italy says Army will help enforce lockdown, effectively declaring martial law; might extend lockdown through early May
Spain death toll cracks 1,000
Italy reports another 627 deaths
National Guard spotted in Baltimore as 2nd death recorded in Baltimore County
Confirmed cases in US pass 14k
Drive-thru testing site in NJ's Bergen County has a line that's over 1,000+ cars long
Switzerland bars all gatherings of more than 5 people
Greenwich cases spike as Darien shutters COVID-19 testing clinic
Trump says no plans for national lockdown
Germany to pass 'shadow' budget on Monday
EU suspends budget rules
Bavaria becomes the first German state to impose 'lockdown'
Johnson says the UK can defeat virus in 12 weeks if 'we work together'
Treasury now moving back both filing & payment deadlines for 2019
Novartis will donate up to 130 million doses of hydroxychloroquine to support the global response
NBC News employee succumbs to the virus
Dr. Fauci says social distancing should continue for several weeks
MTA confirms it has 23 sick workers
US, Mexico agree to shut southern border
China makes first purchase under 'Phase 1' trade deal
Altria chairman & CEO tests positive
Military confirms 35 American troops infected in Europe
TRAVEL PAPERS AND ELECTRONIC TRAVEL PERMITS ISSUE WORLDWIDE "Travel Papers" & The Pandemic Patriot Act 2.0 https://www.zerohedge.com/political/travel-papers-pandemic-patriot-act-20 On March 17th, a few days before New York issued a shelter in place order, the Metropolitan Transportation Authority issued "travel papers" to their employees to prepare for a potential coronavirus curfew. The NY Daily News reports: If non-emergency travel is restricted, workers can show law enforcement officials the letter if they're stopped on the way to work. "This letter along with current New York City Transit identification identifies this individual as an essential employee who is required to travel during the curfew imposed due to the Coronavirus emergency," states the letter, which is signed by the Metropolitan Transportation Authority's Police Department's acting chief Joseph McGrann. "Please give this individual due consideration during this crisis." It seems like the DoJ is itching to suspend the Constitution. Jordan also is issuing "permits" for moving around during the curfew. https://en.royanews.tv/news/20394/2020-03-24 With regard to the movement permits currently in place to those whose work nature requires so, they will be canceled as of next Thursday evening and will be replaced with electronic permits.
The mechanism for obtaining them will be announced later. The government warned against movement permits forgery or giving permits to others to use them. By far, the biggest surveillance state is now China.
Eight of the top 10 most surveilled cities in the world are in China, according to Comparitech, as the world's No. 2 economy rolls out an unparalleled system of social control. Facial–recognition software is used to access office buildings, snare criminals and even shame jaywalkers at busy intersections.
China today is a harbinger of what society looks like when surveillance proliferates unchecked. But while few nations have embraced surveillance the way China has, it is far from alone. Surveillance has become an everyday part of life in most developed societies, aided by an explosion in AI-powered facial–recognition technology. Last year, London police made their first arrest based on facial recognition by cross-referencing photos of pedestrians in tourist hot spots with a database of known felons. A few months earlier, a trial of facial–recognition software by police in New Delhi reportedly recognized 3,000 missing children in just four days. In August, a wanted drug trafficker was captured in Brazil after facial recognition software spotted him at a subway station. The technology is widespread in the U.S. too. It has aided in the arrest of alleged credit-card swindlers in Colorado and a suspected rapist in Pennsylvania. On December 17, 2019, the New York Times ran an article on the state of surveillance tech. https://www.nytimes.com/2019/12/17/technology/china-surveillance.html China is ramping up its ability to spy on its nearly 1.4 billion people to new and disturbing levels, giving the world a blueprint for how to build a digital totalitarian state. Chinese authorities are knitting together old and state-of-the-art technologies — phone scanners, facial-recognition cameras, face and fingerprint databases and many others — into sweeping tools for authoritarian control, according to police and private databases examined by The New York Times. Once combined and fully operational, the tools can help police grab the identities of people as they walk down the street, find out who they are meeting with and identify who does and doesn't belong to the Communist Party.
The United States and other countries use some of the same techniques to track terrorists or drug lords. Chinese cities want to use them to track everybody. In the world of "mark of the beast" surveillance, everyone will be considered a terrorist until proven 'not guilty' through having voluntarily accepted an implanted tracking device. Israel is using the coronavirus outbreak to implement China's draconian surveillance. The average phone has 14 sensors collecting data on its owner's 'micro-environment,' says systems engineer whose firm is helping the Israeli government. https://www.timesofisrael.com/how-digital-surveillance-in-virus-fight-watchesyou-more-closely-than-any-gps/ Coronavirus phone tracking doesn't just tell governments more or less where their citizens are, but can also show the phone owners' "micro-environment" and provide a treasure trove of information about their physical surroundings, a systems engineer behind key technology being used in the battle against the spread of coronavirus has revealed.
He said that Neura [his company] is working with health organizations in several countries, and "helping" the government in Israel, though he agreed only to discuss his company's work in general terms without going into the specifics of its role in Israel. processes build a highly accurate picture of exactly where an infected person has been. It uses precise levels of ambient light and other characteristics of the environment, along with information like what WiFi networks and Bluetooth devices were available at what signal strength, regardless of whether or not the person in question was connected. Motion sensors are a giveaway if people were in the same car or on the same bus or train. Neura's algorithms trawl the cellphone information collected by governments and determine who else was in an identical setting — something that can normally be determined even if a phone was in a pocket or a bag. When there is a match, authorities see it on their systems and can choose to place that person in quarantine. "We are finders of needles in haystacks," said [vice president of Neura] Shaashua, whose technology is normally used by companies that want artificial intelligence to improve customer relations.
He said his company knows nothing about the people whose smartphone data it analyzes, not even their names or phone numbers. Governments tell the company who has the coronavirus by flagging up their phone with an "anonymized token," and a similar token is used by Neura to identify the phones of people who may need to be quarantined. He said that this same "anonymized" data is setting the tone of what national leaders are saying to their citizens. Neura takes the raw data and gives authorities a picture of how citizens have been behaving — how much they have been moving around, to what extent they are gathering and in what scale of the crowd, and what kind of environments they are in.
It Should Be Clear by Now Our Elected Officials Are in Reality Members Of, Enablers of the New World Order, the Department of Justice Has Asked Congress for Indefinite Detention Powers, Citing the Coronavirus, That's Laughable, They Intend to Turn Total Control Over to the United Nations, People Like Bill Gates That Have the Demonic Vision for Humanity Here's the Good News They Only Have 7 1/2 Years and Jesus Will Returns and These Ungodly Individuals and Groups Will Reap Their Reward, a Life TIME of Torment, Enjoy Reprobates… StevieRay Hansen
The Justice Department is using the outbreak of the coronavirus to expand their power. They have reportedly asked Congress for the power to detain Americans indefinitely without a trial in order to fight the outbreak which has so far, infected 32,000 Americans.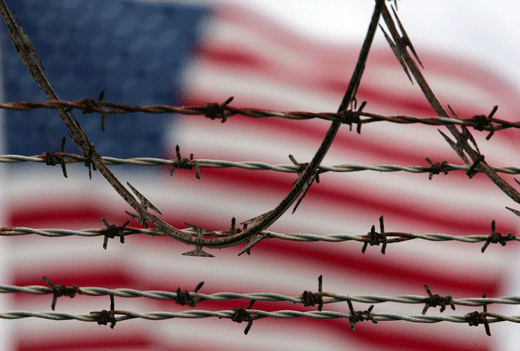 The government is rapidly moving to destroy human rights and the basic fundamental freedoms we hold dear in the name of fighting the coronavirus. This is far more severe than an outbreak. Enslaving humanity should never be the solution to a problem. However, the justice department thinks this request is acceptable. They are asking Congress to allow the U.S. attorney general to ask courts to suspend court proceedings.
These include "any statutes or rules of procedure otherwise affecting pre-arrest, post-arrest, pre-trial, trial, and post-trial procedures in criminal and juvenile proceedings and all civil process and proceedings," reports Betsy Woodruff Swan, citing DOJ documents presented to Congress.
Basic human rights are in danger of being severely diminished if not outright destroyed. If Congress approves this power grab (and I wouldn't put it past them) totalitarianism is in our very near future.
The Justice Department would be able to postpone trials, hearings, and other procedural steps that follow an arrest. That represents a potentially huge violation of the constitutional right to a speedy trial.

Those powers would apply "whenever the district court is fully or partially closed by virtue of any natural disaster, civil disobedience, or other emergency situation," Woodruff Swan writes, and would remain in place for "one year following the end of the national emergency." –Reason
"If history is any indication, it's a near certainty that these powers will be abused and that DOJ will try to hide those abuses when they occur," says Clark Neily, the vice president for criminal justice at the Cato Institute. "This is simply not an agency that has earned the kind of trust implied by these requests for increased authority and discretion."
It's also unclear how allowing indefinite detention would help fight the coronavirus outbreak. It seems more likely that the DOJ is learning from members of Congress and the president that the crisis provides a convenient excuseto ask for things it already wanted in the first place. –Reason
Without Trial–deeply disturbing, Entering the Great Tribulation…
This Pestilent Is Revealing to All What Many of Us Have Known for a Long Time: This Godless Nation Was Designed by the Un-Godly to Fail and so Its Failure Was Not Just Predictable but Inevitable
Source: HNewsWire CensoredNews ZeroHedge breitbart
StevieRay Hansen
Editor, HNewsWire.com
Watchmen does not confuse truth with consensus The Watchmen does not confuse God's word with the word of those in power…
All the official reassurances won't be worth a bucket of warm spit. The Globals are behind the CoronaVirus, It Is a Man-Made Bioweapon.
The Bill and Melinda Gates Foundation Have NOT Got The Memo Yet, "Pestilences" Has No Cure
The Coronavirus Was Most Certainly Produced by Crazy (Un-Godly) Men in Laboratories, WGO and CDC Knew All Along That the Coronavirus Was a Bioweapon, There're in Charge?
Well-known medical expert Bill Gates did an AMA on Reddit (transcribed here), in which he casually drops some chilling ideas into the conversation:
Eventually, we will have some digital certificates to show who has recovered or been tested recently or when we have a vaccine who has received it.
All in all, our freedoms are being swamped. Big corporations and states alike are setting boundaries on individual rights on a flimsy pretext.
Is anyone in the media reporting that? Of course not. Instead, we're getting fawning celebrity-based drivel like this in the Independent, trying to convince us "we're all in this together", or weasel-worded nonsense like this from Jonathan Freedland in The Guardian where he mourns Johnson's "libertarian" spirit and reluctance to impose social control. That would be the mass-surveilling, drone executing, war-supporting type of libertarian. A crass and obvious example of narrative management.
Even members of the alt-media are falling for this, with prominent voices hailing the measures as necessary or demanding "further action" (one usually sane analyst is advocating locking all of those "probably infected" inside empty sports stadiums to be "medically monitored"). Somehow former Goldman Sachs banker and Hedge Fund manager Rishi Sunak is being praised as some kind of Nye Bevan figure. It's almost literally insane.
If a mandatory vaccination program were to be implemented again in the U.S. for ("Chinese virus") COVID-19, the government would have to reassure the public its previous negligence of such side effects would not be repeated, an unlikely scenario after the corporate breach of trust exposed on Wall Street in recent years involving large pharmaceutical firms. Regardless, Big Pharma is already partnering with the U.S. Army to develop a vaccine for the coronavirus which would have to be tested and evaluated before licensing by the Food and Drug Administration (FDA) and recommended for use by the Centers for Disease Control and Prevention (CDC), both of which partner with the WHO whose largest financial contributor is the U.S. government.
One of the WHO's other largest benefactors is the Bill and Melinda Gates Foundation with whom it has a partnership on vaccinations. The billionaire Microsoft Corporation founder has used his enormous wealth to dodge paying taxes under the guise of philanthropy and his 'charitable' private ventures have mostly focused on producing vaccines for developing countries and purportedly tackling global poverty, especially in Africa. On the surface, this may appear to be benevolent work, but like many so-called altruistic projects, it is a scheme which allows ultra-wealthy plutocrats like Gates to influence global policy and obtain political power with no accountability by investing in "fixing" the social problems caused by the very system which made them rich, with the expansion of neoliberalism as their real agenda. The consequences of this can be seen with charitable projects involving Gates in the Congo which forced its local agribusiness into using GMO seeds which only benefited private companies like Monsanto.
More disturbing is that in regard to environmental concerns about man-made climate change, Gates has made public his views on curbing human population growth as a solution. At a 2010 TED Conference, Gates stated:
"First we got population. The world today has 6.8 billion people. That's headed up to about 9 billion. Now if we do a really great job on new vaccines, health care, reproductive health services, we lower that by perhaps 10 or 15 percent."
To put it another way, one of the world's wealthiest men admitted in public he believes vaccines should be used for depopulation, just as he is financially investing in both developing and delivering them to countries in the global south. The misanthropic myth of 'overpopulation' pushed by Gates and the elite not only suggests that depopulation is a solution for slowing the warming of the climate but retains the logic of an essential component of eugenics with the implicit idea that the quality of life for the human species can be improved by discouraging human reproduction. Since developing countries have the highest child mortality rates, families are more likely to be larger because children are less likely to survive. Hence, the inherent racism and classism in such a misconception.
tribulation, antichrist, Christianity, Christians, end times, First Amendment, hate groups, Electronic Prison, Birth Pains, Censorship, Collapse, content publishers, digital tyranny, Donald Trump, election fraud, evil, freedom of speech, Google, impotence, meddling, oppressed, President Trump, speech police, tech giants, Trump, Tyranny
In his apocalyptic vision in the Book of Revelation, the Apostle John sees the "beast," also called the Antichrist, rising out of the sea having…
Read More
We make every effort to acknowledge sources used in our news articles. In a few cases, the sources were lost due to a technological glitch. If you believe we have not given sufficient credit for your source material, please contact us, and we will be more than happy to link to your article.