Watchman: Normal People Have Had It, Which Should Worry Corporate America More Than Anything. Transheuser-Busch's, Sodomites, AKA Satan Soldiers, Decided to Do Business With a Transvestite
HNewsWire:
The parent company for the left-wing colonialists known as Ben & Jerry's has lost $2 billion in market cap after the colonialists hypocritically smeared America on the Fourth of July.
Looks like Ben & Jerry's is becoming "The Bud Light of Ice Cream."
The New York Post reports that shares of Unilever, Ben & Jerry's parent company, "slid 0.8% Thursday after closing down 0.5% the previous day." That equaled a market cap drop from $130.2 billion to 128.5 billion.
Remember that Ben & Jerry's is a small part of Unilever, a massive, century-old British multinational that sells dozens of household brands.
So what could have caused this sudden stock dip after the Fourth of July weekend, a time when people consume more stuff, not less, most especially ice cream? And this was a hot Fourth of July—perfect for ice cream consumption. I know this because the wife and I were camping and had the air conditioning going full blast all day. (I won't camp without air conditioning. I'm not a savage.)
Well, this $2 billion – with a "B" – loss just might have something to do with Ben & Jerry's publishing an anti-American tweet on July 4 demanding America return all its land to the Indians. Ben & Jerry's demanded we start with the "immediate" return of Mount Rushmore to the Sioux.
As I laid out this week, this is a stupid and, yes, immoral idea. Sometime in the past, the Sioux probably stole that land from another tribe. You see, Western Europeans did not introduce land theft, slavery, and genocide to the American Indian. Long before we arrived, the Indians had colonizing down pat. For thousands and thousands of years, tribes were wiped out, enslaved, and stole land from other tribes. How far back are we supposed to go with these reparations? Why return stolen land to the Sioux if the Sioux were sitting on stolen land?
We won. That's what happened. America won the 400-year war for the American West. Both sides committed unforgivable atrocities. America's federal government broke way too many treaties. But we won. Sorry, not sorry. If we hadn't won this land from the Indians, there would be no air conditioning.
Anyway, this story took a glorious turn when it was discovered that Ben and Jerry are both colonialists whose Vermont headquarters sits on land stolen from the Abenaki (who probably stole it from some other tribe).
Normal people have had it, which should worry corporate America more than anything. Transheuser Busch decided to do business with a transvestite. The results have been catastrophic, especially for the doornail-dead Bud Light brand. Target decided to get into the child grooming business with Satanists. The results have been catastrophic. The Walt Disney Co. embraced woke identity politics and grooming. The results have been catastrophic, especially for its movie division, which released one flop after another.
We normal people are hard to stir. You see, normal people are pretty content with their lives and believe in live and let live. We tend to shrug things off and focus on our priorities: family, work, home, air conditioning… But these left-wing companies have red-lined our tolerance. We're sick of being bombarded with sexual deviancy. Our kids are being targeted with what can only be called corporate grooming. Demanding we give land back to Indians who likely stole it themselves…? Man alive.
We've had enough. These corporations have abused our goodwill, and it's costing them billions. The hard part will be trying to win us back. Because once you lose normal people, we tend to stay lost.
HNewsWire:
Looks Like Ben & Jerry's HQ Sits on Land Stolen from Indians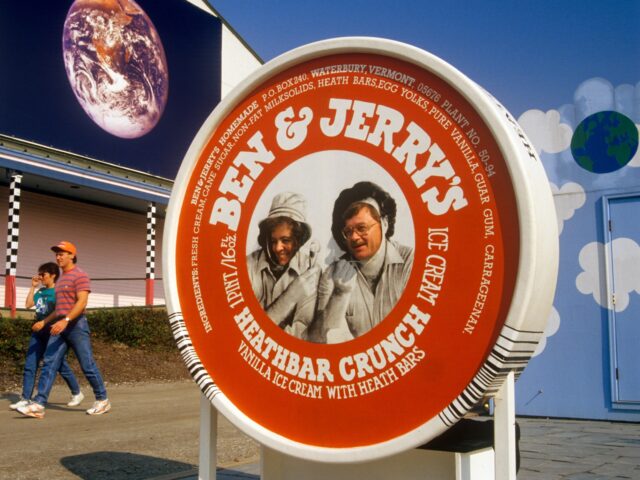 The insufferable left-wing fascists and antisemites known as Ben & Jerry have a headquarters that sits on land that was almost certainly stolen from the Indians.
This glorious news comes one day after — on the 4th of July — the insufferable left-wing fascists and antisemites known as Ben & Jerry decided to troll America–the most tolerant country in world history–with a nonsense press release headlined: "The US Was Founded on Stolen Indigenous Land—This July 4, Let's Commit to Returning It."
The left-wing fascists and antisemites known as Ben & Jerry then suggest, "Here's why we need to start with Mount Rushmore." The release goes on to whine about how what is now Mount Rushmore was stolen from the Sioux, undoubtedly by the same federal government Ben & Jerry would like to see control everyone's life.
Well, according to a couple of sources, I'd like to amend that press release to say, "Here's why we need to start with Ben & Jerry's Vermont headquarters."
Because guess what? The left-wing fascists and antisemites known as Ben & Jerry likely built their own headquarters on land stolen from the Indians:
We have concluded that your company's occupation of the Abenaki lands is illegal and we believe it is wholly inconsistent with the stated values that Ben & Jerry's purports to maintain. Ironically, in July of the last year you announced that you would discontinue the sale of your products in Israel because you object to the Jewish State allegedly occupying Palestinian territories. … Ben and Jerry's has never even offered to provide compensation to this indigenous nation in Vermont. … Justice, morality and boycotts are not just slogans and antisemitic weapons for your food company to point at the Jewish community in Israel. Justice and morality must begin at home.
That's part of a letter to Ben & Jerry from more than a thousand Israeli students and academics associated with Students for Justice in America. The letter goes on to demand that the left-wing imperialists known as Ben & Jerry immediately vacate the stolen land "it occupies" in South Burlington, Waterbury, and Saint Albans and return that stolen land to "the Abenaki people."
The letter explains that Ben and Jerry's imperialist "company has no right to these stolen territories."
Legal Insurrection adds that the University of Vermont, which is a mere three miles away from Ben and Jerry's Burlington headquarters, has acknowledged this theft:
The UVM HESA Program acknowledges that the University of Vermont rests upon the traditional territory of the original inhabitants of this land – the Abenaki people – and the State of Vermont now occupies the lands of the Mahican and Pennacook tribes. We acknowledge that Indigenous Peoples were forced to leave Vermont during the 1600's, and eastern tribes were displaced by colonial expansion.
All of which goes to show how stupid this is. When it comes to how the federal government treated the American Indian, I'm second to none in my disgust. The 400-year war for the American West was filled with atrocities on both sides, but America was not a gracious victor, especially when it came to honoring treaties. The American Indians were also the first victims of federal gun control laws.
But.
Let's not skirt around the inconvenient fact that the Western European is not responsible for introducing land stealing, slavery, or genocide to North America. Long before Europeans arrived, plenty of "indigenous peoples" went to war with other "indigenous peoples" to steal their land and enslave captors. Some tribes completely wiped out other tribes, which is–wait for it, wait for it–genocide.
So how exactly is this supposed to work?
How far back do we go?
What if it's discovered that the Sioux stole the land that is now Mount. Rushmore? Do we search for the ancestral victims of the Sioux and return Mount Rushmore to them? What if those ancestral victims are sitting on land their ancestors stole from… I think you get my point, and it's a good one.
Oh, and what if it's discovered that the Abenaki stole the land the left-wing imperialists known as Ben & Jerry currently occupy?
Who do we give all this land to?
Eventually all of these dumb reparations demands will lead back to the descendants of Adam and Eve. Well, good news: that's all of us!
Ben & Jerry don't care about these facts or complications. Their job, just like the wealthy crybabies who continue to complain about slavery, is to pick the scab so our country can never heal. Ben & Jerry don't care about the American Indian. All they care about is their agenda, which is to tear down Western Civilization, form a centralized government, and rule over people while they live in their mansions and eat cake.
Say hello to Granite Ridge Soapworks! Use our handmade soaps to take good care of your skin. Our premium natural ingredients work together to create a silky, creamy lather that hydrates your skin. Chemicals, such as sodium lauryl sulfate, phthalates, parabens, or detergents, are never used by us. To ensure quality, we make all of our soaps in modest quantities. Visit our Etsy store right away to give them a try and the attention your skin deserves. GraniteRidgeSoapworks: Because only the best will do for your skin.
Use the code HNEWS10 to receive 10% off your first purchase.
Pedophile Charged Mayor Patrick Wojahn Called Pete Buttigieg His "Buddy" and "Mentor" HNewsWire: Patrick Wojahn, the mayor of Maryland, was arrested on suspicion of possessing child pornography. Thursday has a long history of mentoring Biden's beleaguered Transportation Secretary Pete Buttigieg. In interviews, former College Park Mayor Wojahn, 47, has credited Buttigieg's "mentorship" with helping him improve his career. "I actually met Mayor Pete Buttigieg shortly after I was elected mayor in 2015," Wojahn, who is Homosuxal, told the LGBT-focused Washington Blade in 2019. Wojahn described how the former mayor of South Bend, Indiana, who is also Homosexual a.k.a gay, was charged with becoming Buttigieg's "friend" during a gathering of mayors in Washington long before Buttigieg's 2020 presidential bid. "I went to the Winter Meeting of the US Conference of Mayors in DC in January [2015], and he was designated to……...
SRH: Sometimes our critics accuse us of being angry, as if that somehow disqualifies our message. Perhaps they have never read of God's wrath or His righteous indignation. The reality is that God was often angry. He was angry with Moses after he objected five times to confront Pharaoh. Jesus was angry at the money changers in the Temple. He called the Pharisees a "brood of vipers." Righteous anger is not only justified, it is expected of God's children. We should be righteously angry at all the sin that God hates. Our anger should be tempered by the command to love, but this does not make the two emotions mutually exclusive. That's our position. HNewsWire: Monkeypox cases are expected to increase in the United States, according to the Centers for Disease Control and Prevention (CDC). There has been one incidence…
Revelation: A Blueprint for the Great Tribulation
Will Putin Fulfill Biblical Prophecy and Attack Israel?
A Thrilling Ride
Every once in awhile, a book comes across your path that is impossible to put down. A Long Journey Home is not a casual book that you read in a week or earmark to complete at a later date. Once you begin, cancel your schedule, put your phone on silent, find a quiet place where you cannot be disturbed, and complete the journey. Click Here to Purchase on Amazon.com!