Advisory: Be careful of what you read on social media. The algorithms used by these platforms have no regard for Biblical truth. They target your emotions to keep you engaged on their site so their advertisers can drop more ads. These platforms exist to enrich their stockholders. Consider God's promise to Believers in James 1:5, "If any of you lacks wisdom, you should ask God, who gives generously to all without finding fault, and it will be given to you."
A Strong God Sent Delusion Has Caught Hold of These 'Pretenders', These Pastors Are Christian in Name Only, Hypocrites, Pharisees They Are Evil…
Christ-less Christianity is a watered-down version of Christianity that is quickly replacing doctrinal purity while professing itself to be biblical. Christ-less Christianity presents the Bible as if it were a collection of Aesop's fables—a bunch of unrelated stories with a nice moral at the end of each. Such an approach ignores the grand theme of Scripture—God's redemption of sinful mankind—and the centrality of Christ in Scripture. Rather than creating self-denying disciples (Matthew 28:19), the message of Christ-less Christianity creates adherents who are "lovers of pleasure rather than lovers of God—having a form of godliness but denying its power," as 2 Timothy 3:4–5 days.
The Bible indicates that there will be a great apostasy during the end times. The "great apostasy" is mentioned in 2 Thessalonians 2:3. The KJV calls it the "falling away," while the NIV and ESV call it "the rebellion." And that's what apostasy is: a rebellion, an abandonment of the truth. The end times will include a wholesale rejection of God's revelation, a further "falling away" of an already fallen world.
The occasion of Paul's writing to the Thessalonians was to correct some of the errors concerning the end times that the believers had heard from false teachers. Among the falsehoods was that "the day of the Lord has already come" (2 Thessalonians 2:2). The Christians in Thessalonica were afraid that Jesus had already come, they had missed the rapture, and they were now in the tribulation. Paul had already explained the rapture to them in his first letter (1 Thessalonians 4:16–17). Paul writes his second letter to assure them that, contrary to what they had heard, and despite the persecution, they were enduring, the "day of Christ" had not yet come.
CHRISTIANITY CORRUPTED
A coalition of more than 2,700 high-profile evangelicals spanning the fields of science and religion have signed onto a statement billed "A Christian Statement on Science for Pandemic Times," which warns against the politicization of the new coronavirus and urges Christians to take appropriate action against it, including taking a vaccine when it's ready.
"We are deeply concerned about the polarization and politicization of science in the public square when so many lives are at stake. The word 'science' has become a weapon in the culture wars. Scientists are vilified and their findings ignored, while conspiracy theories go viral. Sadly, Christians seem just as susceptible to these trends. Thoughtful Christians may disagree on public policy in response to the coronavirus, but none of us should ignore clear scientific evidence," the statement published online by the nonprofit organization BioLogos says.
"We call on all Christians to follow the advice of public health experts and support scientists doing crucial biomedical research on COVID-19."
BioLogos was founded by U.S. National Institutes of Health Director Francis Collins, a devout Christian geneticist, and his wife, to foster discussions about the harmony between science and biblical faith. Collins was honored earlier this year with the Templeton Prize, a financial award of $1.3 million for his storied career using science to advocate for the "integration of faith and reason."
Some of the influential evangelicals who have already signed the statement include: Bishop Claude Alexander, senior pastor, The Park Church, Charlotte, North Carolina; National Association of Evangelicals President Walter Kim; William Phillips, a distinguished professor of physics at the University of Maryland who was a co-recipient of the Nobel Prize of Physics "for development of methods to cool and trap atoms with laser light" in 1997; and Samuel Rodriguez, president of the National Hispanic Christian Leadership Conference.
The signers affirm that they "uphold the authority of God's Word and see science as a tool to understand God's world."
The statement comes in the wake of the fragmented response in the Christian community to the coronavirus which has fed skepticism about how it has been handled and challenged advice from public health officials on issues such as the wearing of masks to stem the spread of the disease.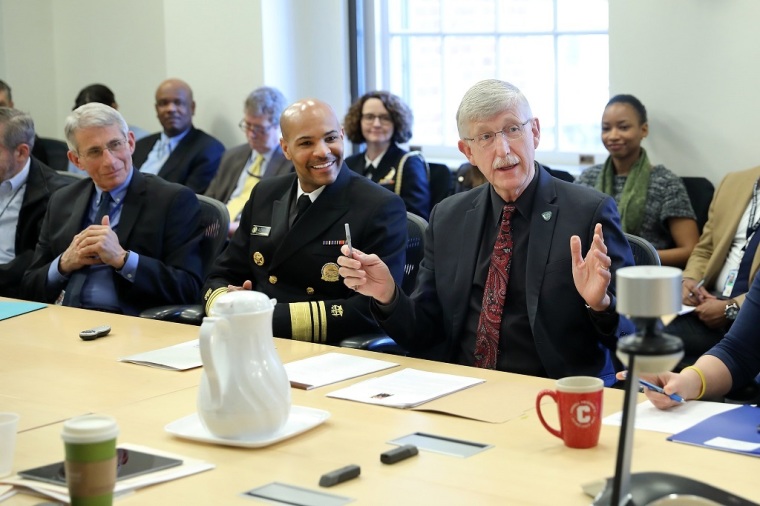 A vocal minority of churches also spoke out against calls from federal and local government authorities to close their churches amid the new coronavirus pandemic, risking fines and arrests. As recently as Sunday, North Carolina Bishop Patrick Wooden Sr. of the conservative Upper Room Church of God in Christ in Raleigh, slammed Dr. Anthony S. Fauci, who is director of the National Institute of Allergy and Infectious Diseases and member of the White House Coronavirus Task Force, as a "backslidden Catholic and self-professed humanist" who is being used as a political tool by the left.
"Humanists do not believe in prayer, humanists do not believe that God intervenes, humanists do not believe that we need help from the Lord at all. That may be one of the reasons he could easily recommend that churches be closed, but he fumbled and waffled when they suggested perhaps the protests should be curtailed because they spread the virus," he asserted.
The statement acknowledges that while Christians have a valid reason to be skeptical of the scientific process, it would be unwise to dismiss their research.
"It is appropriate for Christians to be skeptical of claims made by scientists who speak outside their area of expertise. We firmly reject claims that science has somehow shown God does not exist or faith is mere superstition. Such claims go beyond what science is capable of investigating. We lament the times when science and medicine have been misused to perpetrate atrocities like the racist Tuskegee experiments. But Christians should listen to scientists and doctors when they speak in their area of expertise, especially when millions of lives are at stake," the statement warns.
It also explains that while some of the scientific guidance on the virus may seem confusing at times, it's simply the nature of the process of trying to fight a virus they are still learning about each day.
"Experts have been communicating their knowledge in real time as the pandemic progresses, which has led to some confusion. In the early days, they advised the public against masks when supplies were needed for healthcare workers, but later they changed their message in response to more data. A change in expert advice is not a sign of weakness or unreliability, but of good scientific practice and honesty," it notes.
"On the biggest points, scientific predictions have been proven right: scientists said stay-home orders would reduce cases, and thankfully those measures worked. Scientists predicted that ending quarantine too soon would increase cases, and that has been the case.
"While any individual scientist may be biased, the community actively critiques each other's work to reduce bias and errors until together they develop a consensus on what the data are saying. It's not a perfect process and one can always find dissenters, but scientists working together are far more accurate than one person's theory on YouTube. Scientists are trained to communicate where the consensus is uncertain and to not overstate conclusions. They may speak in sound bites in an interview, but if you listen a bit longer you will hear the caveats. So when Dr. Fauci, the nation's leading infectious disease expert, tells us what scientists have learned about this infectious disease, he should be listened to."
On the reopening of churches, signers of the statement agree that "Christians need to balance God's call to meet together with God's call to protect the vulnerable among us."
"Our faith calls us to sacrifice ourselves for others and accept temporary limitations on our freedoms because we have a permanent and complete freedom in Christ (Hebrews 10:34). Our faith helps us be humble and patient when discussing contentious issues (Ephesians 4:2-3). It is our faith, not science, that overcomes fear and brings hope."
The statement acknowledges that "the economic losses and social hardships of the pandemic are painful, and thoughtful Christians will disagree on how to balance those needs with health needs."
Nevertheless, it urges Christians to wear masks, get vaccinated, correct misinformation, work for justice and pray.
"Mask rules are not experts taking away our freedom, but an opportunity to follow Jesus' command to love our neighbors as ourselves," it says. "Christians are called to love the truth; we should not be swayed by falsehoods.
"Get vaccinated against COVID-19 when a safe and effective vaccine is available and as directed by a physician. A large fraction of the population needs to be vaccinated to develop the 'herd immunity' which protects the immuno-compromised and others who cannot be vaccinated. Vaccination is a provision from God that will prevent disease not only for ourselves but for the most vulnerable among us (Matthew 25:31-36)."
Now for the truth…
Vaccines–Kill Shot are a putrid amalgam of neurotoxins, animal DNA, disease, baby tissue stolen from murdered infants at birth.. How Godly is this? This is nothing more than sorcery and witchcraft and it is so called in scripture – Read Nahum chapter 3, and Revelation 18:23 to see that the US is about to be destroyed for our crimes against humanity, which are military, spiritual, and medical. The writers and owners of rags like this Christian so called post – and their false premises made to push a luciferins doctrine.. will be judged with the strictest judgment.
People's hearts are troubled, their minds are in a state of confusion, the Bible tells us a time of great delusion that will come upon the people, that time has arrived, the politicians must come up with more significant and more believable lies in order to bring on the antichrist, we have entered the doorstep Tribulation.
"Unless God has raised you up for this very thing, you will be worn out by the opposition of man and devils"… SRH
A Warning
We can see from the verses above that the established church would be deceived by false ideas. The warning is to take heed to what the Bible teaches. We must get back to the word of God. We cannot afford to rely on what a Vicar, Priest, Bishop or Pastor dictates to us.
We have to search out the scriptures to ensure that we hold the truth as preached by the original believers in Jesus Christ. Such searching can be done by any individual who is seeking for truth. It takes an open and independent mind, one which comes to the Bible to find that truth. The verses above show the importance of finding the true original doctrines as taught in the scriptures and holding fast to them. It clearly does matter what we believe and to ensure we have not been deceived by an apostate system we have to get back to what the Bible teaches.
The Historical Fulfilment
From the verses we have looked at, you can clearly see that the established body of Christians would be infiltrated and deceived by false ideas. History shows that the early church changed its stance on core doctrines quite early on. This changed and corrupted church soon became political under the name of the Catholic church. Many split-offs from this "Mother" church have occurred but most of these "daughters" adopted the already changed and corrupted doctrines of their Mother.
The historian Edward Gibbon, in the 15th chapter of his 'Decline and Fall of the Roman Empire', tells of how the original beliefs of the early Christians were changed over the course of time. He writes the following:
"The ancient and popular doctrine of the Millennium was intimately connected with the second coming of Christ … a joyful Sabbath of a thousand years; when Christ, with the triumphant band of the saints and the elect who had escaped death, or who had revived, would reign upon earth…"
So the early believer's hope, as outlined in the Bible (more here) was that Jesus was to return to the earth to set up a Kingdom. Believers were to reign with Him on earth for 1000 years. This belief changed. A core doctrine which most churches adopted was that men have an immortal soul (a belief brought in by ancient Greek philosophy) and that, upon death, it floated to heaven or hell. Many churches, including the Catholic church, its break off daughters and even churches who claim to have nothing to do with the Catholic church such as Evangelical churches, hold this same corrupted doctrine today.
Justin Martyr, an early Christian, also wrote in 150AD:
"For if you have conversed with some that are indeed called Christians, and do not maintain these opinions, but even dare to blaspheme the God of Abraham, and the God of Isaac, and the God of Jacob, and say that there is no resurrection of the dead, but that the souls, as soon as they leave the body, are received up into heaven, take care that you do not look upon these. But I, and all those Christians that are really orthodox in every respect, do know that there will be a resurrection of the body and a thousand years in Jerusalem when it is built again, and adorned, and enlarged, like Ezekiel, and Isaiah and the rest of the prophets declare." – Dialogue With Trypho, The Jew, section LXXX.
Again we see how that the original church doctrine was changed – and we could cite from many more writers who lived in the early period of the church.
With further study you would find that other core doctrines of modern Christianity are not original beliefs as taught in the scriptures – the four most profound corruptions are on the doctrine of the resurrection, the Kingdom of God on earth, the unity of God and the devil(select a link to find out the true Bible teaching on these topics).
Many recent changes are occurring in most churches as the pressures of modern, humanistic society challenge already weak church practices and doctrines. In a desperate attempt to keep up their popularity, churches adopt these ideas. There are a few doctrines which have recently been changed in many churches – such as the authority of the Bible, the Holy Spirit, divorce, adultery, cohabitation, homosexuality, and women priests amongst many more.
The Catholic church especially has exposed its changing character with the public 'apologies' of its leader (The Pope). One Catholic doctrine is that the Pope is God's infallible representative on earth. How is it then that one Pope can apologize for another's declaration – especially for beliefs or decrees which followers died for!
Consider the recent declaration that the idea of Limbo for child "souls" is not true. What of other Popes who believed it or indeed the Mothers and Fathers who paid money to the clergy to supposedly get their children from Limbo to heaven? Did God change his mind? What about Pope Benedict XVI's apology for offending Islam in one of his speeches in 2006 – were the Popes of previous ages sorry when they ordered the destruction of thousands of Muslims?
These recent changes clearly show that change is something which does and will occur – but is it something which should occur?
God's ways do not change
The Bible clearly teaches that God's ways and purpose do not change. Consider these verses:
"Every good gift and every perfect gift is from above, and cometh down from the Father of lights, with whom is no variableness, neither shadow of turning." James 1:17
"For I am the LORD, I change not…" Malachi 3:6
"God is not a man, that he should lie; neither the son of man, that he should repent: hath he said, and shall he not do it? or hath he spoken, and shall he not make it good?" Numbers 23:19<
"Wherein God, willing more abundantly to shew unto the heirs of promise the immutability of his counsel, confirmed it by an oath: That by two immutable things, in which it was impossible for God to lie, we might have a strong consolation, who have fled for refuge to lay hold upon the hope set before us:" Hebrews 6:17-18
"In hope of eternal life, which God, that cannot lie, promised before the world began;" Titus 1:2
It is important therefore to read the Bible, for what we find there will not change. Although man changes and society's rules may change – the Bible will stay constant, both in its doctrines and its teaching on how we should live. What we believe and how we live our lives, should be consistent with the Bible if we claim to be followers of it.
In 2 Thessalonians 2:3, Paul makes it clear that the day of the Lord, a time of worldwide judgment (Isaiah 13:6; Obadiah 1:15), will not transpire until two things happen. First, the falling away, or great apostasy, must occur. Second, the "man of lawlessness" must be revealed, he who is called the "son of perdition," also known as the Antichrist. Once this person makes himself known, the end times will indeed have come. Numerous speculations about the identity of the man of sin, beginning in the first century, have included Caligula, Caius Caesar, Mohammed, Napoleon, and any number of Roman popes. None of them were the Antichrist.
The man of lawlessness, according to 2 Thessalonians 2:4, is the one who "will oppose and will exalt himself over everything that is called God or is worshiped, so that he sets himself up in God's temple, proclaiming himself to be God." Clearly, this has not yet happened; no one since Paul's time has set himself up as God in the Jewish temple. Two thousand years have passed since the epistle was written, and the "day of the Lord" has not yet come. Paul assures us that it will not come until the falling away comes first.
The Greek word translated "rebellion" or "falling away" in verse 3 is apostasia, from which we get the English word apostasy. It refers to a general defection from the true God, the Bible, and the Christian faith. Every age has its defectors, but the falling away at the end times will be complete and worldwide. The whole planet will be in rebellion against God and His Christ. Every coup requires a leader, and into this global apostasy will step the Antichrist. We believe this takes place after the church has been raptured from the earth.
Jesus warned the disciples concerning the final days in Matthew 24:10–12: "At that time many will turn away from the faith and will betray and hate each other, and many false prophets will appear and deceive many people. Because of the increase of wickedness, the love of most will grow cold." These are the characteristics of the great apostasy of the end times.
Recommended Resource: Understanding End Times Prophecy by Paul Benware
The World Is In Big Trouble, for Those That Believe We Will Go Back to Some Sense of Normal Life Here on Earth, You Will Be Sadly Disappointed, Seven and Half Years of Hell on Earth Which Began January 1, 2020
"Our courts oppose the righteous, and justice is nowhere to be found. Truth stumbles in the streets, and honesty has been outlawed" (Isa. 59:14, NLT)…We Turned Our Backs On GOD, Now We Have Been Left To Our Own Devices, Enjoy…
While Mainstream Media Continues to Push a False Narrative, Big Tech Has Keep the Truth From Coming out by Shadow Banning Conservatives, Christians, and Like-Minded People, Those Death Attributed to the Coronavirus Is a Result of Those Mentioned, They Truly Are Evil…
Source: HNewsWire christianpost
StevieRay Hansen
Editor, HNewsWire.com
Watchmen does not confuse truth with consensus The Watchmen does not confuse God's word with the word of those in power…
In police-state fashion, Big Tech took the list of accused (including this site), declared all those named guilty and promptly shadow-banned, de-platformed or de-monetized us all without coming clean about how they engineered the crushing of dissent, Now more than ever big Tech has exposed there hand engaging in devious underhanded tactics to make the sinister look saintly, one of Satan's greatest weapons happens to be deceit…
The accumulating death toll from Covid-19 can be seen minute-by-minute on cable news channels. But there's another death toll few seem to care much about: the number of poverty-related deaths being set in motion by deliberately plunging millions of Americans into poverty and despair.
American health care, as we call it today, and for all its high-tech miracles, has evolved into one of the most atrocious rackets the world has ever seen. By racket, I mean an enterprise organized explicitly to make money dishonestly.
All the official reassurances won't be worth a bucket of warm spit. The Globals are behind the CoronaVirus, It Is a Man-Made Bioweapon.
One "who with perversity in his heart continually devises evil." That is, he revels in the natural inclinations of he's own depravity (Jer. 17:9; Mark 7:21-22), and in his activities "spreads strife" among men.
A Professional Athlete Affirms That God Fashioned Adam and Eve. As a Result, All Hell Breaks Loose Christian Banks and Businesses Cancel Sam Brownback, a…
Read More
We make every effort to acknowledge sources used in our news articles. In a few cases, the sources were lost due to a technological glitch. If you believe we have not given sufficient credit for your source material, please contact us, and we will be more than happy to link to your article.