Advisory: Be careful of what you read on social media. The algorithms used by these platforms have no regard for Biblical truth. They target your emotions to keep you engaged on their site so their advertisers can drop more ads. These platforms exist to enrich their stockholders. Consider God's promise to Believers in James 1:5, "If any of you lacks wisdom, you should ask God, who gives generously to all without finding fault, and it will be given to you."
The polarization in American politics has become so extreme there seems no longer to be any center ground. The political establishment is consequently imploding into an abyss of its own making.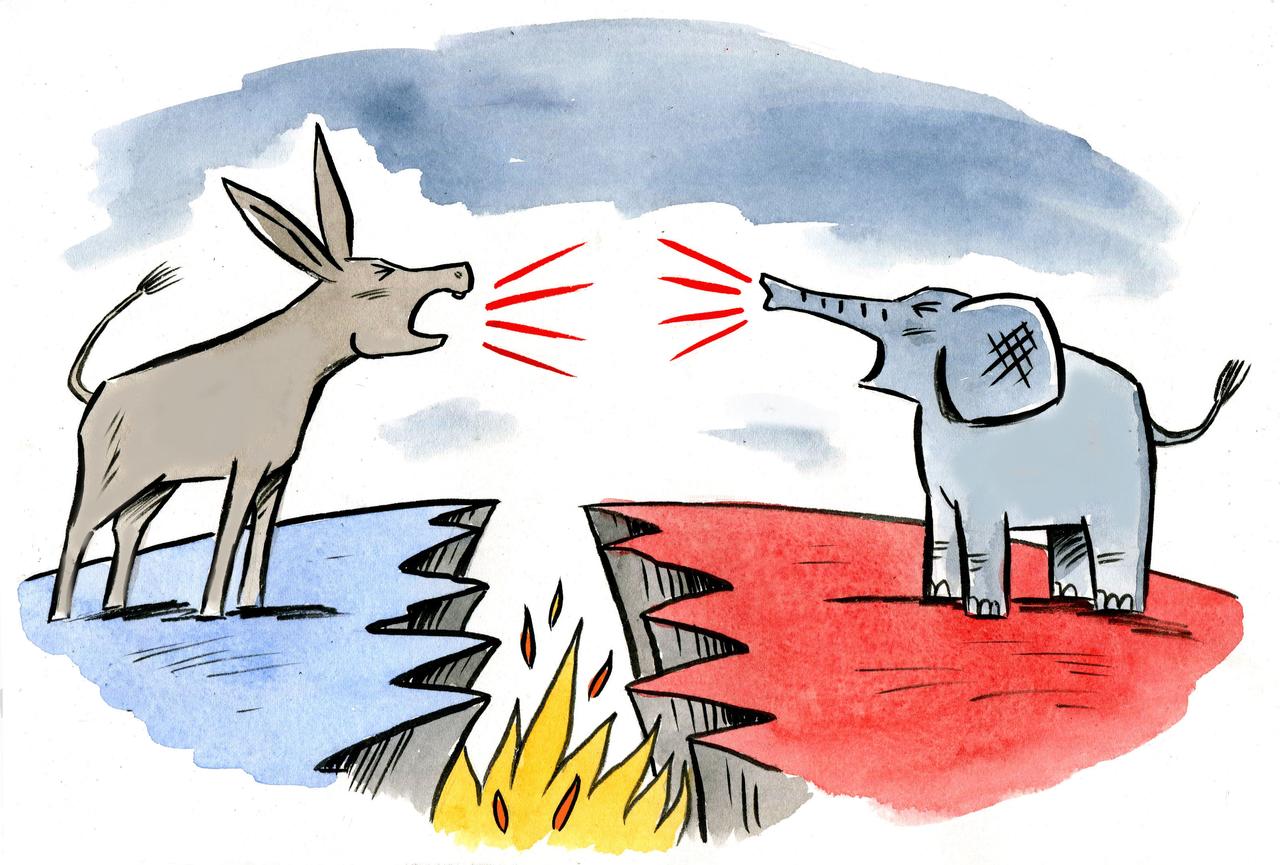 President Trump is being driven into an impeachment process by Democrats and their media supporters who accuse him of being "unpatriotic" and a danger to national security.
Trump and Republicans hit back at Democrats and the "deep state" whom they condemn for conspiring to overthrow the presidency in a coup dressed up as "impeachment".
The White House is being subpoenaed, the Democrat-controlled House of Representatives wants to access transcripts to all of Trump's phone calls to foreign leaders; Secretary of State Mike Pompeo has blasted congressmen for "harassing the State Department" in their search of evidence to indict Trump. Trump calls the impeachment bid a "witch-hunt".
Republican Representatives protest that the US is facing a dark day of a constitutional crisis, whereby opposing Democratic party leaders are abusing their office by accusing Trump of "high crimes" without ever presenting evidence.
It's an Alice in Wonderland scenario writ large, where the gravest verdict is being cast before evidence is presented, never mind proven; the president is guilty until proven innocent.
Trump, in his turn, has berated senior Democrat Adam Schiff, the chair of the House Intelligence Committee, for "treason" – a capital offense. Are federal police obliged to arrest him? Schiff is accused of colluding with a supposed CIA whistleblower in concocting the complaint that Trump tried to extort Ukrainian President Volodymyr Zelensky to dig dirt on Democratic presidential candidate Joe Biden.
There seems no end to this political civil war in the US. The American political class is literally tearing itself apart, destroying its ability to govern with any normal function.
So-called liberal media outlets, in lockstep with the Democrats, inculpate Trump for wrongdoing, while they staunchly assert that credible reports of Joe Biden abusing his former vice presidential office to enrich his son over Ukraine gas business are false. Many Americans don't see it that way. They see Biden as being up to his neck in past corruption; they also see a flagrant double-standard of the establishment protecting Biden from investigation while hounding Trump at every possible opportunity, even when the evidence against Trump is scant.
What Trump is being subjected to is the same "highly probable" paranoia that Russia has been subjected to by Washington over recent years. Guilt is asserted without evidence. It becomes a "fact" by the endless repetition of baseless claims, such as Russia allegedly interfering in US elections, or allegedly destabilizing Ukraine. Hundreds of economic sanctions have been imposed on Moscow as a result of this blame game, a game that, ironically, Trump has also indulged in.
Ironically, Trump and the very highest political office of the president are getting the same phobic treatment. No matter that the two-year Mueller Report into alleged Trump-Russia collusion collapsed in a pile of dust for lack of evidence, the Democrats and their media, as well as their deep state patrons, have persisted to accuse the president of enlisting a foreign power, Ukraine, to boost his electoral chances.
The transcript of Trump's phone call with Ukraine's Zelensky back in July shows he did not make a quid pro quo demand linking US military aid to a requested investigation into alleged corruption by former Vice President Joe Biden. Nevertheless, Democrats and their political establishment allies are relentless in pursuing the impeachment of Trump. Based on such flimsy reasoning, this impeachment process looks like a euphemism for "coup" – to overturn the result of the 2016 presidential election. The so-called "Russiagate" debacle failed for lack of evidence; now it is "Ukrainegate" that is the pretext for pushing the coup attempt.
Under freedom of information release, Judicial Watch in the past week has uncovered categorical proof that the Mueller probe was a coup attempt to oust Trump. Unsealed communications between the Department of Justice, FBI, and liberal media outlets show a clear motive and deliberate orchestration to topple Trump based on no evidence of wrongdoing.
America's democracy and the constitution is being trashed by unelected shadowy forces, aided and abetted by prestigious media outlets like the New York Times. These forces presume to know better or have more privilege than their fellow Americans who "voted the wrong way".
The inescapable conclusion is that powerful political forces within the US simply do not recognize the democratic rights of the electorate who voted Trump into office. Not only do these forces not respect democratic principles, they also, patently, do not respect due legal process or the high offices of their own government. This is a lurking ideology of dictatorship and fascism. Paradoxically, these labels are pinned on the maverick Trump. More accurately, they apply to the politicians and media who claim to be "liberal" and "democrats".
The accelerating political implosion in the US nails the lie to oft-repeated American proclamations about their nation being the paragon of "sacred" democratic virtue and rule of law. And the people who are doing the damage to US politics and its constitution are "patriotic" Americans, not Russia or any other imagined foreign adversary.
Is that not poetic justice after all the decades of calumny, deception, and self-declared "exceptional" American vanity. Source
We live in a divided country. Certain events bring it together, united we stand, then it fades away to division. We live in this world, a world of division, and change, but we are not of this world.
Jesus knew their thoughts and said to them, "Every kingdom divided against itself will be ruined, and every city or household divided against itself will not stand.
Many people also remember this expression from one of Abraham Lincoln's famous speeches, where he invoked the words of Jesus. Lincoln gave this speech, known now as the "House Divided Speech," before becoming the 16th American president.
He used it to contrast the two halves of the United States at the time. One half of the Union allowed slavery, and the other did not. His message was that if the country continued on this path, it would break in two, which it ultimately did, leading to America's Civil War.
Abe Lincoln; was elected to Congress in 1847. The Mexican war was going on, and Lincoln opposed the war. His anti-war speeches displeased his political supporters, and he knew they wouldn't re-elect him.
So at the end of His term in 1849, he returned to Illinois to practice law. Then in 1858, He was nominated by the republican party for Illinois state senator.
Addressing the State convention at Springfield, he gave the first of his memorable speeches.
His huge hands tensely gripped the speaker's stand, he declared slowly and firmly: "A house divided against its self cannot stand"
He's talking about the country being divided on the issue of slavery, but where did he get that phrase? He got it from Jesus. And it's recorded in 3 of the 4 gospels. Matthew 12:25, Mark 3:25, and Luke 11:17.
Jesus was being accused of driving out demons in the name of Beelzebub, which the Pharisees said was the ruler of demons. Beelzebub was one of Satan's cohorts.
Luke 11:17: Jesus knew their thoughts and said to them: "Any kingdom divided against itself will be ruined and a house divided against itself will fall. if Satan is divided against himself, how can his kingdom stand? I say this because you claim that I drive out demons by Beelzebub.
Jesus brushes their accusations off with logic. They're accusing him of being in league with the prince of demons because of his power over demons, and He's saying Satan would not attack his own subjects, then his kingdom would be divided.
We live in a divided country. Certain events bring it together, united we stand, then it fades away to division. We live in this world, a world of division, and change, but we are not of this world.
We are separated from the world, by our belief in the word of God, and It will never change. And it will not fade away. Unity was apparent on the day of Pentecost when the Church was established. Acts 2:1; the apostles were all with one accord in one place. The church is a fellowship of faith, hope, and love that binds believers together.
In Eph. 4:3-6 the NIV translation says: Make every effort to keep the unity of the Spirit through the bond of peace. There are one body and one spirit. Just as you were called to one hope when you were called. One Lord, one faith, one baptism; One God and Father of all. Who is over all and through all and in all.
Yet we still see division in the nation, in families, and in the church. I'm going to talk about these divides, and then the medicine that will cure division.
We find a striking parallel to the things that cause division today, in the Bible, in the city of Corinth. And Paul tells us how to deal with these issues in His letters to the Corinthians, but first some history about this biblical city.
The city of Corinth was strategically located on a narrow neck of land that connected southern Greece to the mainland of Greece. And there were two natural seaports that fed into Corinth providing a natural stopover for people traveling between Rome and the East. Old Corinth was destroyed in 146 BC. Then reconstructed in 44 BC by Julius Ceasar, and the city was given the status of the Roman colony.
This city was a melting pot of many nationalities. Old Corinth had been known for its immorality and unrestrained self-indulgence.
New Corinth, took on the same characteristics. The city was intellectually proud, materially affluent, and morally corrupt. The philosophy in Corinth encouraged its people to indulge in their desires, greed, dishonesty, impurity, drunkenness, lust, and selfishness.
When Paul came to Corinth He worked as a tentmaker and preached every Sunday, He remained there for about a year and a half and established a growing church. (Acts 18)
The congregation consisted of some Jews but was mostly Gentile and ex-pagan in nature. Socially, the membership ranged from the very affluent city treasurer (Rom.16:23) to Jewish refugees(Ac.18:2) and former criminals(I Cor.6:9-11)
Paul's letter to the Corinthian church was written about 55 years after the death of Jesus from Ephesus, and in it, he answered questions about marriage and celibacy, food offered to idols, proper dress and responsibilities of women, public worship, spiritual gifts, and the resurrection of the dead.
Paul was also concerned about the growing division in the church, different groups were forming, they were quarreling among themselves, and some had even taken other members to pagan courts to settle disputes.
Although Paul's 1st letter to the church at Corinth was written to deal with specific needs within that church, it has a tremendous value for us also,
The hearts of people have not changed, and neither has the principles by which God works.
"Have I, therefore, become your enemy by telling you the truth?"
If the greatest warrior of all times, King David was sent back to earth by God Almighty, the Pharisees and Sadducees the hypocrites would be in a frenzy, you see- great warriors like King David, Paul of biblical proportions would expose their ungodly doctoring. Those men would expose the treacherous path most of the world is on(inclusiveness) in other words sin must be accepted Or you'll go to jail, those pastors in Canada(coming to America soon) are experiencing that following Christ can be by the world standards "dangerous". Your job as warriors, shepherds of the flock is to speak out, expose ungodly behavior, oppose Injustice for the poor, the weak, Orphans and widows, the battle cry is "justice justice". But for those Saints, salt of the earth Christians we know our life on earth is temporary, heaven is our eternal home, what's in your heart, applause from the world which is temporary, Christ outstretched arms which is eternal?
THE WATCHMEN BRING THE MOST INTENSIVE SPIRITUAL WARFARE TRAINING OF MODERN TIMES
New York, NY, USA – May 7, 2019: Renowned Non-Denominational Christian Movement, Hear the Watchmen has proudly announced that it is bringing the most intense spiritual warfare training of modern times to Long Island with its upcoming workshop. This training workshop is titled 'Spiritual Warfare' and it is featuring the legendary Russ Dizdar. Moreover, tickets are now available online and the 4 Star Hyatt Regency of New York's Long Island is expected to be packed with participants this summer. http://www.fox34.com/Global/story.asp?S=40428219
America is at war with itself. It is Americans themselves who destroying their own political system, and perhaps even the very society, with their own hands and their addled, paranoid brains – without any assistance from a "foreign enemy".
StevieRay Hansen
Editor, HNewsWire.com
The light went out in the church, and that's the reason the world got dark. Dark times were perpetuated by the "last one out, turn out the lights" "The church lights have gone OUT".
"Unless God has raised you up for this very thing, you will be worn out by the opposition of man and devils"…
Let Me Make This Abundantly Clear. (I Am Apolitical) While I Have a General Distaste for Politicians No Matter the Party They Belong To, I Am Unashamedly Politically a Bible Believing Conservative Christian. I Have a Severe Distrust of Government. I Believe It Is the Most Inefficient and Ineffective Way to Accomplish Most Things. While I Strongly Disagree with Liberals/Progressives and Conservative on Most Political Issues, and While I Believe Liberals/Progressives and Most Politicians Are Terribly Misguided and Naive About What Big Government Will Eventually Result In, I Strive to Not Question Their Motives. at the Same Time, While I Find Myself in Agreement with Conservative Politicians on Some Issues, I Do Not Believe Electing Republicans Is the Answer to Everything. for Me, Very Sadly, the Main Difference Between Republicans and Democrats Is How Quickly They Want to Drive the Car Towards the Cliff. Simply Put, I Do Not Believe the Government Is the Solution for Everything. I Do Not Place Any Faith, Trust, or Hope in Any Politicians to Fix What Is Wrong with the World. "Come Lord Jesus!" (Revelation 22:20)
Our government has been overthrown. As evidenced by Trump's capitulation on the border, his recent servitude to the GMO industry and his acquiescence to the warmongers, our President has been compromised. Our liberties are being eliminated one by one. Gun confiscation is next. The Constitution is gasping its last breaths. Our borders are destroyed and our culture has been turned upside down by every perversion known to man.
Education is useless without the bible (Daniel Webster)
Usually, the Lord doth no great thing for or against his people, without giving warning of it before it comes.
John Wesley who said that what we tolerate in our generation, will be embraced by the next. Wesley is 100% correct! We are living in sick times.
The Left, a broad term for Liberal Socialist Democrats that can only be explained fully by using the Bible explanation of the human race is as follows. A servant of Satan, because you are either saved or lost. This election has brought out the true nature of who you serve. Simply put, it's Donald Trump, Conservatives, and Christians against the rest of the world. The Left's Love applies only to those who believe as they do. They Love evil and commit Anarchy against those who love good. They are governed by lies and never tell the truth. On this Friday, Inaugural Day for the swearing-in of Donald Trump as the 45th President of the United States the Left wants to commit widespread Anarchy to shut down the swearing-in ceremony. Their goal of transforming America, which was founded in Judea Christian values into a Pagan Nation is almost complete. Their goal has always been the total removal of God from American society and the downfall of America. Donald Trump says he is a Presbyterian, but he left off the USA, an apostate church.
Corinthians 4:8-11 New King James Version (NKJV)
We are hard-pressed on every side, yet not crushed; we are perplexed, but not in despair; 9. persecuted, but not forsaken; struck down, but not destroyed— 10. always carrying about in the body the dying of the Lord Jesus, that the life of Jesus also may be manifested in our body. 11. For we who live are always delivered to death for Jesus' sake, that the life of Jesus also may be manifested in our mortal flesh.
Satan has power over (LGBTQE-TRANS PEOPLE). The "sons of disobedience" referred to in Ephesians 2:2 are those who have not trusted Christ as Lord and Savior (cf. Acts 26:18; 2 Corinthians 4:4; Revelation 13:12). The demons are also under the rule of Satan (Matthew 12:24), and one of his titles is "prince of demons" (Matthew 9:34). Satan has a kingdom (Matthew 12:26) and a throne (Revelation 2:13). Satan is called a prince because he is a ruler and possesses the power to manifest evil in the world through influencing people and commanding demons.
HNewsWire- "All political language is designed to make lies sound truthful and murder respectable." Just look at some of our modern-day examples: torture is "enhanced interrogation techniques"; murder is "collateral damage"; the aggression initiation of war is a "pre-emptive strike"; the theft of taxpayers' money is a "bailout", and the theft of depositors' money in a bank is a "haircut" or "bail-in".In a blatant example of Newspeak, the New World Order controllers (through the psychiatric DSM V) have tried to rename pedophiles as "minor-attracted persons" and redefine pedophilia as "sexual orientation". This makes no sense since sexual orientation has to do with gender, not age, with whether you are attracted to males or females, not how old they are. There are even organizations (like B4UAct.org) which are claiming that pedophiles are being unfairly stigmatized for their feelings!
If homosexuality has been posed as healthy, good and normal, in the face of overwhelming evidence to the contrary, so can pedophilia. Pro-pedophilic articles are making their way into academia.
The Cult of LGBTQE-E for EVIL and is often a cover for child-molesting perverts
Tagged Under: abuse, children's health, gender-confused, gender issues, gender madness, the left cult, LGBTQE-E For Evil un-godly Mob, Lunacy, mutilation, transgender, Child molesting perverts LGBTQE- E For Evil, drag queens, perverts
Unfortunately, not all alternative sources are reliable, even some Major Christian (and I use Christian loosely) news sources have been corrupted. They will NOT tell the truth. They just parrot the deceptive narratives perpetrated by those who currently control our government and media. Even those who are honestly trying to present the truth can miss it sometimes. There is so much deception out there. In these last days, you must be wise as serpents and gentle as lambs. It is no time to sleep or slumber. Diligence and vigilance are required. It is critical that you think for yourself and not be a Lemming.
Tagged Under: hnewswire stevie ray hansen, HNewsWire, antichrist, antichrists, Apple, Bible, Big Tech, bigotry, Christian baker, Christianity, Christians, Colorado, Colorado Civil Rights Commission, conservatives, deep state, demonic assault, end of days, end times, Facebook, First Amendment, free speech, Google, hate groups, Hate speech, hatred, hostility, insanity, Instagram, intolerance, Jack Phillips, jesus, Jesus Christ, left cult, Leftists, LGBT mafia, Liberal Mob, lunatics, persecution, Pinterest, prophecy, Southern Poverty Law Center, SPLC, Tribulation, Twitter,Anti Christ, Bible, Blame Game, California, deception, demonic, fascism, free speech, freedom of religion, gender confused, hypocrisy, insanity, insidious gender war, left cult, LGBT, lgbtq, Liberty, lies, Mental illness, nra, oxymoron, religion, religious groups, San Francisco, suicides, terrorists, Tyranny,Big Tech, deception, disinfo, disinformation, Facebook, fake news, freedom of speech, Google, Journalism, lies, mainstream media, manipulation, Microsoft, news cartels, online speech, propaganda, Silicon Valley, tech giants, Twitter
We make every effort to acknowledge sources used in our news articles. In a few cases, the sources were lost due to a technological glitch. If you believe we have not given sufficient credit for your source material, please contact us, and we will be more than happy to link to your article.