Advisory: Be careful of what you read on social media. The algorithms used by these platforms have no regard for Biblical truth. They target your emotions to keep you engaged on their site so their advertisers can drop more ads. These platforms exist to enrich their stockholders. Consider God's promise to Believers in James 1:5, "If any of you lacks wisdom, you should ask God, who gives generously to all without finding fault, and it will be given to you."
We will see this in America SOON….
Farmers are furious that the politician had broken his promises to improve roads and bring drinking water and electricity to the community…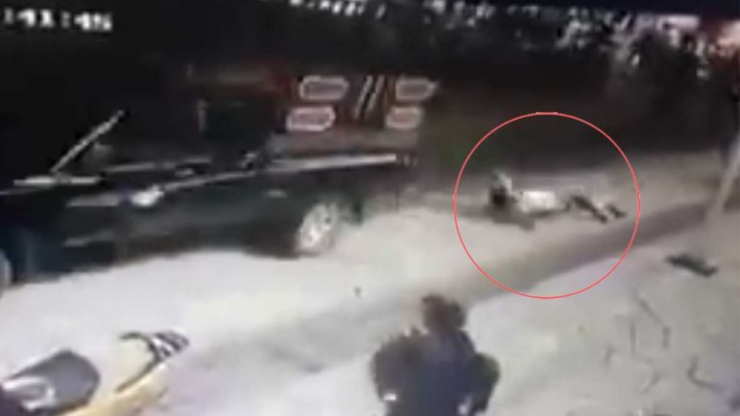 A group of angry farmers in southern Mexico captured the mayor of their village before dragging him through the streets while tied to the back of a truck after villagers claim that he failed to deliver on major election campaign promises.
Police eventually freed Jorge Luis Escandón Hernández, the mayor of Las Margarita's municipality in the state of Chiapas, who suffered no major injuries following the violent ordeal.
El Heraldo de Mexico reports the mayor was abducted Tuesday by an angry group of protesters armed with clubs and rocks, who tied him to the back of a pickup truck before dragging him through the streets as a mob ran after him.
Footage of the incident has since gone viral.
Following the incident, a violent confrontation broke out between the group and local police, leaving about 10 people injured. The state attorney general's office said that eleven people were arrested, according to Milenio.
Eight hours following the incident, the mayor appeared in the local square and said that he would hold leaders of the Santa Rita community responsible. Mayor Escandón said that he would not be intimidated by the violence and he intends to press charges.
Farmers are furious that the politician, who authorities say is "safe and sound and being reviewed by medical experts," had made promises to improve the social infrastructure of the rural village.
Since elected, farmers have demanded that he deliver on his pledges to repair local roads and bring drinking water and electricity to the poor village.
In a previous incident four months ago, another group of men showed up at his office and ransacked it after finding it empty.
PortavozChiapas@PortavozChiapas
#ÚLTIMAHORA
Así estuvo el enfrentamiento de trabajadores del ayuntamiento contra habitantes de Santa Rita Invernadero para rescatar e impedir el secuestro del alcalde Jorge Luis Escandón, que pretendían llevárselo secuestrado32:15 PM – Oct 8, 2019Twitter Ads info and privacySee PortavozChiapas's other Tweets
Chiapas is one of the wealthiest states in Mexico due to its mineral resources and is also a significant base of operations for domestic mining giants and also those from Canada, the U.S., Japan, China, and Europe. In addition to it being a major source of gas, oil, wood, and water, Chiapas is also a lucrative source of gold, silver, amber, uranium, aluminum, iron, and one of the most coveted resources in the globe – titanium.
However, local populations have complained of being dispossessed as open-pit mining, logging, tunnels, and large pools of toxic wastewater contaminate their once-communal lands.
The state is a hotbed of social unrest and organizing by local militant groups and left-wing social movements such as the 'Zapatista Army of National Liberation' (EZLN) and the 'National Front for the Struggle for Socialism' (FNLS), who have frequently clashed with state security forces and faced repression in recent years.
In the case of Las Margaritas, it appears that the attempted capture of the mayor followed a long period of seething tension between authorities and angry locals, who have gone so far as threatening city council members to ensure they do their part to improve conditions for poverty-stricken communities.
Since the incident, schools and businesses have shut their doors. On Wednesday, elements of the newly-created National Guard also arrived in the city to reinforce security.
Corruption is a state of decay, pollution, or incorrectness. In the Bible, corruption is one of the effects of sin that resulted from the fall of man. In the beginning, God created a perfect paradise, free of sickness, pain, and death. But when Adam and Eve disobeyed God by eating the forbidden fruit, sin entered the world, spoiling its perfection. That sin also brought contamination and decay to Adam and Eve and to the human nature of every person born after that (Romans 5:12). Thus, corruption in the Bible is the state of moral contamination and spiritual decay expressed through disobedience toward God.
"They are now beyond Fake, they are Corrupt."
President Trump declared Monday that his real opponent in 2020 will be the 'fake news media', and not the Democrats.
Sadly, the Bible predicts a downward spiral of catastrophes, human sin, and religious apostasy before Christ returns. Paul writes, "But realize this, that in the last days difficult times will come. . . . Evil men and impostors will proceed from bad to worse, deceiving and being deceived" (2 Timothy 3:1, 13). The world will continue to reject God, His Word, and His people.
Trump's empty promise in 2016 that he would be a protector of persecuted Christians, now he wants to be a protector of homosexuals when there are thousands and thousands of victims of homosexuality
In an age where 100,000 Christians are slaughtered for their faith a year, it makes no sense to focus on homosexuality. In fact, in the first 6 months of 2018 the Trump administration admitted to the U.S. just 21 Christian refugees. This was a blatant betrayal of Trump's promises in 2016 that he would be a protector of persecuted Christians. And now does he want to be a protector of homosexuality when there are thousands and thousands of victims of homosexuality, including in the Catholic Church?
Bizarrely, every few days, another American announces her/his campaign to become the next president of the United States.
There are now 23 of them. Surprisingly, very few of these candidates are highlighting two core long-term trends that are likely to have a major influence on the voters.
First, public trust in government has never been so low. And, second, never before have most U.S. households had such a tiny share of the nation's total wealth as they do today.
The data underscore a critical concern and reality: The U.S. political system has been rigged by wealthy individuals and special interests. U.S. citizens understand that money has come to have a nasty influence on a U.S. democracy driven by pay-to-play schemes.
Corruption features in every speech on the campaign trail given by both Senator Bernie Sanders and Senator Elizabeth Warren.
Both of them bluntly assert that financial, pharmaceutical and defense industry interests have bought excessive political influence to the grave detriment of the living standards of most Americans.
Another candidate, Senator Kamala Harris, also talks about the rigged system. She notes that while voters she meets at town hall events across the country rarely talk about president Trump's conflicts of interest.
Nor do they talk about the findings of the report by Special Counsel Robert Mueller, they have corruption in government very much on their minds. It impacts their concerns about healthcare, debt and the real costs of living.
The data
Public trust in government is now lower than at any time since opinion polls on the topic were taken in the late 1950s.
When the Pew Research Center started it's National Election Study asking about trust in government in 1958, about three-quarters of U.S. citizens trusted the federal government to do the right thing almost always or most of the time.
Now, the level of distrust exceeds that 75% level by a considerable margin.
A new Pew study shows that only 17% of U.S. citizens trust the federal government to do the right thing always or most of the time – the lowest level ever recorded (see chart below).
Then, according to a new report from the U.S. Federal Reserve Board, household wealth in the United States has quadrupled over the 30 years since 1989.
Over the last 30 years, the wealthiest Americans increased their share of the nation's total wealth from 60% to 70%. Their gain came at the expense of all other Americans.
The most striking development relates to less well-off Americans — in fact, fully one-half of all American households — the whose combined share of total American wealth declined from 4% back in 1989 to an almost invisible 1% today.
Voter worries
Many Americans have a credit card and automobile-related debt, and no savings. Meanwhile, the scale of student debt has never been higher.
The lack of financial assets held by most households makes it very difficult for people to obtain credit, including home mortgages from their banks, which fuels concerns about housing.
The financial strains mean that sudden health emergencies can swiftly push Americans into personal bankruptcy. Meanwhile, Americans are acutely aware of the large sums of cash that the biggest American enterprises legally provide to the political campaigns of their favorite politicians.
For example, while most Americans may find it difficult to get loans from their financial institutions, including real estate brokers, the financial sector is effectively exerting its political influence to reduce government regulation.
A new report shows that the financial industry spent at least $1.9 billion last year on political action – about $957 million on lobbying, and $922 million supporting candidates in last November's mid-term Congressional elections – a record for such elections.
Among just the top 20 donors in this sector, the largest was the National Associations of Realtors with spending of over $144 million and the 20thplace was held by Wells Fargo banking group with a still formidable total of $10.5 million.
Trump and the voters
Senator Joe Biden is currently the front-runner in the opinion polls among Democratic Party candidates, but his statements suggest not only that he lacks the passion about anti-corruption demonstrated by rivals Sanders, Warren and Harris, but he does not understand that American voters feel cheated by the Washington political establishment.
Biden has been a prominent member of this political elite for more than 40 years.
Part of Trump's popularity in 2016, like so many non-traditional and non-establishment politicians in Europe, reflected broad public concerns that the political elite has for decades been overly keen to take cash from wealthy interests and ensure that these interests have excellent access when key political decisions are taken.
Now, Trump can no longer claim to be a Washington "outsider," although he undoubtedly will do his best to suggest that this is still the case.
Listening to voters
Many of the winners in the elections to Congress last November understood that voters were keen to have new leaders willing to learn, for example, about the healthcare cost anxieties of most Americans and unwilling to take campaign funds from special interests and large donors.
Americans attending the rallies of the vast field of presidential candidates may not be talking about the Mueller Report, but their strong views send a clear message that they have had enough with Washington corruption.
The eventual Democratic Party nominee to face Republican Trump needs to be someone who listens to the voters and understands why they are so distrustful of their government.
Conventional wisdom in Washington now is to suggest that the race among the Democrats is between those who represent the center of their parties, such as Biden, several state governors and a number of Senators and members of the House of Representatives; and those on the so-called "progressive left," such as Warren and Sanders.
The fact is that all the candidates argue that the nation needs better healthcare, education, infrastructure, higher minimum wage levels, and serious climate change policies.
The people of this country are tired of being lied too by politicians and bureaucrats, at some point there will be a flashpoint of no return, hell on earth and the coming tribulation.
StevieRay Hansen
Editor, HNewsWire.com
The light went out in the church, and that's the reason the world got dark. Dark times were perpetuated by the "last one out, turn out the lights" "The church lights have gone OUT".
"Unless God has raised you up for this very thing, you will be worn out by the opposition of man and devils"…
Let Me Make This Abundantly Clear. (I Am Apolitical) While I Have a General Distaste for Politicians No Matter the Party They Belong To, I Am Unashamedly Politically a Bible Believing Conservative Christian. I Have a Severe Distrust of Government. I Believe It Is the Most Inefficient and Ineffective Way to Accomplish Most Things. While I Strongly Disagree with Liberals/Progressives and Conservative on Most Political Issues, and While I Believe Liberals/Progressives and Most Politicians Are Terribly Misguided and Naive About What Big Government Will Eventually Result In, I Strive to Not Question Their Motives. at the Same Time, While I Find Myself in Agreement with Conservative Politicians on Some Issues, I Do Not Believe Electing Republicans Is the Answer to Everything. for Me, Very Sadly, the Main Difference Between Republicans and Democrats Is How Quickly They Want to Drive the Car Towards the Cliff. Simply Put, I Do Not Believe the Government Is the Solution for Everything. I Do Not Place Any Faith, Trust, or Hope in Any Politicians to Fix What Is Wrong with the World. "Come Lord Jesus!" (Revelation 22:20)
Our government has been overthrown. As evidenced by Trump's capitulation on the border, his recent servitude to the GMO industry and his acquiescence to the warmongers, our President has been compromised. Our liberties are being eliminated one by one. Gun confiscation is next. The Constitution is gasping its last breaths. Our borders are destroyed and our culture has been turned upside down by every perversion known to man.
Education is useless without the bible (Daniel Webster)
Usually, the Lord doth no great thing for or against his people, without giving warning of it before it comes.
John Wesley who said that what we tolerate in our generation, will be embraced by the next. Wesley is 100% correct! We are living in sick times.
The Left, a broad term for Liberal Socialist Democrats that can only be explained fully by using the Bible explanation of the human race is as follows. A servant of Satan, because you are either saved or lost. This election has brought out the true nature of who you serve. Simply put, it's Donald Trump, Conservatives, and Christians against the rest of the world. The Left's Love applies only to those who believe as they do. They Love evil and commit Anarchy against those who love good. They are governed by lies and never tell the truth. On this Friday, Inaugural Day for the swearing-in of Donald Trump as the 45th President of the United States the Left wants to commit widespread Anarchy to shut down the swearing-in ceremony. Their goal of transforming America, which was founded in Judea Christian values into a Pagan Nation is almost complete. Their goal has always been the total removal of God from American society and the downfall of America. Donald Trump says he is a Presbyterian, but he left off the USA, an apostate church.
Corinthians 4:8-11 New King James Version (NKJV)
We are hard-pressed on every side, yet not crushed; we are perplexed, but not in despair; 9. persecuted, but not forsaken; struck down, but not destroyed— 10. always carrying about in the body the dying of the Lord Jesus, that the life of Jesus also may be manifested in our body. 11. For we who live are always delivered to death for Jesus' sake, that the life of Jesus also may be manifested in our mortal flesh.
Satan has power over (LGBTQE-TRANS PEOPLE). The "sons of disobedience" referred to in Ephesians 2:2 are those who have not trusted Christ as Lord and Savior (cf. Acts 26:18; 2 Corinthians 4:4; Revelation 13:12). The demons are also under the rule of Satan (Matthew 12:24), and one of his titles is "prince of demons" (Matthew 9:34). Satan has a kingdom (Matthew 12:26) and a throne (Revelation 2:13). Satan is called a prince because he is a ruler and possesses the power to manifest evil in the world through influencing people and commanding demons.
HNewsWire- "All political language is designed to make lies sound truthful and murder respectable." Just look at some of our modern-day examples: torture is "enhanced interrogation techniques"; murder is "collateral damage"; the aggression initiation of war is a "pre-emptive strike"; the theft of taxpayers' money is a "bailout", and the theft of depositors' money in a bank is a "haircut" or "bail-in".In a blatant example of Newspeak, the New World Order controllers (through the psychiatric DSM V) have tried to rename pedophiles as "minor-attracted persons" and redefine pedophilia as "sexual orientation". This makes no sense since sexual orientation has to do with gender, not age, with whether you are attracted to males or females, not how old they are. There are even organizations (like B4UAct.org) which are claiming that pedophiles are being unfairly stigmatized for their feelings!
If homosexuality has been posed as healthy, good and normal, in the face of overwhelming evidence to the contrary, so can pedophilia. Pro-pedophilic articles are making their way into academia.
The Cult of LGBTQE-E for EVIL and is often a cover for child-molesting perverts
Tagged Under: abuse, children's health, gender-confused, gender issues, gender madness, the left cult, LGBTQE-E For Evil un-godly Mob, Lunacy, mutilation, transgender, Child molesting perverts LGBTQE- E For Evil, drag queens, perverts
Unfortunately, not all alternative sources are reliable, even some Major Christian (and I use Christian loosely) news sources have been corrupted. They will NOT tell the truth. They just parrot the deceptive narratives perpetrated by those who currently control our government and media. Even those who are honestly trying to present the truth can miss it sometimes. There is so much deception out there. In these last days, you must be wise as serpents and gentle as lambs. It is no time to sleep or slumber. Diligence and vigilance are required. It is critical that you think for yourself and not be a Lemming.
Tagged Under: hnewswire stevie ray hansen, HNewsWire, antichrist, antichrists, Apple, Bible, Big Tech, bigotry, Christian baker, Christianity, Christians, Colorado, Colorado Civil Rights Commission, conservatives, deep state, demonic assault, end of days, end times, Facebook, First Amendment, free speech, Google, hate groups, Hate speech, hatred, hostility, insanity, Instagram, intolerance, Jack Phillips, jesus, Jesus Christ, left cult, Leftists, LGBT mafia, Liberal Mob, lunatics, persecution, Pinterest, prophecy, Southern Poverty Law Center, SPLC, Tribulation, Twitter,Anti Christ, Bible, Blame Game, California, deception, demonic, fascism, free speech, freedom of religion, gender confused, hypocrisy, insanity, insidious gender war, left cult, LGBT, lgbtq, Liberty, lies, Mental illness, nra, oxymoron, religion, religious groups, San Francisco, suicides, terrorists, Tyranny,Big Tech, deception, disinfo, disinformation, Facebook, fake news, freedom of speech, Google, Journalism, lies, mainstream media, manipulation, Microsoft, news cartels, online speech, propaganda, Silicon Valley, tech giants, Twitter
A Professional Athlete Affirms That God Fashioned Adam and Eve. As a Result, All Hell Breaks Loose Christian Banks and Businesses Cancel Sam Brownback, a…
Read More
We make every effort to acknowledge sources used in our news articles. In a few cases, the sources were lost due to a technological glitch. If you believe we have not given sufficient credit for your source material, please contact us, and we will be more than happy to link to your article.