Advisory: Be careful of what you read on social media. The algorithms used by these platforms have no regard for Biblical truth. They target your emotions to keep you engaged on their site so their advertisers can drop more ads. These platforms exist to enrich their stockholders. Consider God's promise to Believers in James 1:5, "If any of you lacks wisdom, you should ask God, who gives generously to all without finding fault, and it will be given to you."
Joe Biden Demands Media Declare Total Obedience to Democrats and Blacklist All Dissenting Voices, Birth Pains …..
For an American politician, Joe Biden plays a pretty good Nazi dictator, as he and his campaign staff prove once again that the Democrat Party no longer embraces core constitutional values such as freedom of expression and speech.
The Biden campaign, already stung by a burgeoning scandal involving the former Veep's corrupt dealings with Ukraine — along with his son, Hunter — sent an angry letter to Dean Baquet, the executive editor of The New York Times, this week complaining about a column in the paper written by investigative author Peter Schweizer.
In it, Schweizer laid out a pattern of multi-year corruption by the Bidens in Ukraine and China, and called on the federal government to investigate and, if needed, indict the former VP if those dealings are found to have violated the law, Breitbart News reports.
The news site adds: The Biden campaign sent its letter to Baquet Wednesday, expressing outrage for printing "a baseless conspiracy theory" and calling Schweizer, author of the book Secret Empires, a "right-wing polemicist." While half of Schweizer's op-ed in the Times addressed Senate Majority Leader Mitch McConnell (R-KY) and Transportation Secretary Elaine Chao's China ties, the Biden campaign did not seem to take issue with that particular coverage.
"In December 2013, Joe and Hunter Biden flew aboard Air Force Two to China; less than two weeks after the trip, Hunter's firm, Rosemont Seneca Partners, which he founded with two other businessmen in June 2013, finalized a deal to open a fund, BHR Partners, whose largest shareholder is the government-run Bank of China, even though he had scant background in private equity," Schweizer wrote.
"(Representatives of the fund claim that the timing of the deal and the Bidens' trip to China was coincidental). Thus far, the firm has invested about $2.1 billion, according to its website," he added.
Only authoritarians seek to censor truth-tellers
The author noted that as Russia invaded and took over the Crimea — then Ukrainian territory — in 2014, then-VP Biden became Obama's policy point man in Ukraine. And that same year, wouldn't you know it, Hunter Biden managed to land a lucrative "advisory board" deal with Ukrainian gas company Burisma Holdings to the tune of about $167,000 per month.
Mind you, that figure is far more than what's been reported thus far — $50,000/month. Investigative reporter John Solomon notes that according to records he has seen, the $167,000 figure is accurate.
In any event, Schweizer notes that Hunter Biden managed to secure his role and his multi-million dollar payout despite the fact that he had no prior work experience involving an energy company.
But again, it's not just the Bidens.
"President Trump's transportation secretary, Elaine Chao, and her husband, Senator Mitch McConnell, are being accused of having profited from their commercial ties to Beijing. In 2004, the two had a net worth of about $3.1 million, according to public disclosures. Three years later, the range was $3.1 million to $12.7 million. The next year, their net worth rocketed to $7.3 million to $33.1 million," wrote Schweizer.
To that point, The National Sentinel reported Thursday that a whistleblower organization has just released a new report detailing corrupt pay-for-play connections between four Democratic and four Republican lawmakers in Congress and federal contractors and other businesses that do business with Uncle Sam in their home districts.
The entire Washington world, in other words, seems corrupt and untouchable. It is this "swamp" that President Trump keeps vowing to drain.
As for the Biden campaign, it responded to Schweizer's column by calling the Times "blind" or intentionally misleading for the sake of being deceptive.
Oliver Darcy✔@oliverdarcy · Oct 9, 2019
News: The Biden campaign has sent a letter to NYT exec editor Dean Baquet excoriating the newspaper.

The Biden campaign says NYT has "had an outsized hand in the spread" of the "baseless conspiracy theory" that Biden abused his office for his son.

More: https://mailchi.mp/cnn/rs-oct-9-2019 …
Here's the letter Biden deputy campaign manager @KBeds sent NYT editor Dean Baquet. "Are you truly blind to what you got wrong in 2016, or are you deliberately continuing policies that distort reality for the sake of controversy and the clicks…?" https://mailchi.mp/cnn/rs-oct-9-2019 …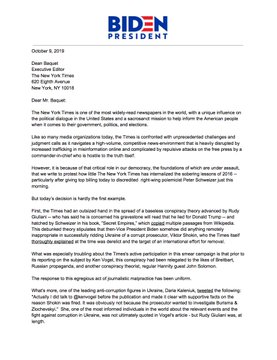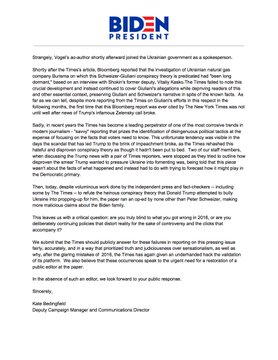 2,80810:36 PM – Oct 9, 2019Twitter Ads info and privacy1,354 people are talking about this
The Times pushed back, claiming that it has been 'fair' in its coverage of the Bidens. Perhaps — but only when that coverage has occurred.
And certainly the paper can't say the same thing about its coverage of Trump. Source NewsTarget
Those who are spiritually dead are oblivious to their state (2 Corinthians 4:4). They assume they can "eat, drink and be merry" (Luke 12:19 NIV), for physical life is all there is. In so doing, they fail to engage their inmost longings. They fail to recognize their sense of purposelessness, disconnectedness, and the fact that, apart from God, their pursuits do not provide fulfillment. The real danger is that, without the new life that Christ gives, the sinner's physical death will be followed by the second death (Revelation 20:14-15).
Even believers, who have spiritual life, sometimes fail to fully live it by rebelling through sin. The consequence of sin is spiritual death (Romans 6:23). When believers in Christ toy with sin, they experience the death-like symptoms of sin – a sense of distance from God.
The fundamental conflict in our culture and in our politics right now is a simple one. It is a conflict between those who love the truth and speak the truth and those who hate the truth and want it repressed.
Things weren't always this way in America. I remember hearing an expression in elementary school that we almost never hear any more: "I may disagree with what you say, but I will defend to the death your right to say it."
Those of us on the right still say it and believe it. We are for open and free discourse and open and free debate. We want everybody to have the opportunity to say their piece in the dialogue over things that matter, whether the topic is religion, homosexuality, marriage, politics, evolution, or the climate. We are eager to have a vigorous and open exchange over these matters and let the best arguments win.
The left isn't. They are not interested in engaging in debate. They are interested in silencing debate, in stifling debate, in squelching debate. They are determined to muzzle anyone who would dare to question secular orthodoxy in any of these matters.
Those who believe in a scientific view of origins that are consistent with the Scripture must be silenced. Their views must not be allowed in the classroom or in polite society. Those who believe in natural marriage must be silenced and gagged since same-sex marriage is now "the law of the land."
Those who believe in two genders or sexes instead of 58, as Facebook believes, must be silenced and hounded out of public life, business, and politics. Those who believe in sexual normalcy must be punished and driven from campuses, from bakeries, from floral shops, from the offices and boardrooms of major corporations, and made to feel unwelcome in dressing rooms, shower rooms, and bathrooms.
This tyrannical repression of the free speech of those who represent the truth is a relatively new phenomenon in America, although it's standard fare in repressive and totalitarian governments.
But we are far from the first generation of truth proclaimers to face this challenge. The prophet Amos discovered in his day, 2800 years ago, that those who declare the truth will not be tolerated by those who hate the truth.
"They hate him who reproves in the gate, and they abhor him who speaks the truth" (Amos 5:10). The "gate" was the place where the people met to discuss matters, and where city leaders met to establish public policy. It was the marketplace and the public square. What Amos discovered is that those who declare the truth are not welcome there. If you want to reprove some public policy in the quiet of your own home, or maybe even inside the four walls of your church, well, we'll let you do that. But say the same thing in the public arena, the left says, and we will land on your like a falling safe.
A lesbian activist once told me to my face, "I don't care what you say or believe inside your own church. Your church belongs to you. But the public square," she said ominously, "belongs to us."
So what are we, as the people of God and as people of the truth, to do in the face of such hostility?
First, we are to keep praying. Amos discovered that God answers prayer and is willing to spare a nation that will not listen to us from his judgment just because believers plead with him to do it. When Amos received a vision of a coming invasion of locusts, he prayed, "O Lord God, please forgive! How can Jacob stand? He is so small!" The response? "The LORD relented concerning this; 'It shall not be,' said the LORD" (Amos 7:2-3).
When he received another vision in which the land was consumed with fire, he interceded again for his nation. "O Lord GOD, please cease! How can Jacob stand? He is so small!" The response? "The LORD relented concerning this; 'This also shall not be,' said the Lord GOD" (Amos 7:5-6). Our persistent prayer can be effective in staying the judgment of God over our land.
Second, we are to keep speaking. Don't let anybody shut you up. (I'm not talking about being rude or obnoxious; I'm talking about being silent when we don't need to be.) Amaziah tried to silence Amos completely. "Never again prophesy at Bethel, for it is the king's sanctuary" (Amos 7:13). In other words, what you want to say is politically incorrect and so we're not going to let you say it all.
Amos' response? "The LORD took me from following the flock, and the LORD said to me, 'Go, prophesy to my people Israel.' Now, therefore, hear the word of the LORD" (Amos 7:15-16). In other words, Amos said, "I don't answer to you, I answer to God. And he has told me to speak, and so I'm gonna speak. I will not let you silence me."
When we are part of a conversation where others are advancing ideas that are contrary to what is good and right, it's perfectly appropriate and perhaps even necessary for us to say something like, "Well, I hear what you are saying, but I look at it a little bit differently. Here's the way I see it…"
Third, we are to keep believing. Believing that God can and will overcome all spiritual and earthly opposition and bring spiritual awakening and renewal to our land. In his time, he will use our praying and our speaking to "raise up the booth of David that is fallen, and repair its breaches, and raise up its ruins, and rebuild it as in the days of old" (Amos 9:11).
Amos' final words are words of great promise and hope for a broken land. "I will restore the fortunes of my people Israel, and they shall rebuild the ruined cities and inhabit them…I will plant them on their land, and they shall never again be uprooted" (Amos 9:14-15).
Our part is to pray, speak, and believe. God's part is to do. He will do his part. Will we do ours?
Sources include Breitbart.com TheNationalSentinel.com news.Yahoo.comFacebookTwitterShare
StevieRay Hansen
Editor, HNewsWire.com
The light went out in the church, and that's the reason the world got dark. Dark times were perpetuated by the "last one out, turn out the lights" "The church lights have gone OUT".
"Unless God has raised you up for this very thing, you will be worn out by the opposition of man and devils"…
Let Me Make This Abundantly Clear. (I Am Apolitical) While I Have a General Distaste for Politicians No Matter the Party They Belong To, I Am Unashamedly Politically a Bible Believing Conservative Christian. I Have a Severe Distrust of Government. I Believe It Is the Most Inefficient and Ineffective Way to Accomplish Most Things. While I Strongly Disagree with Liberals/Progressives and Conservative on Most Political Issues, and While I Believe Liberals/Progressives and Most Politicians Are Terribly Misguided and Naive About What Big Government Will Eventually Result In, I Strive to Not Question Their Motives. at the Same Time, While I Find Myself in Agreement with Conservative Politicians on Some Issues, I Do Not Believe Electing Republicans Is the Answer to Everything. for Me, Very Sadly, the Main Difference Between Republicans and Democrats Is How Quickly They Want to Drive the Car Towards the Cliff. Simply Put, I Do Not Believe the Government Is the Solution for Everything. I Do Not Place Any Faith, Trust, or Hope in Any Politicians to Fix What Is Wrong with the World. "Come Lord Jesus!" (Revelation 22:20)
Our government has been overthrown. As evidenced by Trump's capitulation on the border, his recent servitude to the GMO industry and his acquiescence to the warmongers, our President has been compromised. Our liberties are being eliminated one by one. Gun confiscation is next. The Constitution is gasping its last breaths. Our borders are destroyed and our culture has been turned upside down by every perversion known to man.
Education is useless without the bible (Daniel Webster)
Usually, the Lord doth no great thing for or against his people, without giving warning of it before it comes.
John Wesley who said that what we tolerate in our generation, will be embraced by the next. Wesley is 100% correct! We are living in sick times.
The Left, a broad term for Liberal Socialist Democrats that can only be explained fully by using the Bible explanation of the human race is as follows. A servant of Satan, because you are either saved or lost. This election has brought out the true nature of who you serve. Simply put, it's Donald Trump, Conservatives, and Christians against the rest of the world. The Left's Love applies only to those who believe as they do. They Love evil and commit Anarchy against those who love good. They are governed by lies and never tell the truth. On this Friday, Inaugural Day for the swearing-in of Donald Trump as the 45th President of the United States the Left wants to commit widespread Anarchy to shut down the swearing-in ceremony. Their goal of transforming America, which was founded in Judea Christian values into a Pagan Nation is almost complete. Their goal has always been the total removal of God from American society and the downfall of America. Donald Trump says he is a Presbyterian, but he left off the USA, an apostate church.
Corinthians 4:8-11 New King James Version (NKJV)
We are hard-pressed on every side, yet not crushed; we are perplexed, but not in despair; 9. persecuted, but not forsaken; struck down, but not destroyed— 10. always carrying about in the body the dying of the Lord Jesus, that the life of Jesus also may be manifested in our body. 11. For we who live are always delivered to death for Jesus' sake, that the life of Jesus also may be manifested in our mortal flesh.
Satan has power over (LGBTQE-TRANS PEOPLE). The "sons of disobedience" referred to in Ephesians 2:2 are those who have not trusted Christ as Lord and Savior (cf. Acts 26:18; 2 Corinthians 4:4; Revelation 13:12). The demons are also under the rule of Satan (Matthew 12:24), and one of his titles is "prince of demons" (Matthew 9:34). Satan has a kingdom (Matthew 12:26) and a throne (Revelation 2:13). Satan is called a prince because he is a ruler and possesses the power to manifest evil in the world through influencing people and commanding demons.
HNewsWire- "All political language is designed to make lies sound truthful and murder respectable." Just look at some of our modern-day examples: torture is "enhanced interrogation techniques"; murder is "collateral damage"; the aggression initiation of war is a "pre-emptive strike"; the theft of taxpayers' money is a "bailout", and the theft of depositors' money in a bank is a "haircut" or "bail-in".In a blatant example of Newspeak, the New World Order controllers (through the psychiatric DSM V) have tried to rename pedophiles as "minor-attracted persons" and redefine pedophilia as "sexual orientation". This makes no sense since sexual orientation has to do with gender, not age, with whether you are attracted to males or females, not how old they are. There are even organizations (like B4UAct.org) which are claiming that pedophiles are being unfairly stigmatized for their feelings!
If homosexuality has been posed as healthy, good and normal, in the face of overwhelming evidence to the contrary, so can pedophilia. Pro-pedophilic articles are making their way into academia.
The Cult of LGBTQE-E for EVIL and is often a cover for child-molesting perverts
Tagged Under: abuse, children's health, gender-confused, gender issues, gender madness, the left cult, LGBTQE-E For Evil un-godly Mob, Lunacy, mutilation, transgender, Child molesting perverts LGBTQE- E For Evil, drag queens, perverts
Unfortunately, not all alternative sources are reliable, even some Major Christian (and I use Christian loosely) news sources have been corrupted. They will NOT tell the truth. They just parrot the deceptive narratives perpetrated by those who currently control our government and media. Even those who are honestly trying to present the truth can miss it sometimes. There is so much deception out there. In these last days, you must be wise as serpents and gentle as lambs. It is no time to sleep or slumber. Diligence and vigilance are required. It is critical that you think for yourself and not be a Lemming.
Tagged Under: authoritarians, bias, China, complaint, corruption, Hunter Biden, hypocrisy, Joe Biden, Left-wing, Leftists, mainstream media, New York Times, op-ed, Peter Schweizer, scandal, speech Nazis, Ukraine
Dr. Hotez From The PITS of Hell… Dr. Death 'Scientists' As Hate Crime… Physicist Richard P. Feynman once said "Religion is a culture of faith; science is…
Read More
We make every effort to acknowledge sources used in our news articles. In a few cases, the sources were lost due to a technological glitch. If you believe we have not given sufficient credit for your source material, please contact us, and we will be more than happy to link to your article.