Belgium Begins Monkeypox Quarantines, Biden Warns "Everybody Should Be Concerned"—Srh: Well, the Truth Has Finally Come Out. What Everyone Should Have Been Concerned About When the Homosexuals Invaded Children's Schools; When the Homosexuals Took Over Our Streets With Their Flags and Signs Proclaiming How Proud They Were; They Were to Violate All of God's Laws
HNewsWire:Belgium has begun monkeypox quarantines, and Biden has issued a warning. "Everyone Should Be Worried" – SRH: Well, the truth has finally come out, what everyone should have been concerned about, when homosexuals invaded children's schools, when homosexuals took over our streets with their flags and signs proclaiming how proud they were to violate ALL of God's laws, we were told to stand down, we being Christians, and some pastors in the so-called churches went along with it, and now we have a pestilence running rampant killing innocent people, you who ignore this,"Enjoy" pestilence, starvation, plague, illnesses, pandemics, Tribulation.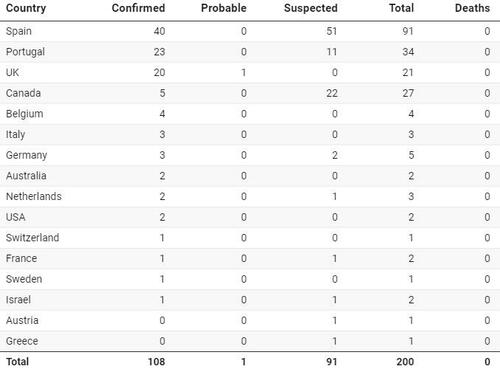 After three cases were reported in the nation, Belgium became the first country to impose a mandatory 21-day monkeypox quarantine for people who come into contact with the virus.
The formal seat of the Belgian parliament is the Palace of the Nation in Brussels. According to the Daily Mail, the illnesses were all related to a festival in the port city of Antwerp, and Belgium is now one of 14 nations to confirm outbreaks of the viral sickness (in addition to suspected, but not confirmed cases in Austria and Greece).
BNO is the source.
US President Joe Biden said on Sunday that the current outbreak of monkeypox is "something that everyone should be worried about."
"It is a worry in that if it spreads, it would be serious," he said from Osan Air Base in South Korea, where he was interacting with soldiers ahead of his Asia tour to Japan.
President Joe Biden talks to the media before boarding Air Force One to leave Osan Air Base in Pyeongtaek on May 22 for Japan, the second leg of his Asian tour.
According to National Security Adviser Jake Sullivan, who informed the traveling press pool that the US had vaccinations "ready to deploy," Biden is getting daily updates. Meanwhile, UK health authorities have warned that the country is facing significant' increase in infections, and that the government's reaction is 'essential' in preventing the spread.
Dr Susan Hopkins, the UK Health Security Agency's top medical advisor, also cautioned today that monkeypox is spreading via community transmission in the UK, with new cases being found on a daily basis.
Sajid Javid confirmed yesterday that 11 more Britons have tested positive for the virus, bringing the total to 20. A British youngster is presently in serious condition at a London hospital, and another 100 illnesses have been reported in Europe. -The Daily Mail
"Over the coming week, there will be additional diagnoses," said Dr. Claire Dewsnap, president of the British Association for Sexual Health and HIV. "It's difficult to tell how many. What concerns me the most is that there are illnesses all around Europe, indicating that this has already spread."
"It's difficult to tell how many. "What concerns me the most is that there are illnesses all around Europe, indicating that this has already spread," she said. "Keeping track of all those people's contacts is a huge task."
"It might be pretty large numbers over the next two or three weeks," Dewsnap noted.
Monkeypox is an uncommon viral virus that originated in West and Central Africa's tropical climates. It is spread by extremely close contact with an infected individual, including sexual interaction (Homosexual Trans). Symptoms are typically modest, and most people recover within a few weeks if no therapy is given.
Some people who catch the current strain will perish. "We are identifying more instances on a daily basis, and I'd want to thank everyone who is coming forward for testing to sexual health clinics, GPs, and the emergency department," Dr Hopkins added.
When asked whether there is community transmission in the UK, she said, 'Absolutely, we are discovering cases that have no identified contact with a person from West Africa, which is what we've observed before in this nation.'
'The community transmission is mostly concentrated in metropolitan areas, and we are finding it primarily in persons who self-identify as homosexual or bisexual,Trans or other guys who have intercourse with men or monkeys."
When asked why it is common in that population, she said, 'That's because of the frequent close connections that may have.' -The Daily Mail Death, fever, headache, muscular and back pains, enlarged lymph nodes, chills, weariness, and, of course, lesions are among the symptoms.
SRH: According to the UKHSA, the occurrences are "predominantly among Homosexual Trans Sinners, bisexual or dudes who have sex with men."
Do not let dread overtake you because God has not given you the spirit of fear but rather the spirit of strength, love, and a clear mind. 7th verse of 2 Timothy. Because God has bestowed wisdom and comprehension upon us (to those who seek HIM and ask), we do not experience fear and are aware of what precautions to take and how to prevent contracting these ailments. Ivermectin, HCQ, quercetin, vitamin D, magnesium, garlic, various herbs, enough rest, exercise, proper diet, an attitude of gratitude, and many other things have been shown to be beneficial.
It's really just common sense, but in today's world, it's not so common since people live in fear, so they're ready to rush to their doctors and accept the disinformation that's spread by the mainstream media. I am overjoyed and grateful that a good many of you here possess common sense and have chosen not to get the Kill Shot clot injections.
"Predominantly in Homosexuals, Bisexuals, or Guys Who Have Sexual Relations with Men or Monkeys" is how the instances are described.
... On the other hand, those who smoke poles may want to reconsider the mental disease they have and put their wickedness on hold for a little while.
On its website, the Centers for Disease Control and Prevention (CDC) asserts that there is "no recognized, safe treatment for monkeypox virus infection."
Will Putin Fulfill Biblical Prophecy and Attack Israel?