Black Horse In Play: Full Embargo On Russian Oil Next Week, Will Send Price Above $185—Plandemic Working, Satan Soldiers are Breaking Down Humanity
HNewsWire: Due to the EU's imposition of an embargo on Russian oil after the French presidential election next week, EU gas prices are expected to rise sharply.
It makes no sense to delay the embargo until after the election. In short, Europe's bureaucrats are rightly concerned that an increase in oil prices would lead to a higher turnout for Le Pen, which is why Europe will wait until after the election to declare it publicly.
Below, you can find further information (and in the full JPM report available to pro subs).
Russia's current account balance is at an all-time high, despite the evident aims of western governments to damage Russian energy output.
Exports reached 7.3 million barrels per day in the seven days leading up to April 16, according to JPMorgan, only 330 kbd short of March's average export volume of 7.58 mbd.
Before the commencement of the conflict in February. JPM estimates that Russian crude exports have increased by 360 kbd on average since the invasion, but exports of oil products such fuel oil, naphtha, and VGO have decreased by 700 kbd (full report available to pro subscribers in the usual place).
As previously noted, Russian refineries have reduced production due to falling exports and a 200 kbd reduction in domestic oil consumption. Roughly 0.6 million barrels per day (mbd) more than normal were eliminated from the refining process in April. By the end of March, domestic refining throughput had fallen sharply, resulting in production shutdowns.
The JPM has revised its earlier expectation of 2 mbd Russian production shut-ins to 1.5 mbd for April (the forecast of a 1 mbd loss of Russian exports for the rest of the year remains unchanged for now).
JPM's forecast is based on the premise that European purchasers would reduce their purchases of Russian oil by 2.0–2.5 mbd by the end of the year and that Russia can only reroute around 1 mbd of that.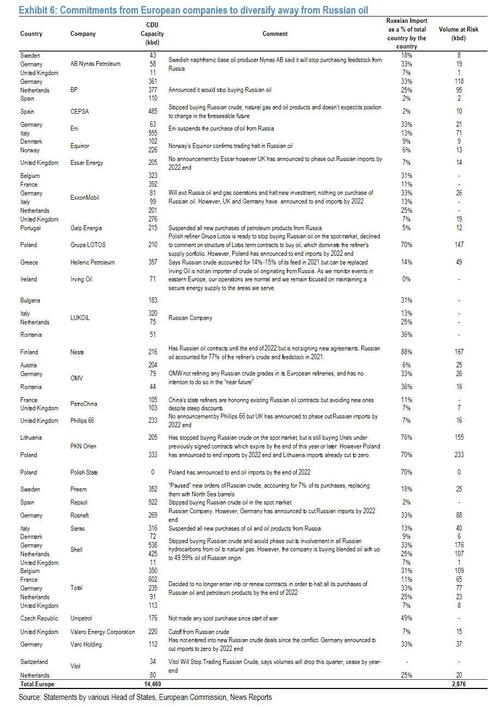 JPM's estimate of 2.0-2.5 mbd is based on three factors:
Roughly 1.8 million barrels per day (mbd) of Russian crude exports are based on spot contracts, whereas only about 0.3 million mbd of other goods are traded on spot terms, resulting in a disruption of about 2.1 mbd.
There have been pledges to limit Russian oil imports by 2.1 mbd by nine European nations, the United States, Canada, and the United Kingdom.
Some 26 big European refiners and trade businesses have ceased or are planning to stop purchasing Russian crude oil on an immediate basis or phase it out over the next several years.
We shouldn't be surprised that China and India, which have both raised their imports of Russian oil in the last two months, and also Turkey, which has increased quantities to levels prior to COVID, have compensated for part of the loss. Together, these three nations can likely import an extra 1 million barrels of oil beyond what they are already importing, according to JPMorgan.
The main issue is: what will happen to the price of Russian oil, if Europe follows through on its threat to extend sanctions to all Russian oil? According to JPMorgan, there is nothing positive to say about this.
"Any quick embargo move adopted by the European Commission would have a significant effect on the global oil market, with risks to price fully to the upside in the short-term," Natasha Kaneva, a commodities analyst at JPMorgan, writes in a blog post.
According to the bank, the EU may use a complete embargo on Russian oil imports, as well as levies or price ceilings on Russian oil imports, as a means of imposing sanctions on Russia. In all cases, the market need time to respond in order to prevent sharp price increases.
Let's take a look at some of the worst-case situations first:
In the short run, European consumers will be hit worse than Russian producers if the ban is implemented in its whole and immediately. The immediate displacement of almost 4 million barrels per day (mbd) of Russian oil supplies, coupled with the lack of space or time to reroute them to China, India, or any other prospective alternative purchasers, would undoubtedly push Brent crude oil prices to $185 per barrel.
In the event of a "full embargo," the following additional information would be provided:
India's Russian oil imports are now three times more what they were projected to be in 2021. The United States has advised India not to expand imports any further, and India is unsure whether it can continue to function as a sink for Russian oil that has been displaced.
Nevertheless, prices are unlikely to grow substantially higher than present levels if Europe imposes an embargo more slowly, for example over a period of months, comparable to the European restriction on Russian coal imports where a wind-down period of four months is in effect.
Russian oil supplies would have more time to be shifted to more favorable clients if the phase-out was more gradual, and the increase in supply from non-OPEC+ countries would have more time to make up for the void left by Russia's withdrawal in global oil supplies.
To avoid a total embargo, the EU is considering less draconian options, which would enable Europe to continue receiving Russian oil supplies while still exerting financial pressure on Moscow. Imports of Russian oil to Europe might be subject to additional tariffs and price limitations as an alternative.
As long as Russia's Energy Minister says the nation will sell to "friendly countries" at "any price range," Russian oil producers can afford to keep supplying European customers with oil, even if tariffs of 90% are imposed or the price of oil is capped at $20 per barrel. To retain the EU's connection to Russian energy, one of these solutions may be an acceptable compromise from a political standpoint.
Oil purchasers might deposit the difference between market price and price cap level into an EU escrow account, under a price cap, in order to ensure that prices are not inflated. After hostilities have ended, these monies might either be used solely for Ukraine's reconstruction or given to Russian manufacturers at a later date, net of the expenses of Ukraine's reconstruction. Greater funding to Russian operators, even at a future date, is likely to carry a risk, but a promise of additional money in the future would go far in ensuring that Russia continues to provide the West with energy.
In all of these situations, Russia's crude oil and oil product exports will be sold to more friendly clients. While Russia has already increased its imports of Turkish oil to levels comparable to pre-COVID levels despite the situation in Ukraine, both China and India have recently increased their purchases of Russian oil as well.
With China replacing other East Asian buyers of oil from Eastern Russia, such as Japan and Korea, and Turkey and India picking up cargoes of Russian oil from Black Sea and Baltic ports opportunistically, these three countries can likely import an additional 1 mbd of oil than what they are currently importing.
To avoid blackouts and other measures that would make the 1970s oil crisis in the US seem like child's play for Europe, Gazprom has halted gas shipments to Europe through a critical pipeline as energy prices skyrocket. Gas giant Gazprom has suspended all exports to Europe
Will Putin Fulfill Biblical Prophecy and Attack Israel?