Biden & His Crew of Filth: New Office of Nuclear Energy Deputy Assistant Partook in 'Puppy Play' Kink Community
Biden Admin: Photos have emerged revealing that the new Deputy Assistant Secretary of Spent Fuel and Waste Disposition in the Office of Nuclear Energy, has taken part in the sexual "kink" community called "puppy play."
The caption of the February 19, 2018 post reads: Kink 101 was amazing this year at #mblgtacc2018 #mblgtacc," with the two hashtags referring to the Midwest Gay Lesbian Bisexual Transgender Ally College Conference.
Brinton's associations with the "puppy play" community was also highlighted in a January 2016 Metro Weekly article regarding the subject.

The article talks with numerous members of the puppy play community, describing it as "a scene that, while not leather-centric, grew out of the leather and BDSM communities and is often lumped in with other fetishes that may be unfamiliar to the casual observer. It's a world that, although slowly gaining acceptance, is still misunderstood."

Photos taken for the article feature people dressed in leather masks with a snout and ears that resemble a dog face, walking on their hands and knees that frequently are covered with padded gloves and knee pads.

In the article, Metro Weekly describes Brinton as a "handler," which functions "the same way dog owners do, keeping a watchful eye on their charge and reining in the pups if needed. It's the handlers who train the pups and teach them discipline, doling out rewards or punishments based on good or bad behavior."
Politico reported today that Sam Brinton has been appointed the new deputy assistant secretary of Spent Fuel and Waste Disposition in the Energy Department's Office of Nuclear Energy. Who is Sam Brinton? A "non-binary" drag queen into kink. In "their" own words:
Whether they are walking the halls of Congress to help educate the Hill on the differences in advanced nuclear reactors or belting out their favorite tunes with the Gay Men's Chorus of Washington, DC, it is hard to miss Sam Brinton's passion for changing the world – and potentially their stilettos.
As Jon Miller put it, "even in Weimar, this kind of perverted degeneracy was kept underground".
Brinton is also what's known as a "pup handler".
At least the Biden Administration has found something to distract us from that 7.5% CPI print. Speaking of which...
Brinton, before moving to his new role in the Department of Energy, previously served as the Vice President of Advocacy and Government Affairs for the Trevor Project.
A mother posing as a 15-year-old gender dysphoric biological female used the Trevor Project's internet services earlier this month, and the program confirmed her trans status.
The mother, who is coping with her own child's gender dysphoria, came out in the talk as befuddled about a lot of things but certain that she was "not cishet" and eager to learn more about detransitioning.
"In an online discussion with a Trevor Project representative, advocacy for transitioning, little information regarding detransitioning, and apparent assurance in the face of an insecure youngster who didn't know where to turn for support appeared. Gloria was directed to resources on hormones through the Trevor Project, including how to acquire them without parental consent, chest binding, and an introduction to a network of young transitioners "As previously reported by The Post Millennial.
"When my child initially declared a 'transboy' gender identity around the age of 12, she spent a lot of time on The Trevor Project website," Gloria, who sought anonymity, told The Post Millennial. "She was also active on Tumblr, Discord, and other social media platforms at the time. They were aggressively molding my child into trans ideology and a new belief system, and I had no idea."
President Biden on Monday repealed former President Trump's ban on transgender individuals serving in the US military – signing an executive order that "sets the policy that all Americans who are qualified to serve in the Armed Forces of the United States should be able to serve," according to a fact sheet circulated by new Defense Secretary Lloyd Austin following a meeting with Biden.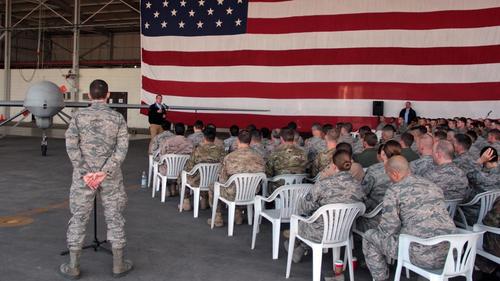 "President Biden believes that gender identity should not be a bar to military service, and that America's strength is found in its diversity," said the fact sheet. "Allowing all qualified Americans to serve their country in uniform is better for the military and better for the country because an inclusive force is a more effective force."
Transgender troops and their taxpayer-funded medical and psychological treatment became a topic of controversy after President Trump tweeted in July 2017 that he wanted to ban them from the military. In January, 2019, the US Supreme Court ruled that a modified ban could take effect while lower court challenges to Trump's ban continued.
Also known as gender dysphoria, transgenderism is recognized by the medical and mental health community. In a February 2019 article, USA Today noted that "the cost of treating troops with the diagnosis of gender dysphoria has totaled $7,943,906.75. That included 22,992 psychotherapy visits, 9,321 prescriptions for hormones and 161 surgical procedures," adding "Surgeries performed included 103 breast reductions or mastectomies, 37 hysterectomies, 17 "male reproductive" procedures and four breast augmentations. Psychotherapy sessions cost nearly $5.8 million and surgery cost more than $2 million, according to the data."
Biden's executive order revokes Trump's 2017 and 2018 orders banning transgender military service, and orders the Pentagon and the Department of Homeland Security to ensure that all policies are in-line with his executive action.
"Simply put, transgender servicemembers will no longer be subject to the possibility of discharge or separation on the basis of gender identity; transgender servicemembers can serve in their gender when transition is complete and the gender marker in the Defense Enrollment Eligibility Reporting System (DEERS) is changed and transgender servicemembers should know that they are accepted throughout the U.S. military," reads the fact sheet.
Biden pledged during the presidential campaign he would lift Trump's ban, referring to it as a "day one" priority. But it was not among the batch of executive orders Biden signed hours after his inauguration last Wednesday amid a delay in Austin's confirmation. With Austin's confirmed Friday, Biden was expected to act as soon as Monday.

The Obama administration, in which Biden was vice president, lifted the previous ban on transgender military service in 2016.

A RAND Corporation study commissioned by the Pentagon during the Obama administration found allowing open service would have "a minimal impact on readiness." Additionally in 2018, the chiefs of the Army, Navy, Marines Corps and Air Force said in congressional testimony they had seen no problems with discipline, morale or unit cohesion resulting from transgender troops serving openly in the military. –The Hill
In 2019, the Pentagon established and implemented a policy to fulfill Trump's order barring most transgender people from serving in the military unless they can perform their duties as their biological sex. There were loopholes, however, such as a waiver one could seek to serve openly. According to the report, just one such waiver was granted. The policy also allowed those who had come out under the Obama administration to continue serving openly.
An estimated 14,700 service members on active duty or in the reserves identify as transgender, according to The Hill, while Pentagon data shows that around 1,500 troops since 2016 have been diagnosed with gender dysphoria.
Satan Soldier Biden Like Obama-nation Loves Filth
Putin: America Has A Filth Problem
Meet Moses! He's a young man who grew up in the most challenging circumstances. Today, he has larger-than-life goals to achieve something extraordinary.
A Thrilling Ride
Every once in awhile, a book comes across your path that is impossible to put down. A Long Journey Home is not a casual book that you read in a week or earmark to complete at a later date. Once you begin, cancel your schedule, put your phone on silent, find a quiet place where you cannot be disturbed, and complete the journey. Click Here to Purchase on Amazon.com!
Flying Spaghetti Monsterism (also known as Pastafarianism) is a "religion" created by a man named Bobby Henderson. Mr. Henderson created this satire in protest of ...
Read More

→