Advisory: Be careful of what you read on social media. The algorithms used by these platforms have no regard for Biblical truth. They target your emotions to keep you engaged on their site so their advertisers can drop more ads. These platforms exist to enrich their stockholders. Consider God's promise to Believers in James 1:5, "If any of you lacks wisdom, you should ask God, who gives generously to all without finding fault, and it will be given to you."
Food and Fuel Shortages Are a Result of the Recent Upheaval in Inflation in Panama
HNewsWire: It began as a teachers' strike over rising gas prices, but it has grown into the country's worst civil unrest since the fall of dictator Manuel Noriega in 1989.
The Panamanian administration has gone into a fresh round of negotiations in an effort to satisfy the people and avert more economic damage, which some estimate at $500 million and climbing, as a result of a series of flaming blockages.
Laurentino Cortizo, the president, had already taken two big steps to suppress the uprising, yet the turmoil persisted despite his efforts.
His decision to extend subsidies to all customers on June 11 resulted in a 24 percent lower end-of-June gas price, which was capped at $3.95 a gallon. As part of his campaign promises, he pledged to seek price controls on ten essential commodities, such pasta, beef loin, vegetable oil, and tinned sardines.
Protesters continued to block key roadways, including the globally significant Pan-American Highway, as they called for price cuts throughout the economy as well as more expenditure on education and health care. Strikes by employees at the Panama Canal have so far been unlawful.
Earlier this week, Cortizo announced an agreement with the government that would bring gas prices down to $3.25. As a condition of the price decrease, the barriers would be eliminated while the price relief for medications and other necessities was discussed.
Anadepo, a protest group made up of trade unions, civic groups, and indigenous peoples, declared on Monday that it was breaching its promise and that it had only agreed to it under duress. Some organizations complained that they weren't included in the discussions, which they felt was unfair.
Cortizo's government and the Catholic archbishop of Panama have decided to resume negotiations, this time mediated by the archbishop of Panama. Gas prices over $3.00, according to Toribio Garca, a semi-autonomous area leader, were "not negotiable."
Protests aren't only sparked by rising prices. As reported by the Spanish news outlet EFE:
Anti-corruption protesters have also focused their outrage on graft, chanting slogans and calling for an end to the "theft" of public funds; acclaimed Panamanian singer-songwriter and activist Ruben Blades, for his part, wrote that the problem exists within a state apparatus that has "institutionalized corruption."
According to Jose Eugenio Stoute, a Poder Ciudadano member who spoke to Efe, whole families of legislators profit from inflated public contracts and get expensive incomes, echoing similar thoughts.
Presiden Cortizo also revealed a 10% decrease in public sector payrolls, as well as budget cuts and limits on government workers' overseas travel, when he announced the first drop in petrol prices.
A full-blown revolt against a government that is regarded as enriching itself at the expense of the ordinary people may not be possible even with this level of restraint. To add fuel to the fire, images of governing DRP lawmakers sipping $340 Macallan whisky to commemorate the commencement of a new parliamentary session have surfaced.
In the midst of upheaval at Panama City, mayor José Luis Fábrega was seen buying in a high-end store in an upscale neighborhood of Madrid. The mayor's office was called earlier this week by a journalist who inquired about the mayor's departure. That's what he was informed by the staff "The brother was to blame. It resembles him in many ways." According to the mayor's office, Fábrega is in Spain for medical reasons.
For decades, Panama has been a stable nation because of its currency peg to the US dollar and constant earnings from its crucial canal. Panama, on the other hand, has recently emerged as a canary in the global coal mine, indicating that worldwide turmoil may be just around the corner.
Australian Government Shuts Down Melbourne Construction Sites Amid Protests Over Vaccine Mandates
By Jennifer Goodman of Construction Dive,
Construction sites in and around Melbourne, Australia, have been shut down for two weeks after hundreds of construction workers and other protestors gathered Monday at the site of a union building, throwing bottles and damaging equipment.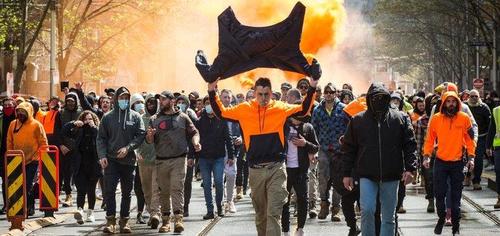 They were protesting the Victorian government's COVID-19 vaccine mandate for construction workers that begins Thursday.
Riot police used rubber bullets and pepper spray to disperse crowds, the BBC reported, and the headquarters building for the Construction, Forestry, Maritime, Mining and Energy Union was damaged. Several people were arrested.
The union released a statement saying it condemned the protests and the "mindless acts of violence" perpetrated by members of the crowd. The statement said that many protesters were not construction workers but members of neo-Nazi and other right-wing extremist groups.
"It is clear that a minority of those who participated were actual union members," it said.
Protests continued on Tuesday in Melbourne, with the crowd growing into the thousands and encompassing anti-vaccine activists and other types of workers.
Up to 2,000 protesters descended into the city's central business district, according to The New York Times, which also reported that protesters threw bottles at the police and set off flares, while officers in riot gear fired rubber bullets and used pepper spray.
Worker protests began last week when "tea rooms" where tradespeople congregate during breaks were shut down amid the rising delta surge and the government banned workers from consuming food or drink indoors. That prompted construction workers to take their lunch breaks outside in protest.
They set up tables and plastic chairs in multiple intersections in central Melbourne, blocking roads and holding up traffic, according to NPR.
Public health measures
Following the protests, construction and state officials announced that jobsites in Melbourne and other areas in the region will be closed for at least two weeks beginning Tuesday. It cited Monday's unrest and the increase in COVID-19 cases in the building and construction industry as the reasons.
Victorian Premier Daniel Andrews said that multiple outbreaks — as high as 13% of all cases, according to local media reports — have been linked to construction sites.
Construction has been among the few industries that have largely stayed open throughout the pandemic in Victoria.
"Construction workers are a mobile workforce who may work across multiple sites and travel longer distances to work than other permitted workers," Andrews said in a statement. "Concerns have also been raised, and remain, about the sector's compliance with public health measures and directions."
Minister for Industrial Relations Tim Pallas was even more forceful, saying that his office has seen widespread non-compliance across the industry.
"We've been clear: if you don't follow the rules, we won't hesitate to take action," he said in the statement.
Workers will be required to show proof of at least one vaccine dose when sites reopen on Oct. 5, he added.
Update: 9/21/21 20,000 Shut Down Melbourne Highway In Massive Lock-down Protest
Anti-lockdown protests have become more common in Australia since the latest round of "snap" lockdowns began two months ago.
Initially, those lockdowns were supposed to last a week. But months later, with tensions running high, millions of Australians are fed up with the government's lockdowns and vaccine requirements.
And although Aussie health authorities have at the very least acknowledged that their "COVIDZero" approach isn't actually feasible, frustrations among the Australian people are running high (perhaps intensified by the country's latest diplomatic faux pas, which angered France and made PM Scott Morrison look like he stabbed President Macron in the back).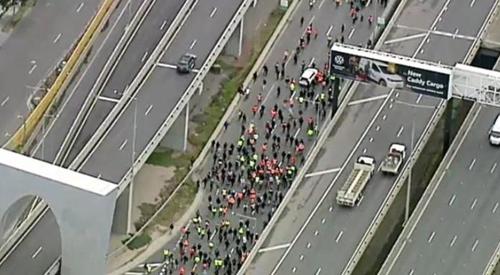 On Tuesday in Melbourne, authorities were forced to confront this blazing public anger as protesters executed an "extremely dangerous maneuver" by marching onto a busy freeway and blocking traffic in a tactic that some Americans might remember from last summer's BLM protests inspired by the killing of George Floyd.
Right now in Melbourne, Australia the most severe clash to date between workers and the state over mandated jabs as thousands of unionized construction tradesmen take the streets.

Victoria Premier Dan Andrews has shut down all construction for two weeks pic.twitter.com/lnM7yi2puS— Max Blumenthal (@MaxBlumenthal) September 21, 2021
Thousands converged on the city for a second consecutive day on Tuesday, with shocking footage capturing dozens moving onto the West Gate Freeway into the path of cars. Traffic on the freeway, which is the busiest stretch of highway in Australia, was forced to a standstill in both directions as police tried to disperse the crowd.
Footage circulating on social media showed protesters tossing glass bottles and flares toward police, while some approached officers with their hands up, chanting "you serve us". One was heard shouting "this is our bridge".
They're being warned. pic.twitter.com/qzi4XE5P0l— Paul Dowsley (@paul_dowsley) September 21, 2021
The police responded by deploying tear gas and firing off rubber bullets. They were filmed telling protesters to move on via loudspeakers around the area. In response, a huge chorus of men could be heard shouting, "everyday" in response, implying they would show up every day until their demands were met.
"F*ck the Jab!" God Bless Australia!

Thousands of angry protesters attempted to shutdown a highway in Melbourne, as police struggled to get a grip on the massive demonstration – using rubber bullets and tear gas.

State Premier Dan Andrews condemned the "terrible behavior" as pic.twitter.com/Io4sCH3wZ4— Supergran6 (@Supergranagain) September 21, 2021
Organizers of the event, who mostly relied on the messaging app Telegram, said the "Victorian Workers Rally For Freedom" said the rallies would continue until victory had been won.
"Bring your friends and family in support. Wear work gear. Bring food and drinks," they instructed attendees on Telegram.
Elsewhere, mounted police were filmed in the city as an announcement telling protesters to move on played over a speaker.
The government in Victoria estimated more than 20K people joined the protest on Tuesday following the announcement of a two-week industry shutdown on Monday night. Many of those who participated were union members and tradesmen responding to the government's latest business shutdown. Source: ZeroHedge
Update: 9/20/21 New Jerseys Rally to Protest Vaccine Mandate, Protect Rights
DEPTFORD, N.J.—A group of New Jerseyans gathered on Sept. 18 at a shopping area in the southern part of the state to voice their opposition to COVID-19 vaccine mandates and to advocate for constitutional rights.
A few dozen people protested by the roadside in Deptford against forced vaccination imposed by the state government by holding signs and waving American flags. Some drivers in passing cars blew horns in solidarity with the protesters.
In August, New Jersey Gov. Phil Murphy issued an executive order requiring all teachers and other employees of public, private, and parochial schools, from preschool through grade 12, to be fully vaccinated against COVID-19 by Oct. 18 or undergo periodic testing. Previously, the governor had mandated vaccination or regular testing against COVID-19 for all workers in certain state-owned and private health care facilities, or high-risk congregate settings.
A New Jersey resident who attended the rally, Christina D'Amore, told The Epoch Times that the rally wasn't against vaccines, but about being forced to undergo a medical procedure.
"I'm here because, whether you're a Democrat or a Republican, you should be very frightened that the government can allow a forced medical procedure done to your body. Whether it be a vaccine or another drug, we need to push back on this right now. … This is medical tyranny," she said.
"Also, early treatment of drugs are being kept from people for COVID. … There's absolutely no treatment. Doctors are not allowed to prescribe anything until you're at the point that you cannot breathe. And then you're sent to the hospital."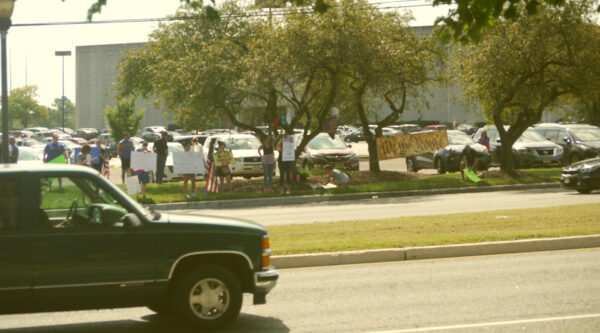 Another New Jerseyan who preferred to remain anonymous because of her work situation told The Epoch Times that she and others joined the rally to protect their rights.
"We're trying to prevent them from taking our rights away," she said, adding that the vaccination mandate is taking away one of the peoples' rights. "You let them take one, they take them all."
"It's all about our choice, our freedom of choice is being at risk; the constitutional freedoms are at risk right now," said Rebekah Eisenman, who also attended the rally.
Other constitutional freedoms that are at risk now are freedom of speech—imperiled by censorship—and freedom of religion, she said.
"Right now, the Constitution is just at risk. And if we, if nobody stands up, and nobody says nothing at all, then everything is gone," Eisenman said, adding that in that case, the situation would be the same as it is now in Australia.
Australia has been on and off COVID-19 lockdowns for more than a year and a half, and the country's government plans to retain the lockdowns until at least 70 percent of the country's near 26 million population are fully vaccinated. Currently, only about 36 percent of Australians have been vaccinated, according to the BBC.
The citizens of Australia's biggest states aren't allowed to leave their homes for more than a few hours a day, aren't allowed to congregate with other citizens even outdoors, and are barred from speaking with one another outdoors. Church services are forbidden. Since the beginning of the pandemic, most Australians haven't been allowed to leave the country without the permission of their government.
The government of New South Wales (NSW) announced that it would grant certain freedoms once the 70 percent threshold of vaccination is reached, and more freedoms at the 80 percent mark.
For example, households in which all adults are vaccinated would be allowed to have up to five visitors. However, unvaccinated people would only be allowed to access critical retail shops, such as supermarkets.
Limits on outdoor gatherings, such as funerals and weddings, will be imposed. The number of customers at shops, beauty salons, gyms, recreational and entertainment venues will also be restricted.
"If you go to Philadelphia, they're making you show vaccine passports in order to go there and eat, like they were doing in France. … You don't have to show ID to vote, but you have to show your vaccine passport to eat something. So [it's] totally wrong on so many levels," Eisenman said. Source: theepochtimes
Update: 9/20/21 1000s Gather At 'Freedom Rally' In New York City To Oppose Vaccine Passport
Thousands gathered near Central Park in Manhattan on Saturday to express their discontent with the vaccine mandates and passport requirements implemented on the city by Mayor Bill de Blasio this month.
New York City started enforcing a COVID-19 vaccine mandate Monday, with de Blasio warning that "there'll be consequences" for those who do not follow the rules.
The mandate requires establishments to put up certain signage and verify customers' COVID-19 vaccine proof, such as vaccination cards issued by the Centers for Disease Control and Prevention (CDC), New York City vaccination records, other official immunization records, the NYC COVID Safe App, or the Excelsior Pass.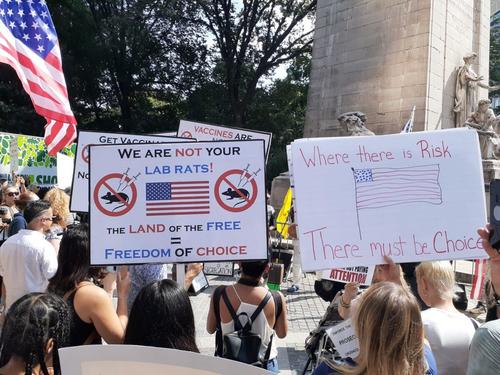 Participants at the Freedom Rally at Columbus Circle in Manhattan on Sept. 18, 2021. (The Epoch Times)
Participants first gathered at Columbus Circle and then marched to Times Square, led by one of the speakers, Jo Rose.
"If you took the vaccine, I love you. This not against you, we are pro-freedom," she announced to passersby.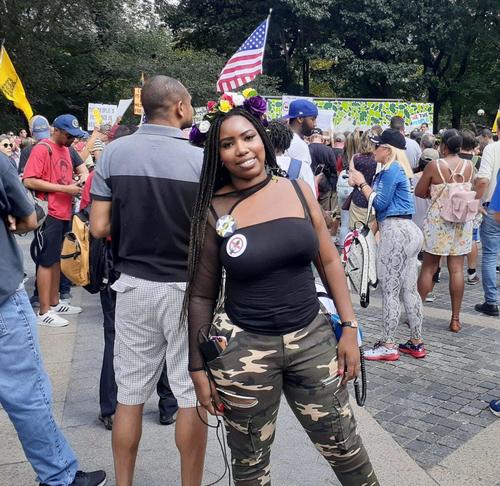 Jo Rose at the Freedom Rally at Columbus Circle in Manhattan on Sept. 18, 2021. (The Epoch Times)
Participants chanted "my body, my choice," "no vaccine passports," and "freedom over fear!"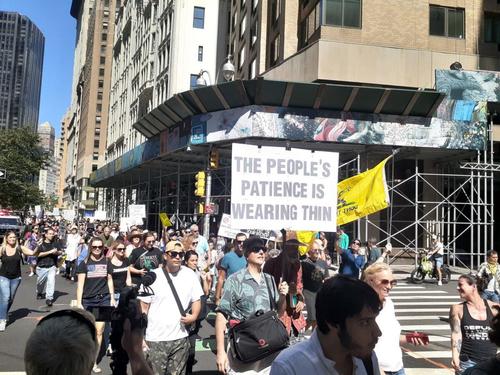 Freedom Rally participants march to Times Square in Manhattan on Sept. 18, 2021. (The Epoch Times)
At the rally in Times Square, people spoke about standing up for their rights and against tyranny.
1000s take over Time Square in NYC for the protest against the mandatory shot. At the world Freedom rally #NYC #Corona #freedomrally pic.twitter.com/l1OY43nVTc— Leeroy Johnson (@LeeroyPress) September 18, 2021
Among the diverse group of speakers, the themes of unity and freedom were often brought up.
One speaker said, "The only thing that gathers us all together, different groups, different types, is our stance against tyranny. When they try to take away our freedoms, we stand."
Another said, "Don't use this as a political front. I don't care about Biden. I don't care about Trump. I don't care if you're a Republican. I don't care if you're a Democrat. I don't care if you're black, yellow, white, purple. I don't care if you're Christian, Muslim, gay, straight. I don't care. This is a human issue and it should be bringing us all together."
The crowd cheered in response.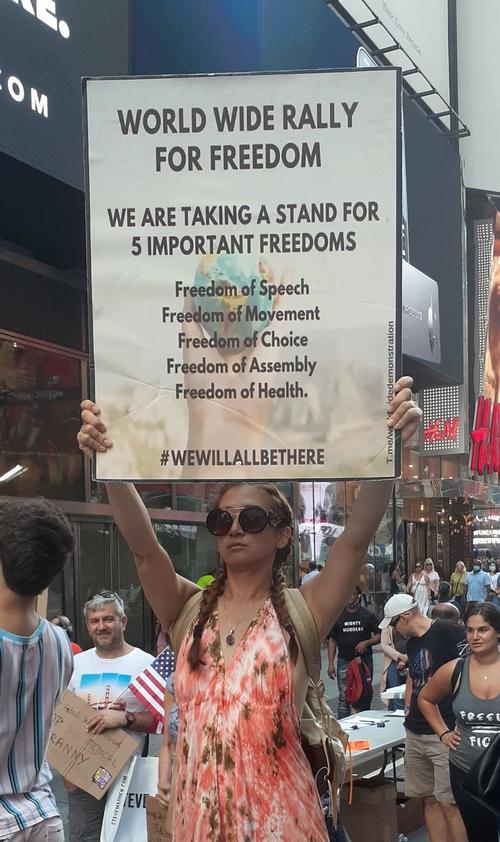 Participants at the Freedom Rally at Times Square in Manhattan on Sept. 18, 2021. (The Epoch Times)
Artist Tessa Lena also spoke at the rally: "It's not about even those injections, it's about establishing a system for artificial immunity." She spoke about how "we are people of love, we are going to win with love."
Mayoral candidate Bill Pepitone also spoke at the rally: "We have a president and a so-called mayor who are telling us we can't go to work, we can't feed our family. Our police officers can't protect us, unless they comply. Our firefighters can't protect us, unless they comply … our health care workers, they can't save lives unless they comply." He then led the crowd to chant, "We will not comply."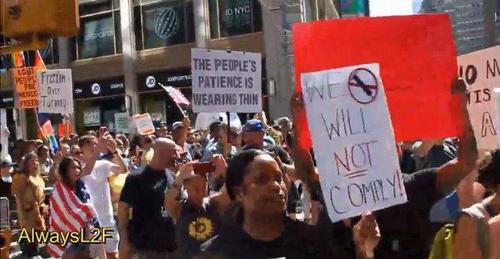 Speaker Kevin Jenkins said, "This is about the very essence of what God gave us, and that is the power to be free. … It's about the power of love that will allow us to win this battle."
Jenkins compared the vaccine segregation to racial segregation in the 1960s. "Sixty years ago, I couldn't walk in a restaurant because they said I was unclean … Now they're telling us we are unclean again, not just black people, not Latino people, but all of us. We have to unify beyond race and love each other as humans."
He urged people to only patronize restaurants that support freedom.
"When they tell you no to your humanity, you tell them no to their business."
Mary Josephine Generoso, manager of the Pasticceria Rocco bakery in Brooklyn, said she would not be discriminating against customers by requiring proof of vaccination, defying the mandate implemented by the mayor. The business has placed signs announcing its policy to customers.
Mary Josephine Generoso, manager of the Pasticceria Rocco bakery in Brooklyn, at the Freedom Rally in Times Square on Sept. 18, 2021. (The Epoch Times)
"I heard de Blasio speak, and immediately we created that sign that said 'we do not discriminate.' There is not a bone in my body that will allow me to discriminate against anybody for any reason any day of the year."
She called de Blasio "the greatest unifier of New York City, because he's brought us all together for one cause."
"I'm taking this stance against the vaccine mandate because obviously, it's completely discriminatory. It's forcing me to segregate customers based on a vaccine," she told The Epoch Times.
She also said she is being forced by the mayor to get vaccinated, even though she has natural immunity. "I am not employed by the city of New York, I don't get a paycheck from the city of New York, I don't get a pension from the city of New York, so I don't understand how Mayor de Blasio is able to tell me that I have to be vaccinated in order to work in my own establishment."
Update: 9/20/21 Anti-Lock-down Protesters In Australia "Break Police Line" As Clashes Erupt
Throughout the pandemic, Australia's government has chosen to enact stringent restrictions to combat COVID-19. After the sixth lockdown since the pandemic began, anti-lockdown protesters in Melbourne have had enough with draconian virus measures and voiced their opposition in the streets on Saturday.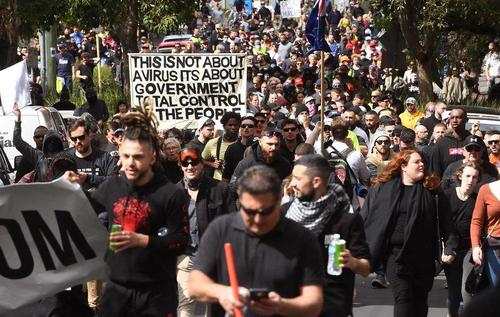 Their right to protest freely was quickly deemed illegal as a massive brawl between demonstrators and police broke out. More than 200 people in Melbourne were arrested at illegal anti-lockdown rallies, according to Reuters.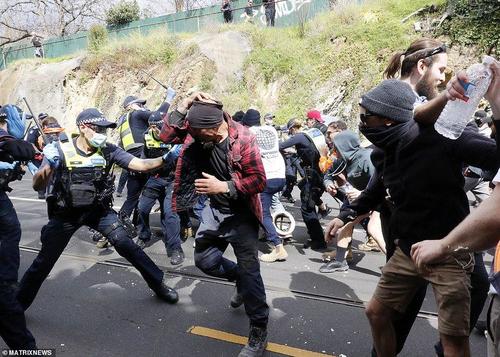 A rally in the Melbourne suburb of Richmond turned violent when police attempted to shut it down. Protesters broke through the police line in an epic fashion.
Protesters break through the police line, an officer gets assaulted and trampled by demonstrators, people are screaming and covered in capsicum spray @theage pic.twitter.com/qXX9lIAZRJ— David Estcourt (@davidestcourt) September 18, 2021
Other clashes were captured on film.
Protesters throw water bottles at officers at more pepper spray deployed @theheraldsun pic.twitter.com/FnTjUAmIaI— Olivia Jenkins (@byoliviajenkins) September 18, 2021
An aerial view of another group of protesters in Melbourne resisted police orders.
#BREAKING: Anti-lockdown protesters in Melbourne are defying police warnings and are staging demonstrations in the city today.

DETAILS: https://t.co/TpLfTEeJhH #9News pic.twitter.com/lpeBvmNtdh— 9News Melbourne (@9NewsMelb) September 18, 2021
On the ground, there was a massive police presence. RT News said local reports indicate around 2,000 officers were called in.
Police March towards protesters who refuse to clear the area, some marchers getting pepper sprayed @theheraldsun pic.twitter.com/DnnBbkw87E— Olivia Jenkins (@byoliviajenkins) September 18, 2021
The illegal demonstrations took place as the metro area endures its sixth lockdown since the pandemic began, with the broader state of Victoria reported over 500 infections today.
Victoria Police Commander Mark Galliott told local media that these protesters came out "not to protest freedoms, but simply to take on and have a fight with the police."
One of the causalities of the pandemic has been freedom of expression as the right to assemble has been banned in the guise of stopping the spread.
By criminalizing peaceful protest and enforcing the authorities to intervene, the government of Australia is making the situation worse where it would entice even more freedom-loving people into the streets to protest tyranny. Source: ZeroHedge
All over the globe, the mood is turning sour. Anger and frustration are bubbling over, and protests are becoming violent in major cities all across the planet. In some cases, the economic pain is driving the protests and in other cases, political matters are motivating the protesters, and it has been a very long time since we have seen so many angry protests happening all over the world simultaneously. Unfortunately, many believe that what we have seen so far is just the beginning. Global economic conditions are rapidly deteriorating, and as economic pain intensifies that is only going to make everyone more frustrated.
Over 300 people were arrested in Hong Kong on Wednesday during demonstrations over national security legislation which would put the semi-autonomous city further under Beijing's boot. Protesters planned to gather at the city's Legislative Council during a debate on a related law which would criminalize insulting China's national anthem – though security forces stopped them before they could get that far.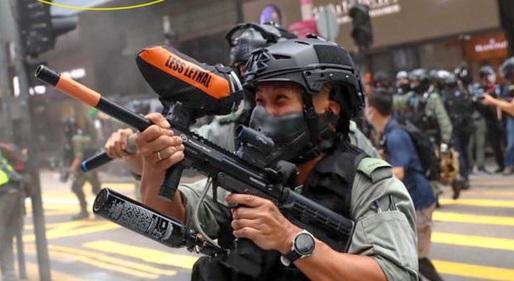 "The Hong Kong police's latest strategy is to engage earlier to stop people from gathering in the first place now to avoid repeating the situation from last June and July," said 24-year-old social worker 'Lee' to Bloomberg, who was protesting in the city's central Causeway Bay shopping district. "I think we are a bit lost over what the next action can be. But I am here to fight for the independence of Hong Kong, even though I know the chance is low. I will try my very best until the end."
On Thursday, China is set to pass a draft decision on the security legislation at the end of the National People's Congress – the country's annual meeting of their 'rubber-stamp parliament, as Bloomberg puts it, which adds that details of the new laws could then be unveiled in the coming months.
"Security laws only make sense in a democratic country," said protester 'Wong,' who fears that Hong Kong will be "certified dead" if passed. "In Hong Kong and China, it will just be an excuse to crack down on dissidents." Source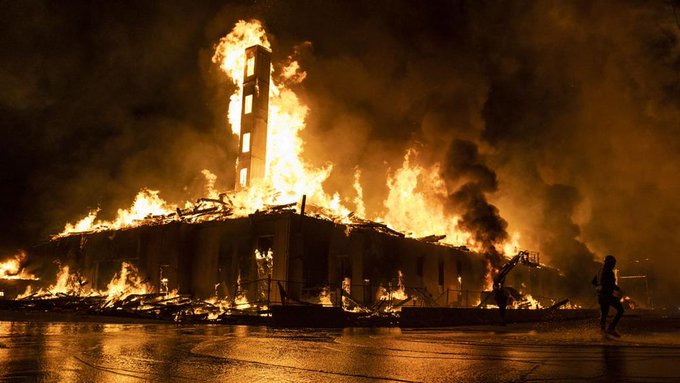 People's hearts are troubled, their minds are in a state of confusion, the Bible tells us a time of great delusion that will come upon the people, that time has arrived, the politicians must come up with more significant and more believable lies in order to bring on the antichrist, we have entered the doorstep Tribulation.
"Unless God has raised you up for this very thing, you will be worn out by the opposition of man and devils"…
The anti-christ is poised to take center stage, the USA is next, Antifa will bring violence to the street very soon, prepare yourself, it is going to be a bumpy ride—SRH….
Here in the United States, the drama surrounding the potential impeachment of Donald Trump is going to greatly escalate the political tensions that are already deeply dividing this country. No matter how things turn out, a large percentage of the population is likely to be deeply frustrated with the result, and that could very easily lead to tremendous civil unrest.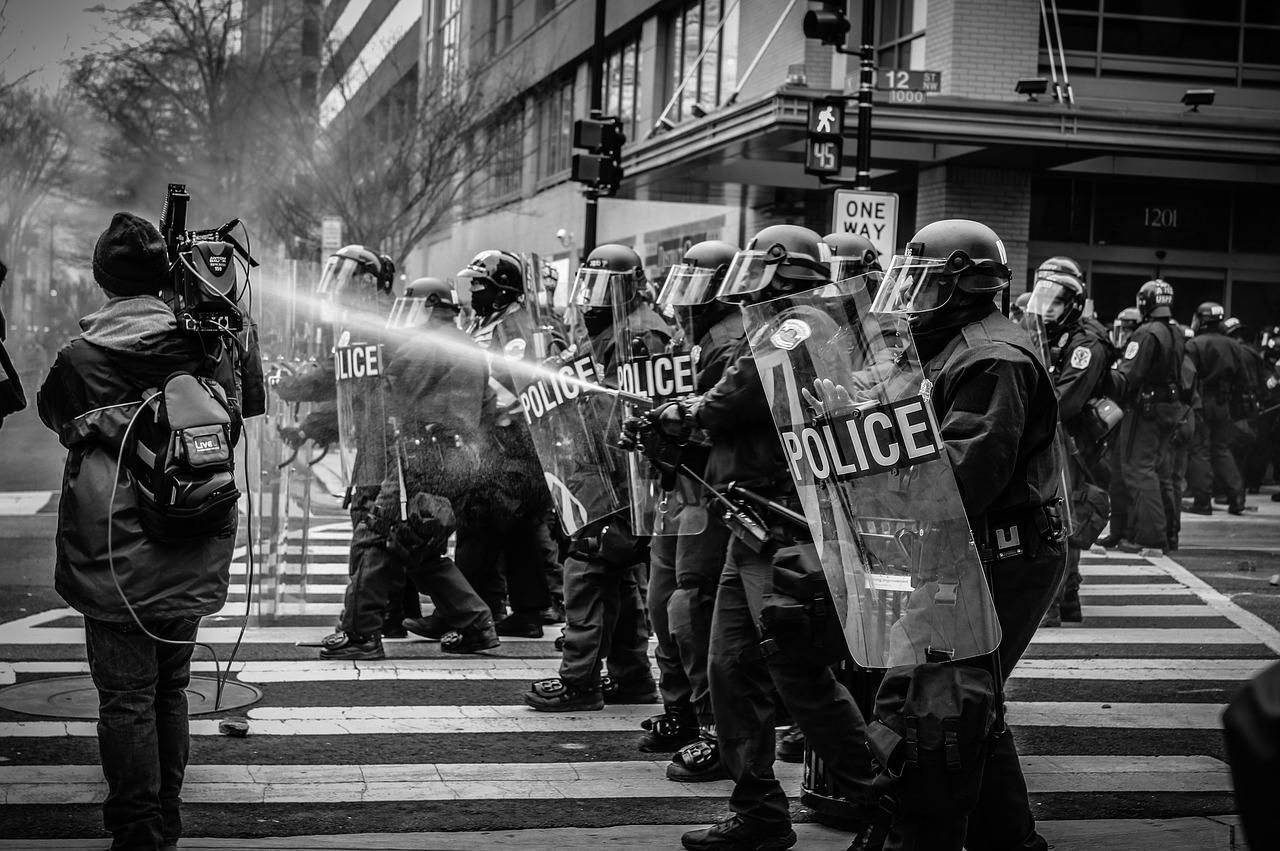 But before we get to Trump, let's take a look at what has been going on around the rest of the world first. In Chile, we are witnessing violent protests, unlike anything that we have seen in decades…
Three people died in a fire in a supermarket being ransacked in the Chilean capital early Sunday, as protests sparked by anger over social and economic conditions rocked one of Latin America's most stable countries.

Santiago's Mayor Karla Rubilar told reporters two people burned to death in the blaze and another later died in hospital, after the huge store controlled by US retail chain Walmart was looted.
Economic conditions are tough in Chile and rapidly getting tougher, and it is very unusual to hear of "looting" in a country that is normally so stable.
Meanwhile, political corruption appears to be the main motivation for the violent protests in Lebanon…
Thousands of demonstrators poured into downtown Beirut for a third day on Saturday, hours after overnight clashes erupted between security forces and protesters leading to large-scale arrests and several injuries.

Demonstrations have engulfed various parts of Lebanon for three days. Many protesters called for the resignation of the government and demanded the "downfall" of a political class that has ruled the country since the start of its 15-year civil war in 1975.
When people lose hope that things are ever going to get any better, they tend to take to the streets.
Unfortunately, corruption appears to be a way of life over in Lebanon at this point, and there seems to be little hope of major reforms any time soon.
In the UK, the drama surrounding the Brexit saga drew "hundreds of thousands of people" into the streets of London this weekend…
Hundreds of thousands of people have marched in central London to demand a new referendum on whether Britain should remain in the European Union, as parliament voted to delay a decision on whether to back Prime Minister Boris Johnson's revised Brexit withdrawal deal.

The march organised by the People's Vote campaign is thought to be the largest yet, drawing anti-Brexit supporters from across the country as parliament sat on a Saturday for the first time since the Falklands conflict in the 1980s.
Yet another Brexit agreement appears to have failed, and many are wondering if it will ever be possible to get one through Parliament.
Many of those favoring Brexit is hoping for a "no-deal" exit from the European Union at this point, and meanwhile many of the "remainders" are holding out hope that there will somehow be a second referendum.
Over in Spain, violent protests have erupted night after night in the aftermath of the arrest of nine key pro-independence leaders in Catalonia…
Barcelona saw its fifth consecutive night of violence on Friday, in the wake of Monday's Supreme Court ruling that jailed nine pro-independence leaders for their role in the 2017 secessionist drive. The disturbances last night were particularly virulent, in terms of their duration, intensity and use of violence on the part of protestors, who were very aggressive toward the police.

Violent groups surrounded the central headquarters of the National Police in the Catalan capital, throwing objects, putting up barricades and setting fire to trash containers. As the sun set, the protests moved to the center of the city, where the regional police force, the Mossos d'Esquadra, used an armored vehicle with a water cannon. At least three police officers were injured in the rioting.
These protests may fade after a while, but they are not going away. Those involved in the pro-independence movement in Catalonia are very passionate, and it has widespread public support.
Of course, the protests that have made the biggest splash on the global stage have been the relentless pro-democracy protests in Hong Kong. Despite the brutality of the police, the protesters just keep coming back again and again, and "tens of thousands" of protesters were in the streets once again on Sunday…
Tens of thousands of pro-democracy protesters took to Hong Kong's streets on Sunday, once again defying a police ban on the assembly and undeterred by a brutal attack against a leader of the organization that called for the march.

The huge turnout, which included families, children and the elderly, demonstrated how the movement now in its fifth month continues to have widespread support, despite the increasingly violent tactics used by protesters and escalating use of force by police.
Here in the United States, we don't have protests like this going on right now.
But we could very soon.
The impeachment process is bringing a focal point to the deep anger that has been building on both sides of the political spectrum for many years. Now that this process has begun, there is no going back, and both sides believe that there is only one result that will bring justice.
For the left, any result that does remove Donald Trump from the office will be a bitter disappointment. The Democrats in the House of Representatives are going to draft articles of impeachment, and they believe that they already have the votes they need to send those articles of impeachment to the U.S. Senate.
If the Republican-controlled Senate does not vote to convict Trump and remove him from office, this will greatly upset the left and could result in an explosion of anger in our city streets.
On the other hand, if the Republican-controlled Senate does vote to convict Trump and remove him from office, tens of millions of hardcore Trump supporters are going to be absolutely livid. There would be an explosion of righteous anger on the right, and it would almost certainly spill into our city streets.
Of course, it is likely that both sides will start protesting well before there is a final result, but once the final vote in the Senate happens that is when things are likely to get very interesting.
The Democrats should have never gone down this road because one way or another this process is going to tear us apart.
If our founders could see us today they would be rolling over in their graves, because this is not what they intended. Source
Studies show that unbelief is indeed on the rise these days. We are living in increasingly evil times, and, unfortunately, those who do not believe in the truth of Scripture often seem to have the loudest voices in the public domain. Skeptics are becoming bolder and more vocal, and their influence is seen in education, entertainment, court systems, and government. They have made significant progress toward their goal of having God's name entirely removed from the public realm. Birth Pains…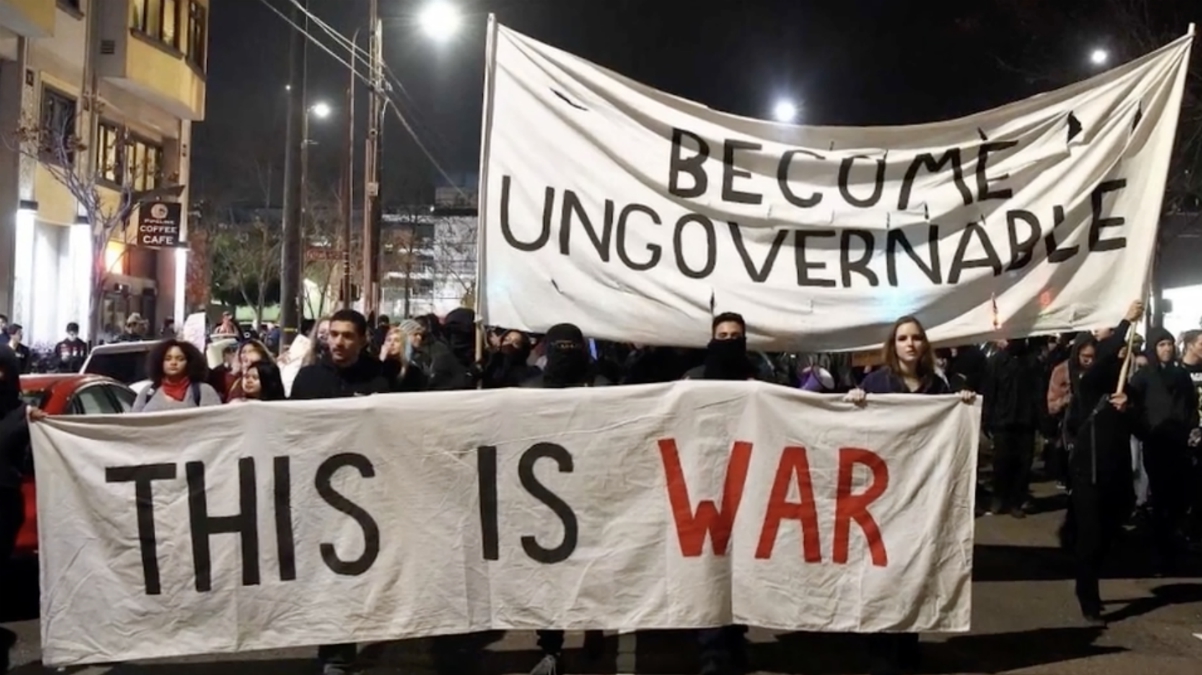 The rise of far-left "anti-fascism," or what has come to be known as Antifa, and it's corresponding "social justice" agenda has absolutely nothing to do with fighting fascism or creating a just society as these words and titles suggest.
Instead of fighting fascism, Antifa is actually spreading it, using "social justice" as a rhetorical cover to usher in a system of communist despotism, first through violent anarchy, then with total revolution.
Despite what the mainstream media and leftist politicians would have us all believe, fascism isn't a problem on the "right." Unless you count Antifa, there's really no significant "Nazi" presence anywhere in the United States today, nor is "white supremacy" even a real thing.
All of these buzzwords and ideas represent nothing more than divisive propaganda that Antifa terrorists, ironically enough, are using in typical fascist fashion to impose their tyrannical agenda on the American populace.
It's the same thing that happened in Nazi Germany under Adolph Hitler, of course, which makes Antifa the quintessential fascists in today's America, and the real threat to Americans' freedom and liberty.
History shows that "anti-fascists" had a dominant presence in Germany prior to World War II, maintaining their world headquarters in Berlin from 1926 to 1933. Known as Antifaschistische Akton, or Antifa, this group was directly affiliated with the Communist Party of Germany that existed from 1932 to 1933.
After the war, the legacy of this historical organization persisted, morphing into a variety of other Antifa movements that all use the same concepts and even aesthetics of the original Antifaschistische Akton, including symbols like the hammer and sickle.
Through each of its many iterations, Antifa has always been about the same thing: implementing a global communist system using fascist tactics, once again proving that Antifa always has been, and continues to be, the true fascist scourge on our planet.
"Antifa was and is primarily a global Communist movement using fascist tactics," writes Ray DiLorenzo for Canada Free Press.
The dictionary definition of fascism describes Antifa to a T
If you take some time to look up what the word fascism actually means in the dictionary, you will quickly see that Antifa represents a perfect embodiment of it.
"Fascism is a set of political beliefs that includes strong control of society and the economy by the state, and the halting of any resistance," explains DiLorenzo.
"In a fascist nation, private enterprise would continue, but all private commercial endeavors would be heavily controlled by the state. Examples would be Nazi Germany and Mussolini's Italy."
It's important to keep this in mind in light of Antifa's admitted goal of creating a communist society, in which all means of production are owned and controlled entirely by the state. And fascism in action is how Antifa is aiming to make this happen.
While Hitler himself actually expelled Antifa and other communist groups from Germany in the early 1930s, history shows that he adopted his own fascist tactics to bring about his own version of a totalitarian state.
In other words, fascism is more of a tactic than it is a belief system, as it can be used as a weapon by anyone to try to advance an agenda. And in the case of both the Nazis and Antifa, these two groups adopted fascism as the means to their own respective ends.
"Fascism and Communism are not opposite ends of the spectrum, rather, they are first cousins on the left," reveals DiLorenzo about an important truth of which many Americans are unaware.
"Both are a secular socialist with power being absolute with no opposition tolerated, especially from God. No natural rights, only that which they choose to dispense."
the fact that we are living in what some call the most "biblically illiterate times," and it's apparent why unbelief is on the rise and why moral standards continue to deteriorate. Other factors contributing to today's unbelief include the pervasiveness of secular humanism, the church's halfhearted adherence to the hard truths God's Word, the significant growth of New Age and Eastern religions, the attempts to redefine the family, the postmodern rejection of absolutes, and the aggressive rise of the New Atheists.
The bottom line is this—we live in a fallen world, and "the god of this age has blinded the minds of unbelievers so that they cannot see the light of the gospel" (2 Corinthians 4:4). As history moves forward, many will move further away from sound biblical doctrine, and unbelief spreads. "The Spirit clearly says that in later times some will abandon the faith and follow deceiving spirits and things taught by demons" (1 Timothy 4:1). There are plenty of false teachers to keep the lost blinded and aid them in their flight from God (Matthew 24:10–11; 2 Timothy 4:3; 1 John 4:1). The sad truth is that most people do not see the Bible as absolute authority anymore. As God's Word continues to be marginalized, unbelief will continue to increase around the world.
Let Me Make This Abundantly Clear. (I Am Apolitical) SRH…..
Alexandria Ocasio-Cortez Promotes Antifa Protesters In Plea For 'Bail Fund'
Labels straight pride event a "white supremacist parade"
New York Democratic Rep. Alexandria Ocasio-Cortez has been criticized for promoting a fundraiser to cover bail for Antifa affiliated 'activists' who were protesting a 'straight pride' parade in Boston this past weekend.
Labeling the event a "white supremacist parade," AOC encouraged her followers to "support the local LGBTQ community" with a contribution "to the Bail Fund for the activists who put themselves on the line protecting the Boston community."

One way to support the local LGBTQ community impacted by Boston's white supremacist parade?

Contribute to the Bail Fund for the activists who put themselves on the line protecting the Boston community:https://fundrazr.com/61YIs8?ref=ab_7ZU6lUcHlAs7ZU6lUcHlAs …

(Any $ left over goes to @MassBailFund+@Boston_GLASS) https://twitter.com/ayannapressley/status/1167927769105219585 …Solidarity Against Hate Legal Defense FundKnown fascists and white supremacists, under the front organization Super Happy Fun America, are descending on Boston for "Straight Pride" on Saturday, 8/31. As we have for the last 3 years, Boston…fundrazr.comAyanna Pressley✔@AyannaPressleyJoin me right now in making a contribution. TY to the allies & accomplices who stood in the gap & laid their bodies on the line today in affront #LGBT hate march. To everyone feeling unseen & vulnerable today…we got you. Equitable outrage. Our destinies & freedoms are tied. https://twitter.com/BlackAndPinkBos/status/1167869199848329216 …10.1K7:04 PM – Aug 31, 2019Twitter Ads info and privacy6,434 people are talking about this
As reported by USA Today and The Boston Herald, those same 'activists' touted by AOC identified with Antifa, the far-left violent protest group.
Antifa trash tries to intimidate college kid for recording. noticed him from an earlier video taken a week prior to a separate event. He tried to keep his face tattoos covered, but he slipped up.
Don't play stupid games comrade, were better at this than you'll ever be. A Christian author is blaming [Satan](http://www.huffingtonpost.com/news/satan/) for a role in protests around the nation against President [Donald Trump](http://www.huffingtonpost.com/topic/donald-trump). Joel Richardson, the author of apocalyptic Christian books, claimed that the genuine anger many feels at Trump was being manipulated by the devil."There's a spirit of rage that has swept the nation," Richardson said last week on "The Jim Bakker Show."Richardson, who was billed as an "expert in Biblical prophecy," used [Black Lives Matters](http://www.huffingtonpost.com/topic/black-lives-matter) protests as one example."Black Lives Matter. There's a very sacred issue there that much of the black community feels, and that's legitimate," Richardson said. "But [then Satan comes along and he subverts it](http://www.rightwingwatch.org/post/joel-richardson-people-who-protest-trump-are-really-protesting-god/), and gets these folks and they preempt it."Richardson claimed that the latest protests weren't really against Trump because "the scriptures say they gather and they plot ultimately against the Lord and against his anointed."In a video clip posted online by Right Wing Watch, Richardson said:> "In my opinion, when you see the rage of Satan directed against something, that's usually evidence that God is involved because [Satan is enraged in that which God is doing](https://www.youtube.com/watch?v=H99WB6nTwt4) in the Earth and yes, there's a lot of rages and Donald Trump and I'll be honest: I wrestled through a lot of issues during the early part of the campaign.
But, I've become solidly convinced in my spirit that the Lord is using this administration. He's doing something quite powerful. And it's for that reason that the rage of Satan ― this irrational rage of Satan ― is so directed toward this man. "Disgraced televangelist Bakker also seemed to have a hard time believing that protesters would demonstrate against the president without some kind of evil assistance. "What's going on in America where, you know, all these people gather all at the same time in the same, how can they all gather together?" Bakker said. "In every city, they're marching, they're all doing this, who are setting this up? And yet the reporters all believe it. They're feeding us a lie: America's unrest."
StevieRay Hansen
Editor, HNewsWire.com
The Birth Pains Are Growing Stronger….
"Unless God has raised you up for this very thing, you will be worn out by the opposition of man and devils"…
My name is Steve Meyers and I need to share a vision and warning that the Lord showed me back in April 2007….
Many of you will ask why I waited so long to share the warning. I didn't. I shared the story with everyone that would listen from pastors to friends to family to colleagues. Immediately following the initial vision, I called a close friend. I told him to sit down that I had something to tell him. I needed it documented as I knew this was supernatural and from God. As I witness events unfolding today, I need to share the vision again.
The light went out in the church, and that's the reason the world got dark. Dark times were perpetuated by the "last one out, turn out the lights" "The church lights have gone OUT".
Let Me Make This Abundantly Clear. (I Am Apolitical) While I Have a General Distaste for Politicians No Matter the Party They Belong To, I Am Unashamedly Politically a Bible Believing Conservative Christian. I Have a Severe Distrust of Government. I Believe It Is the Most Inefficient and Ineffective Way to Accomplish Most Things. While I Strongly Disagree with Liberals/Progressives and Conservative on Most Political Issues, and While I Believe Liberals/Progressives and Most Politicians Are Terribly Misguided and Naive About What Big Government Will Eventually Result In, I Strive to Not Question Their Motives. at the Same Time, While I Find Myself in Agreement with Conservative Politicians on Some Issues, I Do Not Believe Electing Republicans Is the Answer to Everything. for Me, Very Sadly, the Main Difference Between Republicans and Democrats Is How Quickly They Want to Drive the Car Towards the Cliff. Simply Put, I Do Not Believe the Government Is the Solution for Everything. I Do Not Place Any Faith, Trust, or Hope in Any Politicians to Fix What Is Wrong with the World. "Come Lord Jesus!" (Revelation 22:20)
Our government has been overthrown. As evidenced by Trump's capitulation on the border, his recent servitude to the GMO industry and his acquiescence to the warmongers, our President has been compromised. Our liberties are being eliminated one by one. Gun confiscation is next. The Constitution is gasping its last breaths. Our borders are destroyed and our culture has been turned upside down by every perversion known to man.
Education is useless without the bible (Daniel Webster)
Usually, the Lord doth no great thing for or against his people, without giving warning of it before it comes.
John Wesley who said that what we tolerate in our generation, will be embraced by the next. Wesley is 100% correct! We are living in sick times.
The Left, a broad term for Liberal Socialist Democrats that can only be explained fully by using the Bible explanation of the human race is as follows. A servant of Satan, because you are either saved or lost. This election has brought out the true nature of who you serve. Simply put, it's Donald Trump, Conservatives, and Christians against the rest of the world. The Left's Love applies only to those who believe as they do. They Love evil and commit Anarchy against those who love good. They are governed by lies and never tell the truth. On this Friday, Inaugural Day for the swearing-in of Donald Trump as the 45th President of the United States the Left wants to commit widespread Anarchy to shut down the swearing-in ceremony. Their goal of transforming America, which was founded in Judea Christian values into a Pagan Nation is almost complete. Their goal has always been the total removal of God from American society and the downfall of America. Donald Trump says he is a Presbyterian, but he left off the USA, an apostate church.
Corinthians 4:8-11 New King James Version (NKJV)
We are hard-pressed on every side, yet not crushed; we are perplexed, but not in despair; 9. persecuted, but not forsaken; struck down, but not destroyed— 10. always carrying about in the body the dying of the Lord Jesus, that the life of Jesus also may be manifested in our body. 11. For we who live are always delivered to death for Jesus' sake, that the life of Jesus also may be manifested in our mortal flesh.
Satan has power over (LGBTQE-TRANS PEOPLE). The "sons of disobedience" referred to in Ephesians 2:2 are those who have not trusted Christ as Lord and Savior (cf. Acts 26:18; 2 Corinthians 4:4; Revelation 13:12). The demons are also under the rule of Satan (Matthew 12:24), and one of his titles is "prince of demons" (Matthew 9:34). Satan has a kingdom (Matthew 12:26) and a throne (Revelation 2:13). Satan is called a prince because he is a ruler and possesses the power to manifest evil in the world through influencing people and commanding demons.
HNewsWire- "All political language is designed to make lies sound truthful and murder respectable." Just look at some of our modern-day examples: torture is "enhanced interrogation techniques"; murder is "collateral damage"; the aggression initiation of war is a "pre-emptive strike"; the theft of taxpayers' money is a "bailout", and the theft of depositors' money in a bank is a "haircut" or "bail-in".In a blatant example of Newspeak, the New World Order controllers (through the psychiatric DSM V) have tried to rename pedophiles as "minor-attracted persons" and redefine pedophilia as "sexual orientation". This makes no sense since sexual orientation has to do with gender, not age, with whether you are attracted to males or females, not how old they are. There are even organizations (like B4UAct.org) which are claiming that pedophiles are being unfairly stigmatized for their feelings!
If homosexuality has been posed as healthy, good and normal, in the face of overwhelming evidence to the contrary, so can pedophilia. Pro-pedophilic articles are making their way into academia.
The Cult of LGBTQE-E for EVIL and is often a cover for child-molesting perverts
Tagged Under: abuse, children's health, gender-confused, gender issues, gender madness, the left cult, LGBTQE-E For Evil un-godly Mob, Lunacy, mutilation, transgender, Child molesting perverts LGBTQE- E For Evil, drag queens, perverts
Unfortunately, not all alternative sources are reliable, even some Major Christian (and I use Christian loosely) news sources have been corrupted. They will NOT tell the truth. They just parrot the deceptive narratives perpetrated by those who currently control our government and media. Even those who are honestly trying to present the truth can miss it sometimes. There is so much deception out there. In these last days, you must be wise as serpents and gentle as lambs. It is no time to sleep or slumber. Diligence and vigilance are required. It is critical that you think for yourself and not be a Lemming.

………………………………………………………………………………………………………………………………………………………………………………………………………………………………………
A Professional Athlete Affirms That God Fashioned Adam and Eve. As a Result, All Hell Breaks Loose Christian Banks and Businesses Cancel Sam Brownback, a…
Read More
We make every effort to acknowledge sources used in our news articles. In a few cases, the sources were lost due to a technological glitch. If you believe we have not given sufficient credit for your source material, please contact us, and we will be more than happy to link to your article.