God Created Man. Woman Was planned by What God Established. There Are Laws of Nature. There Are Laws of Man. And There Are Laws of God—Challenge Them at Your Own Risk
HNewsWire-This Thursday, a California Senate committee voted 8-2 in support of Senate Bill 923, the Transgender Inclusive Care Act, which would require all health treatment practitioners to encourage "gender-affirming care."
The proposed law would oblige health care providers to require their employees to take "evidence-based cultural competence training" in order to deliver "trans-inclusive" health care to patients who identify as transgender, gender nonconforming, or intersex (TGI).
A lady who formerly identified as a transgender guy and lost her singing voice due to cross-sex hormones came out against the measure, telling the Senate Health Committee in Sacramento that "it's impossible for people to actually change sex."
The lady, a self-described detransitioner who uses the alias Cat Cattinson to protect herself and her family, told the committee that the new law "would deprive health care practitioners the option to offer therapies that are in the best interests of the patients."
"Humans cannot change their sex, and teaching them that they can and guiding them down this route is injuring a lot of people," Cattinson said during the April 6 hearing.
"It has not been established that gender-affirming treatment alleviates gender dysphoria," she stated. "Think about how this law would prohibit vulnerable populations, such as young people and those with comorbid mental disorders, from receiving the necessary therapeutic and medical treatment."
Eight Democrats on the committee voted in support of SB 923, including the bill's author, Senator Scott Wiener (D-San Francisco). Sens. Melissa Melendez (R-Lake Elsinore) and Shannon Grove (R-Bakersfield) voted against the measure in the committee.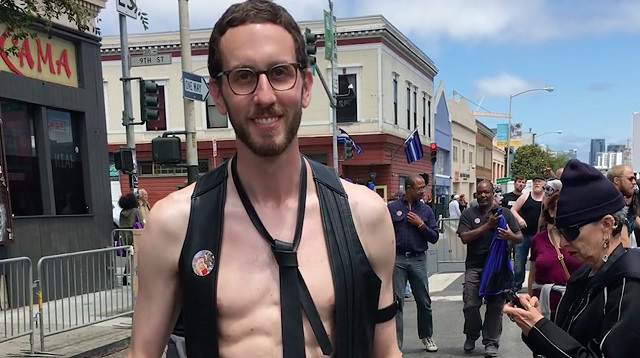 San Francisco state Senator Scott Reprobate Wiener has introduced a new bill to decriminalize adult men having sex with boys and he and his allies in the media are smearing all opposition as "homophobic" and "anti-Semitic."
San Francisco Sen. Scott Wiener Introduces Bill to Decriminalize Men Having Sex With Little Boys, Pedophile, Homosexual Perverted California Representative…
One "who with perversity in his heart continually devises evil." That is, he revels in the natural inclinations of he's own depravity (Jer. 17:9; Mark 7:21-22), and in his activities "spreads strife" among men.
Dozens of California parents of gender dysphoric teenagers, as well as other medical professional organizations, also opposed the measure. The proposal would apply to all health care providers' employees and contractors, including health insurers, Medi-Cal, and PACE (Program of All-Inclusive Care for the Elderly) organizations.
Photo Detransitioner for Epoch Times On April 6, 2022, Cat Cattinson testifies before a Senate Bill 923 hearing in Sacramento. (Screenshot courtesy of the California State Senate)
Cattinson stated that testosterone, which she was administered by a Planned Parenthood doctor during a half-hour phone call, made it difficult for her to talk and sing.
"At the time, I was a semi-professional singer." My health insurance covered hormones but not treatment. "A second Planned Parenthood doctor approved my double mastectomy without any in-person discussion or request that I address my other mental health concerns first," she told the committee.
"After four months of testosterone injections, I had heart palpitations, searing pain in my right side, nausea, vomiting, and edema." "I had a vocal impairment that made it hard for me to talk or sing," Cattinson said.
Though her health has improved after she stopped transitioning, she still has difficulty projecting her voice and is unable to perform live.
"I'm one of a rapidly expanding number of detransitioners—people for whom transition did not just not help but really harmed their condition." Gender dysphoria is a symptom that is often transient. Transgender bodily alteration, on the other hand, is permanent and has been linked to bad health outcomes," she said.
Many other detransitioners who went farther with transitioning regret having bodily parts removed or are heartbroken that they will never be able to have children, she says.
"There is presently no evidence that it benefits mental health in the long run." After more than a year of recuperating after my transition, I've come to embrace my biological sex. "I am a woman, an adult human female, and this will never alter," Cattinson said.
During the discussion, one of the bill's opponents said that more than 100 individuals attempted to phone in to protest the measure but were informed the conference was full.
Photo via Epoch Times
On June 21, 2021, a patient sits at a clinic in Orange, California. (The Epoch Times/John Fredricks)
Assisting
Rev. Bonita Ramsey, who spoke in favor of the bill over the phone, claimed she was denied care at a local medical clinic due to gender identity concerns.
"They stated that they serviced everyone in a loving atmosphere, so I took a risk," Ramsey said.
"Everything was well until the doctor asked me to unbutton my shirt so he could check my vitals." When I opened my shirt, the doctor questioned, 'What is that?' as he pointed to the wrapped part of my chest. 'It's a binder, sir,' I murmured. 'I don't understand this,' he remarked before I could finish my sentence. Can't you afford a bra? What is the purpose of this contraction? Are you attempting to mature into a man? I will not support or treat whatever this is. This is only a phase. Stop faking and start being who God created you to be.' "He excused himself and went away," Ramsey said.
Ramsey stated that the personnel discussed the incident loudly enough for other patients in the lobby to hear, and recounted the humiliating experience.
"I heard someone remark, 'What is it in Room 2?'" Why do individuals impose their sexuality on us without our consent? That patient will not be served by me. Please direct them to a bra fitting and then clean the space,'" Ramsey said.
"I was overcome with pain and terror." "I rushed to my vehicle and started tearing off my binder with any sharp object I could find," Ramsey said.
Ramsey reintroduced the binder five years later, in January. "I can now stand tall, re-entering the world in my non-binary shell just as I am," Ramsey stated. "This is why SB 923 is critical."
Erin Pollard, a professional Marriage and Family Therapist, Licensed Professional Clinical Counselor, and manager of student equity at Irvine Valley College in Irvine, California, also backed the measure.
As a therapist who has "specialized in gender-affirming mental health care in support of transgender non-binary and intersex patients for the past 14 years," she claims that training on how to provide appropriate care and treatment to "gender diverse patients" is difficult to come by, resulting in a shortage of properly trained clinicians.
"Without this training, professionals often deliver incorrect therapy that is damaging to our TGI patients." "This injury often leads to an increase in sadness, anxiety, gender dysphoria, and suicidality," Pollard said.
The proposal was endorsed by Planned Parenthood Affiliates of California's Molly Robson, the LGBT advocacy organization Equality California, and a group representing California social workers, among others.
Questions Have Been Raised
Melendez inquired about Cattinson's psychological therapy before the Planned Parenthood doctor prescribed testosterone.
"No, no visits with a psychologist or psychiatrist are necessary," Cattinson said. "I'd also want to point out that this is the informed consent approach that trans activists are advocating for." This is what they want all over the place. They basically want you to be able to have the hormones and surgery on your first visit."
Melendez questioned Wiener about who would give gender-affirming care training to health care workers and if they would be medically trained.
Photo via Epoch Times
On April 6, 2022, California State Senator Scott Wiener testifies during a Senate Bill 923 hearing in Sacramento. (Screenshot courtesy of the California State Senate)
The government would be compelled to pay subsidies "to TGI-serving groups" to promote training and provide teaching materials, according to the law.
Both Sen. Richard Pan (D-Sacramento) and Wiener said that the training will be overseen by the state Medical Board's Continuing Medical Education section. Neither Pan nor Wiener mentioned whether or not the trainers would be medical experts.
Meanwhile, opponents of SB 923 argued that the state would pay trans activists and lobbying organizations to conduct the training.
During the hearing, Wiener blasted red-state governors for supporting legislation ranging from transgender bathrooms and sports to COVID-19 mask and vaccination regulations, as well as abortion, gun control, and the border issue.
"What states like Texas and Idaho and other states are doing right now to trans adolescents and trans people in general is just horrifying," Wiener added. "Right now, states in our nation are essentially categorizing gender-affirming treatment as child abuse and threatening to take trans children away from their parents, place them in foster care, and then imprison the parents just because those parents love their transgender children."
Wiener said that certain states are "blatantly prohibiting" health treatment for trans youngsters and "criminalizing doctors" who provide it.
"There are states that restrict trans persons from using the toilet that corresponds to their gender identification, or that prohibit trans adolescents from participating in sports, and the list goes on and on." "The message it conveys to trans people, especially trans youngsters, is horrible, and it's no surprise that rates of self-harm among trans kids are greater," he added. "There's nothing inherently wrong about it. It's because of the message that society is sending them."
According to Wiener, the measure would send a "strong statement to the contrary" in favor of the LGBT community.
Sen. Susan Talamantes Eggman (D-Stockton) questioned Wiener on whether patients must first be diagnosed with gender dysphoria before receiving transgender hormones.
On April 6, 2022, California State Senator Susan Talamantes Eggman testifies at a hearing regarding Senate Bill 923 in Sacramento. (Screenshot courtesy of the California State Senate)
"So, Sen. Wiener, my understanding right now... is that in order for someone to obtain medicine or begin any type of transitioning procedure, they must first be diagnosed with gender dysphoria."
So someone who went to Planned Parenthood and obtained drugs already needed to be evaluated in order to be diagnosed with gender dysphoria. Is that how you interpret it?
While Wieners is not a medical practitioner, he claimed that "there are all sorts of processes and all types of exams that individuals have when they are contemplating transitioning."
He claims that the law does not define medical treatment and instead focuses on training and cultural competence.
"I am familiar with and represent a large number of transsexual folks." I know a large number of transgender folks who are overjoyed that they finally have the exact gender identification that defines them. As a result, the concept that trans people are phony and that everyone is miserable is just false. "I also know that in San Francisco, we are fortunate to have medical practitioners who give good treatment," Wiener added.
Planned Parenthood
Planned Parenthood in Sacramento extensively promotes "gender affirming hormone treatment" on its website, and claims that new patients may acquire cross-sex hormones on their first visit as part of its LBGTQ Services at B Street Health Center.
"In most situations, your doctor will be able to prescribe hormones on the same day that you come in." "A note from a mental health practitioner is not necessary," says Planned Parenthood.
On September 10, 2020, an Epoch Times photo shows a Planned Parenthood facility in Anaheim, California. (The Epoch Times/John Fredricks)
According to Planned Parenthood, patients under the age of 18 may get the therapy with parental approval.
On their website, Planned Parenthood of California Central Coast also indicates that no counseling is necessary to get gender-affirming hormone therapy.
"We are dedicated to changing the way transgender individuals obtain health care in our community, including removing obstacles to treatment," says Planned Parenthood.
"At all of our six health facilities, we provide hormone treatment to patients aged 18 and above." To get treatment at one of our facilities, patients do not need to engage in therapy or furnish information from a mental health practitioner."
According to the website, the first session will involve a full assessment of the patient's transition objectives, a weight and blood pressure check, blood testing, other regular exams, an explanation of how to take the hormones, and a prescription that the patient may take to a pharmacy.
The Bill is Moving Forward
Before it is sent to the Senate Appropriations Committee, SB 923 will be changed.
"It will no longer be a single compulsory multi-hour training requirement for every health care practitioner." Instead, it will be incorporated into current ongoing education," Wiener said.
Rep. Marjorie Taylor Greene (R-GA) said Thursday that a radical transgender activist attempted to assassinate her for the second night in a row. Greene tweeted, "Swatted again last night." The Georgia representative sent the following message to supporters: They failed in their attempt to impeach me from Congress. They failed when they filed multiple lawsuits…
Will Putin Fulfill Biblical Prophecy and Attack Israel?