After the Arrest of a Drug Cartel Leader, a Border Town in the United States Has Been Transformed Into a War Zone, as the Biden Administration Pursues Legal Gun Owners Weapons, Tribulation
HNewsWire-Following the arrest of a prominent cartel lord, the Mexican border city of Nuevo Laredo has been converted into a battle zone. On Monday, the streets were strewn with burning automobiles, and significant gun fighting was reported, prompting the US embassy to go into lockdown and the US border crossing to be temporarily closed.
The mayhem erupted late Sunday when Juan Gerardo Trevino, or "El Huevo," the commander of one section of the Northeast Cartel, the Zetas Cartel's successor gang, was apprehended. He is also a US citizen, according to a Mexican government source quoted by Reuters. Trevino is on the list of the most sought cartel members, according to US Customs and Border Protection (CBP).
Trevino is wanted in the United States for narcotics trafficking and money laundering.
Members of the cartel kidnapped and burnt cars, as well as assaulted law enforcement and military officials, in reaction to the arrest.
"There were gunfire, vehicle burnings, and a grenade assault on the US embassy on Sunday night," the Mexican daily El Occidental said.
On Monday, Nuevo Laredo Mayor Carmen Lilia Canturosas issued a warning to residents of the border town to seek shelter.
According to Bloomberg, the US embassy in Nuevo Laredo is closed to the public due to a "emergency situation," and US nationals "should avoid the area or seek cover."
"I have voiced our significant concerns about these instances and the safety and security of our staff directly with the government of Mexico," said US Ambassador Ken Salazar.
The warzone is shown in shocking footage posted on Twitter.
All of this took place just over the border in Laredo, Texas. Due to heightened cartel activity on the border, CBP employees were urged last month to wear full kevlar (commonly known as body armor) and be outfitted with long-arm firearms, such as lightweight semi-automatic rifles.
As the border situation worsens, the Biden administration is without a clear strategy to quell the bloodshed. There is also widespread violence in the country's most attractive beach vacation locations.
Biden's Gun Control Into Law
Biden has signed a $1.5 trillion budget measure that includes a $13.6 billion payment to Ukraine and funding for the government through September. The measure was approved by the Senate on a bipartisan vote of 68-31.
As we've previously observed, the Biden administration's only chance to push gun control legislation is via the backdoor. So, of course, gun control is concealed in a big budget package meant to support the government. Two key components of gun control were hidden inside this 3000-page measure.
However, this is merely part of the murky gun control agenda. The second part is to include gun regulation into a measure that is difficult to oppose due to societal stigma.
So, tucked inside within the omnibus package is a previously failed legislation known as VAWA, or the Violence Against Women's Act. This bill includes major backdoor gun regulation that would damage gun owners. But you wouldn't know that based on the title. The swamp animals in the Senate took advantage of the chance to resurrect VAWA (which had previously failed specifically due to the gun control measures), inserting the gun control section 2207 pages into the total bill. VAWA makes two significant modifications to present law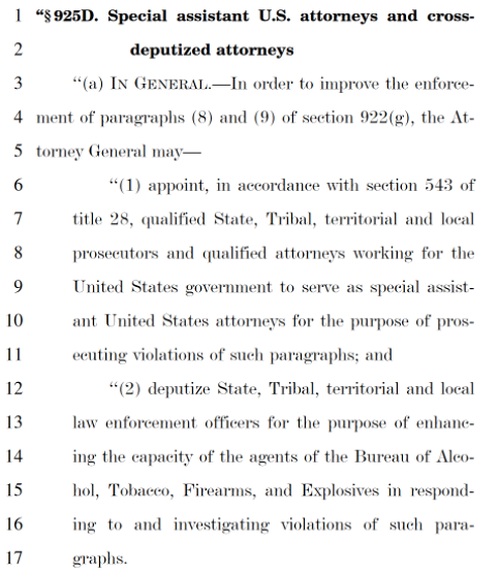 The NICS Denial Notification Act of 2022 is the first. All rejections on the National Instant Criminal-Background-Check System will be subject to criminal inquiry under this statute. For those who are unaware, the NICS system is utilized whenever a firearm is transferred between a Federal Firearms Licensee (commonly known as an FFL) and an individual. This procedure occurs hundreds of times every day around the nation. It occurs practically every time a legitimate firearms transaction occurs.
But here's the thing: the NICS system isn't flawless. It's not even close to being ideal. Many individuals face interminable delays or outright rejections because they have a popular name, or the system misidentifies them totally.
According to Gun Owners of America, the FBI concedes that it is often incorrect in its rejections of gun-related background checks. GOA sought FIOA, and the FBI stated that "27.7 percent of NICS appeals received within the desired time period were overruled, and the weapon purchase/transfer were continued." (When the NICS check is completed, the FFL is issued a green "proceed" status.)
Furthermore, according to John Lott, a Second Amendment expert and economist, 99 percent of NICS rejections are false positives, implying that the majority of those rejected are not legitimately forbidden from having a handgun.
So it's absurd that the government is forcing law enforcement to act on a system that generates so many false positives. This modification in the law applies to persons who just wish to buy a handgun and are wrongfully accused of being guilty until proved innocent.
To make things worse, the statute empowers the federal government to deputize local law enforcement and lawyers to act on behalf of the ATF.
The ATF's deputization of local police is a tremendous overreach. It's also likely a direct reaction to the popular Second Amendment Sanctuary County movement, which accounted for around 62 percent of all counties in the United States as of September 2021 and has continued to expand since then. These counties have committed to not enforcing federal gun control legislation.
This is again another example of anti-gun lawmakers employing dirty techniques to get unpopular legislation passed. Anti-Gun Politicians introduced VAWA to Congress in 2019, however many members of Congress rejected it because they did not favor the bill's gun control provisions. Who knew it would be revived and buried in a 3000 page government spending bill?
TMGN's Steph explains how this may effect you:
Of course, this circumstance represents another major issue in government, in which a bloated, trillion-dollar spending package gets rammed through Congress at the last minute to avert a government shutdown. Who knows what else is in there?
As the crisis in Ukraine continues to dominate headlines in the United States, the corporate legacy media will most likely ignore this big expenditure bill. It is strange that the Ukrainians are being lauded, sponsored, and in some instances even handed weaponry. Meanwhile, ordinary Americans in the United States are gradually losing those same liberties.
The other 16 Republicans whose votes put VAWA through are:
Sen. John Barrasso (R-WY)
Sen. Roy Blunt (R-MO)
Sen. Shelley Capito (R-WV)
Sen. Susan Collins (R-ME)
Sen. John Cornyn (R-TX)
Sen. Lindsey Graham (R-SC)
Sen. Chuck Grassley (R-IA)
Sen. Cindy Hyde-Smith (R-MS)
Sen. Mitch McConnell (R-KY)
Sen. Jerry Moran (R-KS)
Sen. Robert Portman (R-OH)
Sen. Richard Shelby (R-AL)
Sen. John Thune (R-SD)
Sen. Tommy Tuberville (R-AL)
Sen. Roger Wicker (R-MS)
Sen. Todd Young (R-IN)
Gabby Giffords' gun control outlet, Giffords, praised the Senate's passage of VAWA, citing the numerous gun controls contained therein.
For example, the text of VAWA empowers the Attorney General to "deputize State, Tribal, territorial and local law enforcement officers for the purpose of enhancing the capacity of the agents of the Bureau of Alcohol, Tobacco, Firearms, and Explosives."
Ammoland points out that the power to deputize local law enforcement to act as ATF puts various state-level Second Amendment Preservation Acts at risk. Those acts typically bar local law enforcement from using state funds to enforce federal gun controls, but allowing local personnel to work as ATF proxies could be a loophole.
Giffords notes that VAWA also gives the ATF $47 million in additional funding for the National Integrated Ballistic Information Network and contains the NICS Denial Notification Act of 2021.
Rep. Chip Roy (R-TX) warned about the gun controls in VAWA just days before the Senate passed it
Four Injured In New Zealand After Mass Stabbing Attack HNewsWire: Four people were stabbed in a "fast-paced" mass stabbing incident in New Zealand by a guy armed with a huge kitchen knife before police arrived and caught him. Lower Hutt Police tape off the location of a suspected death at another residence on Farmer Crescent on September 21st, 2012 in New Zealand. All of the injured parties have been categorized as having "moderate" injuries, including the perpetrator. It was approximately 11 a.m. local time in Murrays Bay, Auckland, when the guy started stabbing individuals. Then he proceeded across to Mairangi Bay, where he was stopped by members of the public. Superintendent Naila Hassan, the district commander in Waitemata, told reporters that the assault might have gone "a lot worse" if the people had not intervened. Her account said that she…
Words were spoken by the Lord Jesus: buy a sword to his friends mean exactly what Jesus say, He was equipping His friends to meet the coming challenges and dangers of this new season. (Luke 12:56) Ex-Major League Baseball star Aubrey Huff is teaching his kids how to use guns in the event that Bernie Sanders wins the 2020 election and ushers in socialism. Huff won two World Series with the San Francisco Giants. TMZ quoted Huff saying, "Getting my boys trained up on how to use a gun in the unlikely event @BernieSanders beats @realDonaldTrump in 2020, in which case knowing how to effectively use a gun under socialism will be a must." Huff made clear that he wanted his kids to be able to use guns to defend their lives and property. He said guns could be used to defend…
SRH: Biden broke a sacred bond of trust between Americans and their government. This isn't close to over."

A Thrilling Ride
Every once in awhile, a book comes across your path that is impossible to put down. A Long Journey Home is not a casual book that you read in a week or earmark to complete at a later date. Once you begin, cancel your schedule, put your phone on silent, find a quiet place where you cannot be disturbed, and complete the journey. Click Here to Purchase on Amazon.com!
HNewsWire Live Stream 24/7 News UpDates and World Events Go Live HNewsWire: By Frank Bergman March 19, 2023 New York's Democrat Governor Kathy Hochul ...
Read More

→