Advisory: Be careful of what you read on social media. The algorithms used by these platforms have no regard for Biblical truth. They target your emotions to keep you engaged on their site so their advertisers can drop more ads. These platforms exist to enrich their stockholders. Consider God's promise to Believers in James 1:5, "If any of you lacks wisdom, you should ask God, who gives generously to all without finding fault, and it will be given to you."
"It Is Very Striking How Quickly the Numbers Are Going up, and Trump Says Don't Panic…
The more we learn about it, the greater the possibility that the transmission will not be able to be controlled with public health measures, say experts
(AP Photo)
China is trying to battle the Wuhan coronavirus that has sickened over 7,711 people and killed over 170. And the battle is not going to be an easy one, as the virus continues to remain mysterious.
This means experts are not sure what they are up against and whether current efforts are effective enough to contain the outbreak successfully.
In just one day, China reported 1,737 new infections. "It is very striking how quickly the numbers are going up," Trish Perl, chief of infectious diseases and geographic medicine at UT Southwestern Medical Center, who has fought other respiratory virus outbreaks, including SARS and MERS, told Washington Post.
The Wuhan coronavirus has reached 19 places outside mainland China, with more than 100 confirmed cases and no deaths recorded until now. But six countries, including China, have confirmed human-to-human transmission of the infection.
This trend has caused some panic. "As the numbers are going up, do I think I'm concerned about the rapidity of it? Yes. Do I think it may be difficult to control? Yes. But in the context of a lot of unknowns," Perl said.
Despite lockdown measures in China, experts are currently unsure what impact they will have. To make matters worse, more than 5 million Wuhan residents left the city before the lockdown, potentially carrying the virus with them.
Some scientists, who are studying the rate at which cases are rising in and emerging from China, fear the worst is yet to come. As time progresses, they suspect that countries might not succeed in containing the outbreak and that the flu might become more common as it spreads around the world.
"The more we learn about it, the greater the possibility that the transmission will not be able to be controlled with public health measures," Dr Allison McGeer, a Toronto-based infectious disease specialist who contracted SARS in 2003 and who helped Saudi Arabia control several hospital-based outbreaks of MERS, told STAT.
If that is the case, she said, "We are living with a new human virus, and we are going to find out if it will spread around the globe."
McGeer cautioned that because the true severity of the outbreak is not yet known, it is impossible to predict what the impact of that spread would be.
According to Zhong Nanshan, a member of the Chinese Academy of Engineering and a prominent expert in respiratory diseases, predicting when the epidemic will reach its peak will be challenging — but it may come in a week or 10 days. After that, the number of people infected by the novel coronavirus will not increase massively, he told Xinhua News Agency.
Nevertheless, some experts call for aggressive actions to develop a vaccine. "I'm not making a prediction that it's going to happen," Dr Tom Inglesby, director of the Center for Health Security at Johns Hopkins School of Public Health, told STAT.
He added that mathematical modeling, the statements from Chinese authorities and the sharply rising infection numbers make a case for this possible outcome. "I think just based on those pieces of limited information, it's important for us to begin some planning around the possibility that this won't be contained."
Scientists are dealing with many unknows here. For now, however, spotting and isolating infectious people, could work, until we have a vaccine. But this approach may not work if people spread the infection even before the symptoms appear.
Recently, Chinese authorities claimed the virus spreads before infected people develop symptoms. There is little evidence to support that claim and David Fisman, from the University of Toronto in Canada is skeptical about it. But, he told NewScientist, "it's a game-changer if true".
Hubei Confirms 317 New Cases As Human-To-Human Transmission Arrives In South Korea
Summary:
7,921 confirmed cases worldwide, 170 fatalities
South Korea confirms first human-to-human transmission
China reported largest one-day jump in fatalities on Wednesday with
Hong Kong warns of surgical mask shortage
Russia closes border
6,000 quarantined aboard Italian cruise ship
Thailand leads with most cases outside China (14)
Chinese national hospitalized and quarantined in York
Update (0816ET): Hubei has reported 317 new cases as of noon Thursday localtime, according to local Party Secretary Jiang Chaoliang. Hubei is the province at the epicenter of the outbreak: the virus orginated in the province's capital, Wuhan. The most recent count put the number of confirmed cases at 7,921 and the death toll steady at 170.
Hong Kong is reportedly struggling with a shortage of face masks. Chief Secretary Matthew Cheung said the government had bought 13 million masks, but public hospitals have been using 5x to 6x as many as normal. Hong Kong is stepping up local production at correctional facilities to keep up with demand, and another 24 million should be available at retail outlets soon
* * *
Update (0800ET): Has the virus come to Yorkshire?
A Chinese national has been rushed to a hospital after taking ill at a hospital in York….
Chloe Laversuch@ChloeLaversuch
More on this as we get it – Chinese national taken to hospital after taken ill at York hotel https://www.yorkpress.co.uk/news/18198268.chinese-national-taken-hospital-taken-ill-york-hotel/?ref=twtrec …Chinese national taken to hospital after taken ill at York hotelA CHINESE national was taken to hospital after being taken ill at a York hotel.yorkpress.co.uk53:30 AM – Jan 30, 2020Twitter Ads info and privacySee Chloe Laversuch's other Tweets
No cases of the virus have been confirmed in the UK so far, though there have been a handful of scares.
Foreign Secretary Dominic Raab said Thursday that the first British evacuation flight could take off from Wuhan as soon as Thursday evening UK time. The flight was supposed to leave Thursday morning, but there was a delay as Chinese officials were slow to grant permission for takeoff.
As viral outbreak turns neighbors against each other and inspired a wave of suspicion in towns and cities across China, some have chosen to seek comfort by playing children's games.
Update (0745ET): South Korea just joined Japan, Thailand and Germany (and possibly the US) in confirming a case of human-to-human viral transmission that occurred within its borders, involving one individual who hasn't recently traveled to China.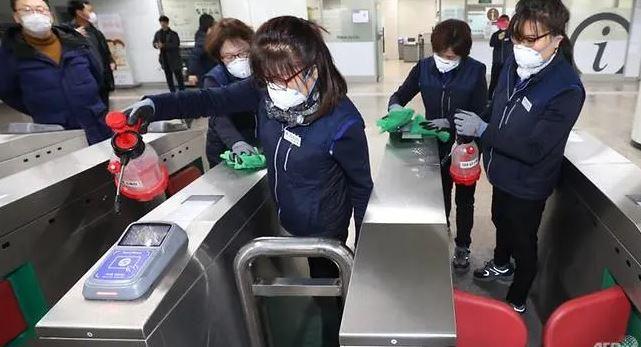 South Korea's Centers for Disease Control and Prevention confirmed two more cases Thursday, bringing the total to six. However, the sixth patient to be confirmed, a 56-year-old South Korean man, was diagnosed after "coming in contact with a third patient" inside South Korea, according to CNA.
He has been quarantined at a hospital in Seoul. The other five were diagnosed after returning from Wuhan, the city where the virus first emerged, which is now under a draconian government-imposed lockdown.
Update (0725ET): Following several unconfirmed scares, India has confirmed its first case of the novel coronavirus. That means all three of the world's most populous countries have now confirmed at least one case of the virus.
And that list could soon expand. Brazil, the world's fifth most-populous country, reported three suspected cases yesterday. Malaysia has confirmed at least 8 cases. Reports that a Thai woman died of the virus on Kolkata were never confirmed.
First case of #coronavirus in India. One positive case of Novel Coronavirus patient, of a student studying in Wuhan University, has been reported in Kerala. The patient has tested positive for Novel Coronavirus and is in isolation in the hospital: @MoHFW_INDIA @IndianExpress212:19 AM – Jan 30, 2020Twitter Ads info and privacy20 people are talking about this
Meanwhile, here's the most up-to-date map we could find: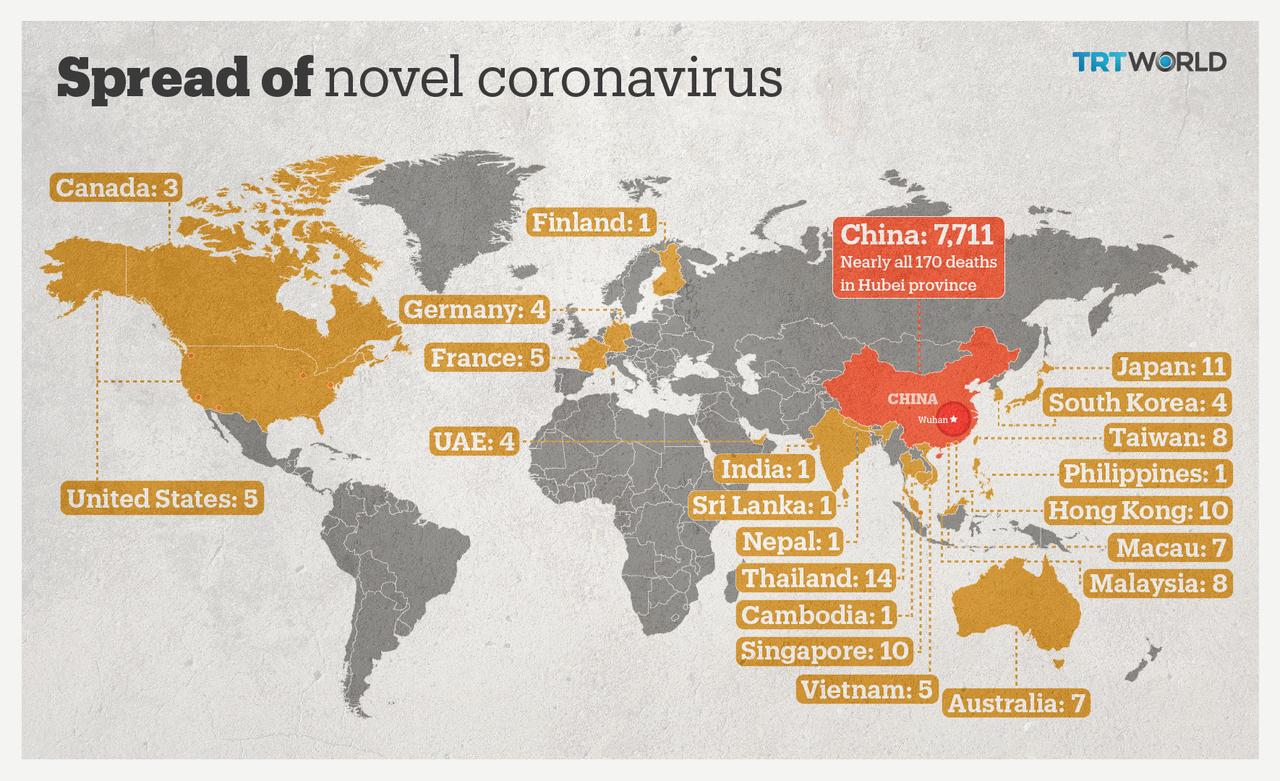 Earlier, the White House said it had launched a task force that will meet daily to oversee the response to the coronavirus outreak that has resulted in at least five confirmed cases in the US, NBC reports. However, an expert who appeared on CNBC Thursday morning pointed out that the administration is a little behind the 8-ball.
If the administration wasn't so bogged down with impeachment, maybe Trump would have more time to focus on the virus response?
"Let's remember we have fewer than four cases in the United States, and they're concentrated in four states," he said. The maximum country is Thailand, with 14 cases, he said – and the US is nowhere near that.
Reports out of Atlanta claimed that more than 20 passengers had been quarantined at Hartsfield-Jackson airport as they undergo advanced screening for the virus.
* * *
Update (0710ET): Airline employees are putting their feet down and demanding that their bosses halt flights to China, as more than a dozen airlines around the world have already done.
Air France cabin crew unions have demanded Air France stop flying to China, Reuters reports.
"Air France is monitoring the rapidly evolving situation in real time. The health and safety of its crew remain the absolute priority," said Air France-KLM.
We've heard whispers of employee discontent before. But expect to see more to forcefully object.
* * *
National health officials in Beijing announced their biggest one-day jump in virus deaths and hundreds of new cases early Thursday morning (nearly 8,000 have been sickened, another 12,000 cases are suspected, and roughly 170 have died), but since then, things have been quiet.
If the recent past is any guide, this would suggest another dump of new cases and deaths is in the offing.
Three new cases were confirmed in Vietnam overnight. But in terms of news flow, most of the drama during the early hours of Thursday centered around Italy and Russia.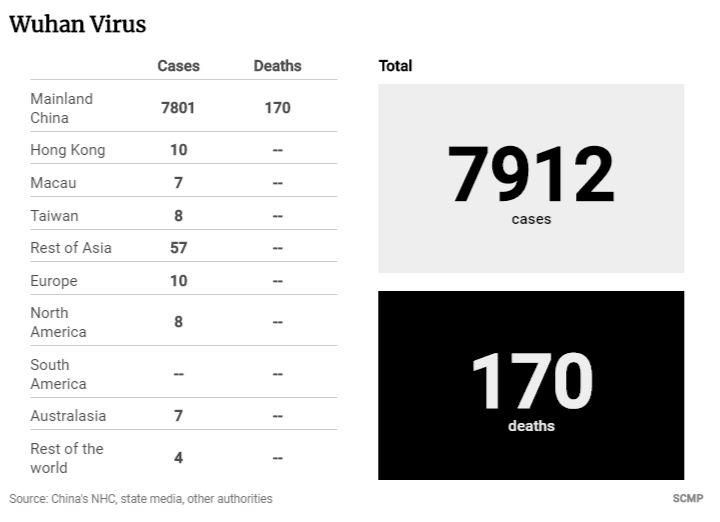 A map of cases hasn't yet reflected the suspected cases in Italy.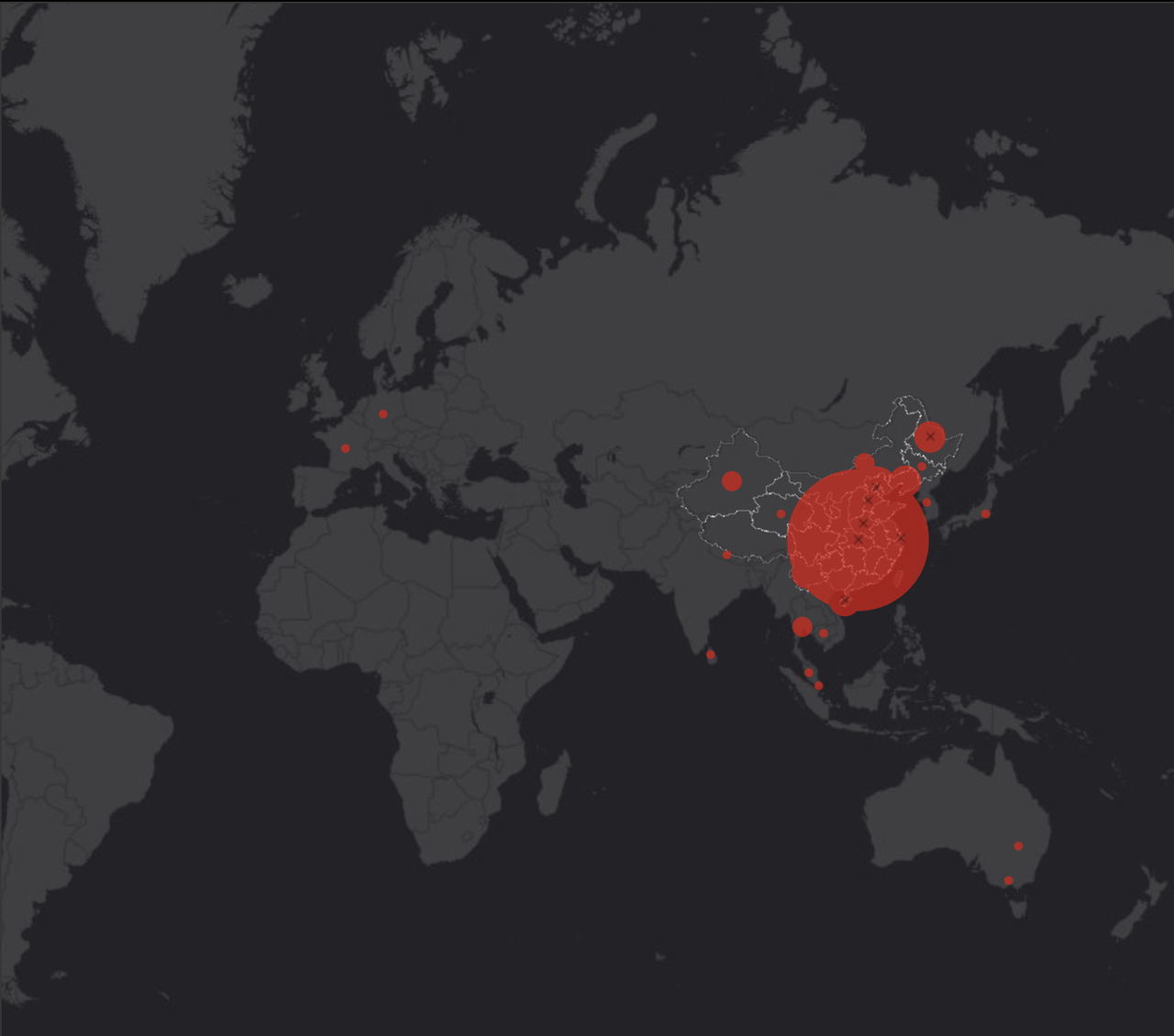 With the WHO set to reconvene its emergency committee in Geneva on Thursday for the third time in a week, experts are calling on the supra-national organization to label the outbreak a "public health emergency of international concern," or PHEIC – the official designation of a global pandemic.
The 16 independent experts on the WHO's emergency committee will advise Director-General Tedros Adhanom Ghebreyesus on the decision and give recommendations for managing the outbreak. Earlier this week, Tedros met Chinese President Xi Jinping in Beijing earlier in the week to discuss the situation. Twice last week, the WHO decided to hold off on declaring a public health emergency, saying it was "too soon," according to the SCMP.
Hitoshi Oshitani, a former regional adviser on communicable disease surveillance and response at the WHO's Western Pacific office, told the SCMP that there is an "imminent risk" of a dangerous global outbreak.
"I think the WHO should have declared a public health emergency of international concern earlier. They are supposed to declare PHEIC based on a risk of international spread. There was already significant risk of international spread one week ago," Oshitani said.
Oshitani added that controlling this new coronavirus is proving more difficult than suppressing the 2003 SARS outbreak, largely because the virus can spread via individuals who are infected, but exhibit few – or no – symptoms.
"For Sars, patients were infectious only when they developed very severe illness. But for this virus, patients are likely to be infectious even during the incubation period. If so, rapid isolation is not enough to contain the virus," he said.
SARS infected 8,000 people and killed 813 worldwide. The coronavirus outbreak has already surpassed SARS in terms of the number of cases in China. Globally, the virus has already effectively tied SARS for the number of confirmed cases, though if skeptical epidemiologists are correct, the true number of cases has already far surpassed the total for SARs.
A number of evacuation missions have been completed, as the US and Japan have flown citizens trapped in Wuhan to safety. However, Japanese officials discovered that several citizens on the flight were infected with the virus, leading to a mass quarantine. UK officials said that citizens evacuated from Wuhan must agree to spend two weeks in quarantine after returning to the UK.
About 6,000 passengers and crew aboard the cruise ship "Costa Smeralda," owned by the Carnival Corporation, have been confined to the vessel on Thursday amid new fears that two Chinese passengers are suspected of having coronavirus, reported Reuters.
Two Chinese tourists, traveling from Hong Hong and, originally, from Macau, have been placed in "isolation in separate rooms of the ship's sanitary space," said local media outlet, ANSA.
Coppia di cinesi con febbre alta su nave crociera a #Civitavecchia, bloccati seimila passeggeri: sospetti per #Coronavirus, in isolamento nell'ospedale di bordo, raggiunti dai medici dello#Spallanzani per realizzare i test#ioseguoTgr @TgrRaiLazio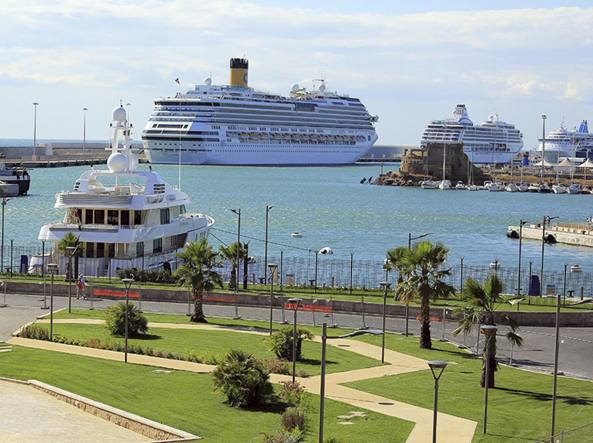 463:29 AM – Jan 30, 2020Twitter Ads info and privacy74 people are talking about this
The tourist arrived in Italy on Jan. 25 and boarded the vessel in the port of Savona in Italy. The two have come down with high fevers and breathing problems.
"The cabin of the Hong Kong couple on the ship has been isolated and they are closed there with the doctors. They told us that it is the woman who has a very high fever, while her husband is visiting him as a precaution. We arrived in the morning, returning from Palma de Mallorca. Of course, we are a bit worried. From the ship, apart from the doctors, no one goes down and no one goes up. Someone, who has only the flu, remained in the cabin. It is a vacation that risks ending like a nightmare, we hope to go down soon," a passenger of the ship told ANSA.
The cruise ship has already moored in Marseilles in France and several Spanish ports this week before docking on Thursday at Civitavecchia, north of Rome.
Reuters notes that all passengers have been confined to the ship as tests are underway to determine if the two Chinese tourists have coronavirus.
Carnival shares plunged as much as 6% in pre-market Thursday after the ANSA report.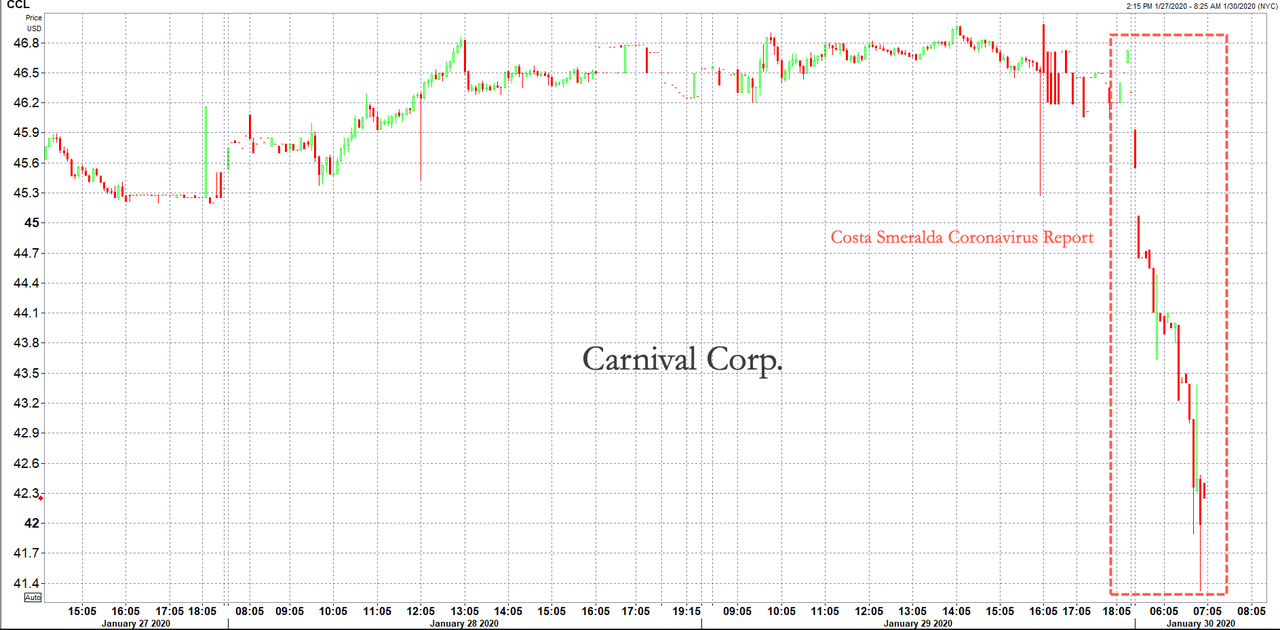 Now the cruise company has a difficult decision to make: those infected with coronavirus may not exhibit symptoms of the virus during the 7-10 day incubation period but can infect others at high rates. This means if the Chinese tourist test positive, they might have infected the entire ship. That many cases will likely overwhelm Italy's ability to rapidly respond.
Here's a live view of the cruise ship docked at Civitavecchia.

Shark NewsWires@SharkNewsWires · 3hReplying to @SharkNewsWires
#Coronavirus Update :
– First case reported in Finland
– First case reported in India in Kerala State.
– First case reported in The Philippines
– 7,801 cases in China with 170 dead.
– Russia closes border with China

Shark NewsWires@SharkNewsWires
#Coronavirus Update : The Cruise ship Costa Smeralda in #Civitavecchia , #Italy with around 6,000 people on board is on lockdown . There are fears a Chinese couple have the virus. Passengers are not allowed to leave the ship.
Live Video : https://www.pscp.tv/w/1YqKDEPkXLoGV Local Team @localteamtvLIVE Caso sospetto di Coronavirus, bloccata a Civitavecchia nave Costa Crociere con 6.000 persone a bordopscp.tv485:51 AM – Jan 30, 2020Twitter Ads info and privacy47 people are talking about this
Russia's newly appointed Prime Minister Mikhail Mishustin on Thursday signed an order to close the country's border with the Far East to prevent the spread of coronavirus. Russia joins North Korea, becoming the second country to completely shutter its border with the world's second-largest economy. Although Russia hasn't provided details about the plan, Russia also border China, Japan and North Korea along the Far East.
Mishustin has also asked Deputy Prime Minister Tatyana Golikova to inform the population on a daily basis about the current situation and preventive measures, according to the Russian press.
Both Russia and the Czech Republic have decided to suspend the granting of visas to Chinese.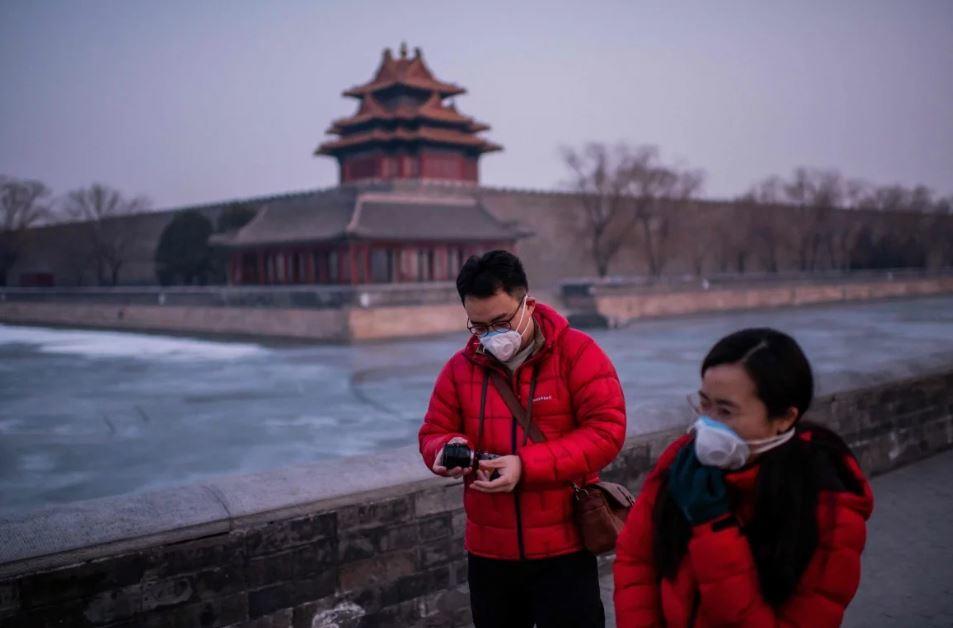 Meanwhile, villages and apartment complexes across China are "taking the fight against a deadly viral epidemic into their own hands," according to AFP.
Some areas are starting to look like something out of a sectarian conflict, complete with check points and makeshift barricades. Groups of locals have constructed makeshift barricades across access roads to keep potentially-infected strangers out.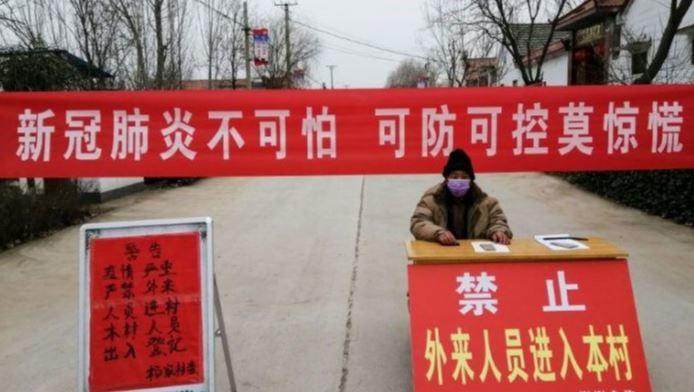 In one residential compound in Beijing, "a motley stack of shared bicycles have been haphazardly woven together and wired to a wooden ladder, blocking a side gate and forcing visitors to register with guards at the main entrance."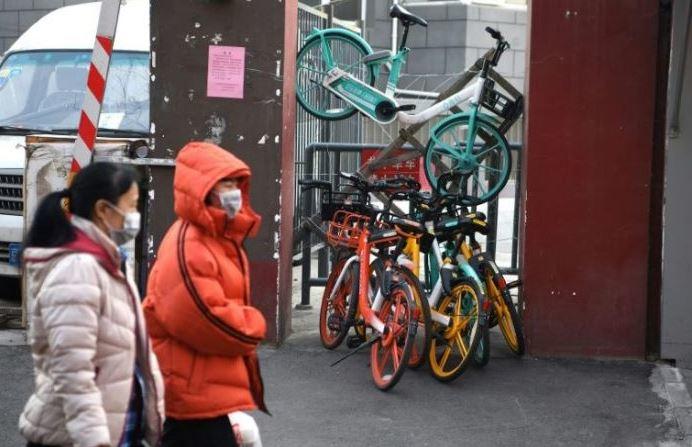 With more than 50 million people still on lockdown, resentment against the ruling party has intensified, and more Chinese are speaking out on social media, according to the NYT: "We gave up our rights in exchange for protection," the user wrote. "But what kind of protection is it? Where will our long-lasting political apathy lead us?" That post was shared more than 7,000 times.
Source: meaww HNewsWire ZeroHedge
StevieRay Hansen
Editor, HNewsWire.com
The Birth Pains Are Growing Stronger….
One of the signs of ruling class collapse is when they can no longer enforce the rules that maintain them as a ruling class. When the Romans started making exceptions to republican governance, it was a matter of time before someone simply decided the rules no longer applied to them. Perhaps the robot historians will consider Obama our Marius or Sulla. Maybe that person is in the near future. Either way, the rule of law is over and what comes next is the rule of men.
"Man will ultimately be governed by God or by tyrants." as in Nancy Pelosi (D-San Fran-feces)
Our government has been overthrown. As evidenced by Trump's capitulation on the border, his recent servitude to the GMO industry and his acquiescence to the warmongers, our President has been compromised. Our liberties are being eliminated one by one. Gun confiscation is next. The Constitution is gasping its last breaths. Our borders are destroyed and our culture has been turned upside down by every perversion known to man.
The watchman does not confuse truth with consensus. The Watchman does not confuse God's word with the word of those who happen to hold power at present, or with the opinion of the majority. This is because powerholders and the majority can fall victim to a lying spirit-and this means a power that actually seizes the majority of experts, the political leadership, and the public.
Everything is right on schedule and, now, the time is come to remove one of the final obstacles standing in the way of a New World Order: The United States Constitution – even if, over the course of many decades, it has already been greatly diminished by the B.E.A.S.T. system; or, more specifically, Bullshit Emerging As Strategic Totalitarianism (B.E.A.S.T.).
They are tolerant of everything except dissenting values and opinions — meaning, of course, they are tolerant of nothing that matters, only themselves."
Let Me Make This Abundantly Clear. (I Am Apolitical) While I Have a General Distaste for Electric Cars and Politicians No Matter the Party They Belong To, I Am Unashamedly Politically a Bible Believing Conservative Christian. I Have a Severe Distrust of Government. I Believe It Is the Most Inefficient and Ineffective Way to Accomplish Most Things. While I Strongly Disagree with Liberals/Progressives and Conservative on Most Political Issues, and While I Believe Liberals/Progressives and Most Politicians Are Misguided and Naive About What Big Government Will Eventually Result In, I Strive to Not Question Their Motives. At the Same Time, I Find Myself in Agreement with Conservative on Some Issues, and I Do Not Believe Electing Republicans Is the Answer to Everything. Sadly, the Main Difference Between Republicans and Democrats Is How Quickly They Want to Drive the Car Towards the Cliff. Put, I Do Not Believe the Government Is the Solution for Everything. I Do Not Place Any Faith, Trust, or Hope in Any Politicians to Fix What Is Wrong with the World. "Come Lord Jesus!" (Revelation 22:20)
The Watchman does not confuse truth with consensus.The watchman does not confuse God's word with the word of those who happen to hold power at present, or with the opinion of the majority. This is because powerholders and the majority can fall victim to a lying spirit-and; this means a power that seizes the majority of experts, the political leadership, and the public.StevieRay Hansen
If you have a news scoop or an interesting story for us, please reach out at [email protected]
Coronavirus, biblical truth, tribulation, antichrist, B.E.A.S.T, tribulation,"demon" virus", end times, Electronic Prison, Birth Pains,MSM, High-Tech & Reddit Engaged in Heavy Censorship of Truthful News Sources
The Land of the Free doesn't give a rat's-arse how they are perceived anymore.
The New World Order Plan Is Almost Complete Crush the Economy and Humanity Is Crush, the "Second Wave Wannabe Dr. Fauci BS" COVID-19 Will Crush…
Read More
We make every effort to acknowledge sources used in our news articles. In a few cases, the sources were lost due to a technological glitch. If you believe we have not given sufficient credit for your source material, please contact us, and we will be more than happy to link to your article.