Satan Foot Soldiers Anti-Rittenhouse Protesters Riot in Oregon, Shut Down Bridge in New York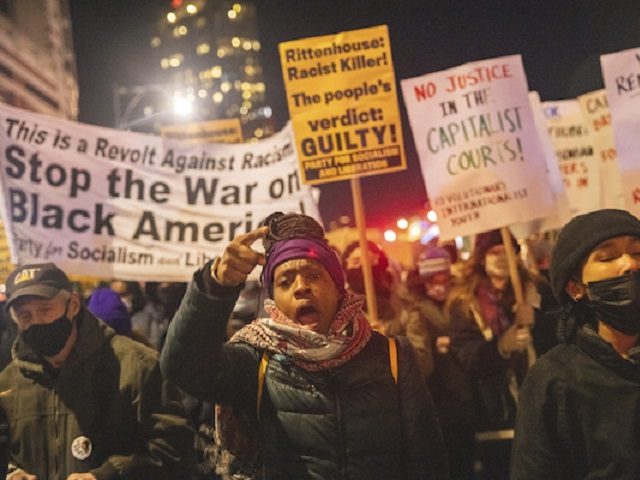 Bob Price Picture...
Despite calm in Kenosha, Wisconsin, anti-Rittenhouse protesters rioted in Portland, Oregon, and shut down the Brooklyn Bridge in New York. The incident followed a Wisconsin jury finding Kyle Rittenhouse not guilty on all five charges on Friday.
Portland Police Bureau officials declared a protest to be a riot after a group of people protesting the verdict in the Kyle Rittenhouse case broke through a gate at the Multnomah County Detention Center. The rioters also attacked a vehicle parked on the street.
Portland police have declared a riot tonight after demonstrators gathered downtown to protest the verdict in the Kyle Rittenhouse trial pic.twitter.com/7OBjgFvkbo

— Zane Sparling (@PDXzane) November 20, 2021
Sheriff's Office officials reported that the crowd, measuring about two dozen in size, were chanting "burn it down" and they broke open the detention center gate.
Sheriff's Office officials stated:
An estimated 10 to 20 protesters entered and began moving down the ramp in the direction of the jail entrance and the building's critical infrastructure. Individuals also placed large tree branches to prevent the gate from closing. Deputies met the trespassers on the ramp to prevent entry and began instructing them to exit.

The crowd, which was described as hostile, launched urine, alcoholic beverages, water bottles and batteries at deputies during the event. Because a large group of people were engaging in tumultuous and violent conduct, and further entry into the building would have posed significant implications and grave risk of causing public alarm, the Multnomah County Sheriff's Office (MCSO) declared a riot.

Even as deputies instructed people to leave, deputies continued to take projectiles and were subjected to hostile behavior. Demonstrators then stood at the garage exit, repeatedly preventing the gate from closing by pushing on it. Again, deputies asked the crowd to step away. Demonstrators ignored the repeated requests and continued blocking the gate. Deputies swiftly moved toward the demonstrators that were preventing the gate from closing to allow space for the gate to close properly. Deputies retreated inside and eventually were able to re-secure the gate. No arrests were made.
The crowd eventually dispersed from the jail and moved on to businesses in the area. The rioters smashed windows of businesses and broke a window on a police vehicle.
After Kyle #Rittenhouse was found not guilty, #antifa in Portland organized an attempt to break inside the Justice Center to burn it down. They attacked police & also smashed up a passing driver's vehicle & targeted nearby buildings. Police declared a riot https://t.co/KhALOWp8AC pic.twitter.com/EA8nVZMPg1

— Andy Ngô ️‍ (@MrAndyNgo) November 20, 2021
At the other end of the country, protesters in New York City shut down the Brooklyn Bridge and they marched in opposition to the Wisconsin jury's decision to declare Rittenhouse not guilty on all five charges.
A video tweeted by independent journalist Scott Heins shows the crowd marching on the bridge.
After Kyle Rittenhouse was found not guilty of all counts, protesters are taking the Brooklyn Bridge pic.twitter.com/CKnfKNJsPw

— Scott Heins (@scottheins) November 20, 2021
Taking a knee and a moment of silence on the Brooklyn Bridge pic.twitter.com/KKW1gsFUso

— Scott Heins (@scottheins) November 20, 2021
Police declared a riot in downtown Portland, Oregon after a group protesting Kyle Rittenhouse's acquittal damaged property and threw rocks at cops on Friday night. The Multnomah County Sheriff's Office declared the riot just after 9 p.m. local time after 200 protesters began breaking windows and doors of city buildings and "throwing objects" at cops, officials said. The group also talked about burning down the city's Justice Center, which houses the Portland Police Bureau headquarters, a county jail and some courtrooms, KOIN TV reported. Police Chief Chuck Lovell told the outlet earlier in the night that it was "reasonable to expect there will be some type of reaction to the verdict." Video from the scene posted by local independent journalist Grace Morgan showed armed police officers retreating as protesters advanced toward them. Other videos showed windows smashed at the Multnomah County Office building. Portland Tribune reporter Zane Sparling shared…
Satan Soldier Jerry Nadler Has Spoken… Jerry Nadler, Representative for New York's 10th congressional district and acting chairman of the House Judiciary Democrats, has signaled a possible Department of Justice investigation into Kyle Rittenhouse. On Friday, the 18-year-old Rittenhouse was found not guilty of homicide and other charges related to the shootings of three men, two fatally, on Aug. 25, 2020, during the racial justice riots that took place in Kenosha, Wisconsin. Following the verdict on Friday, Nadler suggested a federal review of the case was justified. By doing so, Nadler is quite possibly setting the stage to have the verdict overturned. This heartbreaking verdict is a miscarriage of justice and sets a dangerous precedent which justifies federal review by DOJ. Justice cannot tolerate armed persons crossing state lines looking for trouble while people engage in First Amendment-protected protest. https://t.co/Uh95Uc1Ddo –…
and Continues to Lawlessly Use Counterintelligence Powers Against American citizens… t's become a near-weekly occurrence. Somewhere in some state, the FBI will announce that they've foiled yet another terrorist plot and saved lives. However, as the data shows, the majority of these cases involve psychologically diminished patsies who've been entirely groomed, armed, and entrapped by FBI agents. Simply put, the FBI manufactures terror threats and then takes credit for stopping them. While many of these cases have garnered attention and been exposed in the alternative media, a recent case out of Oklahoma sets a new low for FBI and exposes how insidious these plots can be. Through the hundreds of 'foiled terror plots' the FBI has 'busted' over the years, many of them have been focused on people of Middle Eastern descent or people associated with ISIS or al-Qaeda. This time, in the case of Jerry Drake…
StevieRay Hansen
Editor,
HNewsWire.com
[email protected]
The worst-case scenario is outright civil war. This is too horrible to contemplate, but this possibility is real. President Biden said his patience is wearing thin. That works both ways. Things are getting tense in Australia. It could happen here, too.
Remember, the first people Hitler put in concentration camps weren't the Jews. The first people were the intellectuals, because if you take the intellectuals and the doctors off the street, if you stop people from talking, you can control the people.