Advisory: Be careful of what you read on social media. The algorithms used by these platforms have no regard for Biblical truth. They target your emotions to keep you engaged on their site so their advertisers can drop more ads. These platforms exist to enrich their stockholders. Consider God's promise to Believers in James 1:5, "If any of you lacks wisdom, you should ask God, who gives generously to all without finding fault, and it will be given to you."
in Africa and India Now Turns His Attention on America's Population…
His Rhetoric Has Been Increasingly Intolerant of Any Other Views Than Bill Gates.
In 2017, it was still okay to criticize Holy Gates. "'He is treated liked a head of state, not only at the WHO, but also at the G20' — Geneva-based NGO representative." Politico, mind you. How much difference a few years of intensive bribing make…
Bill Gates just ratcheted up his PR campaign to sow doubts about President Trump's alleged 'political meddling' with the FDA, while also placing him in league – if only temporarily – with the vaccine skeptics Gates frequently rails against. During an interview with Bloomberg News, the Microsoft founder and Gates Foundation chairman, who has persisted in his defenses of the WHO despite growing evidence of missteps, attacked the FDA's credibility, claiming that he no longer believes the FDA is 'the world's premier public-health authority', as Bloomberg says during the opening paragraph of the post.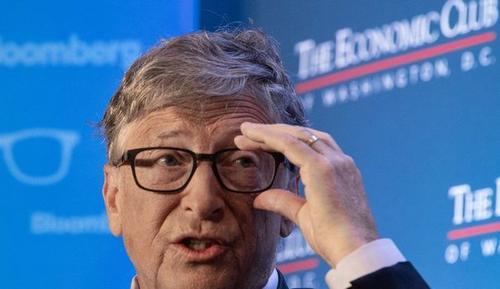 Gates, who has helped finance several vaccine projects around the world, said he doesn't trust the CDC, either, because credibility and a focus public welfare have become "casualties of a presidency that has downplayed or dismissed science and medicine in the pursuit of political gain."
He cited FDA chief Stephen Hahn's decision to "backtrack" on the agency's statement on convalescent plasma to back up his claims.
"We saw with the completely bungled plasma statements that when you start pressuring people to say optimistic things, they go completely off the rails. The FDA lost a lot of credibility there," Gates, the billionaire philanthropist, said in an interview on Bloomberg Television. "Historically, just like the CDC was viewed as the best in the world, the FDA had that same reputation as a top-notch regulator," Gates said. "But there's been some cracks with some of the things they've said at the commissioner level."
While he said he applauds the Trump Administration's "Project Warp Speed", which has put up billions of dollars for private partnerships and pharmaceutical companies to fund trials and research, Gates is taking issue with the lack of funding for "manufacturing and procurement" – ie building out permanent supply chains for medicines and vaccines – in the developed world.
Hmm…if only somebody had thought of that…
Anyway, by spending another $8 to $10 billion – peanuts in the grand scheme of things, where Democrat are pushing to dump trillions more in fiscal stimulus – the US government could save "trillions" in lost economic output, Gates insists.
"The inequity of this – whether it's between citizens in the country, blue collar versus white collar, blacks experiencing a higher sickness rate than others – poor countries can't borrow money and spend money like the U.S. and other rich countries have," Gates said. "Almost every dimension of inequity has been accentuated here."
Asked about his newfound status as a "polarizing figure" in the pandemic era, Gates insisted that "conspiracy theories" circulating about him on social media are "crazy" – and that social media companies are to blame for the reputational damage he has endured.
To sum up: Gates doesn't think you should trust bureaucratic institutions (which, by extension, includes Dr. Fauci and Dr. Birx) anymore. Just trust him.
Asked about Gates' comments during an interview on Squawk Box Tuesday morning, White House advisor Jared Kushner largely brushed them aside.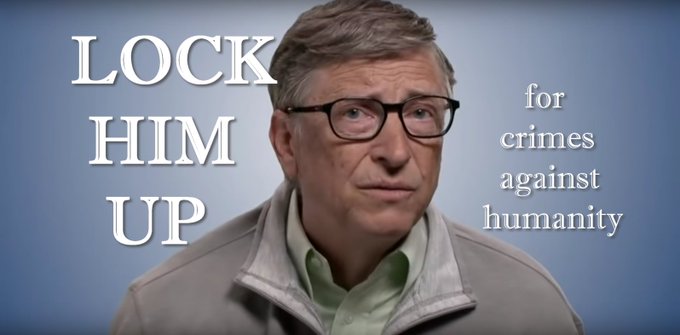 Let Mr. Gates and his family be the first to take the vaccine, and as a safety precaution we wait 12 months to see what the side effects are, of course this will never happen because Mr. Gates is part of the elitist, do as I say not as I do crowd
Vaccines–Kill Shot are a putrid amalgam of neurotoxins, animal DNA, disease, baby tissue stolen from murdered infants at birth.. How Godly is this? This is nothing more than sorcery and witchcraft and it is so called in scripture – Read Nahum chapter 3, and Revelation 18:23 to see that the US is about to be destroyed for our crimes against humanity, which are military, spiritual, and medical. The writers and owners of rags like this Christian so called post – and their false premises made to push a luciferins doctrine.. will be judged with the strictest judgment.
People's hearts are troubled, their minds are in a state of confusion, the Bible tells us a time of great delusion that will come upon the people, that time has arrived, the politicians must come up with more significant and more believable lies in order to bring on the antichrist, we have entered the doorstep Tribulation.
"Unless God has raised you up for this very thing, you will be worn out by the opposition of man and devils"… SRH
A Warning
The World Is In Big Trouble, for Those That Believe We Will Go Back to Some Sense of Normal Life Here on Earth, You Will Be Sadly Disappointed, Seven Years of Hell on Earth Which Began January 1, 2020
"Our courts oppose the righteous, and justice is nowhere to be found. Truth stumbles in the streets, and honesty has been outlawed" (Isa. 59:14, NLT)…We Turned Our Backs On GOD, Now We Have Been Left To Our Own Devices, Enjoy…
While Mainstream Media Continues to Push a False Narrative, Big Tech Has Keep the Truth From Coming out by Shadow Banning Conservatives, Christians, and Like-Minded People, Those Death Attributed to the Coronavirus Is a Result of Those Mentioned, They Truly Are Evil…
StevieRay Hansen
Editor, HNewsWire.com
Watchmen does not confuse truth with consensus The Watchmen does not confuse God's word with the word of those in power…
In police-state fashion, Big Tech took the list of accused (including this site), declared all those named guilty and promptly shadow-banned, de-platformed or de-monetized us all without coming clean about how they engineered the crushing of dissent, Now more than ever big Tech has exposed there hand engaging in devious underhanded tactics to make the sinister look saintly, one of Satan's greatest weapons happens to be deceit…
The accumulating death toll from Covid-19 can be seen minute-by-minute on cable news channels. But there's another death toll few seem to care much about: the number of poverty-related deaths being set in motion by deliberately plunging millions of Americans into poverty and despair.
American health care, as we call it today, and for all its high-tech miracles, has evolved into one of the most atrocious rackets the world has ever seen. By racket, I mean an enterprise organized explicitly to make money dishonestly.
All the official reassurances won't be worth a bucket of warm spit. The Globals are behind the CoronaVirus, It Is a Man-Made Bioweapon.
Events of the Tribulation
In the Great Tribulation 2 ½ million die every day for 42 months. In Auschwitz, less than a thousand died each day. That means 2500x as many people die every day. Or to put it in Auschwitz terms—the number of people that died every day at Auschwitz will die every 30 seconds in the Great Tribulation! Or in other terms living on earth will be like living in an Auschwitz death camp—and in death toll there will be the equivalent of an Auschwitz Holocaust twice a day for 42 months!
A brief look through the pages of Revelation chapters six, eight, nine, and sixteen–describe the living hell you can avoid if you are saved this morning. Here are only a few of the dreadful disasters that take place during the Tribulation:
One out of every two people will die during the Tribulation (see Rev. 6:8 and onward), some through the ravages of war, others by starvation, and amazingly many others by the 'beasts of the earth'. So, whether by death that comes instantly and thus less dreaded or a slow and painful death that is lingering and agonizing-50 percent of all people will die. The world's population was 6,415,574,176 yesterday, so that means at least 3,207,500,000 will die. Does that amount to just about eleven times the current population of the United States-can you imagine that? And remember that the population of the world is doubling every 39.5 years. So every day the number of people who will die becomes larger and larger.
One-third of all vegetation will be burned up. All grass, every tree, everything green will be destroyed (see Rev. 8:7).
The sun and the moon will be darkened as nature goes into revolt (see Rev. 8:12).
The gates of hell will open and hordes of locusts, the size of horses, will come upon the earth. Those locusts will be allowed to sting men like scorpions and the pain will last for five months. The Bible says men will beg God to let them die but they will not die (see Rev. 9:3-6).
There will be worldwide famine, unlike anything the world has ever seen (see Rev. 18:8).
There will be a world war so bloody that the blood of those killed in battle will flow for two hundred miles up to the bridle of a horse in the valley of Jezreel. This will be the Battle of Armageddon (see Rev. 14:20).
All told, during the Great Tribulation, as many as half of all the people on the earth will be killed.
The young men who pass through our ministry originally came because they were in trouble with the law, kicked out of foster care, or living on the streets.
We make every effort to acknowledge sources used in our news articles. In a few cases, the sources were lost due to a technological glitch. If you believe we have not given sufficient credit for your source material, please contact us, and we will be more than happy to link to your article.