Satan Soldiers Have a Plan:"Slash the Tires, Arrest the Drivers," Says a Harvard Professor and CNN Analyst, Calling for Violence Against the Freedom Convoy
Satan Soldier a.k.a harvard professor, CNN analyst and former Obama admin undersecretary of Homeland Security Juliette Kayyem has called for violence and vandalism against Freedom Convoy protesters who have amassed on the bridge that connects Detroit, Michigan to Windsor, Ontario.
Satan Soldier Ontario Premier Orders GiveSendGo To Freeze Funds For Anti-Mandate Protesters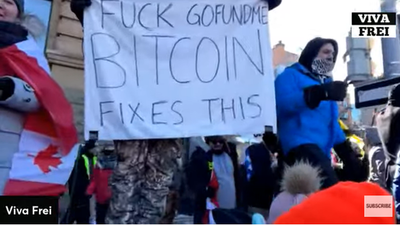 Less than a week after GoFundMe abruptly suspended its $10 million fundraising at the request of the Mayor of Ottawa and Justin Trudeau, Ontario's Premier, Doug Ford, has filed an order effectively freezing any monies earned thus far through the alternative crowdsourcing site 'GiveSendGo.'
In a democratic society, money from gofundme and givesendgo is not frozen.
That is a full-fledged communist maneuver.
Canadians are not permitted to spend their own money as they see fit.
If this is allowed to continue with no consequences, it will inevitably get much worse.
February 10, 2022 — Alexander Roberto (@alexrnicholas)
The injunction clearly stipulates that the fundraising site Give Send Go is banned from doing anything with the monies, according to April McAbee of CitizenStringer.com.
The Premier's Office of Ontario has issued a statement.
"Today, the Attorney General filed an application in the Superior Court of Justice for an order under section 490.8 of the Criminal Code prohibiting any person from disposing of, or otherwise dealing with, any and all monetary donations made through the GiveSendGo online fundraising platform's Freedom Convoy 2022 and Adopt-a-Trucker campaign pages."
The order was given this afternoon. It binds any and all parties that have control or custody of these gifts."
Executive Director of the Premier of Ontario's Office of Media Relations
"A spokeswoman for the Premier's office says this effectively means the money are frozen for now," says Katie Simpson, a CBC journalist.
And now the Americans are on their way...
The order has yet to be confirmed by Give Send Go.
GiveSendGo, in an apparent reaction to the court decision, issued the following statement on Twitter:
"Be aware of this! Canada has no authority over how we manage our assets at GiveSendGo."
It continues:
"All money for EVERY GiveSendGo campaign, including The Freedom Convoy campaign, pass directly to the recipients of such initiatives."
The Epoch Times spoke with John Carpay, head of the legal organization Justice Centre for Constitutional Freedoms, which is assisting the Freedom Convoy organizers with legal advice.
"GiveSendGo represents for optimism and freedom," the platform said in a statement released Monday when the firm agreed to host the campaign. We acknowledge that our liberties are God-given, not government-authorized, and that they should be maintained by our governments."
At the time the injunction was issued, the GiveSendGo event had raised about 8.5 million dollars.
Just as Mark Jeftovic predicted last week, this demonstrates bitcoin's use, and it appears that Tallycoin, a crypto-based crowd-funding site, will continue to be used by Canadian truckers to re-route their donations to aid those on the front lines of the protest.
Anyone interested in the new platform can give as low as a single Satoshi (currently, around 2,400 satoshis equal $1), and the fundraising has raised 1.594 billion Satoshis (about $700,000) so far.
The following note is attached to the Tallycoin fundraiser:
"For #FreedomConvoy2022, the Canadian Bitcoin community would prefer a second banking access point." Bitcoin is a truly censorship-resistant way of transmitting value, whereas legacy financial infrastructure may be politicized and clamped down on at times. Allowing your voices to be stifled and your financial sovereignty to be trampled on is not an option.
Let's raise some hard money for hard employees in the sake of love, unity, and freedom!"
Needless to say, Bitcoin solves this, as Jeftovic explained.
It's GoFundMe today. When central banks introduce Central Bank Digital Currencies (CBDCs) in the future, they will cover all economic activity that occurs under the jurisdiction of national and supranational governments and bureaucracies.
When such days come, everyone who relies on government economic benefits will be subjected to a form of neo-Fuedalism: true digital slavery.
...supporting the #FreedomConvoy with a donation? Are you a fan of Joe Rogan's show? Those aren't activities that have been approved. You'll be docked some points for it.
The U.S. Department of Agriculture's World Agricultural Supply and Demand Estimates (WASDE) report was released Thursday afternoon and pointed to declining grain supplies that sent grain futures prices higher and will keep food inflation in focus. The closely watched supply and demand report slashed estimates for corn yields and stockpiles. World inventories for wheat were reported near a five-year low. Grain and oilseed futures soared to a near-decade high earlier this year but have been in a holding pattern for the last month, awaiting new reports on the outlook for upcoming U.S. harvests. A megadrought and back-to-back heat waves have plagued the corn belt and the U.S. West for much of the summer. December corn futures were up more than 2% to $5.7150 a bushel on the Chicago Board of Trade, soybean futures popped on the report and are now flat at the end of the U.S.…
Putin: My personal position is that society must keep children safe.
Meet Moses! He's a young man who grew up in the most challenging circumstances. Today, he has larger-than-life goals to achieve something extraordinary.
A Thrilling Ride
Every once in awhile, a book comes across your path that is impossible to put down. A Long Journey Home is not a casual book that you read in a week or earmark to complete at a later date. Once you begin, cancel your schedule, put your phone on silent, find a quiet place where you cannot be disturbed, and complete the journey. Click Here to Purchase on Amazon.com!
HNewsWire Live Stream 24/7 News UpDates and World Events Go Live HNewsWire: By Frank Bergman March 19, 2023 New York's Democrat Governor Kathy Hochul ...
Read More

→