Advisory: Be careful of what you read on social media. The algorithms used by these platforms have no regard for Biblical truth. They target your emotions to keep you engaged on their site so their advertisers can drop more ads. These platforms exist to enrich their stockholders. Consider God's promise to Believers in James 1:5, "If any of you lacks wisdom, you should ask God, who gives generously to all without finding fault, and it will be given to you."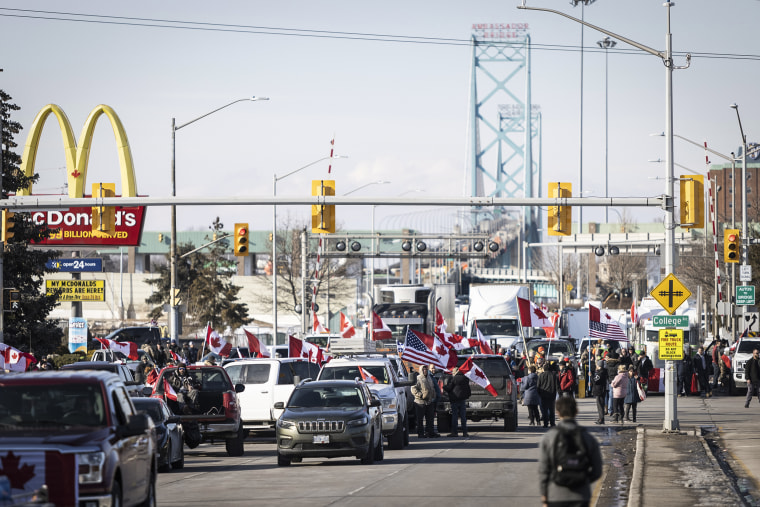 Demonstrators protesting in sympathy with the Freedom Convoy truckers in Ottawa have stopped a key Canada-US border crossing in Manitoba.
The Emerson Port of Entry is being blocked by a demonstration involving a large number of automobiles and farm equipment, Manitoba RCMP announced on Twitter on Feb. 10.
According to the police, both northbound and southbound traffic has come to a halt.
This is the third time in recent weeks that a border crossing between Canada and the United States has been shut down. Protesters have also shut down the roadway leading to the Coutts border in southern Alberta, as well as the Ambassador Bridge, which connects Windsor, Ontario, and Detroit, Michigan.
The demonstrations are in support of the ongoing truckers' convoy campaign in Ottawa, which is fighting against federal COVID-19 vaccine mandates and limitations.
Since Jan. 29, Alberta protesters have closed and reopened the lanes of Highway 4 on a regular basis. The protest caused the lanes to be stopped again late on February 8, according to the RCMP.
On February 6, protesters began assembling around the Ambassador Bridge in Windsor. The border remained closed as of February 10th.
While the U.S.-bound lane is open, Windsor police claimed on Twitter on Feb. 10 that the presence of demonstrators is still "making it difficult to access the bridge." Traffic congestion along Wyandotte St. W. near the bridge, they added, might also cause delays.
The trucker protest movement in Canada began as a protest against the federal government's requirement that truck drivers have COVID-19 vaccination for cross-border travel, but it has since grown to demand an end to all COVID-19 mandates and restrictions, with supporters from across the country joining the movement.
The anti-vaccination mandate trucker protest that has paralyzed the Canadian capital, Ottawa, has spread to Michigan's border and threatens to halt an auto industry struggling to cope with what industry experts have described as a "fragile supply chain."
Demonstrators have been setting up blockades at the two bridges linking Ontario and Michigan since Monday. The Blue Water and Ambassador bridges together serve thousands of trucks every day, many of them carrying automotive parts and finished vehicles.
Traffic over the Ambassador Bridge has come to a virtual halt. Only a small number of trucks moved from Canada to Michigan on Wednesday. The situation at the Blue Water Bridge connecting Sarnia, Ontario, to Port Huron, Michigan, isn't much better, with reported delays of at least 4½ hours.
The Chrysler Pacifica minivan plant was the first direct casualty on Wednesday. Stellantis, the world's largest automaker, has temporarily halted production at the plant due to a shortage of parts. Ford became the second automaker to take efforts to address parts shortages on Wednesday.
General Motors, Detroit's largest automaker, confirmed late on Wednesday that it had temporarily cut the second shift at a plant in Lansing, Michigan producing SUVS for the Buick, Chevrolet and GMC brands. Toyota also shut down production at three of its plants in Ontario due to parts shortages from the trucker blockade.
If we need to hurt the pockets of the rich to get the attention of our governing officials, so be it. All we can do is pray for these brave individuals who are placing themselves between us and the twisted tyranny chalked up by the likes of Klaus Schwab and his constituents. Make no mistake, there are people out there who aren't exactly under an illusion that support this tyranny. They're unapologetically radicalized, and they have support from organizations like the World Economic Forum, The United Nations, Centers for Disease Control, and the list goes on. The bible describes a grave illusion cast upon society during the end times, many don't have the time of day or mental capacity to identify a globalist threat cloaked as a pandemic response. Stay inquisitive in the word of God, and the world around you.
As the winter Omicron surge fades, the Los Angeles County Department of Public Health revised the mask compliance obligations for the post-surge period, while a new state bill granting schools access to kids' COVID-19 immunization records was introduced on Feb. 4.
Los Angeles County reported 15,427 new COVID-19 cases and 85 new deaths on February 4th. For the seven days leading up to Feb. 3, the daily average number of hospitalizations fell to 3,233, the lowest level in several weeks.
In the last seven days, the average number of daily new cases reported has been around 15,600, down from 28,000 the week before. The daily average level of positivity has likewise dropped to 8%.
However, the number of new deaths has remained constant, with dozens of individuals dying every day as a result of the CCP virus.
Barbara Ferrer, the director of the Department of Public Health, stated during a press conference on Thursday that once hospitalizations drop below 2,500 for seven days in a row, Los Angeles may be deemed post-surge.
Residents can go outside without wearing masks after the surge, including at outdoor events and outdoor spaces like schools and childcare institutions. Most indoor situations, including as offices, public transportation, and healthcare facilities, will still require masks.
"Mask wearing is a very effective strategy for reducing COVID-19 transmission. Thus, as we move through the short term, masking will continue to be a key part of the post-surge COVID-19 strategy, " Ferrer stated.
Los Angeles is one of the most populated cities in the United States. As the number of people who have tested positive for COVID-19 continues to decline, some citizens are calling for the COVID-19 vaccine mandate for indoor venues to be repealed. The Los Angeles City Clerk accepted a petition for circulation on February 3rd. The petition requests the city council to remove the need that people present proof of vaccination before attending specific interior spaces like restaurants and gyms, as well as outdoor mega-events.
According to the city clerk's office, the petition requires around 65,000 signatures, or 15% of registered Los Angeles voters, to become effective.
According to public health organizations in Orange and San Diego counties, the Omicron variant has been on the decline for the past week.
On February 4, the Health Care Agency of Orange County reported 2,795 new cases, 746 existing hospitalizations, and 12 new deaths. According to the county's Health and Human Services Agency, 3,736 new infections were reported, with 1,014 current hospitalizations and 29 new fatalities.
Despite the general decline in cases, democratic Assemblywoman Akilah Weber and San Diego school district officials unveiled a new measure on Feb. 4 that would enable school districts access to the state's immunization registry to identify who has been vaccinated against COVID-19. Vaccination data for diseases like measles and mumps are already available to schools, but not for COVID-19.
Furthermore, the bill mandates vaccination providers to enter immunization data into an immunization registry, which has previously been voluntary and never required by law.
"This makes it very easy for the school districts, it makes it easy for the families. So we know who is out there, who has their immunization, who needs their immunization," Weber explained.
Weber's measure was introduced as San Diego Unified School District is fighting a lawsuit over its vaccine mandate.
Let Them Choose, the parent advocacy group, filed the lawsuit in October 2021, claiming that only the state, not the school board, has the authority to add a vaccine to the list of required vaccinations for on-campus learning, and that the district does not allow for personal belief exemptions as required by state law.
On Dec. 20, 2021, San Diego Superior Court Judge John Meyer tentatively ruled in favor of the parent advocacy group, and the school system appealed the decision the next day, requesting that the issue be heard by an appellate court.
"Weber's bill is just kind of another example of the state really getting ahead of themselves and being too sure of themselves and overreaching," Sharon McKeeman of Let Them Choose told CBS8.
If the bill is passed, it will go into effect the next school year.
Senator Richard Pan is a supporter of the bill, which was presented last week and makes COVID-19 vaccine mandatory for students attending K-12 schools in person.
This is what it looks like in the belly of the beast (LA), we have to assume that thousands of Americans with the correct political preferences are stuck in this hell hole taking care of loved ones, or are too poverty stricken to make their way out of this place. The decision for Los Angeles Unified School District to mandate COVID-19 vaccinations is a political power play by these tyrants. Because these children and their parents aren't protected by religious exemption.
The left seeks to dismantle the closely held beliefs of true freedom loving Americans. 1 Peter 4:12-14 says: "Beloved, do not be surprised at the fiery trial when it comes upon you to test you, as though something strange were happening to you. But rejoice insofar as you share Christ's sufferings, that you may also rejoice and be glad when his glory is revealed. If you are insulted for the name of Christ, you are blessed, because the Spirit of glory and of God rests upon you." Stay inquisitive in the word of God, and the world around you.
HNewsWire Live Stream 24/7 News UpDates and World Events Go Live HNewsWire: By Frank Bergman March 19, 2023 New York's Democrat Governor Kathy Hochul……...
Read More
We make every effort to acknowledge sources used in our news articles. In a few cases, the sources were lost due to a technological glitch. If you believe we have not given sufficient credit for your source material, please contact us, and we will be more than happy to link to your article.