Upon the People — the Beast Has Arrived Compliments of TRUMP and New World Order…
We Won't Force Vaccine… But You Cannot Buy Or Sell Without It
Although Health Ministry Director Hezy Levy yesterday insisted to reporters that "we won't force people to take a vaccine. Israeli law doesn't allow for it," speaking before the Special Knesset Coronavirus Committee chaired by MK Yifat Shasha-Biton, Sheba Medical Center Chief Medical Officer and Chief Innovation Officer Dr. Eyal Zimlichman listed measures that are being planned to "maneuver" the population into vaccinating as a way of regaining freedom of movement.
The issue of how to "motivate" vaccine compliance has generated increasing interest, with commentators such as Mike Cernovich writing: "Government won't force you to take vaccine. Amazon will. Airlines will. Banks will. You won't be able to buy, sell, or trade without the vaccine."
As if underscoring Cernovich's words, Dr. Zimlichman told the committee: "Another thing that will apparently come into our lives, starting in small numbers already in January which is soon, and that's the vaccine.
"If we're discussing how to create motivation for Israeli citizens to vaccinate, I agree, you can't force the population; it won't work. We can talk about it until tomorrow, it won't work.
"What is possible is to create motivation. Whoever is vaccinated will automatically receive 'green status'. Therefore, you may vaccinate, and receive Green Status to go freely in all the green zones: They'll open for you cultural events, they'll open to you the shopping malls, hotels, and restaurants.
"You may decide you're not vaccinating, and if you do want to enter these areas you'll need to submit to a PCR test, and therefore I believe people will understand by themselves that the vaccine will return them to regular life and they'll vaccinate themselves, without our obligating them.
"But the idea we're putting out is actually something that's starting already now, and we're floating an initial pilot we're testing and are ready to start with, based on the PCR and based on antigen, assuming it will be authored by the Health Ministry, we're in the process with the Ministry, and of course serology, and very quickly, already from January to add the vaccines – whoever is vaccinated may enter those green areas, that 'safe zone'.
"Assuming we're discussing a protracted period when part of the population will be vaccinated and part won't, for a year even, we see those areas growing in size, and those people who are vaccinated receive the pass to enter those green areas in the cities from the south to the north of the country."
---
Those who follow Bible Prophecy understand that a time will come where a world leader, the "antichrist," will set up a global system where participation and compliance are mandatory.
This man will require all the inhabitants of the earth to receive a "mark." Refusal to take this "mark" will cut that person off from being able to "buy or sell" (Revelation 13:16-18) and will cause them to be sentenced to death (Rev. 20:4). However, acceptance of this mark, which is directly tied to the worship of the "antichrist," will cut a person off entirely from eternal life with Jesus Christ and Salvation (Rev. 14:9-11).
Revelation 13:16-18 KJV – "And he causeth all, both small and great, rich and poor, free and bond, to receive a mark in their right hand, or in their foreheads: And that no man might buy or sell, save he that had the mark, or the name of the beast, or the number of his name. Here is wisdom. Let him that hath understanding count the number of the beast: for it is the number of a man; and his number is Six hundred threescore and six."
We are in no way saying that the Coronavirus vaccine is the mark of the beast; it is absolutely not. But the COVID crisis has been jaw-droppingly exploited by globalists worldwide in a manner that is too reminiscent of Revelation 13 to simply ignore.
Who would have thought that the entire world population would be so willing to give up their freedoms and that it would happen so rapidly?
People are becoming used to a lack of freedom. Dare I say that many actually enjoy putting themselves "above" others who do not show the same compliance. They enjoy berating anti-maskers and soon those that refuse to be vaccinated. They enjoy the "special privileges" of fundamental freedoms they regain by going along.
We now see people reporting their neighbors for not following restrictions! This too is quite reminiscent of the antichrist's rule during the Tribulation because the Bible explains that those that don't submit will be "betrayed both by parents, and brethren, and kinsfolks, and friends" (Luke 21:16).
Christians saved on earth today should not be paranoid about "accidentally" taking the mark of the beast. The mark will not be introduced until the Tribulation. The Bible clearly outlines that Christians will be taken out of the earth prior to the Tribulation, in the Rapture of the Church.
Revelation 3:10 KJV – "Because thou hast kept the word of my patience, I also will keep thee from the hour of temptation, which shall come upon all the world, to try them that dwell upon the earth."
There are many reasons believers may choose to refuse the current COVID vaccination, not the least of which is the use of abortion-derived cell lines in the production of some COVID vaccines. That being said, we would encourage every follower of Jesus to do their own research to satisfy themselves, but not use this as a point of division within the body of Christ.
What we see today is an astonishing and clear Harbinger of events to come!
IF YOU WOULD LIKE TO LEARN ABOUT SALVATION THROUGH JESUS CHRIST CLICK HERE
There Is No Coin Shortage, There Is However a Shortage of God In Society…
We recently penned a piece on a developing nationwide coin shortage sparked by the virus pandemic. As a result of the shortage, at least one major supermarket chain has removed the ability to pay in cash at self-scan checkout machines.
Meijer Inc., a supermarket chain based in the Midwest, with corporate headquarters in Walker, Michigan, announced last Friday, that self-scan checkout machines at 250 supercenters would only accept credit or debit cards, SNAP and EBT cards, and gift cards.
"While we understand this effort may be frustrating to some customers," spokesman Frank Guglielmi told ABC12 News Team. "It's necessary to manage the impact of the coin shortage on our stores."
Fed Chair Powell admitted to lawmakers last week that The Fed has been rationing coins as the circulation of coins across the US economy ground to a halt due to the pandemic.
"What's happened is that with the partial closure of the economy, the flow of coins through the economy … it's kind of stopped," Powell told lawmakers.
He said the shortage was due to the mass business closures that prevented people from spending their coins, as well as a lack of places that are open where people can trade coins for paper bills.
"We've been aware of it, we're working with the Mint to increase supply, we're working with the reserve banks to get the supply to where it needs to be," Powell said, adding he expected the problem to be temporary.
Americans Googling "coin shortage" started to erupt in the back half of June and has since hit a record high. Mainly people in Midwest states are searching for the search term.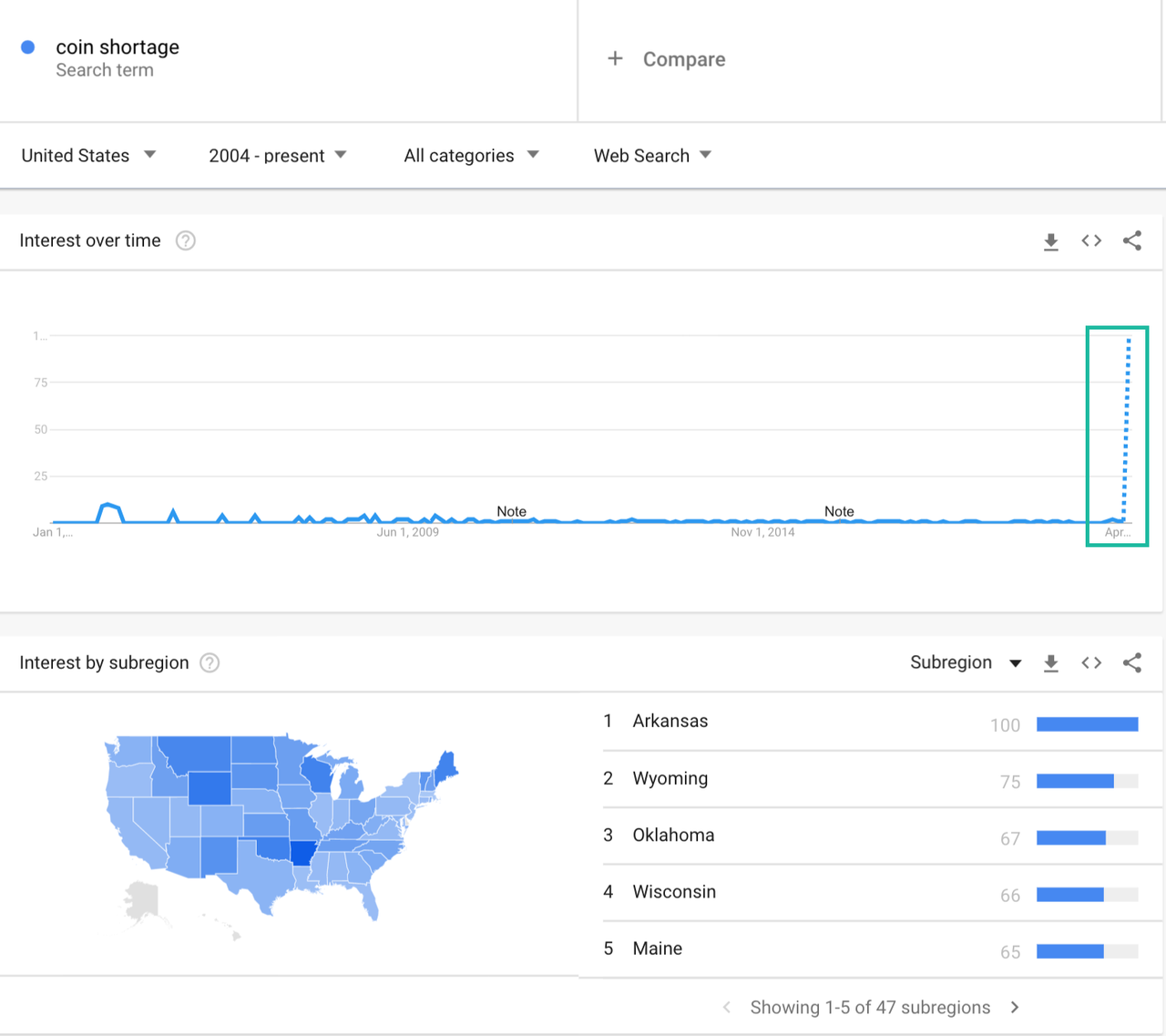 Google search "coin shortage" shows the issue isn't limited to Meijer stores but is widespread.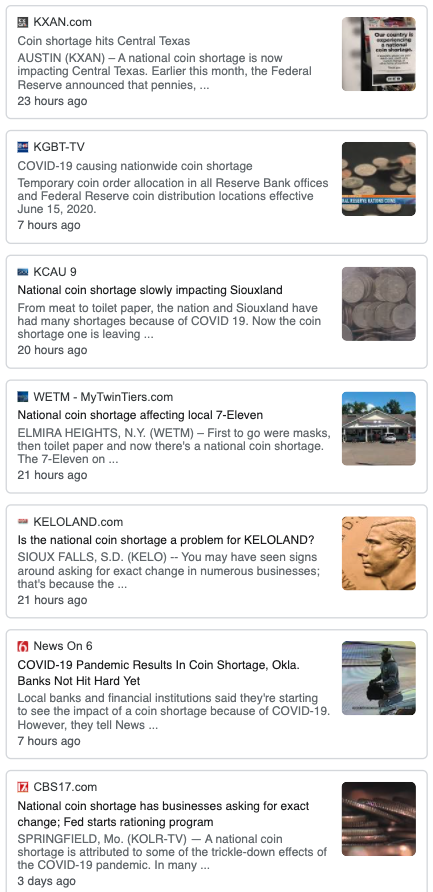 Social media users report the shortage is happening at many big-box retailers.
🙏♥️✌

Meijer not accepting cash at the self check out due to coin shortage https://t.co/eHL0nUqAqc— Long Haired Hippie Rebel 🕉 (@lbox327) June 30, 2020
Anyone else seeing these signs ? This is a 7/11 >>national coin shortage
The World Is In Big Trouble, for Those That Believe We Will Go Back to Some Sense of Normal Life Here on Earth, You Will Be Sadly Disappointed, Seven and Half Years of Hell on Earth Which Began January 1, 2020
"Our courts oppose the righteous, and justice is nowhere to be found. Truth stumbles in the streets, and honesty has been outlawed" (Isa. 59:14, NLT)…We Turned Our Backs On GOD, Now We Have Been Left To Our Own Devices, Enjoy…
While Mainstream Media Continues to Push a False Narrative, Big Tech Has Keep the Truth From Coming out by Shadow Banning Conservatives, Christians, and Like-Minded People, Those Death Attributed to the Coronavirus Is a Result of Those Mentioned, They Truly Are Evil…
Source: HNewsWire ZeroHedge harbingersdaily HNewsWire
StevieRay Hansen
Editor, HNewsWire.com
Watchmen does not confuse truth with consensus The Watchmen does not confuse God's word with the word of those in power…
In police-state fashion, Big Tech took the list of accused (including this site), declared all those named guilty and promptly shadow-banned, de-platformed or de-monetized us all without coming clean about how they engineered the crushing of dissent, Now more than ever big Tech has exposed there hand engaging in devious underhanded tactics to make the sinister look saintly, one of Satan's greatest weapons happens to be deceit…
The accumulating death toll from Covid-19 can be seen minute-by-minute on cable news channels. But there's another death toll few seem to care much about: the number of poverty-related deaths being set in motion by deliberately plunging millions of Americans into poverty and despair.
American health care, as we call it today, and for all its high-tech miracles, has evolved into one of the most atrocious rackets the world has ever seen. By racket, I mean an enterprise organized explicitly to make money dishonestly.
All the official reassurances won't be worth a bucket of warm spit. The Globals are behind the CoronaVirus, It Is a Man-Made Bioweapon.
For those of you who care, Google and your favorite social media platforms have misled you, and now we all pay a heavy price for trusting the ungodly, Google and company knew exactly what they were doing, removing our history while preparing you to accept the New World Order playbook, Enjoy
PayPal.Me/the127faithfoundatio
The number of Orphans aging out of Child Protective Custody has grown at an alarming rate. The 127 Faith Foundation receives many requests each week to house them at our ranch. Our prayer is that the good people of our country will step up to the challenge and offer financial support for "the least among us." We need your help! StevieRay Hansen, Founder, The 127 Faith Foundation