Nearly 200 People in Georgia Are Being Monitored, while the 13th Person in the U.S, the U.S. Warned to Prepare for Worst on Coronavirus…
Top CDC Doctor Warns: The US Should Prepare for Coronavirus 'To Take a Foothold'
A top Centers for Disease Control and Prevention (CDC) official said it is preparing for the new coronavirus, officially known as COVID-19, to take "a foothold" inside the United States.
"At some point, we are likely to see community spread in the U.S. or in other countries," Dr. Nancy Messonnier, the head of the CDC's National Center for Immunization and Respiratory Diseases, told reporters during a conference call. "This will trigger a change in our response strategy."
The CDC, she added, is taking steps to prevent the spread of COVID-19 and prepare for a domestic outbreak, noting that while most of the cases of the virus are in mainland China, there will come a time when it begins to spread more in the United States.
"The goal of the measures we have taken to date is to slow the introduction and impact of this disease in the United States, but at some point, we are likely to see community spread in the U.S. or other countries and this will trigger a change in our response strategy," the official said.
If and when it spreads more in the United States, all levels of the government and different federal agencies should work in tandem to curb the threat, according to Messonnier. Officials need to ensure there are enough medical supplies, including face masks, to prevent the spread, she continued.
But as of now, Messonnier said the CDC doesn't recommend the general public to use masks as COVID-19 "is not spreading in the community."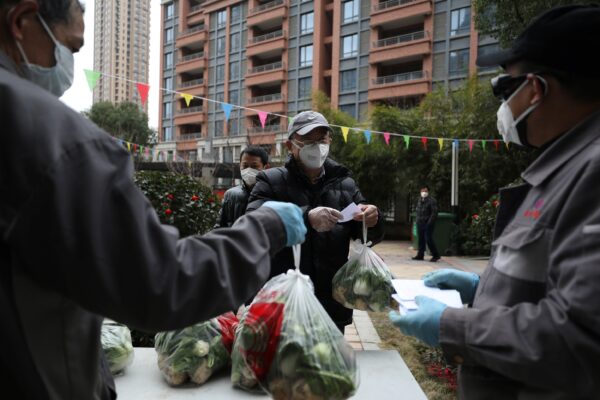 The CDC, so far, has confirmed 13 cases of the virus in the United States, with seven in California, two in Illinois, one in Washington state, one in Arizona, one in Wisconsin, and one in Massachusetts. Almost all of the patients are people who recently traveled to virus epicenter Wuhan, China, although two cases in California and Illinois were confirmed to have involved person-to-person transmission.
Outside of China, where dozens of cities have been placed on lockdown, the most cases have been confirmed off the coast of Japan on cruise ship Diamond Princess. Japanese health authorities said more than 170 people have been infected with the disease after an elderly Hong Kong man is believed to have initially spread it.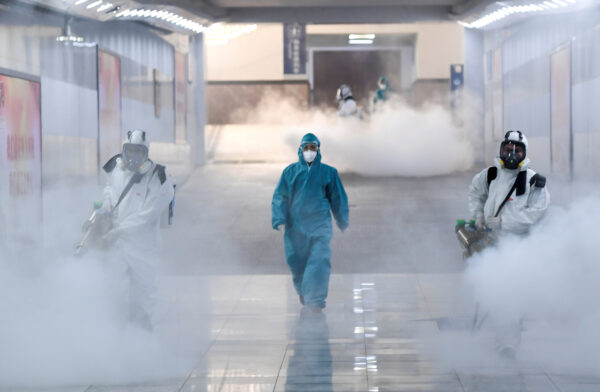 Tens of thousands of people are believed to have been sickened by the virus in China, although netizens and activists have accused the Chinese Communist Party of not reporting the full scope and engaging in draconian measures to censor human rights abuses.
Some inside China have expressed public outrage following the death of Li Wenliang, the Chinese doctor who was reprimanded by Wuhan police after he tried to warn about the virus before he was diagnosed with COVID-19 himself. A prisoner of conscience who practices traditional meditation Falun Gong was also arrested, tortured before losing consciousness, and later sent to a virus quarantine, according to a report, which added that CCP officials did so in order to cover their abuse.
The World Health Organization (WHO) announced it would send a team to China to study COVID-19, national security advisor Robert O'Brien said no U.S. experts are being included.
"That team does not include American doctors," he said during a talk in Washington. "We have offered the Chinese the opportunity to have American doctors from CDC and NIH and other experts. That offer has not been accepted at this point."
Source: theepochtimes
Nearly 200 people in Georgia are being monitored for coronavirus after returning from recent trips to China, according to health officials.
The Atlanta Journal-Constitution reports that the residents are self-monitoring in their homes for 14 days. So far, none of the residents have shown symptoms of the virus, and none visited China's Hubei province, the epicenter of the deadly coronavirus outbreak.
Health officials say they have been sequestered because they traveled to other parts of China where the virus is also spreading.
Officials have reportedly been calling each resident to inform them of the potential symptoms of the coronavirus and the importance of staying isolated at home during the 14-day period.
Even though at least 13 cases of coronavirus have been confirmed in the U.S., none have been reported in Georgia. As of Wednesday, commercial flights have been suspended between Atlanta and China.
Reuters reported that an Atlanta couple tested positive for the coronavirus, and they have been hospitalized in Japan. The two were passengers aboard a cruise ship that has been docked in Yokohama for a week due to the outbreak.
So far, the novel coronavirus has killed more than 1,100 people and infected 45,000 around the globe, but the vast majority of cases are in mainland China. There have been 393 cases in 24 countries outside China.
When Cotton was asked to explain why he believes the bioweapons theory is credible, he pointed out that "Wuhan has China's only biosafety level 4 super laboratory that works with the world's most deadly pathogens that include the coronavirus."
Yesterday, Maria Bartiromo questioned Peter Navarro, a senior White House advisor and noted China hawk, about the bioweapons theory. While he certainly sounded a little uncomfortable responding to her question, he definitely didn't rule out the possibility.

So over the last week, the bioweapons theory has gotten more credible, not less. Just like other 'conspiracies' like reports that China has been burning bodies.
Beijing Hunts Down Chinese Citizens Challenging Official Coronavirus Narrative
As the Wuhan coronavirus rapidly spreads throughout dozens of countries, and the head of the WHO finally declaring it a "grave threat" after weeks of downplaying its severity, Beijing has gone to great lengths to silence Chinese citizens who challenge the official narrative.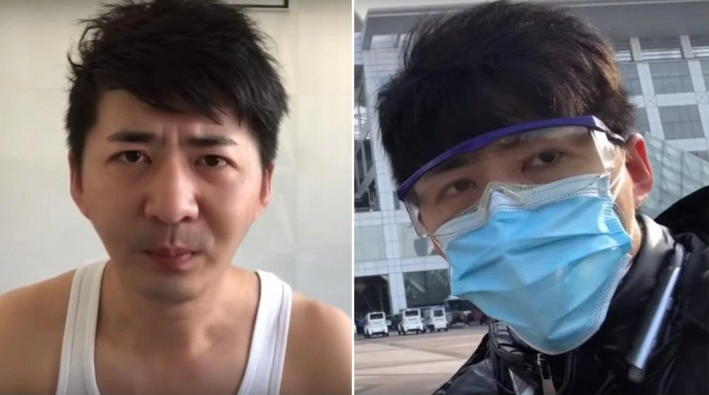 While Chinese officials report the official number of deaths at 1,016 and just over 42,000 infected, there is plenty of evidence – including testing constraints and reports of overloaded crematoriums – that this is a lie, and that things are far worse than we are being told.
Risking their lives to bring us the truth are on-scene journalists – both professional and amateur, as no major news organizations have reporters in the field. According to the New York Post, "One crematorium manager told a Hong Kong reporter that, in normal times, his 24 ovens were lit five days a week for four hours at a time. Now, he said, they have so many corpses to deal with that all the ovens are going around the clock. This suggests the body count must be in the thousands."
In response to 'non-approved' reporting, Beijing said that its censors would conduct "targeted supervision" across all social media platforms within their reach
CDC Admits Coronavirus Patient Accidentally Released Because Of "Lab Mix-Up"
Summary:
Two inmates at a UK prison are being tested for coronavirus and have been restricted to their cells
13th case diagnosed in San Diego was evacuee rescued from Wuhan, she was briefly accidentally released
China death toll tops 1,000, globally cases top 40k
CNBC's Eunice Yoon reports on China's sluggish 'return to work'
Hong Kong building residents quarantined over fears virus spread via pipes
A cruise ship with 0 nCoV cases refused entry to the fourth port, in danger of running out of food
Beijing fires top health officials in Hubei, summons others to Beijing for an explanation
Scientists in Hong Kong and the mainland present vastly different takes on the virus
2 Japanese men test positive but were accidentally released
President Xi says China will be 'more prosperous' after the outbreak
Experts suspicious about how Indonesia hasn't reported any nCoV cases
Xi also reportedly warned top officials that efforts to contain the virus had gone 'too far'
CDC admits lab "mix up" led to coronavirus patient being briefly released back to quarantine
Another citizen journalist goes missing in China
Hilton warns travel numbers could be impacted for up to a year after Under Armor saw shares plunge on sales warning
* * *
Update (1330ET): Beijing has reportedly arrested another citizen journalist named Fang Bin. His arrest follows that of Chen Quishi, whose whereabouts are still unknown days after his disappearance.

Hilton is one of the latest American companies to warn about how the coronavirus outbreak will impact its business. The company said it could suppress travel numbers for up to a year, with their predictions based on what happened during the SARS epidemic. Facebook and Cisco have joined Sony and several other firms in pulling out of the Mobile World Congress, which was scheduled for Barcelona, Spain, a place the virus hasn't yet touched.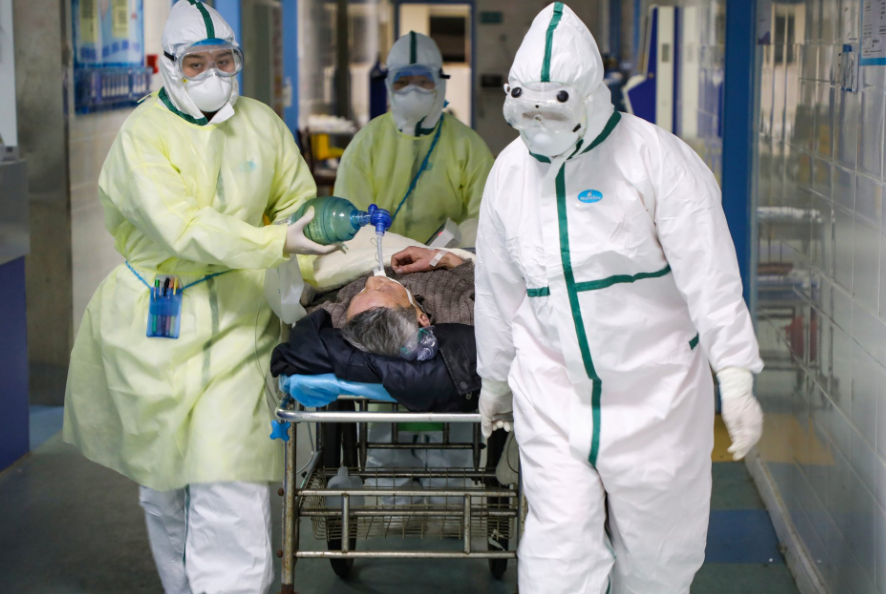 A little more than one week ago, the mainstream press branded the notion that nCoV might have originated as a bioweapon developed in a secretive Wuhan lab as a deranged conspiracy theory, with zero conclusive evidence to support it (despite the mountain of coincidences have been reported by Zero Hedge and others).
Readers may remember how Buzzfeed was extremely triggered by our coverage.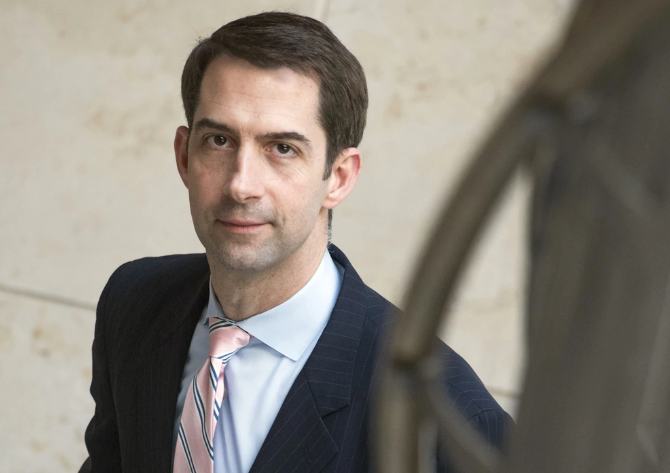 And they also might be interested to hear that over the last two days, two mainstream financial media organizations and a prominent Republican Senator have all raised questions about the virus's provenance, suggesting that the bioweapons theory isn't so far-fetched after all.
This all comes after Under Armor warned about a $60 million sales hit, sending its stock tumbling lower.
In one of the more shocking revelations on Tuesday, the CDC said a "lab mix-up" is what led to them nearly releasing an infected patient back into mandatory quarantine on a nearby military base.
On the other hand, several carmakers including Hyundai and Ford confirmed that they had reopened at least some plants on Monday after idling them for all of last week.
Dr. Anne Schuchat, a top official at the CDC, told reporters in Washington, admitted that "it turns out there was probably a mix-up and the original test wasn't negative." Earlier, state officials claimed the initial test was negative, but a second test was positive.
As we noted earlier, four evacuees at Marine Corps Air Station Miramar in San Diego had been in federal quarantined after showing symptoms of the virus. After testing negative for the virus, they were returned to the base on Sunday where they joined more than 200 people who are stuck there under a 14-day quarantine order. The patient who tested positive was immediately returned to isolation, according to CNBC.
Google trends show that interest in the virus remains elevated, though it has fallen from a peak reached on Jan. 31.
Finally, the WHO gave the virus a new name: Covid-19.
* * *
Update (1035ET): Two inmates at HMP Bullinton prison in Oxfordshire, UK are being tested for coronavirus, according to Sky News.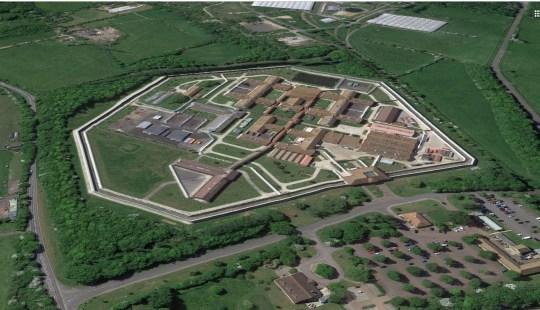 The men are being kept in isolation in their cells, while access has been restricted to the wing where the prisoners are. HMP Bullington has capacity for 1,114 inmates and holds both prisoners on remand and who have been sentenced, along with young adults aged 18-21, according to Sky.
Eight people in the UK have been confirmed as having coronavirus – four of them testing positive on Monday.
Update (0900ET): The Guardian reports that the diagnosis of four people living in a single apartment block in Hong Kong that has been evacuated and some of its residents quarantined has prompted worried comparisons to SARS.
Medical workers descended on the apartment block in Tsing Yi district wearing full protective suits and evacuated 100 people in 34 apartments after cases were identified more than 10 floors apart, suggesting that the virus may have traveled through the pipes.
One 62-year-old woman was among the victims, and she apparently passed it to her son and daughter-in-law who live with her and were among seven new cases reported on Tuesday, raising the city's total to 49, leaving it in third place overall, behind mainland China and the 'Diamond Princess', which is under quarantine in Yokohama. The worsening outbreak of a high profile incident of an individual believed to have tried to escape quarantine prompted Carrie Lam to threaten affixing GPS tracking devices to anyone in an HK quarantine.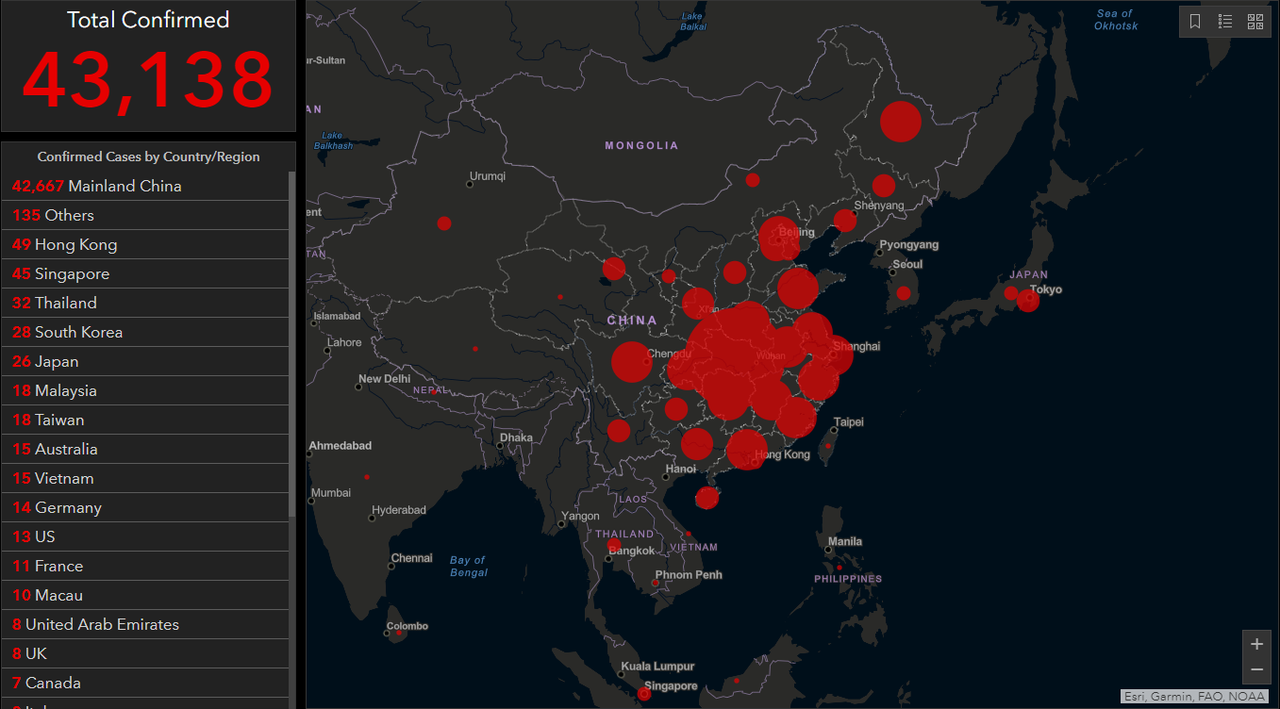 Plumbing was a problem during the SARS outbreak as well, as there were incidents where the virus traveled through the pipes.
Meanwhile, the Westerdam luxury liner still hasn't found anywhere to the dock after Thailand refused it entry earlier on Tuesday, which we noted below.
In other China news, the Communist Party Boss of Huangguang, a city that has been badly impacted by the outbreak, warned that the crisis in his city is still "Very severe." We suspect he will be scapegoated by this time tomorrow. After appearing in public yesterday for the first time since the outbreak kicked into high gear, President Xi said Tuesday that China will be "more prosperous" after the outbreak (despite its economy-crushing blowback). It's the latest sign that Beijing is growing desperate to convince the public that China's slowing economy can weather the outbreak without a severe downturn.
It begs the question: Will Xi adds the capitalist concept of 'creative destruction' to his 'Xi Jinping Thought'?
Meanwhile, Reuters reported on Tuesday that Xi warned top party officials last week that the country's efforts to contain the outbreak – including quarantining 400 million+ people inside their homes and locking down whole cities – had gone too far. Xi fretted that the lockdown would threaten China's fragile economy. Protecting and nurturing economic growth is Xi's No. 1 priority in office and the bedrock of his 'mandate' to govern.
It's unclear where Reuters got its information, but it claimed Xi made the remark during a Feb. 3 Politburo Standing Committee meeting that has already been covered by media reports (hand-picked comments were passed to state press). It just shows how much Cina's tepid growth last year, the weakest in nearly 30 years, has been weighing on the president's mind.
After reviewing reports on the outbreak from the National Development and Reform Commission (NDRC) and other economic departments, Xi told local officials during a Feb 3 meeting of the Politburo's Standing Committee that some of the actions taken to contain the virus are harming the economy, said two people familiar with the meeting, who declined to be named because of the sensitivity of the matter.

He urged them to refrain from "more restrictive measures", the two people said.

Local authorities outside Wuhan – where the virus is thought to have first taken hold – have shut down schools and factories, sealed off roads and railways, banned public events and even locked down residential compounds. Xi said some of those steps have not been practical and have sown fear among the public, they said.

China's state council information office did not immediately respond to requests for comment.
In an incident that mirrors the circumstances of the 13th virus case diagnosed in the US by health officials in San Diego, Bloomberg reports that two Japanese men who were evacuated from Wuhan late last month have tested positive for 2019-nCoV after earlier having been cleared by the Japanese health ministry. It's just the latest sign that the virus may be undetectable – or 'silent' – for a period, allowing its host to unknowingly spread it without being detected.
Health officials let the coronavirus patient in San Diego travel back to the army base quarantine briefly before realizing the error and recalling her to the hospital.
The case brings Japan's total to 28 (not including the 136+ trapped aboard the DP).
In other news, the NYT reported late Monday that scientists are growing increasingly suspicious of Indonesia, and the fact that no cases have been reported in the country, despite thousands of tourists from Wuhan and Hubei visiting the country after the outbreak began. Many worry Indonesia is simply ignoring the threat, given that it was relatively slow to freeze flights from China. A consular official estimated that 5,000 Chinese remained in Bali alone, including 200 people from Wuhan.
"So far, Indonesia is the only major country in Asia that does not have a corona case," Indonesia's security minister, Mohammad Mahfud MD, told reporters on Friday. "The coronavirus does not exist in Indonesia."
None of the 285 people who were evacuated from Wuhan and are now in quarantine on the Indonesian island of Natuna have shown signs of the virus, he added.
Update (0800ET): CNBC's Eunice Yoon tweeted out a report that aired early Tuesday morning on CNBC detailing the struggles of one factory owner as China lurches slowly back to work.
The U.S. warned to prepare for worst on coronavirus
The U.S. should be preparing for the worst as the Chinese coronavirus spreads, and somebody at the White House needs to be in charge of coordinating that effort, public health experts say.
The big picture: The virus may never become a crisis here, but experts say the responsible thing right now is to plan for the worst and hope that those plans aren't needed.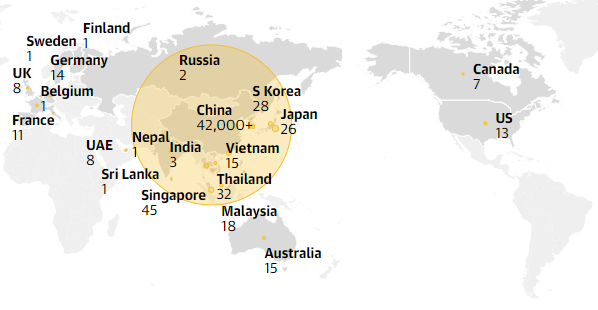 The catch: The National Security Council official who would have been in charge of leading the response to a pandemic left in 2018, and now no one is around to do the job.
"They need to put someone at the White House in charge," Ron Klain, who served as then-President Obama's "Ebola czar," said this week on Axios' Pro Rata podcast.
Containing and combating a viral outbreak involves border patrol and national security officials; public health agencies at the federal, state and local levels; public and private vaccine researchers; and coordinating with individual hospitals.
It makes sense to put one person in charge of coordinating all of that, Klain said.
Where it stands: There have only been five confirmed cases of the coronavirus in the U.S., and there are still big unanswered questions about it.
The primary goal so far has been to contain the virus — that's why China has locked down the Wuhan area and the U.S. has expanded travel screenings for people traveling from China.
But keeping a lid on the coronavirus may simply be impossible.
"Global & national planning efforts should now be aimed at the possibility that [the virus] cannot be contained," Tom Inglesby, an infectious-disease expert at Johns Hopkins University, wrote on Twitter.
China has already seen neatly 6,000 confirmed cases, touching every region of the country, and it has shown up now in 15 other countries, according to the latest World Health Organization update.
That suggests that the coronavirus spreads similarly to the flu virus, said Michael Osterholm, the director of the Center for Infectious Disease Research and Policy at the University of Minnesota. And the flu spreads pretty easily.
"What you get concerned about is the contact of the contact of the contact of the person that was in China," Osterholm said.
That's part of the reason travel screening or travel restrictions may not make much of a difference, he said.
What's next: Experts say there are a handful of priorities at this stage.
Hospitals need to stock up on protective equipment, to the extent they can find more supplies.
Health care workers are particularly susceptible to catching and spreading viruses like this one. But in terms of having enough protective equipment on hand, hospitals are "woefully unprepared" for a large-scale outbreak, Osterholm said.
The federal government also needs to be ready to step in, if a large number of cases start to crop up in concentrated areas.
Tracking infected people's contacts is "going to overwhelm state and local public health departments very, very quickly," Klain said.
Another lesson from the Ebola scare, experts said, is not to downplay the risks.
The U.S. was never at risk for a widespread Ebola outbreak, but Osterholm says too much emphasis on that fact might have made the public panic worse when a few isolated transmissions did occur.
The bottom line: "Don't tell the public that everything's going to be OK, but at the same time, tell the public we're going to get through this," Osterholm said.
A person evacuated from Wuhan, China, the epicenter of the novel coronavirus, to California has become the 13th person in the U.S. to be infected with the disease, the Centers for Disease and Control and Prevention confirmed Monday night.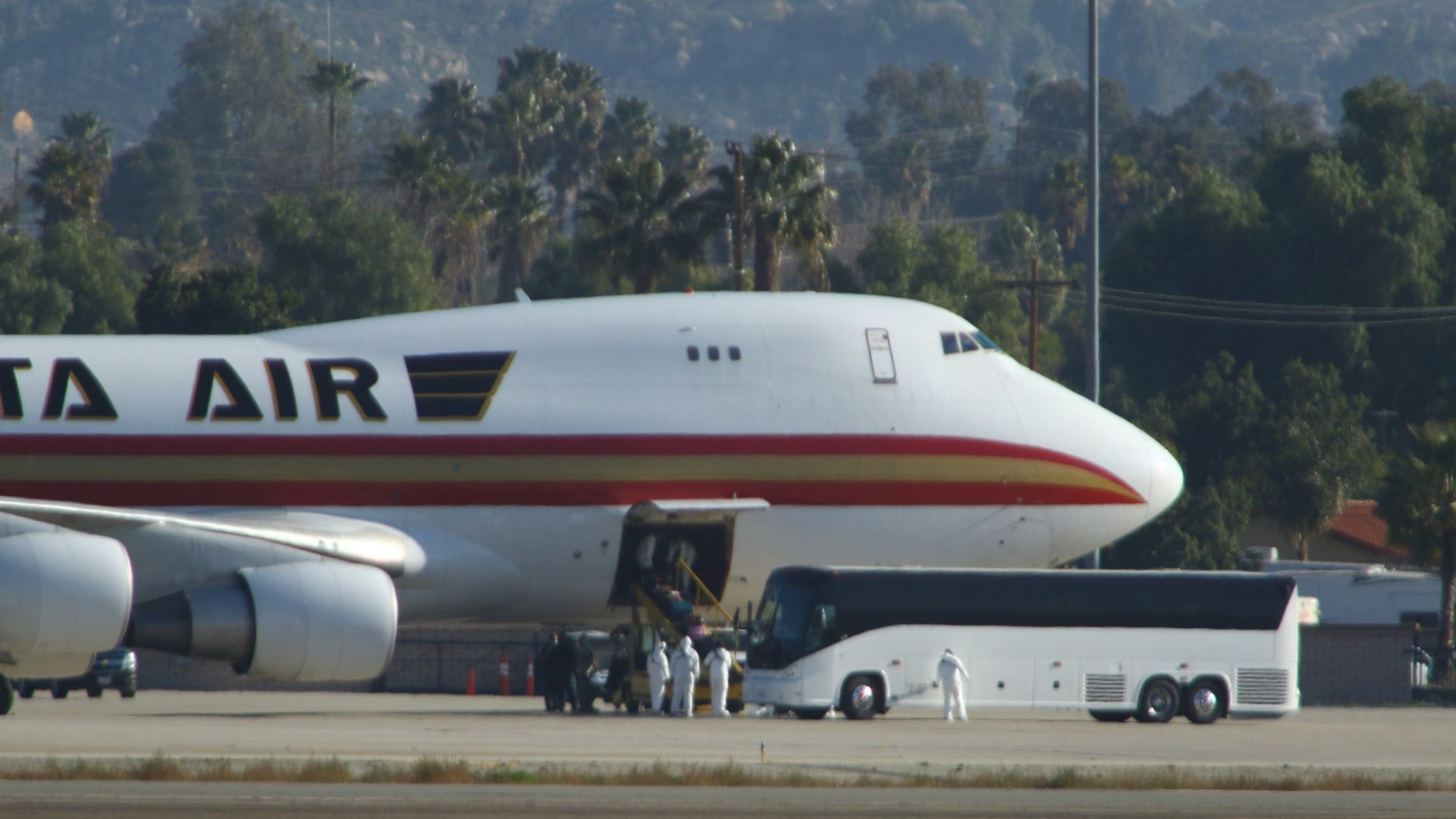 Details: "The patient who was under a federal quarantine order recently returned from Wuhan, China, where an outbreak of respiratory illness caused by this novel coronavirus has been ongoing since December 2019," the CDC said in a statement.
"CDC is conducting a thorough contact investigation of the person who has tested positive to determine contacts and to assess if those contacts had high-risk exposures."
Up to this point, the coronavirus outbreak has been primarily confined to China. Yes, there have been isolated cases all over the globe, and that has mostly been from people flying from China back to their home countries. But overall, the vast majority of the confirmed cases have been in urban areas inside China. However, that could potentially now be changing. Alarming reports are starting to come in from all across the world, and the number of "potential cases" in the United States is definitely quite startling. As you will see below, all testing for the coronavirus is currently being done at the CDC, and this is really slowing things down. So for the moment local officials all over the nation have "suspected cases" that they are monitoring, but they can't confirm anything officially until they hear back from the CDC.
First US evacuee infected with coronavirus was mistakenly released from the hospital
The first US evacuee from China known to be infected with the Wuhan coronavirus was mistakenly released from a San Diego hospital after an initial test found the person had not been infected, local health officials said Monday. Wuhan coronavirus: Deaths top 1,000 as WHO team arrives in ChinaThe patient arrived in the US last week at Marine Corps Air Station Miramar on a State Department flight from Wuhan, China, and was hospitalized with three others after showing possible symptoms of the virus. After an initial CDC test showed all four patients did not have the novel coronavirus, they were released Sunday and returned to the 14-day federal quarantine at Miramar, the University of California, San Diego Health said in a statement."This morning, CDC officials advised San Diego Public Health that further testing revealed that one of the four patients tested positive for (novel coronavirus)," UC San Diego Health said in a statement. "The confirmed positive patient was returned to UC San Diego Health for observation and isolation until cleared by the CDC for release."Get CNN Health's weekly newsletter
Another person at Miramar was also hospitalized on Monday afternoon and was being tested for the coronavirus. Both patients "are doing well and have minimal symptoms," UC San Diego Health said. The San Diego case is the 13th to be confirmed in the US and the seventh in California. Eleven of these cases have been confirmed in people who recently traveled to Wuhan, China; the other two are instances of person-to-person transmission. CNN
U.S. Hospitals Begin Preparing for the Coronavirus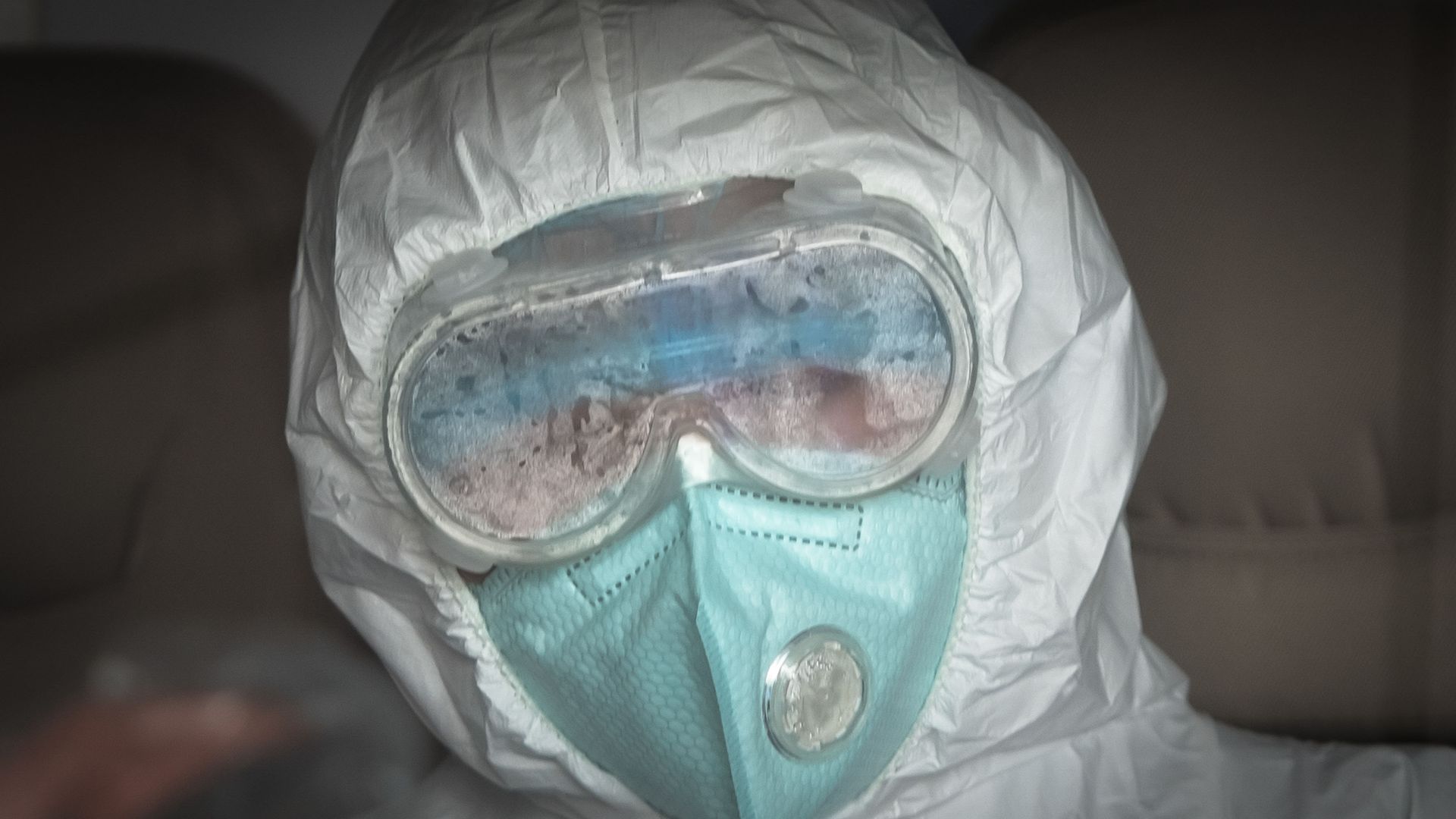 A health worker at Suizhou Central Hospital in Suizhou, China. Photo: Xiao Yijiu/Xinhua via Getty Images
Even though the risk to Americans remains low, hospitals across the U.S. are making sure they're ready for the coronavirus, STAT reports.
Why it matters: If the virus does spread within the U.S., hospitals being caught flat-footed would be a travesty.
Details: Hospitals across the country are checking their emergency preparedness plans and meeting almost every day. They're making sure they have the staffing and supplies they'd need, reviewing inventories and educating staff on emergency protocols.
But as the New York Times notes, there's some concern about the fact that China supplies the U.S. with many vital medical supplies and medications.
What they're saying: "As we project outward with the potential for this to be a much longer situation, one of the things that we're actively working on is projecting the long-term needs for our health care system," Nancy Messonnier, director of Center for Disease Control and Prevention's National Center for Immunization and Respiratory Diseases, told reporters on Wednesday.
The Censorship of GOD's people
2019 Novel Coronavirus (2019-nCoV) in the U.S.
Updated February 10, 2020, At 10:03 PM CST
CDC is closely monitoring an outbreak of respiratory illness caused by a novel (new) coronavirus named 2019-nCoV. The outbreak first started in Wuhan, China, but cases have been identified in a growing number of other international locations, including the United States. This page will be updated regularly on Mondays, Wednesdays, and Fridays.People Under Investigation (PUI) in the United States*†
| | |
| --- | --- |
| Positive | 12 |
| Negative | 318 |
| Pending§ | 68 |
| Total | 398 |
*Cumulative since January 21, 2020.
† Numbers closed out at 7 p.m. the night before reporting.
§Includes specimens received and awaiting testing, as well as specimens in route to CDC.
Editor's note: This is a developing news story. Please check back for updates.
Number of states and territories with PUI: 37
So you will see the words "possible" and "potential" a lot in the stories that I am about to share with you. In the end, it is quite likely that many of these cases will be confirmed by the CDC. But we won't know for certain until the test results are made public.
With that being said, let's take a look at some of the reports that have come in over the past few days.
#1 One of the very first confirmed cases in the U.S. was in Chicago, and now it appears that they may have a second victim…
The Chicago area has a potential second victim of the coronavirus.
Someone is hospitalized in isolation in Porter County with symptoms like those of the virus. County officials and the Centers for Disease Control and Prevention are awaiting test results to confirm a diagnosis.
#2 You wouldn't think that Arkansas would be one of the first places where a coronavirus case would emerge, but authorities there are telling us that they have a "possible case" on their hands…
The Arkansas Department of Health is investigating the state's first possible case of the new coronavirus, a department spokesman said.

The spokesman, Danyelle McNeill, said tests are being performed to determine whether the person's illness is due to the virus first identified in Wuhan, China. She said results are expected within a few days.
#3 Not to be outdone, Oklahoma is actually monitoring two potential cases right now…
Oklahoma health officials announced Wednesday they are awaiting coronavirus testing results from the Center for Disease Control and Prevention for two people in our state under investigation.

Health officials announced Monday they were coordinating coronavirus testing for two people in Oklahoma who meet the criteria for persons under investigation.
#4 Over in Nevada there is a potential case as well. If this virus were to actually start spreading around Clark County on a widespread basis, what would that mean for Las Vegas tourism?…
The Southern Nevada Health District announced Wednesday that they are investigating a possible case of coronavirus in Clark County.

SNHD said patient in question was placed in isolation at a local hospital, but wouldn't specify which hospital. The patient will be monitored and under medical supervision while the Centers for Disease Control and Prevention conducts testing, SNHD said.
#5 On the other side of the country, a possible victim in Delaware has officials there quite spooked…
The Delaware health department is investigating a potential case of coronavirus in a Kent County resident, officials said Wednesday.

The Division of Public Health would not release any information about the resident, other than that a "review of the patient's travel history" and symptoms led to the determination that testing should be performed, officials said.
#6 And all the way on the other coast, authorities in San Diego are waiting to see if their worst fears will be confirmed…
Local health officials said Wednesday they are still awaiting test results to determine if a San Diego County patient is infected with the potentially deadly coronavirus that has killed 170 people, but the patient remains isolated at home.
The reason why all of these local officials are waiting so long for test results is that there is a massive backlog at the CDC.
Doctors all over the U.S. are contacting them "all day and all night" about possible causes, and at this point, the CDC is the only location in the entire country that can test for the virus. The following comes from NBC News…
On Sunday, Dr. Nancy Messonnier, director of the CDC's National Center for Immunization and Respiratory Diseases, said doctors around the country had been calling "all day and all night" about potential cases of the respiratory illness, called 2019-nCoV.

All testing for the new coronavirus in the United States is done at the CDC, although Messonnier said the CDC is working to get a rapid test to the states as soon as possible.
Hopefully, they can get that "rapid test" out to local hospitals as quickly as possible because I have a feeling that they are going to need it.
Meanwhile, another case has been confirmed in Canada. This time, the victim is in British Columbia…
Health officials say B.C.'s first presumptive case of novel Wuhan coronavirus is now confirmed, after lab tests came back positive for the deadly infection.

Provincial Health Officer Dr. Bonnie Henry said the test results came back Wednesday for the man in his 40s, who remains in isolation at home.
This isn't all that surprising, because large numbers of Chinese have bought expensive homes in B.C. in recent years.
Some airlines have begun to suspend flights to China, and that will certainly help slow this outbreak to a certain extent.
But it may already be too late. The virus already seems to be popping up all over America, and as we have seen in China, a handful of cases can become thousands of cases very rapidly.
Fear of a possible "global pandemic" is rising with each passing day, and the mainstream media here in the U.S. is already warning that "mask hoarding has begun"…
Even though there are only five cases of Wuhan coronavirus in the United States, the mask hoarding has begun.

Some pharmacies report being entirely sold out of masks. Some popular sellers on Amazon say deliveries will be delayed for weeks.
Let us hope that this outbreak fizzles out somehow. But without a doubt, we live at a time when we should be expecting the unexpected, and very few people anticipated that we would be dealing with such a massive global health emergency during the early stages of 2020.
Right now, major cities all over China resemble ghost towns because people are staying indoors to avoid getting the virus.
If this virus starts spreading very rapidly here in the United States, the same thing will almost certainly happen here.
I would encourage all of you to at least make some basic preparations for an extended crisis because nobody is quite sure exactly what is going to happen next.
UPDATE: Feb 10,2020 at 8:35 PM CST
The CDC has just over 100 people "under investigation" for the new strain of coronavirus in 26 states, said Messonnier. So far, 25 of those have tested negative for the virus, and five positive.
The CDC will begin updating these numbers on its website three times a week — Mondays, Wednesdays, and Fridays — starting Monday.
"We expect to find more cases of a novel coronavirus in the United States," Messonnier said.
Local health workers across the U.S. have been reaching out to the CDC for guidance on how to screen, manage and treat potential cases of the disease. Currently, testing for the virus must take place at the CDC.
MSM, High-Tech & Reddit Engaged in Heavy Censorship of Truthful News Sources
Source: HNewsWire CensoredNews Themostimportantnews axios.com
StevieRay Hansen
Editor, HNewsWire.com
Google, No More Electronic Prison: You will see many changes on HNewsWire, one of those changes will be to eliminate Google Ads, the other difference, HNewsWire will NOT post videos on YouTube, it is no longer a question about overreach by the un-godly big tech tyrants. There is no question Big Tech can and will persecute any opposing opinion, they will demoralize, sideline truth seekers and those that speak the truth. The People's Blood is on big tech and mainstream media's hands. Censorship has NOT worked for thousands of years, their evil tactics will not work now, history proves me right, so we watch the drama play out between good (GOD) and evil ( Big Tech MSM ), God has never failed his people, and God will not fail this time…
StevieRay Hansen
In order for sin to work, there has to be a "suppression of the truth."
The World leaders Are Having Trouble With The Truth, and The World Has been "Quarantined" Tribulation Is Here…
Question — Why Are These High-Tech Conglomerates Afraid of the Truth? The answer, Because They Know the American People Have Become Lazy, Like Sheep They Need a Leader and They Chose High-Tech, It Will Be the Downfall of This Country Unless the People Change Course or the Mindset of These High-Tech Elitists stop suppressing the truth. If the people don't wake-up, they will begin to live in the worst nightmare of their lives, "Lost Social Media Reality"…
Demon Virus
Asked about the virus while traveling abroad last week, Trump said: "We have it totally under control". In a separate Twitter posting, he offered reassurance but scant detail for his confidence.
By Associated Press Updated On: 05:53 PST, Jan 31, 2020
Yes, are we seeing a slowdown in new virus cases reported this morning. We now have 31,481, which does show a day-to-day decline away from an exponential rate of growth if accurate. Yet for those market participants merrily saying this is "just the flu" (there are some) we also have 4,824, 15% of the total, in critical condition and 638 deaths. Further, one arguably cannot measure the death-rate of any virus against the number of currently sick people: you surely measure it against those who eventually recover vs. those who don't. Given we have 1,563 who have recovered vs. 638 dead (and 4,824 critical) that is a worrying ratio of 29% dead as an end-outcome, which is right up there with the MERS virus from a few years ago – although, yes, there is real reason for us all to hope that number will decline sharply as milder cases will be fully curable. But the simple flu this is not.
WASHINGTON: Wuhan coronavirus: Donald Trump says deadly outbreak 'very well under control' as WHO declares a global emergency. President Donald Trump regaled a friendly New Jersey campaign crowd with his thoughts about impeachment, the economy, the border wall, local politics and much more.
But he was conspicuously quiet on January 28 about one big issue keeping much of the globe on pins and needles: the spread of a deadly new type of coronavirus. It has killed more than 170 people in China, sickened thousands more there and led to a handful of confirmed cases in the US, including the first US case of person-to-person transmission reported on by health officials. The State Department on January 30 advised all US citizens against traveling to China.
Trump, a self-described germaphobe, generally has discussed the virus in broad terms, but he offered some of his most extensive comments on the issue to date during an appearance on January 30 at a Michigan manufacturing plant. "Hopefully, it won't be as bad as some people think it could be, but we're working very closely with them (Chinese) and with a lot of other people and a lot of other countries, he said. "We think we have it very well under control."
The Birth Pains Are Growing Stronger….
One of the signs of ruling class collapse is when they can no longer enforce the rules that maintain them as a ruling class. When the Romans started making exceptions to republican governance, it was a matter of time before someone simply decided the rules no longer applied to them. Perhaps the robot historians will consider Obama our Marius or Sulla. Maybe that person is in the near future. Either way, the rule of law is over and what comes next is the rule of men.
"Man will ultimately be governed by God or by tyrants." as in Nancy Pelosi (D-San Fran-feces)
Our government has been overthrown. As evidenced by Trump's capitulation on the border, his recent servitude to the GMO industry and his acquiescence to the warmongers, our President has been compromised. Our liberties are being eliminated one by one. Gun confiscation is next. The Constitution is gasping its last breaths. Our borders are destroyed and our culture has been turned upside down by every perversion known to man.
The watchman does not confuse truth with consensus. The Watchman does not confuse God's word with the word of those who happen to hold power at present, or with the opinion of the majority. This is because powerholders and the majority can fall victim to a lying spirit-and this means a power that actually seizes the majority of experts, the political leadership, and the public.
Everything is right on schedule and, now, the time is come to remove one of the final obstacles standing in the way of a New World Order: The United States Constitution – even if, over the course of many decades, it has already been greatly diminished by the B.E.A.S.T. system; or, more specifically, Bullshit Emerging As Strategic Totalitarianism (B.E.A.S.T.).
They are tolerant of everything except dissenting values and opinions — meaning, of course, they are tolerant of nothing that matters, only themselves."
Let Me Make This Abundantly Clear. (I Am Apolitical) While I Have a General Distaste for Electric Cars and Politicians No Matter the Party They Belong To, I Am Unashamedly Politically a Bible Believing Conservative Christian. I Have a Severe Distrust of Government. I Believe It Is the Most Inefficient and Ineffective Way to Accomplish Most Things. While I Strongly Disagree with Liberals/Progressives and Conservative on Most Political Issues, and While I Believe Liberals/Progressives and Most Politicians Are Misguided and Naive About What Big Government Will Eventually Result In, I Strive to Not Question Their Motives. At the Same Time, I Find Myself in Agreement with Conservative on Some Issues, and I Do Not Believe Electing Republicans Is the Answer to Everything. Sadly, the Main Difference Between Republicans and Democrats Is How Quickly They Want to Drive the Car Towards the Cliff. Put, I Do Not Believe the Government Is the Solution for Everything. I Do Not Place Any Faith, Trust, or Hope in Any Politicians to Fix What Is Wrong with the World. "Come Lord Jesus!" (Revelation 22:20) SRH…
The Watchman does not confuse truth with consensus. The watchman does not confuse God's word with the word of those who happen to hold power at present, or with the opinion of the majority. This is because powerholders and the majority can fall victim to a lying spirit-and; this means a power that seizes the majority of experts, the political leadership, and the public.StevieRay Hansen
If you have a news scoop or an interesting story for us, please reach out at info@HNewsWire.com
Biological Weapon, USA Coronavirus, Falsifying Death Toll From Coronavirus, biblical truth, Prophecy, tribulation, antichrist, United Nations Revelation 17 the BEAST+ B.E.A.S.T, US Coronavirus, demon virus, CDC, WHO, end times, No More Electronic Prison, Birth Pains, MSM, High-Tech & Reddit Engaged in Heavy Censorship of Truthful News Sources
The number of Orphans aging out of Child Protective Custody has grown at an alarming rate. The 127 Faith Foundation receives many requests each week to house them at our ranch. Our prayer is that the good people of our country will step up to the challenge and offer financial support for "the least among us." We need your help! StevieRay Hansen, Founder, The 127 Faith Foundation
We make every effort to acknowledge sources used in our news articles. In a few cases, the sources were lost due to a technological glitch. If you believe we have not given sufficient credit for your source material, please contact us, and we will be more than happy to link to your article.