MSM, High-Tech & Reddit Engaged in Heavy Censorship of Truthful News Sources…
The true number of coronavirus cases at the epicenter of the outbreak could be 10 times higher than what Chinese officials have reported, according to new research.
As of Friday, the number of cases of the coronavirus has officially reached at least 9,800, with 213 deaths, according to the World Health Organization and Chinese data. Hong Kong-based outside researchers estimated in an analysis released Friday, however, that the actual number of people infected in Wuhan could actually be about 75,815.
"Given that 2019-nCoV is no longer contained within Wuhan, other major Chinese cities are probably sustaining localized outbreaks," researchers reported in the Lancet, a major medical journal. "Large cities overseas with close transport links to China could also become outbreak epicenters."
The researchers arrived at the figure by analyzing the numbers of inbound and outbound flights at Wuhan's international airport, taking into consideration the period of time in which the outbreak has been at its height. They looked at the number of cases that had shown up in cities outside of mainland China as a baseline and then measured how many people had flown into Wuhan before symptom onset, taking into consideration how quickly the virus is believed to spread.
We knew something was off a few days ago when China's National Health Commission reported that the number of people receiving medical attention over the Coronavirus unexpectedly peaked after rising at roughly 15,000-20,000 each day, and flatlined ever since, even posting three days of declines in the past week. Source: Bussinessinsiders
The mortality rate of 'severe' flu infections worldwide is about 13%–about the same as for 'severe Sars infections. The new virus may be considerably lower.
Western media condition us to a Pavlovian fear of China with maps like the above while howling to get China's flu declared an international health emergency and global pandemic but, so far, the WHO Declines to Declare China Virus Outbreak a Global Health Emergency. How could it, look at the farcical map shown above?
China's Public Health Service is probably the most efficient on earth, which is why Chinese children will live longer, healthier lives than their American contemporaries. But that's not news, either.
Says Nature: The speed and openness of the scientific response to the coronavirus have been unprecedented. Ten days after it was first reported in people, scientists in China and Australia released the virus's genetic sequence. Within hours, research labs worldwide were putting all hands on deck to understand the disease. "This is one of the first times we're getting to see an outbreak of a new virus and have the scientific community sharing their data almost in real-time," says molecular biologist Michael Letko.
David Ho, the HIV/AIDS medical researcher, pointed out that as of late last week, the mortality rate appeared to be around 2.5 percent, which is "about 3-4-fold lower than SARS," adding, "The deaths are occurring in people who are old or those with prior medical conditions. If we were to put the influenza figures next to this new CoV, the absolute case numbers and mortality rates would be much greater [for the regular flu]. But we are rather complacent with flu even though it is quite deadly to the very young, the elderly, and those with underlying medical problems.
No deaths have been reported outside of China, corroborating the relatively low mortality rate from official data in China. The
New York Times summarizes the latest international infection situation:
Thailand and Hong Kong have each reported eight cases of infection; the United States, Taiwan, Australia and Macau have five each; Singapore, Japan, South Korea and Malaysia each have reported four; France has three; Canada and Vietnam have two, and Nepal and Cambodia each have one.
A passenger wearing a mask and covered with a plastic bag walks outside the Shanghai railway station in Shanghai, China, as the country is hit by an outbreak of a new coronavirus, February 9, 2020. REUTERS/Aly Song
THE DARK SIDE
Since the 20th century, the West has been and continues to be the most avid users of bioweapons. The United States is the biggest user of biochemical weapons in history, including in Cuba; Iraq, Syria, and Iran (by proxy); Serbia, Japan, Vietnam, Laos and Cambodia, and America has eagerly used them on its own people, apparently more often than we care to admit.
In the 1940s the United States purposely infected thousands of Guatemala, natives with syphilis and gonorrhea, to test these human guinea pigs with antibiotics. Of course, these suffering souls were sexually active for the rest of their lives and unwittingly infected everybody they came in contact with, including spouses.
At Tuskegee, hundreds of American blacks were allowed to carry syphilis from the 1930s to the 1970s, to act as human Petri dishes. This was to track the progress of the disease and observe the eventual macabre deaths that this bacteria is wont to inflict on its victims, in its final stages: insanity, nervous disorders, liver and heart disease.
The United States has a long, illustrious history of using bioterrorism around the world. Cuba has been a favorite target and has seen hundreds of thousands of its people infected with Dengue fever as well as its entire swine herd wiped out by swine fever.
The United States of America holds the exclusive patent on the Ebola virus: US patent number 20120251502, is owned by the American government. Ebola has been Uncle Sam's bioweapon plaything since 1976, when it was discovered in Zaire and shipped 3,500km by America's bio-warfare lab at Fort Detrick, Maryland, then to West Africa for cultivation and development (via the UK's bio-warfare labs in Porton Down and with the help of the World "Health" Organization), specifically, to Liberia, Guinea, and Sierra Leone, the current epicenters of the Ebola epidemic on the Great Continent.
The 2014 Ebola outbreak came as a result of another rogue US Military operation in austral Africa from which the Soros/Gates-funded Kenema bioweapons lab in Sierra Leone was involved.
The US has a long history of biowarfare against China. The Report of the International Scientific Commission for the Investigation of Facts Concerning Bacteriological Warfare in Korea and China (ISC report) validated claims by North Korea and China that the US had launched bacteriological warfare (biological warfare, BW) attacks against both troops and civilian targets in those two countries over a period of months in 1952. This 667-page truth commission report has the dubious distinction of being the most vilified written document of the 20th Century. The report's release in September 1952 brought a withering international attack. It was roundly denounced by American and British politicians of the highest rank, ridiculed by four-star generals, accused of fraud by celebrated pundits, misquoted by notable scientists, and scorned by a compliant Western press. In subsequent decades, volumes placed in American university library collections were quietly and permanently removed from circulation. When the rare copy came up for auction, it was discretely purchased and disappeared from public view.
In March 2019, in a mysterious event, a shipment of exceptionally virulent viruses from Canada's NML biological labs ended up in China. Canadian officials say the shipment was part of its efforts to support public-health research worldwide. They claimed that it was just a normal procedure. What is unclear is why it was done in secret, and why the Chinese officials lodged a complaint. For certain, if this was just a routine transfer, the Chinese government would have been notified. In July 2019, a group of Chinese virologists was forcibly dispatched from the Canadian National Microbiology Laboratory (NML). The NML is Canada's only level-4 facility and one of only a few in North America equipped to handle the world's deadliest diseases, including Ebola, SARS, Coronavirus, etc.
On October 18th, 2019, the Johns Hopkins Center for Health Security, in conjunction with the World Economic Forum assembled "15 leaders of business, government, and public health" to simulate a scenario in which a coronavirus pandemic was ravaging the planet. Major participants were American military leadership and certain neocon political figures. The Chinese were not invited. The members took notes, and then returned to their day to day operations.
In Simulation Run 3 Months Ago, the Bill and Melinda Gates Foundation Predicted Up To 65 Million Deaths Via Coronavirus.
300 US military personnel arrived in Wuhan for the Military World Games on October 19. The first coronavirus case appeared two weeks later, on November 2. The coronavirus incubation period is 14 days.
Two months later a very similar coronavirus pandemic hit China at Wuhan, a major transport hub in Central China and for the high-speed train network, and with 60 air routes with direct flights to most of the world's major cities, as well as more than 100 internal flights to major Chinese cities right at the Spring Festival travel rush when hundreds of millions of people travel across the country to be with their families.
The Coronavirus (2019-nCoV) is an entirely new strain related to the MERS (MERS-CoV) and the SARS (SARS-CoV) viruses, though early evidence suggested that it was not dangerous. SARS was proven to be caused by a strain of the coronavirus, a large family of mostly harmless viruses also responsible for the common cold, but
SARS exhibited characteristics never before observed in any animal or human virus, did not by any means fully match the animal viruses mentioned above, and contained genetic material that still remains unidentified – similar to this new coronavirus in 2019.
SARS had the hallmarks of a bioweapon. After all, aren't new biological warfare agents designed to produce a new disease with a new infectious agent? As in prior military experiments, all it might take … to spread SARS is an aerosol can . . ." Several Russian scientists suggested a link between SARS and biowarfare. Sergei Kolesnikov, a member of the Russian Academy of Medical Sciences, said the propagation of the SARS virus might well have been caused by leaking a combat virus grown in bacteriological weapons labs. According to a number of news reports, Kolesnikov claimed that the virus of atypical pneumonia (SARS) was a synthesis of two viruses (of measles and infectious parotiditis or mumps), the natural compound of which was impossible, that this mix could never appear in nature, stating, "This can be done only in a laboratory." And Nikolai Filatov, the head of Moscow's epidemiological services, was quoted in the Gazeta daily as stating he believed SARS was man-made because "there is no vaccine for this virus, its make-up is unclear, it has not been very widespread and the population is not immune to it."
Virologist Dr. Alan Cantwell wrote at the time that "the mysterious SARS virus is a new virus never before seen by virologists, "This is an entirely new illness with devastating effects on the immune system, and there is no known treatment." Dr. Cantwell noted that the genetic engineering of coronaviruses has been occurring in both medical and military labs for decades. When he searched in PubMed for the phrase "coronavirus genetic engineering", he was referred to 107 scientific experiments dating back to 1987. To quote Dr. Cantwell: "I quickly confirmed scientists have been genetically engineering animal and human coronaviruses to make disease-producing mutant and recombinant viruses for over a decade."
The virus outbreak coincides with the trade war on China.
The virus outbreak coincides with the HK "pro-democracy" riots fully funded and instigated by the NED / CIA.
The virus outbreak occurred just after Swine Flu decimated the Chinese pork industry.
The virus outbreak occurred just after Bird Flu decimated the Chinese chicken industry.
The virus outbreak occurred just before NED support and training of Uyghur Muslim extremists.
This month, CNN published a gleeful (and untrue) report, "China's economy is slumping and the country is still suffering the effects of the trade war with America. An outbreak of a new and deadly virus is the last thing it needs."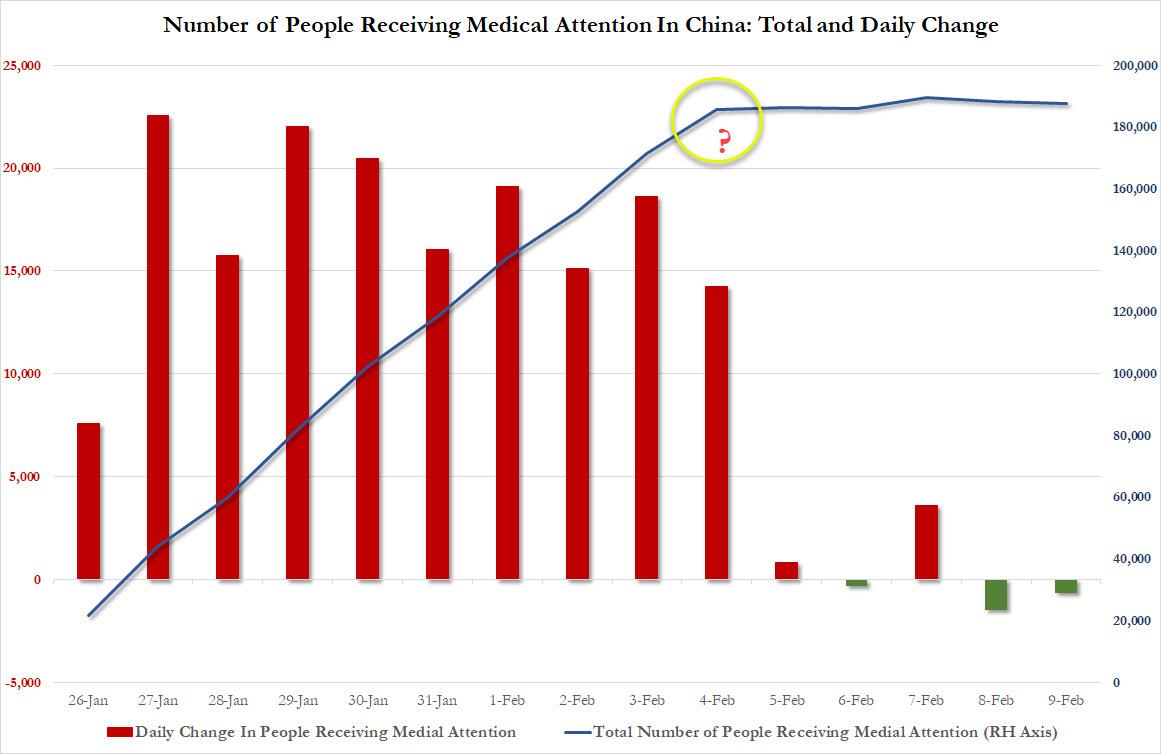 The sense that China was manipulating the data only grew overnight when according to the latest NHC data, the number of suspected coronavirus cases suddenly plunged by more than 5,000 to 23,589 from 28,942 the day before.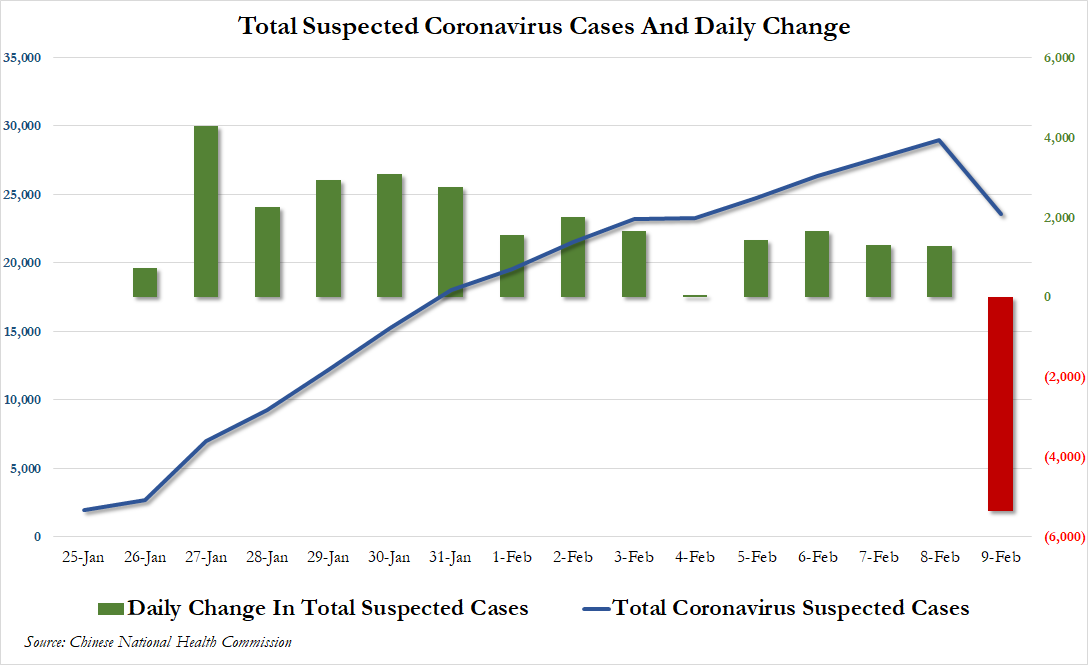 All of this emerged even as China reported a welcome if suspicious tapering in the number of new cases, which had plateaued at just over 3,000 (a number which according to Dr. Scott Gottlieb was not indicative of the actual infection spread but merely China's ability to conduct at most 3,000 successful tests per day) and have since been declining.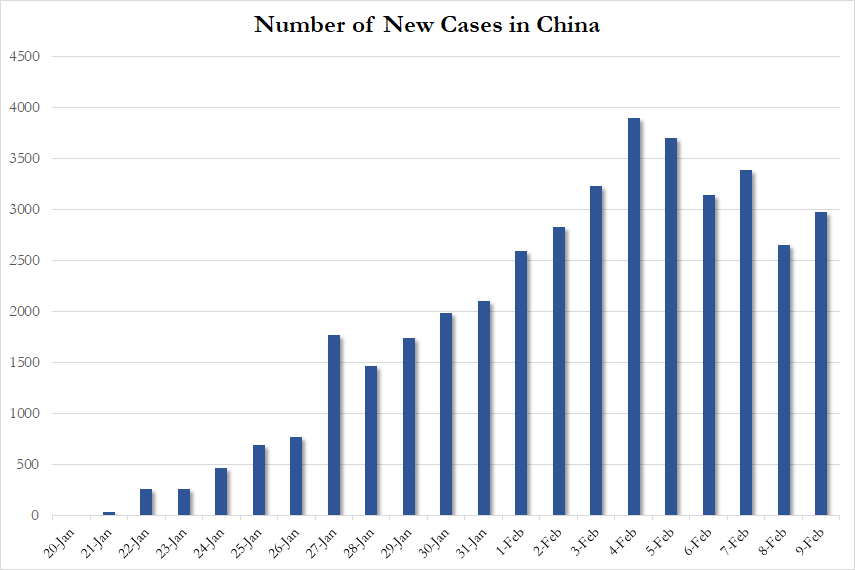 In retrospect, it turns out that China indeed "took steps" to demonstrate to the world that it was winning the war against the coronavirus. And since it wasn't doing so in the real world, it decided to do so by engaging in the oldest trick in the Chinese book: by moving the goalposts and changing the definition of what an "infection" means.
As reported by local media this morning, the Chinese National Health Commission quietly changed its definition of Coronavirus "confirmed case" in the latest guideline dated 7/2. As a result, going forward patients who tested positive for the virus but have no symptoms will no longer be regarded as confirmed. As Alex Lam observes, "this inevitably will lower the numbers."

Chinese National Health Commission has changed its definition of #WuhanCoronavirus "confirmed case" in their latest guidelines dated 7/2. Patients tested positive for the virus but have no symptoms will no longer be regarded as confirmed. This inevitably will lower the numbers.
6896:07 AM – Feb 10, 2020Twitter Ads info and privacy770 people are talking about this
As Apple Daily reports, in the latest, fourth edition of the NHC protocol, "mild" is classified as "confirmed cases" but "asymptomatic infected persons" is defined as "persons with no clinical symptoms, respiratory tract specimens, etc. who are positive for new coronavirus pathogenic tests." As a result, "asymptomatic infection" no longer counts as confirmed cases.
Conveniently, the new rule has triggered provinces "to find cases that can be deducted from the total number of confirmed cases." For example, Heilongjiang has axed 13 cases from their tally stating the new definition. Hubei has deducted 87 cases today, but authorities did not explain why."
In total, over 100 cases have been deducted from the running "confirmed case" total over the past 2 days, while also impacting the number of suspected cases. The concerning problem, however, is that authorities do not disclose the number of symptom-less infected patients after they count them separately, and as Alex Lam cautions, "there will be no way of knowing the exact magnitude of the outbreak."
This, of course, is a problem because as a recent article written by a team led by Dr. Zhong Nanshan, suggested the WuhanCoronavirus can be transmitted by infected patients even they without them showing symptoms, which is what makes the virus so infectious, as "sick people could be spreading it without knowing."
One final note: China's bizarre change in definition conflicts with that of the WHO itself which put out an interim guidance on the Wuhan Coronavirus last month, when it present a definition for Confirmed Case: "person with laboratory confirmation irrespective of clinical signs and symptoms. It is very clear. "

Alex Lam 林偉聰@lwcalex · 3hReplying to @lwcalex
Full article on @appledaily_hk https://hk.news.appledaily.com/local/20200210/4R4BTUH4UYOUBPWF4SXT4WHC5E/ …【Fact Check】強國搬龍門!「無症狀」唔當確診 兩日即減過百病例武漢肺炎全國爆發,全國確診總數突破4萬宗,但近日有多個省市都在紀錄上減去確診病例,有省分解釋是因國家衞健委日前公佈的《新型冠狀病毒肺炎方案》將有發病的確診病例和「無症狀感染者」分開統計;過去兩日全國已減去超過100宗案例。不過《蘋果》核對數據發現,中央和地方公佈的減例數字不一…hk.news.appledaily.com

@WHO has put out an interim guidance on #WuhanCoronavirus surveillance last month and it has a definition for Confirmed Case: person with laboratory confirmation irrespective of clinical signs and symptoms. It is very clear. https://www.who.int/publications-detail/global-surveillance-for-human-infection-with-novel-coronavirus-(2019-ncov) …
1237:39 AM – Feb 10, 2020Twitter Ads info and privacy57 people are talking about this
This shocking "change in the definition" of a coronavirus infection naturally prompts the question: just how is China gaming the other infection data to make the disease appear more contained, and more manageable, and can one even remotely trust the official coronavirus numbers published by the National Health Commission?
This is a pestilence and no one should tell the people differently, while most of the social media continues to shadow ban HNewsWire preventing people from knowing the truth, the truth that would help protect their families and friends from this virus. ABC News went as far as to show people in China celebrating, High-Tech & Reddit Engaged in Heavy Censorship of Truthful News Sources …
By February 5, 2020, there will be an estimated 300,000 infected by the coronavirus, and people on twitter want to talk about the Nike slipper.
As the world's cortisol and stomach acid levels rise every hour in parallel with the number of officially reported Coronavirus infections (and deaths), which as of Saturday morning was roughly 1,400…
… the world has an unpleasant flashback to 2003 when for weeks Beijing would lie and hide the full extent of the SARS epidemic to avoid risking a social panic. To be sure, this time China has done its best to pretend it has learned from the past and it is so transparent, even President Xi Jinping warned that the country is facing a "grave situation", and that the spread of the deadly virus is accelerating after holding a special government meeting on the Lunar New Year public holiday.
After staying largely silent in public about the outbreak since it first emerged in central China last month, Xi on Saturday convened a special meeting of the seven-member Politburo Standing Committee, calling for a more centralized response to the epidemic and asserting personal responsibility in addressing the crisis.
"When an epidemic breaks out, a command is issued. It is our responsibility to prevent and control it," Xi said, according to the state-run Xinhua News Agency. He called for the new high-level committee to "address concerns within and outside the country," indirectly referencing mounting global concern about the epidemic, which Mr. Xi described as a "grave situation" that was accelerating. "We definitely can win the battle to contain the epidemic," he vowed.
That remains to be seen: as reported earlier, in China – which has put over 56 million people on lockdown quarantine – the coronavirus has killed at least 41 people and infected over 1,400 in China. Ominously, a UK researcher predicted that the Coronavirus would infect over 250,000 people in China in under two weeks, which has sparked a renewed fear that China will once again try to underrepresent the true severity of the diseases until it is too late.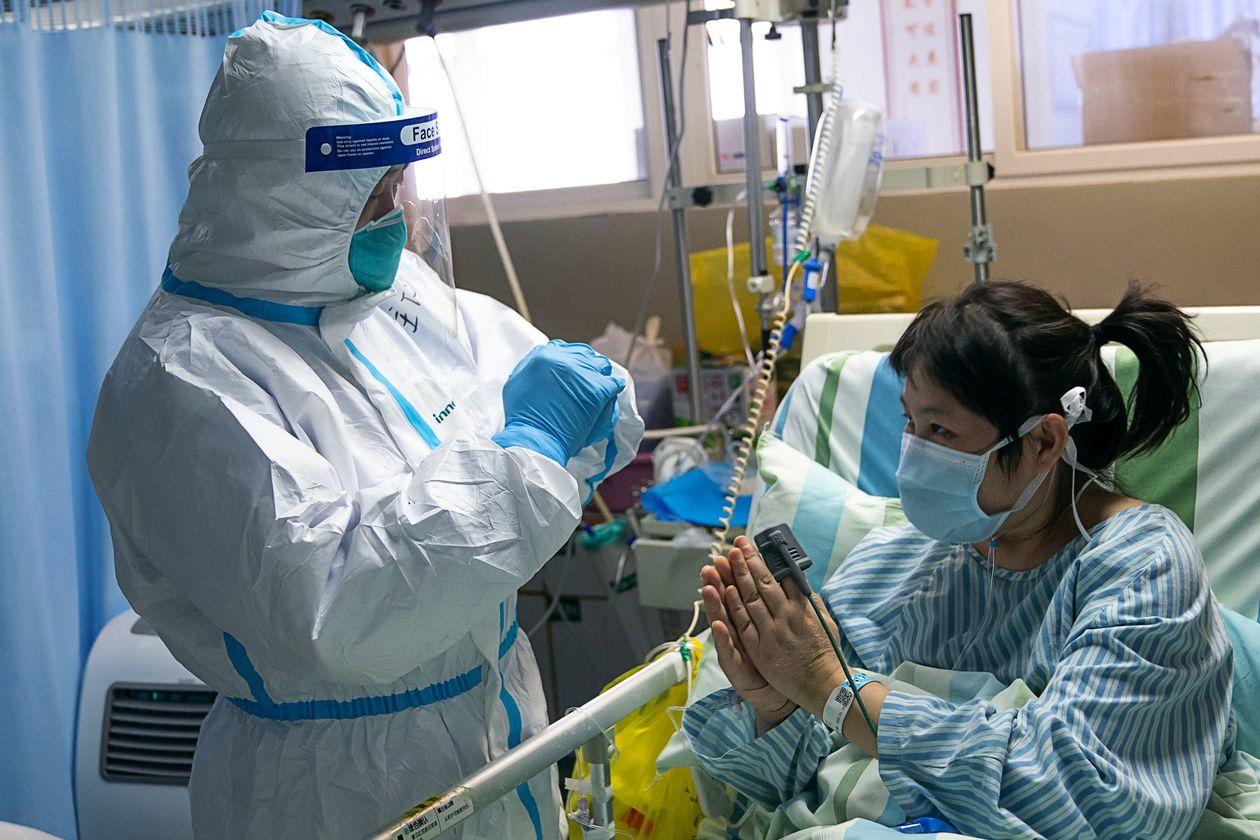 The problem is that even as China theatrically pretends to be so forthright about the extent of the epidemic – if only to avoid panic and chaos over allegations it is again hiding the full impact of the disease – it is doing precisely that, and now we know just how it is doing that: instead of putting down coronavirus as the cause of death for an unknown number of Wuhan casualties, China's coroners and hospitals merely ascribe death to "viral pneumonia", case closed.
Roughly 80% of virus-related deaths have occurred in Wuhan since the outbreak began. But there's reason to believe the death toll – particularly in Wuhan – might be much higher.
Source: HNewsWire CensoredNews ZeroHedge
StevieRay Hansen
Editor, HNewsWire.com
Google, No More Electronic Prison: You will see many changes on HNewsWire, one of those changes will be to eliminate Google Ads, the other difference, HNewsWire will NOT post videos on YouTube, it is no longer a question about overreach by the un-godly big tech tyrants. There is no question Big Tech can and will persecute any opposing opinion, they will demoralize, sideline truth seekers and those that speak the truth. The People's Blood is on big tech and mainstream media's hands. Censorship has NOT worked for thousands of years, their evil tactics will not work now, history proves me right, so we watch the drama play out between good (GOD) and evil ( Big Tech MSM ), God has never failed his people, and God will not fail this time…
StevieRay Hansen
In order for sin to work, there has to be a "suppression of the truth."
The World leaders Are Having Trouble With The Truth, and The World Has been "Quarantined" Tribulation Is Here…
Question — Why Are These High-Tech Conglomerates Afraid of the Truth? The answer, Because They Know the American People Have Become Lazy, Like Sheep They Need a Leader and They Chose High-Tech, It Will Be the Downfall of This Country Unless the People Change Course or the Mindset of These High-Tech Elitists stop suppressing the truth. If the people don't wake-up, they will begin to live in the worst nightmare of their lives, "Lost Social Media Reality"…
The Birth Pains Are Growing Stronger….
One of the signs of ruling class collapse is when they can no longer enforce the rules that maintain them as a ruling class. When the Romans started making exceptions to republican governance, it was a matter of time before someone simply decided the rules no longer applied to them. Perhaps the robot historians will consider Obama our Marius or Sulla. Maybe that person is in the near future. Either way, the rule of law is over and what comes next is the rule of men.
"Man will ultimately be governed by God or by tyrants." as in Nancy Pelosi (D-San Fran-feces)
Our government has been overthrown. As evidenced by Trump's capitulation on the border, his recent servitude to the GMO industry and his acquiescence to the warmongers, our President has been compromised. Our liberties are being eliminated one by one. Gun confiscation is next. The Constitution is gasping its last breaths. Our borders are destroyed and our culture has been turned upside down by every perversion known to man.
The watchman does not confuse truth with consensus. The Watchman does not confuse God's word with the word of those who happen to hold power at present, or with the opinion of the majority. This is because powerholders and the majority can fall victim to a lying spirit-and this means a power that actually seizes the majority of experts, the political leadership, and the public.
Everything is right on schedule and, now, the time is come to remove one of the final obstacles standing in the way of a New World Order: The United States Constitution – even if, over the course of many decades, it has already been greatly diminished by the B.E.A.S.T. system; or, more specifically, Bullshit Emerging As Strategic Totalitarianism (B.E.A.S.T.).
They are tolerant of everything except dissenting values and opinions — meaning, of course, they are tolerant of nothing that matters, only themselves."
Let Me Make This Abundantly Clear. (I Am Apolitical) While I Have a General Distaste for Electric Cars and Politicians No Matter the Party They Belong To, I Am Unashamedly Politically a Bible Believing Conservative Christian. I Have a Severe Distrust of Government. I Believe It Is the Most Inefficient and Ineffective Way to Accomplish Most Things. While I Strongly Disagree with Liberals/Progressives and Conservative on Most Political Issues, and While I Believe Liberals/Progressives and Most Politicians Are Misguided and Naive About What Big Government Will Eventually Result In, I Strive to Not Question Their Motives. At the Same Time, I Find Myself in Agreement with Conservative on Some Issues, and I Do Not Believe Electing Republicans Is the Answer to Everything. Sadly, the Main Difference Between Republicans and Democrats Is How Quickly They Want to Drive the Car Towards the Cliff. Put, I Do Not Believe the Government Is the Solution for Everything. I Do Not Place Any Faith, Trust, or Hope in Any Politicians to Fix What Is Wrong with the World. "Come Lord Jesus!" (Revelation 22:20) SRH…
The Watchman does not confuse truth with consensus. The watchman does not confuse God's word with the word of those who happen to hold power at present, or with the opinion of the majority. This is because powerholders and the majority can fall victim to a lying spirit-and; this means a power that seizes the majority of experts, the political leadership, and the public.StevieRay Hansen
If you have a news scoop or an interesting story for us, please reach out at info@HNewsWire.com
Biological Weapon, Coronavirus, Falsifying Death Toll From Coronavirus, biblical truth, Prophecy, tribulation, antichrist, United Nations Revelation 17 the BEAST+ B.E.A.S.T, US Coronavirus, MSM, High-Tech & Reddit Engaged in Heavy Censorship of Truthful News Sources
The number of Orphans aging out of Child Protective Custody has grown at an alarming rate. The 127 Faith Foundation receives many requests each week to house them at our ranch. Our prayer is that the good people of our country will step up to the challenge and offer financial support for "the least among us." We need your help! StevieRay Hansen, Founder, The 127 Faith Foundation