Watchman Gives Warning: More Than 30 Million Americans Are on the Verge of Starvation. The NWO Has Made Its Promises Clear, With 32 States Reducing Food Stamp Payments Beginning in March: If They Do Not Comply, Starve Them to Death, Tribulation Playing Out!
HNewsWire:
More than 30 million Americans face a "hunger cliff," as 32 states are set to slash food-stamp benefits beginning in March. By number, California and Texas have the most people on food stamps, at 5.1 million and 3.6 million respectively.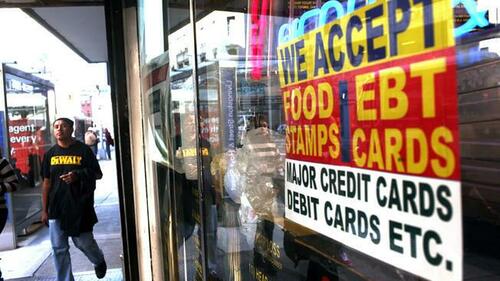 The Supplemental Nutrition Assistance Program (SNAP) program notably exploded from $60.3 billion in 2019 to $119.5 billion in 2022 thanks to the Agriculture Department expanding food-stamp benefits by evading the normal process for determining eligibility and end-running Congressional review.
The reductions are due to the end of so-called emergency allotments, which bolstered food-stamp benefits at the start of the pandemic as Americans grappled with the massive disruption to the economy. While the U.S. is certainly on more stable footing than in 2020, households are now struggling with high food costs — groceries were about 10% higher in December than a year earlier — making the timing of the SNAP cuts particularly challenging, experts say. -CBS News
"This huger cliff is coming to the vast majority of states, and people will on average lose about $82 of SNAP benefits a month," said Ellen Vollinger, the SNAP director at the anti-hunger advocacy group, the Food Research & Action Center. "That is a stunning number."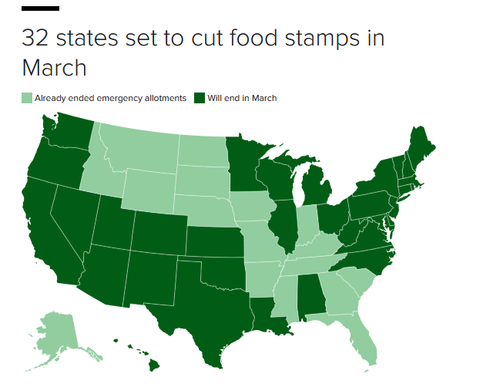 The move comes after 18 states already ended their emergency benefits, while the remaining 32 states that continued the additional aid will lose federal funding to in March as part of the 2023 Omnibus spending bill which was signed into law in December.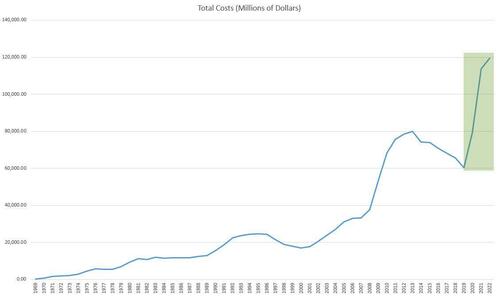 The changes mean that a family of four could see benefits cut by around $328 per month, while elderly Americans who receive the minimum monthly benefit could see their SNAP payments fall from $281 per month to as low as $23. In 2022, the average monthly benefit per person was $230.88, an increase from $129.83 in 2019.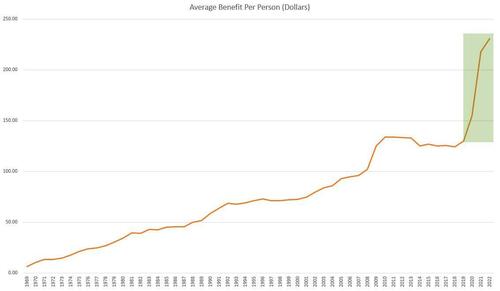 And despite having the lowest unemployment rate since 1969, more than 42 million Americans remain on food stamps - 6% more than in 2020, according to USDA data.
"What sometimes gets missed in that conversation is the part that so many SNAP households are employed, but often employed at low-wage levels — they aren't in jobs that are family-sustaining so they still qualify for SNAP," said Vollinger.
Food banks, meanwhile, are bracing for an increase in demand as food aid is slashed.
"People are having to choose between putting food on the table and paying rent," said Food Bank of the Rockies CEO, Erin Pulling. "We are seeing more people than ever needing help with food assistance."
As for the food stamp cuts, Pulling says "We're bracing for it." Source: Zerohedge
The DOD Gave $1,000,000,000 That's $1bn in COVID Relief to Defense Contractor Wish Lists, Our Government Is No Longer Subject to the People It Marches Lockstep With the New World Order, They Will Spend This Country and it's People Into Poverty, They Have and Agenda… A coalition of 40 ideologically diverse organizations on Thursday demanded that federal lawmakers investigate allegations from earlier this week that the Pentagon misused much of $1 billion in congressionally appropriated Covid-19 relief funding for what one critic called "a colossal backdoor bailout for the defense industry." The groups' call came in a letter (pdf) addressed to Reps. James E. Clyburn (D-S.C.) Steve Scalise (R-La.), leaders of the House Select Subcommittee on the Coronavirus Crisis. The push for a probe was prompted by Washington Post reporting that some tax dollars directed to the Defense Department in March for building up U.S. supplies of…
Will Putin Fulfill Biblical Prophecy and Attack Israel?