For over twenty years, the LGBT and their partners,(the ungodly) had one overriding obsession: your children.
Generally speaking, the ungodly are those who do not know God through Jesus Christ. They have rejected God's Son and remain in their sins. Those who are in Christ have their sins forgiven and are becoming more godly. Believers naturally seek to remove all ungodliness from their lives (1 John 3:9).
First, it was the high schools. Starting in the 1990s, they began putting in "gay clubs" in high schools across the country, followed by "Gay and Lesbian Awareness" assemblies, "Coming Out" days, and "Day of Silence" events. Later came "Safe Spaces," "gender identity," and more graphic introductions to anal and oral sex.
Then it was the middle schools. After a few years, the "gay clubs" appeared in middle schools, followed by LGBT assemblies, "gay" library books (depicting homosexual relationships by teenagers), and later, most of what the high schools had pioneered.
Then it was the elementary schools. In the past decade, teachers began reading books to elementary school children, including kindergarteners, about having "two dads" or "two moms." More recently, the "Welcoming Schools" programs began the push to normalize cross-dressing and transgenderism in the early grades.
Now it's the preschoolers. "Drag Queen Story Hour" programs being held in public libraries across the country for pre-school children as young as 2 and 3 years old. Using homosexual men dressed as freaky, garish women, their admitted goal is to "give kids glamorous, positive, and unabashedly queer role models" and to encourage young children to "defy rigid gender restrictions."
This isn't simply a disagreement about education. This is a war. These radical forces are advancing every year. But who is there to stop them? How can they be stopped?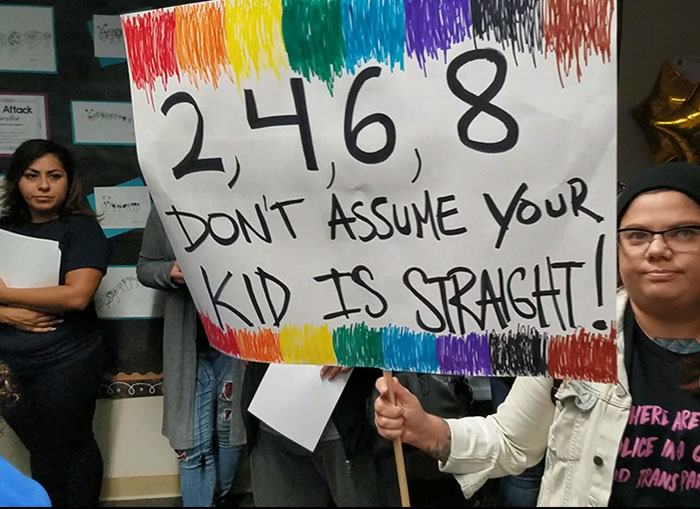 Make no mistake: LGBT activists are very serious about targeting your children.
There are a lot of organizations that have reported on these outrages, have provided research, and have held conferences. Many groups have complained to school boards and other officials. Others have prayed about it. As with the "loyal opposition" in a parliament, rational debate points have been developed. That is sadly not enough. We need formidable direct action.
MassResistance is the only international organization that equips parents to be in the streets and in the faces of local officials and politicians – confronting the evil we are witnessing and demanding it is stopped. We are not polite and we are not "moderate." Our approach attracts venom from the Left and disdain from establishment conservatives. But it works.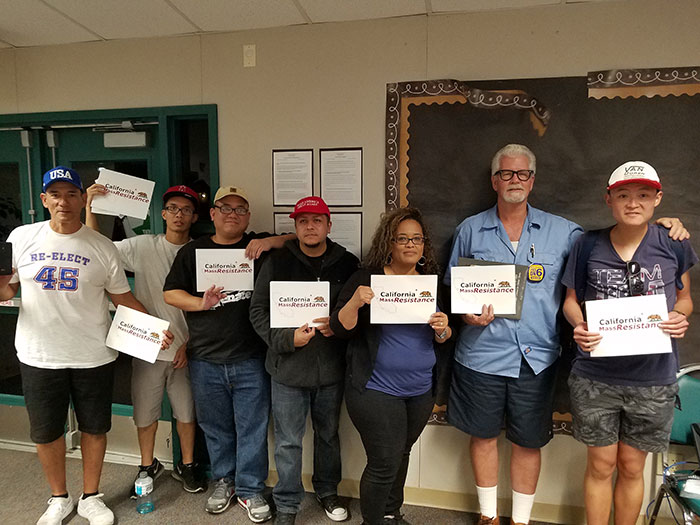 Outraged parents hold up their MassResistance signs at a school board meeting in Anaheim, CA. They forced the school officials to stop "transgender" training in elementary schools.
Over the years MassResistance has derailed more bad LGBT school programs and LGBT bills in state legislatures than we can remember – mostly by the sheer brute force of angry parents.
Our recent leadership and success confronting Drag Queen Story Hours have received a lot of national media coverage.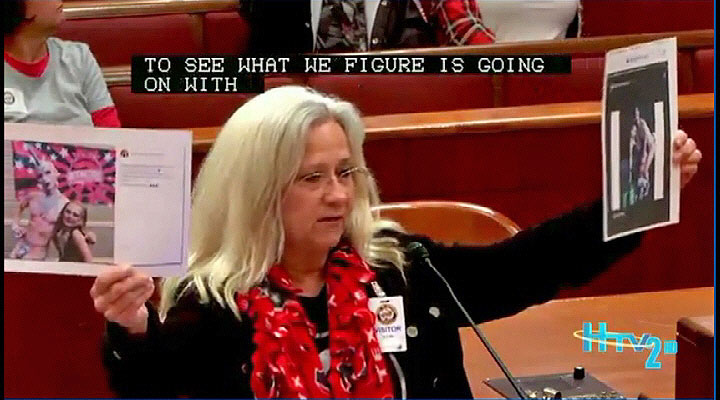 A Houston MassResistance mother confronts the Houston City Council over their "Drag Queen" event. She holds up two photos from our report of children who are being horribly exploited by the "Drag Queen" movement. It was ultimately canceled when we revealed that their "Drag Queen" was a convicted child molester.
We've also learned this over the years: School officials, politicians, and librarians don't push these repulsive programs on children because they "haven't heard the right facts." They do it because it's easier to please the LGBT lobby than parents – and they don't really care about the harm done to kids. So our job is to make it harder, not easier for them to follow the LGBT movement's line.
Almost all conservative groups see this fight as "pushing back" against the bad things that have been happening. They just want a "safe space" in the public arena for pro-family people, for "religious freedom." That is sadly delusional. The Left is enveloping society with its radicalism. Whether we like it or not, we must understand our efforts as a counter-revolution! (Wait and see how the Left reacts to that term!)
What does that mean? We must completely shut down the other side, not just try to carve out our "safe space." It's not good enough to get a library to allow a conservative Bible study while Drag Queens still get their story hours. The Drag Queens must be out of the libraries altogether!
But this counter-revolution needs you to be a part of it. In many ways, it's an exciting time. Fighting back against evil things can be exhilarating. Source
Whole Foods Market is a sponsor of Drag Queen Story Hour events designed to indoctrinate children into transgenderism and homosexuality. Their goal is to normalize the LGBTQ lifestyle.
Whole Foods Market was a primary sponsor of two Drag Queen Story Hour book readings recently held in Atlanta, GA.
Atlanta Mayor Keisha Bottoms invited "Miss Terra Cotta Sugarbaker," a.k.a. Steven Igarashi-Ball, to perform a Drag Queen Story Hour at city hall. There was an additional event held at a Fulton County Library branch.
Sign our petition to executives at Whole Foods Market now!
A danger to our children
At these events, men dressed in woman's clothing read books that teach kids that boys might actually be girls – and vice versa. Drag Queen Story Hours pose a dark threat to the moral and spiritual lives of America's children.
In Los Angeles, a drag queen named Xochi Mochi read to children at the Long Beach public library. At a Lansdale, Pennsylvania, library event, a drag queen used the name "Annie Christ" to mock Christianity.
These are not isolated events but represent a real trend. According to one news source, Drag Queen Story Hours are a "global phenomenon" with more than 35 chapters in the U.S. alone. The events often draw hundreds of participants.
In Houston, earlier this year, two drag queens who participated in the story hours were later revealed to be convicted child molesters and transgender prostitutes.
Whole Foods Market has more than 476 stores in 42 U.S. states. If they'll sponsor Drag Queen Story Hours in Atlanta, they may be preparing to sponsor similar events in other cities.
TAKE ACTION
Sign our petition to the executives at Whole Foods Market, urging them to no longer sponsor Drag Queen Story Hour events. Then, use the number provided to call Whole Foods corporate office and let them know sponsoring sexual deviancy to children is bad for business.
StevieRay Hansen
Editor, HNewsWire.com
Jesus chastised religious leaders in the first century for not knowing the time of His arrival. Will we make the same mistake today? Christ stated how His second coming would be preceded by global events signifying the end of our age. We may not know the day or the hour, but we can know the season!
"And it shall come to pass afterward, that I will pour out my spirit upon all flesh; and your sons and your daughters shall prophesy, your old men shall dream dreams, your young men shall see visions." (Joel 2:28.)
Education is useless without the bible (Daniel Webster)
"Courage is as "fear that has said its prayers."
John Wesley who said that what we tolerate in our generation, will be embraced by the next. Wesley is 100% correct! We are living in sick times.
Usually, the Lord doth no great thing for or against his people, without giving warning of it before it comes.
They perverted justice among themselves (v. 7): "You turn judgment to wormwood, that is, you make your administrations of justice bitter and nauseous, and highly displeasing both to God and man.'' That fruit has become a weed, a weed in the garden; as nothing is more venerable, nothing more valuable, than justice duly administered, so nothing is more hurtful, nothing more abominable, than designedly doing wrong under color and pretense of doing right. Corruptio optimi est pessima —The best, when corrupted, becomes the worst.
It is impossible to find anyone in the Bible who was a power for God who did not have enemies and was not hated.
2 Corinthians 4:8-11 New King James Version (NKJV)
8 We are hard-pressed on every side, yet not crushed; we are perplexed, but not in despair; 9 persecuted, but not forsaken; struck down, but not destroyed— 10 always carrying about in the body the dying of the Lord Jesus, that the life of Jesus also may be manifested in our body. 11 For we who live are always delivered to death for Jesus' sake, that the life of Jesus also may be manifested in our mortal flesh.
The number of Orphans aging out of Child Protective Custody has grown at an alarming rate. The 127 Faith Foundation receives many requests each week to house them at our ranch. Our prayer is that the good people of our country will step up to the challenge and offer financial support for "the least among us." We need your help! StevieRay Hansen, Founder, The 127 Faith Foundation