One thing these graphic stories in the Old Testament tell us is that a world without God's law is animalistic. With no fear of God in our hearts, we view other people as less worthy than we or as a means to our own satisfaction. We use people and then discard them, as Amnon did with his half-sister Tamar after he raped her (2 Samuel 13). The Bible never downplays the actions of the people it features but uses their actions to teach us important lessons. From them, we learn that sin has consequences, including sexual sin. We also learn that God cares about those who have been violated by sexual assault.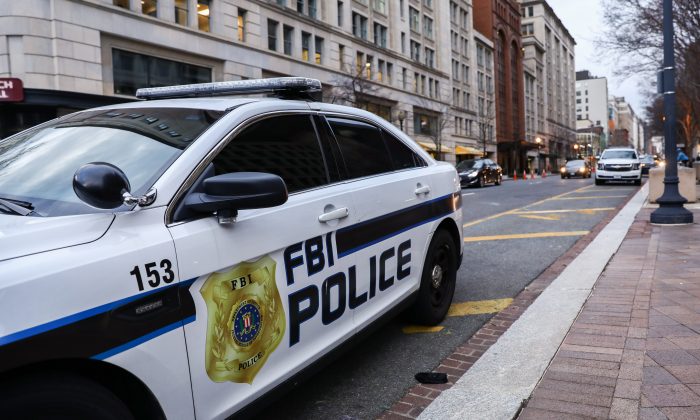 An FBI Police car is parked outside the Federal Bureau of Investigation (FBI) Headquarters in Washington on Jan. 7, 2019. (Samira Bouaou/The Epoch Times)US NEWS
An FBI-led operation has culminated in the arrest of 67 suspected sex traffickers across the United States and the recovery of 103 child victims, authorities announced.
The initiative—dubbed Operation Independence Day—was a month-long operation that took place in July. In total, 161 operations were conducted nationwide as part of the initiative, which was a revamp of a previously successful program. More than 400 agencies participated.
According to the FBI, the sweep included undercover operations that led to the opening of five dozen federal criminal investigations. FBI agents and analysts worked closely with the National Center for Missing & Exploited Children (NCMEC) to identify potential victims, which can include "young runaways, missing kids, and juveniles."
FBI agents also worked with state and local partners to carry out the operations.
"This initiative has two crucial goals: rescuing children being sold for sex and prosecuting their adult traffickers," Attorney General William Barr said in a statement. "Child sex trafficking is a heinous crime that preys on the most vulnerable in our society.
"Perpetrators victimize children in communities throughout the country, and we are determined to find and rescue them," he continued. "Through the FBI's leadership, we have recovered thousands of child victims, and this latest operation adds to the success of that decades-long effort."
In a similar statement, FBI Director Christopher Wray noted that the bureau is "fiercely focused" on reaching the two goals Barr had pointed out. He said their staff works tirelessly to make sure victims receive the help they need "to reclaim their lives."
President Donald Trump, who has made combating human trafficking a focal point of his administration, signed into law the Stop Enabling Sex Traffickers Act and Fight Online Sex Trafficking Act, or SESTA-FOSTA in 2018. The legislation stops the shielding of website operators from state criminal charges or civil liability if they facilitate sex ads or prostitution.
Sex-trafficking website Backpage.com—the largest human-trafficking portal in the United States—was taken down by the FBI in 2018.
"We know this horrendous crime impacts communities across our country every day and we applaud the FBI for continuing to work tirelessly to locate these victims and hold accountable those who are selling children for sex," said John Clark, president, and CEO of NCMEC.
The FBI's Crimes Against Children and Human Trafficking Unit and the Department of Justice coordinated the operation.
In some areas in the United States, illegal immigrants drive child sex crime charges, The Epoch Times previously reported.
In North Carolina alone, during the past 18 months, more than 331 illegal aliens have been charged with 1,172 child rapes and child sexual assaults, according to data collected by an independent researcher.
James Johnson, who tracks the data on his website NCFIRE.info (North Carolinians for Immigration Reform and Enforcement), says he is only able to gather data from 30 of the state's 100 counties, which means it's likely the statewide count is significantly higher.
Johnson has tracked rapes and sexual assaults on children by illegal aliens since 2013, using original police reports and calling arresting agencies to verify immigration status. His data doesn't cover every month, but for the 54 months he has recorded, an average of 34 illegal aliens per month were charged with 151 counts of raping or sexually assaulting a child in North Carolina.
Geoffrey Rogers, co-founder and CEO of the U.S. Institute Against Human Trafficking, told The Epoch Times previously that the child trafficking problem in the United States is an "epidemic that's continuing to spin out of control."
"I'm outraged at the fact there are over 100,000 kids in America that are sold for sex every single day," he said. "What we are also outraged about is—where is the outrage?"
Rogers said there's one major commonality of both boy and girl victims of trafficking—they had come through America's foster care system.
"We've seen studies that say about 70 percent of kids who are trafficked in America come out of the foster care system," he said.
Charlotte Cuthbertson contributed to this report. Source
StevieRay Hansen
Editor, HNewsWire.com
Jesus chastised religious leaders in the first century for not knowing the time of His arrival. Will we make the same mistake today? Christ stated how His second coming would be preceded by global events signifying the end of our age. We may not know the day or the hour, but we can know the season!
"And it shall come to pass afterward, that I will pour out my spirit upon all flesh; and your sons and your daughters shall prophesy, your old men shall dream dreams, your young men shall see visions." (Joel 2:28.)
Education is useless without the bible (Daniel Webster)
"Courage is as "fear that has said its prayers."
John Wesley who said that what we tolerate in our generation, will be embraced by the next. Wesley is 100% correct! We are living in sick times.
Usually, the Lord doth no great thing for or against his people, without giving warning of it before it comes.
They perverted justice among themselves (v. 7): "You turn judgment to wormwood, that is, you make your administrations of justice bitter and nauseous, and highly displeasing both to God and man.'' That fruit has become a weed, a weed in the garden; as nothing is more venerable, nothing more valuable, than justice duly administered, so nothing is more hurtful, nothing more abominable, than designedly doing wrong under color and pretense of doing right. Corruptio optimi est pessima —The best, when corrupted, becomes the worst.
It is impossible to find anyone in the Bible who was a power for God who did not have enemies and was not hated.
2 Corinthians 4:8-11 New King James Version (NKJV)
8 We are hard-pressed on every side, yet not crushed; we are perplexed, but not in despair; 9 persecuted, but not forsaken; struck down, but not destroyed— 10 always carrying about in the body the dying of the Lord Jesus, that the life of Jesus also may be manifested in our body. 11 For we who live are always delivered to death for Jesus' sake, that the life of Jesus also may be manifested in our mortal flesh.
The number of Orphans aging out of Child Protective Custody has grown at an alarming rate. The 127 Faith Foundation receives many requests each week to house them at our ranch. Our prayer is that the good people of our country will step up to the challenge and offer financial support for "the least among us." We need your help! StevieRay Hansen, Founder, The 127 Faith Foundation