Advisory: The editorial board of HNewsWire adopted the official policy to bypass many social media platforms. Some of these include: Facebook, Instagram, Twitter, Parler, and YouTube. We believe these companies are responsible for many of the spiritual ills our world faces today. In some cases, however, we have allowed our guest contributors to include content from their YouTube channel while we search for alternatives.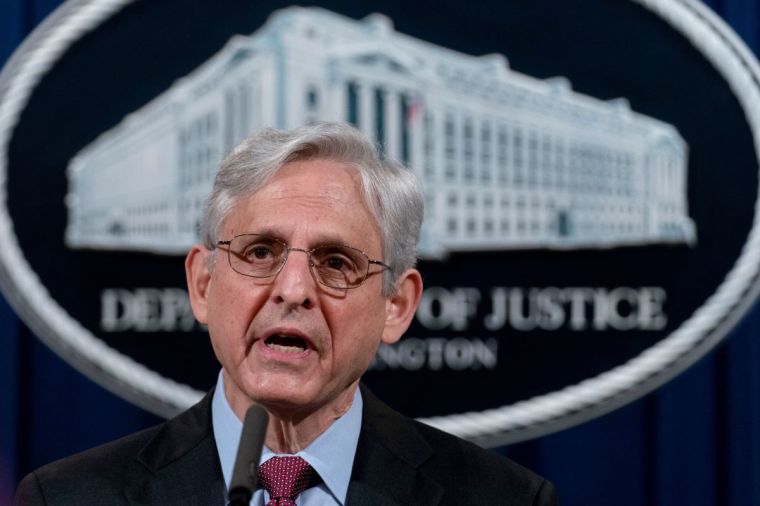 A group of parents has filed a lawsuit against U.S. Attorney General Merrick Garland over his recent memorandum calling for greater federal involvement in investigating threats made against school boards and teachers.
The American Freedom Law Center, a conservative legal group, represents an unincorporated association of parents with children enrolled in a public school district in Saline, Michigan. The lawsuit was filed Tuesday in the U.S. District Court for the District of Columbia.
The lawsuit argues that the Oct. 4 Garland memorandum calling on federal agencies to work with states on "strategies for addressing threats against school administrators, board members, teachers, and staff" is politically driven overreach aimed at silencing parents who express valid objections to certain ideas being in the curriculum.
"Contrary to the Attorney General's false assertion, there is no widespread criminality at school board meetings where parents and concerned citizens have expressed their opposition and outrage to the 'progressive' agenda being forced upon their children in the public schools," reads the lawsuit.
"Yet, the Attorney General considers these private citizens engaging in constitutionally protected activity to be domestic terrorists. Accordingly, the Attorney General labels these private citizens, which includes Plaintiffs, as domestic terrorists."
While the attorney general himself did not explicitly liken concerned parents and community members to domestic terrorists, a Sept. 29 letter from the National School Boards Association compared threats and harassment against school board members to "domestic terrorism."
Garland issued his memo five days after the NSBA sent a letter to President Joe Biden urging the federal government to classify "acts of malice, violence, and threats against public school officials" as "a form of domestic terrorism."
AFLC Co-Founder and Senior Counsel David Yerushalmi said in a statement released Tuesday that he believes the Biden administration "seek[s] a future in which free speech means 'social justice' speech and any and all opposition is criminalized 'hate speech' or 'domestic terrorism.'"
In his memo, Garland said that there was a "disturbing spike in harassment, intimidation and threats of violence against school administrators, board members, teachers, and staff."
"While spirited debate about policy matters is protected under our Constitution, that protection does not extend to threats of violence or efforts to intimidate individuals based on their views," stated Garland.
"Those who dedicate their time and energy to ensuring that our children receive a proper education in a safe environment deserve to be able to do their work without fear for their safety."
Garland's vow to take action against "efforts to intimidate individuals based on their views" comes as parents and community members have repeatedly confronted school boards in recent months over sexually explicit material available in school libraries or material included in school curriculums.
The mayor of Hudson, Ohio, called on the city's school board to resign or face criminal charges for allowing a book featuring sexually explicit writing prompts to be included in a college-level English class offered at the district's high school.
In Fairfax County, Virginia, an outraged mother read books available in the district's high school libraries that she characterized as promoting pedophilia to the school board at a meeting. She also presented the graphic images featured in the book. 
Im sorry but is it hard for these schools to keep sexually charged literature out of their curriculum? It's up to the school districts discretion what curriculum is selected. Some schools purchase licenses for curriculum and the district has nothing to do with it. Regardless, once again this is a deliberate act to promote an all inclusive environment that doesn't prepare our youth for reality in any way whatsoever. The truth is, society is festering with sin. We're simply teaching the kids that it's okay.
How do you think these children will feel when they seek knowledge on their own, only to find that they've been force-fed ideologies that are as old as sin itself. At least if you're reading this, you chose to. Children have no choice in the matter, neither do the parents. That's why they have to show up to these school board meetings. Nobody wants to have to take the time to go teach the teachers how to teach. Social change at an unprecedented level is in the works and I pray that it is a graceful transition. Stay inquisitive in the word of God, and the world around you.
Source: ChristianPost
The 127 Faith Foundation: We do not solicit donations from "those on disability, on a fixed income, or those who cannot afford to give." Please Pray!
Or, make checks payable to:
The 127 Faith Foundation
PO Box 127
Pontotoc, TX 76869
The number of Orphans aging out of Child Protective Custody has grown at an alarming rate. The 127 Faith Foundation receives many requests each week to house them at our ranch. Our prayer is that the good people of our country will step up to the challenge and offer financial support for "the least among us." We need your help! StevieRay Hansen, Founder, The 127 Faith Foundation
We make every effort to acknowledge sources used in our news articles. In a few cases, the sources were lost due to a technological glitch. If you believe we have not given sufficient credit for your source material, please contact us, and we will be more than happy to link to your article.