"COVID Jabs Also Infect the Unvaccinated." mRNA Nanoparticles From Vaccines Not Approved by the FDA for Children Are Being Shed From Parents to Children, Without Consent or Knowledge of Either Parents, or Children. All of This Is Followed by Denials by Authorities
Treat your skin well. Our soaps are gentle and produce a smooth, creamy lather that is nourishing to your skin. They are handmade in small batches. We use only high-quality natural ingredients. No chemicals, no sodium laurel sulfate, no phthalates, no parabens, no detergents. GraniteRidgeSoapworks
Use the code HNEWS10 to receive 10% off your first purchase.
Statistically Significant Vaccine Shedding From Parents to Children, You Can Think Bill Gates, Social Media ,Google and the Past Godless Regime in DC That's Steered This Country Into Total Destruction, That Would Include Donald Trump It's Going to Be a Long 4.5 Years of 7 Yrs Left of Tribulation
HNewsWire:
Is It Worse Than the Disease? Examining Some Potential Unintended Consequences of COVID-19 mRNA Vaccines Greg Nigh1 and Stephanie Seneff1 1MIT Computer Science and Artificial Intelligence Laboratory, Cambridge, MA 02139, USA, e-mail: [email protected] 2Naturopathic Oncology, Immersion Health, Portland, OR 97214, United States.
ABSTRACT
Pfizer and Moderna mRNA vaccines were brought to market in the United States as part of Operation Warp Speed. Interim results revealed that both of these vaccinations were very effective, which helped to justify the FDA's Emergency Use Authorization (EUA). However, the very quick progression of these vaccinations through controlled studies and into widespread use poses a number of safety issues. In this review, we will first outline in full the technology that underpins these vaccinations.
We then discuss the components of these vaccines as well as the intended biological response to them, including the production of the spike protein itself, and their potential relationship to a wide range of both acute and long-term induced pathologies, such as blood disorders, neurodegenerative diseases, and autoimmune diseases. We explore the significance of prion-protein-related amino acid sequences inside the spike protein as one of these possible induced diseases. We also provide a short assessment of data that indicate the possibility of spike protein "shedding," or the transfer of the protein from a vaccinated individual to an unvaccinated person, resulting in symptoms in the latter.
We conclude by addressing a recurrent area of contention: whether or not these vaccinations may alter the DNA of individuals who get them. While no studies have conclusively shown that this is happening, we present a plausible scenario, supported by previously established pathways for genetic material transformation and transport, in which injected mRNA could eventually be incorporated into germ cell DNA for trans-generational transmission. Read Full Report
It turned out that vaxxed parents actively shed vaccine-produced particles onto their children so that the kids acquired "humoral immunity" following shedding from their parents! Not only was this finding evident in the data, it actually was STRONGLY statistically significant with p-value of 0.01! This means that this was not a chance finding.
It remains to be explained WHY children have intranasal IgG. The authors seem to think that it is because of antibody shedding via droplets. In other words, they seem to propose that what is transferred is IgG itself in saliva droplets. They may be right. That said, there is a possibility that children DEVELOP intranasal IgG because other vaccine byproducts or exosomes are being shed.
It could even be due to lipid mRNA nanoparticles themselves shed and being transferred via saliva, like a virus. In fact, considering two replies to this article that I quoted at the bottom, mRNA lipid nanoparticle shedding is most likely. Why? Because the responders report experiencing STRONG IMMUNE REACTIONS.
Such byproducts would be CAUSING intranasal IgG in children as an immune reaction in children, rather than those IgGs being essentially mechanically spat from parents onto their children.
The article, while very interesting, is only the first step in researching vaccine shedding and I hope that further light will be shed (pun intended) on this phenomenon!
The authors, possibly in hopes of getting their article approved by science censors, call it a good thing:
Our results suggest that aerosol transmission of antibodies may also contribute to host protection and represent an entirely unrecognized mechanism by which passive immune protection may be communicated. Whether antibody transfer mediates host protection will be a function of exposure, but it seems reasonable to suggest, all things being equal, that any amount of antibody transfer would prove useful to the recipient host.
I am not sure if I can call it a good thing myself. Antibodies or mRNA nanoparticles from vaccines NOT approved by the FDA for children are being shed from parents to children, without consent or knowledge of either parents, or children. All of this is followed by denials by authorities.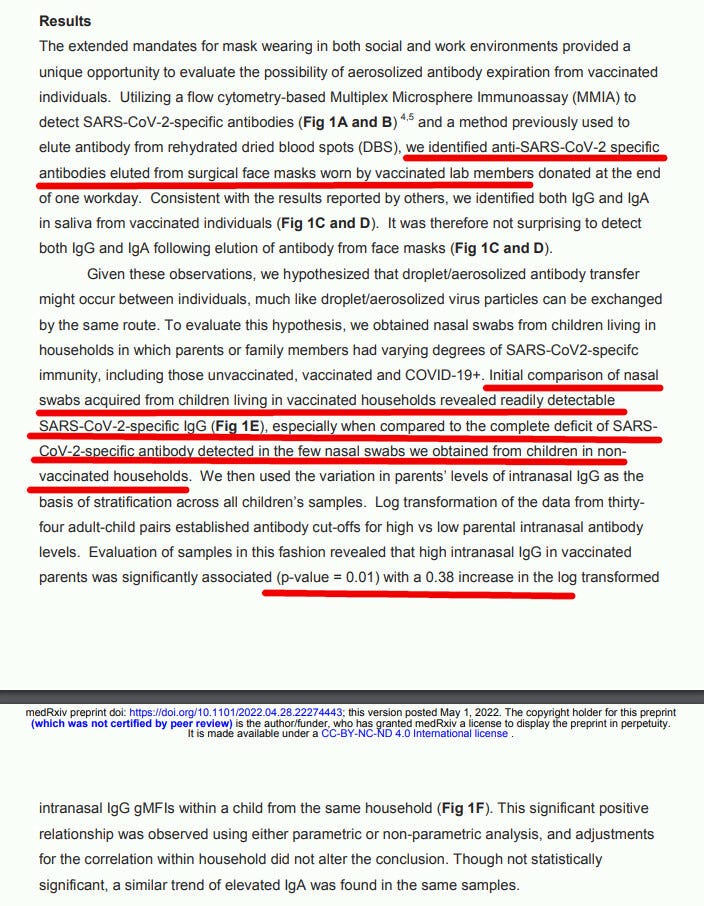 SRH:
It's interesting to me you don't find the words plague(s) and pestilence in the New Testament under any context other than the judgment of God.  (In fact, for the most part, the context of those words in the Old Testament is also within the judgment of God.)
Pestilence is only used in the Olivet discourse (as signs of the times of judgment):
Luke 21:10-11  (KJV)
Then said he unto them, "Nation shall rise against nation, and kingdom against kingdom: And great earthquakes shall be in divers [several, many] places, and famines, and pestilences; and fearful sights and great signs shall there be from heaven."
And plague(s) is only used in the book of Revelation, too many to write out here, so I'll list them:
Revelation 9:18, 20 – 11:6, – 15:1, –  6, 8; – 16:9, 21 – 18:4, 8 – 21:9 – 22:18.
Thus from a Biblical perspective, plagues and pestilences are the result of judgments of God.
When genetic scientists decided to recklessly meddle with the human immune system, the aftermath of the first round of gene therapy jabs guaranteed only one thing: ongoing direct access to humans for an unending series of additional gene therapy shots. For those who died as a result, no apologies will be forthcoming.
The next big wave of COVID infections, already hitting states such as Michigan, will be dominated by people who have been fully vaccinated.
This was predicted by the authors of a scientific study published in a British medical journal.
Between 60 and 70 percent of "third wave" COVID deaths and hospitalizations will be from people who were fully vaccinated, according to the study, Summary of Further Modeling of Easing Restrictions, published March 31 by the London School of Hygiene & Tropical Medicine.
This may at least partially explain why Detroit-area hospitals are filling up with COVID patients.
But you won't read about this angle to the story from anyone in the mainstream media. They are reporting the story as simply a new wave of COVID hospitalizations and deaths caused by a UK-based variant of the virus that has nothing to do with the high rate of vaccinations. [See Detroit News, April 15, 2021, Beaumont nears COVID hospital capacity as experts warn of 'new pandemic.']
Mainstream news outlets have yet to express the tiniest bit of curiosity as to why the big spike in COVID is taking place even as large percentages of the public have been vaccinated [Michigan is one of the most-vaccinated states in the nation with nearly 30 percent of Michiganders receiving the jab]. In fact, health officials quoted in the above Detroit News article are blaming "vaccine hesitancy" for the new wave, a diabolical falsification of what's going on in Michigan meant to put more pressure on the people who refuse the unproven experimental injection.
Apparently those health officials haven't read the new British study, which states:
"The resurgence in both hospitalizations and deaths is dominated by those that have received two doses of the vaccine, comprising around 60% and 70% of the wave respectively. This can be attributed to the high levels of uptake in the most at-risk age
groups, such that immunization failures account for more serious illness than unvaccinated individuals." [See page 10, summary point No. 32].
And what do the British scientists who authored the study say is the answer to this dilemma of the fully vaccinated coming down with COVID? Why, more vaccines and more lockdowns, of course!
And Big Pharma is more than happy to comply. Pfizer CEO Albert Bourla announced a "third dose" of its vaccine will be needed within 12 months of the second dose and likely another dose every year after that. As we predicted, the globalists planned all along to use COVID to scare people into getting annual injections. Nobody knows what's in these injections or how they will affect human health in the medium and long term.
The scenario taking shape is beginning to look like the one Dr. Geert Vanden Bossche warned us about in early March. Based on his years of experience in the vaccine industry, Vanden Bossche called for a halt to the mass vaccination programs being conducted "in the middle of a pandemic." He said that if the jabs were not halted they would lead to the creation of stronger and stronger variants of the virus until a "super virus" takes hold and wipes out huge numbers of people. [See Top vaccine expert calls for global moratorium on COVID injections, LeoHohmann.com, March 17, 2021]
Mental-health ethicist Niall McCrae noted that "the report's prediction that 70% of COVID-19 deaths will be of dual-vaccinated people is quite startling."
"Clearly these pseudo-scientific modelers would like us to be locked down ad infinitum, but do they know something that governments and public health authorities aren't telling us?" Dr. McCrae asked.
The academic slammed the study's "Alice-in-Wonderland logic, 'following the science' down a rabbit hole" since "the report states, 'this is because vaccine uptake has been so high in the oldest age groups,' and that 'this is not the result of vaccines being ineffective, merely uptake being so high.'"
Will Putin Fulfill Biblical Prophecy and Attack Israel?