Watchman Update: 5/9/23 Governments Around The World to Restrict Movement of The People HardLockDown Coming Fall 2022–2023…
HNewsWire:
Why so serious?  Why are they so indignant over lack of vaccination for a virus with a median Infection Fatality Rate of only 0.23%?
While speaking at the Brainstorm Health conference by Fortune Magazine held in Marina del Rey, California, in April 2023, Chelsea Clinton asserts that vaccine hesitancy and outright rejection have been an "unfortunate" side effect of the coronavirus pandemic.  She goes on to promote a partnership with the World Health Organization and the Gates Foundation to push a program of mass jabs for children to make up for declining vaccination rates.
"I think we are less prepared today than we were, arguably, in January 2020—partially because of the lack of trust and confidence in not only our scientists, but in science itself, and certainly in public health professionals. We all deserve to hopefully not be as unprepared as I worry we are at the moment."
Clinton laments the growing opposition to vaccinations, which hints at the overall effectiveness of the anti-mandate movement.  Half the states in the US and groups in countries around the world stood against attempts to pressure or force the public into compliance with draconian vaccine passport programs.  Now, the establishment is reeling and regrouping.  Some members, like Anthony Fauci, are attempting to rewrite history as if they never had any intention of using authoritarian measures.
Clinton is obviously ignoring the herd of elephants in the room – Anti-mandate activists were right about the lockdowns, right about the masks and right about their mRNA vaccine concerns.  The science is on their side.  But even if we look beyond the fallacies surrounding the mandates and mRNA technology, there was always the issue of individual rights.  The exploitation of the pandemic to centralize political and social power has left millions of people angry and more suspicious than ever.
Globalists like Gideon Lichfield at MIT told us exactly what the plan was in March of 2020.  In an article tiled  'We're Not Going Back To Normal', he suggests that mandates and vaccine passport restrictions should last for many years to come, if not forever. From the article:
"Ultimately, however, I predict that we'll restore the ability to socialize safely by developing more sophisticated ways to identify who is a disease risk and who isn't, and discriminating—legally—against those who are.

…One can imagine a world in which, to get on a flight, perhaps you'll have to be signed up to a service that tracks your movements via your phone. The airline wouldn't be able to see where you'd gone, but it would get an alert if you'd been close to known infected people or disease hot spots. There'd be similar requirements at the entrance to large venues, government buildings, or public transport hubs. There would be temperature scanners everywhere, and your workplace might demand you wear a monitor that tracks your temperature or other vital signs. Where nightclubs ask for proof of age, in future they might ask for proof of immunity—an identity card or some kind of digital verification via your phone, showing you've already recovered from or been vaccinated against the latest virus strains."
And, as World Economic Forum founder Klaus Schwab announced:
"The pandemic represents a rare but narrow window of opportunity to reflect, reimagine, and reset our world."
These are the real reasons for widespread resistance to the mandates, besides the general skepticism over vaccines with limited testing and no long term data to prove their safety.  People don't trust people like the Clintons and their elitist friends for good reason – They are motivated by a desire for power, not by legitimate concerns for public health.  Now, they have created the very thing they feared:  An army of people who pay attention.
We Will Be Ruled By a Godless Men Presiding Over an Evil Governmental System. The Bible Associates This End-Times Ruler With a Terrible Beast in Revelation and in Daniel, the Day is Here–Get ready…
HNewsWire: Lock-downs are going on in the EU right now. In Oxford, they are forcing people to limit their range from their homes to 10 miles, so many can't visit family, attend university, or get to their jobs. They closed four-lane roads, turned three lanes into (unused) bicycle lanes, and reduced speed to 40 mph, knowing gas cars were soon to be banned. Surveillance It's a test. It's going to be a thing that gets rolled out as soon as they see what transpires. The COVID lockdowns and mandates were a test for compliance and response-gauging. This isn't over.
They are just forming new strategies that include nano-chipping with vaccines and social credits that would grant access to food, banking, fuel/energy, water, privileges, etc. In China, they prevented people from withdrawing their own money from banks; however, following protests, the government agreed to allow them to withdraw $400; thus, the people felt they had won—it was their money—all of it. The government wears you down and tosses you crumbs to make you thankful for what you manage to get.
Say hello to Granite Ridge Soapworks! Use our handmade soaps to take good care of your skin. Our premium natural ingredients work together to create a silky, creamy lather that hydrates your skin. Chemicals, such as sodium lauryl sulfate, phthalates, parabens, or detergents, are never used by us. To ensure quality, we make all of our soaps in modest quantities. Visit our Etsy store right away to give them a try and the attention your skin deserves. GraniteRidgeSoapworks: Because only the best will do for your skin.
Use the code HNEWS10 to receive 10% off your first purchase.
It Begs a Question: If the Hospitals Are So Ignorant Concerning the Dangers a Ineffectiveness of This Kill Shot Substance, How Can They Be Trusted to Be Competent About Anything… HNewsWire: The Nuremberg trials will never happen, and the accountability you seek will never come to fruition.The concealment of this attack on all of us in the US and the World was supported by far too many individuals (Satan Soldiers) in powerful positions. The legal system worldwide is delightfully corrupt.It was not just surrounded by friendly faces.It brings me NO joy to write this, but no action against them has started, and it never will.The only thing we can do is ensure that it happens again It amuses me greatly, and all those who are wise enough to see the truth, that the trials are solely conducted by the despicable…
The American Government, Run by Evil Secret Societies, Is Making a Concerted Effort to Impose Digital Currency. You Must Agree to "The Mark" or You Will Be Unable to Transact Business. HNewsWire: Once the economy has melted down, CBDC's will be proffered as the ONLY way we can get "back to normal"-a "cure" that will turn out to be as catastrophic, in their way, as those "vaccines"… This is likely a deliberate blow to crypto. The Fed gangsters can't have competition with their Ponzi scheme. The Fed is suppressing an alternative to CBDC, its own digital money (Central Bank Digital Currency). The involvement of Vice President Biden is irrelevant. He's the Fed's stooge, a figurehead who makes it seem like the central bank is accountable to Congress. Not at all. Privately owned and operated by the largest U.S. banks, the Fed…
The Ungodly High Tech, MSM Hijacked The Truth… "Unless God has raised you up for this very thing, you will be worn out by the opposition of man and devils". Asked by a reporter if the latest US travel restrictions on southern African countries might be premature, President Biden completely dodged the question, choosing instead to babble on about the US's program for sharing (ie selling) jabs to other countries, including South Africa, which Biden said is actually having trouble finding willing arms for all the jabs (even though the country's vaccination rate is 20%). At times, Biden turned to Dr. Fauci, who was present with him in the White House. He also denied he was calling on local officials to reinstate mask mandates, but said instead that he "encourages everyone" to wear masks in crowded indoor rooms. Biden also…
HNewsWire: Now that they have set a precedent during the plandemic, the elite (Satan Soldiers) presumably seek to enforce lockdowns for other reasons as well. What I've written about in this article is very concerning, so please spread the word to as many people as possible.
These climate change lockdowns are already happening, and if the public doesn't react firmly, we may expect to see them spread throughout the West. As it turns out, the elite were serious when they said they would do "whatever it takes" to combat climate change.
The county of Oxfordshire in the United Kingdom has instituted a permission system for its citizens to cross between different "zones" within the county. But even with the permission, you may only travel between zones "a maximum of 100 days per year"...
To "save the earth" from global warming, the Evil Oxfordshire County Council recently authorized proposals to confine citizens to one of six zones. The most recent step in the '15-minute city' plan is to install electronic gates on major thoroughfares, thereby isolating citizens to their own neighborhoods.
Under the new plan, people who want to leave their zone would require permission from the Council, which will have the last say over who should be allowed to leave and who should be restricted. Each resident will have to register their vehicle data with the municipality, and their movements will be monitored using smart cameras located all around the city, if they want to be permitted to leave their zone for more than 100 days per year under the new program.
How long do you think the people of Oxfordshire will put up with this?
[ZH: Paul Joseph Watson writes that the local authorities in Oxford sought to 'fact check' the piece saying they're enforcing de facto 'climate lockdowns', but ended effectively admitting that's precisely what they're doing...]
I never imagined that the West would be the place where anything like this would be adopted, yet here we are.
Some people are protesting this new plan loudly, but an official in Oxfordshire has promised that "the contentious idea will go forward whether people liked it or not."
Meanwhile, in an effort to cut down on carbon emissions, France has banned some short-haul flights entirely.
You must now take the train in France instead of the airline.
French authorities have been granted permission by the European Commission (EC) to restrict domestic flights if the journey can be made by rail in less than two and a half hours.
In 2021, the proposal to implement the strategy to reduce carbon output was made. It had requested for a ban on eight short-haul flights, but the EC has only agreed to eliminate three that offer fast, simple train alternatives with many direct connections each way every day.
If the French people approve of these regulations, then other EU countries will likely follow suit.
In order to "lower its nitrogen emissions," the Dutch government has announced plans to purchase and shut down over 3,000 farms.
According to sources, the Dutch government plans to buy and shut down as many as 3,000 farms in an attempt to meet a European Union environmental obligation to reduce emissions.
According to The Telegraph, farmers in the Netherlands will be compensated "far above" the value of their property in the hopes that they would accept the offer freely. If not enough farmers agree to buyouts, the government will do it anyhow in an effort to lower nitrogen pollution levels.
Nitrogen Minister Christianne van der Wal told the Dutch Parliament on Friday, "There is no better offer coming."
In the midst of a historic food shortage throughout the world, the Dutch government has chosen to shut down thousands of farms.
How incredibly ridiculous this is, I just cannot fathom.
When it comes to carbon emissions, Canada has figured out a method to force individuals to commit themselves after they've outlived their usefulness. A growing number of Canadians are opting for assisted suicide each year, and the trend is expected to continue.
Last year, more than 10,000 individuals in Canada — amazingly that's over three percent of all fatalities there – terminated their lives by euthanasia, an increase of a third on the previous year. And it's just going to go up from here, since Canada will legalize assisted suicide for mental health reasons in 2019.
Canada offers help for those who suffer from depression.
Canada also has a plan for those who have physical impairments.
Canadian army veteran and Paralympic athlete Christine Gauthier had been fighting for a stairlift for her home for five years when she was presented with an extraordinary alternative just last week.
In 2019, a government official in Canada told her that the government would provide assistance in committing suicide if she was so 'desperate' because of the hardships she was experiencing. The former soldier testified to Canadian lawmakers from his wheelchair, saying, "I have a letter saying that if you're so desperate, madam, we can offer you MAiD, medical assistance in dying."
The phrase "medical aid in dying" is rather clinical.
However, this is the ultimate prison.
Since it will be impossible to continue committing "climate sins" after one has stopped breathing. The spread of authoritarianism throughout the Western world is startling. What kind of dictatorship can we expect if they can limit travel and shut down farms today?
Common folk are still in the dark about what's going on. We can only pray that they come to their senses in time.
HNewsWire:  People throughout the globe are engaged in a "war" over whether or not to utilize pandemics like COVID and monkeypox to push for "a huge collectivist society," or whether or not "those who cherish freedom as it comes from a creator as it is founded in individuality."
Say hello to Granite Ridge Soapworks! Use our handmade soaps to take good care of your skin. Our premium natural ingredients work together to create a silky, creamy lather that hydrates your skin. Chemicals, such as sodium lauryl sulfate, phthalates, parabens, or detergents, are never used by us. To ensure quality, we make all of our soaps in modest quantities. Visit our Etsy store right away to give them a try and the attention your skin deserves. GraniteRidgeSoapworks: Because only the best will do for your skin.
Use the code HNEWS10 to receive 10% off your first purchase.
HNewsWire: Why so serious? Why are they so indignant over lack of vaccination for a virus with a median Infection Fatality Rate of only 0.23%? While speaking at the Brainstorm Health conference by Fortune Magazine held in Marina del Rey, California, in April 2023, Chelsea Clinton asserts that vaccine hesitancy and outright rejection have been an "unfortunate" side effect of the coronavirus pandemic. She goes on to promote a partnership with the World Health Organization and the Gates Foundation to push a program of mass jabs for children to make up for declining vaccination rates. "I think we are less prepared today than we were, arguably, in January 2020-partially because of the lack of trust and confidence in not only our scientists, but in science itself, and certainly in public health professionals. We all deserve to hopefully not be as…
The People " HardLockDown"...
Authorities Threaten Jail Time For Unvaccinated Aussies Who Try To Enter Businesses
Authorities in New South Wales are threatening to jail Australians who don't show a COVID-19 vaccination pass when they enter businesses.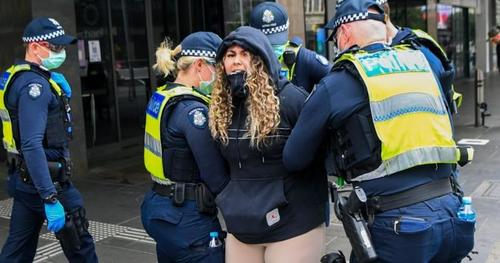 Yes, really.
NSW Customer Service Minister Victor Dominello threatened people who he described as "fraudsters" with arrest if they try to enter premises with "fake vaccine passports"
"If people want to do the wrong thing, if they get found out, as I said, it could be jail time there," said Dominello.
According to the report, people who also try to enter without showing anything will also be subject to arrest.
"Mr Dominello reiterated that those who refuse to show their vaccine status when entering shops, restaurants and other venues should be reported to the police," reports News.com.au.
Enforcing such a system may be problematic however, as the Police Commissioner of New South Wales recently asserted that his officers wouldn't be checking medical papers.
"The role of police in terms of vaccine passports, we will not be walking through restaurants, cafes and pubs checking if people are double vaccinated," said Mick Fuller.
We now face a two tier society where the unvaccinated are not only brazenly discriminated against, but actually thrown in prison if they try to engage in basic commerce or lifestyle activities.
As we previously highlighted, Australians who police merely suspect may be planning to attend an anti-COVID tyranny protest are being intimidated with home visits.
The Coming Antichrist The Signs Are All Around Us The Antichrists
The Who, UN, CDC, DOJ, Bill Gates, and Co, Most of Our Elected Officials Will Bring on the Antichrist System Into Play. We Are Already Under Demoniac Submission to the Beast Now…
We Are Being Lied To Again–Next, the AntiChrist will appear with many empty promises, peace, and security, in reality, it's the yoking of humanity…
Source: ZeroHedge HNewsWire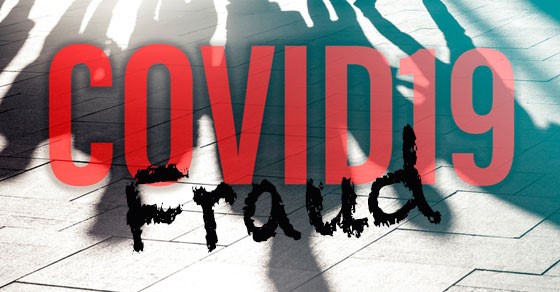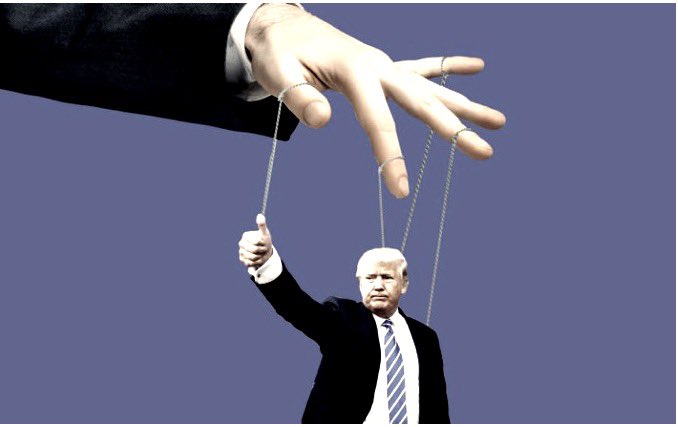 Update: 10/19/2020 Global COVID-19 Cases Top 40 Million As Wales Enacts Emergency "Firebreak" Lockdown: Live Updates
Summary:
World tops 40 million COVID-19 cases
Wales imposes 2 week "firebreak" lockdown
Bar, restaurant closures in Belgium begin Monday
Italy announces new restrictions
Moscow Mayor resists return to lockdown
Bavaria imposes localized lockdown
Iran sees new record daily deaths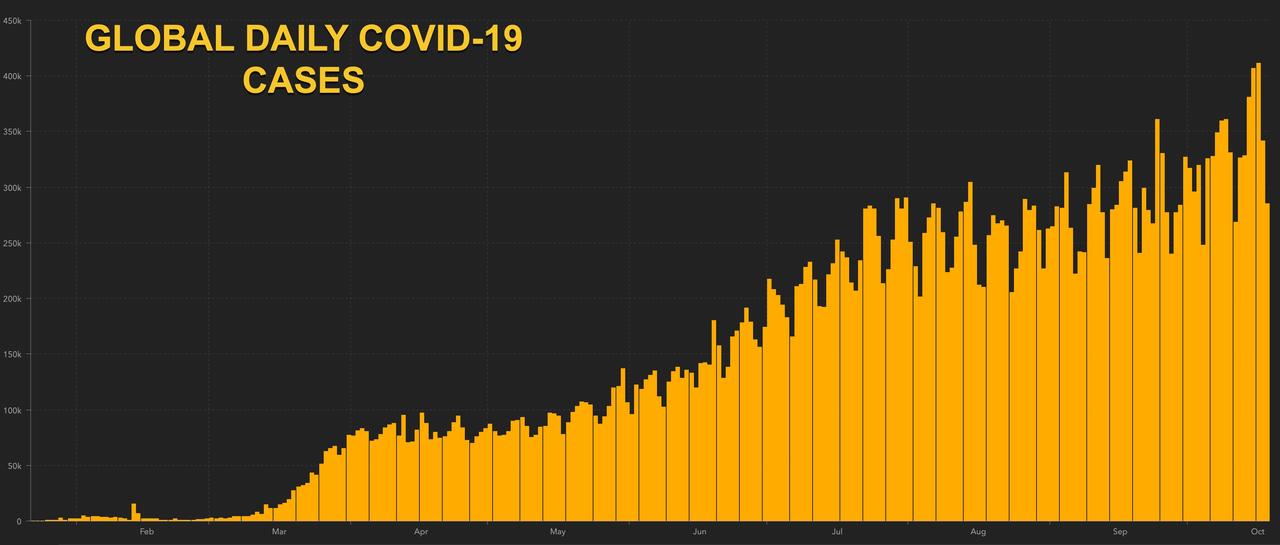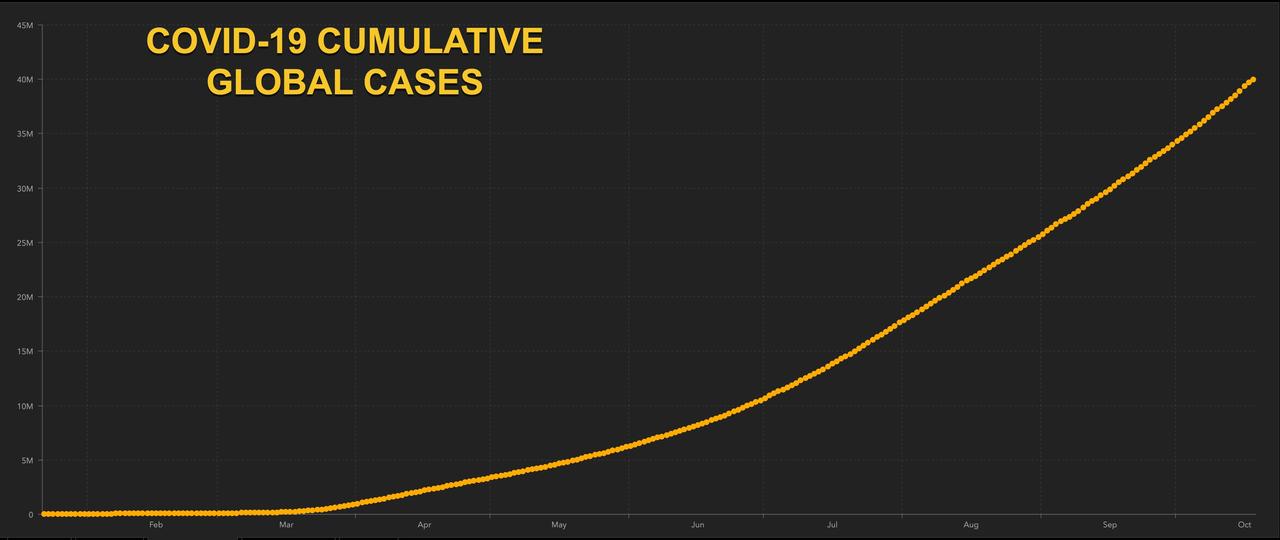 As daily case tallies continue to climb across Europe, yesterday reaching the 200k cases/day mark, new restrictions and closures are being imposed across the continent as leaders do everything in their power to try and avoid reimposing a full-on lockdown.
Just minutes ago on during a late-morning press briefing, Wales First Minister Mark Drakeford announced that the UK constituent nation would be entering a two-week "firebreak" lockdown lasting from Oct. 23 to Nov. 9. The decision was made despite the WHO's landmark advice against further lockdowns, saying the pain from such activities is disproportionately borne by the poor.
It is a "short sharp shock" to stop the clock in the fight against the virus, Drakeford said, following a meeting of the Welsh Government cabinet this morning.
Wales has recorded fewer than 2,000 deaths and just over 35k new cases, and many locals grumbled about the decision to return to lockdown. David in Flintshire said he has "a different take on things." He is due to get married later this month and says a prospect of another lockdown "is just devastating to me."
"This is a 20 people wedding, it's an intimate affair with family members," he said. After his April wedding was cancelled, his partner's dad passed away. "So we re-booked for October and now just to hear this, it's absolutely devastating," per the BBC.
Elsewhere in the UK, schools in Northern Ireland were shut Monday as a two-week shut down, part of new restrictions aimed at curbing the spread of COVID-19, took effect.
On the other side of the world, lockdown restrictions in the Australian state of Victoria, including in the state's biggest city, Melbourne, have finally been eased after more than 100 days. Though restrictions on bars and restaurants remain in effect, limiting hours of operation and the number of indoor diners, people can undertake more social activities, include meetings with friends in larger groups.
Last night, Italy announced a raft of new measures after it recorded a new record on Sunday. Mayors will be able to close public areas after 2100 local time every evening, and the opening hours of restaurants will be further restricted. Nine major French cities, including the capital, Paris, are facing a curfew from 2100 to 0600 for at least a month. The country saw a record number of new cases on Saturday.
Meanwhile, the Czech Republic, the country with the highest infection rates in Europe right now, said Monday that it will wait two more weeks before deciding whether to impose a full option, or take some other more moderate action.
Here's other news from overnight and Monday morning:
Iran reported its highest number of daily deaths, with 337 fatalities. That's fifth time in two weeks that Iran has reported a record number of deaths. The number of cases rose to 534,631 with 4,251 new infections, the Health Ministry said (Source: Bloomberg).
Slovenia will impose a curfew from 9 p.m. to 6 a.m. on Tuesday, while also limiting public gatherings to a maximum of 6 people to try to halt the spread of the virus. The Alpine state reported 537 new cases with a record positivity rate of 20.4% (Source: Bloomberg).
Moscow Mayor Sergei Sobyanin resisted returning to a lockdown even as he warned the city is on track to filling its 15,000 beds devoted to treating Covid-19. A curfew, banning movement around the city or closing most businesses would be "absolutely unacceptable and impossible," Sobyanin wrote on his blog Monday. The mayor's stance mirrors the Russian government, which has shied away from harsh restrictions during the pandemic's second wave despite record numbers of new cases (Source: Bloomberg).
The authorities in the southern state of Bavaria have imposed a lockdown on the town of Berchtesgaden, amid soaring coronavirus infections in the area. The decision underscores that Germany is now clearly experiencing a second wave of the pandemic. The Robert Koch Institute (RKI), Germany's main public health authority said on Monday that there had been 4,325 new infections over the previous 24 hours (Source: FT).
Fresh restrictions in Belgium that will close bars and restaurants came into force on Monday, as the nation experiences the continent's highest infection rate after the Czech Republic. "We are really very close to a tsunami," said health minister Frank Vandenbroucke. "We no longer control what is happening" (Source: FT).
Update: 9/28/2020 Global COVID-19 Deaths On Track To Top 1 Million, UK Prepares New 'Localized Lockdown' Measures
Summary:
Global deaths just below 1 million
UK prepares new lockdown measures
Case total tops 33 million
Indian cases top 6 million
Inovio pauses vaccine trial
Russian outbreak worsens
New UK fines take effect
Australia's Victoria region posts just 5 new cases
* * *
Update (1045ET): Bloomberg has just published its latest take on Sweden's handling of the COVID-19 outbreak, pointing out that while other economies have shut down and then reopened, "Sweden has kept its restrictions largely intact since mid-March." However, that hasn't stopped its services sector from taking some serious hits.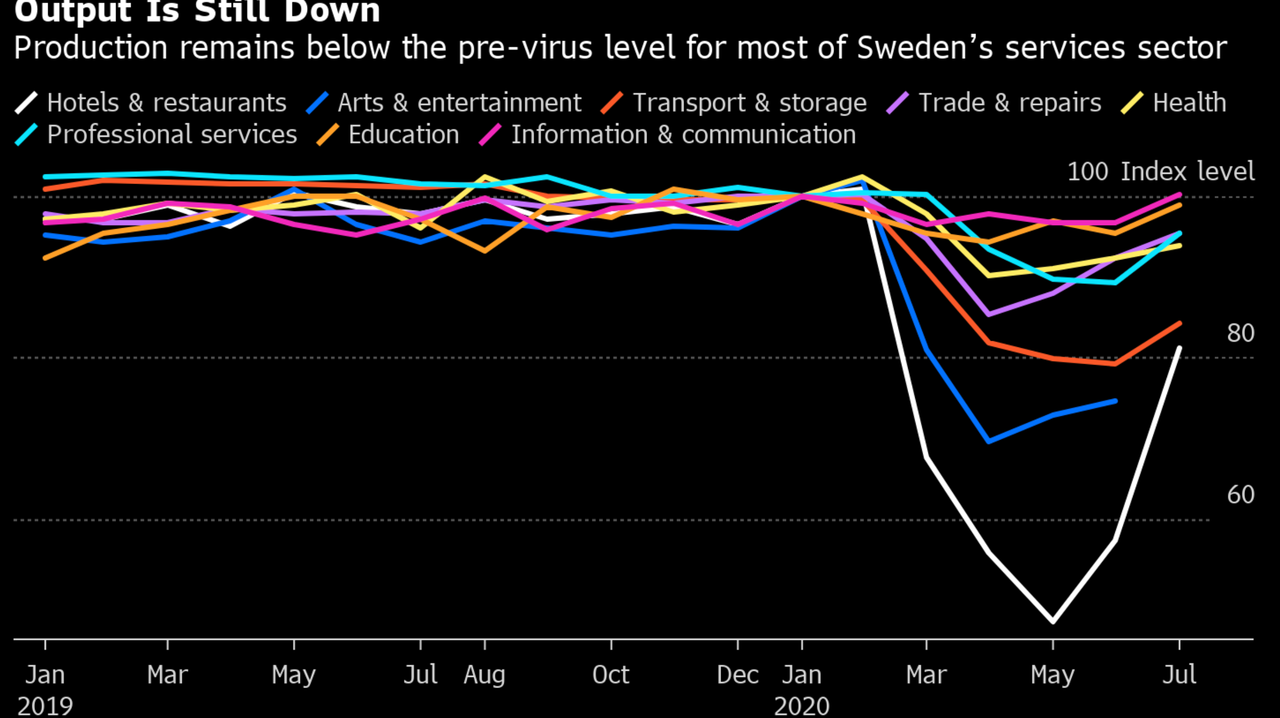 It's just the latest evidence showing that obediant Swedes weren't out parying and visiting spas during the worst of the outbreak, despite the government's decision to forego a formal lockdown.
* * *
Update (0915ET): Once again, a handful of western European countries saw the biggest weekly acceleration in new caes (on a percentage basis) while India's outbreak slowed from its peak.
Spain, France and Belgium led the pack with the biggest weekly increase (per 10k residents).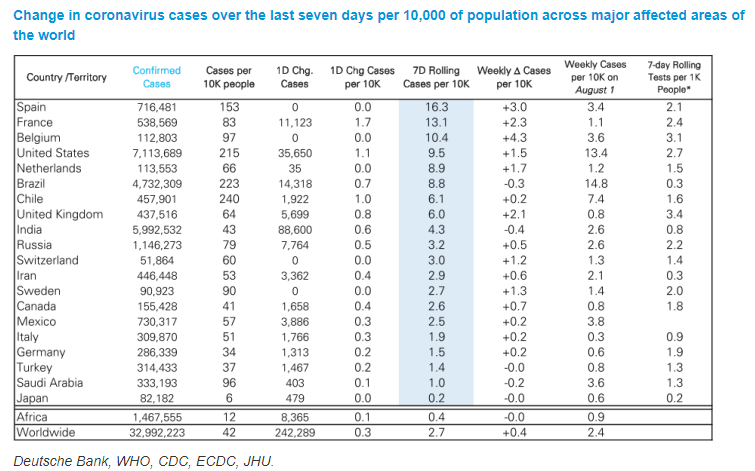 * * *
With COVID-19-linked deaths in the US accelerating to roughly 1,000 per day for the first time since before the Sun Belt outbreaks peaked over the summer, the US surpassed 200,000 deaths last week, and now the world is on track to surpass 1 million deaths within the next 24 hours, according to the Associated Press.
Globally, the number of deaths reported on Sunday fell by roughly 50% from the more than 5,000 reported on Saturday. Just 2,552 deaths were reported on Sunday, bringing the global total to 998,145 as of Monday morning, within 2,000 deaths of 1 million. Unless the pace of fatalities slows remarkably on Monday, we will top 1 million before midnight - and possibly before the close of the US market day.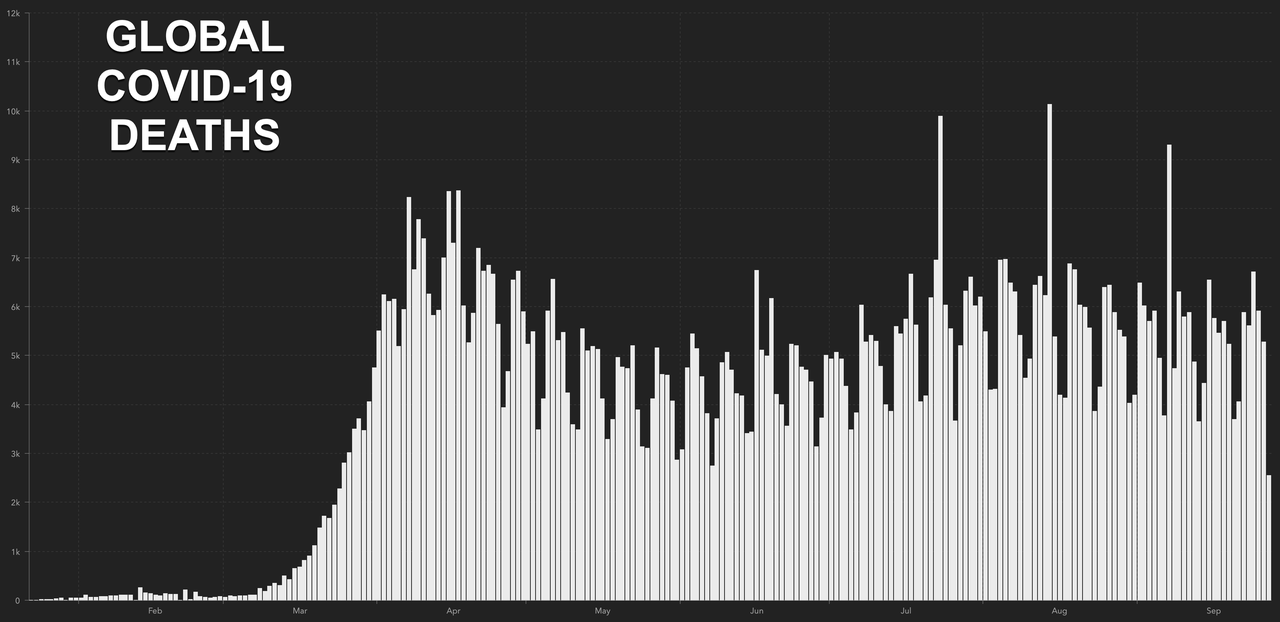 Some experts, however, believe the true death tally might actually be twice the official number, as underreporting has largely gone unchallenged in China and elsewhere.
On the vaccine front, Inovio, a US biotech company, said its Phase 2/3 trials for a COVID-19 vaccine candidate had been put on hold as the company answers more questions from the FDA. Its shares slid 35% on the news, but news of the delay didn't have any broader impact on markets.
The pace of new COVID-19 cases slowed again on Sunday to 155,542 new cases, but the 7-day average remained firmly in expansionary territory as outbreaks in the US and Europe, along with a handful of other regions, intensify. Many experts fear a quickening in the pace of deaths weeks after cases rise, though others argue that advances in the treatment procedures have helped to lower the mortality rate significantly. Sunday's numbers pushed the global total past 33 million, to 33,130,914.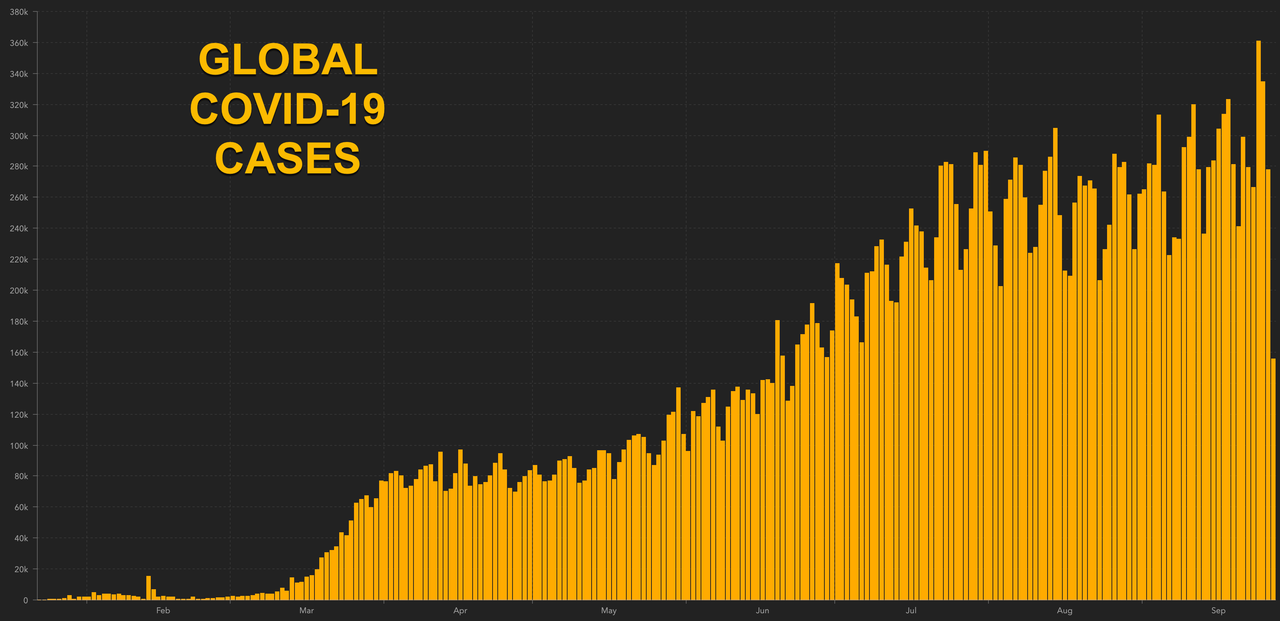 As Russia strikes deals around the world to hold Phase 3 trials for "Sputnik 5", the COVID-19 vaccine developed by the Gameleya Institute and funded by a Russian sovereign wealth fund, an outbreak in Moscow has continued to drive the largest surge in infections since June. New cases in Russia have risen to the highest level since June 16, as authorities confirmed 8,135 new infections in the past 24 hours, pushing the total to 1,159,573. Another 61 people have died, taking the official death toll to 20,385.
But aside from the global figures, the biggest story overnight is India's total coronavirus infections, which exceeded 6 million as the country reported 82,170 new cases in the last 24 hours, while its death toll jumped by 1,039 to 95,542. The new cases pushed India's total to north of 6 million cases, leaving it within striking distance of the US total. Though the pace of new infections has slowed since India's peak a couple of weeks ago, many still expect India to become the world's biggest outbreak - surpassing the US - within the next 2-3 weeks. India is currently reporting new cases faster than any other country.
Of the total 6.07 million cases, 15.85% of patients are currently active while 82.58% have recovered, according to official data. The coronavirus mortality rate in the country stands at 1.57%, according to the latest update from the health ministry.
Additionally, the UK is reportedly preparing to enforce new social lockdown across much of northern Britain and potentially London as the country deals with a second wave of coronavirus, according to a Times of London report, which cited unidentified government officials. All pubs, restaurants and bars would be ordered shut for two weeks, per the sources. ZeroHedge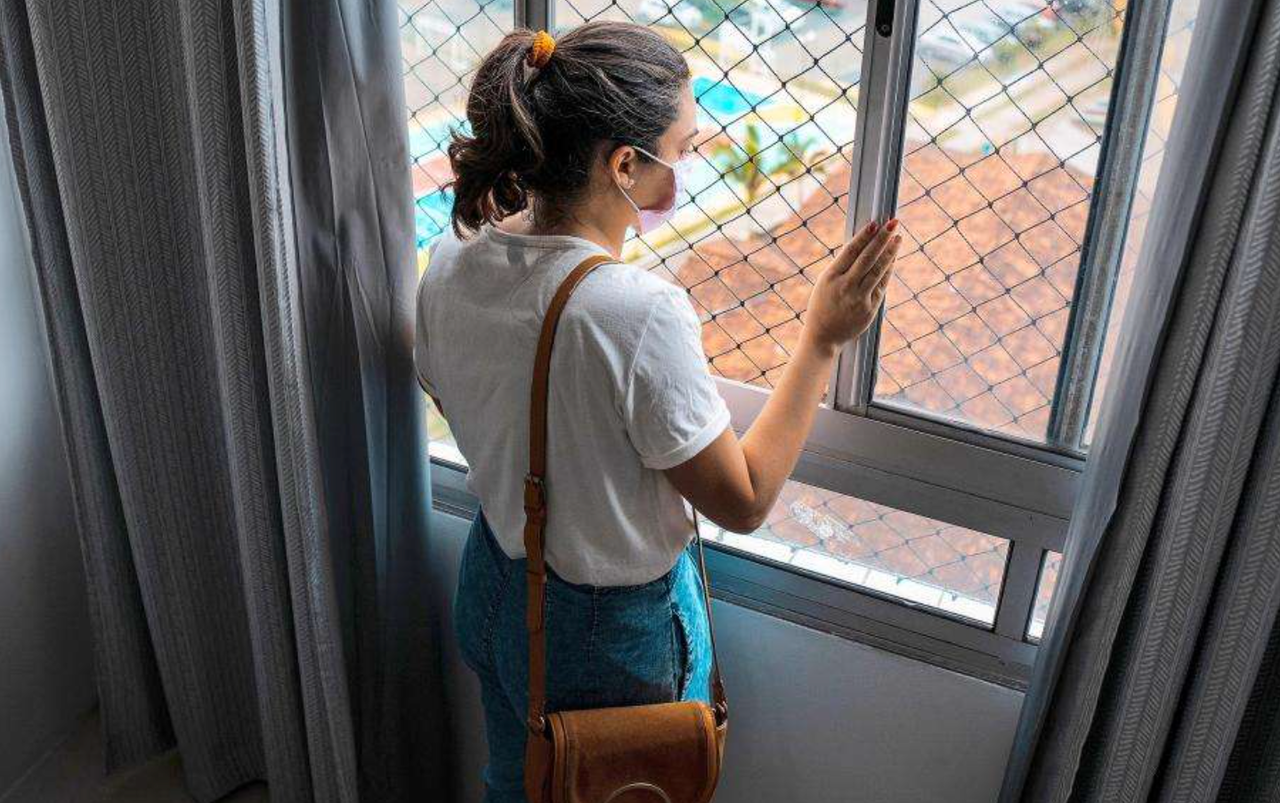 Finally, in the UK, the new fines promised by PM Boris Johnson take effect on Monday, with Britons now facing fines of up to £10,000 for people who refuse to self-isolate and follow other social-distancing measures. Britons are asked to snitch on any neighbors seen knowingly violating quarantine orders.
Here's some other news from overnight:
Australia's Victoria says its daily rise in new infections fell to five, dropping into the single digits for the first time in more than three months. The state placed nearly 5 million residents of its capital, Melbourne, into a hard lockdown in early August but lifted a night curfew on Sunday thanks to a steady fall in new daily cases (Source: Nikkei).
Saudi Arabia, which is presiding over the Group of 20 countries this year, says the upcoming November gathering of world leaders will be held virtually amid the pandemic (Source: Associated Press).
China reported 21 new cases on Sunday, up from 14 a day earlier, though it claimed all the new cases were "imported". The number of new asymptomatic cases, which are classified differently from confirmed COVID-19 patients, fell to 14 from 26 a day earlier (Sources: Nikkei).
South Korea reported 50 new infections, down from 95 from the prior day, and the fewest since a new wave of outbreaks that first emerged after a couple of 'super-spreader' events last month (Source: Nikkei).
Japan plans to slowly lift overseas travel alerts in October, allowing travel from 10 countries and regions that have a low number of new coronavirus infections, including Australia, New Zealand, and Vietnam (Source: Nikkei).
Melbourne Police Surround & Arrest 2 Elderly Women Resting On Park Bench For 'COVID Violation'
"Victoria Police have lost all commonsense," one Australian eyewitness quipped upon posting a video showing police telling a 38-week pregnant woman she can't sit down due to coronavirus and social distancing enforcement measures.
It's one of many recent viral videos to come out of Australia's southeast state of Victoria, home to Melbourne, showing absurd "crackdowns" by police for alleged coronavirus policy violators. "As a pregnant woman I can't sit in the park?" the incredulous woman whose story was covered widely in local media asked the couple of officers who harassed her.
Apparently not... because COVID. "You can only be out of your house for one of four reasons," the officer responded. "One of those would be exercise. Sitting in a park is not one of the four reasons." Source: zerohedge
British Officials Issue Warnings About 'a Tipping Point' and Second Lockdown If COVID-19 Rules Are Not Followed
James, Reuters 10 hours ago
Britain's health minister, Matt Hancock, said a second national lockdown could be a possibility if government-issued COVID-19 preventative measures are not followed.
"The nation faces a tipping point and we have a choice," Hancock told Sky News. "The choice is either that everybody follows the rules ... or we will have to take more measures."
Prime Minister Boris Johnson announced people will be fined if quarantine requirements for those who were exposed to coronavirus are not followed on Saturday.
LONDON (Reuters) - Britain is at a tipping point on COVID-19, health minister Matt Hancock said on Sunday, warning that a second national lockdown could be imposed if people don't follow government rules designed to stop the spread of the virus.
COVID-19 cases have risen sharply in recent weeks to more than 4,000 per day. Prime Minister Boris Johnson has called it a second wave and stricter lockdown measures have been introduced in areas across the country - with London possibly next in line.
"The nation faces a tipping point and we have a choice," Hancock told Sky News. "The choice is either that everybody follows the rules ... or we will have to take more measures."
Hancock later told the BBC that a second national lockdown was possible option.
"I don't rule it out, I don't want to see it," he said.
Johnson announced fines of up to 10,000 pounds ($12,900) on Saturday for people in England who break new rules requiring them to self-isolate if they have been in contact with someone infected with COVID-19.
In addition to tighter rules on social gatherings across the country, several cities and regions in Britain have had 'local lockdowns' imposed, limiting even more strictly when, where and how many people can meet up socially.
Asked about comments from London mayor Sadiq Khan, who said on Friday new restrictions were increasingly likely in the capital, Hancock said: "I've had discussions this week with the Mayor of London, and the teams are meeting today to discuss further what might be needed."
Hancock was also asked on Times Radio about the possibility of Londoners being told to work from home later this week, and said: "Well, I wouldn't rule it out."
The opposition Labour Party leader Keir Starmer said he would support whatever measures the government brings forward, but criticised the government's testing system for not having the capacity to deal with increased demand as schools returned.
The Totalitarian Future Globalists Want For The Entire World Is Being Revealed
All over the Western world ever since 9/11 there have been incremental steps towards what many liberty advocates would call a "police state"; a system in which governments are no longer restricted by the boundaries of civil liberties and are given the power to do just about anything they want in the name of public safety.
The use of "the law" as a tool for injecting tyranny into a culture is the first tactic of all totalitarians.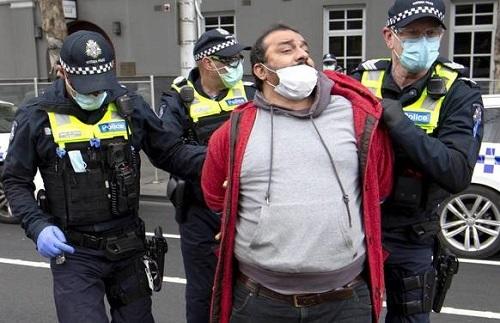 The idea is that by simply writing government criminality into the law books, that criminality somehow becomes justified by virtue of legal recognition. It's all very circular. Whenever government abuse of the people is initiated, it's always initiated in the name of what's "best for society as a whole". To save society, the individuals that make up a society must be sublimated or destroyed. This mentality is the complete opposite of what the Founding Fathers in America fought and died for, but as Thomas Jefferson once said:
"Rightful liberty is unobstructed action according to our will within limits drawn around us by the equal rights of others. I do not add 'within the limits of the law' because law is often but the tyrant's will, and always so when it violates the rights of the individual."
In countries like Australia, which claim to value Western democratic principles of liberty and rule by the people, the perception is that civil rights are codified into the legal framework just as they are in the US. However, there are some glaring differences and issues; specifically, Australian citizens (like many European citizens) have absolutely no means to compel their government or the elites that influence their government to limit themselves. It is these nations, in which the populations have been mostly disarmed and pacified, that any agenda for tyranny will first be established. But we will get to that in a moment...
Make no mistake, there is a very OPEN and easily identifiable agenda on the part of globalists to establish a heavily centralized police state system in every country they are able. This is not "conspiracy theory", this is conspiracy fact.
For many years now there have been numerous analysts, economists and geopolitical experts in the alternative media that have predicted and warned the public about the globalist strategy of "order out of chaos". In other words, the ultra-wealthy power brokers that hold influence over most governments on Earth seek to "reshape" the existing social order through the creation of crisis and disaster. By engineering public desperation, they hope to lure us into accepting restrictions on our freedoms that we would have never considered otherwise.
The goal of a single global economy and government has been spoken of by elites time and time again, yet it is still to this day called "conspiracy theory" or "paranoid delusion". I could quote these elites and their organizations all day long, but I'll cite a few choice statements to make my point.
As former Deputy Secretary of State under Clinton and Council on Foreign Relations member Strobe Talbot wrote in an article for Time Magazine in 1992 titled 'America Abroad: The Birth Of The Global Nation':
"In the next century, nations as we know it will be obsolete; all states will recognize a single, global authority. National sovereignty wasn't such a great idea after all."
As elitist and Fabian Socialist HG Wells outlines in his non-fiction treatise titled 'The New World Order':
"...When the struggle seems to be drifting definitely towards a world social democracy, there may still be very great delays and disappointments before it becomes an efficient and beneficent world system. Countless people ... will hate the new world order ... and will die protesting against it. When we attempt to evaluate its promise, we have to bear in mind the distress of a generation or so of malcontents, many of them quite gallant and graceful-looking people."
And how about one of my favorite revealing quotes from Trilateral Commission member Richard N. Gardner, former deputy assistant Secretary of State for International Organizations under Kennedy and Johnson? He wrote in the April, 1974 issue of the Council on Foreign Relation's (CFR) journal Foreign Affairs (pg. 558) in an article titled 'The Hard Road To World Order':
"In short, the 'house of world order' will have to be built from the bottom up rather than from the top down. It will look like a great 'booming, buzzing confusion,' to use William James' famous description of reality, but an end run around national sovereignty, eroding it piece by piece, will accomplish much more than the old-fashioned frontal assault."
Members of globalist foundations and think-tanks like the CFR have inhabited nearly every US government office and presidential cabinet for the past several decades. This includes the two dozen or so CFR members in Donald Trump's cabinet.  Draining the swamp? Not going to happen.
As Harpers Magazine candidly revealed in a 1958 expose titled 'School For Statesmen':
"The most powerful clique in these (CFR) groups have one objective in common, they want to bring about the surrender of the sovereignty and the national independence of the U.S. They want to end national boundaries and racial and ethnic loyalties supposedly to increase business and ensure world peace. What they strive for would inevitably lead to dictatorship and loss of freedoms by the people. The CFR was founded for "the purpose of promoting disarmament and submergence of U.S. sovereignty and national independence into an all powerful one world government."
The easiest method for the globalists to get what they openly say they want is to either conjure a crisis or exploit an existing crisis in order to "erode sovereignty". The current pandemic fits this plan perfectly, but before sovereignty can be eliminated on a national level they need to undermine sovereignty on an individual level first.
Actions within the US and nations allied to the US suggest an accelerated attack on personal liberties is at hand.
There are sister foundations to the CFR in many other countries. For example, in Australia they have the highly embedded and influential Strategic Policy Institute, which has been consistently advocating for complete centralization of government power in the wake of the coronavirus pandemic. Their stated plan is to concentrate policy administration in the hands of a new "commission" or "department" made up of the "brightest minds". This commission would not be tasked with getting Australia back to normal, but convincing the public to ACCEPT the "new normal" beyond the pandemic.
The ASPI enthusiastically heralds the idea in an article titled 'Coronavirus Response A Chance To Reimagine Future For Australia':
"The agenda of such a department now is not about getting Australia back to normal after the pandemic. It's about re-imagining what Australia can be and how we can thrive and prosper in our future beyond the coronavirus and in light of drought, bushfires and climate change. Think about the kind of new economy we can have after the forced, rapid adoption of dispersed home working and schooling through digital means. We can be the leading digital economy the prime minister desired before the pandemic, not by 2030 but much earlier."
This reminds me immediately of the post 9/11 push to rapidly remove constitutional protections while the public was blinded by fear and confusion.  As US globalist Rahm Emanuel would say:
"You never want a serious crisis to go to waste. And what I mean by that is an opportunity to do things that you think you could not do before."
The ASPI reveals the true agenda, which is the complete federalization and unilateral implementation of law without public approval. The plan is to do this by exploiting the pandemic event to its full potential and then applying the rapid societal changes in government structure. This will then be carried on long after the coronavirus disappears in the name of the economy, welfare programs and so-called "global warming". The pandemic response is just a means to an end, and the end game is total dominance of the population.
I focus on Australia and the surrounding regions in particular because this seems to be the place where globalists are enforcing technocratic policies first. Or at the very least, they are test-running their strategy and using Australians as guinea pigs. When the ASPI says they plan to keep the pandemic changes in place well after the virus is gone, they aren't just talking about shifting into a digital economy.
Right now, Australia and New Zealand are slamming citizens with perhaps the most draconian measures yet in the Western world. These are policies that the elites want to introduce everywhere, but they are going full bore in Australia, and it just keeps getting worse.
In various areas of Australia "Level 4" response measures have been enforced for at least the next six weeks, including curfews, strict mask policies including people being forced to wear masks OUTSIDE (contrary to everything science and virology has to say about low possibility of transmission in sunlight and open air), residents are not allowed to travel more than 3 miles from their homes and only one person from a household is allowed to leave at any given time. Citizens violating these rules are subject to $10,000 fines or arrest. And yes, people are being arrested simply for not wearing mask or being too far from home.
In New Zealand, the situation has become exceedingly grim and I think it should be treated as a warning to Americans specifically as to our potential future is we allow the narrative of "public health security" to be turned into a vehicle for tyranny.
While Australia has been using quarantine facilities to force people considered high risk to isolate, NZ quarantine camps are now fully under the control of the military, and ALL citizens that test positive or are suspected to have Covid can be separated from their families and placed in the camps, which are hotels converted into prisons.
It is the complete erasure if personal liberties all because of an increase in cases which has amounted to a mere 525 deaths in Australia and 22 deaths in New Zealand.
I believe the reason Australia and New Zealand have been targeted with this level of restrictions first is because they have been almost fully disarmed and have no means to defend themselves from government overstep. That said, I see signs that similar measures will be attempted in the US as well. In states like New York, there are low key programs to set up Covid checkpoints stopping and checking vehicles coming into the state. This is where heavier restrictions start.
First, checkpoints will be established in the name of keeping infected people out of a state or city. Then, those same checkpoints will be used to keep people from leaving a state or city. Then, checkpoints will be set up at random to test people for fever or symptoms of illness. If allowed to continue, the natural progression of checkpoints is to terrify the population into not traveling anywhere for any reason. Like in Australia and NZ, people will effectively be imprisoned in their homes. At this stage, bringing in laws or executive orders punishing people for leaving home will be easier; they will have already acclimated to being trapped at home anyway.
Furthermore, elites and globalists within the US are calling for hard lockdowns for at least six weeks, just like the Level 4 lockdowns in Australia. Federal Reserve member Neel Kashkari recently asserted that Americans are saving more, thus they should be subjected to hard lockdowns "because they can afford it".
Virginia is planning mandatory Covid vaccinations, even though vaccines for SARS like viruses have proven impossible to develop in the past, and rushed vaccines have a history of harming or killing people rather than protecting them. Set aside the issue that giving government the power to force citizens to inject anything into their bodies is immoral.
What's next? Covid camps? Well, yes, unless Americans make a hard stand. Mainstream media outlets have been suggesting this strategy for months. The Washington Post applauded the use of forced isolation camps in other nations and asks why the US has not yet used them beyond ports for foreign travelers? The reason is this: Many Americans will not go along with such measures, and will use force in-kind against anyone trying to lock them up because of a virus that is a moderate threat at most to a small percentage of the population.
That said, don't assume that the establishment will not eventually try it here. They will. Be ready when they do so. Look to the actions in places like Australia and NZ and ask yourself, am I willing to go along with that? And if so, for how long? Because the globalists intend for these restrictions to become the "new normal". They intend for this nightmare to last forever. Source: ZeroHedge
UP-Date 8/7/2020 The country hit a grim milestone on Friday, surpassing 2 million confirmed COVID-19 cases, including over 41,000 deaths, which commentators have somewhat positively noted is a comparatively low mortality rate compared to other global hot spots. Friday saw a record daily jump in confirmed cases. Via Reuters
California Becomes 3rd State To Report More Than 10,000 COVID-19 Deaths
Summary:
California becomes 3rd state to top 10k deaths
Miami-Dade hospitalizations lowest since 7/10
Illinois reports 2k+ new cases for first time since May 24
Gov Cuomo says NY schools can reopen next month
Arizona cases decline, deaths tick higher
Florida sees continued decline in new cases
Global total tops 19 million
Newsom says Cali struggling to fix under-counting bug
Philippines, Indonesia add new cases
Hong Kong launches free testing scheme for all 7.5 million residents
India passes 2 million cases, joining US and Brazil
U of Washington scientists project 300k US deaths by December
* * *
Update (1410ET): California on Friday became the third US state to top 10,000 deaths - the exact death toll is 10,011 - after reporting 142 new deaths on Friday. It's the first time a state has seen deaths eclipse 10k since the US's 'second wave' started in June.
Still, it's well behind New York's toll of 32,756 and New Jersey's 15,849 dead.
The day's data had at least one silver lining: Hospitalizations, meanwhile, fell by 137 to 5,932, down from a peak of close to 8,000.
The state also reported 8,436 new cases (more than the prior day) bringing its total to 538,416.
With more than 8,500 coronavirus deaths, and 7,740, respectively, Texas and Florida could pass the same milestone shortly.
* * *
Update (1325ET): Illinois just reported its biggest daily spike in new cases since May for the second day in a row on Friday as cases in the Midwestern state start to make a comeback. For first time in more than 2 months, the state reported 2,000 new COVID-19 cases (2,084 to be exact), while Gov. Pritzker announced new emergency rules for mask requirements.
The state also reported another 21 deaths. The state last passed 2,000 new cases on May 24, with 2,508 new cases reported during a 24-hour period. That brought the state's total to 190,508, and total deaths to 7,613.
Meanwhile, Miami-Dade hospitalizations have declined to their lowest level in nearly a month...
MIAMI-DADE COVID-19 HOSPITAL PATIENTS 1,785, FEWEST SINCE 7/10
"The Health Ministry reported 62,538 cases in the past 24 hours, raising the nation's confirmed total to 2,027,074. It said 886 more people had died, for a total of 41,585," according to the latest numbers.
Still, officials are saying it could be much worse given the population density, and are hailing government efforts as effective: "Despite our huge population and rampant illiteracy, if we have only 2 million cases so far, it shows that the government has played a big role in reducing the spread," one pharmacist and health official told AP.
Currently India remains with the third highest confirmed cases, after the United States and Brazil, though Iranian officials (Iran is much further down the list with over 322,000 cases) have lately said they believe their true numbers are in the tens of millions.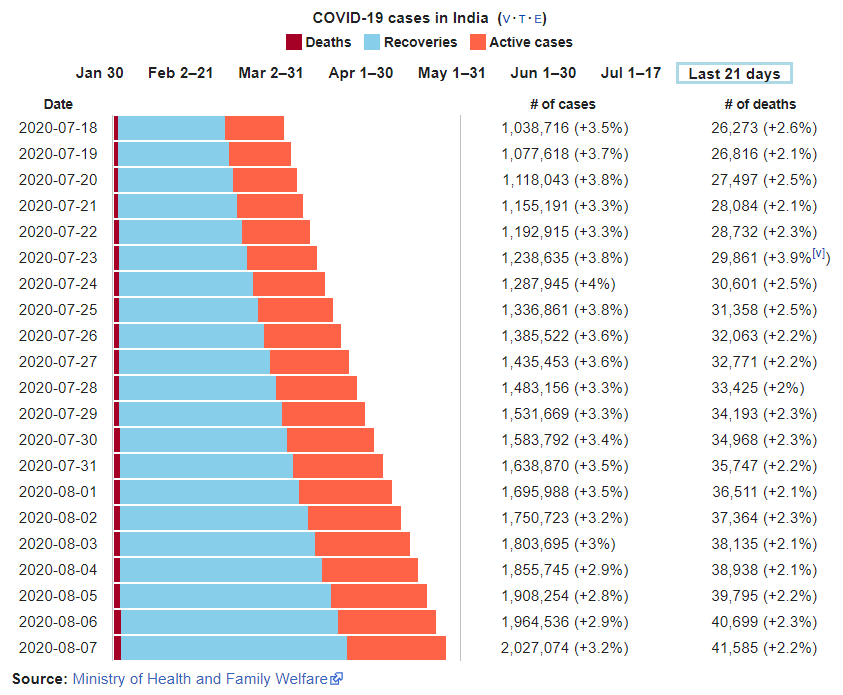 A government ordered months long lockdown has begun to be lifted in most major cities while some provinces have seen restrictions left in place, as India hopes to reinvigorate its lagging, COVID-hit economy.
It's especially rural districts which are considered worrisome, given fears that ill-equipped country-side clinics and hospitals can be easily overrun. Source: ZeroHedge
Up-date 8/6/2020 Germany Suffers Biggest Jump In COVID-19 Case Since May; Philippines Passes Indonesia As Region's Biggest Outbreak: Live Updates
Summary:
Global cases near 19 million
Deaths top 700k
Germany reports more than 1,000 new cases for first time since May
Philippines now worst outbreak in Southeast Asia
Victoria reports another 471 new cases
* * *
The number of new coronavirus cases slowed on Thursday, but the global tally of cases neared 19 million, with the outbreak on track to surpass that number by the end of the week.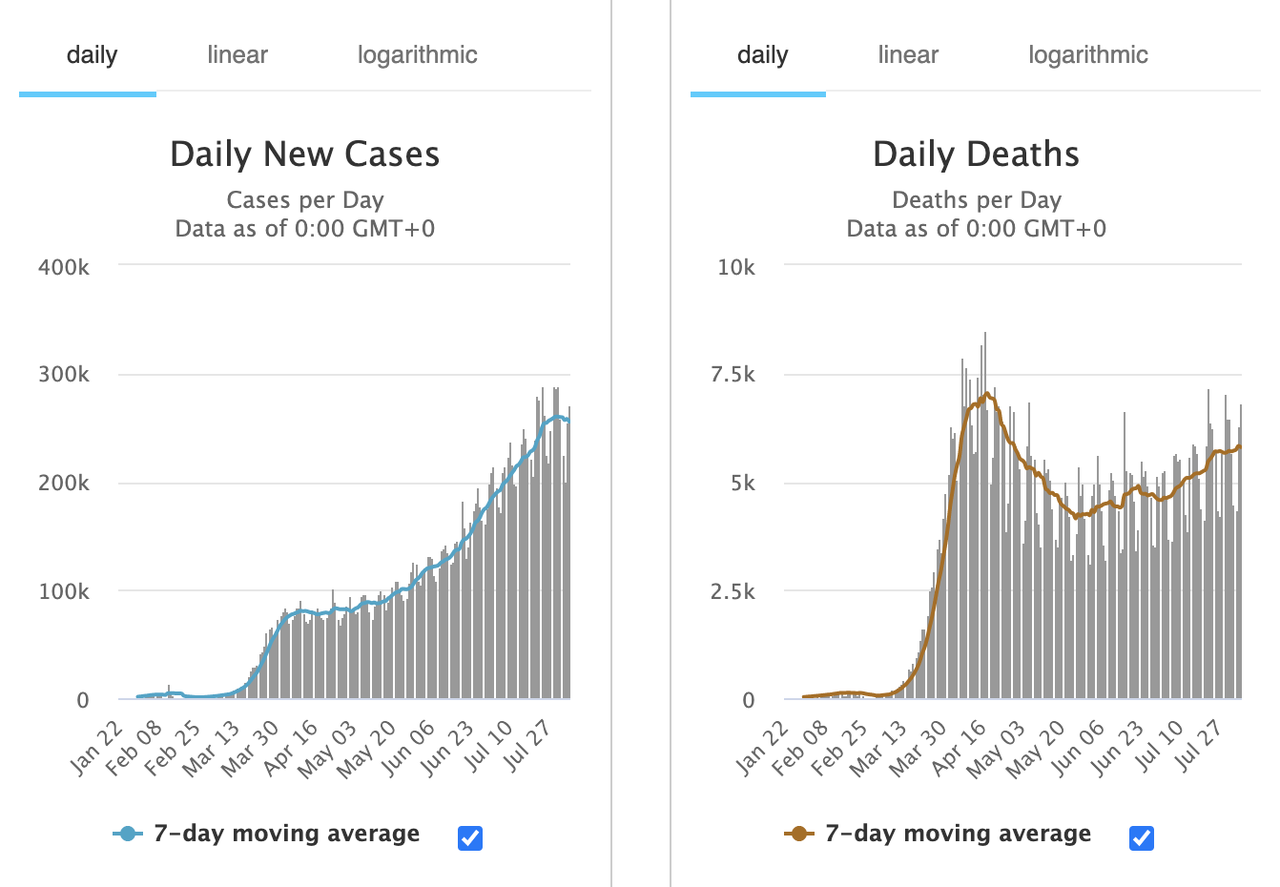 The biggest news overnight comes out of Europe, where Germany just suffered its largest jump in new cases since May, with more than 1000 new cases reported in a day.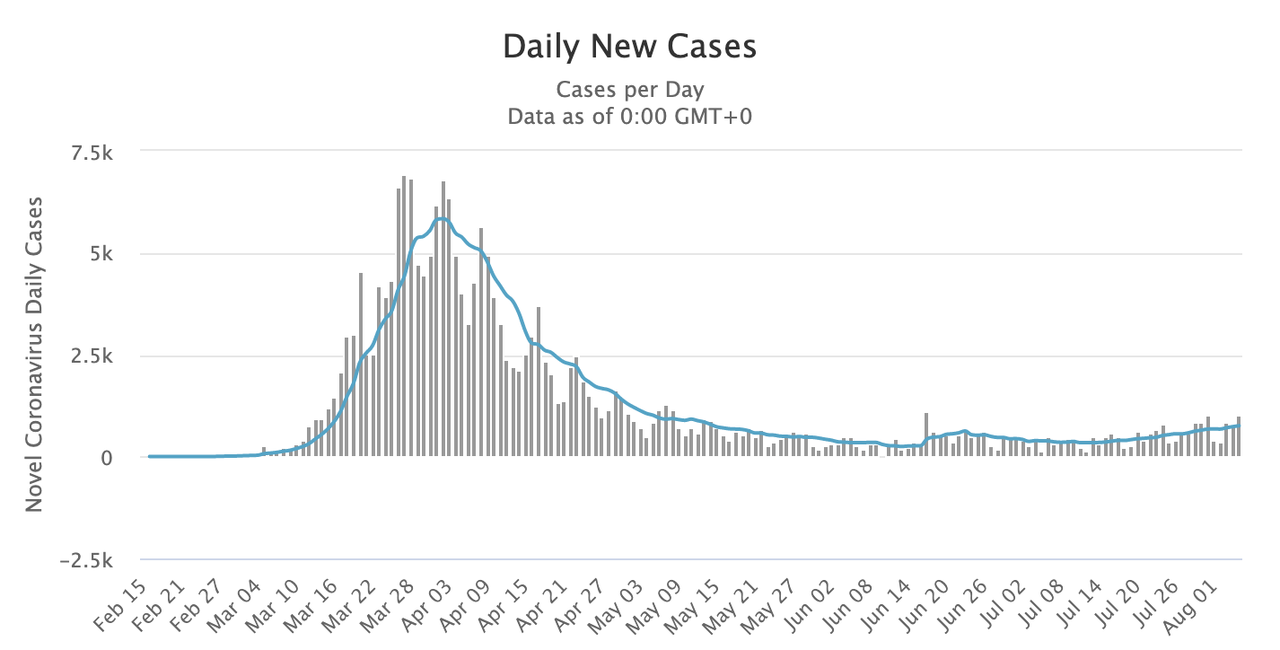 The Robert Koch Institute reported 1,045 new cases on Thursday, bringing Germany's total to 213,067. Its death toll is 9,175. This comes as the RKI warns that any figure above 1,000 a day would make it much more difficult for local health authorities to carry out effective tracking and tracing, and to keep the virus under control, Reuters reports.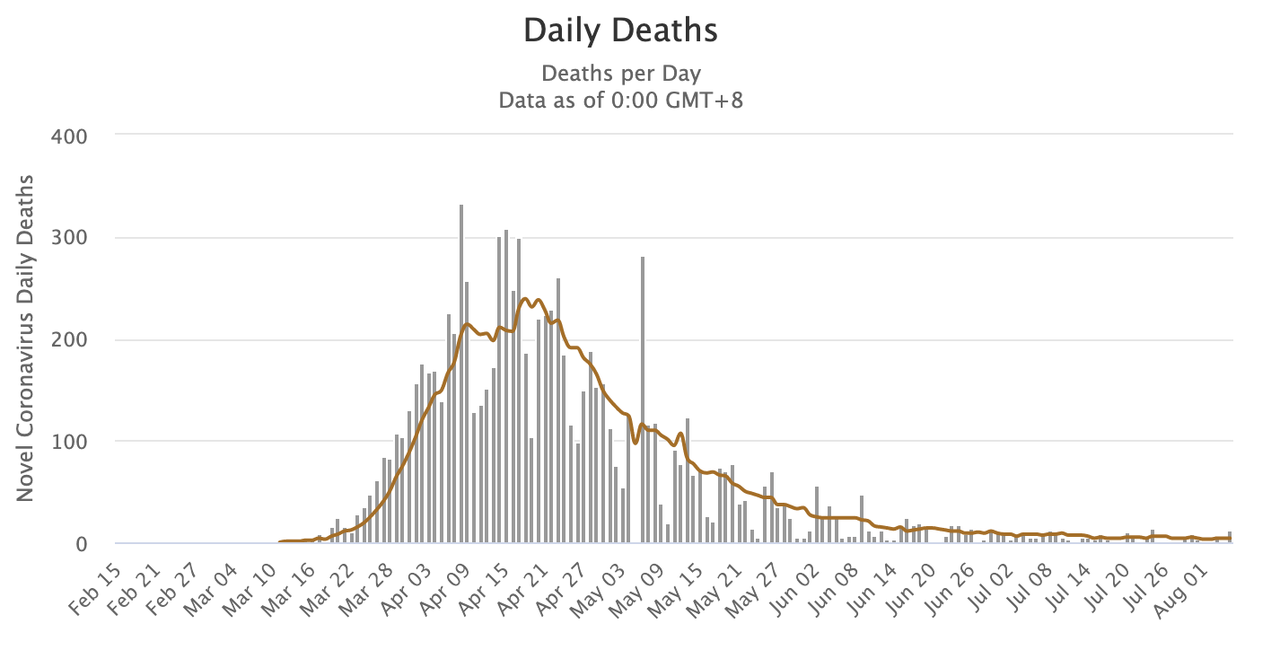 German schools have begun to reopen in some parts of the country, which has been widely blamed for the uptick in new cases.
Surging case numbers are reviving fears of a return to economically damaging lockdown in Germany.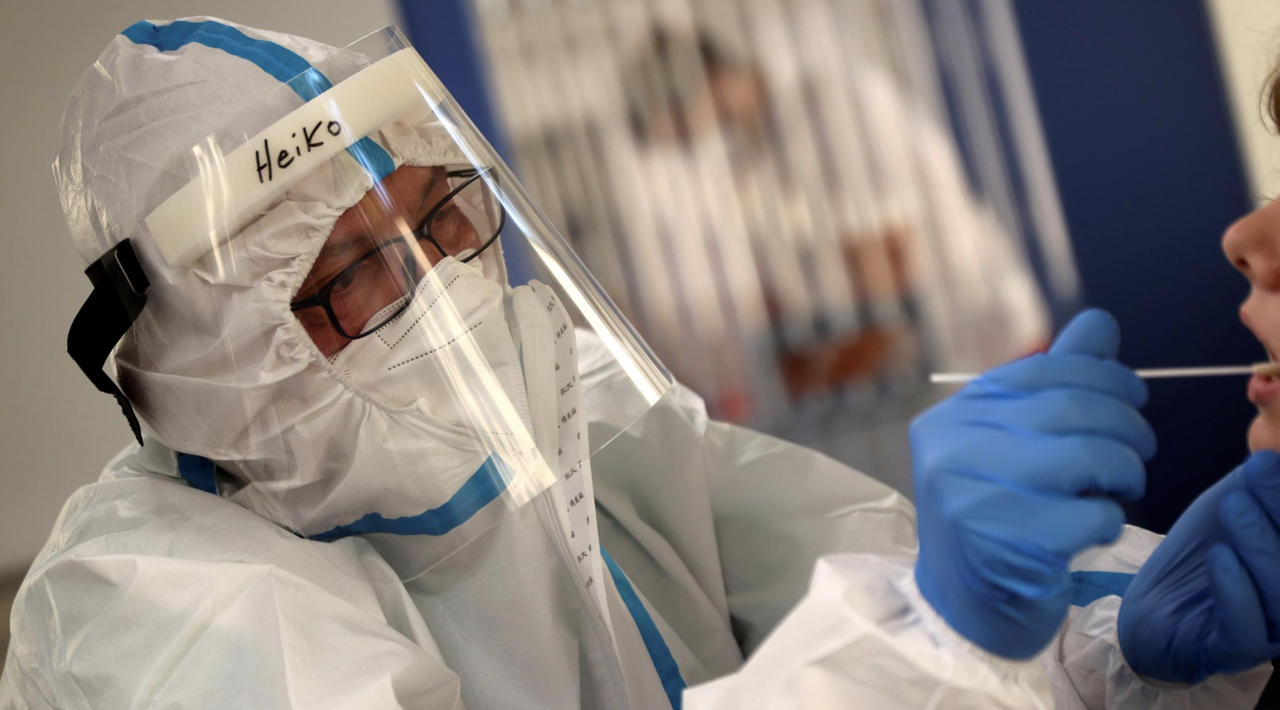 Health Minister Jens Spahn said on Thursday free compulsory testing would be offered beginning Saturday, although a big factor in the increase on Thursday was a surge in tests being run.
In neighboring Poland, officials will introduce new containment measures against the virus in some of the most badly affected counties after fresh infections set new records in the past weeks. The country will impose limits on restaurants, sport events, mass transportation and weddings in 19 of its 380 counties starting Saturday, said Health Minister Lukasz Szumowski.
Typically quiet Southeast Asia is also seeing some alarming new developments as the Philippines surpasses Indonesia for the biggest outbreak in the region, despite imposing the longest, and most strict, lockdown in the entire region earlier this year.The country reported 3,381 new cases on Thursday (these numbers are reported with a 24 hour delay).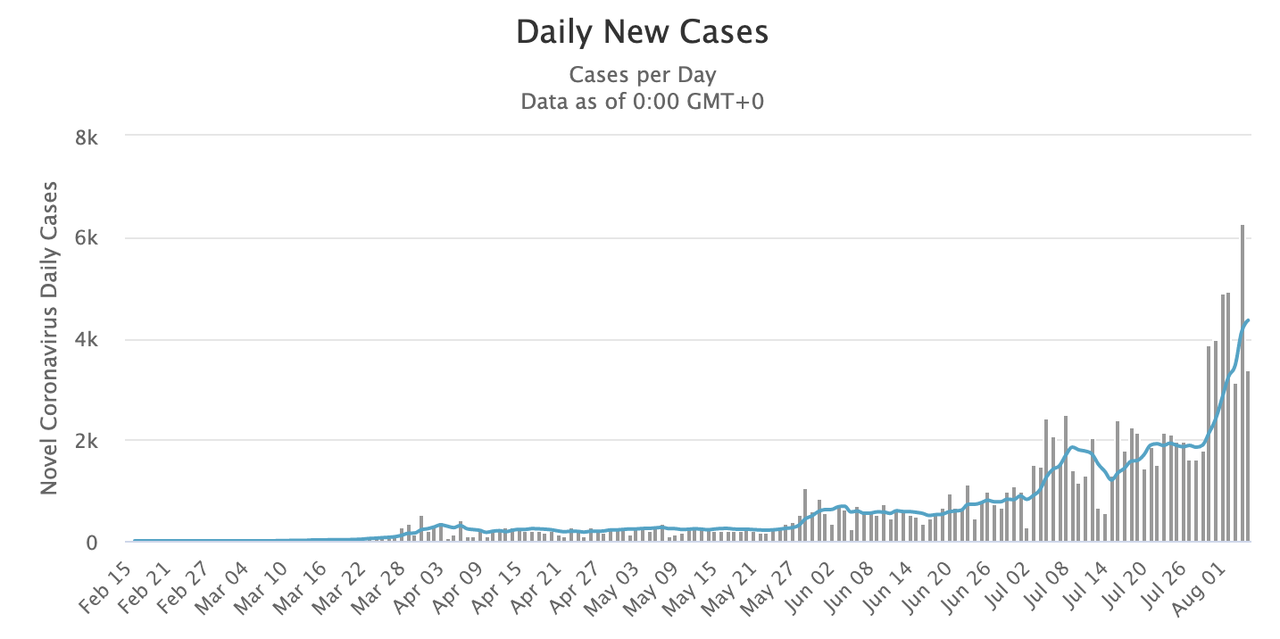 coronavirus cases in the Philippines have now surged to almost 120,000 (119,460 according to Worldometer), eclipsing Indonesia to become the region's biggest outbreak. The country re-imposed this week a second lockdown on its capital and nearby areas to curb infection spread, even as the economy suffered its deepest contraction on record, shrinking 16.5% in the second quarter from a year ago.
This comes as Q2 GDP data shows Philippines economy shrank 16.5% in the quarter, descending into a deep recession.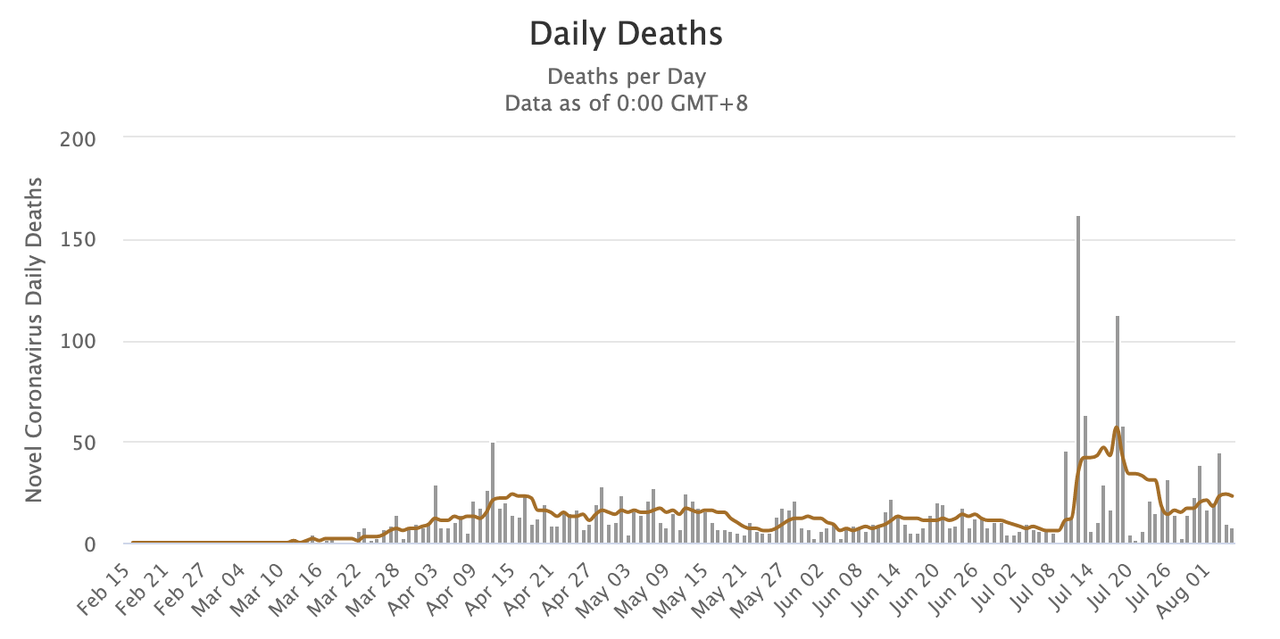 Finally, Australia's Victoria state reported 471 new cases as Premier Daniel Andrews dismissed a report by the Australian newspaper that government modeling showed average daily infections would peak at 1,100 by the end of next week. The state reported a record 725 new cases on Wednesday. Additionally, Aussie PM Scott Morrison warned Thursday that the lockdowns in Victoria (including especially restrictive measures in Melbourne) would shave 2.5% off quarterly growth. Source: ZeroHedge
Up-date 7/12/2020 The ones that should be worried, are the ones (ungodly medical experts, and Some of our elected officials) that lied to the American people and the world Death Angel is getting aggressive, Okinawa Bases Locked Down As COVID-19 Outbreak Grows; Florida Smashes US Single-Day Record
Backlash Against Politicians and their cohorts, MSM and big evil tech…You do recall, don't you, that the governors and mayors who imposed the lockdowns never asked their citizens about their views about instantly getting rid of all rights and freedoms. They didn't consult legislatures. They didn't consult a range of expert opinion or pay attention to any serious demographic data that showed how utterly preposterous it was to force non-vulnerable populations into house arrest while trapping vulnerable populations in nursing homes that became Covid-soaked killing fields. Google that and see what response you get, I can tell you Google hides the truth, as they do on their YouTube platform…
GilmoreHealth.com's Robert Miller writes that contrary to the narrative that is being pushed by the mainstream that the COVID 19 virus was the result of a natural mutation and that it was transmitted to humans from bats via pangolins, Dr. Luc Montagnier the man who discovered the HIV virus back in 1983 disagrees and is saying that the virus was man-made.
Houston leaders call for lockdown as county reports more than 27,600 active coronavirus cases
What's Next In Our New World: Trump Administration Considering Social Credit Score System to Determine Who Can Buy a Gun, the Anti-Christ System Is in Place and ready to be Implemented  THE MARK OF THE BEAST WILL BE AN END-TIMES IDENTIFICATION REQUIRED BY THE ANTICHRIST IN ORDER TO BUY OR SELL...
Australia Places 300k Under Lockdown As Global Cases Near 10.5 Million
Houston leaders are calling for another lockdown as the number of active cases of the coronavirus in the county increased to more than 27,600 on Sunday. Houston's Harris County — the most populous county in Texas — has been the hardest-hit in the Lone Star State.
"Not only do we need a stay home order now, but we need to stick with it this time until the hospitalization curve comes down, not just flattens," Harris County Judge Lina Hidalgo tweeted Sunday. "Many communities that persevered in that way are reopening for the long haul. Let's learn from that & not make the same mistake twice."
Texas Governor Greg Abbott, who had previously resisted a mask order in the state, warned Friday that the state would need to lockdown further if the case numbers don't decrease.
"The worst is yet to come as we work our way through that massive increase in people testing positive," Abbott told CBS affiliate KLBK-TV. "The only way that we can keep our businesses open, the only way that we can continue to have a job they need to pay their bill is for everyone to adopt this practice of wearing a face mask."
Abbott extended a statewide disaster mandate on Friday.
Houston Mayor Sylvester Turner said Saturday that he disagreed with Abbott's plan to reopen schools. "It makes no sense to be having this conversation while this virus is out of control," Turner said, according to CBS Houston affiliate KHOU-TV. "You don't send kids back to school when there's a raging fire and the fires still burning in August. Put the doggone fire out in July, so shut down for a couple of weeks."
In El Paso, the state's sixth-largest city, city-county health authority Dr. Hector Ocaranza ordered schools to remain closed until September 8, according to the El Paso Times. The county had a spike of 411 new cases on Sunday.
"This virus is spreading like wildfire in our community and the only way to slow the spread is for everybody to take this seriously and stay home," Ocaranza said in a statement, according to CBS El Paso affiliate KDBC-TV. "If they must go out, it is important to practice all safety precautions."
The number of coronavirus cases throughout Texas increased by more than 8,100 on Sunday, according to the state Department of Health. There were 80 fatalities.
The number of people hospitalized statewide increased again Sunday to more than 10,400, and there are 977 open ICU beds. The hospitalization rate has increased every day since June 11, when 2,008 people were hospitalized.
The U.S. Army Northern Command confirmed Sunday that it had sent 580 military medical personnel to Texas hospitals to assist in caring for coronavirus patients. Source
Summary:
Goldman says 40% of US has rolled back economic reopening or put them on hold
Oxford scientist warns vaccine by end of the year far from guaranteed
Pfizer vaccine headline sends futures higher
The US reported 48k+ new cases yesterday
Australia locks down 300k in Victoria
Brazil imposes travel ban as deaths near 60k
Tokyo reports most cases since the state of emergency lifted
German infection rate below R for 7th day
* * *
Update (0955ET): Cementing a pattern that we've seen repeatedly since the great race for a mass-produced COVID-19 vaccine began (with the US government selecting several trials to aid directly via its "operation warp speed" program), every time an extremely preliminary headline prompts a rally in stocks, another headline from a scientist expressing caution arrives a few minutes later to push stocks back down.
OXFORD SCIENTIST DEVELOPING POSSIBLE COVID-19 VACCINE SAYS DO NOT ASSUME VACCINE BY THE WINTER, BE PREPARED FOR THE WORST
And just like that...stocks aren't happy.
* * *
Update (0900ET): Despite claiming it would wait to publish study results in a journal, the latest results from one of Pfizer's COVID-19 vaccine trials been released, and stocks predictably spiked higher, following a report from Stat News, that bastion of ever-reliable trial updates.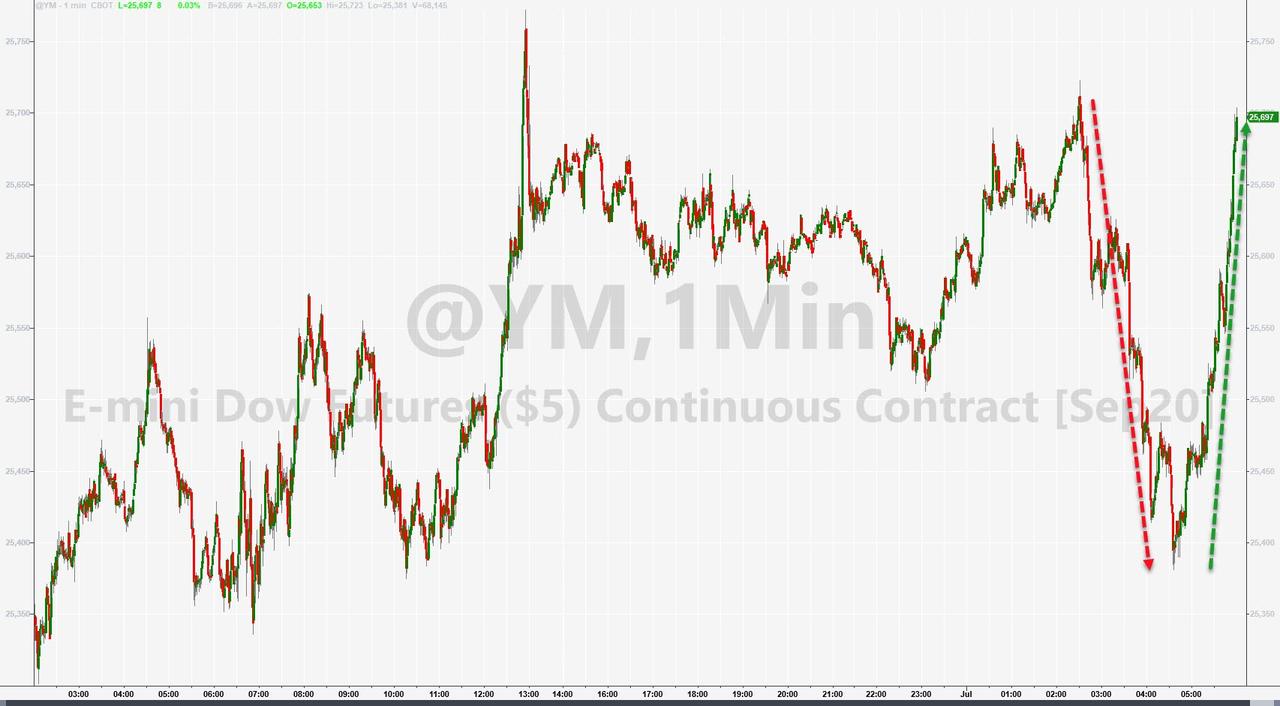 Like prior vaccine news-inspired leaks, we wouldn't be surprised to see this rally fade as traders peruse the Stat News report, which was based on a non-peer-reviewed paper published to the website Medix.
An experimental Covid-19 vaccine being developed by the drug giant Pfizer and the biotech firm BioNTech spurred immune responses in healthy patients, but also caused fever and other side effects, especially at higher doses.

The first clinical data on the vaccine were disclosed Wednesday in a paper released on MedRXiv, a preprint server, meaning it has not yet been peer-reviewed or published in a journal.

The Pfizer study randomly assigned 45 patients to get one of three doses of the vaccine or placebo. Twelve receive a 10 microgram dose, 12 a 30 μg dose, 12 a 100 μg dose, and nine a placebo. The 100 μg dose caused fevers in half of the patients; a second dose was not given at that level.

Following a second injection three weeks later of the other doses, 8.3% of the participants in the 10 μg group and 75% of those in the 30 μg group developed fevers. More than 50% of the patients who received one of those doses reported some kind of adverse event, including fever and sleep disturbances. None of these side effects was deemed serious, meaning they did not result in hospitalization or disability and were not life-threatening.
The company is hoping to get permission to start a larger phase 3 trial as early as August. Pfizer's CEO told CNBC's Meg Tirrell last week that he had the first batch of trial results in-hand.
* * *
Arizona became one of the first states to lift coronavirus-related restrictions back in May as the number of daily cases was just passing their peaks in the northeast and the other hard-hit states. But its decision earlier this week to reverse course and close bars, gyms, etc. seemed to mark a turning point for the battleground state. Dr. Fauci's warnings about 100k+ new cases per day have clearly rattled the GOP, leading to VP Mike Pence urging all Americans to wear masks while in public (if local regulations asked them to do so).
The US reported more than 40k new cases yesterday (remember, cases are reported with a 24 hour delay) for the fifth day out of six, as we noted last night.
Confirmed coronavirus infections in the US increased by 48,096 to 2.61 million on Tuesday, a rise of 1.9%, more than the 7-day daily average, per BBG.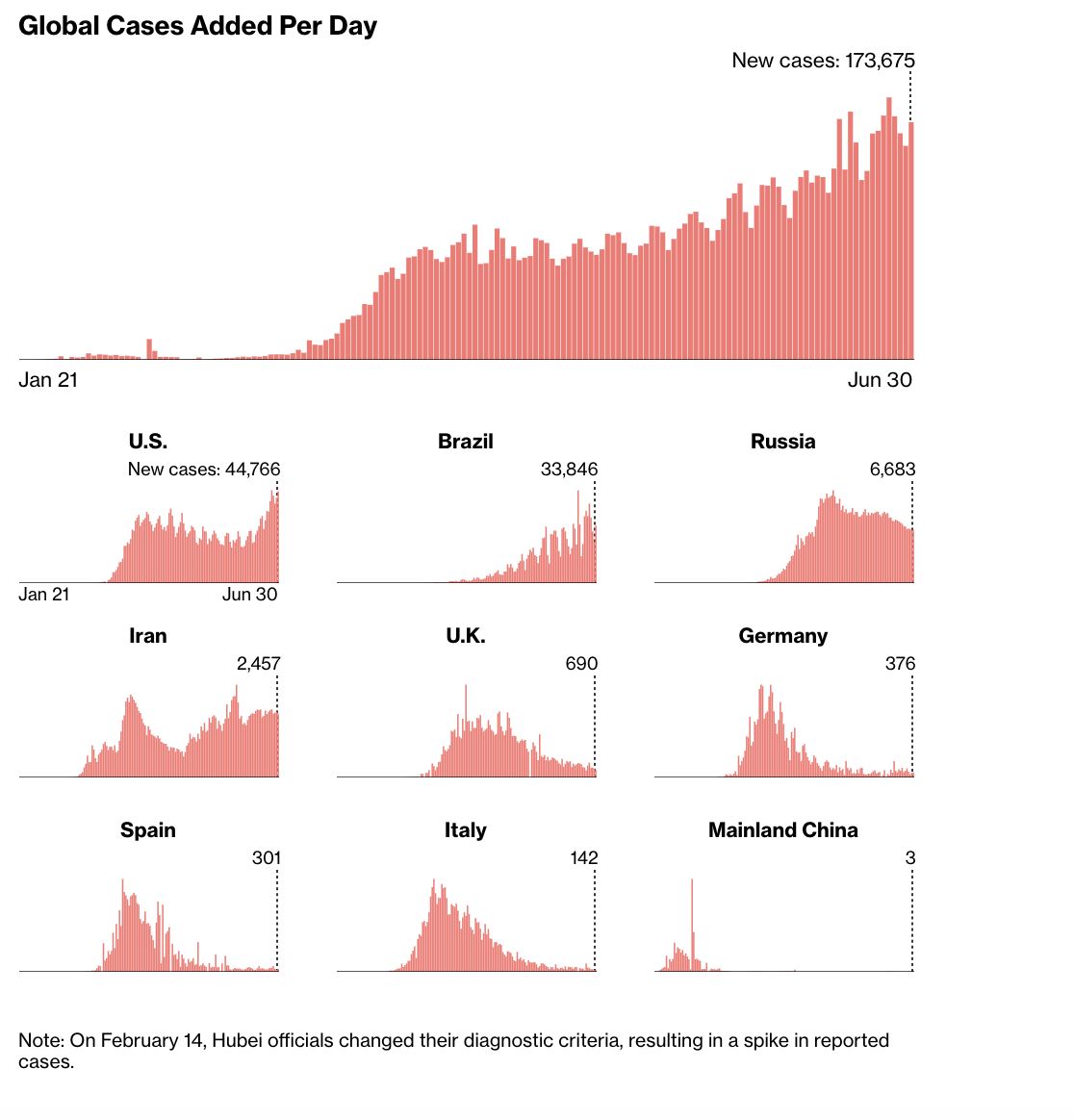 According to the latest update from Kevin Systrom's COVID-19 tracker, the state with the highest "R" rate (a measure of the rapidity of the virus's spread) is Nevada, with Florida and Texas not far behind.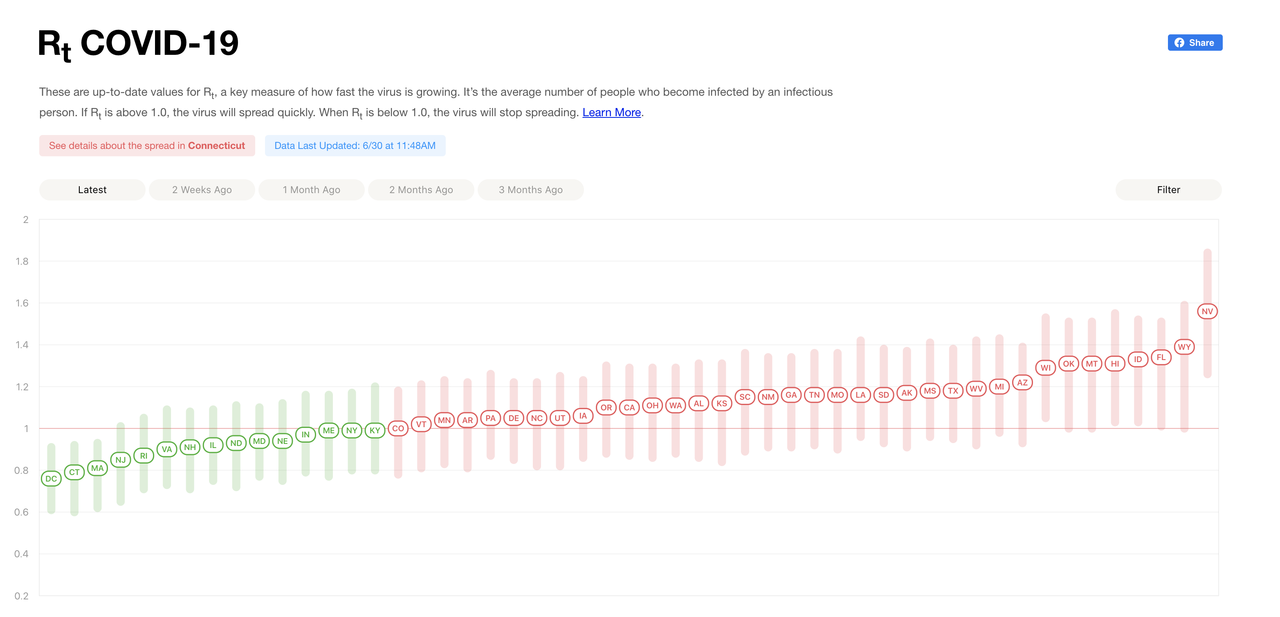 According to the Washington Post, the states with the worst outbreaks per capita roughly corresponded with "R Live"s calculations.

Source: WaPo
A map of infections and outbreaks shows how badly the southern US has been hit.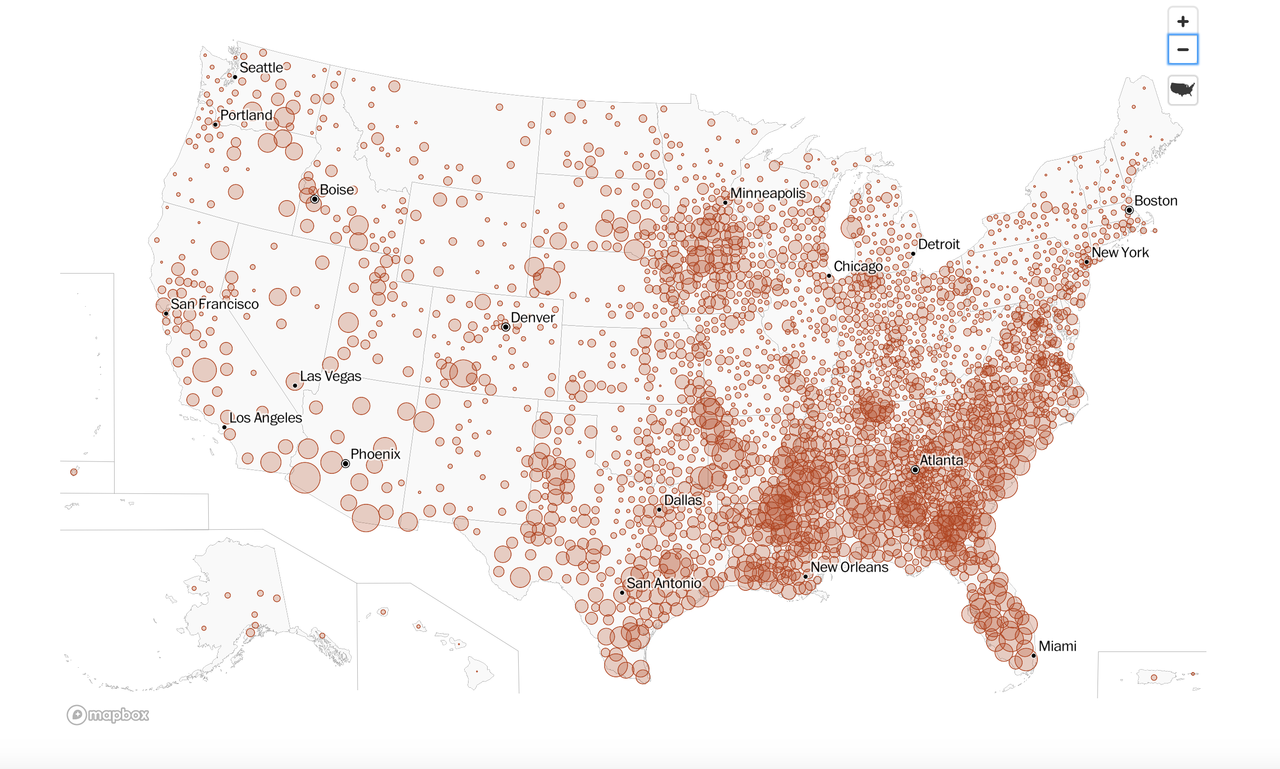 Perhaps the biggest news on Wednesday morning is that the total number of COVID-19 cases globally has hit 10,498,090 while deaths have reached 511,686 deaths and more than 5.3 million have recovered.
Though it appears the virus is growing less lethal as infections tilt toward young people.
Perhaps the biggest news overnight is a report that Australia's Victoria State will lock down 300,000 people in the suburbs of Melbourne in the 1-month lockdown that was reported earlier this week.
In Japan, Tokyo confirmed 67 new cases on Wednesday, a new high since the emergency order in the prefecture was lifted. In Europe, Spain reopened its border with Portugal (and vice versa) and Greece has reopened its borders to some foreign travelers (while the EU's list of travel guidelines stakes effect, which calls for member states to bar travelers from the US but allow travelers from China). Germany's coronavirus infection rate remained below the critical "1" threshold for the 7th straight day on Wednesday following a concerning spike last week that saw a cluster of new cases at a meat processing plant in the country's most populous state drive that "R" rate to just shy of 3.
The US, meanwhile, has reportedly bought up virtually all the stocks for the next three months of remdesivir, one of the two drugs that have shown some efficacy at treating the virus (though a much cheaper and more widely available steroid has proven effective at lowering mortality in very sick patients), the Guardian reports. The decision leaves none for the UK, Europe, or most of the rest of the world.
In Brazil, President Bolsonaro has imposed a travel ban on foreigners entering the country as the country's death toll, the second-worst in the world after the US, is nearing 60,000. Brazil suffered 1,280 more deaths it reported yesterday, bringing the country's confirmed death toll to 59,594, according to health ministry data. The total number of confirmed cases rose by 33,846 to reach 1,402,041, the worst outbreak in the world outside the US, though the US has once again started to expand the gap.
Full Control, The Beast Will Come Alive, The people will come under the yoke "AntiChrist", I mean they are forced to live in a difficult or unhappy state because of that thing (AntiChrist) or person...
This is not complicated, there will be a hard lockdown, they are grooming the masses as I write this article. Prepare yourself and your family, this is going to be hell on earth adventure until God removes the ungodly and he will at the end tribulation
Control of public information and opinion (Google) It begins with withholding information and leads to putting out false or misleading information. A government can develop ministries of propaganda under many guises. They typically call it "public information" or "marketing"
Vote fraud used to prevent the election of reformers It doesn't matter which of the two major-party candidates are elected if no real reformer can get nominated, and when news services start knowing the outcomes of elections before it is possible for them to know, then the votes are not being honestly counted.
Undue official influence on trials and juries Nonrandom selection of jury panels, exclusion of those opposed to the law, exclusion of the jury from hearing argument on the law, exclusion of private prosecutors from access to the grand jury, and prevention of parties and their counsels from making effective arguments or challenging the government.
Usurpation of undelegated powers this is usually done with popular support for solving some problem or to redistribute wealth to the advantage of the supporters of the dominant faction, but it soon leads to the deprivation of rights of minorities and individuals
.Seeking a government monopoly on the capability and use of armed force The first signs are efforts to register or restrict the possession and use of firearms, initially under the guise of "protecting" the public, which, when it actually results in increased crime, provides a basis for further disarmament efforts affecting more people and more weapons. The militarization of law enforcement declaring a "war on crime" that becomes a war on civil liberties. Preparation of military forces for internal policing duties. Infill Ration and subversion of citizen groups that could be forces for reform internal spying and surveillance is the beginning. A sign is false prosecutions of their leaders.
Suppression of investigators and whistleblowers when people who try to uncover high-level wrongdoing are threatened, that is a sign the system is not only riddled with corruption but that the corruption has passed the threshold into active tyranny. The use of the law for competition suppression begins with the dominant faction winning support by paying off their supporters and suppressing their supporters' competitors but leads to public officials themselves engaging in illegal activities and using the law to suppress independent competitors. A good example of this is narcotics trafficking. Subversion of internal checks and balances this involves the appointment to key positions of persons who can be controlled by their sponsors, and who are then induced to do illegal things. The worst way in which this occurs is in the appointment of judges that will go along with unconstitutional acts by the other branches.
Creation of a class of officials who are above the law This is indicated by dismissal of charges for wrongdoing against persons who are "following orders".
Increasing dependency of the people on government classic approach to the domination of the people is to first take everything they have away from them, then make them compliant with the demands of the rulers to get anything back again.
Increasing public ignorance of their civic duties and reluctance to perform them When the people avoid doing things like voting and serving in militias and juries, tyranny is not far behind.
Use of staged events to produce popular support acts of terrorism, blamed on political opponents, followed immediately with well-prepared proposals for increased powers and budgets for suppressive agencies. Sometimes called a Reichstag plot.
Conversion of rights into privileges requiring licenses and permits for doing things that the government does not have the delegated power to restrict, except by due process in which the burden of proof is on the petitioner.
Political correctness any if, not most people are susceptible to being recruited to engage in repressive actions against disfavored views or behaviors and led to pave the way for the dominance of tyrannical government.
Avoiding tyranny
The key is always to detect tendencies toward tyranny and suppress them before they go too far or become too firmly established. The people must never acquiesce in any violation of the Constitution. Failure to take corrective action early will only mean that more severe measures will have to be taken later, perhaps with the loss of life and the disruption of the society in ways from which recovery may take centuries.
Perhaps one of the things that most distinguishes those with a fascist mentality from most other persons is how they react in situations that engender feelings of insecurity and inadequacy. Both kinds of people will tend to seek to increase their power, that is, their control over the outcome of events, but those with a fascist mindset tend to overestimate the amount of influence over outcomes that it is possible to attain. This leads to behavior that often brings them to positions of leadership or authority, especially if most other persons in their society tend to underestimate the influence over outcomes they can attain and are inclined to yield to those who project confidence in what they can do and promise more than anyone can deliver.
The prophetic words of Aleksandr Solzhenitsyn resonate like thunder across the history of man.  "Men have forgotten God; that's why all this has happened."  Thus summarized the Nobel laureate, Orthodox Christian author, and Russian dissident the main reason why the communist revolution was able to enslave, terrorize, and murder tens of millions of innocent people.  An atheistic mentality and a long process of secularization gradually alienated the people from God and His moral laws.  This led them away from truth and authentic liberty and facilitated the rise of tyranny.
Godlessness is always the first step to the concentration camp.  Tragically, that same process is now at work in America and many other parts of the world.  Too many refuse to see it or believe it.
America has long been a beacon of freedom for millions of souls who came here seeking liberty and opportunity.  It achieved this unique place in history by recognizing the authority of God and his moral laws and declaring that men have the unalienable rights to life, liberty, and the pursuit of happiness.  Founded by faithful and God-fearing men who despised government tyranny and sought religious freedom and individual liberty, America incorporated these universally true principles in its Declaration of Independence and Constitution.  These ideas eventually became the bedrock upon which all our laws, government, and institutions were originally built.
America's Founding Fathers understood and proclaimed that all rights come from God alone, not governments.  They insisted that the government must always serve man and that man was created by God to be free.  Their deep faith and reverence of the Almighty inspired and guided their actions and motivated their decisions.  It is this belief and trust in God's authority and wisdom that ultimately transformed America from a tiny British colony with a handful of refugees to the mighty economic and military superpower and an oasis of freedom, opportunity, and prosperity for tens of millions of immigrants.
The Founding Fathers, like Solzhenitsyn, understood the dependence of freedom on morality.  A virtuous and faithful people who placed God at the center of their lives and the foundations of their institutions helped America become that shining city on a hill "whose beacon light guides freedom-loving people everywhere," said President Ronald Reagan.  "We've staked the whole future of American civilization not on the power of government," wrote James Madison, "far from it.  We have staked the future of all our political institutions upon the capacity of each and all of us...to govern ourselves according to commandments of God.  The future and success of America are not in this Constitution, but in the laws of God upon which the Constitution is founded."
This same theme is found throughout the writings of the Founders.  John Adams clearly understood that our "Constitution was made only for a moral and religious people. It is wholly inadequate to the government of any other."  "He who is void of virtuous attachments in private life is, or very soon will be, void of all regard for his country," observed Samuel Adams.  Patrick Henry wrote that "virtue, morality, and religion ... is the armor that renders us invincible[.] ... [I]f we lose these, we are conquered, fallen indeed[.] ... [S]o long as our manners and principles remain sound, there is no danger."
Solzhenitsyn warned that by forgetting God, America and the West faced a "calamity of a despiritualized and irreligious humanistic consciousness" that would weaken their foundations and make them vulnerable to moral decay and internal collapse.  Only by turning back to God from the self-centered and atheistic humanism where "man is the touchstone [measure] in judging and evaluating everything on earth" would the West have any hope of escaping the destruction toward which it inevitably moves.
Unfortunately, America did not heed Solzhenitsyn's warnings.  In the last several decades, America has been rapidly transformed from a God-fearing and worshiping nation into a secularist and atheistic society, where communist and atheistic ideals are glorified and promoted, while Judeo-Christian values and morality are attacked, ridiculed, and increasingly eradicated from the public and social consciousness of our nation.  Under the decades-long assault and militant radicalism of many so-called "liberal" and "progressive" elites, God and His moral laws have been progressively erased from our public and educational institutions, to be replaced with all manner of delusion, perversion, corruption, violence, decadence, and insanity.
"Those people who will not be governed by God will be ruled by tyrants," warned William Penn.  Throughout history, the most serious threats to man's freedom always arise when men refuse to acknowledge that God is ultimately the source and protector of real and lasting liberty and freedom.  When that timeless truth is erased from men's consciousness, when God's wisdom and laws are forgotten, when morality is no longer a virtue to be treasured and emulated, when human life is no longer sacred, and man becomes the only standard of all that is true, then genuine freedom will begin to vanish from any group, institution, community, or society.  Carnality, greed, selfishness, and worldly pleasure and power become the main goals of human existence.  The moral and ethical clarity, conviction, and courage required to defend freedom and protect genuine liberty ultimately disappear, to be replaced by the cruelest, unethical, tyrannical, and godless ideologies.
It is no coincidence that advocates and followers of Fascism, Nazism, and Communism -- all secular, immoral, atheistic, and godless ideologies -- enslaved and murdered the greatest number of people in the history of mankind.  All produced some of the cruelest, violent, and evil tyrants this world has ever known -- despots who persecuted their own citizens, slaughtered the innocent, destroyed their own people, and brought calamities to other nations.  All subjugated the liberty and property of men to the absolute power and control of the state.  All were enemies of God and blasphemers of His Holy Scriptures.  All viciously persecuted the most devout and religious members of their societies, primarily the religious Christians and Jews who righteously and faithfully followed the Lord.
This is the lesson of the 20th century expended so much blood to teach us.  It appears that without a marked change in course, the Western world is going to have to learn it again. Source
---
Brazil Now Home To World's Third-Largest Death Toll After Another Record Daily Jump: Virus Updates
Summary:
Brazil passes Italy to claim world's third-worst death toll
Architect of Sweden's no-lockdown strategy says he has no regrets, and doesn't plan to change approach
NY to allow drive-in, drive thru graduations
Italy sees more good numbers
Pakistan reports record jump
NYC won't allow outdoor dining until next month
Florida reports most new cases since April for 2nd straight day
Global cases top 6.5 mil
Deaths top 485k
Hong Kong sees another alarming cluster
China allows foreign airlines to apply to return to service
Russia, Mexico, Brazil all see alarming jump in cases, deaths
Experts say Russia likely underestimating deaths in St. Petersburg by considerable margin
Backlash to the hydroxychloroquine backlash intensifies
* * *
Update (2115ET): As the bodies pile up and the prospect of a military takeover that would make Tom Cotton's call to send in the army look like pacifism looms large over Brazilian civil society, the country's public health officials have just confirmed that Brazil's death toll has surpassed Italy's.
Brazil's indigenous population has been particularly hard hit, as the outbreak strains health care resources in remote areas in Amazon region.
To get a sense of how quickly the situation is deteriorating, deaths caused by the virus have climbed five-fold in the past month, according to Yahoo News.
Many epidemiologists had hoped remote locations might protect the tribes, but the virus, which first took hold in Brazil's cosmopolitan state capitals of Sao Paulo and Rio de Janeiro, is increasingly devastating remote areas of the country. Brazil's coronavirus death toll climbed by 1,437 fatalities on Thursday, a new daily record, bringing Brazil's total to 34,021. Confirmed cases surged another 30,925 to 614,941, as Brazil remains the country with the second-most confirmed cases behind the US. Source ZeroHedge
* * *
Yesterday, the architect of Sweden's lockdown strategy, state epidemiologist Anders Tegnell,  inadvertently set off a rush by proponents of the lockdown approach to declare victory in the public debate by claiming Tegnell had admitted his approach was flawed and that he would be backing away from the strategy. But in a press briefing on Thursday, the state scientist stood by the country's approach, and admitted that while he would have made certain adjustments if he knew at the beginning what he now knows, he has no plans to change tack, Politico reports.
* * *
Update (1240ET): After pulling back curfews and taking other steps to accommodate and encouraging both peaceful demonstrations (that widely violated the city's social distancing rules) and violence and looting, Mayor de Blasio said Thursday that he likely wouldn't allow restaurants to reopen for outdoor dining until next month, virtually guaranteeing that even more small businesses will change.
The mayor is preparing for the June 8 start of "Phase One" reopening and said he anticipates reaching the second phase in July.
For the restaurants that survive, at least the city's Transportation and Planning Departments will help create "curbside restaurants" to allow eateries to convert adjacent parking spots into more seating for the first time. No permits will be needed to certify the street-side restaurants, de Blasio said.
"The restaurant industry is the wellspring for hundreds of thousands of New Yorkers," de Blasio said. More then 184,000 of the city's 274,000 food and beverage industry workers have lost their jobs due to the forced shutdown of the city. While de Blasio's plan sounds nice on paper, in our experience, most NYC restaurants don't have much - if any - space for patron parking.
By comparison, both neighboring Connecticut and New Jersey have already OK'd restaurants to reopen for limited outdoor dining.
* * *
Update (1120ET): As deaths and new cases reported in Florida over the last few days have increased, we warned that the market would eventually wake up to the uptick in new deaths and cases in certain states. The state reported its largest daily gain in six weeks yesterday as the number of cases neared 60k. Now, on Thursday, public health officials in the state have reported another multiweek high. Florida reported 1,317 new COVID-19 cases over the last day, the highest level since April 17.
New numbers released by the Florida Department of Health officials Thursday show the state has a total of 60,183 cases, and a death toll that on Thursday climbed to 2,607. Hospitalizations across the state increased to 10,652.
US stocks sold off a little on the news, suggesting investors are starting to worry again about a recurrence of the virus.
More than half of the state's cases are concentrated in Miami-Dade, Broward, Palm Beach and Monroe counties in the southern part of the state.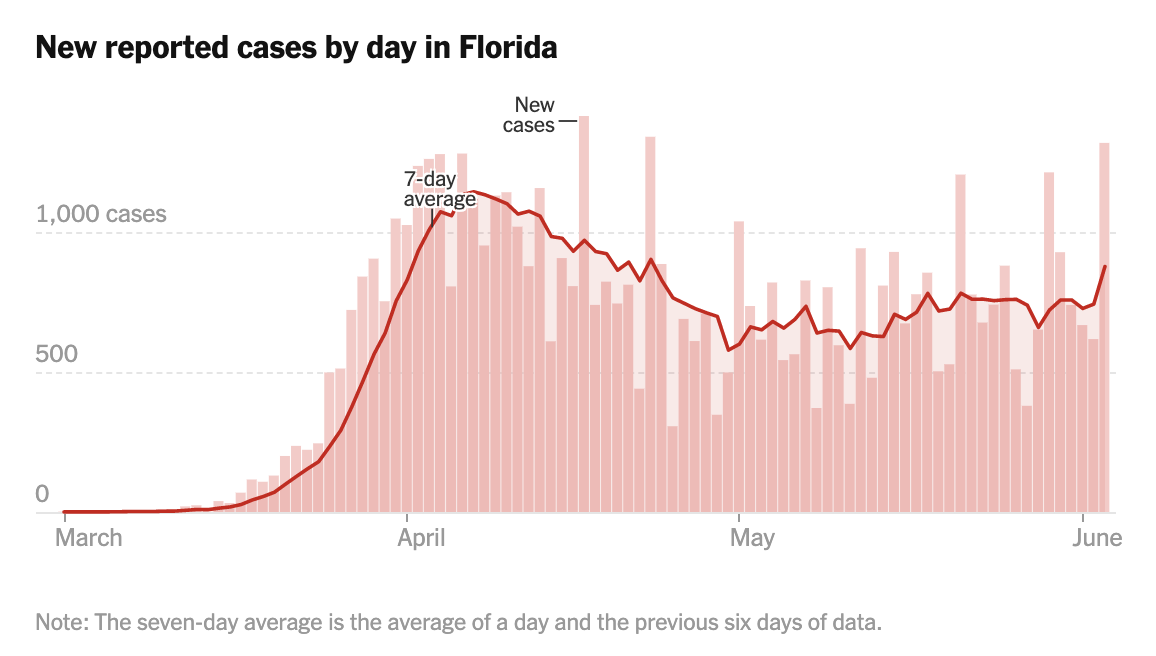 'Stay Indoors Or Risk A Year In Prison': Jordan Blows Sirens At Start Of Virus Lockdown
Jordan has imposed an unprecedented nation-wide curfew on Saturday to combat the spread of coronavirus at a moment its official confirmed a number of cases approach 100. As of Friday health officials said Jordan has 85 confirmed infections while emphasizing they expect numbers to rise rapidly.
"Jordan blew sirens at the start of a nationwide curfew on Saturday, limiting the mobility of its 10 million citizens indefinitely to combat the spread of coronavirus, witnesses and officials said," Reuters reports.
The round-the-clock ban on residents going outside started at 7 am with warning sirens literally sounding across Amman. The new curfew is being widely described as the most severe measure any country has imposed on a nation-wide level thus far in the crisis.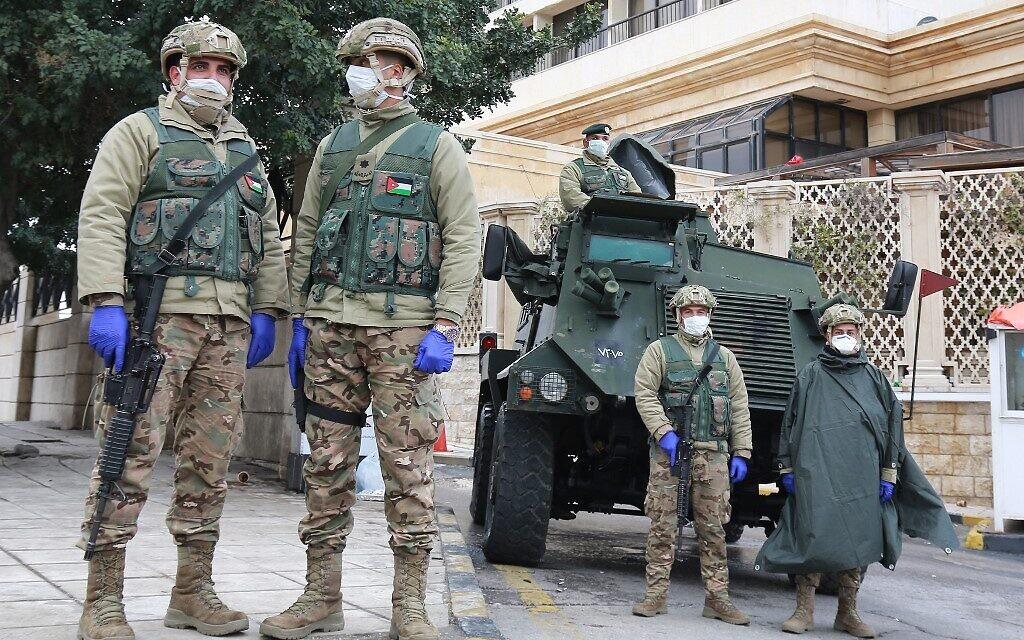 As nations across the globe move to a militarized response, and with even the United States witnessing the rare deployment of National Guard units to city streets, such as in New York and Georgia, the government of Jordan is poised to impose perhaps the most draconian penalties for violating the newly announced measures.
The Jordanian Army announced Saturday curfew violators for all but authorized emergency personnel and vital services will face up to a year in jail. Thousands of soldiers have already been deployed to city streets and highways, especially in the sprawling capital of Amman.
"Anyone going outside will be subjecting themselves to punishment," Justice Minister Bassam Talhouni said in an Arabic broadcast. Already at least 400 were arrested Saturday. "Nearly 400 people have been arrested in Jordan for violating an indefinite curfew introduced on Saturday that bans people from leaving their homes even to purchase food," The Guardian reports.
The stringent measures immediately resulted in the following scene, as Reuters describes:
Armored police vehicles roamed the streets of main cities, calling on people to heed warnings not to leave their homes, witnesses said.

Streets across the capital and main cities were deserted, with shops shuttered as police patrolled neighborhoods and the army manned checkpoints, witnesses said.
Amman officials say they had to take drastic measures due to the "recklessness" of some elements among the population who refuse to take the pandemic threat seriously.
"Unfortunately we have seen recklessness in scenes of shopping and moving around in the streets. These pose a grave danger to our efforts to contain the epidemic," Amjad Adailah, a cabinet minister and government spokesman said.
Similar but arguably less draconian measures have been deployed in some communities and cities in neighboring Israel and the West Bank.
Also, Syria to the north is presenting an increasingly worrisome situation: the Assad government has ordered the closure of all schools, restaurants, theaters and public places, and has even sent many government workers home as of Saturday. Yet authorities in Damascus are still officially reporting zero cases. However, it could also be the case they acted quickly enough, with WHO officials looking on and administering tests, amid all but the Lebanese border being for years shutdown due to war.
The potential for an outbreak inside squalid and overcrowded refugee camps in the region is also alarming international health officials. The WHO is reportedly attempting to set up urgent testing inside camps along the Syrian-Turkish border, after a handful of cases appeared in an internally displaced persons (IDP) camp in Iraq.
The Kansas Supreme Court has voted to uphold an executive order by the governor limiting the size of church gatherings on Easter Sunday, ending a legal clash over public health and religious liberty.
Kansas Supreme Court Upholds Governor's Order Limiting The Size Of Easter ServicesThe coronavirus has killed at least 55 people in Kansas and infected 1,275. Three of the state's 12 clusters of cases have stemmed from church gatherings, according to health officials.npr.org
Source: HNewsWire CensoredNews ZeroHedge
I Believe The CoronaVirus Is a False Flag, The Virus Is REAL Man-Made Bioweapon. The Tribulation Has To Begin–China Plunge US Into Mighty Sea Of MAN-MADE Coronavirus For One Reason, The New World Order and The Battle Between Satan and GOD have Beguin…
I Am suggested that the coronavirus is not a naturally occurring disease and that it is a manmade bioweapon cultivated and released to yoke, control the masses, Biblical Prophecy coming to life for all to see. The consequences of the virus in terms of tolls or the extent of the epidemic and the type of media propaganda over this issue that is aimed at increasing fear and panic among people strengthens the speculations that a biological attack has been launched against the world people, with one goal in mind, The New World Order Platform.
All the official reassurances won't be worth a bucket of warm spit. The Globals are behind the CoronaVirus, It Is a Man-Made Bioweapon.
Usually, officials at the CDC choose their words very carefully so that they do not needlessly alarm the public. With that in mind, I would like for you to consider three statements that the CDC's Dr. Nancy Messonnier made about a potential outbreak inside the United States during a press conference on Tuesday…
#1 "It's not so much of a question of if this will happen in this country anymore but a question of when this will happen."
#2 "Disruption to everyday life may be severe."
#3 "We are asking the American public to prepare for the expectation that this might be bad."
Can you ever recall a top CDC official ever making statements this ominous? I certainly can't.
In an article entitled You're Likely to Get the Coronavirus, the Atlantic explains how the coronavirus is particularly dangerous because it may cause no symptoms at all in many carriers of the infection.
Many experts claim that the fear of Coronavirus is overblown.  And that mortality might actually be decreasing.
On the other hand, the World Health Organization (WHO) announced yesterday that the mortality rate from the Wuhan Coronavirus (formally known as 2019 nCoV) is 3.4% globally.
The Spanish Flu of 1918 – which killed between tens of millions of people – had a lower mortality rate, estimated by the WHO as between 2 and 3%.
But surely, you say, the Coronavirus is not as contagious as the Spanish Flu …
Unfortunately, it's more contagious.  The Center for Infectious Disease Research and Policy notes:
Based on calculations, the authors of the larger study estimate the novel coronavirus has an R0 of 2.2, meaning each case patient could infect more than 2 other people. If accurate, this makes the 2019 nCoV more infectious than the 1918 influenza pandemic virus, which had an R0 of 1.80 (interquartile range: 1.47 to 2.27).
WHO says that the R0 of Coronavirus in China was initially between 2 and 2.5.< But scientists from the Los Alamos National Laboratory said that the R0 for the Coronavirus is actually between 4.7 to 6.6 (although that number drops to between 2.3 and 3 after quarantines and social distancing are implemented).
According to the Director of the US Centers for Disease Control and Prevention, the Director of the National Institute of Allergy and Infectious Diseases and others, Coronavirus can be spread even when people have no symptoms. On the one hand, this is bad news, as it is very hard to screen and locate carriers when they are symptom-free or have only mild, cold or flu-like symptoms.
On the other hand, this means that the real R0 might be much higher than WHO estimates … which would make the mortality rate lower.
If the number of people with Coronavirus is a lot higher than is being reported, that means the mortality is a lot lower … i.e. a smaller percentage of the larger population of people infected have died.
Indeed, China only tests a portion of those who are really sick, and the United States has tested less than 500 people total for Coronavirus (American doctors have to beg to get their sick patients tested).
So far, WHO has rejected the theory that there are more people who have Coronavirus than reported
Spain Declares National Lockdown

Summary:
Spain declares national lockdown
NYC confirms 1st coronavirus death
US death toll hits 50
White House virus task force delivers update
Airlines cancel flights to Spain
Apple closes stores outside Greater China
Washington State re-takes lead in US case total
Gaming Commission shuts down Mass. casinos
*  *  *
Update (1205ET): As we await the latest update from the White House coronavirus task force, here's a breakdown of the confirmed coronavirus cases in Spain.
Most coronavirus cases in Spain:
- Madrid: 2,940
- Basque Country: 521
- Catalonia: 509
- Andalusia: 304
- Castile-La Mancha: 289
- La Rioja: 278
- Castile-León: 223
- Valencian: 188
- Navarre: 146
- Galicia: 135
- Aragon: 121
- Asturias: 101
- Canary Islands: 9016910:57 AM - Mar 14, 2020Twitter Ads info and privacy155 people are talking about this
In Massachusetts, the state Gaming Commission voted to shut down the state's casinos, following in the footsteps of Macau, even as Las Vegas remains open for business. The committee voted unanimously in favor of an "expeditious and orderly" shutdown process, which is currently underway at Encore Boston Harbor in Everett, MGM Springfield and Plainridge Park Casino in Plainville, according to WCVB.
While EU bureaucrats in Brussels slammed President Trump over the European travel ban, claiming that he left them in the dark with his "unilateral" action, Spain - one of Europe's largest countries, and the fourth-largest economy in the eurozone - on Sunday said it would adopt a draconian national travel ban on par with the national lockdown taking place in Italy.
Yes, even as Brussels bureaucrats insist that closing borders aren't necessary, more European leaders are deciding to ignore Brussels and follow in the footsteps of Italy, which has declared a two-week national lockdown, and Austria, the Czech Republic, and Slovakia, which have all closed their borders to foreigners.
On Friday, Spain declared a two-week state of emergency that Spain's Socialist Prime Minister Pedro Sánchez was necessary to help contain the outbreak that has spun out of control since thousands of marchers packed into the streets of Madrid for last weekend's International Women's Day march.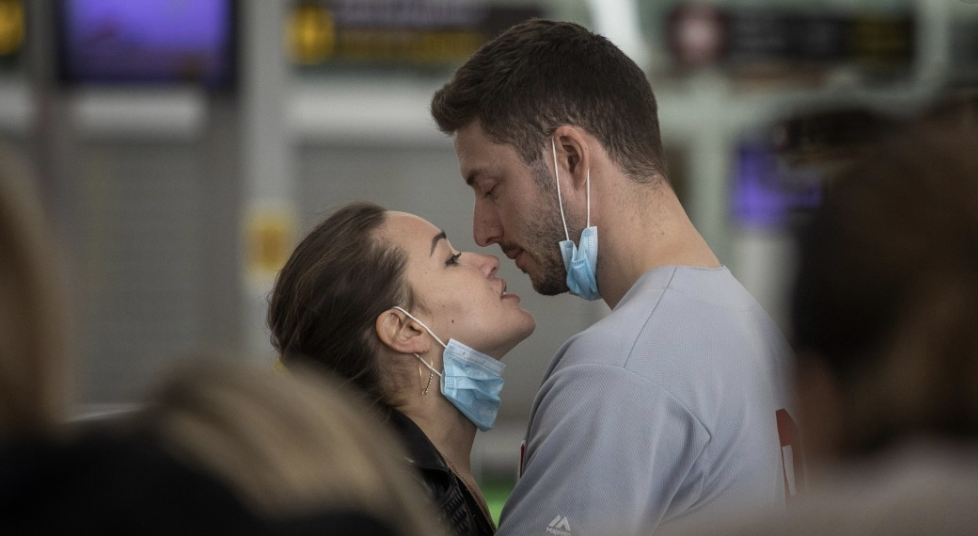 On Friday, Sanchez declared the emergency for 15 days, saying that Spain would "mobilize all resources," including the military, to contain the virus and help reverse the sharp rise in new infections over the past week. Part of the powers invoked by Sanchez allows the federal government to restrict the movement of the Spanish people, to legally confiscate items and to seize control of Spanish industrial output - presumably a relic of Spain's authoritarian past that makes this lockdown more similar to the Chinese Communist Party's lockdown than anything happening in Italy. Even private hospitals can be commandeered for the government effort. The government can even impose 'special measures' to guarantee the food supply for the country. Even April elections in two northern regions could be delayed, the government said.
The decision came after Spain's case total surpassed 4,000, and deaths climbed above 100. More cases and deaths were reported Saturday morning, along with the latest details about the Spanish emergency measures, which appear to be even more thorough than initially believed. On Saturday, total cases passed 5,000, and the number of confirmed deaths neared 200.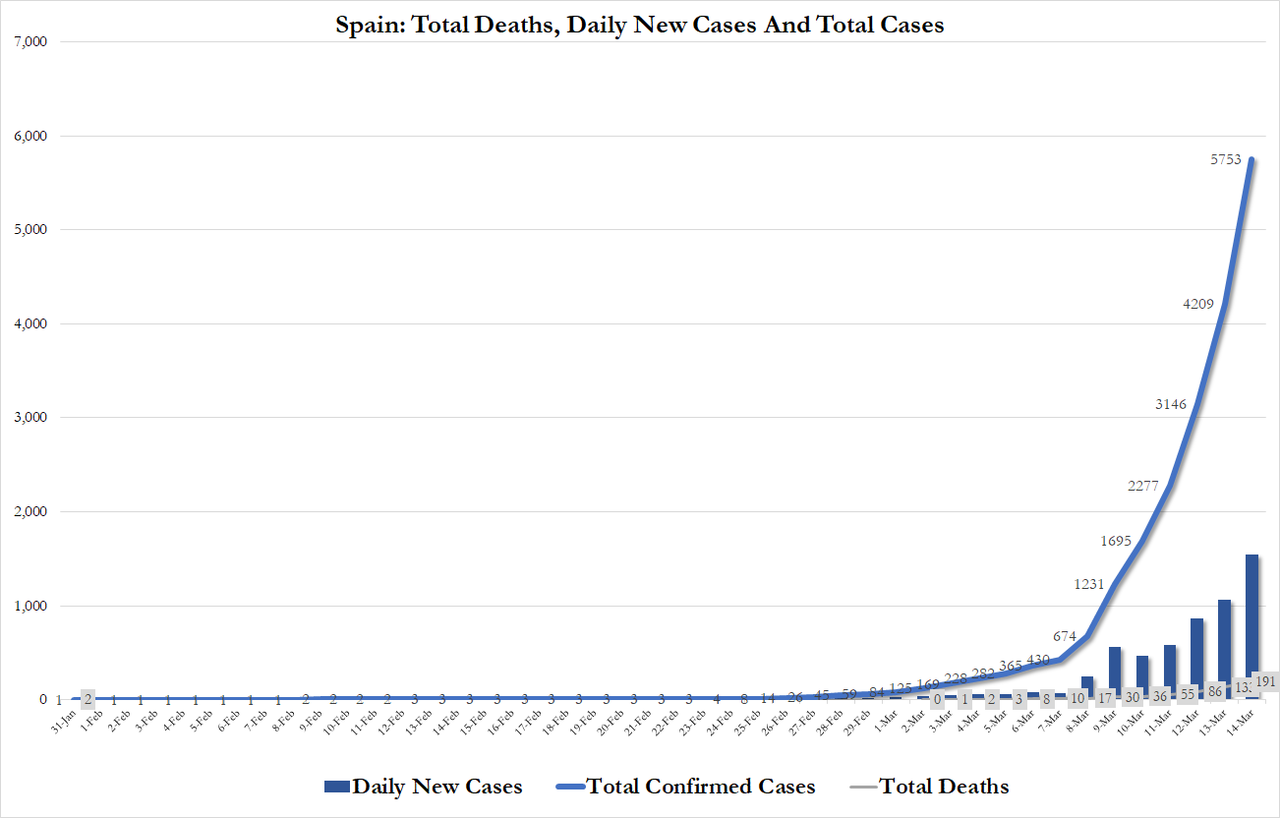 Then on Saturday, the Spanish government decided to kick things up a notch, perhaps having realized that the outbreak is now out of control and more restrictive controls on movement would be needed to contain it.
Spain's Interior Ministry said Saturday that it would assu,e direct control of all police forces in the country, allowing them to direct police to enforce quarantines, with deadly force if necessary. In Madrid, the epicenter of the Spanish outbreak, a state of emergency will be imposed, including a curfew and lockdown measures intended to restrict movement and ensure social distancing.
El Pais, Spain's newspaper of record, reported Saturday that the government had prepared a draft decree similar to Italy's declaring a 'nationwide lockdown'. According to reports, the lockdown will be rolled out nationwide on Monday, and people would only be able to go out to either work or buy essential items.
As the eurozone's fourth-largest country, Spain has a population of 47 million, roughly 13 million fewer people than Italy.
So far, no news of the lockdown has appeared on official government accounts. Earlier, PM Sanchez tweeted a PSA about 'social distancing' and hygiene practices.
Already, airlines are canceling flights over Spain's new measure. British travel company Jet2 has canceled all flights to mainland Spain, the Balearic Islands, and the Canary Islands. The cancellations were a result of Spain's new measures, per CNN.
In the Netherlands, which has also seen an alarming spike in cases over the last week, confirmed on Saturday that infections had climbed by 155 TO 959, with two more deaths, while many cases and deaths likely remain unconfirmed.
On the corporate side of things, Apple announced Saturday morning that it would shutter all of its stores outside Greater China. The decision is notably ironic seeing as Apple just finished opening the last of its stores on the mainland late this week. The stores will be closed until March 27.
According to CNN, the company also pledged to commit $15 million to help with the worldwide recovery from the outbreak, "both to help treat those who are sick and to help lessen the economic and community impacts of the pandemic."
In the US, while Walmarts, Targets, and groceries across the country remain oddly barren of toilet paper, the Pentagon on Saturday suspended all domestic travel for personnel and their families during the outbreak. The new restrictions apply to "all DoD military and civilian personnel and their families assigned to DoD installations, facilities and surrounding areas within the US and its territories," the department said in the statement, according to BBG.
Overnight, the death toll in the states climbed to 49 as Washington re-took the lead in total confirmed cases from New York, which held it briefly for a few hours Friday afternoon.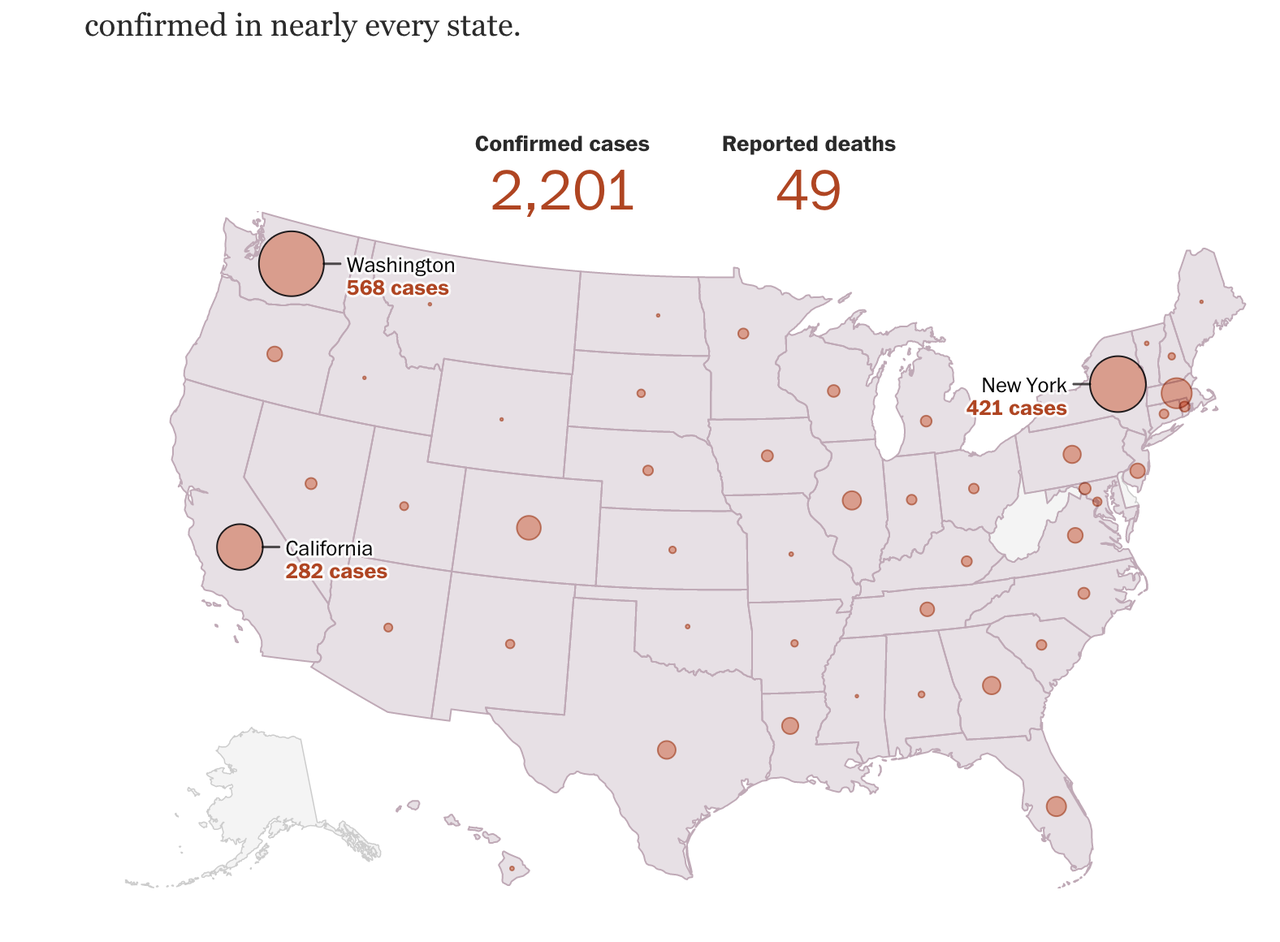 Across the US, 46,000 schools have closed, are scheduled to close, or were closed and later reopened, because of the virus outbreak, as 12 states declare two or three-week closures.  At least 21 million students in the United States have been or will be affected by the closures. The acting ambassador from Brazil, who attended the dinner with Trump and Pence and Bolsonaro and his infected comms director, has tested positive for Covid-19 after reporting symptoms. But though some said that Trump sounded a little hoarse at yesterday's press conference, he and his doctors insist he isn't showing any symptoms.
A Rhode Island elementary school student who got an autograph from one of the Utah Jazz players who tested positive for the virus has also tested positive, shining another uncomfortable light on one player (Rudy Gomert's) nonchalant and mocking behavior toward the virus, which clearly has a twisted sense of humor.
NYC Confirms First Death From Covid-19, White House Begins Mandatory Temperature Checks: Live Updates
New York City has confirmed its first coronavirus-related death, WSJ reports.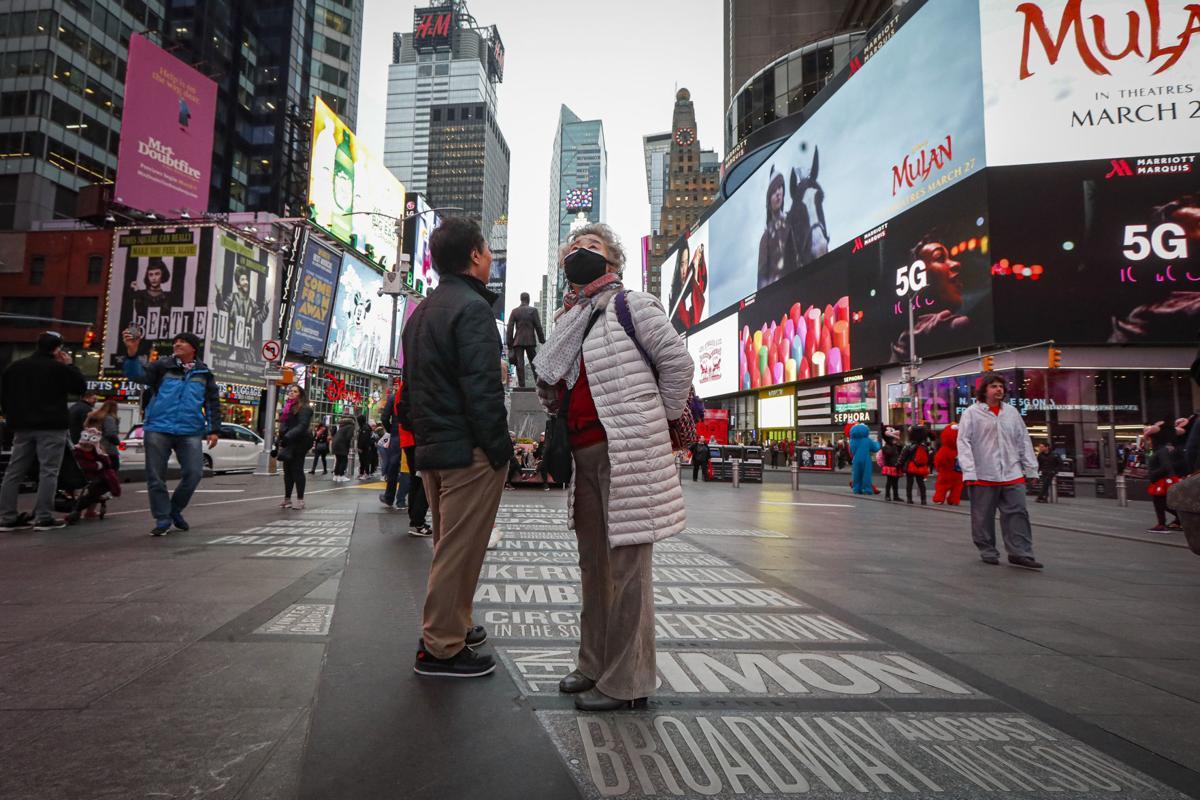 The world is now waiting to hear whether Gov. Cuomo will shut down the city's schools and the subway system.
Per WSJ, the deceased was an 82-year-old woman with emphysema. Her death brings the US death toll to an even 50. As of Saturday, the state has 524 cases of coronavirus, with more than 100 people hospitalized. Gov. Cuomo warned in a morning press conference that there are roughly 50,000 hospital beds statewide, with 3,000 intensive care rooms. Since those rooms will be needed to care for the most severely ill patients, hospitals are beginning to suspend elective surgeries, beginning with NewYork-Presbyterian, one of the largest hospital systems in the NYC area, which said that it would be stopping all elective surgeries and procedures.
The decision will free up more space for coronavirus patients.
In other news, following yesterday's press conference where reporters hammered Trump and Pence for their allegedly 'selfish' unwillingness to get tested and to wear a mask, the White House has implemented temperature checks for reporters entering the briefing room and other individuals coming into close contact with the president.
New procedure from the White House, @HansNichols reports: "Out of an abundance of caution, temperature checks are now being performed on any individuals who are in close contact with the President and Vice President." Reporters are having their temps taken ahead of noon briefing.4610:41 AM - Mar 14, 2020Twitter Ads info and privacy53 people are talking about this

Now a global pestilence has erupted, and in Luke 21 we were specifically warned to watch for "pestilences" in the last days.
Source: HNewsWire CensoredNews ZeroHedge
StevieRay Hansen
Editor, HNewsWire.com
The Bill and Melinda Gates Foundation Have NOT Got The Memo Yet, "Pestilences" Has No Cure
"America has become China on Steroids" Set Down and SHUT-UP, Our Social Media Platforms (Reprobates) Continue to Hide the Truth From the American People, by Shadow Banning Alt News Sources. The Blood of the People Is on Their Hands…
Demon Virus
Asked about the virus while traveling abroad last week, Trump said: "We have it totally under control". In a separate Twitter posting, he offered reassurance but scant detail for his confidence. By Associated Press Updated On: 05:53 PST, Jan 31, 2020
StevieRay Hansen, Pestilence, revelations, disobedience, biblical, food shortage, biblical prophecy, Triblution, CDC, coronavirus, Hospitals, infections, outbreak, pandemic, Public Health, virus
Was Jesus a racist in need of rebuke? Well, before we even examine the text of Mark chapter 7 or the claims of a progressive "pastor" and LGBT activist, consider 2 Corinthians 5:21, "For our sake he made him to be sin who knew no sin, so that in him we might become the righteousness of God." Scripture is clear—Christ never sinned. And Scripture is also clear that racism (preferential treatment and hatred of others) is a sin (e.g., James 2:1–4). So was Jesus racist? No, absolutely not. Sexual perversions represent an extreme attempt to overcome rejection. Sexual experiences, real or imaginary, can never satisfy the need for genuine love. They are the Devil's substitutes for real love and leave a person ridden with frustration and guilt. Sex is not love! Now here's the argument "Pastor" Brandan Robertson made in a recent TikTok: Did…