Full Control, The Beast Will Come Alive, The people will come under the yoke "AntiChrist", I mean they are forced to live in a difficult or unhappy state because of that thing (AntiChrist) or person…
'Stay Indoors Or Risk A Year In Prison': Jordan Blows Sirens At Start Of Virus Lockdown

Jordan has imposed an unprecedented nation-wide curfew on Saturday to combat the spread of coronavirus at a moment its official confirmed a number of cases approach 100. As of Friday health officials said Jordan has 85 confirmed infections while emphasizing they expect numbers to rise rapidly. 
"Jordan blew sirens at the start of a nationwide curfew on Saturday, limiting the mobility of its 10 million citizens indefinitely to combat the spread of coronavirus, witnesses and officials said," Reuters reports.
The round-the-clock ban on residents going outside started at 7 am with warning sirens literally sounding across Amman. The new curfew is being widely described as the most severe measure any country has imposed on a nation-wide level thus far in the crisis.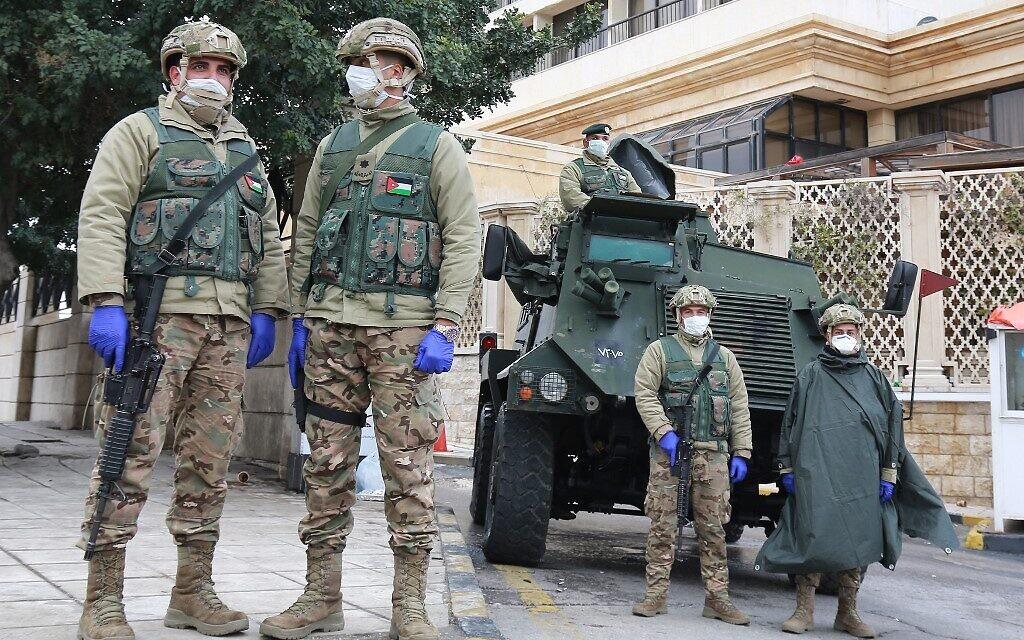 As nations across the globe move to a militarized response, and with even the United States witnessing the rare deployment of National Guard units to city streets, such as in New York and Georgia, the government of Jordan is poised to impose perhaps the most draconian penalties for violating the newly announced measures.
The Jordanian Army announced Saturday curfew violators for all but authorized emergency personnel and vital services will face up to a year in jail. Thousands of soldiers have already been deployed to city streets and highways, especially in the sprawling capital of Amman.
"Anyone going outside will be subjecting themselves to punishment," Justice Minister Bassam Talhouni said in an Arabic broadcast. Already at least 400 were arrested Saturday. "Nearly 400 people have been arrested in Jordan for violating an indefinite curfew introduced on Saturday that bans people from leaving their homes even to purchase food," The Guardian reports.
The stringent measures immediately resulted in the following scene, as Reuters describes:
Armored police vehicles roamed the streets of main cities, calling on people to heed warnings not to leave their homes, witnesses said.

Streets across the capital and main cities were deserted, with shops shuttered as police patrolled neighborhoods and the army manned checkpoints, witnesses said.
Amman officials say they had to take drastic measures due to the "recklessness" of some elements among the population who refuse to take the pandemic threat seriously.
"Unfortunately we have seen recklessness in scenes of shopping and moving around in the streets. These pose a grave danger to our efforts to contain the epidemic," Amjad Adailah, a cabinet minister and government spokesman said.
Similar but arguably less draconian measures have been deployed in some communities and cities in neighboring Israel and the West Bank.
Also, Syria to the north is presenting an increasingly worrisome situation: the Assad government has ordered the closure of all schools, restaurants, theaters and public places, and has even sent many government workers home as of Saturday. Yet authorities in Damascus are still officially reporting zero cases. However, it could also be the case they acted quickly enough, with WHO officials looking on and administering tests, amid all but the Lebanese border being for years shutdown due to war.
The potential for an outbreak inside squalid and overcrowded refugee camps in the region is also alarming international health officials. The WHO is reportedly attempting to set up urgent testing inside camps along the Syrian-Turkish border, after a handful of cases appeared in an internally displaced persons (IDP) camp in Iraq.
Source: HNewsWire CensoredNews ZeroHedge
I Believe The CoronaVirus Is a False Flag, The Virus Is REAL Man-Made Bioweapon. The Tribulation Has To Begin–China Plunge US Into Mighty Sea Of MAN-MADE Coronavirus For One Reason, The New World Order and The Battle Between Satan and GOD have Beguin…
I Am suggested that the coronavirus is not a naturally occurring disease and that it is a manmade bioweapon cultivated and released to yoke, control the masses, Biblical Prophecy coming to life for all to see. The consequences of the virus in terms of tolls or the extent of the epidemic and the type of media propaganda over this issue that is aimed at increasing fear and panic among people strengthens the speculations that a biological attack has been launched against the world people, with one goal in mind, The New World Order Platform.
All the official reassurances won't be worth a bucket of warm spit. The Globals are behind the CoronaVirus, It Is a Man-Made Bioweapon.
Usually, officials at the CDC choose their words very carefully so that they do not needlessly alarm the public. With that in mind, I would like for you to consider three statements that the CDC's Dr. Nancy Messonnier made about a potential outbreak inside the United States during a press conference on Tuesday…
#1 "It's not so much of a question of if this will happen in this country anymore but a question of when this will happen."
#2 "Disruption to everyday life may be severe."
#3 "We are asking the American public to prepare for the expectation that this might be bad."
Can you ever recall a top CDC official ever making statements this ominous? I certainly can't.
In an article entitled You're Likely to Get the Coronavirus, the Atlantic explains how the coronavirus is particularly dangerous because it may cause no symptoms at all in many carriers of the infection.
Many experts claim that the fear of Coronavirus is overblown. And that mortality might actually be decreasing.
On the other hand, the World Health Organization (WHO) announced yesterday that the mortality rate from the Wuhan Coronavirus (formally known as 2019 nCoV) is 3.4% globally.
The Spanish Flu of 1918 – which killed between tens of millions of people – had a lower mortality rate, estimated by the WHO as between 2 and 3%.
But surely, you say, the Coronavirus is not as contagious as the Spanish Flu …
Unfortunately, it's more contagious. The Center for Infectious Disease Research and Policy notes:
Based on calculations, the authors of the larger study estimate the novel coronavirus has an R0 of 2.2, meaning each case patient could infect more than 2 other people. If accurate, this makes the 2019 nCoV more infectious than the 1918 influenza pandemic virus, which had an R0 of 1.80 (interquartile range: 1.47 to 2.27).
WHO says that the R0 of Coronavirus in China was initially between 2 and 2.5.< But scientists from the Los Alamos National Laboratory said that the R0 for the Coronavirus is actually between 4.7 to 6.6 (although that number drops to between 2.3 and 3 after quarantines and social distancing are implemented).
According to the Director of the US Centers for Disease Control and Prevention, the Director of the National Institute of Allergy and Infectious Diseases and others, Coronavirus can be spread even when people have no symptoms. On the one hand, this is bad news, as it is very hard to screen and locate carriers when they are symptom-free or have only mild, cold or flu-like symptoms.
On the other hand, this means that the real R0 might be much higher than WHO estimates … which would make the mortality rate lower.
If the number of people with Coronavirus is a lot higher than is being reported, that means the mortality is a lot lower … i.e. a smaller percentage of the larger population of people infected have died.
Indeed, China only tests a portion of those who are really sick, and the United States has tested less than 500 people total for Coronavirus (American doctors have to beg to get their sick patients tested).
So far, WHO has rejected the theory that there are more people who have Coronavirus than reported
Spain Declares National Lockdown

Summary:
Spain declares national lockdown
NYC confirms 1st coronavirus death
US death toll hits 50
White House virus task force delivers update
Airlines cancel flights to Spain
Apple closes stores outside Greater China
Washington State re-takes lead in US case total
Gaming Commission shuts down Mass. casinos
* * *
Update (1205ET): As we await the latest update from the White House coronavirus task force, here's a breakdown of the confirmed coronavirus cases in Spain.
Most coronavirus cases in Spain:

– Madrid: 2,940
– Basque Country: 521
– Catalonia: 509
– Andalusia: 304
– Castile-La Mancha: 289
– La Rioja: 278
– Castile-León: 223
– Valencian: 188
– Navarre: 146
– Galicia: 135
– Aragon: 121
– Asturias: 101
– Canary Islands: 9016910:57 AM – Mar 14, 2020Twitter Ads info and privacy155 people are talking about this
In Massachusetts, the state Gaming Commission voted to shut down the state's casinos, following in the footsteps of Macau, even as Las Vegas remains open for business. The committee voted unanimously in favor of an "expeditious and orderly" shutdown process, which is currently underway at Encore Boston Harbor in Everett, MGM Springfield and Plainridge Park Casino in Plainville, according to WCVB.
While EU bureaucrats in Brussels slammed President Trump over the European travel ban, claiming that he left them in the dark with his "unilateral" action, Spain – one of Europe's largest countries, and the fourth-largest economy in the eurozone – on Sunday said it would adopt a draconian national travel ban on par with the national lockdown taking place in Italy.
Yes, even as Brussels bureaucrats insist that closing borders aren't necessary, more European leaders are deciding to ignore Brussels and follow in the footsteps of Italy, which has declared a two-week national lockdown, and Austria, the Czech Republic, and Slovakia, which have all closed their borders to foreigners.
On Friday, Spain declared a two-week state of emergency that Spain's Socialist Prime Minister Pedro Sánchez was necessary to help contain the outbreak that has spun out of control since thousands of marchers packed into the streets of Madrid for last weekend's International Women's Day march.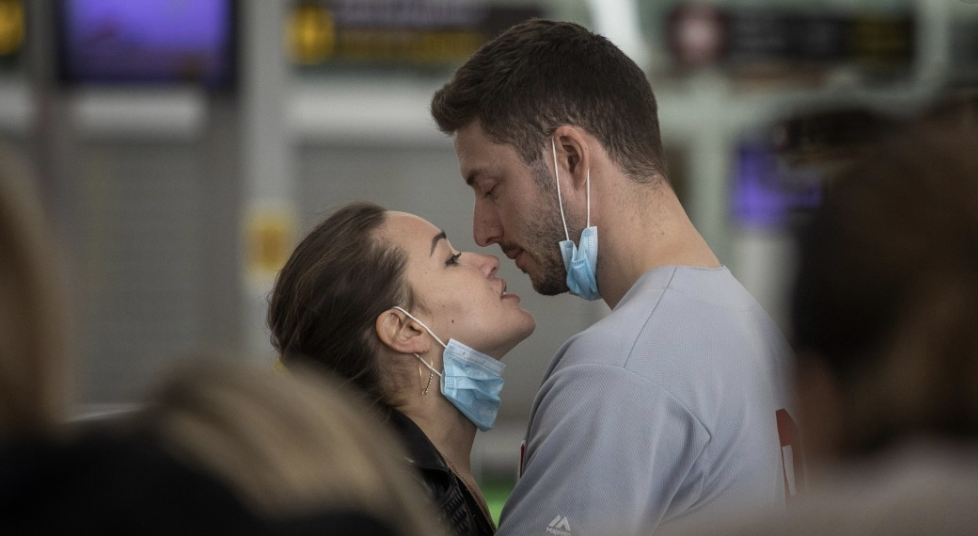 On Friday, Sanchez declared the emergency for 15 days, saying that Spain would "mobilize all resources," including the military, to contain the virus and help reverse the sharp rise in new infections over the past week. Part of the powers invoked by Sanchez allows the federal government to restrict the movement of the Spanish people, to legally confiscate items and to seize control of Spanish industrial output – presumably a relic of Spain's authoritarian past that makes this lockdown more similar to the Chinese Communist Party's lockdown than anything happening in Italy. Even private hospitals can be commandeered for the government effort. The government can even impose 'special measures' to guarantee the food supply for the country. Even April elections in two northern regions could be delayed, the government said.
The decision came after Spain's case total surpassed 4,000, and deaths climbed above 100. More cases and deaths were reported Saturday morning, along with the latest details about the Spanish emergency measures, which appear to be even more thorough than initially believed. On Saturday, total cases passed 5,000, and the number of confirmed deaths neared 200.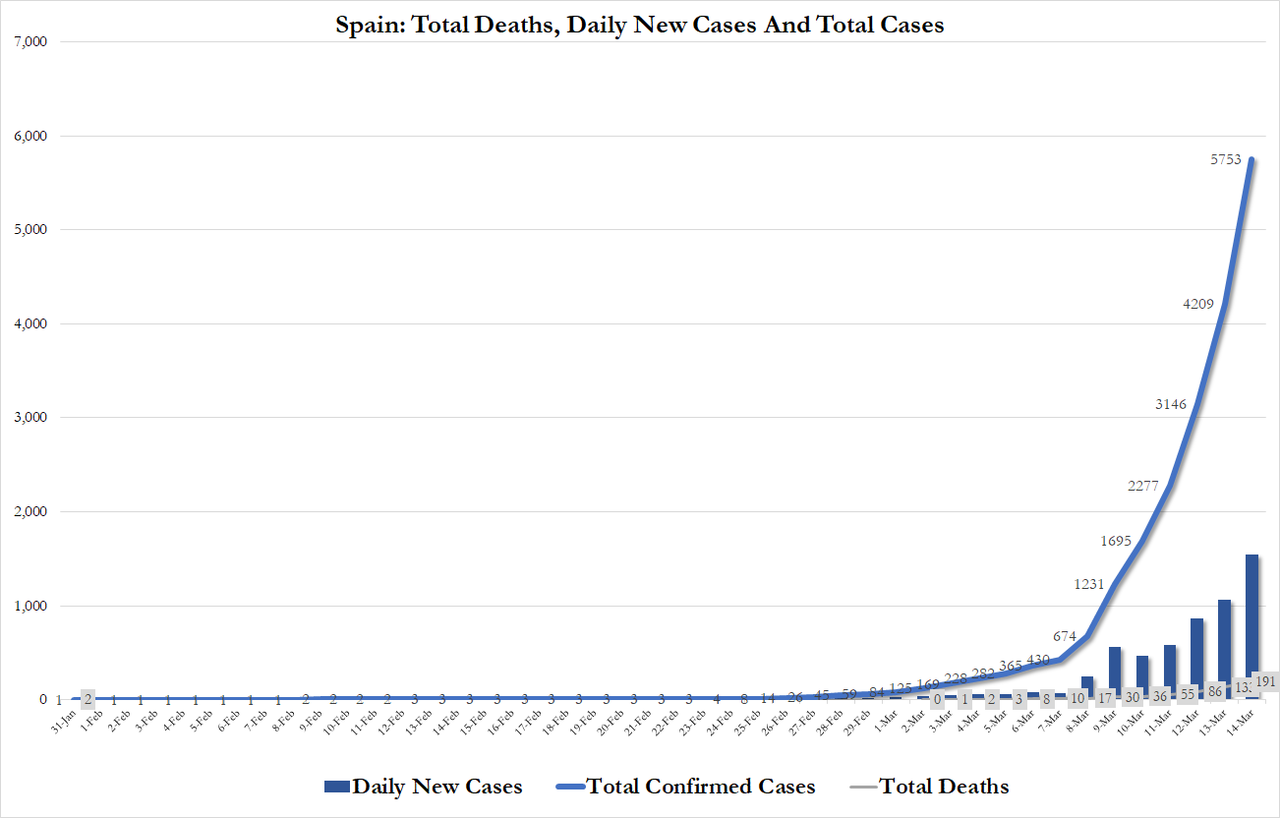 Then on Saturday, the Spanish government decided to kick things up a notch, perhaps having realized that the outbreak is now out of control and more restrictive controls on movement would be needed to contain it.
Spain's Interior Ministry said Saturday that it would assu,e direct control of all police forces in the country, allowing them to direct police to enforce quarantines, with deadly force if necessary. In Madrid, the epicenter of the Spanish outbreak, a state of emergency will be imposed, including a curfew and lockdown measures intended to restrict movement and ensure social distancing.
El Pais, Spain's newspaper of record, reported Saturday that the government had prepared a draft decree similar to Italy's declaring a 'nationwide lockdown'. According to reports, the lockdown will be rolled out nationwide on Monday, and people would only be able to go out to either work or buy essential items.
As the eurozone's fourth-largest country, Spain has a population of 47 million, roughly 13 million fewer people than Italy.
So far, no news of the lockdown has appeared on official government accounts. Earlier, PM Sanchez tweeted a PSA about 'social distancing' and hygiene practices.
Already, airlines are canceling flights over Spain's new measure. British travel company Jet2 has canceled all flights to mainland Spain, the Balearic Islands, and the Canary Islands. The cancellations were a result of Spain's new measures, per CNN.
In the Netherlands, which has also seen an alarming spike in cases over the last week, confirmed on Saturday that infections had climbed by 155 TO 959, with two more deaths, while many cases and deaths likely remain unconfirmed.
On the corporate side of things, Apple announced Saturday morning that it would shutter all of its stores outside Greater China. The decision is notably ironic seeing as Apple just finished opening the last of its stores on the mainland late this week. The stores will be closed until March 27.
According to CNN, the company also pledged to commit $15 million to help with the worldwide recovery from the outbreak, "both to help treat those who are sick and to help lessen the economic and community impacts of the pandemic."
In the US, while Walmarts, Targets, and groceries across the country remain oddly barren of toilet paper, the Pentagon on Saturday suspended all domestic travel for personnel and their families during the outbreak. The new restrictions apply to "all DoD military and civilian personnel and their families assigned to DoD installations, facilities and surrounding areas within the US and its territories," the department said in the statement, according to BBG.
Overnight, the death toll in the states climbed to 49 as Washington re-took the lead in total confirmed cases from New York, which held it briefly for a few hours Friday afternoon.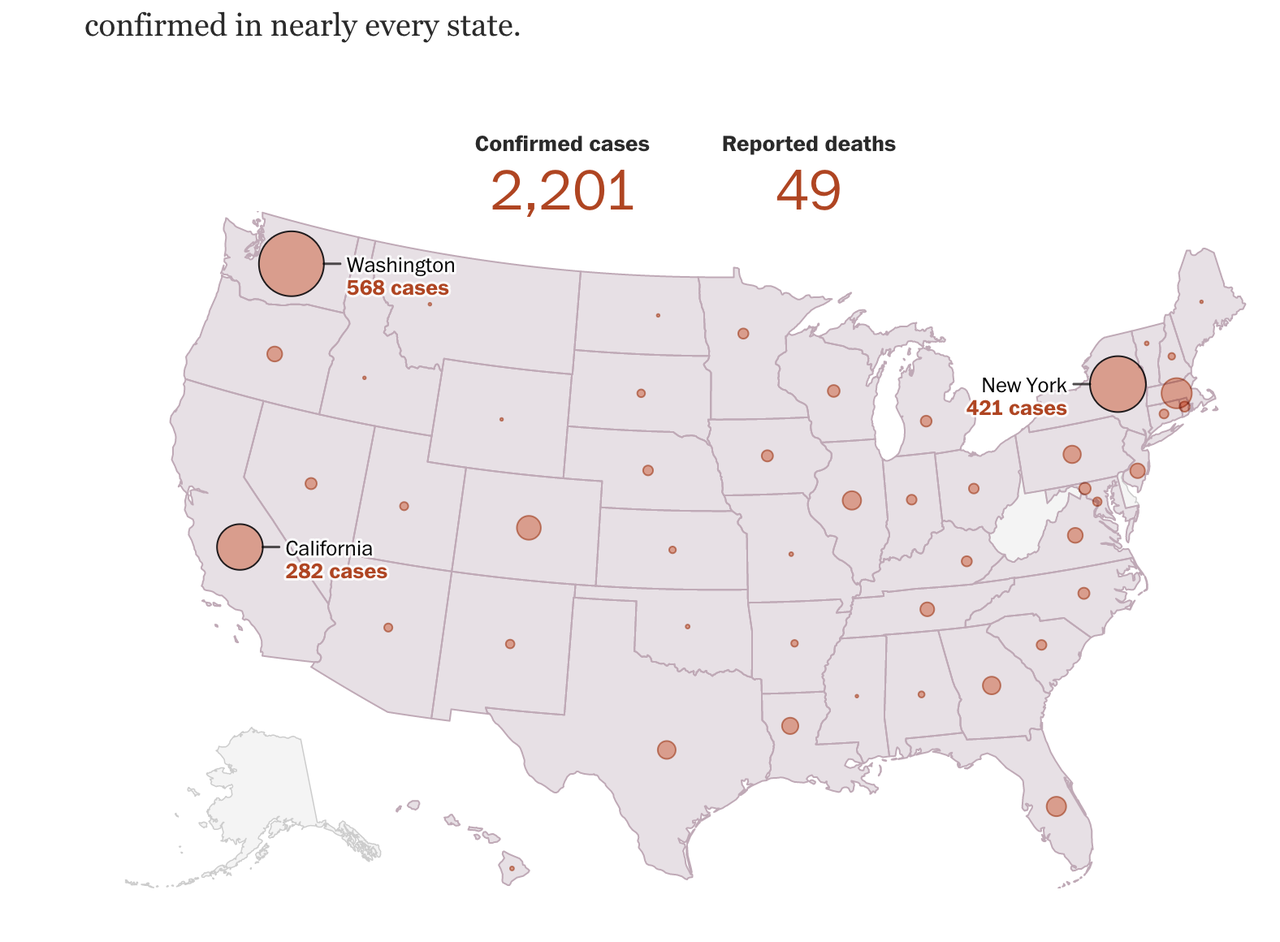 Across the US, 46,000 schools have closed, are scheduled to close, or were closed and later reopened, because of the virus outbreak, as 12 states declare two or three-week closures. At least 21 million students in the United States have been or will be affected by the closures. The acting ambassador from Brazil, who attended the dinner with Trump and Pence and Bolsonaro and his infected comms director, has tested positive for Covid-19 after reporting symptoms. But though some said that Trump sounded a little hoarse at yesterday's press conference, he and his doctors insist he isn't showing any symptoms.
A Rhode Island elementary school student who got an autograph from one of the Utah Jazz players who tested positive for the virus has also tested positive, shining another uncomfortable light on one player (Rudy Gomert's) nonchalant and mocking behavior toward the virus, which clearly has a twisted sense of humor.
NYC Confirms First Death From Covid-19, White House Begins Mandatory Temperature Checks: Live Updates
New York City has confirmed its first coronavirus-related death, WSJ reports.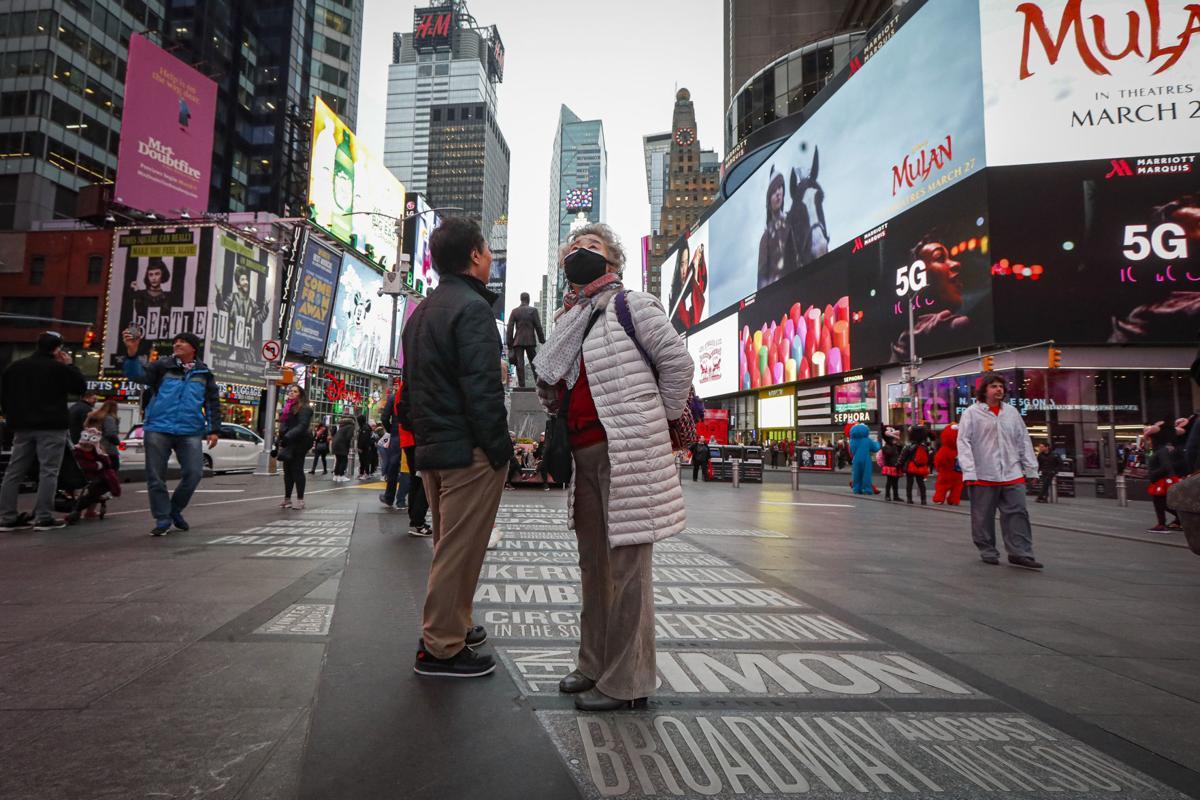 The world is now waiting to hear whether Gov. Cuomo will shut down the city's schools and the subway system.
Per WSJ, the deceased was an 82-year-old woman with emphysema. Her death brings the US death toll to an even 50. As of Saturday, the state has 524 cases of coronavirus, with more than 100 people hospitalized. Gov. Cuomo warned in a morning press conference that there are roughly 50,000 hospital beds statewide, with 3,000 intensive care rooms. Since those rooms will be needed to care for the most severely ill patients, hospitals are beginning to suspend elective surgeries, beginning with NewYork-Presbyterian, one of the largest hospital systems in the NYC area, which said that it would be stopping all elective surgeries and procedures.
The decision will free up more space for coronavirus patients.
In other news, following yesterday's press conference where reporters hammered Trump and Pence for their allegedly 'selfish' unwillingness to get tested and to wear a mask, the White House has implemented temperature checks for reporters entering the briefing room and other individuals coming into close contact with the president.
New procedure from the White House, @HansNichols reports: "Out of an abundance of caution, temperature checks are now being performed on any individuals who are in close contact with the President and Vice President." Reporters are having their temps taken ahead of noon briefing.4610:41 AM – Mar 14, 2020Twitter Ads info and privacy53 people are talking about this

Now a global pestilence has erupted, and in Luke 21 we were specifically warned to watch for "pestilences" in the last days.
Source: HNewsWire CensoredNews ZeroHedge
StevieRay Hansen
Editor, HNewsWire.com
The Bill and Melinda Gates Foundation Have NOT Got The Memo Yet, "Pestilences" Has No Cure

"America has become China on Steroids" Set Down and SHUT-UP, Our Social Media Platforms (Reprobates) Continue to Hide the Truth From the American People, by Shadow Banning Alt News Sources. The Blood of the People Is on Their Hands…
Demon Virus
Asked about the virus while traveling abroad last week, Trump said: "We have it totally under control". In a separate Twitter posting, he offered reassurance but scant detail for his confidence. By Associated Press Updated On: 05:53 PST, Jan 31, 2020
StevieRay Hansen, Pestilence, revelations, disobedience, biblical, food shortage, biblical prophecy, Triblution, CDC, coronavirus, Hospitals, infections, outbreak, pandemic, Public Health, virus
A little over 20 years ago, North American Aerospace Defense Command (NORAD) conducted a military exercise that involved a "hypothetical scenario" of hijacked planes flying into…
Read More