Russian President Vladimir Putin Warned on Saturday That Any Country Contemplating a No-Fly Zone Over Ukraine Would Be Met With an Immediate Declaration of War by Moscow, Adding Fuel to the Fire in the Escalating Rhetoric Between Moscow and Washington
HNewsWire- The State Department upgraded its travel warning for Americans in Russia on Saturday, advising them to leave "immediately." It comes after the embassy informed them on Wednesday that they should "consider" leaving the country.
The following are the first lines of the State Department's new travel warning, which was issued on the same day that American WNBA and former Olympic star Brittney Griner was arrested at Sherematyevo International Airport south of Moscow [emphasis in original travel warning]:
Do not travel to Russia because of the unprovoked and unjustified attack by Russian military forces in Ukraine, the possibility of harassment by Russian government security officials against U.S. citizens, the Embassy's limited ability to assist U.S. citizens in Russia, COVID-19 and related entry restrictions, terrorism, limited flights into and out of Russia, and the arbitrary enforcement of local law. Citizens of the United States should leave Russia immediately.
Citizens of the United States who are living or traveling in Russia should leave immediately. There are still a few commercial flight alternatives available. Car and bus links overland are still available. If you want to leave Russia, you should make your own preparations as soon as possible. If you want to remain in Russia, keep in mind that the US Embassy's capacity to help US citizens is severely limited, and circumstances, especially transportation alternatives, may change quickly. Citizens of the United States who are able to leave Russia for another country and need emergency help upon arrival should call the nearest US embassy or consulate.
Griner is suspected of possessing narcotics on her person and has reportedly been held in Russian prison for many days.
US nationals should be aware of the effect of sanctions and limited Russian airline travel across Europe and into the US, according to the US advice, which states that "certain credit and debit cards may be denied as a consequence of sanctions placed on Russian institutions." Additionally, there have been allegations of cash shortages in Russia. If nationals of the United States stay in Russia, they should devise a backup plan for money and finances."
In a Saturday address, Vladimir Putin warned that any nation considering a no-fly zone in Ukraine will be faced with an instant declaration of war by Russia.
In the last two days, fresh combat film from Ukraine has surfaced showing Russian planes being shot down, indicating that the Kremlin's air force is suffering a greater blow than predicted.
Update (10:21 a.m. ET): Ukraine's President Zelensky and his senior officials have been publicly advocating for a no-fly zone over the nation enforced by the US and NATO in recent days, essentially putting American troops in a direct shooting conflict with Russia. On Saturday, Russian President Vladimir Putin delivered a strong warning to any foreign country considering participating militarily.
Putin made it clear that any nation participating in such a fashion would face an instant declaration of war from the Kremlin. The Associated Press reported and interpreted his recent remarks before representatives of the civilian aviation business and pilots as follows:
Any third party attempting to impose a no-fly zone over Ukraine would face war, according to Vladimir Putin.
Putin stated during a meeting with female pilots on Saturday that "any step in this direction" would be seen as an interference that "would pose a danger to our military personnel."
"We will perceive them as participants in the armed fight right now, regardless of who they are," Russian President Vladimir Putin declared.
He also addressed the West's stepped-up sanctions on Russia, which are now isolating Russia to levels similar to the US sanctions system on Iran - with the notable caveat that the US has not yet directly targeted Russian oil and gas exports.
"Sanctions against us are the equivalent of declaring war on Russia," Putin said at the meeting with military personnel.
At a time when many Western officials and analysts in the media have pointed out huge issues for the invaders as Ukraine maintains a vigorous ground resistance, he portrayed a bright image of Russia's plan and military activities on the ground...
The second round of Ukraine-Russia negotiations, held on Thursday, resulted in a major agreement to enable people to be evacuated from regions of Ukraine where violence is raging by building 'humanitarian corridors.' The possibility of local ceasefires has spurred optimism that this may lead to a larger ceasefire throughout the nation, with a third round of negotiations set to begin early next week.
These passageways were built in at least two major cities that have been bombarded by Russia: Mariupol in the southeast on the Sea of Azov, and Volnovakha in the east. Local ceasefires were viewed as a key step that may lead to a larger stop in combat, but that seems to have already broken down, with inhabitants in Mariupol, a city of 400,000 people, being granted just five hours to leave on Saturday.
Mariupol is being shelled. Reuters' @AyBurlachenko provided the source.
Russian soldiers are said to have started shelling, thereby ending the temporary truce. The office of President Zelensky released a statement accusing Russia of violating the cease-fire: "The Russian side is not adhering to the cease-fire and has kept shooting on Mariupol itself and its surrounding region," it added.
The truce in Volnovakha that allowed people to leave has also apparently broken down. "Discussions with the Russian Federation are underway towards the establishment of a cease-fire and the establishment of a secure humanitarian corridor," Zelesnky's office said in a statement.
According to the Associated Press, Deputy Prime Minister Iryna Vereshchuk stated, "We ask to the Russian side to halt fire." According to foreign sources, Mariupol had been under constant bombardment for 30 hours previous to the humanitarian halt.
According to Ukrainian sources, a Russian jet was shot down on the outskirts of Chernihiv in northern Ukraine...
Russia is likely to believe that the 5-hour truce was long enough to enable for civilian evacuations. Mariupol has been characterized as being completely besieged, with no access to water or power. Given the city's population of 400,000, many thousands of people are expected to stay when bombardment resumes.
According to city officials, at least 200 people have been killed since the assault on Mariupol began.
Meanwhile, Germany has released additional figures after the UN stated that over one million Ukrainians had left the conflict. "According to Germany's interior ministry, more than 27,000 refugees have arrived in Germany from Ukraine since the Russian incursion began on February 24," CNN writes. "An interior ministry spokeswoman confirmed to CNN Saturday that Germany's Federal Police had registered 27,491 migrants from Ukraine in Germany to far."
Putin: Yes It's True, American WNBA and Former Olympic Star Brittney Griner, Has Been Detained at Sherematyevo International Outside Moscow. She's Carrying Dope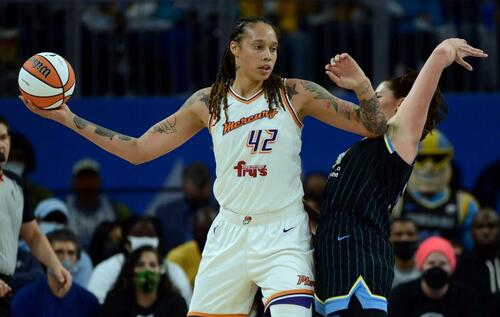 SRH: "The world is a dangerous place, because of those who do evil And because of those who look on and do nothing."
A Thrilling Ride
Every once in awhile, a book comes across your path that is impossible to put down. A Long Journey Home is not a casual book that you read in a week or earmark to complete at a later date. Once you begin, cancel your schedule, put your phone on silent, find a quiet place where you cannot be disturbed, and complete the journey. Click Here to Purchase on Amazon.com!
The New World Order Plan Is Almost Complete Crush the Economy and Humanity Is Crush, the "Second Wave Wannabe Dr. Fauci BS" COVID-19 Will Crush ...
Read More

→