Satan Soldiers:"Unethical" Mandatory Vaccination "Will Not Work" — A Few Days Later Announces — EU Members Plan to
Bring Back Vaccine Passport, Require Booster Shots Those Brits Are Confused
The UK health secretary has stated that he has 'no interest' in legislating for mandatory COVID vaccinations, describing such a policy as 'unethical'.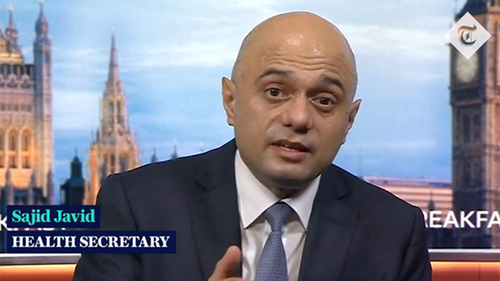 In an interview with the BBC, Sajid Javid said "My view is that it's unethical and also at a practical level it wouldn't work."
Javid added, "If you're asking me about universal mandatory vaccination, as some countries in Europe have said they will do, at a practical level I just don't think it would work. Getting vaccinated has to be a positive choice."
In a separate Sky News interview, Javid added "I've got no interest in mandatory vaccinations, apart from in high-risk settings in the NHS and social care, which we've already set out that we will legislate for."
The comments come a day after Prime Minister Boris Johnson said there will "come a point" for a "national conversation" on mandatory vaccinations.
Watch:
Sajid Javid on mandatory vaccines.
"My view us that's it's unethical and also at a practical level, it won't work."
"It has to be a positive decision."
However he is adamant it will be mandatory for the NHS.
Coming forward with the regulation next week? https://t.co/Te2w0WJOun

— Lottie Nightingale (@Valkyrie20201) December 9, 2021
Those reacting to Javid's comments point out that for months Brits were told new lockdowns were not coming, then the government implemented them, and that vaccine passports would never be introduced, yet this week they were, as has been the plan all along.
Sajid Javid saying they're introducing vaccine passports but not mandatory jabs so it sounds less authoritarian. In the same way we were promised "vaccine passports wouldn't happen but we need lockdown" a year ago. Why should we trust that mandatory vaccines won't happen?

— Andrew (@Takeawaymoneyuk) December 9, 2021
Javid: "We believe mandatory jabs are unethical. Well...just to be clear...they're unethical until such time as our super prisons are finished, after that they're ethical as fuck."

— Bitcoin and Golf UK (@BitcoinandGolf) December 9, 2021
Wasn't the view that vaccine passports were discriminatory and that the government weren't even considering them? So mandatory vaccines coming soon.

— Susie (@YarlanZey) December 9, 2021
When asked if the Government would be introducing mandatory vaccinations, Sajid Javid said 'no' they would be 'unethical'.

So, that's a 'YES' then?

— Knights of Whitty (@Scott79358632) December 9, 2021
Mandatory vaccinations next?https://t.co/Z8Aqxn25Jz

— JohnBot (@John889910) December 9, 2021
Yet there are mandatory jabs for care home workers, and soon the NHS.

You own this duplicity @sajidjavid

— Paul Shackleton (@PaulShack56) December 9, 2021
We heard this bs over vaccine passports you are all liars and are now a cartel government with no morals no compassion no empathy no humanity no regard for #humanrights

Covid latest news: Sajid Javid says no to 'unethical' mandatory vaccinationshttps://t.co/vXNNyvvrU4

— Missbutterfly (@MISSXBUTTERFLYX) December 9, 2021
EU Members Plan To Bring Back Vaccine Passport, Require Booster Shots
It appears the EU has decided to abide by the WHO's insistence that southern African countries shouldn't be shunned via travel restrictions imposed by the West. But now, instead of singling out a handful of countries in southern Africa, the EU and its member states are preparing to revive their vaccine passport for intra-EU travel, while continuing to require outsiders (even the vaccinated ones) to show proof that they recently tested negative via PCR test in the past 24 hours.
The EU's executive commission proposed back in November that a nine-month validity limit for COVID passes from the completion of the primary vaccine doses. If applied, EU citizens hoping to travel freely within the bloc will need to have their booster shots.
Anonymous sources in Brussels told Bloomberg that a deal on the 9-month vaccine passport arrangement would likely be reached by the end of the day on Friday.
EU governments have repeatedly said a common approach is needed to avoid further disruption for the travel industry. But until now, member states have mostly gone their own way.
For example, France set a seven-month limit on the day the European Commission proposed it should be nine months.
The French rule is to apply from Jan. 15, whereas the Commission has proposed a Jan. 10 start.
A spokesman for the French embassy at the EU had no immediate comment on the issue.
Meanwhile, in Cyprus, authorities are planning to adopt passport rules that will be in place for at least 7 months, and in Greece, it would expire after six months for older people. EU officials say both countries are willing to change their approaches to the common EU limit, but we are still awaiting confirmation on that.
As we mentioned earlier, EU health experts are also set to discuss on Thursday the lifting of travel curbs on southern African countries as well as the introduction of the obligation for all incoming travelers from outside the bloc to possess a negative PCR test even if they're vaccinated.
Now, will we see more protests erupt across Europe in retaliation?
Satan Soldier a.k.a. Robb Butler, executive director for Demonic WHO Europe, told Kay Burley on Sky News: "Mandatory (Kill Shot) vaccination can, but doesn't always increase uptake." What The Hell Does That Mean? Be that as it may, he advocated that countries – and individuals – should now be thinking about the issue. "There are warnings of history here where mandates have come at the expense of trust, social inclusion. So it is very delicate, but we believe it is time to have that discussion, from a human being and population-based perspective." Cases are rising again in much of Europe – clearly in the case of countries like Germany, the Netherlands and Austria, with the latter going back into an absolute lockdown as a result. Satan Soldier Butler said only 54% of the population of the 53 WHO Europe region…
Dutch Police Detain Dozens in a 2nd Night of COVID-19 Rioting AMSTERDAM-Five police officers were injured in the Netherlands and at least 28 people detained across three provinces as violent protests against COVID-19 restrictions continued for a second night into Sunday. Dutch authorities used water canon, dogs, and mounted police to stop rioting youths who set fires and threw fireworks in the worst disturbances since a full lockdown led to widespread disorder and more than 500 arrests in January. The latest unrest began on Friday night in Rotterdam, where police opened fire on a crowd that had swelled to hundreds during a protest the city's mayor said had turned into "an orgy of violence." Three people believed to be hit by police bullets remained in hospital on Sunday, a statement by the authorities said. The protests were sparked by opposition to government plans…
Source: HNewsWire    HNewsWire    ZeroHedge
StevieRay Hansen
Editor,
HNewsWire.com
[email protected]
Covid " Virus" HOAX Turned Pestilence