Advisory: Be careful of what you read on social media. The algorithms used by these platforms have no regard for Biblical truth. They target your emotions to keep you engaged on their site so their advertisers can drop more ads. These platforms exist to enrich their stockholders. Consider God's promise to Believers in James 1:5, "If any of you lacks wisdom, you should ask God, who gives generously to all without finding fault, and it will be given to you."
and do not lift up cry or prayer for them, and do not intercede with Me; for I do not hear you" (Jer. 7:16; cf. 11:14; 14:11). The reason behind God's command was that He had decided to judge and punish His people (Jer. 7:20) because they'd repeatedly broken their covenant with Him by disobeying His commands and pursuing other gods, which He had forbidden (Ex. 20:2-4; cf. Ezek. 20:4-24).
Fully Vaccinated Australians In Hospital For COVID-19 Surpass Unvaccinated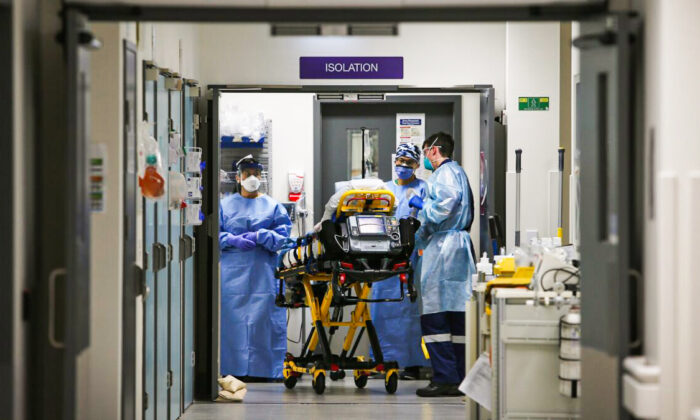 For the first time, New South Wales (NSW) has seen more fully vaccinated patients hospitalised with COVID-19 compared to the number of unvaccinated patients as the Omicron outbreak continues to edge toward its peak.
Data published by the NSW government's COVID-19 Critical Intelligence Unit has revealed that as of Jan. 9, 68.9 percent of COVID-19 patients aged 12 and over in hospitals had two doses of the vaccine, with 28.8 percent unvaccinated.
The number of double-dose vaccinated patients in intensive care units (ICUs) also surpassed those of the unvaccinated, with 50.3 percent of the vaccinated presenting to ICU with COVID-19, more than the 49.1 percent who are unvaccinated.
However, based on the data presented, unvaccinated individuals appear to be six times more likely to be hospitalised and nearly 13 times more likely to be sent to ICU than those who are fully vaccinated.
This is considering that the number of unvaccinated patients appears to be over-represented in the figures—7.3 percent of the NSW population aged 12 and over at the time were unvaccinated, but they made up half of the COVID-19 ICU patients in the NSW Health system. At present Australia does not permit alternative treatment approaches utilised and available in other countries, such as ivermectin and hydroxychloroquine.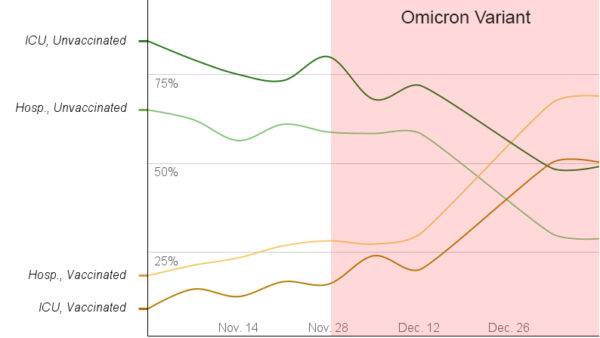 According to NSW Health, 95.1 percent of people aged 16 and over have received the first dose of a COVID-19 vaccine, and 93.7 percent have received two doses as of Jan. 11.
The rise in the proportion of hospitalisations amongst the fully vaccinated comes both amid the spread of the Omicron variant of the CCP virus in Australia, along with the loss in the efficacy of the available COVID-19 vaccines.
A spokesperson for NSW Health told The Epoch Times on Jan. 11 that Omicron had supplanted Delta as the primary variant spreading in NSW, but that it also appeared to be less dangerous than its predecessor.
"The Omicron variant is associated with a lower rate of hospitalisation and ICU admission," the spokesperson said.
While the state recorded 32,155 cases of the virus on Jan. 9, 2,030 were hospitalised, and only 159 had been sent to ICU. As of Jan. 12, the total number of cases has jumped to 53,909, with 2,242 hospitalised and 175 in ICU.
"NSW Health urges the community to continue to practise COVID-safe behaviours to keep themselves and the community safe, including wearing a mask indoors, maintaining physical distancing, and practising hand hygiene."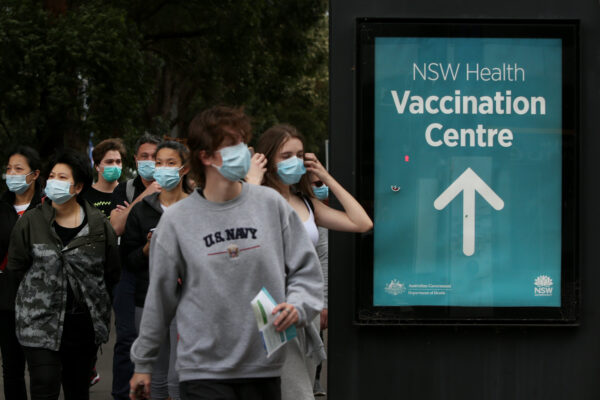 The spokesperson also reminded those eligible to receive their third booster dose of an available COVID-19 vaccine—which can now be done four months after receiving the second dose—to raise the effectiveness of immunity granted by the vaccine.
"We continue to encourage everyone who has not yet done so to get vaccinated and anyone who is now eligible for their booster dose to get it without delay. The COVID-19 vaccines available in Australia are safe and very effective at reducing the risk of serious illness and death."
In the United States, it has been reported that 2 out of the three available COVID-19 vaccines dropped below 50 percent efficacy after six months, according to a study published in November 2021.
To combat this, NSW has mandated booster shots for all education staff, joining other states that have implemented vaccine booster requirements.
NSW is also currently working to better understand the effects of the new COVID-19 variants.
"NSW Health urges the community to continue to practise COVID-safe behaviours to keep themselves and the community safe, including wearing a mask indoors, maintaining physical distancing, and practising hand hygiene."
The spokesperson also reminded those eligible to receive their third booster dose of an available COVID-19 vaccine—which can now be done four months after receiving the second dose—to raise the effectiveness of immunity granted by the vaccine.
Source: theepochtimes
Did Bill Gates & World Economic Forum Predict Coronavirus Outbreak? An Inside Look May Shock You!
In this report, we take an inside look at Event 201, which took place in NYC on October 18 2019. Event 201 is a high-level pandemic exercise hosted by the Johns Hopkins Center for Health Security in partnership with the World Economic Forum and the Bill and Melinda Gates Foundation.
This is extremely fascinating because this pandemic simulation exercise of coronavirus took place about 6 weeks before the first illness from the coronavirus was actually reported in Wuhan, China. That is one hell of a coincidence if you believe in that sort of thing. Another fascinating connection is the fact that not only did the Bill and Melinda Gates Foundation participate in and help set up the pandemic simulation of a coronavirus outbreak, but they just so happen to fund the group who owns the patent to the deadly coronavirus and are already working on a vaccine to solve the current crisis. Again, an incredible coincidence…
In this report, you will see footage from inside the event from the members of the emergency epidemic board in this simulation consisting of representatives from major banks, the UN, the Bill and Melinda Gates Foundation, Johnson and Johnson, logistical powerhouses, the media as well as officials from China and America's CDC just to name a few. This simulation also includes news reports that were fabricated just for this exercise — please keep that in mind because they are eerily similar to reports we are currently seeing regarding this real-world coronavirus outbreak. Source: activistpost.com
As You Read This Article Keep In Mind The AntiChirst Has ALL The Answers, The day that the Antichrist is revealed will be the most fearful and confusing day imaginable. Even to Christians who know what is happening and look forward to the coming of Christ, it will still be a shock to experience the Antichrist's rise.
The Bill and Melinda Gates Foundation will soon begin distributing at-home testing kits for Seattle-area residents who suspect they have contracted Covid-19, according to a new report in the Seattle Times.
Test kits could become available as soon as this week, via a lab funded by the foundation, could start testing hundreds per day with scaling availabilities in the weeks ahead.
"Although there's a lot to be worked out, this has enormous potential to turn the tide of the epidemic," Scott Dowell, who is in charge of the Covid-19 response effort by the foundation, told the Times.
"One of the most important things from our perspective, having watched and worked on this in other parts of the world, is the identification of people who are positive for the virus, so they can be safely isolated and cared for, and the identification of their contacts, who can then be quarantined," Dowell said.
News of the test kits comes as confirmed cases in the US surge above 500 across 34 states. Washington state, specifically the Seattle Metropolitan Area, has been the hardest hit region in the country, with 16 deaths and 128 confirmed cases.
The Gates Foundation has spent more than $20 million in the virus response effort and has committed at least $5 million for the Seattle area.
Trevor Bedford, a computational biologist at Fred Hutchinson Cancer Research Center, warned last week that actual cases in Seattle could be around 600. Bedford said cases could soar to 12,000 to 30,000 by the end of the month if virus containment measures weren't in place to slow down the transmission rate.
While the foundation's urgency for developing a new test kit is timely, Gates was apart of The Event 201 scenario in October (months before Covid-19) that modeled a breakout of coronavirus across the world, killing 65 million people by month 18.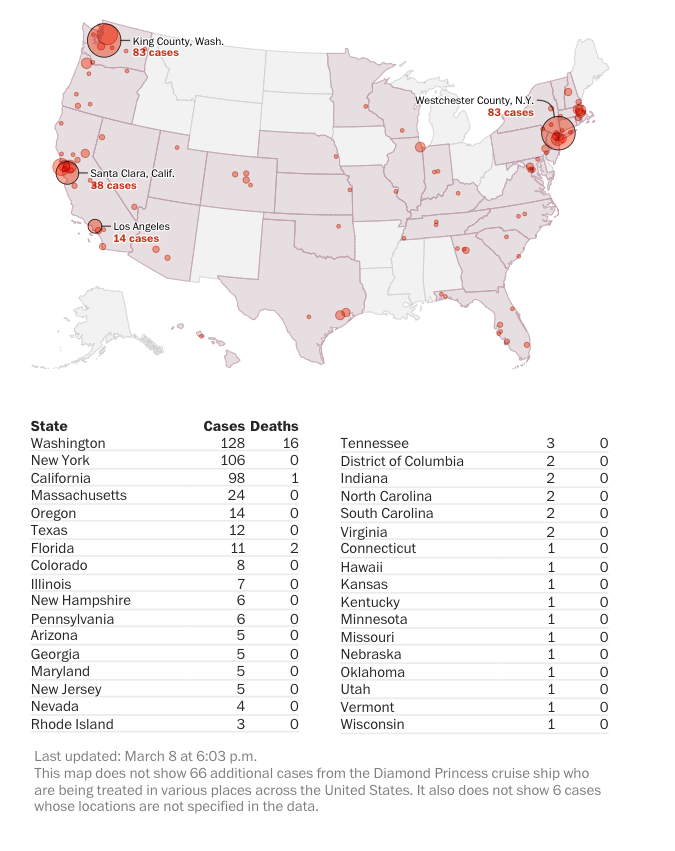 With the Covid-19 breakout only just getting started on the continental US, expect this map to be much redder in the coming weeks. One can only hope the foundation can ramp up test kits, considering there's a massive shortage at hospitals.
Big Pharma is officially partnering with the tech industry to pair "immunization" with digital biometrics, meaning humans will soon be microchipped, tracked, and ultimately controlled through a global identification matrix.
For years we've been watching as Microsoft founder Bill Gates, now retired from the company he founded, use his billions to give 'free vaccinations' to people in third world countries. Now Bill has become a founding partner in another company, this one is called the ID2020 Alliance, and its goal is to give every human being on Earth a digital id. How do they plan on accomplishing this feat? By combining mandatory vaccinations with implantable microchips. Genius, isn't it? And coming soon to a theater near you, as the saying goes.
These days history happens by stealth: the big shifts in power are often only incidentally reported in our mainstream news-media and can be hard to detect even by experienced watchers. Until a year ago almost no one had heard of the Global Health Security Agenda, although the project started in 2014 under the Obama administration and has already destabilized nations: something which is neither conjecture or "conspiracy theory" but easily established from public documents [1, 2]. Late last year I highlighted a column in electronic BMJ by J Stephen Morrison "senior vice president at the Center for Strategic and International Studies and director of its Global Health Policy Center" [3]:
ALSO, KNOWN AS THE MARK OF THE BEAST — THE 'ID2020 ALLIANCE COMBINE's VACCINATIONS WITH IMPLANTABLE MICROCHIPS TO CREATE YOUR DIGITAL ID…
The ID2020 Alliance, as it's being called, is a digital identity program that aims to "leverage immunization" as a means of inserting tiny microchips into people's bodies. In collaboration with the Global Alliance for Vaccines and Immunizations, also known as GAVI, the government of Bangladesh and various other "partners in government, academia, and humanitarian relief," the ID2020 Alliance hopes to usher in this mark of the beast as a way to keep tabs on every human being living on Earth.
Our social media platforms continue to hide the truth from the American people, by shadow banning. The blood of people are on their hands enjoy reprobates…
The New York Times has published dangerous misinformation about how to prepare for the coronavirus. The recent article said, "wash your hands, keep a supply of medicine, and GET A FLU SHOT." This might be one of the most illogical pieces of medical advice ever doled out by the mainstream media. The article assures readers that getting a flu shot is a "practical tip" offered by "experts." Meanwhile, the rest of the world rolls their eyes.
Bill and Melinda Gates Foundation is the source of the fake news
The article cites Dr. Keith Klugman, director of the pneumonia program at the Bill and Melinda Gates Foundation. He says that infectious disease specialists strongly recommend flu vaccination for coronavirus and pneumonia. The best protection for older people against bacterial pneumonia, he says, is to "vaccinate children."
According to David Brownstein, M.D., this is FAKE NEWS propaganda. "The flu vaccine has never been shown to protect against pneumonia," he iterated. And obviously, the flu viruses used in the flu vaccine do not resemble coronaviruses and will not prepare the immune system in any way.
According to the CDC's annual flu vaccine statistics, the flu vaccine is not effective at all for controlling the circulating flu strain each year. In fact, the flu shot has been found to cause mutations in flu viruses from the previous flu season, making people more susceptible to infection the following year. So, to think that inoculation with flu viruses is going to prepare the immune system for coronaviruses is illogical, to say the least. Even a coronavirus vaccine will be risky, as evidenced by previous attempts to develop a vaccine for SARS.
Flu vaccines increase hospitalizations for flu-like illnesses three-fold
Furthermore, researchers from the American Thoracic Society have found damning evidence surrounding the flu vaccine that many people won't want to hear. Instead of preventing influenza-related hospitalization in children, the trivalent inactivated flu vaccine actually increases hospitalizations three fold!
Children who are subjected to the flu vaccine year after year are at an increased risk for hospitalization when compared to children who are not subjected to the vaccine. Children with asthma suffer the worst. This research shows there's no efficacy to the vaccine; in fact, the flu vaccine poses net harm to children. The research is to be presented on May 19, at the 105th International Conference of the American Thoracic Society in San Diego.
"This study was aimed at evaluating the effectiveness of the TIV in children overall, as well as the children with asthma, to prevent influenza-related hospitalization," said Joshi, M.D., of the Mayo Clinic in Rochester, MN.
The study examined 263 children who were thoroughly examined at the Mayo Clinic in Minnesota, aged six months to 18 years. Each of the children had experienced laboratory-verified influenza infection at some point between 1996 and 2006. The Mayo Clinic evaluated each child, whether they were subjected to the flu vaccine, whether they had asthma and finally, whether they needed hospitalization for influenza-related illnesses.
The results are not what vaccine manufacturers want to hear: Children who don't get the flu vaccine recover from flu and other infections more effectively, rarely requiring hospitalization. Children who are subjected to the annual flu vaccine are three times more likely to suffer complications to infection, more likely to be hospitalized, and put on breathing treatments and other drugs. The risk of hospitalization post-vaccination is even higher for children who already have inflamed airways and constricted breathing due to asthma.
This is partly due to the fact that flu vaccines contain thimerosal, a mercury compound that depletes intracellular glutathione production and causes oxidation of the mitochondria pathway of cells. Glutathione is the master antioxidant for the cells in the body. When it is depleted, a person's immune system is weakened and they become more susceptible to complications from infections.
CDC fails to publish peer-reviewed science on how to strengthen the innate immune system
The CDC's Advisory Committee on Immunization Practices, the American Academy of Pediatrics, and the National Asthma Education and Prevention Program all recommend the flu vaccine for all children six months to 18 years. To decrease influenza-related hospitalization in children, it's time for these organizations to rescind their flu vaccine recommendations. It's also time for public health authorities to provide information and effective resources that can help children overcome infections naturally. On the CDC's page for preparing for coronavirus, there is no mention of practical solutions for preparing the immune system.
Tools that actually help a child's immune system overcome infection include, but are not limited to: elderberry syrup, whole food zinc and vitamin C supplements, proper hydration, no sugar or foods that generate mucus, a healthy fever response (not suppressed), sweet licorice root extracts, vitamin D supplements, colloidal silver, raw manuka honey, garlic-leek-onion-rich soups, and real fruit juices.
Not everyone's immune system is the same and some children suffer from asthmatic conditions caused by environmental factors. Because asthmatic conditions are made worse, according to this study, by the annual flu vaccine, it's important to learn how to reduce inflammation in the airways. Extracts of mullein herb, elecampane, turmeric root, marshmallow root, black cumin seed, and Schisandra berry, are effective anti-inflammatory solutions for the respiratory tract and beyond.
In order to avoid complications and hospitalizations from infections, families should avoid artificial perturbation of the immune system via flu vaccines and instead accentuate the body's innate immune defenses.
StevieRay Hansen
Editor, HNewsWire.com
The Bill and Melinda Gates Foundation Have NOT Got The Memo Yet, "Pestilences" Has No Cure
"America has become China on Steroids" Set Down and SHUT-UP, Our Social Media Platforms (Reprobates) Continue to Hide the Truth From the American People, by Shadow Banning Alt News Sources. The Blood of the People Is on Their Hands…
The truth is that all of the warnings of alleged 'conspiracy theorists' have turned out to be correct The word translated "pestilence" is often translated as "plague" or "disaster" …
There is a March to death and social media is leading the charge, they are withholding the truth about the coronavirus, You are Marching lockstep into the death spiral…
This day is here-- get ready, the virus WILL spreads throughout the US and Europe, governments will respond the same way China's government has; martial law and full-blown concentration camp culture. This would lead to civil war in the US because we are armed and many people will shoot anyone trying to put us into quarantine camps. Europe is mostly screwed. The establishment then suggests that paper money be removed from the system because it is a viral spreader. China is already pushing this solution now. Magically, we find ourselves in a cashless society in a matter of a year or two; which is what the globalists have been demanding for years. Everything goes digital, and thus even local economies become completely centralized as private trade dies. "AntiChrist Is On His Temporary Thorne"
StevieRay Hansen
The truth is that all of the warnings of alleged 'conspiracy theorists' have turned out to be correct The word translated "pestilence" is often translated as "plague" or "disaster" …
In order for sin to work, there has to be a "suppression of the truth."
The World leaders Are Having Trouble With The Truth, and The World Has been "Quarantined" Tribulation Is Here…
Thousands of People Are Basically Trapped in a Petri Dish of Disease
The watchman does not confuse truth with consensus. The Watchman does not confuse God's word with the word of those who happen to hold power at present, or with the opinion of the majority. This is because powerholders and the majority can fall victim to a lying spirit-and this means a power that actually seizes the majority of experts, the political leadership, and the public.
Everything is right on schedule and, now, the time is come to remove one of the final obstacles standing in the way of a New World Order: The United States Constitution – even if, over the course of many decades, it has already been greatly diminished by the B.E.A.S.T. system; or, more specifically, Bullshit Emerging As Strategic Totalitarianism (B.E.A.S.T.).
Pestilence, StevieRay Hansen, Biological Weapon, Coronavirus, Covid-19, Falsifying Death Toll From Coronavirus, biblical truth, Prophecy, tribulation, antichrist, Bill and Melinda Gates Foundation
HNewsWire: Christopher Wray, the director of the FBI, told lawmakers on Tuesday that since the war between Israel and Hamas began in October, the United States has been facing terrorist threats that have never been seen before. Guess he's not noticed the flashing red lights and deafening sirens going off at the border? "What I would say is unique about the situation we're in right now in my career is that while there may have been times over the years when individual threats were higher here or there than where they may be now, I've never seen a time when all the threats or so many of the threats were all elevated at the same time," the FBI director told the Senate after Sen. Lindsey Graham (R-S.C.) asked him about the threats. In answer, Mr. Graham said, "It seems like……...
HNewsWire: Christopher Wray, the director of the FBI, told lawmakers on Tuesday that since the war between Israel and Hamas began in October, the United……...
Read More
We make every effort to acknowledge sources used in our news articles. In a few cases, the sources were lost due to a technological glitch. If you believe we have not given sufficient credit for your source material, please contact us, and we will be more than happy to link to your article.