The U.S. Centers for Disease Control and Prevention (CDC) Passed Misinformation to Facebook — In the Most Recent Example of CDC Officials Making False or Misleading Claims
HNewsWire: Which was the worst? Financing gain of function research, censoring scientific debate about the origin of the SARS-COV2 virus, suppressing the Great Barrington Declaration, or prohibiting the use of hydroxychloroquine due to a lack of randomized control trials are all red herrings for a safe drug with a well-known mechanism of action.
We already know the depths of Fauci's betrayal, his assistance to our biggest enemy, China, his illegal funding and research that allowed China to produce the coronavirus, and Fauci's hand was on the trigger when the virus was released into the globe. We don't need to wait for Fauci to fabricate another batch of lies; any rational person knew who he was a long time ago. He's a treacherous snake, and he belongs in a supermax with the door welded shut.
Look at this guy's face! It makes me want to throw up! Never in a million years did anyone think the Satan Soldier a.k.a. 'Howdy Doody Fauci' would bring in $500,000 a year. Really good for a thief. Do you feel more motivated to pay your taxes now?
A federal judge said on September 6 that top Biden administration officials who had been fighting efforts to collect records of their conversations with Big Tech companies must turn over the documents.
After being sued by the attorneys general of Louisiana and Missouri over alleged collaboration with Big Tech businesses like Facebook, Trump appointee U.S. District Judge Terry Doughty ordered the government to rapidly disclose documents. More than 50 government officials from a dozen agencies were involved in pressuring social media companies to censor users, as revealed in the first batch of discovery documents released on August 31.
The officials were asked numerous questions, but some of them flat-out refused to answer. Director of the National Institute of Allergy and Infectious Diseases (NIAID) and Biden's top medical adviser, Fauci is one such person.
The government argued that Fauci, in his dual roles as NIAID director and Biden's chief medical adviser, shouldn't be subject to answering all questions or providing records. Also, it made an effort to conceal information from Jean-Pierre.
According to recently leaked emails, the Centers for Disease Control and Prevention (CDC) sent misinformation to Fakebook as the partners sought to battle misinformation, in the most recent incident of CDC personnel making incorrect or misleading claims.
On April 23, 2020, a broad view of the Centers for Disease Control and Prevention headquarters in Atlanta. A Fakebook official wrote in a June 3 message that the CDC had helped the firm "debunk allegations concerning COVID vaccines and children," and requested for help addressing claims about the immunizations for babies and toddlers, including the assertion that the vaccines were ineffective.
After US regulators approved the Moderna and Pfizer vaccines for young children and the CDC endorsed them, a CDC official responded with unsubstantiated material.
"Claims that COVID-19 vaccinations are ineffective for children aged 6 months to 4 years are erroneous, and believing in such claims may lead to vaccine hesitancy," wrote a CDC official. All of the officials referenced in this story had their names redacted in the emails, which were revealed as part of ongoing action against the United States government.
"COVID-19 vaccines available in the United States are effective at protecting anyone, including children ages 6 months to 4 years, from becoming extremely ill, being hospitalized, and even dying," said the CDC official.
There is no evidence that the immunizations protect young children from severe illness or death.
Inadequate Information
In Moderna's trial for children aged 6 months to 5 years, there were no incidences of severe COVID-19, including none in the placebo group. Six of the seven incidences of COVID-19 in Pfizer's trial for children aged 6 months to 4 years were in children who received a vaccination.
"The clinical studies were not powered to detect efficacy against serious disease in young children," Dr. Sara Oliver, a CDC official, said at a briefing before the agency recommended the vaccines for children under the age of five.
Furthermore, the studies' endpoint was a certain level of antibodies, which are thought but not shown to be a strategy to guard against COVID-19. The level was determined using data from the initial studies, which were completed in 2020.
Moderna's vaccine had a poor efficacy estimate for infection protection; Pfizer's was higher but declared unreliable.
"The trials do nothing to inform us about symptomatic infection risk after Pfizer and show efficacy is poor after Moderna, and we don't know how long any protection might last," Dr. Tracy Hoeg, a California-based epidemiologist, told The Epoch Times via email, adding that the trials "gave us no information about reduction of severe disease."
On its website, the CDC, which touts itself as "the nation's health protection agency," pledges to base all of its judgments "on the highest quality scientific evidence that is derived openly and honestly." Throughout the pandemic, authorities have stated repeatedly that the FDA makes science-based choices.
The emails reveal that the CDC was more cautious earlier in 2022. When asked whether the claims were incorrect, an official stated that the government "can't answer to this until the pharmaceutical companies have disclosed data on vaccine efficacy against severe sickness or mortality in 5-year-olds."
On October 23, 2019, a massive digital sign can be seen at Fakebook's corporate headquarters complex in Menlo Park, California.
"Thank you very much for assembling the team to meet with us earlier this week; it was quite beneficial." "We need your help to remove inaccurate and harmful claims about COVID-19 and vaccines from our site," a Facebook administrator wrote to the CDC in February.
"In response to our discussion, I am giving below a long list of claims linked to the COVID vaccine that we are immediately removing because public health authorities such as the CDC have determined they are untrue and could contribute to imminent physical harm if believed."
Fakebook continues to remove content claiming that the COVID-19 vaccines are ineffective against severe illness or death, despite the fact that the vaccines' effectiveness against both infection and severe disease has plummeted since Omicron emerged in late 2021, particularly among the newer Omicron subvariants.
"When we indicate that we will delete comments that the COVID-19 vaccines are ineffective, we mean claims that the vaccines do not normally protect against serious illness or death from COVID-19, or that they provide no protection at all in contracting COVID-19," Fakebook writes on its website. "However, we will accept statements that someone can get COVID-19 while being completely vaccinated."
The CDC is not mentioned on Facebook. It names several institutions whose advice it accepts as reality, including the World Health Organization of the United Nations. It also claims to use "government health authority" to set COVID-19 content standards.
According to the emails, the CDC was the source for examining many of the claims featured on Facebook's site.
For example, on November 8, 2021, a CDC official investigated seven accusations and deemed them all fake. Facebook presently lists all seven as false.
This includes the allegation, which some experts believe is valid, that COVID-19 vaccinations change the immune system. It further asserts that COVID-19 vaccinations change people's blood. At least one study discovered that many vaccinated patients have irregular blood, despite the fact that blood clots are a documented COVID-19 vaccination side effect.
Fakebook was "relying on your expertise" on whether certain adverse effects, such as blood clots and Bell's palsy, could be caused by COVID-19 vaccines, a Facebook employee wrote the agency in another email on Oct. 28, 2021.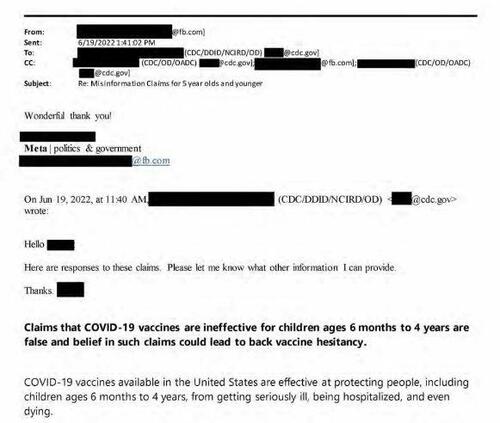 Emails between Fakebook and the CDC were included in a court filing.
'Removed from Context' The CDC was not the only Big Tech enterprise that relied on it.
According to the emails, Twitter and Google asked the CDC to comment on COVID-19 and vaccine claims.
For example, on April 16, 2021, a Twitter official stated that the company's team "has asked for examples of problematic content so we can examine trends," adding, "All examples of misinformation are helpful, but in particular, if you have any examples of fraud - such as fraudulent covid cures, fraudulent vaccine cards, etc., that would be very helpful."
The CDC responded with a spreadsheet with four sections, two of which were linked to vaccines.
One accusation was that the vaccines had not been licensed by the US Food and Drug Administration. At the time, no vaccinations had been approved by regulators; all were available under emergency use authorization.
Another concerned the Vaccine Adverse Event Reporting System, which is overseen by the CDC and other regulators. The spreadsheet, which has not been made public, explained how data from the reporting system was "taken out of context," according to the CDC.
"Thank you so much for sharing; we took action (by tagging or removing) the Tweets that violated our Rules," a Twitter representative responded.
Meanwhile, Google sought for assistance with claims on COVID-19 vaccinations in spring 2020, according to the emails.
A prior email release from a Freedom of Information Act request revealed how the CDC meets with Big Tech companies on a regular basis to encourage them to crack down on disinformation.
Officials from Facebook, Twitter, Google, and the Centers for Disease Control and Prevention did not reply to requests for comment.
Misinformation Pattern
During the epidemic, the CDC repeatedly recommended vaccination despite providing disinformation on several instances.
Three top officials, including the agency's director, fraudulently stated in June, when promoting the vaccines for young children, that COVID-19 was one of the top five causes of death for the age group. None have yet provided an update following the correction of the paper they cited, which failed to appropriately present CDC data.
The government also provided incorrect information about its monitoring of vaccination safety and adverse effects, revised its definition of vaccine, and changed other web sites, in some cases substantially modifying definitions and guidance.
The CDC rolled back suggestions to treat unvaccinated persons differently in an important update in August, and acknowledged the protection a person gains from recovering from COVID-19.
In the most recent instance of CDC officials making false or misleading claims, the Centers for Disease Control and Prevention (CDC) passed misinformation to Facebook.
Will Putin Fulfill Biblical Prophecy and Attack Israel?