Update:7/6/22 @12:01 AM Lawless Chicago He/She Mayor Could Have Solved This Problem Years Ago, but Chose to Persuade Illinoisans and the Rest of America to Accept the New World Order Instead. Six People Are Killed After a Gunman Opens Fire During a 4TH of July Parade in a Chicago Suburb, Not a Shocker!
HNewsWire: Robert Crimo III was taken into custody Monday evening following a shooting in Highland Park, Illinois that left at least six people dead and over two dozen injured despite having among the strictest gun-safety laws in the country.
He is currently being referred to as a "person of interest" while Highland Park Police question him.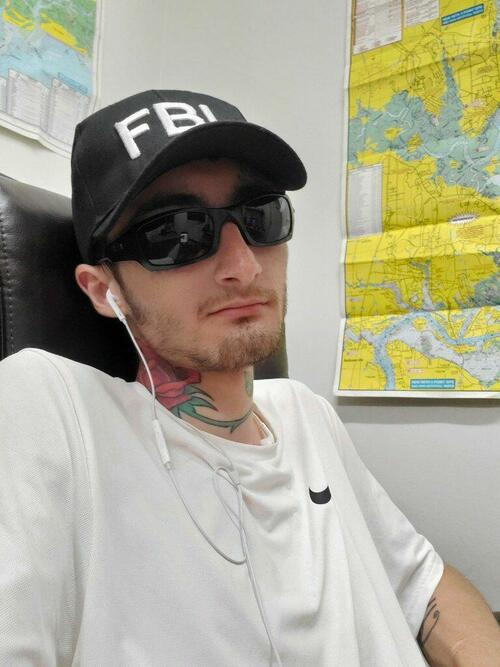 Source: ZeroHedge
HNewsWire Uncle of July 4TH Parade Shooter Says There Were 'No Warning Signs' He Would Carry Out Attack, Really?
The suspected gunman who killed 7 people in the Independence Day parade attack in suburban Chicago legally bought two high-powered rifles and three other weapons, despite having had knives confiscated in 2019 after he threatened suicide and violence, according to police.
21-year-old Robert "Bobby" E. Crimo III was charged with seven counts of first-degree murder on Tuesday for the shooting, and "dozens of more charges" are anticipated according to Lake County State's Attorney Eric Rinehart.
The death toll in Monday's 4th of July parade shooting in Highland Park, Illinois has risen to seven, after more than 70 shots were fired into the crowd.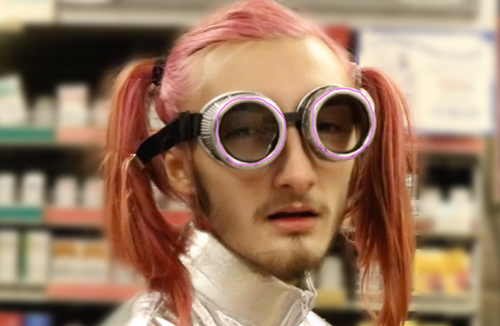 According to a Tuesday statement by police, the shooter - believed to be Robert Crimo III - was able to initially evade capture by dressing as a woman to blend into the fleeing crowd.
During a Tuesday morning press conference, Christopher Covelli, Lake County Major Crime Task Force spokesman, said that 21-year-old Robert "Bobby" Crimo III purchased the rifle used in the mass shooting through legal means. He was arrested approximately eight hours after the shooting, while a second gun was found in his car following the arrest.
HNewsWire: He/She Has Priorities in Place, Seventy-one people were shot, eight of them fatally, during the July 4th weekend in Mayor Lori Lightfoot's (D) Chicago.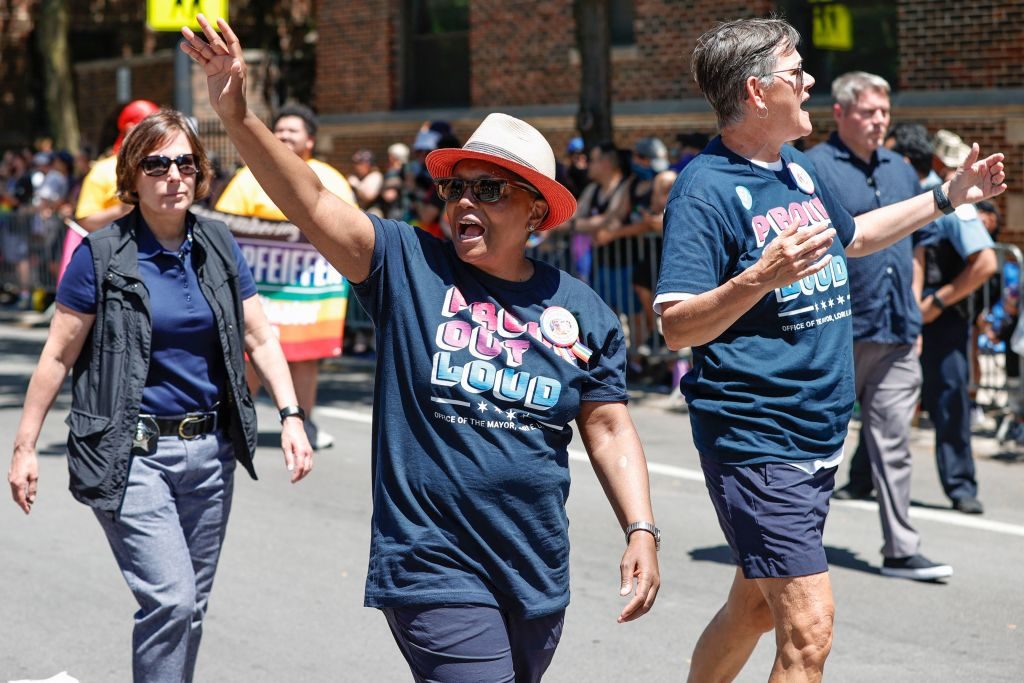 Chicago Mayor  He/She Lightfoot (L) and Chicago's First Lady Amy Eshleman (R) attend the 51st LGBTQ Pride Parade in Chicago, Illinois, on June 26, 2022. (KAMIL KRZACZYNSKI/AFP via Getty Images)
Data from the Sun-Times shows 321 people were killed in Chicago January 1, 2022, through July 4, 2022. The at least 71 shooting victims from the holiday weekend do not include the six fatalities and numerous wounded individuals who were struck by gunfire during a July 4th parade in the Chicago suburb of Highland Park, as Breitbart News reported. breitbart
HNewsWire:
Whatever It Is, I Don't Know if He/She Is Male or Female, Sounds Like Their Mayor, Lost, Void of God's Plan for Humanity. No God, No Peace!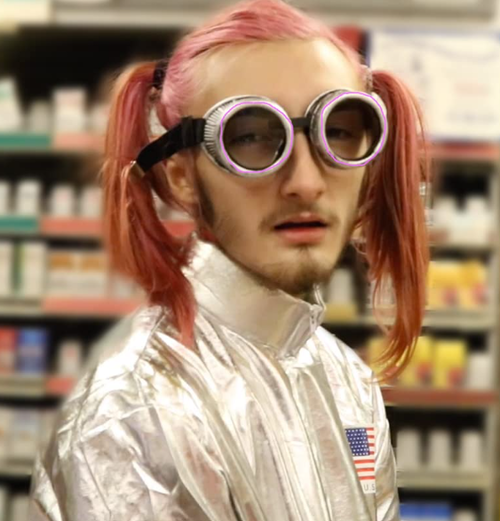 HNewsWire: Robert Cremo III, the suspect in Monday's deadly shooting at the Highland Park, IL 4th of July parade, has been taken into custody according to CBS Chicago.
HNewsWire:
The death toll has risen to six, with 24 people wounded.
According to the Chicago Sun-Times, a shooter opened fire on a Fourth of July parade in Highland Park, a community in the southern section of Lake County, Illinois, on Monday afternoon, killing five people and injuring 16 others.
According to the Highland Park Police Department, the shooter is still on the run. They encouraged individuals to seek refuge. Miles Zaremski, a Highland Park homeowner, claimed, "I heard 20 to 25 rounds fired in fast succession." "It couldn't have been a pistol or a shotgun."
Zaremski claimed to have seen "people in that region who were shot," including "a lady drenched in blood... She did not survive." Another neighbor, Debbie Glickman, told the Associated Press that she was on a parade float when she turned around and saw people fleeing the area. "People began yelling, 'There's a shooter, there's a shooter, there's a shooter, there's a shooter,'" Glickman recounted. "So we simply took off." We just fled. It's complete anarchy down there.
According to NBC5 Chicago, shooting erupted during a parade in the upscale enclave of Highland Park, forcing a Chicago suburb to postpone the remainder of its Fourth of July celebrations.
According to the Chicago Sun Times, many persons were shot. A Sun-Times reporter saw blankets covering three wounded corpses. Other folks who were running were clearly bleeding. "Everyone disperse, please," the cops said. It is dangerous to be here.
Port Clinton Square in Highland Park became a blood pool. Sun-Times photographer Lynn Sweet "STAY OUT OF THE AREA—allow law enforcement and first responders to do their jobs," the sheriff tweeted on social media, while Illinois state police described the situation as "dynamic."
The Sun Times has more:
Several witnesses reported hearing several bullets fired. One witness reported seeing more than 20 gunfire. "I heard 20 to 25 gunfire, which occurred in fast succession," Highland Park neighbor Miles Zaremski told the Sun-Times. "It couldn't have been a pistol or a shotgun."
Zaremski claimed he observed "people in that vicinity who were shot," including "a lady drenched in blood... She did not survive," after the bullets were fired on Central Avenue near Second Avenue in downtown Highland Park.
Police were scouring the neighborhood with firearms, presumably seeking for the shooter.Former Sun-Times writer Adrienne Drell claimed she was seated on a sidewalk near Central Avenue watching the procession when she saw members of the Highland Park High School marching band begin to run.
"Go to Sunset," Drell claimed she heard the kids yell, sending people to Sunset Food, which was close.
According to Drell, a guy picked her up from the curb and asked her to get out."The Illinois State Police is now helping the Highland Park Police Department with an active shooter incident that happened during the Highland Park Parade," the police department tweeted. "The public is urged to avoid the Highland Park neighborhood of Central Avenue and 2nd Street."
Highland Park also advised residents to avoid the area, posting on Facebook, "Fourth Fest has been canceled." Please stay away from downtown Highland Park. More details will be released when they become available."
Congress just enacted unlawful legislation, and as you can see, the Representative from Chicago wants more gun control.
The Bottom Line: DEMOCRATS WILL NOT BE HAPPY UNTIL AMERICANS ARE DISARMED. A gun is a tool that cannot operate on its own. What are our options? prohibitions on autos, swords, chemical solvents, and so on.
Will Putin Fulfill Biblical Prophecy and Attack Israel?