Satan Soldiers Are Promoting Their Kill Shots in a Big Way. All the Major Networks Are Letting Them Come On and Spew Their Poison — Pfizer Says 3 doses of Its Kill Jab Can "Neutralize" Omicron Variant — BIG Lie
 During an interview on CNBC's Squawk Box, Pfizer CEO Albert Bourla appeared to contradict his own company's data by claiming that his company's jab will "not lose any efficacy against omicron" because the "mode of action is not on the spike...it's working on a different element of the virus."
However, data out of South Africa appears to show that even patients who have been vaccinated are testing positive for omicron. And keep in mind, the lab-only results Pfizer shared today aren't nearly as reliable.
"The ultimate proof is coming from real world data ... by the end of the month holistically we will have enough data to say if #omicron the solution will be just a third dose," says $PFE CEO @AlbertBourla. "Or if we need to go to a specific against omicron variant vaccine." pic.twitter.com/VUNdhePE6U

— Squawk Box (@SquawkCNBC) December 8, 2021
"Three doses of our vaccine against #omicron basically is equivalent to two doses of our vaccine with the original strain," says $PFE CEO @AlbertBourla. "This is good news." pic.twitter.com/81aRZKPtDf

— Squawk Box (@SquawkCNBC) December 8, 2021
"If they have two doses, it is very likely you're better protected than if they don't have any or if they only have one," says @pfizer CEO @AlbertBourla on vaccine protection to those ineligible for a booster shot. pic.twitter.com/o25guP2gZn

— Squawk Box (@SquawkCNBC) December 8, 2021
"I expect we will not lose any efficacy against #omicron because the mode of action is not on the spike. It's working on a different element of the virus," says $PFE CEO @AlbertBourla on the company's oral monoclonal #covid treatment. pic.twitter.com/Fv5MXKL7ff

— Squawk Box (@SquawkCNBC) December 8, 2021
"I think we will need a fourth dose. I have said that multiple times," says @pfizer CEO @AlbertBourla on Israel's roll out of a fourth Covid vaccine dose. "If there is a need for something different, better, we will be able to have it in months." pic.twitter.com/FFA28uXgs7

— Squawk Box (@SquawkCNBC) December 8, 2021
He's doing his job - trying to sell more vaccines.
* * *
Last night, data released out of South Africa showed that the Pfizer vaccine, supposedly the world's gold standard in terms of COVID jabs, was less effective against the omicron variant than earlier variants of SARS-CoV-2.
And on Wednesday morning, Pfizer and its partner BioNTech pushed back by releasing data showing that three full doses of their best-selling jab were effective enough to neutralize the omicron variant in lab tests (not in actual humans).
However, two vaccine doses resulted in significantly lower neutralizing antibodies but that a third dose of their vaccine increased the neutralizing antibodies by a factor of 25. Using blood obtained from patients that had their booster shot a month ago, the scientists found that it neutralized the Omicron variant about as effectively as blood after two doses fought off the original Wuhan strain.
As the partners behind the world's best-selling jab scramble to produce an omicron-specific version of their jab, the data released this morning showed that a third dose increased antibodies as much as 25-fold compared with only two doses, the companies said. But that doesn't mean only having two doses won't prevent serious illness - it will.
US equities welcomed the latest data from Pfizer and BioNTech in premarket trade.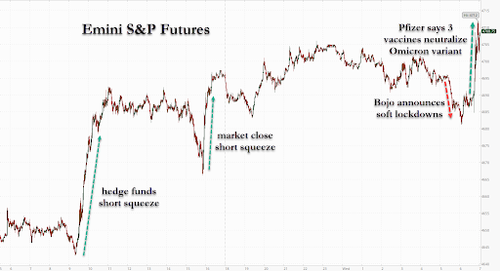 Pfizer's latest batch of data offered yet another opportunity for astute readers to watch the media reshape the narrative in real time.
Real time narrative shaping: before, and 30 minutes later pic.twitter.com/GC8ZZ2jlZx

— zerohedge (@zerohedge) December 8, 2021
The (extremely preliminary) data released by Pfizer showed that companies' early findings come a day after scientists in South Africa reported findings from early lab tests indicating the Pfizer jab generated only one-fortieth of the infection-fighting antibodies against omicron than against the original version of the virus. While omicron appears to be spreading rapidly, only preliminary data are available so far. And although researchers can't say it for certain, it appears the new variant causes more mild infections than earlier variants, even if it is more transmissible. The lab data released by Pfizer and BioNTech didn't offer any new insights on whether fewer doses actually does offer more scaled-back protection.
Other scientists have come to less flattering conclusions. According to Reuters, a group of scientists at the university hospital in Frankfurt found a reduced antibody response to omicron even after three shots.
Speaking on CNBC Wednesday morning, Pfizer CEO Albert Bourla seemed a little flustered about omicron, but he told viewers that they would be protected if they simply got their boosters. But eventually, a fourth dose of the jab will likely be needed.
The takeaway: just get another jab (or booster) and you'll be fully protected from a virus that would most likely only leave you with a runny nose.
Side Bar: More Lies and 75 years To Hide The Truth
FDA Says It Now Needs 75 Years To Fully Release Pfizer COVID-19 Vaccine Data
The Food and Drug Administration is asking a judge to give it 75 years to produce data concerning the Pfizer and BioNTech vaccine, up 20 years from a previous request.
The agency, known as the FDA, told the court it can work faster than its previously proposed 500-pages-per-month-rate. But it also said there are over 59,000 more pages than mentioned in an earlier filing.
That discovery, and a desire to make sure it can work on other Freedom of Information Act requests at the same time, prompted the fresh request to the judge to allow production of roughly 12,000 pages by Jan. 31, 2022, and 500 pages per month thereafter.
That timeline would take it until at least 2096, Aaron Siri, a lawyer working on the case, said in a blog post.
"If you find what you are reading difficult to believe - that is because it is dystopian for the government to give Pfizer billions, mandate Americans to take its product, prohibit Americans from suing for harms, but yet refuse to let Americans see the data underlying its licensure," Siri said.
The case was brought on behalf of the Public Health and Medical Professionals for Transparency, which said the FDA was not complying with its request for data in a timely manner.
The group includes Dr. Carole Browner, a research professor at the University of California, Los Angeles' David Geffen School of Medicine; Peter Doshi, an associate professor at the University of Maryland's School of Pharmacy, and Dr. Harvey Risch, a professor of epidemiology at the Yale School of Public Health.
The group says that the data should be made public quickly because the FDA spent just 108 days reviewing it before granting emergency use authorization to the Pfizer-BioNTech vaccine.
The matter is more urgent because millions of Americans are being mandated to take the shot or face repercussions, such as a loss of access to businesses and termination.
The Pfizer jab is the only one that has been approved by drug regulators. Approvals mean products have met a higher threshold of safety and effectiveness than those given emergency clearance.
"The entire purpose of FOIA is government transparency. In multiple recent cases, in upholding the FOIA's requirement to 'make the records promptly available,' courts have required agencies, including the FDA, to produce 10,000 or more pages per month, and those cases did not involve a request nearly this important–i.e., the data underlying license of a liability-free product that the federal government requires nearly all Americans to receive," Siri said.

"As the present pandemic rages on, independent review of these documents by outside scientists is urgently needed to assist with addressing the shortcomings and issues with the response to the pandemic to date."
The FDA said its Center for Biologics Evaluation and Research maintains the records sought by the plaintiff but only has 10 staff members, and two of them are new, leaving them slower in processing pages than the other workers.
Each line of each page must be reviewed to ensure proper redactions are applied, the filing says.
Additionally, a faster rate than that requested would divert "significant resources away from the processing of other FOIA requests that are also in litigation," and requests that came in before the request in question, the agency said, adding, "In sum, FDA's proposed processing schedule is fair to plaintiff."
Pestilence Has Arrived: Evidence is Emerging to Suggest That The Covid Variant Poses a Very Real Threat To Patients Who Have Already Been Fully Vaccinated (Pestilence By Way Of Vaccine Kill Shot)
Just Get Another Kill Jab (Or Booster) And You'll Be Fully Protected From a Virus That Would Most Likely Only Leave You With a Runny Nose
Source: HNewsWire    HNewsWire    HNewsWire    HNewsWire    ZeroHedge
StevieRay Hansen
Editor,
HNewsWire.com
[email protected]
If it kills, it's a pestilent. If you get sick and feel peony for a few days and lose your taste and smell, it's a seasonal flu which we've had since the beginning of time, contrary to what phony doctors and or phony scientists have pushed as the gospel. Yes, it's the gospel of evil, the gospel of Satan