Advisory: The editorial board of HNewsWire adopted the official policy to bypass many social media platforms. Some of these include: Facebook, Instagram, Twitter, Parler, and YouTube. We believe these companies are responsible for many of the spiritual ills our world faces today. In some cases, however, we have allowed our guest contributors to include content from their YouTube channel while we search for alternatives.
What the High-Tech Do-Gooders Have Overlooked, There Are No Laws, No Rules to the World They Have Created, Artificial Intelligence Will Eventually Eat Their Own and Anyone that has Contributed to the Undoing of Humanity, Mad-Max During the Tribulations, The high tech conglomerates chose to attack God's children (The Christians) you brought destruction upon yourselves and your high-tech corporations, it's amazing how wrong you can be when dumb down in biblical truth, God's word has survived the tyrants for thousands of years, yet you CEOs have missed the most important part of life, God's plan for humanity, enjoy…
Until two days ago, the CDC's "official" numbers claimed 15 infections in the United States. With the return of other infected evacuees from the Diamond Princess cruise ship, that number jumped to 35. But now, we know the real number is much higher, possibly as high as 70 infected people in the United States, thanks to a court document filed by the city of Costa Mesa, California.
That document, uncovered by Fox 5 News in San Diego, is shown below. It calls for a judicial decision to block the federal government's attempt to move 35 – 50 infected patients from Travis Air Force Base to an ill-prepared isolation facility in Costa Mesa that's near millions of people.
But the CDC's "official" numbers claim there are only 13 infected patients in California, to begin with. Let's see if we can unravel the numbers here…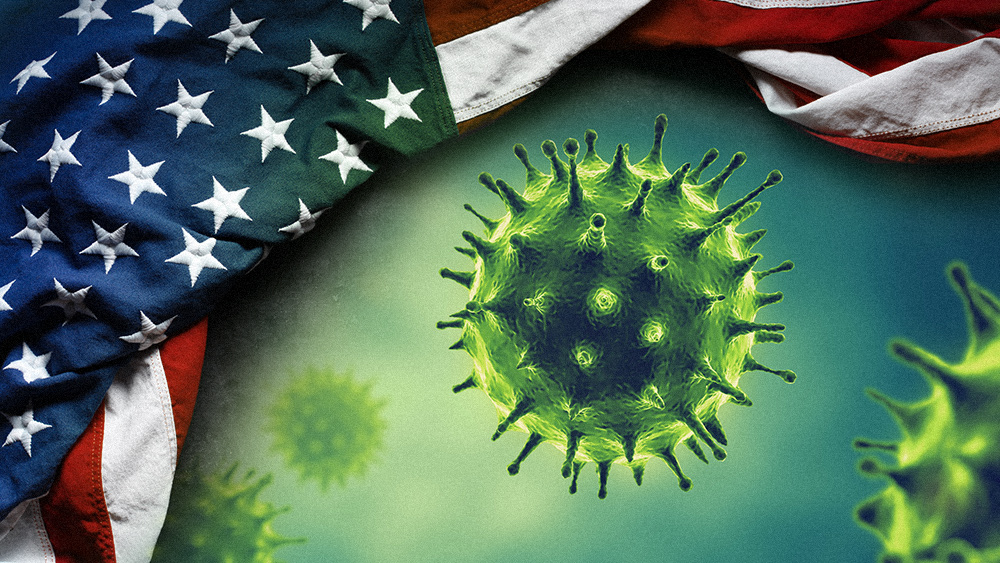 35 – 50 infected patients being urgently moved from Travis Air Force Base
The "statement of facts" section of the document warns that "35 – 50 patients already diagnosed with the Coronavirus" are about to be relocated from Travis Air Force Base to a facility in Costa Mesa. The lawsuit document then warns, "State officials demanded to know why local emergency personnel notified City leaders at all of the plan to produce people with a deadly and highly communicable disease into the community."
Here's what the lawsuit document says:
Statement of Facts:
Defendants intend to relocate from 35-50 patients already diagnosed with the Coronavirus from a secure location on Travis Air Force Base, where they are isolated from population centers to Costa Mesa, a dense population city within a county of over 3 million. (Dempsey Decl. ?? 2, 6-7). And they plan to do so without first determining the suitability of the facility where the individuals will be housed. The Defendants' plan was announced at the eleventh hour, with no efforts to include local government leaders or local public health officials. (Id.). Indeed, State officials demanded to know why local emergency personnel notified City leaders at all of the plans to introduce people with a deadly and highly communicable disease into the community.
This means the CDC has been withholding the real numbers of infected patients from the public
Mike Adams Has Been Reporting: What this lawsuit means is that the CDC has been lying about the total number of infected coronavirus patients in America.
Although the numbers are a bit hard to nail down due to the lack of information from federal agencies, the current "official" count of infections, via the CDC, is just 14 confirmed cases in the United States, with only 414 people tested.
In addition, the CDC says there are 3 people evacuated from Wuhan, China who have the virus, and 18 people evacuated from the Diamond Princess cruise ship.
That's a grand total of 35 people who are confirmed infected in America, according to the CDC.
But according to this map of infections in America, via NBC News, there are only 13 cases in California, with 2 recovered there. The map shows 20 cases outside California, including the 11 in Nebraska.
Added to the 35 – 50 infected patients at Travis Air Force Base as described by the lawsuit above, this seems to indicate there are actually 55 – 70 infected people in America that we know of so far, at least if we're crunching the (somewhat confusing) numbers correctly.
Is Travis Air Force Base running out of space for infected patients?
As you ponder the confusing numbers, ask yourself this question: Why are infected patients being urgently moved out of Travis Air Force Base in the first place?
The only logical answer, of course, is that Travis Air Force Base has run out of isolation beds. And they need to make more space for more infected patients.
So they're rushing to transfer up to 50 of these infected patients to Costa Mesa, much to the total surprise of the city officials there who are (understandably) freaking out.
And the facility in Costa Mesa is entirely inadequate for this purpose, they say, likely resulting in the spread of coronavirus infections into the Costa Mesa community, according to the concerns of city officials there.
So someone at the federal level is in a sudden hurry to make more space at the Air Force base, and they're now "exporting" infected patients to other communities in California while lying about everything, deceiving the American public and the people of California.
You know the rest of this story because we've already seen how it plays out on the Diamond Princess. And no, it's not a happy ending.
Possibly 70 infected people in America, and the CDC has only tested 414 out of the entire country?
With the CDC stating they've only tested 414 people in the entire country — which seems absurd, but that's what they're claiming — and the State of Hawaii now explaining they've tested exactly zero people for coronavirus (story coming tomorrow on that), we seem to have arrived at a rather bizarre juncture in America where the CDC has only tested 414 people but as many as 70 might have been confirmed for the virus.
Yet we're still being told the "official" number is only 35.
It's all starting to feel a little bit like Wuhan, isn't it? Fudged numbers, failure to test a sufficient number of people, total denial about any break in containment, a complete lack of reliable coronavirus testing kits, incompetent government officials… the only difference between the USA and China now seems to be a matter of timing. What happened to Wuhan first will soon happen in Honolulu, then San Diego, then the entire West Coast and so on.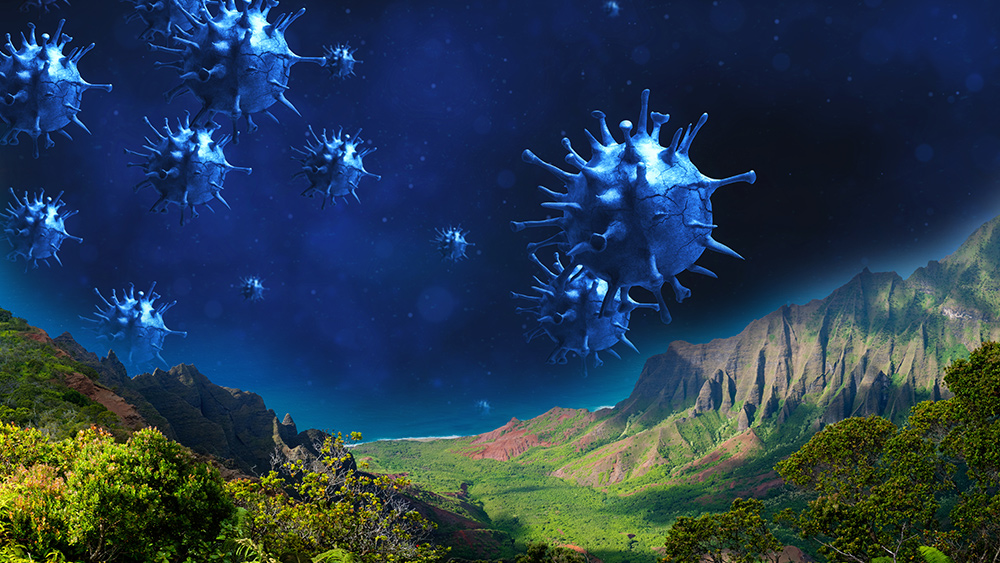 Now we know why Hawaii hasn't reported any coronavirus infections even though numerous infected people seem to be identified after flying through the Honolulu airport: Hawaii hasn't tested anyone yet.
This truly astonishing, almost incredulous fact has just been confirmed by the Star-Advertiser in Hawaii which published a story yesterday by Kristen Consillio. The story headline?
"No one in Hawaii has been tested for coronavirus as health officials wait for kits from CDC"
You can see the story here:
www.staradvertiser.com/2020/02/20/hawaii-news/no-one-in-state-tested-for-the-coronavirus/
Although the full text of the story is only available for premium subscribers, the opening sentence says, "Hawaii health officials continue to reassure the public that the coronavirus is not circulating in the islands, but they have not tested a single person in the state for the deadly disease."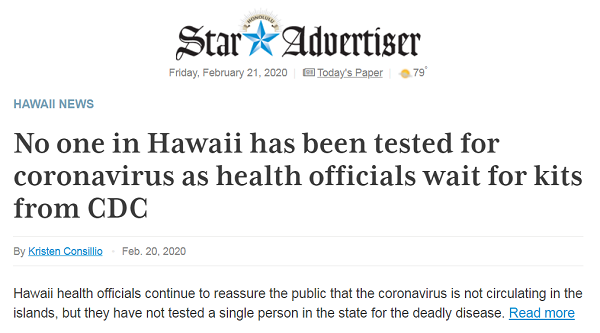 Thus, we now learn that Hawaii is borrowing the coronavirus playbook from Wuhan, China, where they've figured out the best way to avoid reporting infections and deaths is to simply avoid testing all the people who need to be tested.
This admission is just stunning, considering that Hawaiian Airlines admitted several days ago that they flew an infected couple to Honolulu, and the husband was symptomatic before he took that flight.
Again, just to repeat: No one has been tested for coronavirus in Hawaii. Not a single person. Yet we are assured by the CDC that "no community outbreaks" have been detected yet.
Gee… we wonder why.
While Hawaii has tested ZERO people for coronavirus, the CDC has only tested 414 in the entire country
To our great astonishment, we've also learned that the CDC has only tested 414 people in the entire country, according to their public web page at: www.cdc.gov/coronavirus/2019-ncov/cases-in-us.html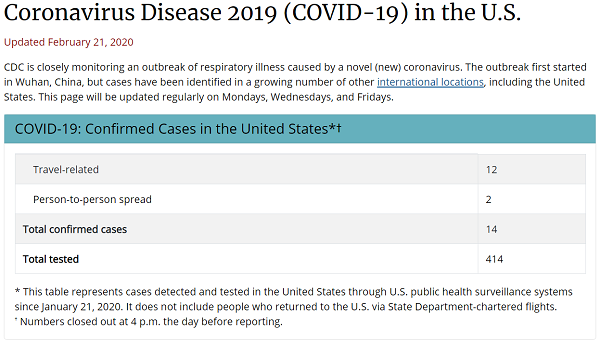 The strategy of health officials is quickly becoming abundantly obvious: Avoid reporting coronavirus infections by avoiding testing as many people as possible. After all, if no one is tested, no infections can be "confirmed."
This means the USA is now borrowing the Wuhan, China strategy of faking everything and lying to the public.
Why are we not surprised?
It's becoming increasingly obvious that the CDC is engaged in a massive, nationwide cover-up of coronavirus infections. In fact, as we reported last night, Travis Air Force Base in California has run out of isolation beds to house infected patients, and they've begun an emergency exporting of 35 – 50 infected patients to Costa Mesa, California, a community of three million residents. Yet the CDC says there are only 35 infections in the entire country. So who's lying?
Listen to this important podcast to understand why the "Countdown to the Coronavirus Day of Reckoning" has begun, and hear all my podcasts at the Health Ranger Report channel on Brighteon.com:
Read Pandemic.news to stay informed with new articles, videos, podcasts, and downloadable mp3 audio files.
But no government in the world seems willing, to tell the truth at any level, which means the coronavirus will never be contained because controlling the narrative isn't the same as controlling the virus.
It makes us wonder: When will the CDC actually admit the outbreaks in America are already out of control and beyond containment?
Summary:
Italy confirms second death, 12 towns on lockdown, more than 30 cases confirmed
Japan cases triple in a week to 121
Chinese scientists find the virus in urine
Experts propose 27-day quarantine, say 14 days likely not long enough
Cases outside China go exponential
WHO team visits Wuhan; will give Monday press conference
Iran reports 10 new cases, deaths climb to 5
San Diego says 200 under 'medical observation'
Young woman infected five relatives without ever showing symptoms
South Korea cases surge 8-fold in 4 days to 433; country reports third death
When WHO Director-General Dr. Tedros was asked on Thursday whether the COVID-19 virus was at a tipping point, he replied that the window to stop the outbreak from growing exponentially worse was rapidly closing.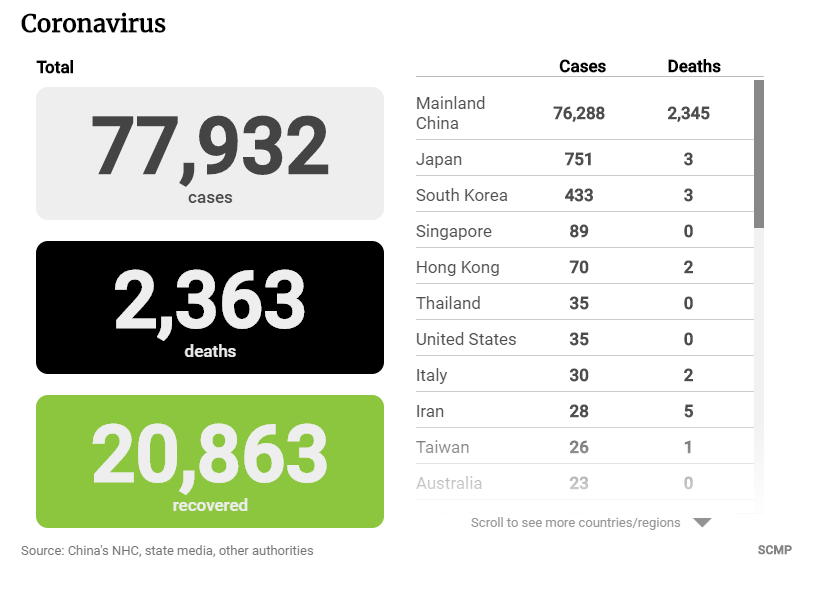 MSM, High-Tech & Reddit Engaged in Heavy Censorship of Truthful News Sources…
It may come as a shock to many Americans but the Centers for Disease Control and Prevention (CDC) will most likely prove rather powerless in halting the spread of the coronavirus. High profile incidents covered by the media often reassures the public that the government stands ready to rush to our aid in case of a national disaster. Following a tornado or hurricane, we often see news coverage of FEMA workers spreading out and moving from door to door offering help to Americans in need. This reassuring media coverage is misleading. Be prepared that in the case of a major crisis, such as the coronavirus pandemic or disaster the government will not be much help. If and when a large "Armageddon" event covering a large area does occur we will quickly become acutely aware that God helps those who help themselves.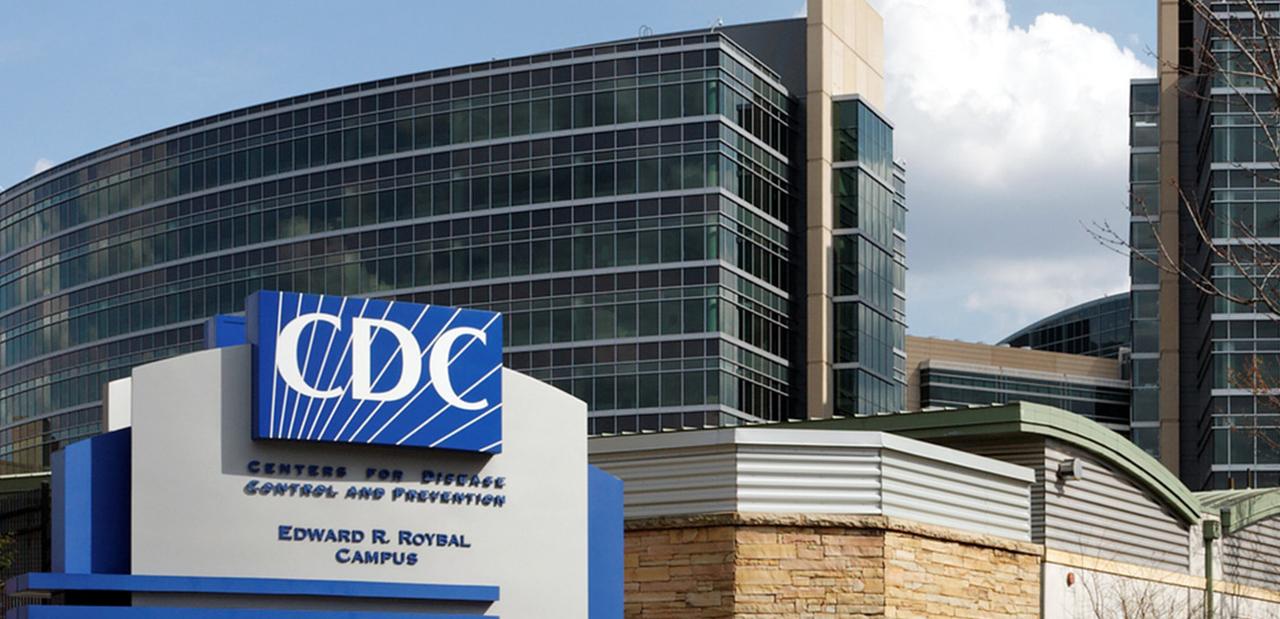 On route to a meeting at the World Health Organization (WHO) in Geneva on Tuesday, Prof Gabriel Leung, the chair of public health medicine at Hong Kong University, told the Guardian an "attack rate" of 60-80% may occur. Currently, the CDC, even with its 11.1 billion dollar budget, is showing that it is powerless to even rapidly conduct a large number of tests on those likely to be carrying the coronavirus. The epicenter of this rapidly spreading killer bug is Wuhan, China and it is far from contained. Much is still unknown about this virus but accompanying its spread has been a great deal of economic damage as businesses are forced to temporarily close. Claims by President Trump the health and the economic toll will soon pass and be very limited may be overly optimistic.
The trend of the government pandering to victims that we have seen develop over the years may be a result of the battering former President Bush took in opinion polls following Hurricane Katrina. The pictures that the media posted following a slow response in handling Katrina victims haunted the Bush administration and painted Bush as being insensitive and out of touch with the plight of poor Americans. At what point did the government become responsible for dispensing sorrow and grief? The bar to show concern for every shooting or incident is currently set so low it impairs what gets done in Washington.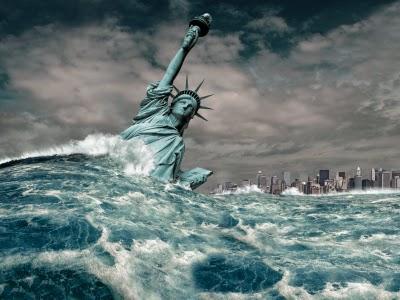 During A Real Disaster, Help Will Be Hard To Find
It appears in our media-driven world, the President has been given the role of consoler in chief and is expected to pour forth sympathy and cast out concern for every American following an incident of destruction or violence. It does not matter if it is an accident, shooting, or some natural disaster. In recent years all this has reached new heights where even in the case of a few deaths it is not uncommon to see the President leaping upon Air Force One and rushing to the scene to sympathize with families and friends. In this politically correct world, it has even gone so far as to the President being expected to weigh in as to minor tragedies that occur throughout the world.
A great deal of time is wasted performing these acts that could be better used and focused on solving many of the real and pressing problems that face America. I contend this pandering is a major disservice to Americans in that it fosters the impression that the government will be there for you if you ever get into a pickle or jam. While reassuring to many the false illusion of a competent and effective government ready to come to your aid comes at the cost of raising unrealistic expectations. I suspect that with the formation of the massive Homeland Security Agency this may be a case of reassuring the masses that their tax money has not been wasted.
A perfect example of just how impotent our government has become was demonstrated following the Boston Marathon bombing. The government threw a huge amount of manpower into searching for the perpetrator but in the end, it was a homeowner checking the tarp on his boat noticing a spot of blood and not the thousands of law enforcement officers that brought the manhunt to an end. No matter how much planning is spent it is silly to think someone can quickly rush to an area they are unfamiliar with and institute actions to efficiently solve massive problems. Do not be fooled, in the case of a real disaster the government is generally not very effective. The real help will come from your neighbors, this has been the case throughout history.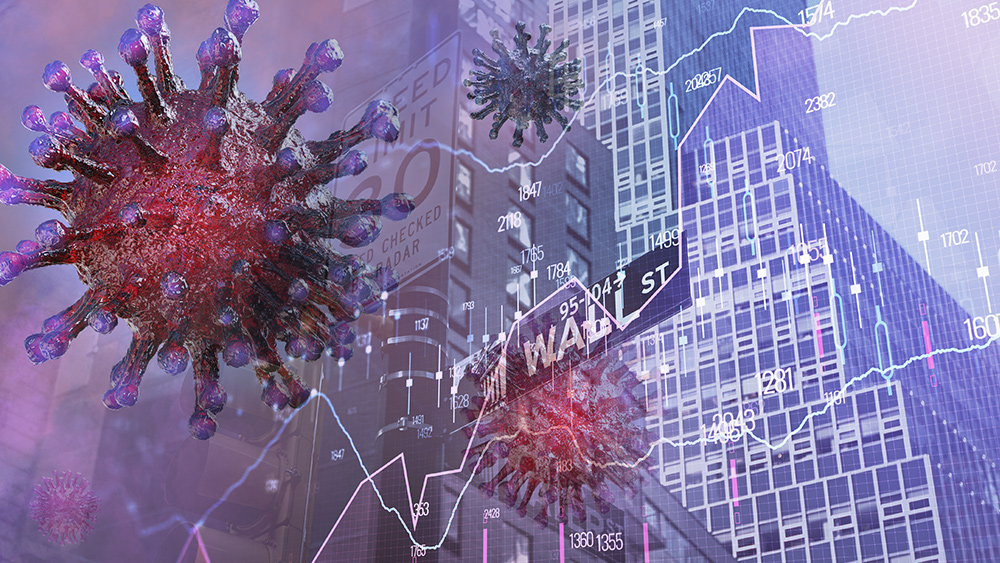 The more than 300 Americans who were on board the Diamond Princess cruise ship that's been floating off of Japan's coast due to multiple confirmed cases of the Wuhan coronavirus (CoVid-19) have all been flown back to the United States for land-based quarantine. But reports indicate that everyone was flown together on the same airplane, infected and uninfected alike, despite objections by the U.S. Centers for Disease Control and Prevention (CDC).
At the decision of the State Department and the Department of Health and Human Services (HHS), the 14 confirmed American cases of the Wuhan coronavirus (CoVid-19) on the Diamond Princess traveled together alongside the hundreds of other American passengers who were not infected, even though the CDC had previously warned that rescuing them all in one fell swoop might expose everyone else to the novel disease.
The agencies responsible for this decision say all is well because the plane reportedly had a plastic-lined enclosure that separated the infected passengers from the uninfected passengers. There's no word, however, as to how the circulating air throughout the entire cabin was filtered to ensure that the uninfected passengers on one side of the plastic curtain didn't breathe the same contaminated air as the infected passengers on the other.
"These individuals were moved in the most expeditious and safe manner to a specialized containment area on the evacuation aircraft to isolate them in accordance with standard protocols," reads a statement issued by the agencies in support of this CDC-opposed decision.
Listen below as Mike Adams, the Health Ranger, talks about how the Diamond Princess cruise ship, which Cambodian government spokesman Phay Siphan described as being "abandoned by the Earth," is a literal virus incubation factory:
Why are U.S. authorities still quarantining people for only 14 days when the true incubation period is as long as a month?
Upon their arrival stateside, all of the passengers aboard this evacuation flight were immediately put into a mandatory 14-day quarantine, even though we now know that the incubation period for the Wuhan coronavirus (CoVid-19) is actually as long as 24 days.
Why the U.S. government is still abiding by a 14-day maximum quarantine period is anyone's guess, because it's not actually going to work in terms of protecting the public against mass infection. It might cover the incubation period in some of the cases, but certainly not in all of them.
Meanwhile, the rest of the remaining passengers on the Diamond Princess are finally being vacated from the ship. Japan has reportedly released 443 people from the ship, saying they have now completed their 14-day quarantines, but scores of others, including 40 Americans, are still being hospitalized with the infection.
The State Department has also issued a plea to all U.S. citizens urging them to reconsider all travel to or within East Asia, as well as throughout the Asia-Pacific region.
"We have to recognize that some branches of our federal government are worse than others, and the State Department is one of the worst ones," contends one commenter at The Gateway Pundit. "The State Department has been infested with traitorous communists since at least the 1950s."
"A plane's air filtration system has always been known to be a serious danger to all passengers!" emphasized another. "But then, these were government officials making the decisions, and government officials are usually braindead. I think it is a job requirement!"
You can hear more podcasts each day at the H.R. Report channel at Brighteon.com.
Also, be sure to check out the new Pandemic.news website to keep up with the latest news about the spread of the Wuhan coronavirus (CoVid-19).
Taking Away Guns Is Essential for Tyranny. But The Propaganda Is All About Safety
MSM, High-Tech & Reddit Engaged in Heavy Censorship of Truthful News Sources
Source: HNewsWire CensoredNews ZeroHedge NewsTarget
StevieRay Hansen
Editor, HNewsWire.com
Google, No More Electronic Prison: You will see many changes on HNewsWire, one of those changes will be to eliminate Google Ads, the other difference, HNewsWire will NOT post videos on YouTube, it is no longer a question about overreach by the un-godly big tech tyrants. There is no question Big Tech can and will persecute any opposing opinion, they will demoralize, sideline truth seekers and those that speak the truth. The People's Blood is on big tech and mainstream media's hands. Censorship has NOT worked for thousands of years, their evil tactics will not work now, history proves me right, so we watch the drama play out between good (GOD) and evil ( Big Tech MSM ), God has never failed his people, and God will not fail this time…
StevieRay Hansen
The Bible predicts the rise of this type of societal control within the frightening prophecies about the Antichrist, the final world empire called the Beast, and the final economic system using the Mark of the Beast. The electronic tyranny of technocracy that is now being developed and implemented throughout the world is in preparation for the Antichrist's rise to power. As we see this final empire taking shape in our day, we can know for certain that the End Times is upon us and the Coming of Christ is drawing near. Now is the time to turn away from sin and evil and believe in Jesus before it is too late!
The Un-Godly — Those That Suppress the Truth, the social media giants built multi-billion dollar empires by giving everyone a voice, but now that they have such a dominant position on the Internet they have decided that many prominent conservative voices should be completely silenced.
In order for sin to work, there has to be a "suppression of the truth."
The World leaders Are Having Trouble With The Truth, and The World Has been "Quarantined" Tribulation Is Here…
Demon Virus
Asked about the virus while traveling abroad last week, Trump said: "We have it totally under control". In a separate Twitter posting, he offered reassurance but scant detail for his confidence. By Associated Press Updated On: 05:53 PST, Jan 31, 2020
Yes, are we seeing a slowdown in new virus cases reported this morning. We now have 31,481, which does show a day-to-day decline away from an exponential rate of growth if accurate. Yet for those market participants merrily saying this is "just the flu" (there are some) we also have 4,824, 15% of the total, in critical condition and 638 deaths. Further, one arguably cannot measure the death-rate of any virus against the number of currently sick people: you surely measure it against those who eventually recover vs. those who don't. Given we have 1,563 who have recovered vs. 638 dead (and 4,824 critical) that is a worrying ratio of 29% dead as an end-outcome, which is right up there with the MERS virus from a few years ago – although, yes, there is real reason for us all to hope that number will decline sharply as milder cases will be fully curable. But the simple flu this is not.
WASHINGTON: Wuhan coronavirus: Donald Trump says deadly outbreak 'very well under control' as WHO declares a global emergency. President Donald Trump regaled a friendly New Jersey campaign crowd with his thoughts about impeachment, the economy, the border wall, local politics and much more.
But he was conspicuously quiet on January 28 about one big issue keeping much of the globe on pins and needles: the spread of a deadly new type of coronavirus. It has killed more than 170 people in China, sickened thousands more there and led to a handful of confirmed cases in the US, including the first US case of person-to-person transmission reported on by health officials. The State Department on January 30 advised all US citizens against traveling to China.
Trump, a self-described germaphobe, generally has discussed the virus in broad terms, but he offered some of his most extensive comments on the issue to date during an appearance on January 30 at a Michigan manufacturing plant. "Hopefully, it won't be as bad as some people think it could be, but we're working very closely with them (Chinese) and with a lot of other people and a lot of other countries, he said. "We think we have it very well under control."
The Birth Pains Are Growing Stronger….
One of the signs of ruling class collapse is when they can no longer enforce the rules that maintain them as a ruling class. When the Romans started making exceptions to republican governance, it was a matter of time before someone simply decided the rules no longer applied to them. Perhaps the robot historians will consider Obama our Marius or Sulla. Maybe that person is in the near future. Either way, the rule of law is over and what comes next is the rule of men.
"Man will ultimately be governed by God or by tyrants." as in Nancy Pelosi (D-San Fran-feces)
Our government has been overthrown. As evidenced by Trump's capitulation on the border, his recent servitude to the GMO industry and his acquiescence to the warmongers, our President has been compromised. Our liberties are being eliminated one by one. Gun confiscation is next. The Constitution is gasping its last breaths. Our borders are destroyed and our culture has been turned upside down by every perversion known to man.
The watchman does not confuse truth with consensus. The Watchman does not confuse God's word with the word of those who happen to hold power at present, or with the opinion of the majority. This is because powerholders and the majority can fall victim to a lying spirit-and this means a power that actually seizes the majority of experts, the political leadership, and the public.
Everything is right on schedule and, now, the time is come to remove one of the final obstacles standing in the way of a New World Order: The United States Constitution – even if, over the course of many decades, it has already been greatly diminished by the B.E.A.S.T. system; or, more specifically, Bullshit Emerging As Strategic Totalitarianism (B.E.A.S.T.).
They are tolerant of everything except dissenting values and opinions — meaning, of course, they are tolerant of nothing that matters, only themselves."
The Watchman does not confuse truth with consensus. The watchman does not confuse God's word with the word of those who happen to hold power at present, or with the opinion of the majority. This is because powerholders and the majority can fall victim to a lying spirit-and; this means a power that seizes the majority of experts, the political leadership, and the public.StevieRay Hansen
If you have a news scoop or an interesting story for us, please reach out at [email protected]
StevieRay Hansen, Big Pharma, biowarfare, cdc fraud, cdc lies, coronavirus, coronavirus facts, coronavirus vaccine, facts about coronavirus, fake news, fear-mongering, lab-made coronavirus, mainstream media, measles, panic, propaganda, vaccine fraud, Western medicine
The Land of the Free doesn't give a rat's-arse how they are perceived anymore.
The 127 Faith Foundation: We do not solicit donations from "those on disability, on a fixed income, or those who cannot afford to give." Please Pray!
Or, make checks payable to:
The 127 Faith Foundation
PO Box 127
Pontotoc, TX 76869
The number of Orphans aging out of Child Protective Custody has grown at an alarming rate. The 127 Faith Foundation receives many requests each week to house them at our ranch. Our prayer is that the good people of our country will step up to the challenge and offer financial support for "the least among us." We need your help! StevieRay Hansen, Founder, The 127 Faith Foundation
We make every effort to acknowledge sources used in our news articles. In a few cases, the sources were lost due to a technological glitch. If you believe we have not given sufficient credit for your source material, please contact us, and we will be more than happy to link to your article.