Advisory: Be careful of what you read on social media. The algorithms used by these platforms have no regard for Biblical truth. They target your emotions to keep you engaged on their site so their advertisers can drop more ads. These platforms exist to enrich their stockholders. Consider God's promise to Believers in James 1:5, "If any of you lacks wisdom, you should ask God, who gives generously to all without finding fault, and it will be given to you."
We Are Witnessing Biblical Prophecy In Real-Time… All of a sudden, really crazy things are starting to happen …
The tables below show confirmed cases of coronavirus (2019-nCoV, officially known as SARS-CoV-2 or COVID-19) in China and other countries. To see a distribution map and a timeline, scroll down. There are currently 76,810 confirmed cases worldwide, including 2,250 fatalities.
https://bnonews.com/index.php/2020/02/the-latest-coronavirus-cases/
Notes
Japan: The total includes 4 asymptomatic cases, which are not included in the government's official count. It also includes 14 people who were evacuated from China.
Japan: The 634 people from the "Diamond Princess" cruise ship are listed separately and they are not included in the Japanese government's official count. 328 were asymptomatic. Fourteen of them are U.S. citizens whose test results weren't unknown until they were taken off the ship.
Diamond Princess: The total does not include 3 employees of Japan's Health Ministry and 1 staff member of Japan's Cabinet Secretariat, all of whom were infected while working on the ship. It does also not include people who tested positive upon their return home: 2 people in Australia and 1 person in Israel.
North Korea: Unconfirmed reports about 1, 5, or 7 cases in North Korea have been denied by the government. If cases are confirmed by North Korean officials, they will be added to this list.
Black: Cities with 1,000 or more cases
Purple: Cities with 100 or more cases.
Red: Cities with 20 or more cases.
Orange: Less than 20 cases
Diamond shape: Cities with deaths
Timeline (GMT)
21 February
20 February
19 February
18 February
17 February
Chart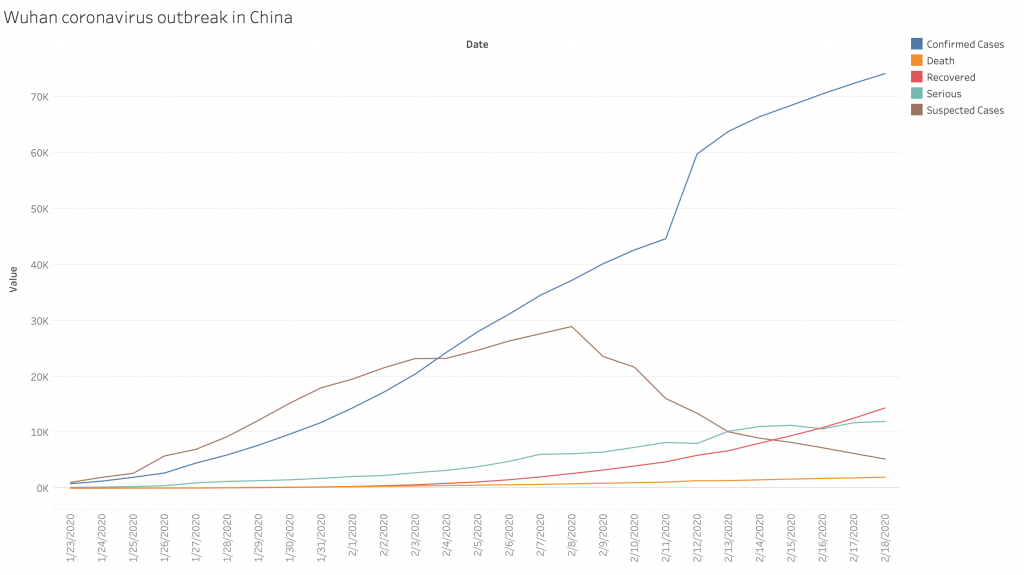 This Virus Is Ready to Break in the USA, the Latest Piece of Evidence That The Demon Virus Isn't Simply "Another Flu".
As President Xi balances the risks to tens of thousands of lives on one hand and keeping his promise to double the size of China's economy by 2020 on the other, it seems the leadership in Beijing is beginning to believe their own propaganda. Premier Li Keqiang, Xi's No. 2 who is in charge of the committee managing the crisis, local governments should seek to increase the rate of resumed production and work, according to China Central Television.
Put another way: Come on in, the water's fine, and if you get the virus and die, we'll cremate your body and tell your family you died of "pneumonia."
The number of confirmed novel coronavirus cases in South Korea linked to a church in the central city of Daegu has surged, with one patient believed to have infected dozens of people, officials said on Feb. 20.
StevieRay Hansen
Editor, HNewsWire.com
Google, No More Electronic Prison: You will see many changes on HNewsWire, one of those changes will be to eliminate Google Ads, the other difference, HNewsWire will NOT post videos on YouTube, it is no longer a question about overreach by the un-godly big tech tyrants. There is no question Big Tech can and will persecute any opposing opinion, they will demoralize, sideline truth seekers and those that speak the truth. The People's Blood is on big tech and mainstream media's hands. Censorship has NOT worked for thousands of years, their evil tactics will not work now, history proves me right, so we watch the drama play out between good (GOD) and evil ( Big Tech MSM ), God has never failed his people, and God will not fail this time…
StevieRay Hansen
The Bible predicts the rise of this type of societal control within the frightening prophecies about the Antichrist, the final world empire called the Beast, and the final economic system using the Mark of the Beast. The electronic tyranny of technocracy that is now being developed and implemented throughout the world is in preparation for the Antichrist's rise to power. As we see this final empire taking shape in our day, we can know for certain that the End Times is upon us and the Coming of Christ is drawing near. Now is the time to turn away from sin and evil and believe in Jesus before it is too late!
The Un-Godly — Those That Suppress the Truth, the social media giants built multi-billion dollar empires by giving everyone a voice, but now that they have such a dominant position on the Internet they have decided that many prominent conservative voices should be completely silenced.
In order for sin to work, there has to be a "suppression of the truth."
The World leaders Are Having Trouble With The Truth, and The World Has been "Quarantined" Tribulation Is Here…
Demon Virus
Asked about the virus while traveling abroad last week, Trump said: "we have it totally under control". In a separate Twitter posting, he offered reassurance but scant detail for his confidence.
By Associated Press Updated On : 05:53 PST, Jan 31, 2020
Yes, are we seeing a slowdown in new virus cases reported this morning. We now have 31,481, which does show a day-to-day decline away from an exponential rate of growth if accurate. Yet for those market participants merrily saying this is "just the flu" (there are some) we also have 4,824, 15% of the total, in critical condition and 638 deaths. Further, one arguably cannot measure the death-rate of any virus against the number of currently sick people: you surely measure it against those who eventually recover vs. those who don't. Given we have 1,563 who have recovered vs. 638 dead (and 4,824 critical) that is a worrying ratio of 29% dead as an end-outcome, which is right up there with the MERS virus from a few years ago – although, yes, there is real reason for us all to hope that number will decline sharply as milder cases will be fully curable. But the simple flu this is not.
WASHINGTON: Wuhan coronavirus: Donald Trump says deadly outbreak 'very well under control' as WHO declares global emergency. President Donald Trump regaled a friendly New Jersey campaign crowd with his thoughts about impeachment, the economy, the border wall, local politics and much more.
But he was conspicuously quiet on January 28 about one big issue keeping much of the globe on pins and needles: the spread of a deadly new type of coronavirus. It has killed more than 170 people in China, sickened thousands more there and led to a handful of confirmed cases in the US, including the first US case of person-to-person transmission reported on by health officials. The State Department on January 30 advised all US citizens against traveling to China.
Trump, a self-described germaphobe, generally has discussed the virus in broad terms, but he offered some of his most extensive comments on the issue to date during an appearance on Janaury 30 at a Michigan manufacturing plant. "Hopefully, it won't be as bad as some people think it could be, but we're working very closely with them (Chinese) and with a lot of other people and a lot of other countries, he said. "We think we have it very well under control."
The Birth Pains Are Growing Stronger….
One of the signs of ruling class collapse is when they can no longer enforce the rules that maintain them as a ruling class. When the Romans started making exceptions to republican governance, it was a matter of time before someone simply decided the rules no longer applied to them. Perhaps the robot historians will consider Obama our Marius or Sulla. Maybe that person is in the near future. Either way, the rule of law is over and what comes next is the rule of men.
"Man will ultimately be governed by God or by tyrants." as in Nancy Pelosi (D-San Fran-feces)
Our government has been overthrown. As evidenced by Trump's capitulation on the border, his recent servitude to the GMO industry and his acquiescence to the warmongers, our President has been compromised. Our liberties are being eliminated one by one. Gun confiscation is next. The Constitution is gasping its last breaths. Our borders are destroyed and our culture has been turned upside down by every perversion known to man.
The watchman does not confuse truth with consensus. The Watchman does not confuse God's word with the word of those who happen to hold power at present, or with the opinion of the majority. This is because powerholders and the majority can fall victim to a lying spirit-and this means a power that actually seizes the majority of experts, the political leadership, and the public.
Everything is right on schedule and, now, the time is come to remove one of the final obstacles standing in the way of a New World Order: The United States Constitution – even if, over the course of many decades, it has already been greatly diminished by the B.E.A.S.T. system; or, more specifically, Bullshit Emerging As Strategic Totalitarianism (B.E.A.S.T.).
They are tolerant of everything except dissenting values and opinions — meaning, of course, they are tolerant of nothing that matters, only themselves."
The Watchman does not confuse truth with consensus. The watchman does not confuse God's word with the word of those who happen to hold power at present, or with the opinion of the majority. This is because powerholders and the majority can fall victim to a lying spirit-and; this means a power that seizes the majority of experts, the political leadership, and the public.StevieRay Hansen
If you have a news scoop or an interesting story for us, please reach out at [email protected]
Tracking coronavirus, StevieRay Hansen, Big Pharma, biowarfare, cdc fraud, cdc lies, coronavirus, coronavirus facts, coronavirus vaccine, facts about coronavirus, fake news, fear mongering, labmade coronavirus, mainstream media, measles, panic, propaganda, vaccine fraud, Western medicine
The Land of the Free doesn't give a rat's-arse how they are perceived anymore.
HNewsWire Live Stream 24/7 News UpDates and World Events Go Live HNewsWire: By Frank Bergman March 19, 2023 New York's Democrat Governor Kathy Hochul……...
Read More
We make every effort to acknowledge sources used in our news articles. In a few cases, the sources were lost due to a technological glitch. If you believe we have not given sufficient credit for your source material, please contact us, and we will be more than happy to link to your article.