Advisory: Be careful of what you read on social media. The algorithms used by these platforms have no regard for Biblical truth. They target your emotions to keep you engaged on their site so their advertisers can drop more ads. These platforms exist to enrich their stockholders. Consider God's promise to Believers in James 1:5, "If any of you lacks wisdom, you should ask God, who gives generously to all without finding fault, and it will be given to you."
Top Areas by Outages
Texas 69,799
Arkansas 24,301
California 10,149
Indiana 7,108
Oklahoma 4,047
Last Updated
2/3/2022, 07:59:30 AM
Source: poweroutage
Earth's Temperature Saw A Sharp Drop In January, As Did Solar Activity — Global Cooling Is Here, Undeniable, And Set To Intensify
The UAH temperate dataset is maintained by former NASA scientist Dr Roy Spencer and his University of Alabama in Huntsville colleague, climate scientist Dr John Christy.
Since 1979, NOAA satellites have been carrying instruments which measure the natural microwave thermal emissions from oxygen in the atmosphere. The intensity of the signals these microwave radiometers measure at different microwave frequencies is directly proportional to the temperature of different, deep layers of the atmosphere. Every month, Dr Spencer and Dr Christy update global temperature datasets that represent the piecing together of the temperature data from a total of fifteen instruments flying on different satellites, know colloquially as 'the UAH'.
The UAH is the only unbiased temperature dataset we truth-seekers have left. No, it should not be taken as gospel, but with the datasets custodians, Spencer and Christy, not bought and owned by the AGW Party, it is, by far and above, the best we have.

Dr Roy Spencer recently had his website demonitzed by Google. His crime? Questioning a scientific theory, which, as we know, is a stance deemed 'harmful' in today's authoritarian society. Show support for Dr Spencer –by sharing his message– and by doing so, hopefully the last remaining bastion of global temperature analysis can remain unadulterated. Source: electroverse
Brace, USA
Generational. Historic. Record-breaking. There are just a few of the ways meteorologists are describing the next few days in the United States as an Arctic air mass invades the majority of the CONUS.
The Allen County Office of Homeland Security is reminding folks across Indiana to prepare for record snowfall. Bernie Beier said knowing what tools are available are the key to being able to get through the upcoming winter blast. Beier added that folk in Allen County can expect a travel advisory to be issued Tuesday night, and that it's crucial for everyone to stay home if they can.
Indiana is one of 24 (or-so) states in line for a wintry walloping Wednesday through Friday as a monstrous band of snow and ice stretches some 2,300 miles across the United States — from central Texas to the northern tip of New England:


And for those fortunate enough to escape the snow, freezing lows will be the concern.
Those blues and pinks (shown below) –indicating below-average temperatures– will stretch from Greenland to Central America.


This will be Texas' first test since the extreme cold and blackouts of February, 2021, which killed 700+. The state's electricity prices surged to more than $1,000 a megawatt-hour for Friday when demand is expected to hit a new winter record.


Such as pronounced plunge of polar cold is astonishing — and despite narrative-advancing cries of 'Climate Change', the real culprit for such a southerly dip in the jet stream is low solar activity (likely in combination with Earth's waning magnetic field).
Low solar activity impacts Earth's weather/climate via a number of different mechanisms, the most notable being the reduction of energy entering the jet streams. This reduction reverts the jets' usual strong and straight ZONAL flows to weak and wavy MERIDIONAL ones, which, in turn, and depending on which side of the stream you're on, means either a spell of unseasonably cold or warm weather and/or a period of unusually dry or wet conditions:

Source: electroverse
Exact timing & severity of N. America's NEXT Arctic blast remains uncertain, meteorologists have warned that it could compare to 2021's deadly event. As a result, people –particularly Texans– are being urged to prepare now "while the weather is still good."
More than 90 million Americans are in the path of a cross-country storm system set to unleash heavy snow, ice, and even severe thunderstorms on Groundhog day from the Rockies to northern New England. We told readers to monitor the system on Sunday as forecasts would become more concrete.
"We're closely monitoring the major winter storm impacting a large swath of the U.S. from New Mexico, northeast into New England. It's a complex forecast from winter precipitation types, to amounts, and more," the National Weather Service (NWS) tweeted Tuesday morning.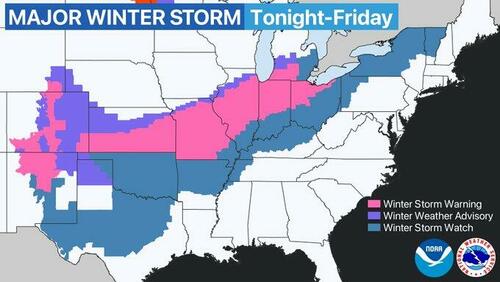 Fox News Senior Meteorologist Janice Dean sheds more color on the upcoming storm that will "bring a widespread mess of hazards: heavy snow, flooding rain and accumulating ice from Texas to the Northeast." In a series of tweets, she outlines the future track of the system, potential snow totals, and ice forecasts — even pinpointing areas that are considered high impact zones.
Columbia, Missouri; Peoria, Illinois; Fort Wayne, Indiana; Detroit, Michigan; and Toledo, Ohio, could all receive more than a foot of snow. Toronto, Montreal, and Quebec City could pick up 12-18 inches.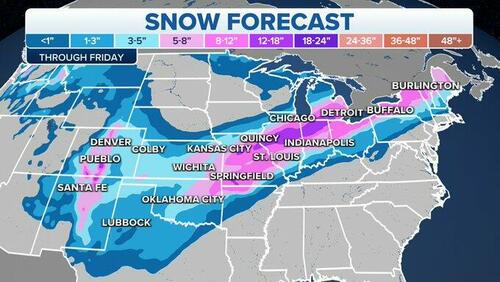 "The winter storm traversing the country this week has a chance at breaking into the top-five heaviest snowstorms to ever occur in Detroit. If the city records more than 14 inches, it will rank in the top five snowstorms," AccuWeather said.
There's also an ice component of the storm in the areas listed below.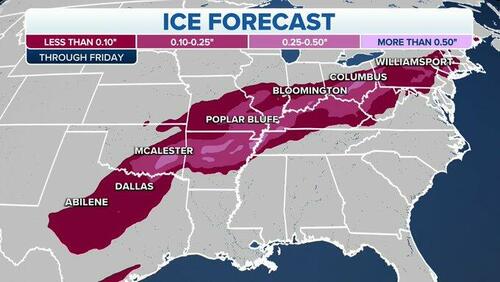 Dean said "another blast of arctic air will settle" into the western half of the country by the end of the week.
AccuWeather Meteorologist Matt Benz said the "arctic air will produce some of the coldest air of the season for places like North Dakota and northern Minnesota by Thursday morning." We noted Monday that Texas' power grid was at risk due to colder weather trends. Texas Gov. Greg Abbott warned Tuesday that power demand would be the highest on Friday morning. The governor said that the primary grid operator, the Electric Reliability Council of Texas (ERCOT), will be ready for increasing power usage due to soaring heating demand.
Are Abbott and ERCOT ready for two shots of arctic air?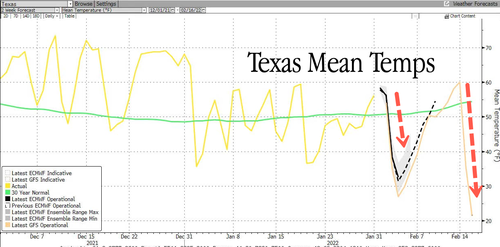 Meanwhile, March natural gas futures have risen 33.5% in the last two weeks on colder weather and numerous snowstorms as heating demand increases. Prices have retraced a little more than 50% of the down move from late October's high to December's low.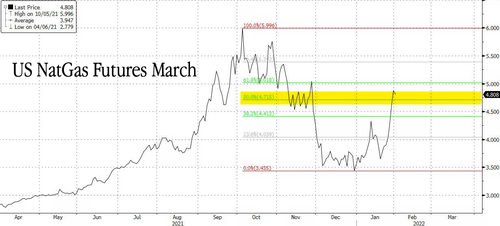 Also, the famous market trade known as the "widowmaker" (natgas March-April 22 futures spread) has rebounded from a low in the last two weeks as speculators bet on colder weather.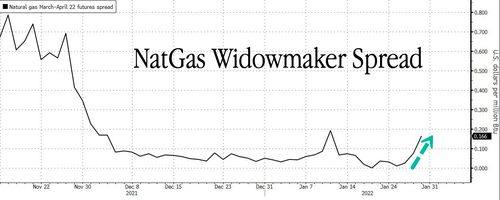 Forecasts are becoming more locked as the massive winter storm is about to begin. We do expect air travel disruptions this week.
Source: HNewsWire HNewsWire HNewsWire ZeroHedge electroverse
HNewsWire Live Stream 24/7 News UpDates and World Events Go Live HNewsWire: By Frank Bergman March 19, 2023 New York's Democrat Governor Kathy Hochul……...
Read More
We make every effort to acknowledge sources used in our news articles. In a few cases, the sources were lost due to a technological glitch. If you believe we have not given sufficient credit for your source material, please contact us, and we will be more than happy to link to your article.