Update: Scourge of the Heavens In Play: Texas Power Grid Operator Urges Customers to Conserve Electricity After Six Plants Go Offline, but Don't Worry People, They Have Things Under Control. If the Power Out, HNewsWire Suggest You Find a Shade Tree and Pray, Make More Sense Then (Ercot)
HNewsWire: Texans must be prepared for a power outage. Again. According to a new bombshell report from the North American Electric Reliability Corporation (NERC), while Texas has made some progress in increasing surplus energy flow to the grid for times of peak demand, power will be extremely tight this summer, and Texans should expect rolling blackouts during the hottest months of the year.
According to the newly issued 2022 Summer Reliability Assessment, Texas, as well as sections of California and the Southwest, are in a "elevated risk category of energy crisis." The increased strain on the system is caused by a mix of exceptionally high temperatures and weather conditions, inadequate generator care and maintenance throughout Texas, continuous supply chain challenges, and rising demand. NERC also identified cyber threats, wildfires, and a scarcity of coal power inputs as important challenges that would be monitored as the days become hotter and the grid's ability to deliver adequate electricity becomes more fragile.
While Texas currently lacks the energy capacity required to fulfill demand at its peak under severe weather conditions, NERC recognizes that the state has made serious efforts to address the problem. The Lone Star State has improved its expected reserve margins, owing primarily to increasing solar and wind power capacity expansion.
Overall, Texas' renewable energy capacity has increased by 4,100 megawatts since last year. This expansion in solar and wind capacity, however, is not without its own set of concerns. The industry is still figuring out how to handle "solar trips," which occur when solar resources are turned off due to circuit faults or grid disruptions such as lightning or fires.
The Electric Reliability Council of Texas (ERCOT), Texas' much-maligned grid operator, was praising recent advances in reserve energy capacity only one day before NERC released its somber assessment.
""We had 12% two years ago," stated ERCOT interim President and CEO Brad Jones.
"We had 15 to 16 percent reserves last year, and we have 23 percent this year." As you can see, our reserves have increased throughout the years. This summer, we are really confident about our position."
This assurance today seems comical in light of Texas' heightened risk category for summertime energy problems.
Despite ERCOT's accomplishments, Ed Hirs, a University of Houston Energy Fellow, believes Texas has not done enough. "We have less dispatchable electricity on the system than we had last summer, according to Hirs. "We have around 63,000 megawatts available." This is around a thousand megawatts fewer than we had last summer. Demand is increasing." At the same time as ERCOT is bragging about being ready for summer, they had to issue a call for energy saving over the weekend due to the failure of numerous generators.
Texas urgently needs to invest in generators. Typically, spring gives a break from high temperatures as well as a chance to work on the grid and generational capacity, but early heat waves have already placed the system under near-maximum demand in 2022. Furthermore, generators are hesitant to engage in growth at a time when inflation is rising, cash is scarce, and they are unsure who will foot the bill. According to the Houston Chronicle, Texans have borne the brunt of the damage so far.
The long and short of it is that the grid simply cannot keep up with rising demand and market volatility. The traditional rule book for planning and managing summer energy reserves has been thrown out the window. "We're now dealing with severe weather," NERC Director of Reliability Assessment and Performance Analysis John Moura said on Wednesday. "And as we've seen in recent history, severe does not imply unusual."
HNewsWire:
Following yet another round of unusually hot weather, the state's electrical grid operator encouraged users on Friday evening to use less electricity this weekend.
The Electric Reliability Council of Texas (ERCOT) said that six power production facilities were down on Friday afternoon, resulting in a 2,900 MW loss of energy.
"At this point, all of the available generating resources are running." It is recommended that major appliances (such as dishwashers, washers, and dryers) not be used between the hours of 3:00 p.m. and 8:00 p.m. on weekdays and on weekends, according to the ERCOT statement:
It's estimated that a megawatt of energy can power 200 houses on a hot summer day in Austin, Texas. About 580,000 houses might have been powered by the 2,900 megawatts that were cut off. ERCOT issued a heatwave warning before the weekend, predicting record-setting demand for power. As energy demand rises, the state's power infrastructure might be put under duress by the removal of 2,900 MW of electricity from the grid.
PowerOutage.https://poweroutage.us/
As of Saturday morning, data from the United States suggests that 14,000 people in Texas are without electricity.
Early summer heat waves continue to scald the Central and Southern Plains. With temperatures expected to hit triple digits in certain areas of Texas next week, this implies that the state will continue to be scorched. Next week, the Electric Reliability Council of Texas (ERCOT), the state's power system operator, has already issued a warning about record energy demand. According to power analyst Doug Lewin, who keeps a close eye on the Texas system, temperatures in the triple digits are reason for alarm since "it is still not even summer."
As a result of an early week heatwave, ERCOT estimated Tuesday's power grid demand of 70,703 megawatts as the highest since May 2018, breaking the previous record of 67,271. The operator of the electricity system is now anxious about the upcoming heat wave.
Extremely hot weather has prompted ERCOT to issue an operational conditions notice (OCN). From this Friday through the next Wednesday, the OCN will be in effect. It was the grid operator's responsibility to guarantee that consumers had adequate electricity to fulfill the demand surge.
Austin/San Antonio's National Weather Service predicts "additional triple-digit temperatures" for early next week. As of Sunday, temperatures in the Dallas and Fort Worth regions are predicted to reach into the triple digits.
Even while ERCOT claims to have everything under control, the fact that two heat waves have slammed sections of Texas at a time when power facilities are normally shut down for maintenance is cause for alarm. During the transition to clean energy, power grid operators are warning of potential shortages. It's a frightening omen ahead of the summer when heatwaves might lead to rolling blackouts, say power-grid operators throughout the United States.
Due to an expected surge in demand this summer, the Mid-continent Independent System Operator (MISO), which serves 15 states in the US Central area, has warned that disruptions might occur. Summer heat and wildfires are expected to result in gaps in California's electricity supply this year, according to a report from California's Independent System Operator (ISO). Despite some parts of Texas reaching triple digit temperatures over the weekend, the system remained stable despite several power facilities being taken down for maintenance.
According to the Wall Street Journal, fossil fuel power facilities are being decommissioned faster than they can be replaced by renewable energy and battery storage, causing grid instability and an increased danger of power shortages this summer. Power systems are scrambling to replace dirty fossil fuel power facilities with clean, renewable alternatives such as solar and wind power. Additionally, there's the decommissioning of outdated nuclear reactors.
Power networks are becoming unstable because fossil fuel power stations are being retired and replaced with unreliable renewables. Temperature-related power outages might affect millions of Americans this summer because system stability has deteriorated, making the shift more difficult than previously predicted.
"wind and solar farms - which are among the cheapest kinds of electricity production" is the WSJ's author's blatant prejudice or ignorance of alternative energy. Government tax credits, subsidies, and other incentives make alternative energy affordable. In addition, the wind and sun are unreliable energy sources since no power is generated when they are not blowing or shining, thus electricity storage is required. However, battery storage on a large scale is not yet possible.
Even more issues for power networks might be generated by the expedited route of retiring fossil fuel power plants, as "energy and batteries has become an extremely tough proposition amid supply-chain constraints and inflation," according to the Wall Street Journal.
As a result of the green transition, power networks throughout the United States have been condemned because of the push to replace what is now operating with a source of electricity that can supply power continuously, barring a fuel shortage. As the interim CEO of the Electric Reliability Council of Texas, which is in charge of operating the state's electricity system, Brad Jones explains more:
All markets throughout the globe are dealing with the same problem," he says. Everybody is looking for methods to maximize the use of renewable resources... we must also ensure that we have adequate dispatchable generation to ensure that we can meet our service level commitments."
It was revealed last Friday that the state of California will have power supply gaps that may leave millions of people without power at peak hours. This was announced by the California Energy Commission, Public Utilities Commission, California ISO, and Governor Gavin Newsom. The absence of electricity production is causing an imbalance in the system that might endure for many years.
We must ensure that we have adequate replacement resources in place and functioning before we allow any of these retirements... to occur," Mark Rothleder, California ISO's chief operating officer, said. As a result, we may find ourselves with inadequate capability."
Some grids may not be able to fulfill demand during this summer's heatwave because of the intense green energy push, which has threatened electrical systems throughout the US.
SRH:
On February 17, 2021, Following the power grid collapse in Texas, Gov. Greg Abbott released a statement– Tuesday that "declared the reform" of ERCOT in the new legislative session. Abbott will pressure lawmakers to investigate ERCOT's failures and make sure rolling blackouts never happen again.
"The Electric Reliability Council of Texas has been anything but reliable over the past 48 hours," said Abbott. "Far too many Texans are without power and heat for their homes as our state faces freezing temperatures and severe winter weather. This is unacceptable. Reviewing the preparations and decisions by ERCOT is an emergency item so we can get a full picture of what caused this problem and find long-term solutions. I thank my partners in the House and Senate for acting quickly on this challenge, and I will work with them to enhance Texas' electric grid and ensure that our state never experiences power outages like this again."
Here's the full text: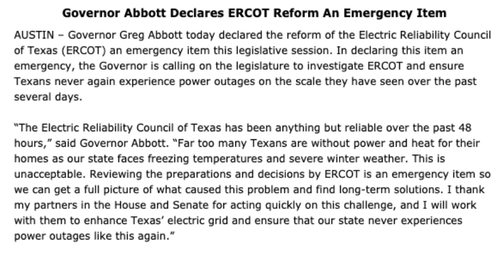 Will Putin Fulfill Biblical Prophecy and Attack Israel?