Advisory: Be careful of what you read on social media. The algorithms used by these platforms have no regard for Biblical truth. They target your emotions to keep you engaged on their site so their advertisers can drop more ads. These platforms exist to enrich their stockholders. Consider God's promise to Believers in James 1:5, "If any of you lacks wisdom, you should ask God, who gives generously to all without finding fault, and it will be given to you."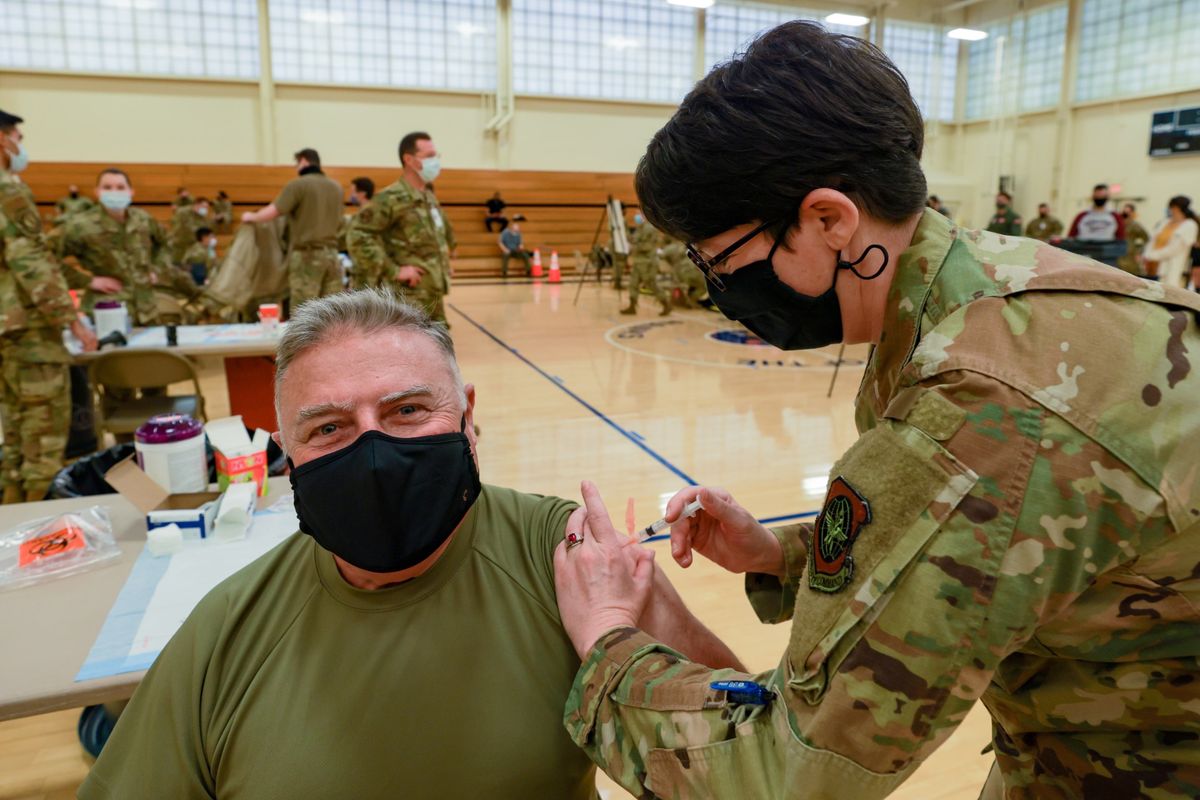 President Joe Biden's vaccine mandates, which require everyone employed by the federal government to get vaccinated or lose their job, have harmed morale for both military troops and contractors, according to Lt. Col. Adam Conrad of the United States Air Force (USAF).
Conrad gave a bleak picture of the situation facing US Air Force members, who have been fearful of losing their jobs if they refuse to take the experimental CCP viral vaccination.
Conrad, who requested that his name be altered to preserve his identity, remarked, "I've never seen morale that low."
Conrad, like many other military personnel, faces the possibility of losing his career if he refuses to take the CCP virus vaccine. Despite his relatively high position in the service, Conrad has submitted an exemption request and is not optimistic that it will be granted.
Most servicemembers who sought an exemption from the vaccine were denied, despite military chaplains ruling that they had a "sincere belief" against it.
"I have a deeply held religious belief about the [COVID] vaccine because of how it's made," Conrad added, referring to the vaccine's development procedure, which included the use of fetal tissue from aborted infants.
"I began questioning the COVID vaccines due to the uniqueness of the mRNA technology," he added. Due of my anti-abortion position and the negligible risk that COVID poses to me, I developed a real religious belief while researching."
Conrad contended that the side effects of the innovative vaccination constituted a greater risk to him than the virus, based on reports from people who had received the vaccines.
"By any stretch of the imagination, the aims could not justify the means," he concluded.
Conrad stated that he requested an exemption at the end of August but has yet to receive a response. He stated that all of his higher command's exemption requests have been denied thus far.
Military chaplains must first evaluate servicemembers before they can request an exemption.
Conrad remarked, "The military chaplain corps is educated to accept all religious faiths."
Servicemembers discuss their beliefs with the chaplain during their evaluation, in this example, stating why they have major moral reservations about the CCP virus vaccine. If the chaplain is pleased, he might recommend that a request be granted.
Conrad was found to be sincere in his resistance to the vaccine after being evaluated by a chaplain.
Apart from religious or moral objections, military preparedness, unit cohesion, good order and discipline, and public health and safety are also issues considered by the USAF when evaluating whether or not to give an exemption, according to Conrad.
"To put it another way," he continued, "granting a request should have no negative impact on the mission."
Conrad, on the other hand, claims that upper-level management has been "intellectually dishonest" in their interpretation of these four factors and justifications for rejecting a religious accommodation request.
"Some of the denials coming back utilize a reasoning for denial that I have a serious problem with," he remarked.
"These denials are based on a firm foundation of'military readiness.' Excuses such being on patrol or working in close quarters imply that you won't be able to do your job without the vaccine. However, people have been doing these things since the start of the pandemic, long before the vaccination."
Conrad's opinion was echoed by David Younts, an attorney representing about 50 military clients seeking exemptions, who said the reasons for denial were "arbitrary and capricious."
Younts told The Epoch Times, "My clients have regularly suffered, and we have seen, intellectual dishonesty and obvious religious prejudice from Department of Defense (DOD) leadership."
In reality, according to Younts, the Navy made the decision to decline almost all accommodation requests before they were even received.
"One of my clients was instrumental in exposing the Navy's pre-determined plot to deny all religious accommodation petitions even before they were made," Younts said. "I've been given numerous examples of boilerplate denials in which the incorrect information was entered, information that did not even match my client's information or duty status."
"Many of my clients have been advised repeatedly from the start of the mandate that their accommodation request would be denied even before it was submitted."
"The DOD has failed to even consider natural immunity as a component in my client's situations," Younts continued, "for what appear to be apparent political reasons."
If their petitions are denied, servicemembers can appeal the decision all the way to the Surgeon General, according to Lt. Col. Conrad.
Conrad, on the other hand, claims that the appeal period is "artificially short" and "purposefully inhibits" servicemembers' capacity to make an argument based on legal, medical, and professional guidelines for why their request should be granted.
"The United States Air Force has opted to offer members only a five-day calendar window to build, research, write, and submit a full appeal package," Conrad stated, adding the USAF is not bound by such a deadline. "[The USAF] has as much time as it wants to investigate its denial reasons."
As a result, Conrad claims that servicemembers have been urged to start working on their appeal before receiving a response to their initial request.
The five-day timeframe is "extremely weird and way too short for a last-ditch attempt to preserve your job," according to Conrad.
In comparison to other procedures in the USAF, the period is particularly short.
Conrad pointed out that servicemembers have three days to sign a "letter of counseling," a disciplinary form sent to members for minor violations.
He also mentioned that while there are examples of servicemembers being given significantly more time to form an appeal across the DOD, the Secretary of the Air Force did not provide commanders that discretion in his December memo detailing the 5-day limit.
According to Conrad, the rules have had a significant impact on employee morale.
He stated, "I've never seen morale this low—and it isn't among the unvaccinated."
According to Conrad, several of the airmen who received the vaccine experienced serious side effects. Servicemembers are concerned that they will be forced to swallow yet another vaccine as the Biden Administration pushes for booster doses.
Even though the Pentagon has stated that boosters will not be required, many servicemembers are concerned about the problem. This worry, according to Conrad, has lowered morale even more.
"There's a lot of uncertainty about whether they'll need the booster," he said.
Morale has fallen among civilian government employees and contractors as well. Federal contractors were subject to the same vaccination restrictions as servicemembers under Biden's September vaccine regulations.
"Morale is not good," Conrad concluded in general.
According to Conrad, higher-ranking officers in the United States Air Forces are more likely than lower-ranking Airmen to seek religious accommodations.
Others in the service have scrutinized and ostracized people requesting religious or moral exemptions, according to Conrad.
"Some commanders say you're not a good leader,' or 'you don't care about the community,' or 'you don't understand science,' or 'you're anti-science,' if you refuse to take the vaccination."
Many service members have simply accepted the vaccine because they don't want to be known as "the person battling the system," according to Conrad.
Younts claims that his clients have endured similar ostracism and claims that this is a violation of military service members' constitutional rights.
"I have a number of clients who have been sacked from positions of leadership and isolated because of their religious beliefs," Younts said. "I believe that the arbitrary and capricious denials of accommodation requests violate the First Amendment, the Religious Freedom Restoration Act, the Fifth Amendment Due Process Clause, and the Fourteenth Amendment Equal Protection Clause."
"My clients are concerned that this is an attempt to expel conservative evangelicals and orthodox Catholics from the military due to their religious convictions," he continued. "Even before the official mandate, my clients were threatened with criminal prosecution and were regularly chastised by their superiors."
"I've had clients who were denied holiday vacation to see their families, forced to work from a car in a parking lot, and even barred from entering a base or ship because they weren't vaccinated."
Despite the long odds, Conrad stated that he will continue to fight for an exemption as long as he can. Despite the fact that he has served in the United States Air Force for many years and intends to stay in the service, he has stated that if his request is denied and he exhausts all appeals, he will certainly retire.
Conrad said, "I recognize I might be on my final legs here." "This isn't how I wanted to go out, fighting a dumb vaccine."
Conrad continued, "I don't think it serves anyone for me to retire when I wasn't planning on it," noting that he is now scheduled for an assignment for which he was competitively selected in the near future.
The Senate passed legislation in December prohibiting the Department of Defense from dishonorably dismissing those who refuse to receive the vaccine. A dishonorable discharge, which is roughly equal to a felony exemption for civilians, has long-term ramifications for former service members.
Despite the fact that service members cannot be dishonorably discharged for refusing the vaccine, many officers and enlisted men face the prospect of losing their careers as a result of the mandates. For many long-serving military personnel, abandoning their jobs means losing the perks they have collected during their tenure in the service.
Let's be real here, most of the conspiracies pertaining to the elite are real. We are much more important than they want us to believe. They'll only give you that very validation when you've proven yourself to be of any use to their deeply evil agenda. One must dive deep into the "crazy" conspiracies you've all heard about to get the broader picture here. The only people that are PUSHING the vaccine upon you, are the ones of opposing theological beliefs. When you wake up to that you'll realize the lines aren't blurred, they're clear; And they're being crossed.
Most have been dragged so far away from God but still claim to be Christians. They'll come around, they just need to be persecuted more. Because until we realize that society is developing into something that we cannot fit into, we cannot focus on how we can lay our treasures in heaven (Matthew 6:19). Perfect your mind in the eyes of God, and he will guide your life to carry out his purpose. Stay inquisitive in the word of God, and the world around you.
The 127 Faith Foundation: We do not solicit donations from "those on disability, on a fixed income, or those who cannot afford to give." Please Pray!
Or, make checks payable to:
The 127 Faith Foundation
PO Box 127
Pontotoc, TX 76869
The number of Orphans aging out of Child Protective Custody has grown at an alarming rate. The 127 Faith Foundation receives many requests each week to house them at our ranch. Our prayer is that the good people of our country will step up to the challenge and offer financial support for "the least among us." We need your help! StevieRay Hansen, Founder, The 127 Faith Foundation
HNewsWire: The death toll has risen to six, with 24 people wounded. According to the Chicago Sun-Times, a shooter opened fire on a Fourth…
Read More
We make every effort to acknowledge sources used in our news articles. In a few cases, the sources were lost due to a technological glitch. If you believe we have not given sufficient credit for your source material, please contact us, and we will be more than happy to link to your article.