Update: Black Horse In Play: Adding to Our Food Woes, the FBI Has Issued a Warning About Targeted Cyber Assaults on Food Facilities in the Aftermath of a Strange Outbreak of Fires That Impacted the Food Supply Chain
HNewsWire:
By the end of the year, if you think food and fuel shortages are severe today, then you'll be in for a nightmare. An unparalleled convergence of circumstances is stifling food production throughout the world. The conflict in Ukraine, strange weather patterns, terrifying epidemics, and a historic fertilizer crisis have all come together to form a "perfect storm" that isn't going away any time soon. Food shortages are expected to become a major worldwide issue by this year's end because of this.
There has been an increase in global wheat prices of almost 40% since the beginning of 2022, but this is just the beginning. This summer, the United States is experiencing unprecedented diesel fuel shortages, and there are "no plans" to enhance refining capacity in the nation in the near future.
Despite the Biden administration's efforts to ensure that illegal immigrants have access to infant formula, millions of American families are experiencing a full and total nightmare as a result of this situation.
According to the CEO of Abbott Nutrition, one of the most major infant formula production plants in our nation was shut down a long time ago, and it will take a few months to get the goods back on stores once they are allowed to reopen the factory by the FDA...
Meanwhile, the factory remains closed while the corporation works to improve the facility in order to comply with the FDA's requirements. Once the FDA gives its approval, Abbott claims it will be able to reintroduce goods made at the plant to the market in a few months.
The current shortages don't only affect infant formula, of course. As food shortages worsen and prices continue to rise, grocery shops are becoming more attractive targets for criminals.
At least one big grocery operator has opted to armed protect its locations in the Midwest because of the current situation.
Even though the shoulder patches read, "A Helpful Smile in Every Aisle," the new retail security force that Hy-Vee is putting in place may be wearing police-style uniforms replete with holstered tasers and potentially firearms.
Customers and workers of the West Des Moines-based grocery chain may look forward to the introduction of a security team as part of the company's continued efforts to safeguard their health and safety, according to a press statement issued on December 29. Despite the fact that the program is scheduled to begin in 2022, security teams are already in place at several establishments.
Armed guards will soon become commonplace in grocery stores around the country, as I have predicted for years.
Global food output is expected to fall well short of estimates in the months ahead. HNewsWire provided the following assessment of the current challenges faced by farmers...
Bad weather conditions are wreaking havoc throughout the world's leading wheat-producing areas. Russia's military invasion of Ukraine has had a substantial impact on the country's economy. There is a strong likelihood that we are on the verge of a food catastrophe.
Farmland in the United States, Europe, India, and China has been afflicted by droughts, floods, and heatwaves. Ukrainian wheat output might be decimated by as much as a third due to the conflict.
A worldwide food crisis is looming, and several governments have already taken steps to limit agricultural exports in preparation.
As of late, India has also banned the export of all wheat.
Exports of wheat from India, the world's second-largest crop, have been halted because of the threat to the country's food security.
Shockingly high global wheat prices are putting India, its neighbors and other vulnerable nations at danger, according to the Director General of Foreign Trade in India, Santosh Kumar Sarangi. Every week, food supplies increase tighter, and this has already sparked food riots throughout the globe.
There were some really striking riots in Iran last week, for example...
A day after the Iranian government slashed food subsidies, protests broke out throughout the country, resulting in soaring food prices.
A video posted on social media shows demonstrators yelling "Death to Khamenei!" as they march through Dezful and Mahshahr in Khezestan's southwestern region. There will be no more employment created, sanctions will be lifted and the economy would be saved if Ebrahim Raisi is elected president of Iran.
This anger is so extreme that in Sri Lanka people have resorted to torching the residences of leaders...
Government forces have been ordered to "shoot on sight" after 38 lawmakers' residences in Sri Lanka were set ablaze by protesters, further destabilizing an already chaotic situation.
More than seventy-five houses have been damaged since irate Sri Lankans defied a statewide curfew to protest the government's alleged mismanagement of the country's worst economic crisis since 1948, police said Tuesday.
This is just the beginning. As food supplies tighten throughout the world, things are going to become a lot more chaotic in the coming months. Meanwhile, a "diesel fuel crisis on the East Coast" is expected in the months ahead, according to recent warnings.
Fuel prices around the nation and in Maryland have surpassed all-time highs, raising the potential of a diesel fuel scarcity. Experts in the fuel sector believe that the East Coast might face a possible diesel fuel shortage that could have a devastating effect on an already vulnerable supply chain.
The price of diesel fuel in the United States has reached an all-time high of $5.62 a gallon, and it is expected to continue rising.
To put it another way, there are simply too few refineries capable of converting crude oil into useful fuels...
America's runaway energy market is causing concern for both US passengers and the economy as a whole, from record gas prices to rising airfares to worries of diesel rationing. It's not because crude oil prices are skyrocketing, or that demand is on the rise. Rather, it's a lack of refineries that are producing useful fuels.
It is incredibly difficult to establish and manage a new refinery in our nation because of the mountain of restrictions imposed by our legislators. "The supply crunch is only going to become worse for the foreseeable future," we are being informed.
As of the beginning of the epidemic, the country's oil refining capacity has been reduced by more than 1 million barrels per day, or around 5 percent of its total capacity. Energy consultant Turner, Mason & Co. believes that capacity elsewhere in the globe has declined by 2.13 million extra barrels a day. Even while refiners are making record profits, there are no plans to open new US operations, thus the supply crunch will only worsen.
Our decades of dumb actions are now beginning to catch up with us in the most significant manner, as I've repeatedly warned my readers. Because diesel fuels our vehicles and trains, a diesel supply deficit will exacerbate our current supply chain issue. In the months to come, this nightmare will continue to haunt you.
HNewsWire: After an unusually long series of fires and explosions at large food processing facilities around the nation, the FBI's Cyber Division released an alert this week concerning heightened cyber-attack risks against agricultural cooperatives.
According to the notice, "Ransomware actors may target agricultural cooperatives more frequently during critical planting and harvest seasons, disrupting operations and causing financial loss while also negatively impacting the food supply chain." The notice also warned that ransomware attacks on farming cooperatives in 2021 and early 2022 could disrupt the current planting season "by disrupting the supply of seeds and fertilizer."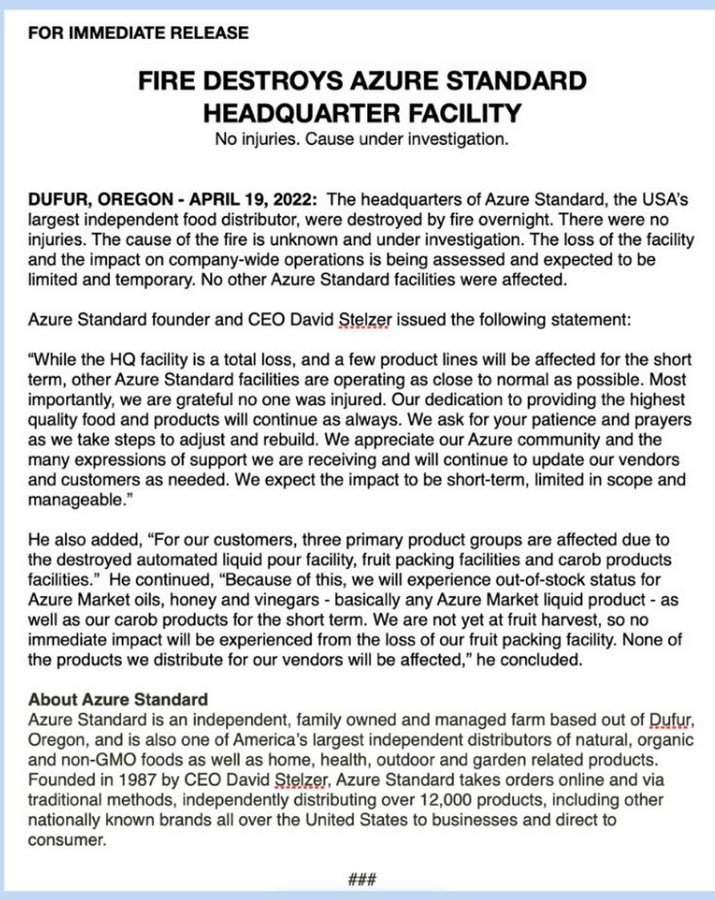 According to the agency's statement, "Since grain is utilized for animal feed as well as human consumption, a large interruption in grain production may have a severe effect on the whole food chain... Grain and maize trade and stock prices might be adversely affected if supply is significantly reduced."
According to The Western Standard, over two dozen food manufacturing plants throughout Canada and the United States have witnessed a "series of fires, aircraft crashes and explosions" in the last year.
Fires at two food processing factories in Oregon were the most recent events. Azure Standard's joint headquarters and warehousing facilities were damaged by a fire on Monday night. On Tuesday, a Shearer's Foods facility exploded, causing a lot of damage.
There has been a recent outbreak of fires at food processing factories around the nation, according to an Internet sleuth.
In a series of tweets, one detective draws attention to previous warehouse fires that have impacted food supply systems.
All of this is taking place as a result of the global food supply chain being interrupted by the Ukraine-Russia war. Rockefeller Foundation published a date for when a "major, urgent food catastrophe" may begin—they say "in the next six months"—and food prices are at record highs.
HNewsWire:
(courtesy of The Gateway Pundit):
1/11/21 A fire that destroyed 75,000-square-foot processing plant in Fayetteville
4/30/21 A fire ignited inside the Smithfield Foods pork processing plant in Monmouth, IL
7/25/21 Three-alarm fire at Kellogg plant in Memphis, 170 emergency personnel responded to the call
7/30/21 Firefighters on Friday battled a large fire at Tyson's River Valley Ingredients plant in Hanceville, Alabama
8/23/21 Fire crews were called to the Patak Meat Production company on Ewing Road in Austell
9/13/21 A fire at the JBS beef plant in Grand Island, Neb., on Sunday night forced a halt to slaughter and fabrication lines
 10/13/21 A five-alarm fire ripped through the Darigold butter production plant in Caldwell, ID
11/15/21 A woman is in custody following a fire at the Garrard County Food Pantry
11/29/21 A fire broke out around 5:30 p.m. at the Maid-Rite Steak Company meat processing plant
12/13/21 West Side food processing plant in San Antonio left with smoke damage after a fire
1/7/22 Damage to a poultry processing plant on Hamilton's Mountain following an overnight fire
1/13/22 Firefighters worked for 12 hours to put a fire out at the Cargill-Nutrena plant in Lecompte, LA
1/31/22 a fertilizer plant with 600 tons of ammonium nitrate inside caught on fire on Cherry Street in Winston-Salem
2/3/22 A massive fire swept through Wisconsin River Meats in Mauston
2/3/22 At least 130 cows were killed in a fire at Percy Farm in Stowe
2/15/22 Bonanza Meat Company goes up in flames in El Paso, Texas
2/15/22 Nearly a week after the fire destroyed most of the Shearer's Foods plant in Hermiston
2/16/22 A fire had broken at US largest soybean processing and biodiesel plant in Claypool, Indiana
2/18/22 An early morning fire tore through the milk parlor at Bess View Farm
2/19/22 Three people were injured, and one was hospitalized, after an ammonia leak at Lincoln Premium Poultry in Fremont
2/22/22 The Shearer's Foods plant in Hermiston caught fire after a propane boiler exploded
2/28/22 A smoldering pile of sulfur quickly became a raging chemical fire at Nutrien Ag Solutions
2/28/22 A man was hurt after a fire broke out at the Shadow Brook Farm and Dutch Girl Creamery
3/4/22 294,800 chickens destroyed at farm in Stoddard, Missouri
3/4/22 644,000 chickens destroyed at egg farm in Cecil, Maryland
3/8/22 243,900 chickens destroyed at egg farm in New Castle, Delaware
3/10/22 663,400 chickens destroyed at egg farm in Cecil, MD
3/10/22 915,900 chickens destroyed at egg farm in Taylor, IA
3/14/22 The blaze at 244 Meadow Drive was discovered shortly after 5 p.m. by farm owner Wayne Hoover
3/14/22 2,750,700 chickens destroyed at egg farm in Jefferson, Wisconsin
3/16/22 A fire at a Walmart warehouse distribution center in Plainfield, Indiana has cast a large plume of smoke visible throughout Indianapolis.
3/16/22 Nestle Food Plant extensively damaged in fire and new production destroyed Jonesboro, Arkansas
3/17/22 5,347,500 chickens destroyed at egg farm in Buena Vista, Iowa
3/17/22 147,600 chickens destroyed at farm in Kent, Delaware
3/18/22 315,400 chickens destroyed at egg farm in Cecil, Maryland
3/22/22 172,000 Turkeys destroyed on farms in South Dakota
3/22/22 570,000 chickens destroyed at farm in Butler, Nebraska
3/24/22 Fire fighters from numerous towns are battling a major fire at the McCrum potato processing facility in Belfast, Maine.
3/24/22 418,500 chickens destroyed at farm in Butler, Nebraska
3/25/22 250,300 chickens destroyed at egg farm in Franklin, Iowa
3/26/22 311,000 Turkeys destroyed in Minnesota
3/27/22 126,300 Turkeys destroyed in South Dakota
3/28/22 1,460,000 chickens destroyed at egg farm in Guthrie, Iowa
3/29/22 A massive fire burned 40,000 pounds of food meant to feed people in a food desert near Maricopa
3/31/22 A structure fire caused significant damage to a large portion of key fresh onion packing facilities in south Texas
3/31/22 76,400 Turkeys destroyed in Osceola, Iowa
3/31/22 5,011,700 chickens destroyed at egg farm in Osceola, Iowa
4/6/22 281,600 chickens destroyed at farm in Wayne, North Carolina
4/9/22 76,400 Turkeys destroyed in Minnesota
4/9/22 208,900 Turkeys destroyed in Minnesota
4/12/22 89,700 chickens destroyed at farm in Wayne, North Carolina
4/12/22 1,746,900 chickens destroyed at egg farm in Dixon, Nebraska
4/12/22 259,000 chickens destroyed at farm in Minnesota
4/13/22 Fire destroys East Conway Beef & Pork Meat Market in Conway, New Hampshire
4/13/22 Plane crashes into Gem State Processing, Idaho potato and food processing plant
4/13/22 77,000 Turkeys destroyed in Minnesota
4/14/22 Taylor Farms Food Processing plant burns down Salinas, California.
4/14/22 99,600 Turkeys destroyed in Minnesota
4/15/22 1,380,500 chickens destroyed at egg farm in Lancaster, Minnesota
4/19/22 Azure Standard nation's premier independent distributor of organic and healthy food, was destroyed by fire in Dufur, Oregon
4/19/22 339,000 Turkeys destroyed in Minnesota
4/19/22 58,000 chickens destroyed at farm in Montrose, Color
4/20/22 2,000,000 chickens destroyed at egg farm in Minnesota
4/21/22 A small plane crashed in the lot of a General Mills plant in Covington, Georgia
4/22/22 197,000 Turkeys destroyed in Minnesota
4/23/22 200,000 Turkeys destroyed in Minnesota
4/25/22 1,501,200 chickens destroyed at egg farm Cache, Utah
4/26/22 307,400 chickens destroyed at farm Lancaster Pennsylvania
4/27/22 2,118,000 chickens destroyed at farm Knox, Nebraska
4/28/22 Egg-laying facility in Iowa kills 5.3 million chickens, fires 200-plus workers
4/28/22 Allen Harim Foods processing plant killed nearly 2M chickens in Delaware
4/2822 110,700 Turkeys destroyed Barron Wisconsin
4/29/22 5 million honeybees are dead after a flight carrying the pollinator insects from California to Alaska got diverted to Georgia (New)
4/29/22 1,366,200 chickens destroyed at farm Weld Colorado
4/30/22 13,800 chickens destroyed at farm Sequoia Oklahoma
5/3/22 58,000 Turkeys destroyed Barron Wisconsin
5/3/22 118,900 Turkeys destroyed Beadle S Dakota
5/3/22 114,000 ducks destroyed at Duck farm Berks Pennsylvania
5/3/22 118,900 Turkeys destroyed Lyon Minnesota
5/7/22 20,100 Turkeys destroyed Barron Wisconsin
5/10/22 72,300 chickens destroyed at farm Lancaster Pennsylvania
5/10/22 61,000 ducks destroyed at Duck farm Berks Pennsylvania
5/10/22 35,100 Turkeys destroyed Muskegon, Michigan
5/13/22 10,500 Turkeys destroyed Barron Wisconsin
5/14/22 83,400 ducks destroyed at Duck farm Berks Pennsylvania
5/17/22 79,00 chickens destroyed at Duck farm Berks Pennsylvania
5/18/22 7,200 ducks destroyed at Duck farm Berks Pennsylvania
5/19/22 Train carrying limestone derailed Jensen Beach FL
5/21/22 57,000 Turkeys destroyed on farm in Dakota Minnesota
5/23/22 4,000 ducks destroyed at Duck farm Berks Pennsylvania
5/29/22 A Saturday night fire destroyed a poultry building at Forsman Farms in Howard Lake, Minnesota
5/31/22 3,000,000 chickens destroyed by fire at Forsman facility in Stockholm Township, Minnesota
6/2/22 30,000 ducks destroyed at Duck farm Berks Pennsylvania
6/7/22 A fire occurred Tuesday evening at the JBS meat packing plant in Green Bay, Wisconsin
6/8/22 Firefighters from Tangipahoa Fire District 1 respond to a fire at the Purina Feed Mill in Arcola, Louisiana
6/9/22 Irrigation water was canceled in California (the #1 producer of food in the US) and storage water flushed directly out to the delta.
6/12/22 Largest Pork Company in the US Shuts Down California Plant Due to High Costs
6/13/22 Fire Breaks Out at a Food Processing Plant West of Waupaca County in Wisconsin
6/14/22 Over 10,000 head of cattle have reportedly died in the recent Kansas heat wave
6/23/22 George's Inc.: Poultry and Prepared Foods announced it will close one of its food processing plants in Campbell County, Tennessee
Meanwhile, in London, Ontario, Aspire Food Group recently announced that its new insect production facility would produce 9,000 metric tons of crickets yearly for human and pet consumption across North America, according to Canadian Manufacturing.
As a reminder, the World Economic Forum (WEF) technocrats urged people weeks ago to ditch meat for "climate beneficial foods" such as seaweed, algae, and cacti.
Part of the new world order is to reset the global economy and reengineer what people eat. This is being accomplished by influential billionaires, politicians, celebrities, biased academics, wealthy philanthropists, and the bureaucrats of international organizations and institutions.
SRH: Surprisingly, the president of the United States appeared in front of the globe this week, anticipating "serious food shortages" while failing to present a strategy to keep us nourished.
"With respect to food shortages—yes, we did discuss food shortages, and, um, and it's going to be real," His Fraudulence Joe Biden remarked during a press conference on Thursday. "The price of these sanctions is placed not just on Russia, but on a slew of other nations as well." Including European nations as well as our own."
Naturally, Biden made this statement only a few days after Press Secretary Lyin' Ginger said that Americans are unlikely to experience food shortages.
Will Putin Fulfill Biblical Prophecy and Attack Israel?