Dominate the Headlines, a Surge in Violent Crime Across Major Us Metropolitan Areas Has Also Been Observed Since the Virus-Plandemic Began in March…
Chicago and New York City have seen its fair share of violence this summer, with a rash of shootings and murders. Now Baltimore is back in the news, with at least 46 people shot – 12 of them died last week, according to The Baltimore Sun, citing new Baltimore Police Department (BPD) data.
BPD data showed a surge in shootings between Sept. 6 and Sept. 13 came in the final stretch of late summer as fall is around the corner. A decline in temperatures has often been associated with lower foot traffic in some of Baltimore's roughest neighborhoods, resulting in a decline in shootings.
"Baltimore police confirmed on Sunday that from Sept. 6 to Sept. 13, 34 people were injured in shootings, and 12 others were killed. But the week had already started off rough, coming off a violent Labor Day weekend when 12 people had been shot, two others were killed, and one person was fatally stabbed. The latest shooting occurred around 6 p.m. Sunday in the 1300 block of N. Calhoun St., where a 47-year-old man was injured," The Sun said.
As of Sunday (Sept. 13), Baltimore has recorded 233 homicides, about nine less than 242 reported last year during the same period. Cumulative homicide trends show the city will likely register well over 300 by year-end, on pace for a record or near-record year in homicides. Since the Baltimore Riots in 2015, homicides in the city have totaled over 300 per year (data via The Baltimore Sun).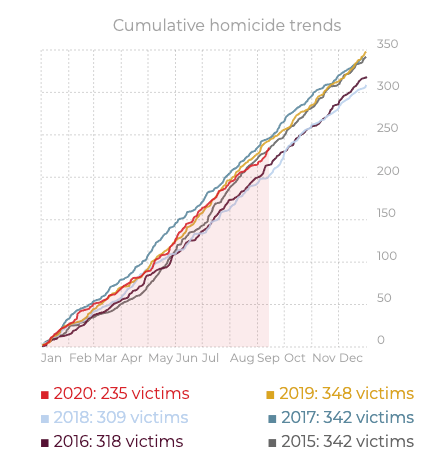 Murders tend to spike in the spring and decline in late summer. Gun violence is primarily the cause of death.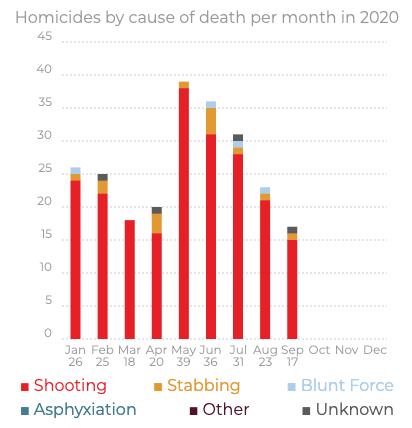 Geographically, murders are widespread across the city, with the most seen in northwestern and southwestern parts.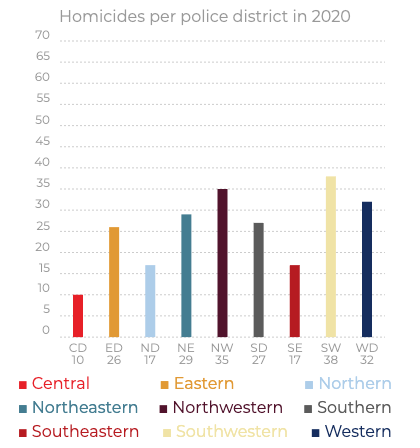 Here's a partial list of the homicides this month.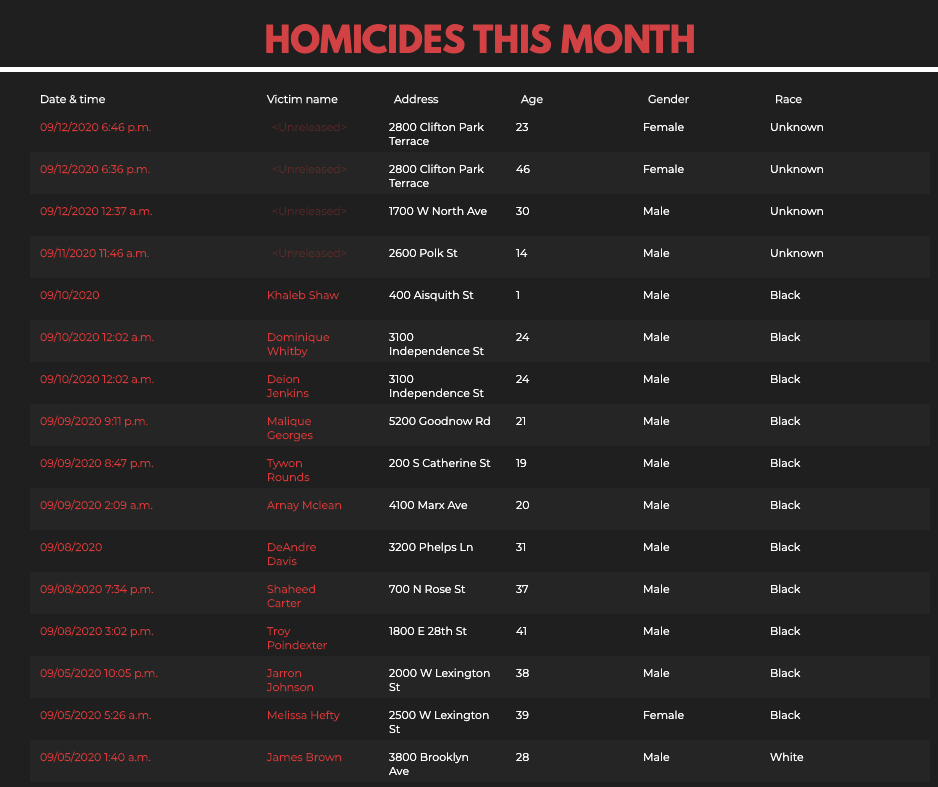 2020 Baltimore City Murder Map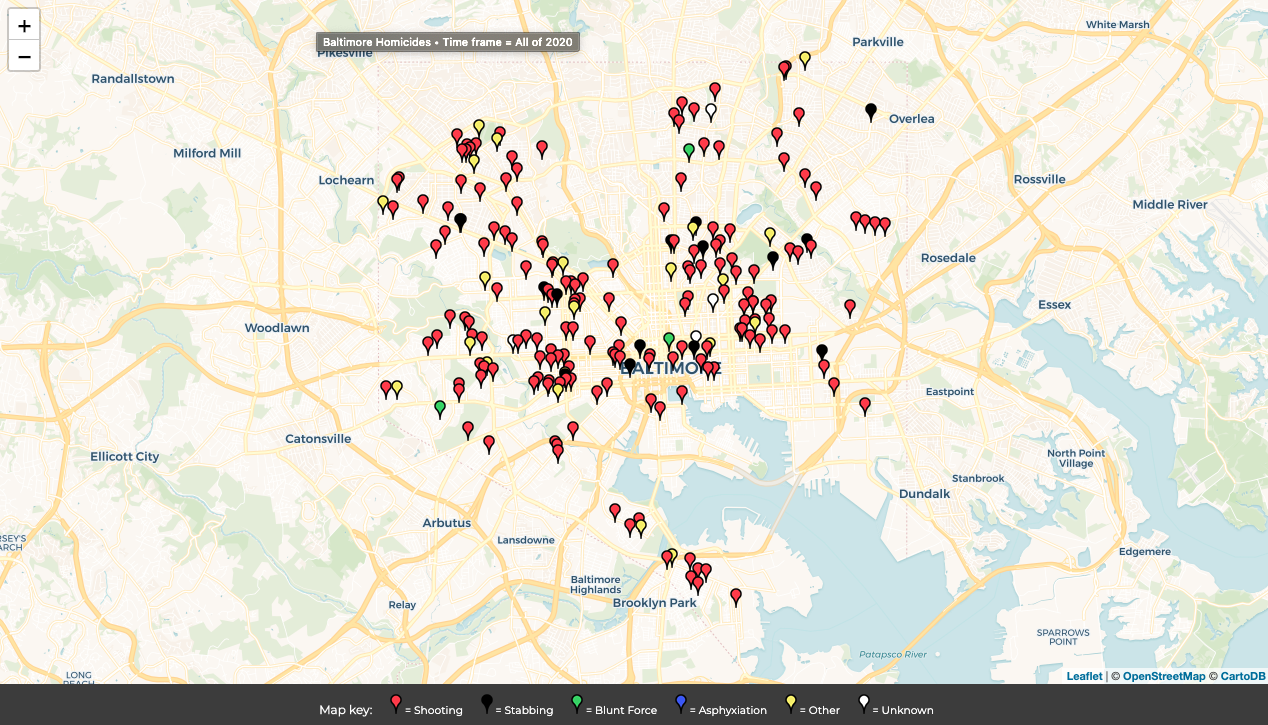 The murder and chaos in Baltimore City, a Democratically-controlled metro area for nearly half a century, was recently put into the spotlight when President Trump tweeted GOP Congressional candidate Kim Klasick's campaign video accusing Democrats of failing to revive the city, and encouraging blacks in the city and some surrounding suburbs to try voting Republican for a change.
Trump has also gone after Democratic presidential candidate Joe Biden for ignoring the socio-economic implosions across major US cities are resulting in a surge in violent crime.
As readers know, the pandemic, social unrest, and violent crime have resulted in a mass exodus of folks from cities who are moving to rural communities and suburbia.
It's only a matter of time before police organizations in Baltimore, Chicago, and New York City, buy billboard space warning motorists about the dangers of defunding police and surging violent crime.
The World Is In Big Trouble, for Those That Believe We Will Go Back to Some Sense of Normal Life Here on Earth, You Will Be Sadly Disappointed, Seven Years of Hell on Earth Which Began January 1, 2020
"Our courts oppose the righteous, and justice is nowhere to be found. Truth stumbles in the streets, and honesty has been outlawed" (Isa. 59:14, NLT)…We Turned Our Backs On GOD, Now We Have Been Left To Our Own Devices, Enjoy…
While Mainstream Media Continues to Push a False Narrative, Big Tech Has Keep the Truth From Coming out by Shadow Banning Conservatives, Christians, and Like-Minded People, Those Death Attributed to the Coronavirus Is a Result of Those Mentioned, They Truly Are Evil…
StevieRay Hansen
Editor, HNewsWire.com
Watchmen does not confuse truth with consensus The Watchmen does not confuse God's word with the word of those in power…
In police-state fashion, Big Tech took the list of accused (including this site), declared all those named guilty and promptly shadow-banned, de-platformed or de-monetized us all without coming clean about how they engineered the crushing of dissent, Now more than ever big Tech has exposed there hand engaging in devious underhanded tactics to make the sinister look saintly, one of Satan's greatest weapons happens to be deceit…
The accumulating death toll from Covid-19 can be seen minute-by-minute on cable news channels. But there's another death toll few seem to care much about: the number of poverty-related deaths being set in motion by deliberately plunging millions of Americans into poverty and despair.
American health care, as we call it today, and for all its high-tech miracles, has evolved into one of the most atrocious rackets the world has ever seen. By racket, I mean an enterprise organized explicitly to make money dishonestly.
All the official reassurances won't be worth a bucket of warm spit. The Globals are behind the CoronaVirus, It Is a Man-Made Bioweapon.
For those of you who care, Google and your favorite social media platforms have misled you, and now we all pay a heavy price for trusting the ungodly, Google and company knew exactly what they were doing, removing our history while preparing you to accept the New World Order playbook, Enjoy
Going through tribulation, even when it is appointed by God, is not contrary to Biblical teaching. See especially 1 Peter 4:17; 2 Thessalonians 1:3-10; Hebrews 12:3-11. But even so, Revelation 9:4 suggests that the saints will be in some measure protected in the time of distress by the seal of God.
As Time Goes on There Will Be a Lot of Politicians, Police Officers, Judges That Will Take Cover in Other Words They Are Going to Remain Neutral Out for Fear for Their Lives. You Are On Your Own, Prepare For The Worst, Pray for the Best –Tribulations Will Be Very Ugly
I Want Everyone to Know, Never Take Anyone's Word for the Gospel, Especially Revelations, Here's How It Works. When You're in the Word God Will Speak to You Through His Holy Spirit He Will Move You in the Direction He Wants You to Go. Please Stop Looking for That Individual Here on Earth That Has All the Answers, They're Not Here and That Confuse You.. That Includes Anything I Say Always Test Every Spirit. Every Word That Is Uttered Out of Any Man's Mouth Must Be Verified Through the Holy Spirit… Stevieray Hansen
The number of Orphans aging out of Child Protective Custody has grown at an alarming rate. The 127 Faith Foundation receives many requests each week to house them at our ranch. Our prayer is that the good people of our country will step up to the challenge and offer financial support for "the least among us." We need your help! StevieRay Hansen, Founder, The 127 Faith Foundation