Advisory: Be careful of what you read on social media. The algorithms used by these platforms have no regard for Biblical truth. They target your emotions to keep you engaged on their site so their advertisers can drop more ads. These platforms exist to enrich their stockholders. Consider God's promise to Believers in James 1:5, "If any of you lacks wisdom, you should ask God, who gives generously to all without finding fault, and it will be given to you."
Every US City; Will Separate Families By Force, Claims To Meet MINIMUM "Humanitarian" Standards…
As Time Goes on There Will Be a Lot of Politicians, Police Officers, Judges That Will Take Cover in Other Words They Are Going to Remain Neutral Out for Fear for Their Lives. You Are On Your Own, Prepare For The Worst, Pray for the Best –Tribulations Will Be Very Ugly
Last Friday, the Governor of Tennessee signed an executive orderauthorizing the National Guard to medically kidnap unvaccinated people at gunpoint and forcibly take them to covid "involuntary internment" camps across the state.
Now, new details have emerged about a similar plan initially launched by the CDC in 2020, which calls for nationwide covid concentration camps to be operated at the "camp / sector level" which will be populated by individuals designated "high-risk" who are forcibly ripped from their families and homes to be imprisoned by the CDC.
This document, entitled, "Interim Operational Considerations for Implementing the Shielding Approach to Prevent COVID-19 Infections in Humanitarian Settings," explains that the CDC will meet "minimum humanitarian standards" by providing, for example, soap and basic cleaning supplies so that covid camp prisoners can clean their own prison cells.
Among other horrors, this CDC document openly calls for separating couples and families, then admits this action will cause extreme psychological trauma among Americans who are targeted and ripped from their homes to be placed in covid concentration camps:
[I]n addition to the risk of stigmatization and feeling of isolation, this shielding approach may have an important psychological impact and may lead to significant emotional distress, exacerbate existing mental illness or contribute to anxiety, depression, helplessness, grief, substance abuse, or thoughts of suicide among those who are separated or have been left behind.
These CDC covid camps, the document explains, will be strictly-enforced prison camps called "green zones," and the CDC explains that, "No movement into or outside the green zone" will be tolerated. It's not clear how the CDC plans to enforce this [actually, they want to employ an army of civilians akin to the Nazi Brown Shirts, which means they will be separate from the US Military], but it seems rather obvious that this will involve armed guards and physical security measures such as chain-link fences or razor wire.
The CDC considers unvaccinated people to be "high-risk," which means Americans may be targeted for medical kidnapping and covid camp imprisonment merely for refusing to take deadly, experimental vaccines.
FEMA Camps No Longer A Conspiracy Theory
New York Bill SB416: Quarantine Camps & Forced Vaccinations…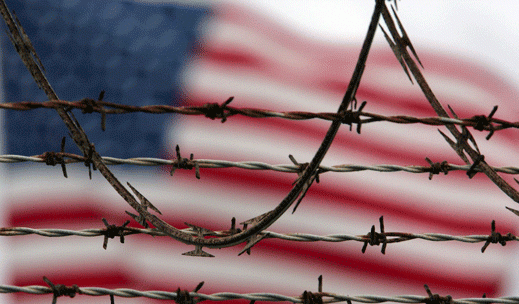 shtfplan.com is reporting quarantine camps, forced vaccinationsIt's no longer a conspiracy theory. A bill in New York, SB416, will utilize FEMA camps and forced vaccines to deal with people who "MAY" by contagious or a public health threat. Who gets to determine who is interned in these camps? The ruling class, of course.
The FEMA camps those "crazy conspiracy theorists" have warned about could very soon be a reality for those living in New York state.
New York Senate Bill 416 authorizes the quarantine (jailing in internment camps) of individuals or groups who "potentially pose a threat to public health," including forced testing and vaccinations. As the Ice Age Farmer said: This must stop now! There is no more gray area. You either support freedom, or some version of slavery. Wake up.
This Ice Age Farmer broadcast is NOT available on YouTube due to the subject matter, however, this video breaking down this bill can be found on Ice Age Farmer's website.
https://www.bitchute.com/embed/uUH7PfMM8bcp/
Here's the bill: https://www.nysenate.gov/legislation/bills/2021/a416
It was A99 last year, but suffice to say, sentiment has changed radically, and with immunization passports in the news, this merits our attention. What exactly gives any human the right to detain someone who hasn't done anything wrong? Oh yeah, nothing. Lines have been drawn. We will stand together as free people or we will go along as slaves to the ruling class, whose tyranny has not slowed down but been ramped up in a major way over the past year.
Fusion Centers, FEMA Camps, and Martial Law: Conspiracy Fact or Theory?
If you haven't figured out that this isn't about your health and keeping you safe, but keeping you controlled and under the thumb of the elitists and ruling class, I'm not sure what it's going to take to get you to open your eyes. We have a bright future if we can wake up, work together, and stop allowing others to rule us.
As Time Goes on There Will Be a Lot of Politicians, Police Officers, Judges That Will Take Cover in Other Words They Are Going to Remain Neutral Out for Fear for Their Lives. You Are On Your Own, Prepare For The Worst, Pray for the Best –Tribulations Will Be Very Ugly
I Want Everyone to Know, Never Take Anyone's Word for the Gospel, Especially Revelations, Here's How It Works. When You're in the Word God Will Speak to You Through His Holy Spirit He Will Move You in the Direction He Wants You to Go. Please Stop Looking For That Individual Here on Earth That Has All the Answers, They're Not Here and That Confuse You.. That Includes Anything I Say, Always Test Every Spirit. Every Word That Is Uttered Out of Any Man's Mouth Must Be Verified Through the Holy Spirit… Stevieray Hansen
The World Entered Tribulations January 1, 2020, The Worst Is Yet to Come, Anarchy in Every Direction… Hell on Earth, It's Going to Get Real and Nowhere to Hide… The same governments that barred you from your sister's funeral, locked you out of Sunday service will lock you in FEMA Camps
Please Do Not Post Hnewswire Articles on Brighteon, Gab, Parler, FaceBook, Reddit or Twatter Social Media Platform, We Are Not Comfortable With Their Anti-Christian — Anti-American Nazi Philosophy. StevieRay Hansen
I Have Never Seen The Righteous Forsaken or Begging For Rain
Luciferian Death Cult
Mr.Evil, a.k.a Dr.Death ( Dr.Fauci ) agrees with the White House and Biden himself,saying vaccination mandates should be the next step.
Who is to blame? Corrupt politicians or the stupid people who vote for them
FakeBook, Parler Tweeter Gab, and YouTube Are Un-Reliable News Sources
Ask The Blind Man ,He Saw it All
Source: HNewsWire freeworldnews.tv HNewsWire
StevieRay Hansen
Editor, HNewsWire.com
We make every effort to acknowledge sources used in our news articles. In a few cases, the sources were lost due to a technological glitch. If you believe we have not given sufficient credit for your source material, please contact us, and we will be more than happy to link to your article.