It's Only Just Begun — Austrian Parliament Approves Vaccine Mandate for Adults — Don't Buy Into UK or Ireland No More Mandate Spin
                                                     Satan Soldier
The entire status quo of the American Empire is built on lies. Now the dependence on lies, fraud and misrepresentation is complete; Wall Street and the Empire itself would fall if the truth were finally revealed and properly identified as evil.
A Thrilling Ride!
Every once in awhile, a book comes across your path that is impossible to put down. A Long Journey Home is not a casual book that you read in a week or earmark to complete at a later date. Once you begin, cancel your schedule, put your phone on silent, find a quiet place where you cannot be disturbed, and complete the journey. Click Here to Purchase on Amazon.com!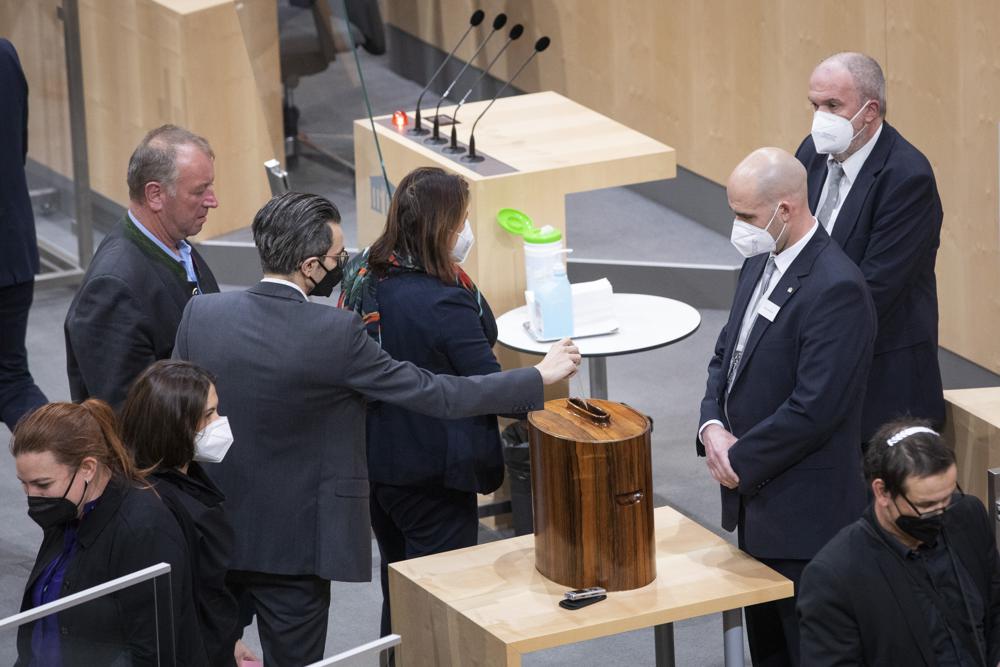 VIENNA (AP) — Austria's parliament voted Thursday to introduce a COVID-19 vaccine mandate for adults from Feb. 1, the first of its kind in Europe, with maximum potential fines of up to 3,600 euros ($4,000) for people who don't comply after a series of reminders.
Lawmakers voted 137 to 33 in favor of the measure, which will apply to all residents of Austria aged 18 and over. Exemptions are made for pregnant women, people who for medical reasons can't be vaccinated, or who have recovered from the coronavirus in the previous six months.
During the future tribulation period, the world will be ruled by a godless man presiding over an evil governmental system. The Bible associates this end-times ruler with a terrible beast in Revelation and in Daniel…
In Revelation 13 John sees a nightmarish vision of a dragon and two beasts. The first beast comes out of the sea and receives power from the dragon, or Satan. This beast is a true monstrosity: "It had ten horns and seven heads, with ten crowns on its horns, and on each head a blasphemous name. The beast I saw resembled a leopard but had feet like those of a bear and a mouth like that of a lion" (Revelation 13:1–2). Daniel's vision of the beast is similar in many ways to John's (Daniel 7:7–8, 19–27). Studying both Daniel and Revelation in tandem is profitable.
"Unless God has raised you up for this very thing, you will be worn out by the opposition of man and devils"
As Time Goes on There Will Be a Lot of Politicians, Police Officers, Judges That Will Take Cover in Other Words They Are Going to Remain Neutral Out for Fear for Their Lives. You Are On Your Own, Prepare For The Worst, Pray for the Best –Tribulations Will Be Very Ugly
I Want Everyone to Know, Never Take Anyone's Word for the Gospel, Especially Revelations, Here's How It Works. When You're in the Word God Will Speak to You Through His Holy Spirit He Will Move You in the Direction He Wants You to Go. Please Stop Looking For That Individual Here on Earth That Has All the Answers, They're Not Here and That Confuse You.. That Includes Anything I Say, Always Test Every Spirit. Every Word That Is Uttered Out of Any Man's Mouth Must Be Verified Through the Holy Spirit… Stevieray Hansen
Means Your Personal Freedoms No Longer Exist, You Can Thank the Ungodly Progressives, Big Tech, Social Media and the Biggest Culprit of All, Our Elected Officials… A video posted to Twitter shows a woman attempting to send a URL about alleged vote fraud to an iPhone but the message going undelivered, prompting claims that phone…
Almost all CCP (Chinese Communist Party) virus restrictions in Ireland will end on Saturday, including domestic COVID-19 Certificates, curfews, social distancing, and capacity limits.
Addressing the nation following the recommendation to lift the restrictions from the National Public Health Emergency Team, Taoiseach (Irish Prime Minister) Micheál Martin declared it's time for the Irish to "be ourselves again."
Death Angel, It Will Reverse Course and Wreak Havoc Upon the Perpetrators, You Know Who You Are China, Fauci, Gates Take Cover… CCP Virus Outbreaks in Northern China Continue to…
Read More