One way to interpret the question "Is the United States a Christian nation?" is to ask if the U.S. has a Christian heritage. In other words, do the history, culture, language, and lifestyle of the nation reflect Christianity, and to what extent? This is, by far, the least controversial aspect of this issue, since the answer is so obviously and clearly "yes."
The ACLU Can Go To Hell, But They Won't Take US With Them! SRH…
History is unambiguous in showing that the U.S. has been predominantly Christian, in a general sense, for its entire existence. The vast majority of religious expression, terminology, and practice in the U.S. has been Christian or heavily influenced by the Christian worldview. Of course, as a secular nation, the USA has allowed free expression of other faiths, to varying degrees. Yet the primary religious outlook of the American people has long been that of Judeo-Christianity. Historically, the U.S. has been deeply involved in Christian evangelism and charity around the world.
"In God, We Trust" will be displayed at all Louisiana public schools this school year after a bill was signed into law last year requiring the schools to display the national motto.
Gov. John Bel Edwards, a Democrat, signed the bill into law on May 29, 2018. Schools were given a phase-in period but required to display the motto no later than the 2019-2020 school year.
"The nature of the display shall be determined by each governing 21 authority with a minimum requirement of a paper sign," the bill (pdf) states.
It also requires schools to provide instruction on the U.S. flag to fifth-graders as part of the social studies curriculum.
"Such instruction, at a minimum, shall include the history of the American flag, etiquette, customs pertaining to the display and use of the flag, and such other patriotic exercises customs as provided by and in accordance with the provisions of 15 36 U.S.C. 170 et seq. on patriotic customs," it stated.
At least one principal supports the move.
"I still feel strongly that America is a Christian nation," Shelby Ainsworth, principal of West Monroe High School, told KNOE recently. "I want our high school youngsters exposed to as much as that as possible."
He said that some students or parents might not agree, and that's fine.
"There are varied opinions even amongst high school students, their parents, the communities, the different churches that are represented, different faiths that we have," said Ainsworth. "It's nothing hidden, it's nothing swept under the rug, but it's nothing forced upon anyone."
State Sen. Regina Barrow, a Democrat, introduced the bill. During a legislative hearing on the measure, Barrow said she thinks "it's really important that young people understand the patriotic history" of the country," reported WDSU.
At least two other states have similar laws.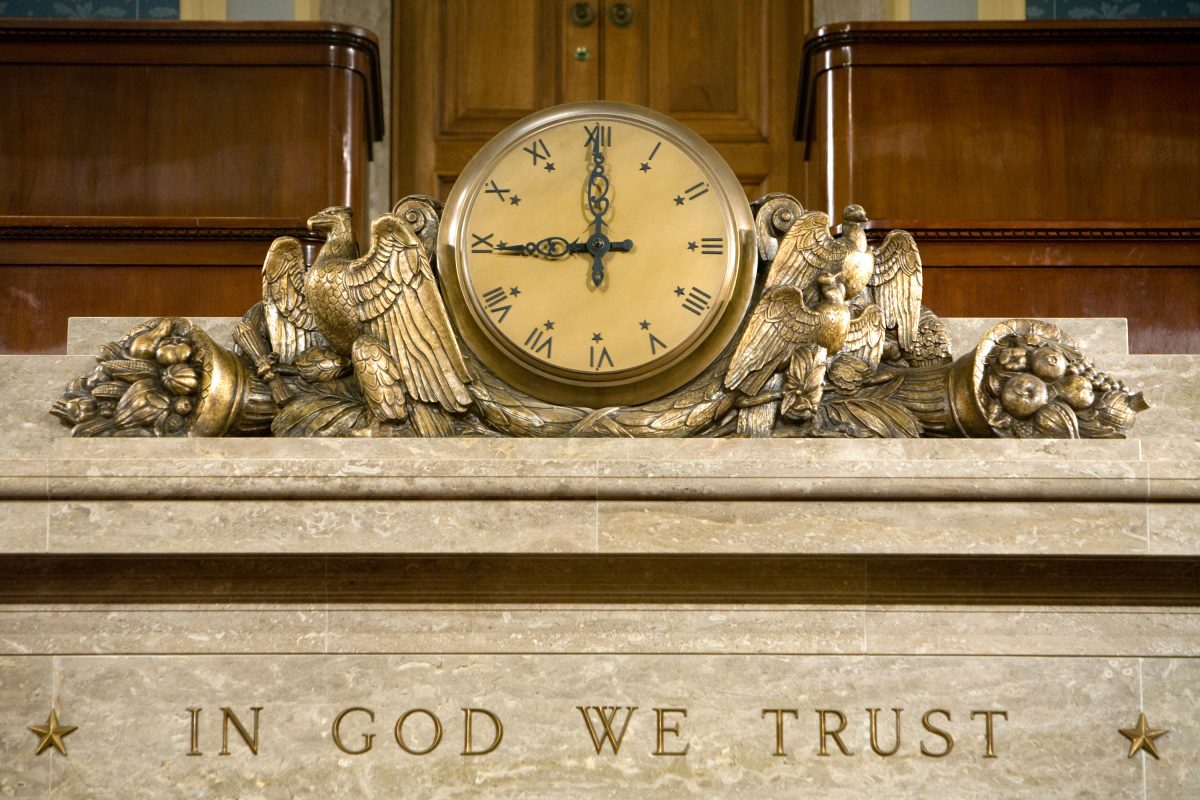 Florida Gov. Rick Scott signed a bill in March 2018 requiring schools to display the phrase.
And South Dakota passed a law in March requiring public schools to display "In God We Trust" in a prominent position in the school, in lettering at least 12 inches high.
Officials said some schools had plaques while others painted it on walls.
According to the Department of Treasury, the motto "was placed on United States coins largely because of the increased religious sentiment existing during the Civil War."
Congress later passed an act in April 1864 allowing "In God, We Trust" to be placed on coins, after a push from Treasury Secretary Salmon Chase. He had asked James Pollack, director of the Mint, to come up with a motto.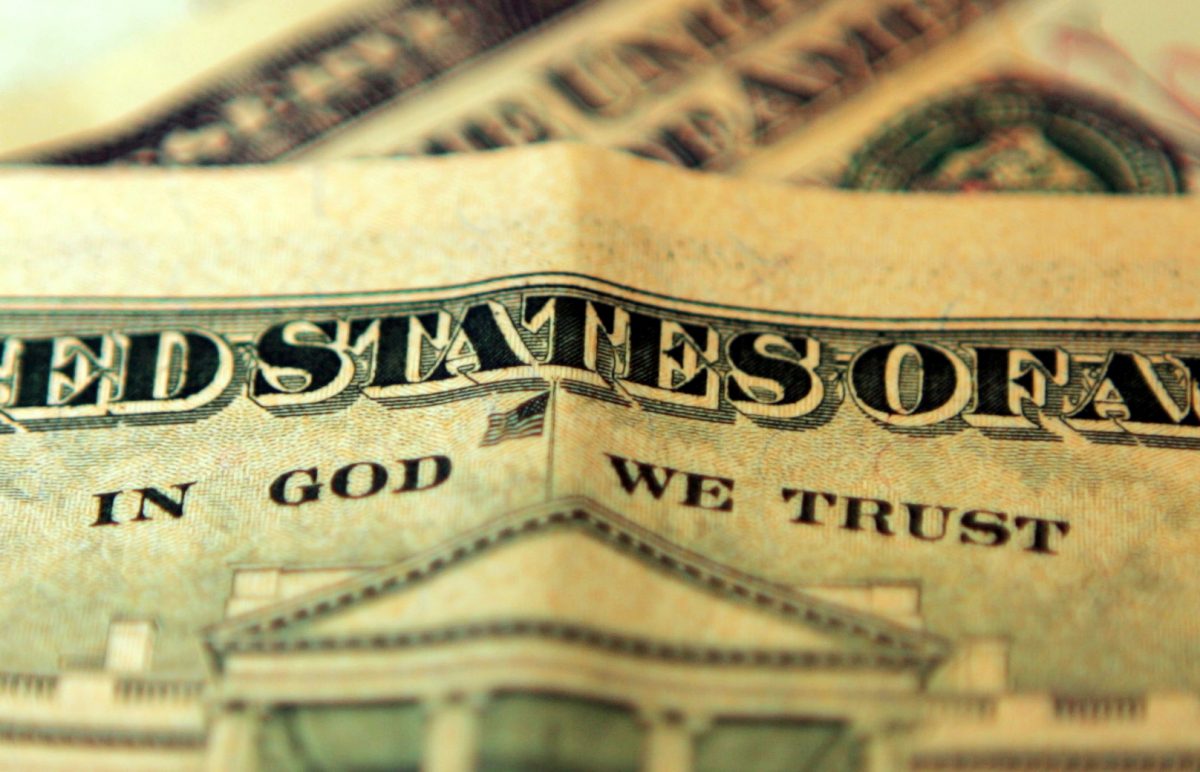 "No nation can be strong except in the strength of God, or safe except in His defense. The trust of our people in God should be declared on our national coins. You will cause a device to be prepared without unnecessary delay with a motto expressing in the fewest and tersest words possible this national recognition," he wrote.
The motto hasn't appeared on all coins, disappearing on the five-cent coin in 1883 and not reappearing until 1938. Since then, though, all coins have borne the motto. It was first used on paper money in 1957 after President Dwight D. Eisenhower signed a law officially declaring "In God, We Trust" to be the nation's motto and mandating that the motto be printed on all paper currency.
He also moved to include "under God" in the pledge of allegiance.
"In this way, we are reaffirming the transcendence of religious faith in America's heritage and future; in this way, we shall constantly strengthen those spiritual weapons which forever will be our country's most powerful resource in peace and war," he said. Source
MISSOURI HOUSE PASSES BILL ALLOWING PUBLIC SCHOOLS TO TEACH BIBLE COURSES
he Missouri House this week passed a bill that would allow public schools in the state to teach elective social studies courses on the Bible.
The bill, sponsored by state Representative Ben Baker was passed by the Republican-led House with a 95-52 vote on Monday, according to The Associated Press, and awaits passage by the Senate.
The bill would allow Missouri public schools to offer Bible classes to their students as an elective, although institutions cannot make the courses mandatory. It also requires state education officials to set clear guidelines and standards if they chose to offer classes on the Old and New Testament.
Baker, a minister and dean of students at Ozark Bible College, said the proposal was intended to clarify existing law, which had been inconsistently interpreted across the state to signal that Bible classes were prohibited.
"The Bible is simply a part of the fabric of life," Baker told the Missouri House Special Committee on Student Accountability last month before they voted to advance the bill. Baker did not immediately respond to Newsweek's request for comment.
Christian activists and other supporters of the bill pointed to the Bible's significance in global history and Western values to justify teaching it in public schools. "The Koran doesn't come up in the plays of Shakespeare," Chuck Stetson, founder of the Bible Literacy Project, told the St. Louis Post-Dispatch.
Missouri Representative Vic Allred added: "I think any Bible study at the high school level is a great idea."
Opponents of the proposal argued that the measure appeared to prioritize Christianity above all other religions.
During the committee meeting in February, Brian Kaylor, a Missouri Baptist Church pastor who strongly opposes the bill, said that the Bible "cannot be reduced" to a school elective course. "I oppose this legislation, not because I oppose the Bible," Kaylor said, according to the Post-Dispatch. "The Bible cannot be reduced to merely an elective high school class. The Bible is inherently religious, and we cannot pretend otherwise."
Missouri is just one of several U.S. states where lawmakers have proposed to allow Bible courses in public schools. President Donald Trump tweeted his support of the bills in January, writing: "Numerous states introducing Bible Literacy classes, giving students the option of studying the Bible. Starting to make a turn back? Great!" Source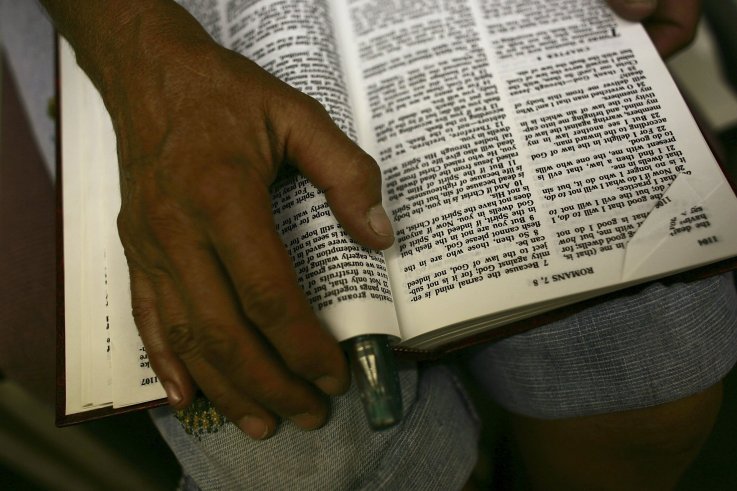 StevieRay Hansen
Editor, HNewsWire.com
Jesus chastised religious leaders in the first century for not knowing the time of His arrival. Will we make the same mistake today? Christ stated how His second coming would be preceded by global events signifying the end of our age. We may not know the day or the hour, but we can know the season!
"And it shall come to pass afterward, that I will pour out my spirit upon all flesh; and your sons and your daughters shall prophesy, your old men shall dream dreams, your young men shall see visions." (Joel 2:28.)
Education is useless without the bible (Daniel Webster)
"Courage is as "fear that has said its prayers."
John Wesley who said that what we tolerate in our generation, will be embraced by the next. Wesley is 100% correct! We are living in sick times.
Usually, the Lord doth no great thing for or against his people, without giving warning of it before it comes.
They perverted justice among themselves (v. 7): "You turn judgment to wormwood, that is, you make your administrations of justice bitter and nauseous, and highly displeasing both to God and man.'' That fruit has become a weed, a weed in the garden; as nothing is more venerable, nothing more valuable, than justice duly administered, so nothing is more hurtful, nothing more abominable, than designedly doing wrong under color and pretense of doing right. Corruptio optimi est pessima —The best, when corrupted, becomes the worst.
It is impossible to find anyone in the Bible who was a power for God who did not have enemies and was not hated.
2 Corinthians 4:8-11 New King James Version (NKJV)
8 We are hard-pressed on every side, yet not crushed; we are perplexed, but not in despair; 9 persecuted, but not forsaken; struck down, but not destroyed— 10 always carrying about in the body the dying of the Lord Jesus, that the life of Jesus also may be manifested in our body. 11 For we who live are always delivered to death for Jesus' sake, that the life of Jesus also may be manifested in our mortal flesh.