Advisory: Be careful of what you read on social media. The algorithms used by these platforms have no regard for Biblical truth. They target your emotions to keep you engaged on their site so their advertisers can drop more ads. These platforms exist to enrich their stockholders. Consider God's promise to Believers in James 1:5, "If any of you lacks wisdom, you should ask God, who gives generously to all without finding fault, and it will be given to you."
Rules Seek to Erase Gendered Terms Such as 'Father, Mother, Son, Daughter' …
Leaders in the House of Representatives announced on Friday a rules package for the 117th Congress that includes a proposal to use "gender-inclusive language" and eliminate gendered terms such as "'father, mother, son, daughter," and more.
Speaker Nancy Pelosi (D-Calif.) and Rules Committee Chairman James McGovern (D-Mass.) announced on Friday that the rules package includes changes that would "honor all gender identities by changing pronouns and familial relationships in the House rules to be gender neutral."
A separate announcement from McGovern (pdf) said that the Democratic rules package will make "Changes [to] pronouns and familial relationships in the House rules to be gender neutral or removes references to gender, as appropriate, to ensure we are inclusive of all Members, Delegates, Resident Commissioners and their families—including those who are nonbinary."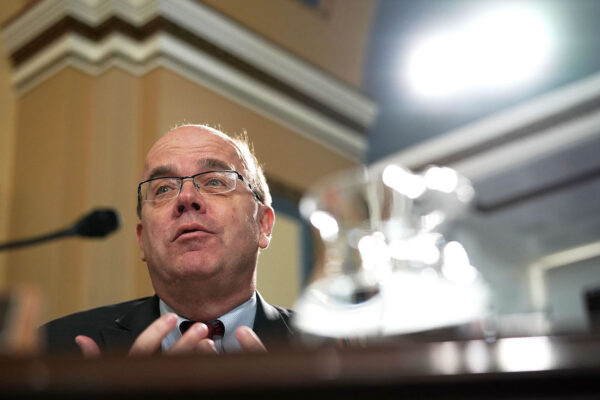 Terms to be striked from clause 8(c)(3) of rule XXIII, the House's Code of Official Conduct, as outlined in the proposed rules (pdf), include "father, mother, son, daughter, brother, sister, uncle, aunt, first cousin, nephew, niece, husband, wife, father-in-law, mother-in-law, son-in-law, daughter-in-law, brother-in-law, sister-in-law, stepfather, stepmother, stepson, stepdaughter, stepbrother, stepsister, half brother, half sister, grandson, [and] granddaughter."
Such terms would be replaced with "parent, child, sibling, parent's sibling, first cousin, sibling's child, spouse, parent-in-law, child-in-law, sibling-in-law, stepparent, stepchild, stepsibling, half-sibling, [and] grandchild."
According to the proposed rules, "seamen" would be replaced with "seafarers," and "Chairman" would be replaced with "Chair" in Rule X of the House.
Pelosi and McGovern said that the overall package "includes sweeping ethics reforms, increases accountability for the American people, and makes this House of Representatives the most inclusive in history."
The rules package includes removing floor privileges from former congress members who have been convicted of crimes related to their House service or election.
It would also make it "a violation of the Code of Official Conduct for a Member, officer, or employee of the House to disclose the identity of a whistleblower."
It also establishes a new Select Committee on Economic Disparity and Fairness in Growth, to "investigate, study, make findings, and develop recommendations on policies, strategies, and innovations" to "[empower] American economic growth while ensuring that no one is left out or behind in the 21st Century Economy."
The rules package will be introduced and voted on once the new Congress convenes.
HNewsWire-Have we come to the point in society that we will allow sick sinister individuals (elected officials) misleading our children ….GOD makes no mistakes, the problem, men without a heart for God ….
Transgender: Evil Spirit Destroying Lives. Parents we live in evil times, dress appropriately so that your children will be raised in a godly manner have nothing to do with this world.
A Clark County School District principal wants kindergartners to consider whether they're transgender.
Lawmakers introduced a bill that would make animal cruelty a federal crime, previous laws don't go far enough lawmakers say, our elected officials will protect animals but when it comes to children experimenting with their lives through transgender ideology is perfectly acceptable. I would call this an abomination to humanity, we now live in an error where good is bad, bad is good just like the predicted…
Jacqueline Brown is the principal of Schorr Elementary School. Earlier this month she sent teachers a tip sheet on how to create "a more gender-inclusive classroom." The school district — unusually and to its credit — promptly provided this document in response to a public records request.
"We need to give students the chance to think through why they hold certain beliefs and encourage them to question their thinking," the first tip reads.
Forget the ABCs. Instead, little Johnnie needs to ponder whether his parents have been lying to him about if he's a boy.
This is insane.
Elementary school students aren't prepared to engage in philosophical discussions on topics they know nothing about. Some kindergartners still struggle to make it to the toilet without having an accident, but this principal thinks they should be choosing their gender.
If elementary school students were allowed to make life-altering
decisions, they would decide en masse not to attend school. That's why parents make or direct most of their young children's decisions. Children are ignorant.
As the tip sheet makes clear, that's the point. It's much simpler to brainwash the young.
Gender-inclusive tips from …  on Scribd
"The earlier we expose kids to these issues, the easier it is to address prejudice before it become entrenched," the sheet reads.
Gender isn't a prejudice that becomes entrenched. It's a biological GOD given fact that's encoded on every cell in one's body. But this tip sheet recommends teachers ignore biology and "avoid gender-specific language when speaking to your class." It also suggests eliminating anything labeled boy or girl, including bathroom passes. A district spokeswoman refused to say if the school's bathrooms were labeled for boys and girls.
There it is in black and white, ladies and gentlemen. When Cossman says that "we" need to fundamentally re-imagine the relationship between sex and gender, she means you, too. You are required to believe that men can breastfeed. You are required to grit your teeth and smile when you are told that a person with a penis can change in the same bathroom as your young daughter. You must shake your head sorrowfully when you are informed that "transphobia" is running rampant because so many guys don't want to date "girls" with male genitalia. You must be fervently in favor of giving hormone blockers and perhaps even genital mutilation to children, who in the world of trans activists are not old enough to vote or buy beer but are old enough to make a decision that will irreversibly transform their identity. Read More
As Time Goes on There Will Be a Lot of Politicians, Police Officers, Judges That Will Take Cover in Other Words They Are Going to Remain Neutral Out for Fear for Their Lives. You Are On Your Own, Prepare For The Worst, Pray for the Best –Tribulations Will Be Very Ugly
I Want Everyone to Know, Never Take Anyone's Word for the Gospel, Especially Revelations, Here's How It Works. When You're in the Word God Will Speak to You Through His Holy Spirit He Will Move You in the Direction He Wants You to Go. Please Stop Looking For That Individual Here on Earth That Has All the Answers, They're Not Here and That Confuse You.. That Includes Anything I Say, Always Test Every Spirit. Every Word That Is Uttered Out of Any Man's Mouth Must Be Verified Through the Holy Spirit… Stevieray Hansen
I Have Never Seen The Righteous Forsaken or Begging For Rain…
Source: HNewsWire theepochtimes HNewsWire HNewsWire HNewsWire HNewsWire HNewsWire
StevieRay Hansen
Editor, HNewsWire.com
Watchmen does not confuse truth with consensus The Watchmen does not confuse God's word with the word of those in power…
Upon Aging-Out of Foster Care, 55% Of Males Imprisoned after 5 years
This is what their New World Order looks like, Democrats Lawmaker in California: 'legalize child prostitution' SACRAMENTO – Beginning on Jan. 1, police cannot arrest child prostitutes in the streets of California, except under limited circumstances. And dumb down people wonder why California is burning to the ground, poke God in the eyes enough times and his anger will start to show…
HNewsWire: Imagine a future when earth's inhabitants are not humans, but cyborgs-robot like beings with both biological and mechanical components. With exosuits for added strength,…
Read More
We make every effort to acknowledge sources used in our news articles. In a few cases, the sources were lost due to a technological glitch. If you believe we have not given sufficient credit for your source material, please contact us, and we will be more than happy to link to your article.