a "Smart Patch" That Would Administer the COVID-19 Vaccine While Also Monitoring Its Efficacy (and God Knows What Else).
Reddit Bans Trump Forum, Twitter Ban Trump Ads, and Facebook Go Nuclear on Truth. What Do You Expect When You Crawl in Bed With Demonic Force You're Going to Get Demonize, These People Hate Honesty, Christianity and Fair-Minded People, Stop Whining and Get off There Platforms Let Demonic Forces Eat Each Other.
World's first smart #vaccine patch being developed by Swansea researchers.
In a post published by Unilad, the research team said it plans to develop a prototype by the end of March in the hopes that it might pass clinical trials in time to be used before the global vaccination campaign finishes up.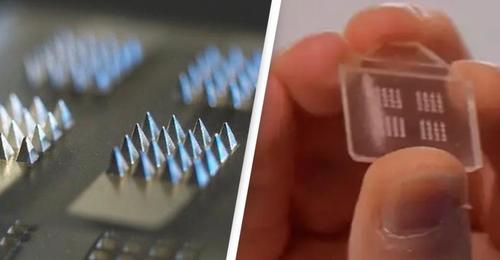 According to the research team, the patch will use microneedles to both administer the coronavirus vaccine and monitor its efficacy for the patient by tracking the body's immune response. Scientists at Swansea's IMPACT research center hope to carry out human clinical studies in partnership with Imperial College London with the aim of making the device commercially available within three years.
Here's how the "patch" (it looks more like a microchip) works:
Using polycarbonate or silicon millimetre-long microneedles, the smart patch can penetrate the skin to administer a vaccine. It can be held in place with a strap or tape for up to 24 hours, during which time it simultaneously measures a patient's inflammatory response to the vaccination by monitoring biomarkers in the skin.

Once the vaccine has been administered, the device is scanned to produce a data reading that can provide an understanding about the efficacy of the vaccine and the body's response to it.
The project received funding from the Welsh government. The research team hopes that even after COVID has passed, this microchipping technique could be used to treat other diseases – or maybe even one day it could help to program people to be immune.
This unique video platform brings the world's best viral videos to keep you entertained, while making real money, The Best Video Platform Rumble
Source: HNewsWire ZeroHedge HNewsWire HNewsWire HNewsWire HNewsWire
PLEASE DO NOT POST HNEWSWIRE ARTICLES ON PARLER, FACE BOOK, REDDIT OR TWATTER SOCIAL MEDIA PLATFORM, WE ARE NOT COMFORTABLE WITH THEIR ANTI-CHRISTIAN — ANTI-AMERICAN NAZI PHILOSOPHY…STEVIERAY HANSEN
StevieRay Hansen
Editor, HNewsWire.com
Watchmen does not confuse truth with consensus The Watchmen does not confuse God's word with the word of those in power…
The 127 Faith Foundation Thanks You
The 127 Faith Foundation: We do not want donations from "those on disability, on a fixed income, those that cannot afford to give" Please Pray!
My job is protecting children. It has taken me from big cities to rural outposts, from ghettos to penthouses, and from courtrooms, into demonic battlefields. But whatever the venue, the truth remains constant: Some humans intentionally hurt children. They commit unspeakable acts—for their pleasure, their profit, or both. StevieRay Hansen, CEO The 127 Faith Foundation
PayPal.Me/the127faithfoundatio
Amazon Wish List For The 127 Faith Foundation
The number of Orphans aging out of Child Protective Custody has grown at an alarming rate. The 127 Faith Foundation receives many requests each week to house them at our ranch. Our prayer is that the good people of our country will step up to the challenge and offer financial support for "the least among us." We need your help! StevieRay Hansen, Founder, The 127 Faith Foundation