Update: Scourge of Earth In Play: Texas Faces "Record High" Temps as Grid Operator Warns of Above-Average Power Usage, That's Code for Trouble Is on the Way for Texan
Heat Dome Roasts 40 Million People Across the Southwest Amid Power Outages
HNewsWire:
The National Weather Service (NWS) has issued a warning that "dangerous heat persists from California to the Southern Plains" over the weekend.
In the Southwest, at least 42 million people are under heat watches and warnings as a giant heat dome sends temperatures into the triple digits in some areas.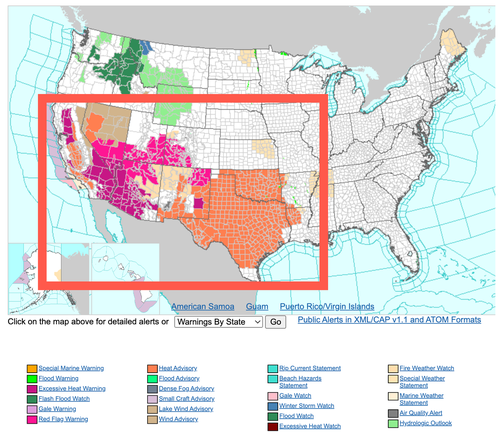 Today, temperatures in Texas and New Mexico, as well as sections of Arizona, Nevada, and California, might go far beyond 100 degrees Fahrenheit. Phoenix, Arizona, may be the warmest metro region, with highs of 115 degrees Fahrenheit anticipated.
Extreme heat will increase cooling demand in the Southwest, boosting electricity use and perhaps straining infrastructure. The North American Electric Reliability Corporation, a regulatory organization in charge of grid stability, warned last month that widespread rolling blackouts in the Southwest were probable owing to falling energy supply due to the decommissioning of fossil fuel power units.
Aside from the prospect of blackouts, limited supplies of natural gas, crude oil, and coal are driving up electricity bills for customers, who are also experiencing the highest inflation in four decades.
Some Americans may face excessive prices and power outages similar to those seen in Venezuela. Source: ZeroHedge
HNewsWire: Life as you have known it will never be the same after this experience.
The onset of an early-season heatwave is expected to bring temperatures over portions of Texas into the high 90s and maybe even the triple digits this weekend and into the beginning of next week. Texas's power-grid manager has issued a warning that electricity usage might be unusually high this year due to the state's drought.
On Saturday, temperatures will reach 95 degrees or higher throughout most of the state, with the exception of the northern Texas coast and sections of East Texas. Dallas is forecast to reach the high 90s by Saturday afternoon, while Austin, San Antonio, and Midland might see temperatures in the triple digits.
"Dallas doesn't usually experience its first 95-degree day until late May, according to weather records. If the temperatures in Austin and San Antonio reach 100 degrees, it would be very early, since the first 100-degree temperature in Austin and San Antonio is not expected until early July and late June, respectively.
"Several day record high temperatures are in danger of being matched or broken in the Lone Star State on Saturday, including 94 degrees in Houston, 97 degrees in Amarillo, 100 degrees in San Antonio, and 103 degrees in San Angelo, among other places.
According to authorities, a state of emergency has been declared in the Australian state of New South Wales due to raging wildfires that have claimed the lives of eight people in the area since Monday, including volunteer firefighters.
"The scorching temperatures will persist through Sunday in Texas. High temperatures near or over 95 degrees are expected to be seen throughout practically the entire state once again "announced Fox Weather in a statement.
The hot weather is anticipated to continue far into next week, forecasters predict. Commodity Wx Group has multiple weather models indicating that Houston might see temperatures in excess of 100 degrees for the whole of the weekend and into Monday.
The Electric Reliability Council of Texas, often known as ERCOT, is already worried about the possibility of exceptionally warm weather affecting the state's power system, as previously reported. They predicted that "higher-than-normal" electricity usage would be noted as a result of an increase in demand for cooling.
According to commodity research company Criterion Research, "ERCOT's power load is likely to soar much beyond typical for this time of year, with demand predicted to ramp up to roughly 55 GW on Monday as heat rolls into Texas."
According to Bloomberg statistics, the average day ahead on-peak power price in Texas for Friday has already reached $195.57 per megawatt-hour, the highest price for the state's day ahead electricity since June.
Natural gas prices have risen sharply in recent days as a result of rising cooling demand in Texas, which has raised worries about supply. June futures soared over $8/MMBtu on Wednesday and are now trading about $8.50/MMBtu as of Thursday morning, a level that has not been seen since late 2008.
There has only been one previous instance in which natural gas prices were this high for this time of year, and that was back in 2007. The weather forecasting company Bespoke Weather Services said that "if this sort of heat persists, which is a concern in the South, where we have been leaning hotter with our summer ideas... we will easily surpass $10 in prompt month over the following few weeks."
It is a devastating tragedy, and in the Bible, plague is frequently a symbol of God's wrath on a country or people group (Deuteronomy 32:24; 1 Chronicles 21:12; Ezekiel 7:14–15, to name a few examples). Isaiah 45:7, Ezekiel 5:16–17, and Amos 4:10 all state that the God who protects and blesses is also the God who brings calamity and disease when it is necessary to carry out His righteous plans on earth. Pestilence is foretold as part of God's ultimate punishment on the earth in Revelation 18:8, where it is described as a plague.
SRH: God often uses men who are not of the best moral character. Pharaoh, Nebuchadnezzar, Cyrus, Herod, and Trump (amongst others), to accomplish His will in events He orchestrates during human history. We either trust the sovereignty of God or we don't. Nothing happens apart from Him…
The best index to a person's character is how he treats people who can't do him any good, and how he treats people who can't fight back…
Will Putin Fulfill Biblical Prophecy and Attack Israel?