Advisory: Be careful of what you read on social media. The algorithms used by these platforms have no regard for Biblical truth. They target your emotions to keep you engaged on their site so their advertisers can drop more ads. These platforms exist to enrich their stockholders. Consider God's promise to Believers in James 1:5, "If any of you lacks wisdom, you should ask God, who gives generously to all without finding fault, and it will be given to you."
The light went out in the church, and that's the reason the world got dark. Dark times were perpetrated by the "last one out, turn out the lights" "The church lights have gone OUT". What's so Hard to Understand, We Have Taking God out of Society, the End Result "Mayhem"
7/23/21 "Alarming Forecasts" Show US Agricultural Belt In For 15-Day Dry Spell
Meteorologists at private weather forecaster BAMWX have sounded the alarm of troubling new forecasts for the US' agricultural belt for the next 15 days.
Kirk Hinz, the chief meteorologist at BAMWX, said rising temperatures and drier conditions would be present across the midwestern US, approximately covering western Indiana, Illinois, Iowa, Missouri, eastern Nebraska, and eastern Kansas, which corn and soybeans are dominating crops.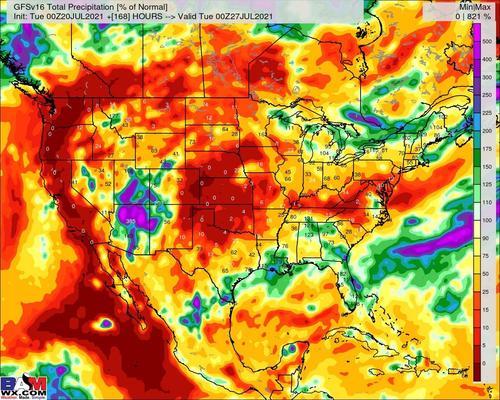 He said the forecasts for the next 15 days are "alarming:"
"Somewhat of an alarming forecast. Roughly 60% of the Ag belt is looking at only a 30-40% chance of seeing 1″+ of rain the next 15 days. Its not often you see the American ensemble out to 15 days this dry."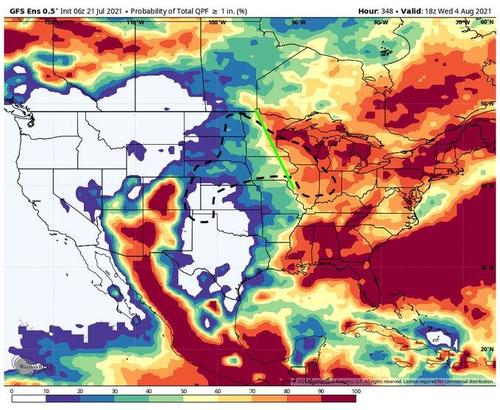 This is bad news for crops.
The GFS & CMC models at the same time have the same setup overall.

The GFS is the most aggressive solution which isn't typical.

Regardless all data honing in on hot and dry next week. #AGwx #oatt #corn #soybeans https://t.co/NbZ8MYaz00 https://t.co/fkPqGZNan5 pic.twitter.com/NxmfB5KX4r— BAMWX (@bamwxcom) July 20, 2021
We noted earlier this month that expanding drought conditions during a crucial time of the year ahead of corn pollination is a significant concern for yields. Here's what happens to corn if pollination is unsuccessful.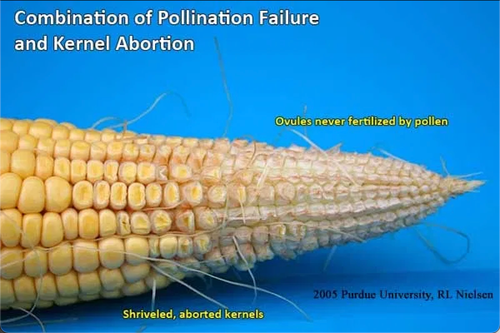 Here's the US Drought Monitor, which shows much of the Western US and parts of the ag belt are in some form of drought.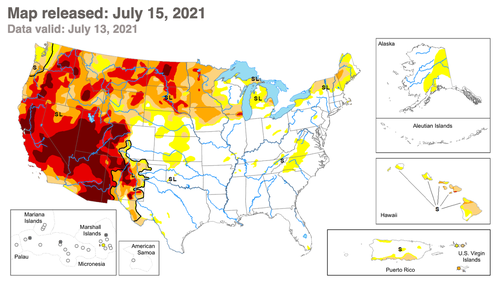 The Ag belt remains in a drought with no signs of relief in sight for the next 15 days as the most crucial time of the year for corn development is underway. 
Contribute you can, but most importantly, continue to share these discussions. We are planting seeds, it is up to the readers to nurture it.
Update: 7/21/21 Dam Near China's Flooded Zhenghou City Collapses, Third In Last 48 Hours
A dam near the city of Zhengzhou in central China's Henan province has been destroyed by heavy flooding, after being seriously damaged in heavy storms that killed several people and brought the region to a halt, local media reported.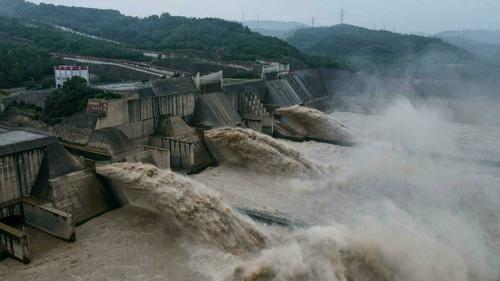 NEW – China floods: 10 videos show distressing scenes from Zhengzhou, Henan https://t.co/NB1ijVQROn

– Chinese army deployed to help
– At least 12 people dead
– More than 10,000 evacuated
– Yihetan dam in center of country "could collapse anytime"pic.twitter.com/leiLJEfU2r— Insider Paper (@TheInsiderPaper) July 20, 2021
The dam is the third to fail in recent days: over the weekend, due to severe rain, two dams in Hulun Buir City in North China's Inner Mongolia collapsed. Fortunately, however, no injuries have been reported.
Two dams in Hulun Buir City in North China's Inner Mongolia were reported to have collapsed on Sunday because of heavy rain since Saturday. No injuries have been reported.https://t.co/jI6pUO5k6F pic.twitter.com/CLEQ6fN0L5— Global Times (@globaltimesnews) July 19, 2021
Dramatic collapse of Xinfa embankment dam in northern #China due to overtopping that happened yesterday. Note how quickly dam is washed away! This is despite the dam has a large-capacity chute-type spillway and a bottom outlet which acts as an emergency spillway. See photo below. pic.twitter.com/sQLdfTvPAw— Dr Mohammad Heidarzadeh (@Mo_Heidarzadeh) July 19, 2021
According to Xinhua News Agency, the meteorological bureaus of Henan and Zhengzhou have raised the level of emergency response to meteorological disasters to the first level. The Chinese media report that the subway in Zhengzhou was flooded, and rescuers evacuated blocked passengers.
Subway passengers trapped in the water. pic.twitter.com/IyqmKN7WEr— Manya Koetse (@manyapan) July 20, 2021
The Chinese army warned that a stricken dam in the centre of the country "could collapse at any time" after being severely damaged in torrential storms that killed at least three people and brought the region to a standstill. Weather authorities also issued the highest warning level for central Henan province as downpours caused widespread disruption and the evacuation of residents of flooded streets.
On Tuesday evening the regional unit of the People's Liberation Army warned that the relentless downpour had caused a 20-meter breach in the Yihetan dam in Luoyang — a city of around seven million people — with the risk that it "may collapse at any time."This aerial photo taken on July 19, 2020 shows water released from the Xiaolangdi Reservoir Dam in Luoyang in central China's Henan Province.
The PLA's Central Theater Command said it had sent soldiers to carry out an emergency response including blasting and flood diversion.
"On July 20, a 20-meter breach occurred at the Yihetan dam ….the riverbank was severely damaged and the dam may collapse at any time," it said in the statement according France 24.
Earlier in the day, state media also reported that the army sent about 20,000 personnel to carry out emergency work to preserve the integrity of the dams.
More than 20,000 soldiers and armed policemen are working on the dams of the Yellow River and Changzhuang Reservoir to prevent river burst. Water level is decreasing now but dam pressure remains. #Zhengzhou #Henan #floods pic.twitter.com/fjfJhWrQsM— SHINE (@shanghaidaily) July 20, 2021
During China's rainy season, floods are a frequent occurrence, causing annual destruction and washing away highways, crops, and homes. However, the threat has grown over time, partially due to the extensive construction of dams and levees that have cut connections between rivers and lakes and altered floodplains that had helped absorb the surge.
Heavy flooding hit central China, with footage released by Chinese state TV showing the subway system in the city of Zhengzhou inundated with rushing water. https://t.co/7RsPyaWV5t pic.twitter.com/muF46shhhl— ABC News (@ABC) July 21, 2021
Local media also reported earlier in the day that at least 12 people died in the province due to floods caused by torrential rains. Around 100,000 residents have been evacuated in the province so far. More than 6,000 military and fire service personnel are involved in rescue operations.
In the nearby city of Zhengzhou, at least one person died and two more were missing since heavy rain began battering the city, according to the state-run People's Daily, which reported that houses have collapsed. Zhengzhou Airport also canceled flights until Wednesday.
Since July 16, more than 144,660 people have been affected by torrential rains in Henan Province, with 10,152 being moved to safer areas, according to the provincial flood control and drought relief headquarters cited by Xinhua.
"We have blindly trusted the authorities… When the press bows down to the authorities, the authorities will mistreat the citizens. This happens worldwide and it has happened to us."
Update: 7/21/21 Why West Coast Fires Are Producing Smoke & Bad Air On The East Coast
Fires over the western U.S. are producing a dense veil of smoke that moved across the continent and then descended over the East Coast.
And there is a great irony in all this: most of the West Coast has excellent air quality while the air is unhealthy over the northeast U.S.
To illustrate this strange situation, here is the latest AIRNOW air quality map showing the air quality based on PM2.5, small particles that can move deep into your lungs. ( I want to acknowledge UW Bothell professor Dan Jaffe, who brought this to my attention)
Green is good air quality while red is unhealthy.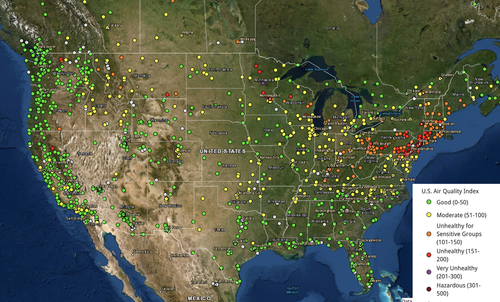 Really bad air quality in parts of New York, New Jersey, and Pennsylvania. But air quality is really good along the West Coast!
You can visualize the movement of smoke by an image showing the smoke distribution at 11 AM this morning from the wonderful NOAA HRRR model. Smoke generated over eastern Oregon, northern CA, and eastern WA moved northward around a ridge of high pressure centered over the Rockies and then headed southeastward towards the northeast U.S.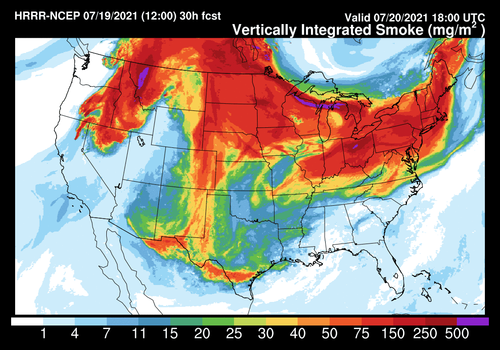 The smoke was quite apparent over the Northeast in the visible satellite imagery mid-day today (see below). The grayish stuff is smoke.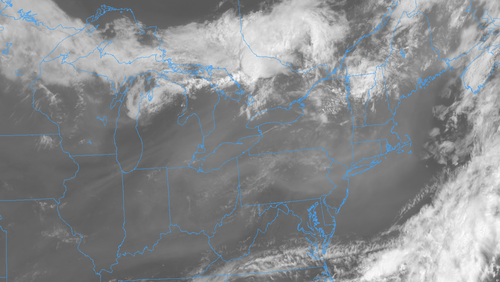 The air reaching the East Coast has an interesting three-dimensional trajectory (the path of air in 3D space). Using the NOAA Hysplit software, I found the origin of the air ending over New Jersey at 11 AM PDT today at 500 meters, 1500 meters, and 2500 meters above the surface ( see below).
Wow..the air reaching near the surface in New Jersey started over Washington State (red line). First, the smoky air rose over the Northwest, gained altitude to catch stronger winds aloft, and then got mixed down to the surface over the East Coast. A Washington import that may not be as popular as wine, apples, or cherries.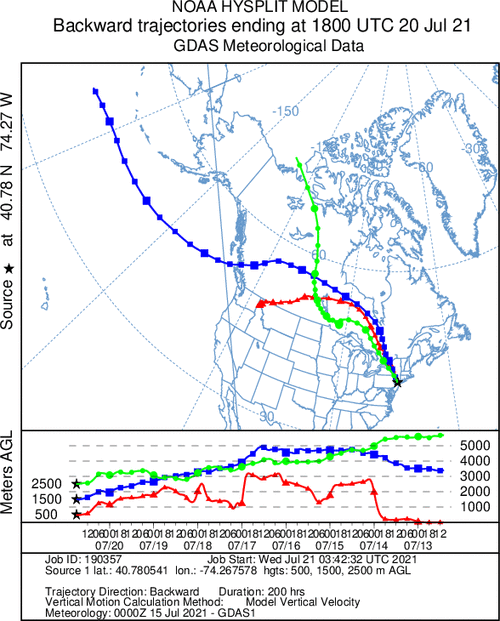 Kind of wacky, really….. start a fire here in the Northwest and the folks in the NY Metro area are choking in the smoke.

This kind of transcontinental smoke has happened before, but this event is particularly dramatic in terms of the air quality degradation along the East Coast.
Update: 7/21/21 The Bootleg Fire in Southern Oregon is now one of the largest in the nation and will continue to increase in size as the fire season rolls on.
As of Wednesday morning, nearly 400,000 acres of forest and grasslands have burned. There's a risk that months of back-to-back heatwaves could increase the fire to as much as 100,000 acres, according to Portland news KOIN. The fire is currently 32% contained.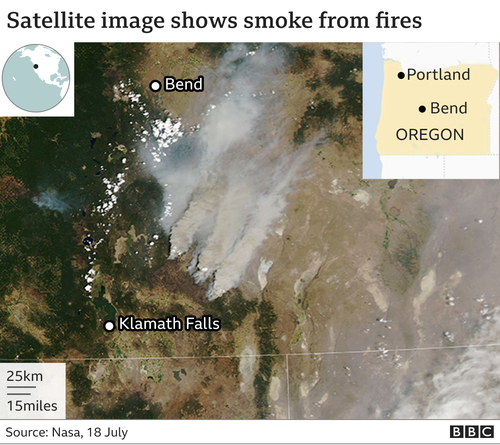 The fire has been raging for about two weeks. Last Monday, we noted the fire was likely to "double in size."
Gov. Kate Brown on Tuesday warned the situation could get worse. She said 5,000 firefighters are battling wildfires across the state.
"The good news is there's a lot of excellent work happening on the ground to protect Oregonians, to protect our homes, and our land," Brown said.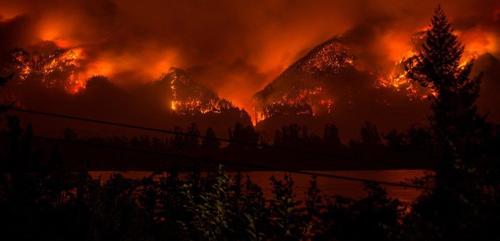 She conveniently blamed "climate change playing out before our eyes" for the wildfires and, of course, said her administration is working on new legislation for climate action.
"I've been very, very clear we are working hard to increase our level of thinning and prescriptive burning to create healthier landscapes," the governor said.
The Bootleg Fire is so large and intense that it's creating its only weather.
"The fire is so large and generating so much energy and extreme heat that it's changing the weather," said Marcus Kauffman, a spokesman for the state forestry department, NYTimes quoted. "Normally, the weather predicts what the fire will do. In this case, the fire is predicting what the weather will do."
Local news KATU said Bootleg Fire has merged with the nearby Log Fire.
Across 13 states, 83 large wildfires have burned 1,293,636 acres, according to the National Interagency Fire Center.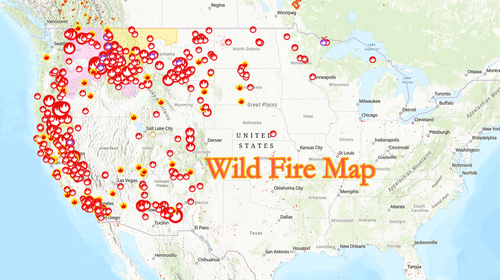 The wildfires hitting across the U.S. West have unleashed a massive amount of smoke that is currently transforming blue skies in the Mid-Atlantic and Northeast states into a murky yellow/orange.
Southwestern US Faces Megadrought Leaking Las Vegas: Lake Mead… Plunges To Record Low Amid Drought-pocalypse.
Much of the Western half of the US is in a severe drought, and parts of the Southwest are "exceptionally dry," the worst category, according to US Drought Monitor. Taking this into account, the iconic Hoover Dam has just recorded the smallest amount of water inside Lake Mead since the 1930s.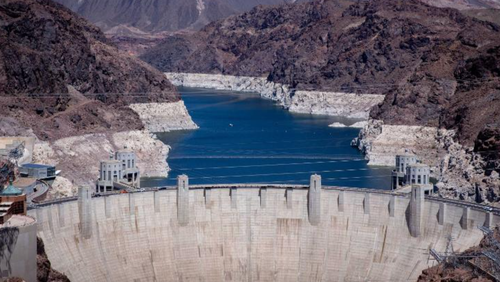 The damming of the Colorado River at the Nevada-Arizona border created Lake Mead and supplies water to 25 million people, including in the cities of Las Vegas, Phoenix, Tucson, Los Angeles, and San Diego.
We've explained in the past if Lake Mead drops to dangerously low levels, the entire town of Las Vegas is absolutely screwed because two pipes, known as straws, are at elevation 1,050 feet and 1,000 feet. However, a third straw was recently constructed at 860 feet just in case the water level continued to drop. For Vegas to prevent a total collapse if Lake Mead continues to drop, it will have to continue constructing straws at lower and lower depths.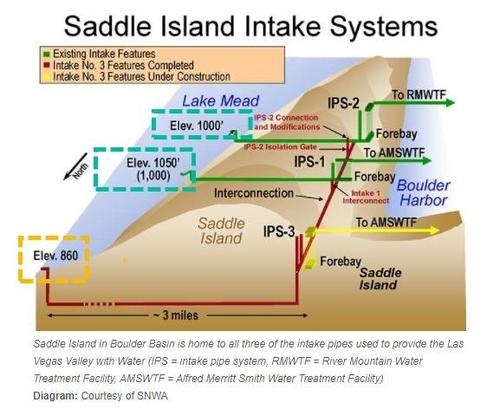 Tim Barnett, a climate scientist at the Scripps Institution of Oceanography, wrote back in 2014 that Lake Mead wasn't able to supply Vegas with water, "it's just going to be screwed. And relatively quickly. Unless it can find a way to get more water from somewhere, Las Vegas is out of business. Yet they're still building, which is stupid."
… and this quote was over seven years ago, and the water situation has dramatically worsened.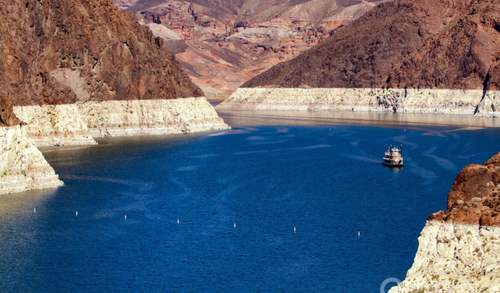 As of Wednesday, the lake's water level sank to 1,071.56 feet above sea level and broke the record low in July 2016. Since the early 2000s, the water level has plunged 140 feet due to years of drought that has gripped the region.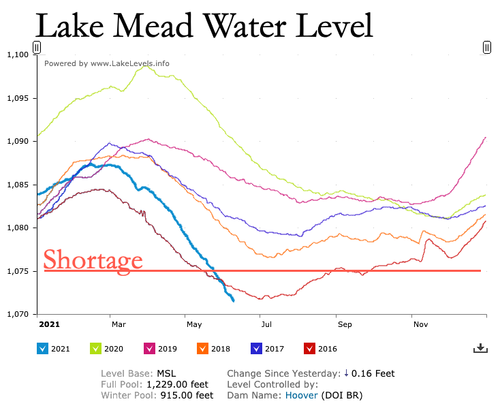 "Some states, especially parts of California and parts of the southwest, it's really quite extreme drought conditions," Ben Cook, a climate scientist at NASA's Goddard Institute for Space Studies, told Reuters. Here's a map (as of June 3) of the drought situation, which is extremely severe.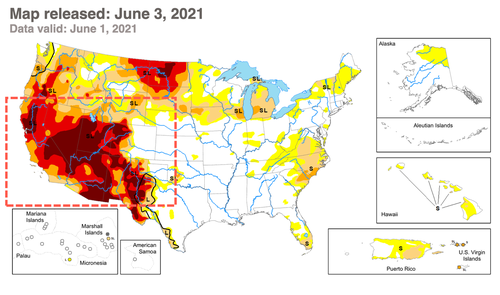 Artificial lakes, such as Lake Mead, is no match for Mother Nature, and the latest drop in water level could force state governments (Arizona, California, Colorado, Nevada, New Mexico, Utah, and Wyoming) to pass a water shortage declaration sometime this summer.
The demand for water downstream from Hoover Dam continues to increase. Farmers in the Southwest are itching for Lake Mead's water to irrigate their crops as their land becomes fallow.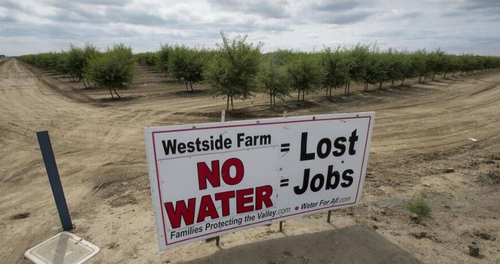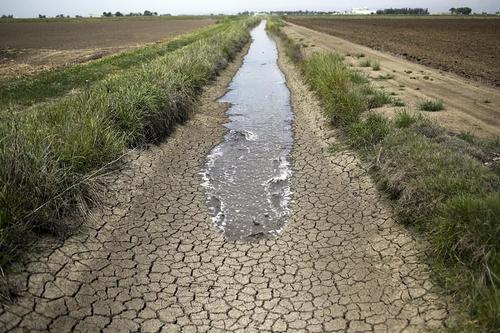 Over the past year, the lake has declined by more than 16 feet and is projected to fall nine more feet by the end of 2021. The lake's trigger point for a "shortage," declared by the government, is 1,075 feet, which has already been broken.
Lake Mead's downward spiral has also reduced Hoover Dam's hydropower output by 25%. At some point, the dam could stop producing electricity.
"Our previous number [for cutoff] was at elevation 1,050, and now we've lowered that number to 950," Hoover Dam, facility manager Mark Cook told CBS News. "So, we bought ourselves 100 feet."
For more than a half-decade (see: here & here), we have the ongoing problems of Lake Mead and how it could impact the water supply of tens of millions of people. Now that the lake is at levels not seen since it was filled in the 1930s, and below levels for an official "shortage." This means an emergency declaration of water shortage could be seen sometime this summer. Source: ZeroHedge
The drought is so severe that the governor of Utah is urging people to pray for rain.
Luke 21:10-11 (KJV)
Then said he unto them, "Nation shall rise against nation, and kingdom against kingdom: And great earthquakes shall be in divers [several, many] places, and famines, and pestilences; and fearful sights and great signs shall there be from heaven."
And plague(s) is only used in the book of Revelation, too many to write out here, so I'll list them:
Revelation 9:18, 20 – 11:6, – 15:1, – 6, 8; – 16:9, 21 – 18:4, 8 – 21:9 – 22:18.
Thus from a Biblical perspective, plagues and pestilences are the result of judgments of God.
The US Department of Agriculture (USDA) has warned against a megadrought approaching dangerous levels in the southwestern US. Wildfire conditions have been ripe across the region as Red Flag Warnings have been sprouting up from California to Texas.
Arid conditions in Arizona appear to have sparked a duo of wildfires burning in the state, forcing thousands of folks to flee as firefighters struggle to contain the blazes.
One of the fires rages just south of Prescott National Forest, located in north-central Arizona. Mandatory evacuations orders forced thousands from their homes in Minnehaha, Fort Misery, and Horsethief Basin, while Crown King was placed on alert Sunday. The fire has been dubbed the Tussock Fire.
"There is significant danger to you, gather necessary items and go," read a Facebook post operated by the Arizona Bureau of Land Management (BLM). The Facebook page continued to say the Tussock Fire is "approximately 3,500 acres; 0% containment."
The second wildfire is approximately 2,560 acres and stood at 35% contained as of Sunday evening. The fire is called Copper Canyon Fire and is burning 3 miles northeast of Globe in Gila County, located in the state's central part.
The US Drought Monitor as of last week shows more than 40% of the country is in drought coverage. Most of the "extreme" to "exceptional" drought is in the southwestern US.
"There have only been four times in the history of the drought monitor that we have seen more than 40% US drought coverage as we come into early May," said USDA Meteorologist Brad Rippey. "The current US drought coverage is 46.6% of the lower 48 states in drought. That is a 2.6% increase from what we saw five weeks ago."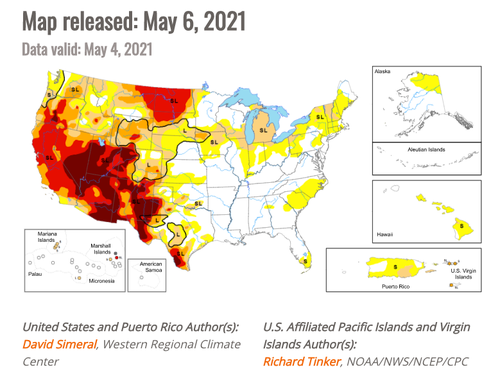 Fears of another 1930s Great Depression-style drought are quickly materializing in the southwestern US.
Utah and Nevada recorded their driest years in more than 126 years in 2020, while Arizona and Colorado had their second driest and New Mexico its fourth. The Southwest, plagued with "severe," "extreme," and "exceptional" drought conditions, suggests similarities to the Great Depression's Dust Bowl of the 1930s (read: "Return Of The Dust Bowl? The "Megadrought" In The Southwest Is Really Starting To Escalate").
Besides escalating wildfires and water shortages, farmers in the western half of the country are frightened of a significant agricultural disaster this growing season as the drought rages. The exceptional dryness could result in crop failures that would ultimately send agricultural prices even higher. So much for that "transitory" inflation, the Federal Reserve continues to squawk about…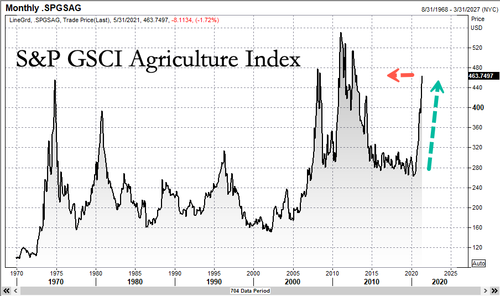 Now Dust Bowl conditions have returned, wildfires begin to break out, and farmers are panicking about crop failures. But don't worry, the Federal Reserve will just print more money in the name of climate change.
Source: HNewsWire ZeroHedge HNewsWire ZeroHedge
Please Do Not Post HNewsWire Articles on Parler, Face Book, Reddit or Twatter Social Media Platform, We Are Not Comfortable With Their Anti-Christian — Anti-American Nazi Philosophy
StevieRay Hansen
Editor,
HNewsWire.com
Bow down to satan soldiers, comply, submit!
The 127 Faith Foundation: We do not want donations from "those on disability, on a fixed income, those that cannot afford to give" Please Pray!
Amazon Wish List For The 127 Faith Foundation
We make every effort to acknowledge sources used in our news articles. In a few cases, the sources were lost due to a technological glitch. If you believe we have not given sufficient credit for your source material, please contact us, and we will be more than happy to link to your article.