Advisory: Be careful of what you read on social media. The algorithms used by these platforms have no regard for Biblical truth. They target your emotions to keep you engaged on their site so their advertisers can drop more ads. These platforms exist to enrich their stockholders. Consider God's promise to Believers in James 1:5, "If any of you lacks wisdom, you should ask God, who gives generously to all without finding fault, and it will be given to you."
Forms of public and mass destruction and often accompanies famine (Ezekiel 7:15) or war ( (Jeremiah 21:9). Jesus forewarned of pestilence when He described the end times (Luke 21:11). PESTILENCE IS CONTAGIOUS, VIRULENT, AND DEVASTATING, The Torrential Rain of Biblical Proportions, We Are About to Enter the Worst Days of This Pestilence. Our Public Officials Are Brain-Dead, America, and The World Is About to Experience the Worst Death Rate in Modern History. Take Cover…
Outside Mogadishu, locusts turn farmland into desert
MOGADISHU (Reuters) – A rifle on his back, Mohamed Yasin tries in vain to chase away the swarm of yellow-coloured insects that have invaded his farm as his camels mill about nearby.
Swarming on the outskirts of Mogadishu, locusts are eating away at Yasin's livelihood, destroying maize and beans and all his grass.
"We have asked the government to help us on how we will fight the locusts as they are turning everywhere into a desert," Yasin told Reuters.
The insect plague hitting Somalia is part of a once-in-a-generation succession of swarms that have swept across East Africa and the Red Sea region since late 2019, driven by unusual weather patterns.
In a region where many already go hungry, The coronavirus has this year exacerbated the crisis by disrupting the supply chain of pesticides and other equipment needed to fight them off.
Reporting by Abdirahman Hussein; writing by Omar Mohammed; editing by John Stone street
"Great Derecho" Storm Just Destroyed Crops, Grain Stores All Throughout the Midwest
Monday's storms part of derecho that caused damage across Midwest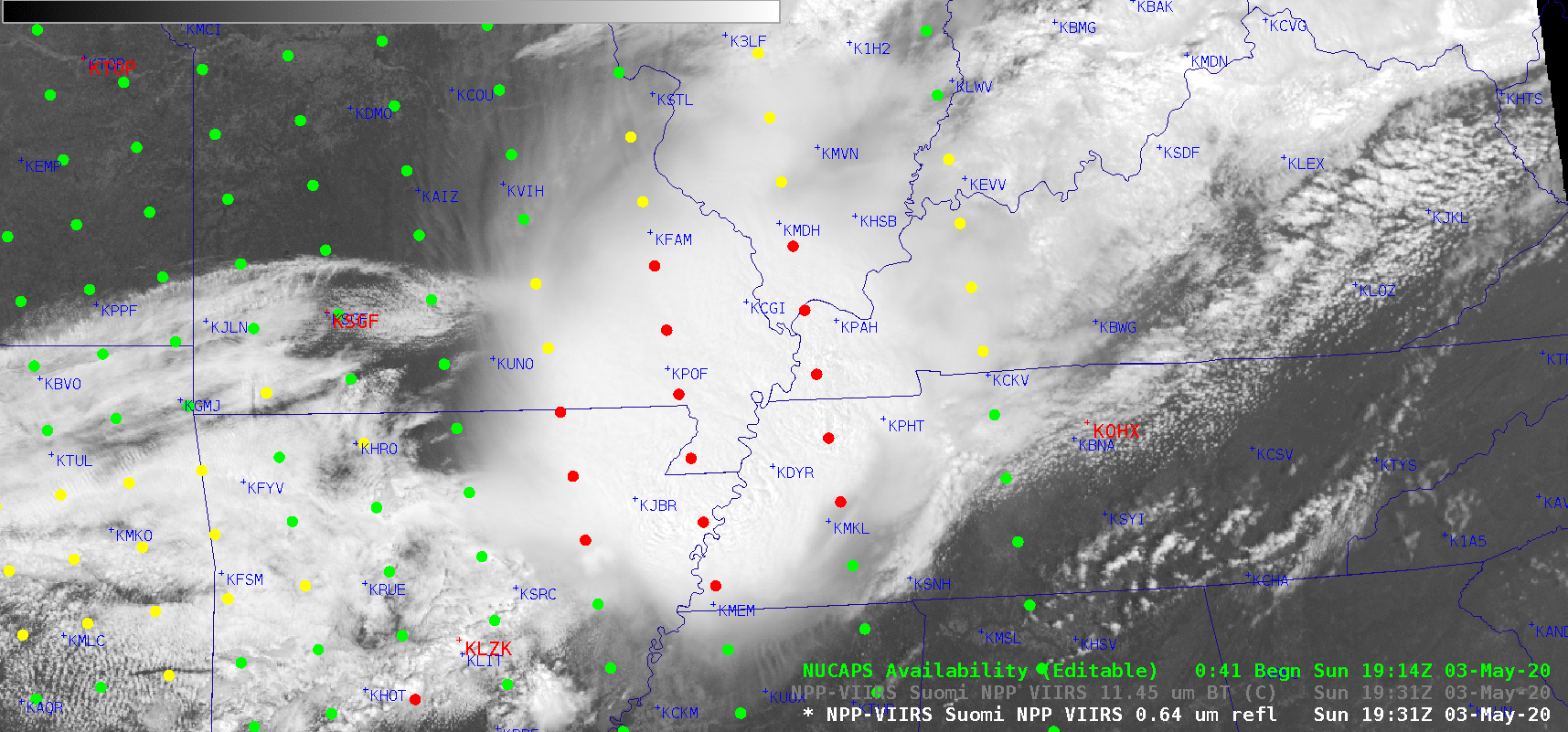 1-minute Mesoscale Domain Sector GOES-16 (GOES-East) "Red" Visible (0.64 µm) images (above) showed a long-lived Mesoscale Convective System (MCS) or derecho that produced a swath of large hail and damaging winds (SPC Storm Reports | NWS Nashville) from eastern Kansas to central Tennessee, northern Mississippi and northern Alabama on 03 May 2020.
The corresponding GOES-16 "Clean" Infrared Window (10.35 µm) images are shown below. Pulsing overshooting tops exhibited cloud-top infrared brightness temperatures around -70ºC (black enhancement).
SIOUX CITY, Iowa A massive storm system moved across Iowa and into Illinois Monday morning and afternoon leaving behind hundreds of damage reports.
The system, which is considered a bow echo, caused so much widespread damage across Iowa and Illinois that it was classified as a derecho before reaching the Iowa, Illinois border.
In order for a bow echo to be classified as a derecho, the system has to meet one of two "requirements" according to the National Weather Service. Those requirements include:
Wind damage extending more than 240 miles.
Wind gusts of at least 58 mph reported along most of the length of the storm's path.
A derecho is a widespread, long-lived wind storm, and typically has bands of rapidly moving showers and thunderstorms typically known as bow echos, squall lines, or quasi-linear convective systems (QLCS).
The storms that moved through Siouxland were not considered a derecho. That was just the start of the system before it grew into derecho classification. When they moved over Siouxland, it was just considered a bow echo or squall line.
By the time the storms were reaching eastern Siouxland, they had regained severe status. The reason for the storm restrengthening is due to the cornfields across central and eastern Siouxland, the warmer temperatures in those areas, and the daytime heating (the sun heating up the surface of the Earth). For storms to be classified as severe they need to have at least one of the following reported:
Hail at least one inch in diameter or larger.
Wind gusts of 58 mph or greater.
A tornado.
The system that moved through Siouxland started off with severe hail and wind gusts west of the metro area. By the time it reached eastern Siouxland, it was able to regain strength and produce severe hail and wind gusts.
Part of the reason the system regained its strength is due to the amount of corn growing in the rural areas of eastern Sioux land and across Iowa in general. The corn releases water vapor into the atmosphere through a process of evapotranspiration. The added moisture mixed with the warmer temperatures in central and eastern Iowa and sunshine prior to the storms moving into those areas added more ingredients needed for severe weather. There are four main ingredients for thunderstorm and severe thunderstorm production:
Shear: the difference in wind speed or direction over a relatively short distance in the atmosphere. In severe weather, the winds should be turning in a clockwise manner with height.
Lift: the source to help parcels of air to rise. In Monday's storm system, the source of the lift was the cold front that moved through.
Instability: a condition where the atmosphere is generally considered unstable. Storms help the atmosphere return to its stable condition.
Moisture: water vapor hanging out in the atmosphere.
As the bow echo moved east, it was moving over a very unstable environment full of heat and moisture, which is part of the reason why it continued to intensify, eventually gaining the classification of derecho. The system already had the shear and lift with the cold front associated with the derecho.
As the now classified derecho moved through central and eastern Iowa, storm reports of severe wind gusts were pouring into the National Weather Service.
Over the course of the storm's life on Monday, starting in western Nebraska and ending in Indiana, there were:
Over 500 severe wind reports.
24 hail reports, four of which were considered large hail reports (greater than one inch in diameter).
Three tornado reports.
According to the National Weather Service, the winds were so strong that semi-trucks were getting overturned near LaSalle-Peru, Illinois. The wind gusts at this location were reported around 90 mph.
The derecho moved across Iowa, Illinois, and into Indiana before it lost its intensity and was no longer showing signs of severe wind gusts, hail, and potential tornado production.
As you can see in the image below, the bow echo that started in Siouxland doubled in size by the time it got to central Iowa and continued to grow in size as it approached Illinois.
Update 8/13/2020… As the clown circus of American politics continues to dominate the headlines, hundreds of thousands of Midwesterners are without power, and at least 10 million acres of food crops in Iowa alone have been destroyed, thanks to the devastation caused by the "Great Derecho."
This massive storm, which swept across Iowa and Illinois before tearing into Indiana and Ohio, was described as an inland hurricane due its heavy winds, which brought massive destruction to America's heartland.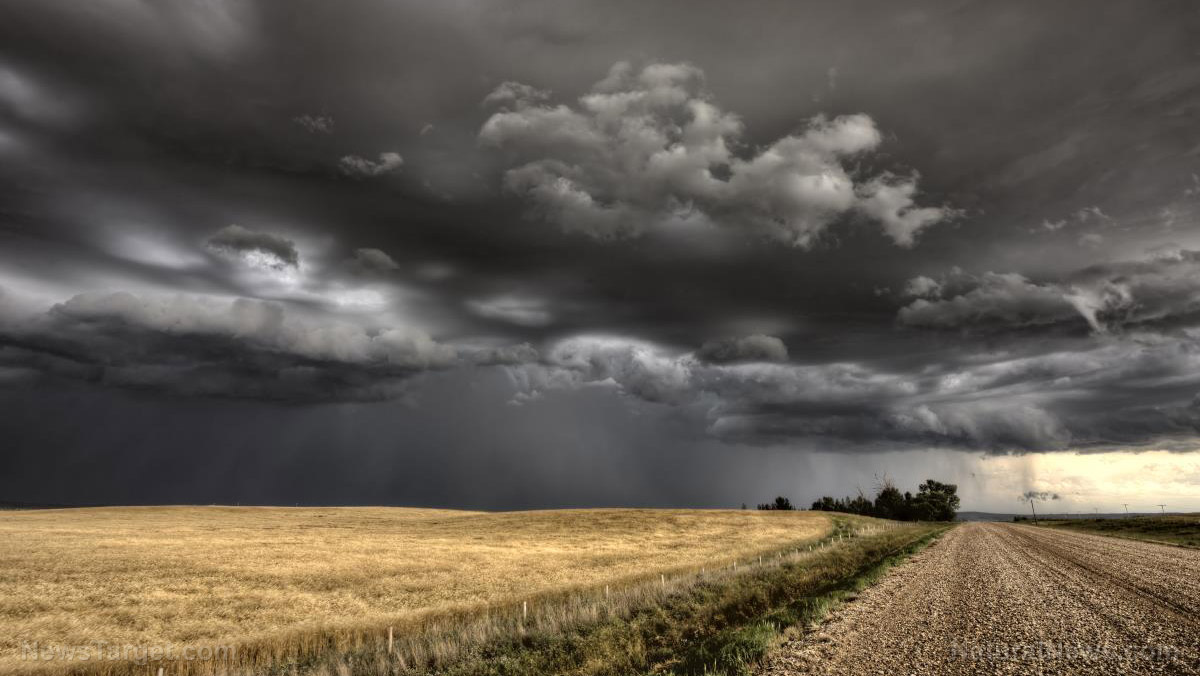 Crop fields, irrigation equipment, and grain silos were completely flattened in many areas, leaving behind a wasteland of food that could have been, but will now not be, according to Christian from the Ice Age Farmer podcast.
"There's a global food shortage and we have no strategic grain reserves," Christian warns. "The USDA often refers to on-farm storage as that, but that's what we've just seen millions of those bushels getting trashed today as they were knocked over, so this is a big blow."
In Cedar Rapids, Iowa, wind gusts were clocked at upwards of 112 mph, which when all was said and done left 330,000 Iowans without power. Across the Midwest, some 600,000 households are now without power, with potentially more on the way as the storm continues on its course.
According to Iowa Gov. Kim Reynolds, at least one-third of Iowa's crops were destroyed by the storm, which amounts to about 10 million acres. Tens of millions of bushels of grain stored at co-ops and in farm silos were also damaged or destroyed as the winds blew them to pieces.
Communist China is also losing crops due to drought, floods, and pestilence
More than an 800-mile stretch of U.S. land was battered, bruised and, in some cases, completely destroyed by this storm, the full damage from which is still being assessed. Meanwhile, communist China is dealing with much the same thing, as record flooding, droughts and pestilence are destroying many of its crops.
Rains in China's rice-growing regions have been so intense as of late that the infamous Three Gorges Dam was recently observed to be buckling. While the Chinese Communist Party claims that the structure is safe and secure, many observing experts are not so sure, as it appears to be on the verge of collapsing.
In other areas of China, the opposite is occurring as extreme drought conditions kill off wheat, corn and other crops. This is in addition to the locust swarms that are still ravaging many areas of China in what appears to be a Biblical-level plague situation.
According to Christian, this is all happening at once as part of a global takeover agenda that involves breaking down food systems, and thus food supplies. This would seem to imply that some of these weather events in particular are being artificially generated, though Christian does not delve into that in this particular episode of his show.
"And I'll be covering a report soon on just who's doing the free testing for farm workers, the 'Core Group' by Sean Penn and their deep connections to Google, Alphabet, Project Baselines, Johns Hopkins, and the rest of the medical-pharmaceutical" cartel, Christian explains about what future episodes will discuss.
"It's all linked together and it's these same media companies and activists and Big Tech companies that are all linking to shut down food production and take over our rights."
What appears to have happened is a perfect storm in which actual crops and grain stores were destroyed at a time when very few farms are even operating at full capacity due to the Wuhan coronavirus (COVID-19) plandemic.
More related news about the collapse of the food system is available at Collapse.news.
Sources for this article include: USAToday.com Brighteon.com NaturalNews.com HNewsWire
Isaias, pronounced ees-ah-EE-ahs, is the Spanish-Latin derivative of the Hebrew name Isaiah. In this case, choosing the name for a hurricane is ironic as it literally means "God is my salvation."
The name proved to be both timely and prophetic. Torah blogger Yeranen Yaakov noted the hurricane's destructive nature.
The latest update from the National Hurricane Center (NHC) is that "Isaias Is Racing North-Northeastward Across Eastern Pennsylvania Into Southeastern New York. Strong Gusty Winds. Heavy Rainfall. And the Threat of Tornadoes Will Spread Northward Into Southern New England."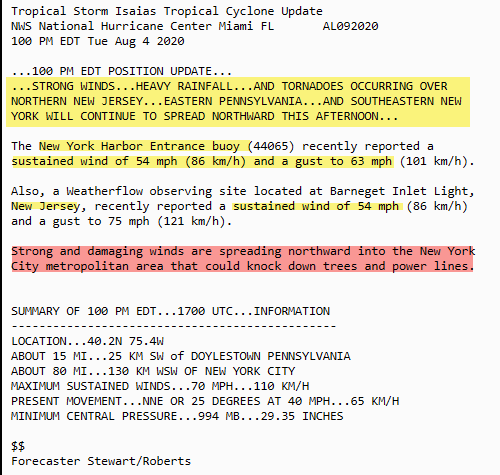 Here's the 14:00 ET track map of Isaias traversing the interior Northeast.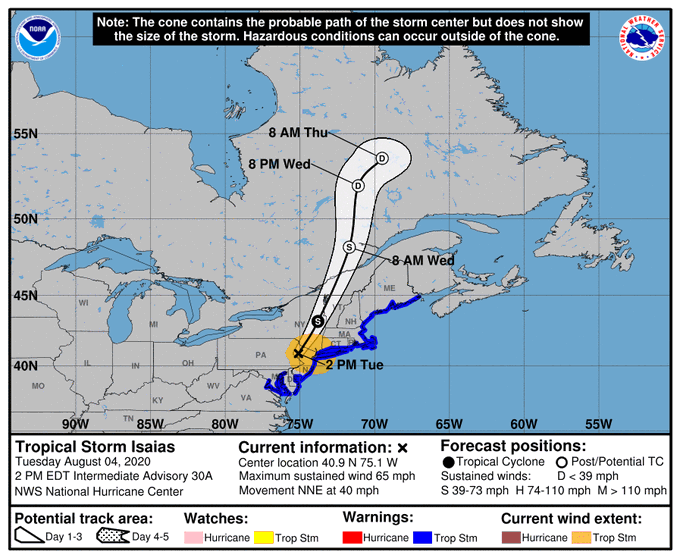 PowerOutage.US is reporting that over 2.2 million electric customers are without power in eight East Coast states.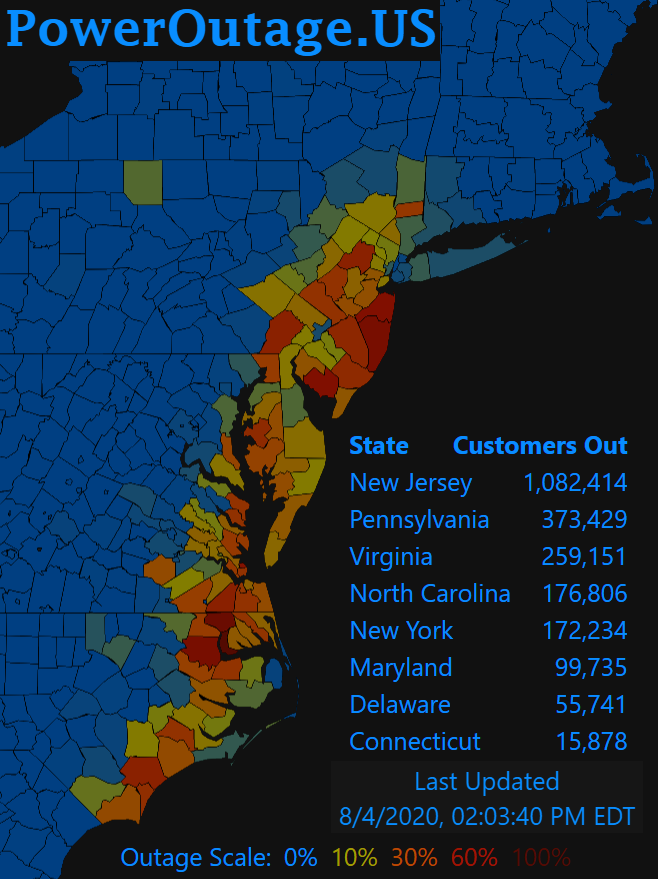 The storm spawned twisters that ripped through the Carolinas, Virginia, Maryland, Pennsylvania, and New Jersey on Tuesday.
Isaias topped sustained winds of about 85 mph Monday, right before making landfall in Ocean Isle Beach, North Carolina, around 23:00 ET. The hurricane was downgraded Tuesday morning to a tropical storm, set to unleash torrential rains and high winds across Mid-Atlantic and Northeast states, reported the National Hurricane Center (NHC).
After making landfall in the Carolinas, now inching up the East Coast, and fast approaching Maryland, Delaware, New Jersey, and New York, Isaias is set to arrive in southern Maryland to the Washington, D.C. area around morning rush hour.
Washington, D.C., Baltimore, Philadelphia, and New York City are expected to face tropical storm conditions throughout the day on Tuesday. Interstate 95 corridor from Richmond, Virginia, to New York could see wind gusts around 45-65 mph, heavy rains, and elevated flash flooding risks.
CNN quoted Ross Dickman, a meteorologist at the National Weather Service (NWS) in New York, who said Isaias is expected to be one of the strongest storms seen in the Northeast in years.
"The wind and flooding impacts from Isaias will be similar to what the city has seen from some of the strongest coastal storms," such as nor'easters — "but we haven't seen one this strong in many years," he said.
PowerOutage.US is reporting 364,026 customers are without power in North Carolina and 77,649 in Virginia. Widespread power outages are expected across the Mid-Atlantic area on Tuesday.
Tornado watches have been posted for Virginia, Maryland, Deleware, and southern parts of New Jersey.
Tornado threats in New York City could surge later in the day.
The latest European Centre for Medium-Range Weather Forecasts (ECMWF) suggests the storm will head into the interior Northeast.
There's one town in Maryland, called Ellicott City, that is prone to some of the craziest flash flooding in the country. We reported a couple of years ago, a storm wiped out the historic town. Residents spent Monday filling sandbags as they fear another flash flood could be seen Tuesday.
Another disturbance has been spotted behind Isaias.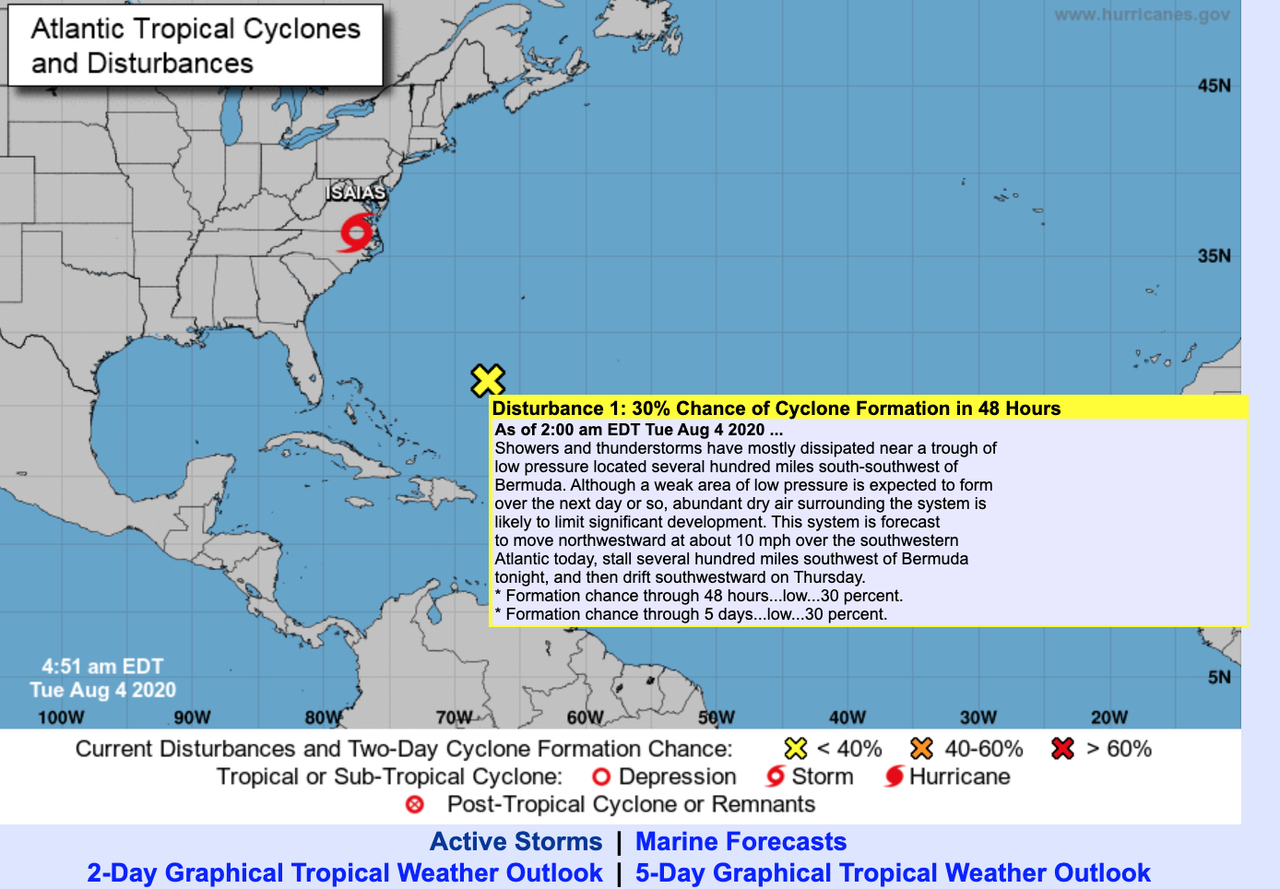 The 2020 Atlantic Hurricane Season has already been off to a busy start.
The World Is In Big Trouble, for Those That Believe We Will Go Back to Some Sense of Normal Life Here on Earth, You Will Be Sadly Disappointed, Seven and Half Years of Hell on Earth Which Began January 1, 2020
"Our courts oppose the righteous, and justice is nowhere to be found. Truth stumbles in the streets, and honesty has been outlawed" (Isa. 59:14, NLT)…We Turned Our Backs On GOD, Now We Have Been Left To Our Own Devices, Enjoy…
While Mainstream Media Continues to Push a False Narrative, Big Tech Has Keep the Truth From Coming out by Shadow Banning Conservatives, Christians, and Like-Minded People, Those Death Attributed to the Coronavirus Is a Result of Those Mentioned, They Truly Are Evil…
StevieRay Hansen
Editor, HNewsWire.com
Watchmen does not confuse truth with consensus The Watchmen does not confuse God's word with the word of those in power…
In police-state fashion, Big Tech took the list of accused (including this site), declared all those named guilty and promptly shadow-banned, de-platformed or de-monetized us all without coming clean about how they engineered the crushing of dissent, Now more than ever big Tech has exposed there hand engaging in devious underhanded tactics to make the sinister look saintly, one of Satan's greatest weapons happens to be deceit…
The accumulating death toll from Covid-19 can be seen minute-by-minute on cable news channels. But there's another death toll few seem to care much about: the number of poverty-related deaths being set in motion by deliberately plunging millions of Americans into poverty and despair.
American health care, as we call it today, and for all its high-tech miracles, has evolved into one of the most atrocious rackets the world has ever seen. By racket, I mean an enterprise organized explicitly to make money dishonestly.
All the official reassurances won't be worth a bucket of warm spit. The Globals are behind the CoronaVirus, It Is a Man-Made Bioweapon.
For those of you who care, Google and your favorite social media platforms have misled you, and now we all pay a heavy price for trusting the ungodly, Google and company, They knew exactly what they were doing, removing our history while preparing you to accept the New World Order playbook, Enjoy.
Events of the Tribulation
In the Great Tribulation 2 ½ million die every day for 42 months. In Auschwitz, less than a thousand died each day. That means 2500x as many people die every day. Or to put it in Auschwitz terms—the number of people that died every day at Auschwitz will die every 30 seconds in the Great Tribulation! Or in other terms living on earth will be like living in an Auschwitz death camp—and in death toll there will be the equivalent of an Auschwitz Holocaust twice a day for 42 months!
A brief look through the pages of Revelation chapters six, eight, nine, and sixteen–describe the living hell you can avoid if you are saved this morning. Here are only a few of the dreadful disasters that take place during the Tribulation:
One out of every two people will die during the Tribulation (see Rev. 6:8 and onward), some through the ravages of war, others by starvation, and amazingly many others by the 'beasts of the earth'. So, whether by death that comes instantly and thus less dreaded or a slow and painful death that is lingering and agonizing-50 percent of all people will die. The world's population was 6,415,574,176 yesterday, so that means at least 3,207,500,000 will die. Does that amount to just about eleven times the current population of the United States-can you imagine that? And remember that the population of the world is doubling every 39.5 years. So every day the number of people who will die becomes larger and larger.
One-third of all vegetation will be burned up. All grass, every tree, everything green will be destroyed (see Rev. 8:7).
The sun and the moon will be darkened as nature goes into revolt (see Rev. 8:12).
The gates of hell will open and hordes of locusts, the size of horses, will come upon the earth. Those locusts will be allowed to sting men like scorpions and the pain will last for five months. The Bible says men will beg God to let them die but they will not die (see Rev. 9:3-6).
There will be worldwide famine, unlike anything the world has ever seen (see Rev. 18:8).
There will be a world war so bloody that the blood of those killed in battle will flow for two hundred miles up to the bridle of a horse in the valley of Jezreel. This will be the Battle of Armageddon (see Rev. 14:20).
All told, during the Great Tribulation, as many as half of all the people on the earth will be killed.
The 127 Faith Foundation: We do not solicit donations from "those on disability, on a fixed income, or those who cannot afford to give." Please Pray!
Or, make checks payable to:
The 127 Faith Foundation
PO Box 127
Pontotoc, TX 76869
The number of Orphans aging out of Child Protective Custody has grown at an alarming rate. The 127 Faith Foundation receives many requests each week to house them at our ranch. Our prayer is that the good people of our country will step up to the challenge and offer financial support for "the least among us." We need your help! StevieRay Hansen, Founder, The 127 Faith Foundation
HNewsWire: Attorney Travis Miller obtained some of the missives in 2021 and published screenshots of them. At the time, the CDC didn't dispute their authenticity.…
Read More
We make every effort to acknowledge sources used in our news articles. In a few cases, the sources were lost due to a technological glitch. If you believe we have not given sufficient credit for your source material, please contact us, and we will be more than happy to link to your article.