Pestilence (Death Angel) Is Typically a Contagious Disease (Covid 19), in the New Rare Tropical Disease Kills Two In The U.S.
Pestilence Has Arrived: Evidence is Emerging to Suggest That The Covid Variant Poses a Very Real Threat To Patients Who Have Already Been Fully Vaccinated (Pestilence By Way Of Vaccine Kill Shot) Force is now the only rule remaining in Satan-controlled World. Everything else has collapsed. There is no free speech, no fair trial, no…
is Leading the Charge, They Are Withholding the Truth About the Corona-Virus and The Jab, You Are Marching Lockstep Into the Death Spiral… A viral gene will be injected into your children's cells. This gene forces your child's body to make toxic spike proteins. These proteins often cause permanent damage in children's critical organs, including:…
Update (1130ET): A person familiar with today's AWS outage told Bloomberg it's unrelated to last week's outage.  Amazon company had one of its worst outages in its history earlier this month, affecting Netflix, robot vacuums and even ticket sales for Adele's upcoming tour. Amazon attributed the outage to "unexpected behavior" of its automated processes. -Bloomberg  *…
A bacterial infection called Melioidosis, usually found in tropical settings, has killed two in the U.S., according to the Centers for Disease Control.
Yes, while the rest of the world has been focused on the Delta variant hysteria, new incidents of the rare tropical disease have snuck in through the back door, according to The Hill.
Melioidosis, sometimes called Whitmore's disease, is usually found in Southeast Asia and Northern Australia. Bacteria can be found in "in contaminated waters and soils and spread within both animals and humans through contact with the contaminated source", the report says. It is most commonly spread through skin abrasions and ingestion.
The CDC has confirmed four cases in the U.S., with two of them being fatal. One case was in Kansas, another was in Georgia, a third was Texas. As a result, 100 soil and water samples were taken to test for the virus and none came back positive. No further information about the cases was released.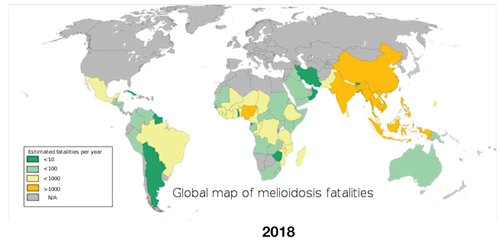 Public health officials have been left to attribute the virus to "an imported product or an ingredient found within an import, such as a food, beverage, cleaning product or medicine," The Hill wrote.
A CDC statement on Melioidosis cases said: "CDC is asking clinicians to watch for any acute bacterial infection that doesn't respond to normal antibiotics and consider melioidosis – regardless of whether the patient traveled outside the United States. CDC also urges clinicians not to rule out melioidosis as a possible diagnosis in children and those who were previously healthy and without known risk factors for melioidosis."
"Although healthy people may get melioidosis, underlying medical conditions may increase the risk of disease," it continued. "The major risk factors are diabetes, liver or kidney disease, chronic lung disease, cancer or another condition that weakens the immune system. Most children who get melioidosis do not have risk factors. People experiencing cough, chest pain, high fever, headache or unexplained weight loss should see their doctor." Source: ZeroHedge
Biblical Accounts It Is a Judgment of God on a Particular Group of People, I Believe We Can Safely Assume Most Of Our Elected Officials, Those Reprobate Scientists and of Course the Progressive God Hating Crowd, Take Cover...
Prophecy
"And great earthquakes shall be in divers places, and famines, and pestilences." Luke 21:11.
"For nation shall rise against nation, and kingdom against kingdom: and there shall be famines, and pestilences, and earthquakes, in divers places." Matthew 24:7
Fulfillment
The United States Federal Emergency Management Agency (FEMA) reported that "the increasing number and intensity of disasters" is one of the many serious problems they are facing. Read the newspapers yourself and you will see that earthquakes, tornadoes, floods, etc. are getting worse and more frequent.
In addition to the suffering inflicted by natural disasters, there is famine. Hundreds of millions of people are hungry, and thousands die daily of starvation.
The world is also being afflicted with newly emerging viruses, drug-resistant bacteria, and a wide variety of other germs. In September of 1997, U.S. News stated that "Many common bugs are becoming more and more resistant to the once powerful drugs--at an alarming rate." All these things are further proof that we live in earth's last hours.
SRH concludes The Death Angel is moving right now across the planet. This is the right time to get right with God … The blood of Jesus Christ will protect you. If you are living right for God, if the blood of Jesus Christ is on you, you have no reason to fear this (Coronavirus) Death Angel. But those of you who are opposing the church of God, mocking God, attacking his servants, you'd better woke, because there is a Death Angel on the loose right now, and you are going to get a close look at GOD's reality.
Man prepares, but God governs. God has made all things for himself; he hates pride. The judgments of God. The administration of kings; their justice, anger, and clemency. God has made all in weight, measure, and due proportion. Necessity produces industry. The patient man. The lot is under the direction of the Lord.
PESTILENCE
Any rapidly spreading infectious disease capable of attaining epidemic proportions and of causing death. The Hebrew word for pestilence (deʹver) comes from a root meaning "destroy." (2Ch 22:10) In numerous texts pestilence is related to the execution of divine judgment, as regards both God's name people and their opposers.​
There are many examples of the use of the word pestilence in the Bible. For example:
Numbers 14:12– Let me strike them with pestilence and drive them away, and let me make you into a nation greater and mightier than they are."
Amos 4:10. 'I sent among you a pestilence like that of Egypt.
With the sword I killed your young men+ and captured your horses.
I made the stench of your camps rise up into your nostrils;
But you did not come back to me,' declares Jehovah.
Throughout the Scriptures, health, either in a physical or in a spiritual sense, is associated with God's blessing whereas disease is associated with sin and imperfection.
So, while it is true that in certain cases Jehovah God directly and instantaneously brought some affliction on persons, such as the leprosy of Miriam, of Uzziah, and of Gehazi it appears that in many cases the diseases and pestilence that came were the natural and inexorable results of the sinful course followed by persons or nations. They simply reaped what they had sown; their fleshly bodies suffered the effects of their wrong ways.