Advisory: Be careful of what you read on social media. The algorithms used by these platforms have no regard for Biblical truth. They target your emotions to keep you engaged on their site so their advertisers can drop more ads. These platforms exist to enrich their stockholders. Consider God's promise to Believers in James 1:5, "If any of you lacks wisdom, you should ask God, who gives generously to all without finding fault, and it will be given to you."
God allows spiritual deception as a form of punishment for willful sin, and in order to cultivate an awareness in our lives of how badly we need the One who is Himself Truth, our Lord Jesus Christ (John 14:6).
MONTGOMERY, Ala. (AP) — Alabama education officials are trying to combat what they say is a growing problem of sexual relationships between teachers and students.
The state Department of Education has released a training program that officials in Montgomery are urging local school systems to use in teaching educators about avoiding inappropriate encounters.
The program also encourages teachers to report colleagues they suspect of having inappropriate relations with students.
The training material quotes reports that say Alabama is among the worst states in the nation for sexual relationships between school workers and students, and it depicts the problem as getting worse.
"There are just more educators doing bad things with students and I think a big part of that, to me at least, is the advent of social media," said Barry Matson, executive director of the Alabama District Attorneys Association, in a video included with the program.
After Alabama criminalized teacher-student sex, 45 such cases were reported in 2017, the curriculum states, and Alabama leads the nation in inappropriate student-teacher relationships on a per capita basis. More than 200 educators have been arrested on sex charges involving students since 2010, and social media and texting are fueling the problem, it says.
"This is a topic people don't want to talk about, but there is no choice," Alabama School Superintendent Eric Mackey said in a program video.
The curriculum was developed with the state prosecutors' association, colleges, and universities. It's not mandatory, but Mackey is asking city and county systems to use the material.
The Alabama Education Association has agreed to help with the training, Mackey told local officials in a letter last month after the training curriculum was posted online. It includes videos depicting the problem of inappropriate relationships.
The executive director of the Alabama Association of School Boards, Sally Smith, told al.com the organization will encourage board members across the state to offer the training to school employees.
"The videos provide a great vehicle to have conversations about these very difficult issues," she said.
Alabama used material from a similar program in Texas in developing the training. Source
Teacher Accused of Enlisting Hitman to Kill 10-Year-Old Boy He Allegedly Molested
It is usually thought of as that which is morally wrong, sinful, or wicked; however, the word evil can also refer to anything that causes harm, with or without the moral dimension. The word is used both ways in the Bible. Anything that contradicts the holy nature of God is evil (see Psalm 51:4). On the flip side, any disaster, tragedy, or calamity can also be called an "evil" (see 1 Kings 17:20, KJV).
Evil behavior includes sin committed against other people (murder, theft, adultery) and evil committed against God (unbelief, idolatry, blasphemy). From the disobedience in the Garden of Eden (Genesis 2:9) to the wickedness of Babylon the Great (Revelation 18:2), the Bible speaks of the fact of evil, and man is held responsible for the evil he commits: "The one who sins is the one who will die" (Ezekiel 18:20).
Essentially, evil is a lack of goodness. Moral evil is not a physical thing; it is a lack or privation of a good thing. As Christian philosopher J. P. Moreland has noted, "Evil is a lack of goodness. It is goodness spoiled. You can have good without evil, but you cannot have evil without good." Or as Christian apologist Greg Koukl has said, "Human freedom was used in such a way as to diminish goodness in the world, and that diminution, that lack of goodness, that is what we call evil."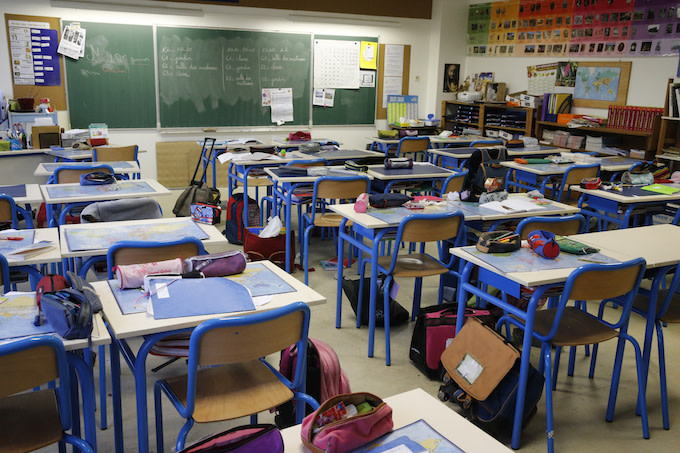 A St. Louis teacher has been charged with hiring a hitman to kill a 10-year-old studenthe allegedly molested, Newsweek reports.
The teacher, 36-year-old Deonte Taylor, was first arrested and charged last November for molesting the then-7-year-old student in 2015. Last week, while in jail awaiting trial, Taylor was handed another charge for attempting to hire a hitman to kill the former student and the student's family.
When Taylor was a teacher's assistant at Lusher Elementary in 2015, he purportedly took the 7-year-old boy into another room where the boy performed oral sex on Taylor, according to KSDK. The unidentified boy and his family reported the alleged incident to the police back then, but Taylor wasn't charged at the time.
Between 2015 and 2018, Taylor acquired his teaching certificate and became a fifth-grade teacher at Walnut Grove Elementary School, also in St. Louis. Since he wasn't yet charged, he passed the vetting process, which includes a criminal background check and sexual abuse registry background check, per KSDK.
Police ultimately arrested Taylor in November 2018, after a DNA test showed that his sample matched the DNA discovered on the boy at the time of the alleged incident. Taylor was subsequently hit with three charges of first-degree statutory sodomy. POST CONTINUES BELOW
In February, while in jail, Taylor allegedly tried to enlist someone to kill the now-10-year-old boy and his family in an effort to silence them. Taylor convinced his 66-year-old boyfriend Michael Johnson to pay a man to complete the killings, which Johnson did; however, the selected hitman became a police confidant and revealed the plan.
In addition to the molestation charges, Taylor has also been hit with two counts of conspiracy to commit murder and two counts of attempting to tamper with a victim in a felony prosecution. Johnson also faces those four charges.
Taylor and Johnson pleaded not guilty to the charges and are being held without bond. Source
StevieRay Hansen
Editor, HNewsWire.com
Conservative Christian World News
"And it shall come to pass afterward, that I will pour out my spirit upon all flesh; and your sons and your daughters shall prophesy, your old men shall dream dreams, your young men shall see visions." (Joel 2:28.)
John Wesley who said that what we tolerate in our generation, will be embraced by the next. Wesley is 100% correct! We are living in sick times.
Usually, the Lord doth no great thing for or against his people, without giving warning of it before it comes.
They perverted justice among themselves (v. 7): "You turn judgment to wormwood, that is, you make your administrations of justice bitter and nauseous, and highly displeasing both to God and man.'' That fruit has become a weed, a weed in the garden; as nothing is more venerable, nothing more valuable, than justice duly administered, so nothing is more hurtful, nothing more abominable, than designedly doing wrong under color and pretense of doing right. Corruptio optimi est pessima —The best, when corrupted, becomes the worst.
It is impossible to find anyone in the Bible who was a power for God who did not have enemies and was not hated.
2 Corinthians 4:8-11 New King James Version (NKJV)
8 We are hard-pressed on every side, yet not crushed; we are perplexed, but not in despair; 9 persecuted, but not forsaken; struck down, but not destroyed— 10 always carrying about in the body the dying of the Lord Jesus, that the life of Jesus also may be manifested in our body. 11 For we who live are always delivered to death for Jesus' sake, that the life of Jesus also may be manifested in our mortal flesh.
"Pedophile" has reverberated throughout America. But beneath our anger and revulsion, a fundamental question pulsates: Are those who abuse their positions of trust to prey upon children—a category certainly not limited to those in religious orders—sick … or are they evil? We need the answer to that fundamental question. Because, without the truth, we cannot act. And until we act, nothing will change.
My job is protecting children. It has taken me from big cities to rural outposts, from ghettos to penthouses, and from courtrooms, into demonic battlefields. But whatever the venue, the truth remains constant: Some humans intentionally hurt children. They commit unspeakable acts—for their pleasure, their profit, or both.
The 127 Faith Foundation: We do not solicit donations from "those on disability, on a fixed income, or those who cannot afford to give." Please Pray!
Or, make checks payable to:
The 127 Faith Foundation
PO Box 127
Pontotoc, TX 76869
#Child Predators, Child Rape, HNewsWire Christian News, HNewsWire.com, HNewsWire.com Conservative Christian World News, LGBTQ Are Hypocrite ....., LGBTQ Indoctrination, Teacher Arrested Sex With Children, teacher pedophiles, Teachers Arrested Every Day for Sex Crimes With School Children, Teachers Sex With Children
The number of Orphans aging out of Child Protective Custody has grown at an alarming rate. The 127 Faith Foundation receives many requests each week to house them at our ranch. Our prayer is that the good people of our country will step up to the challenge and offer financial support for "the least among us." We need your help! StevieRay Hansen, Founder, The 127 Faith Foundation
We make every effort to acknowledge sources used in our news articles. In a few cases, the sources were lost due to a technological glitch. If you believe we have not given sufficient credit for your source material, please contact us, and we will be more than happy to link to your article.