Advisory: Be careful of what you read on social media. The algorithms used by these platforms have no regard for Biblical truth. They target your emotions to keep you engaged on their site so their advertisers can drop more ads. These platforms exist to enrich their stockholders. Consider God's promise to Believers in James 1:5, "If any of you lacks wisdom, you should ask God, who gives generously to all without finding fault, and it will be given to you."
Lines Are Going to Be the Norm in America, Fema Food Lines…
Costco Warns Of Toilet Paper Shortage, Water
Costco warned customers this week about a toilet paper shortage as the wholesale retailer is having challenging time stocking shelves due to supply chain disruptions, according to Fox News.
Costco told Fox News via an email statement, "Due to increased volumes, you may see a slight delay in the processing of this order." The retailer noted that the company is "working to fulfill everything as quickly as possible."
Costco announced purchasing limits on some products but didn't mention specific items, saying, "some warehouses may have temporary item limits on select items."
Some shoppers have reported other items of Costco warehouses are either in short supply or there are purchase limits.
There wasn't any bottle water packs or toilet paper at Costco today….sign of the times to come 🤷🏽‍♂️— Eric Arrambide 🎲🎱 (@MagicFalcon) August 17, 2021
Costco was out of toilet paper and paper towels last week- Sacramento, CA. pic.twitter.com/AfJz9RKqeg— Hot Mess Momma (@Nikki79267956) September 22, 2021
No toilet paper, paper towels or canned peaches at Costco 😳— Michelle (@Dragonfly194) September 21, 2021
I guess @Costco will have to limit people from hoarding water again. Currently the sign said, "limit 5 per customer". #pandemic #CovidIsNotOver #COVID19 pic.twitter.com/6C7AOra2Ga— Do what you love (@Bchamcharatsri) August 11, 2021
The source of the problem could be that the US' largest toilet-paper maker, Procter and Gamble, is experiencing overwhelming demand on top of logistical and labor disruptions that have hindered how quickly goods move through the country.
Toilet paper shortages at Costco are reminiscent of the early days of the virus pandemic when the retailer placed buying limits during one of the greatest panic hoards of all time.
Our Government is Incapable of… telling the American people the truth about any subject, including the economy. Inflation is way higher than 5%, and they know it. it is closer to 23%. But our evil, incompetent, highly corrupt, anti American government that created this inflation…
One of the defining features of the early phases of the covid pandemic, when public fear was rampant and when few wanted to take chances that supply chains would remain viable, is that for a brief period US supermarkets resembled those of the USSR circa the late 1980s: many items were in short supply, and some – notably toilet paper, clorox, and perishables such as milk – were out of stock for weeks.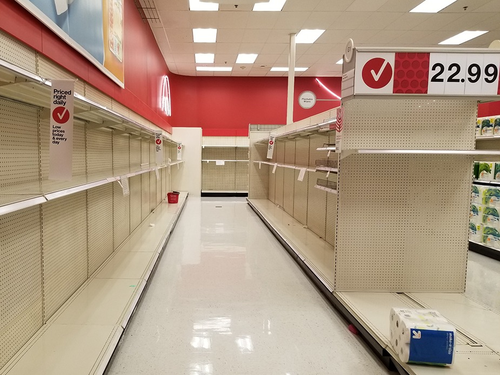 Fast forward to today when fears about the Delta strain are being fanned by the liberal media, the US may be facing a similar shortage of key products… only this time for a very different reason: not a surge in demand, but rather a drop in supply.
According to Bloomberg, some of the largest U.S. food distributors are "reporting difficulties in fulfilling orders as a lack of workers weighs on the supply chain." Take distribution giant Sysco, North America's largest wholesale food distributor, which is turning away customers in some areas where demand is exceeding capacity.
Worse, food inflation is about to soar: the company said prices for key goods such as chicken, pork and paper products for takeout packaging are climbing amid tight supplies. In particular, production has slowed for high-demand, labor-intensive cuts like bacon, ribs, wings and tenders, Sysco said. And if intermediate and final wholesale prices are "rising", just wait until they emerge on the consumer side.
The culprit for the coming price shock? Biden's catastrophic stimmies and universal basic income which has unleashed havoc on the US job market and led to historic labor shortages:
"There are certain areas across the country that are more challenged by the labor shortage and our volume of orders is regularly exceeding our capacity," Sysco Chief Executive Officer Kevin Hourican said in a letter to clients earlier this month. "This has, unfortunately, led to service disruptions for some of our customers."
Hourican's troubling observations were confirmed by an analysis from DecaData, which tracks retailer transactions with shoppers and manufacturers; it showed that retailers are bumping up against manufacturer capacity as they stockpile ahead of the holiday season. In July, the incidence of suppliers limiting or putting a cap on orders from customers was more than double what it was in January, its data show.
Another major distributor, United Natural Foods is having trouble getting food to stores on time. The company blamed not just labor shortages, but also delays in the procurement of some imported goods like cheese, coconut water and spices, as causing the problems.
"We anticipate additional supplier challenges in the short term with gradual improvement through the fall and winter," a United Natural Foods representative said. The company's top priority is to support customers "by working diligently to recover and bring their shelves back to normal inventory levels as quickly as possible."
Translation: it's about to get bad as the double whammy of insufficient workers and snarled supply chains leads to shortages of key perishables and, logically, must higher prices.
U.S. companies across industries are reporting a dearth of workers amid sweetened unemployment benefits, stimulus payments and a pandemic that has reduced the appeal of in-person employment. Houston-based Sysco is aggressively hiring warehouse workers and truck drivers and offering referral and sign-on bonuses along with retention money for current staff.
The entire food sector is seeing "massive labor shortages," Benjamin Walker, senior vice president of sales, marketing and merchandising at Baldor Specialty Foods told Bloomberg. "Service levels are the lowest I've seen in my 16-year career, and it doesn't seem like it's going away anytime soon." Finding truck drivers is "next to impossible," he said, while freight costs are rising daily. The company's orders are arriving late and consequently facing delays in being sent to customers. On the outbound side, on-time deliveries are still above 50% but have fallen from the usual rate of more than 90%.
"We all thought it would be over by now. It's just one thing after another," he said.

"This is going to be the norm for a while."
The prices of a lot of things are up these days, which fits the common definition of "inflation."
Meanwhile, an increasing number of products are appearing at the same price but in smaller packages.This is inflation's slippery first cousin "shrinkflation."
Here's a sampling from a recent study:
Bounty paper towels: The triple back has shrunk from 165 sheets to just 147.
Costco's toilet paper: A large pack was 425 sheets last year, but now is just 380.
Dial Body Wash: Reduced from 21 ounces to 16 ounces, a 25 percent reduction.
Ziploc freezer bags: 54 bags last year, but just 50 bags this year.
Quaker Instant Oatmeal: 10 packs last year, but just 8 this year for some varieties.
Empty Shelves
But what about when the thing you want just isn't there? Where does the complete absence of something fit on the inflation spectrum? This question is no longer academic, as empty shelves appear in stores across the US. (One nearby example: The Sequim, Washington Costco is – shades of 2020 — currently out of toilet paper.)
From yesterday's Wall Street Journal:
Labor shortages, raw materials' scarcity make supermarket supplies unpredictable; some executives say problems are worse than spring 2020's dearth.
Grocery-store chains are still battling supply challenges that some executives said are as bad as what they saw in spring 2020, when hoarding left holes in stocks of some staples.
Industry executives say new problems are arising weekly, driven by shortages of labor and raw materials. Groceries including frozen waffles and beverages remain scarce as some food companies anticipate disruptions lasting into 2022. A wider range of products is running short and logistical challenges are compounding for many retailers.
Donny Rouse, chief executive of Louisiana-based Rouses Markets, said he is struggling to fill shelves as his company runs low on everything from pet food to canned goods. The chain of more than 60 supermarkets is sometimes receiving as little as 40% of what it orders, prompting Mr. Rouse and his staff to try to secure products earlier and more often. Before the pandemic, Rouses received well over 90% of its orders.
"It is difficult for customers to get everything they want to get," said Mr. Rouse, grandson of the chain's founder.
Remind you of anything? Like maybe Venezuela's ongoing hyperinflation, which looks like this:


As for whether empty shelves equal inflation, that's complicated. For now let's just say that 1) shortages are both a cause and an effect of rising inflation, and 2) it's getting harder to view Third World financial crises as something that can't happen here.
The same governments that barred you from your sister's funeral, locked you out of Sunday service… have blessed the mightiest mass gatherings we have ever encountered, (BLM, Antifa) Full Throttle Tribulations in Play
On or about December 25, 2019 MR. Trump and Benjamin Netanyahu had agreed that the proposed peace agreement would be acceptable, By January 1, 2020 the world was made aware of the peace plan. Netanyahu announced to the world February 1, 2020 that Pres. Trump's peace plan would be accepted. Tribulations began January 1, 2020 as per the oral agreement between Trump and Netanyahu, of course there are those that will disagree, "Tribulation" will be the most ungodly time in human history so I would expect some push-back from soft Christians. SRH
Ask The Blind Man ,He Saw it All
Source: HNewsWire ZeroHedge HNewsWire HNewsWire HNewsWire ZeroHedge HNewsWire HNewsWire
StevieRay Hansen
Editor, HNewsWire.com
MY MISSION IS NOT TO CONVINCE YOU, ONLY TO INFORM…
Everybody wrap something around your face again even though they said you wouldn't need to if you got vaxxed! But they didn't lie – no, apparently a bunch of people – and not just those evil white nationalist-Christian-gun-Jesus-flag people – are refusing to get the vaccine, and the reason is that they are moral defectives somehow in thrall to Tucker Carlson's Svengali-like powers of persuasion.
You see, the people who won't get it are stupid people who hate science because they refuse to trust the people who have spent the last year-and-a-half lying to them.
Wonder how many US Covid hospitalizations were only diagnosed post-admission, keeping in mind of course that US hospitals are paid more for Covid patients under the CARES Act.
Too many Balls are missing in this country right now. The coup is done and nothing was done to stop it.
Isaiah 5:20 ESV  Woe to those who call evil good and good evil, who put darkness for light and light for darkness, who put bitter…
Read More
We make every effort to acknowledge sources used in our news articles. In a few cases, the sources were lost due to a technological glitch. If you believe we have not given sufficient credit for your source material, please contact us, and we will be more than happy to link to your article.